Directories
1939 Streets images online being transcribed
1868 MENU alpha names added June 2018
1912 (images - streets [being transcribed] and counties), appendix, towns, villages transcribed
Misc.
Directories
in order to get more directories online quicker I'm going to be adding them as images, they will be transcribed at a later date)
1924 MENU
1932 MENU
1951 MENU
1960 MENU
~~~~~~~~~~~~~~
Bangor Spectator Directory 1970/71 HERE
Irish Motor Directory 1914 - 1915 HERE
Misc.
Family Bibles - Morgan Morrison Pratt Ruddy Carrey - Robinson
McDaniel - Hanna - Carson - Bailie - Jamison Storey - Crowe
MAPS great map of Londonderry and district and lots others
Maps 2 Counties of Ireland with grid reference
Lost Photos - Buildings updated
New Bangor Pages 1 - 2 - 3 - 4 - 5 - 6 - 7 - 8
still working on these pages - new photos still to be added
Church Leaflets NEW page St Stephens - St. Anne, Belfast - The First Twenty-Five Years
For Others - a page made up of past look up results for various names
Ulster History - U.V.F. etc.
Lost Letters - Hodgen - lots more Hodgen photos etc. 5 pages
Directories
1943 streets complete, Villages, Appendix, alpha names started
1890 streets complete, Villages, Appendix
1932 streets & appendix
Lost People
Directories
1868 streets and alphabetical names
1943 streets only
1943 alphabetical section started
1890 started (streets)
Lost People continued
Lost Sport - Leahy Kelly & Leahy 17th January 2013
Adair Tipperary 21st August 2013
Lost Unknown updated 13th October 2013
Album - Grove Hall Poots Bangor U.V.F. - 17th November 2013
Lost Album - Rainey Patterson Allen Wilson Curry Herdman Gray 20th Nov.
Mulligan Bangor - 22nd November 2013
WW1 WW2 and 8th Belfast HAA
2 soldiers painting WW1 added 7th January 2013
Boar War Bits and Pieces - Newspaper clippings added 9th January 2013
Lost Andrew Shaw WW1 - 14th January 2013
Lost Samuel Russell WW1 - 14th January 2013
WW1 Database - new soldiers added all the time
Have a browse through all of Robert Thompson's great 'Heroes' series of books covering, Ballymoney, Bushmills, Coleraine, Garvagh etc etc
8th Belfast Message Board - Thomas Culshaw - 6th March 2013
Thomas Henderson Kane 8th Belfast HAA photos etc. - 19th Sept. 2013
Queen's University of Belfast War Record 1939 - 1947 - 16th October 2013
Lost People
Andrew Wallace Bothwell 7th January 2013 also Memorial Trophy
Group photo with only car reg. for id 10th January 2013
Doctors Royal Victoria Hospital 1913 10th January 2013
portrait by Frank McKelvey, 1925 11th January 2013
unknown portrait 11th January 2013
unknown lady 14th January 2013
little girl no info 12th January 2013
Isabella Jameson Jamison 14th January 2013
Lost Groups Irish Canadian group photo 17th January 2013
Lost in Books - Inscriptions inside books updated 21st August 2013
Burke, Raphoe & Bray - 20th August 2013
Anderson Family Register - 20th August 2013
Misc.
Silver Pot from Commercial Hotel, Belfast - 7th January 2013
Ulster History - James Annett Ulster Covenant 10th January 2013
The Spirit of Ulster Thomas Morrison 10th January
Signing of the Ulster Covenant 11th January 2013
Cook? L.O.L. 17th January 2013
Belfast Page - Robinson & Cleavers 11th January 2013
" " - Winter Bargain Shoppers 8th September 2013
Irish History - Dail Eireann 1919 11th January 2013
Rev. Arthur Linton Agnew - 8th September 2013 updated
Mary Anne Lennon - 7th September 2013 updated
2011
Hi all, very little new this year as I'm up to my armpits in family things at the minute, I have loads of new things to add including a photo of Bangor F.C. Team 1921, more WW1 Soldiers and some really nice photos of the Bothwell Family. Plus an extract from Coralie Kinahan's autobiography of her husband's time in Burma with the 8th Belfast HAA Regt., and I'm still transcribing the 1918 Belfast and Ulster Directory. finished
Mary ~ 10th April 2011 updated 22nd December 2011
Street Directories
next - finish 1908 add alpha names completed 15th April 2012
1918 started 1st August 2010 streets finished 20/2/11
Villages finished, appendix etc. finished
Alpha names - started March '11 finished 23/9/11
Counties - finished and book completed 21/12/11
Lost People and Places and Photos
new information for John Campbell WW1 23rd April 2011
new assorted alphabetical names added 29th May & 5th June 2011
New photos of Bangor Boathouse and Tower 29th May 2011
Photo of Bangor F. C. 1921 - 1922 18th July 2011
Photo of Bangor Long Hole and Boathouse 4th August 2011
Carricknaveagh National School 8th August 2011
New Savoy Hotel 10th August 2011
8th Belfast HAA
new 22nd Battery photos added Harbinson - 23rd April 2011
new page added for J. C. Irvine - 23rd April 2011
new Coralie Kinahan's book extract - 23rd April 2011
Seac 1944 - January 2011
WW1 & WW2 (except 8th Belfast)
WW1 Soldiers Database - updated 29th May 2011
WW2 Soldiers Database - updated 8th December 2010
WW1 Memorial Stone from St. Enoch's - Paul Gilchrist Pollock - 28th August 2011
Belfast Civil Defence 1944 - 29th August 2011
Misc.
Mackie's Magazine Christmas Edition 1943 9th August 2011
Baptism Certificate for Philip Vincent Mooney, no address 25th August 2011
I wasn't planning on transcribing any more street directories but Proni aren't planning to put their post-1900 directories online any time soon so .. here I go again
go to PRONI for DIRECTORIES pre 1900
1918 started 1st August 2010 streets finished 20/2/11
Villages finished, appendix etc. finished
Alpha names - started March '11 finished 23/9/11
Counties finished
Pigots 1824 Belfast & Bangor 11/10/2010
19 Ava Street to 100 Avoniel Road 1959 19/7/2010
102 Avoniel Road to 26 Balfour Avenue 1959 19/7/2010
couple of pages added to scanned assorted streets section 1940 14/10/10
more streets added to above for 1970 22/02/11
NEW page of assorted alphabetical names, various years 24/10/10
Robert Thompson Section
Excerpts from his Heroes Series of Books and Gladys Cranes WW1 Autograph Booklet
Robert Thompson's books on WW1 soldiers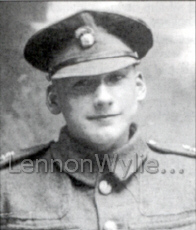 Bushmills Heroes - (4/4/2010)
Portstewart Heroes - (21/4/10)
Portrush Heroes - (3/5/10)
Ballymoney Heroes - (30/5/10)
Coleraine Heroes - (26/7/10)
NEWSPAPERS
Tinker Bell Club
1943 Belfast Telegraph assorted clippings inc. deaths, marriages etc.
Groomsport Lifeboat The Florence
Belfast Telegraph 17th September 1927
PHOTOS
lost individuals new photo added
great aerial photo of Groomsport around 1930
Belfast page, some new photos added
Postcards addressed to Patterson with photos 8/4/2010
Altnaveigh Memorial Pipe Band 1951 8/4/2010
G. R. R. Savage moved to new page and further information added 8/4/2010
County Fermanagh Company of R.U.C. Newtownards 7.4.1923 14/4/2010
RUC or RIC photos, on back, Mr. Barr, Ballymoney Street 14/4/2010
Wm. J. Purdy's Public House in Church Street Belfast 24/7/2010
MISC.
Scrapbook full of newspaper clippings relating mostly to Aiken, Coolavin, Bangor
Scrapbook full of poems, songs and newspaper clippings
List of Names Petition Harland & Wolffs 1912 1915
Scrapbook belonging to Arthur McIlveen, lots of stories and some newspaper clippings
Photo Album names mentioned Parker & Maginness
Photo Album belonging to John Vinycomb
Masonic Lodge, Mount, Golden Jubilee Celebration No. 394
Dates from Herron Family Bible 3/2010
2 new photos from Pickie added to Bangor page 8/4/2010
Campbell College Register 1894 to 1954 18/7/2010
Help me page - looking for a poem 24/10/10
World War 1 & 2 and pre and post
great photo of Queen's T.A. sub-unit 1952 with names
Irvine Brothers 8th Belfast HAA
Matchett Brothers 8th Belfast HAA
Thomas Herbert Coulter 8th Belfast HAA
new photos added to these pages of the 8th Belfast HAA section:-

http://www.lennonwylie.co.uk/8th_belfast_haa_regt3.htm Sgt. Mat. McCartney

http://www.lennonwylie.co.uk/8th_belfast_haa_regt1.htm original photo of soccer team

http://www.lennonwylie.co.uk/8th_belfast_haa_regt_Old_Comrades_Section.htm NEW PAGE - Old Comrades Section

http://www.lennonwylie.co.uk/8th_belfast_haa_regt_Poems.htm more poems added

http://www.lennonwylie.co.uk/8th_belfast_haa_regt_newspaperPt2.htm
102 (Ulster) Air Defence Regt, R.A. (V) newspaper clipping and Fighting in Arakan Area

http://www.lennonwylie.co.uk/8th_belfast_haa_regt_obituary_Brann.htm Brann - obituaries added

http://www.lennonwylie.co.uk/8th_belfast_haa_regt5.htm new page of photos
UPDATED 28.4.2010 Sergeants' Mess Book, loads of photographs
new photos added 8th Belfast Albert Wooden
new photos added Sgt. William (Billy) Wilson 23rd Bty 8th Belfast HAA
new photos added Gnr. James E. Mearns
WW1 and WW2 Fitzroy Church Servicemen newly updated with lots more information on the men October 2010
DIRECTORIES
1908 started 16th June 09 - streets finished 23/11/09
Village Directory finished 23.11.09


1901 28/5/09 complete
1910 complete 31.8.09
1877 complete April 3rd 09
1898 list of residents for Newry from a small book, there is no cover so I don't know what it is, but the residents are listed by the street
1894 Waterford Directory & County Directory 7/8th December 09
MORE PHOTOS
Glass negatives of Lurgan Factories and Police
a batch of photos - Wylie Hunniford - McCambley
lot of photos - McWilliams Singapore etc. Royal Irish Horse
T. A. Kean, M.D. and Mary Kean
photo and genealogy info. for Savage
MISC.
J. H. Kielty, 15 Breda Gardens, Belfast, his football passes from 1937 to 1962 and ASW Permits
Autograph book of Margaret Elizabeth MacIvor (3)
Theatre Royal Belfast Programme 1894
The Belfast Boy Scout Gang Show Programme 1958
Norah Haughton page updated with new photos etc.
Aide Memoire - McDonough Wexford
McAleenan Family Bible inc list of Belfast Doctors
Derry and Antrim Yearbook for 1943 see also 1941
PHOTOS
W. Sidney Wanstall St. Johns Brigade Medals
Donaghadee - Hugh Nelson Cox D'Dee Lifeboat
Rosemary Radio Electrical Co. Ltd.
Bangor Glenlola 6/1927 & Mayor 3/5/1957
Bangor/Newtownards Cottown School 1911
Katie Smyth, 204 Leeson Street, Belfast
more Bangor photos added 16th Sept 09
Cars and a Shell Pump somewhere in Ireland
scrapbook Taylor Whisky Coleraine
Inter Pro Cricket Team Dublin 1937
Bangor Central School 1936 with names
WW1 & WW2
WW1 and WW2 Fitzroy Church Servicemen
ARMY SERVICE RECORDS - see what they are like before you order yours or your relatives
WW2 Diary - Cpl. W. F. Davison
8th Belfast HAA History by Murray Barnes
8th Belfast HAA History by Col. Harry Porter
8th Belfast HAA Diary - Gunner J. D. Bailie
Obituary - Col. Wm. Norman Brann
Faugh-a-Ballagh Regimental Gazette RIF 1943
Northern Whig Souvenir Page - 8th Belfast HAA
pre ww1 inc. Royal Innis. Fus. John Marriot
Death Pennys - Robert Beech and William Boyle
8th Belfast HAA 30 minute film on youtube
Burma Star Luncheon Sept. 2009
Great ARP Holywood photo with all the names
Westbourne Presbyterian Church Roll of Honour
William (Buttons) Hunter 8th Belfast HAA updated more photos added 12.11.09
Directories, Books, Papers, etc.
2nd December 2007
Belfast Magazine 1809 - 1810 (completed)
Feb 08
1907 Belfast Ulster Street Directory completed
1907 TOWNS completed
1852 Belfast Street Directory complete
started 20th March 2008 1877 Street Director completed
started June 08 started 1901 (completed Sept 08)
started June 08 1910 completed
January 08 remnants of my lost lookups forum
April 08 Death Pennies
Lost Person Nov. 08
Patrick Shannon, Dublin, DOB 21.3.1903
Groomsport
History of Groomsport Primary School 18.10.08
PHOTOS
Enniskillen High Street about 1880's 11.12.07
James B. Hillis photo album 19.10.08
Nov 2008 more photos added to Bangor
18th RIR

fantastic BIG panoramic photo of whole troop - March 2008
old photos
http://www.lennonwylie.co.uk/Lost_photos_Index.htm
RIF
Sergeants' Mess Book, loads of photographs
8th Belfast HAA
Nominal Rolls lots more lists of names added Nov 2008
new photos, etc.
Postcards
loads more added, plus a few photos of interesting ones and the messages on them also November 2008