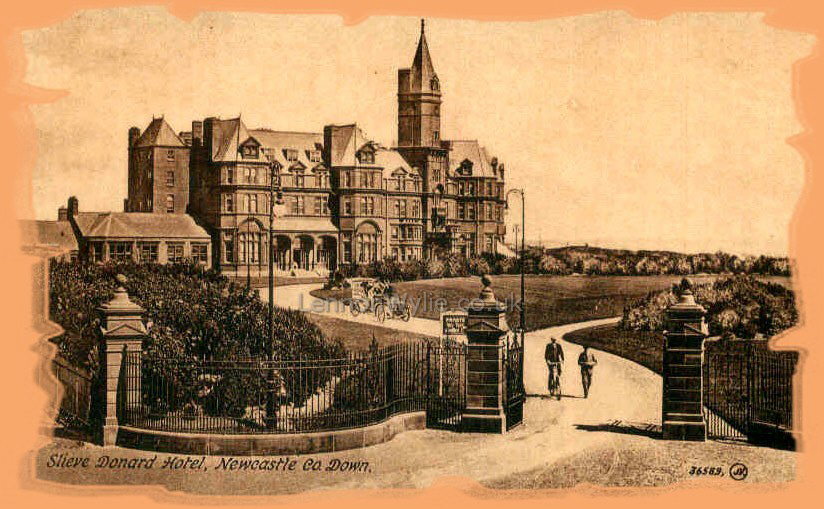 postcard by kind permission of Downpatrick & County Down Railway online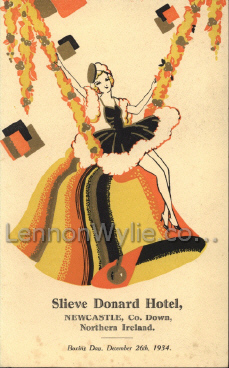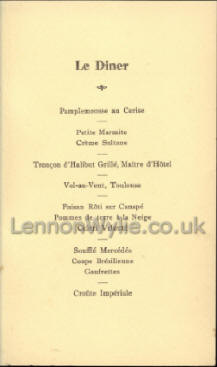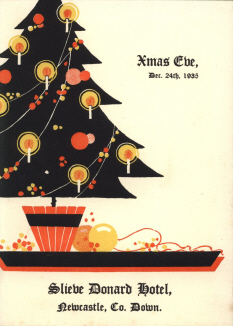 image 1 - Slieve Donard Hotel, Newcastle, Co. Down, Northern Ireland, Boxing Day, December, 26th 1934
image 2 - Le Dîner ~ Pamplemousse au Cerise, Petite Marmite, Crème Sultane, Tronçon d'Halibut Grillé, Maître d'Hôtel, Vol-au-Vent, Toulouse, Faisan Rôti sur Canapé, Pommes de terre à la Neige, Celeri Velouté, Soufflé Mercédés, Coupe Brésilienne, Gaufrettes, Croûte Impériale
image 3 - Xmas Eve, December 24th, 1935, Slieve Donard Hotel, Newcastle, Co. Down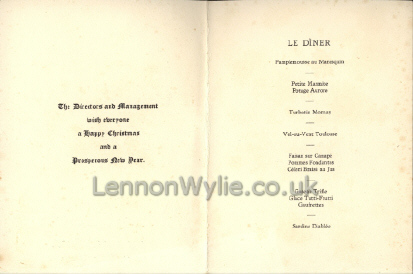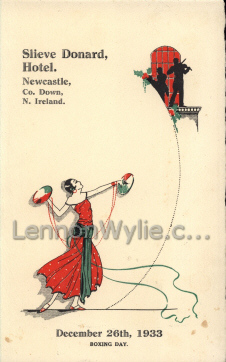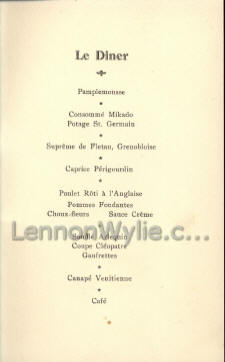 image 2 - The Directors and Management with everyone a Happy Christmas and a Prosperous New Year, Le Dîner, Pamplemousse au Marasquin, Petite Marmite, Potage Aurore, Turbotin Mornay, Vol-au-Vent Toulose, Faisan sur Canapé, Pommes Fondantes, Céleri Braisé au Jus, Gateau Trifle, Glace Tutti-Frutti, Gaufrettes, Sardine Diablée
image 1 - Slieve Donard Hotel, Newcastle, Co. Down, N. Ireland, December 26th, 1933, Boxing Day
Le Diner, Pamplemousse, Consommé Mikado, Potage St. Germain, Supréme de Fletan, Grenobloise, Caprice Périgourdin, Poulet Rôti à l'Anglaise, Pommes Fondantes, Choux-fleurs - Sauce Crème, Soufflé Arlequin
Coupe Cléopatre, Gaufrettes, Canapé Venitienne, Café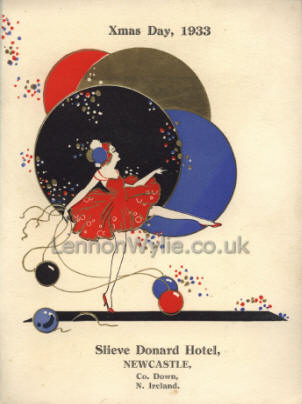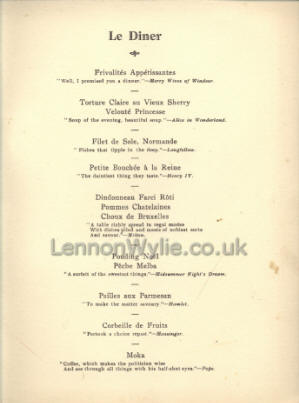 Xmas Day, 1933, Slieve Donard Hotel, Newcastle, Co. Down, N. Ireland
Le Diner
~~
Frivolités Appétissantes
"Well, I promised you a dinner." - Merry Wives of Windsor
__
Torture Claire au Vieux Sherry
Velouté Princesse
"Soup of the evening, beautiful soup." - Alice in Wonderland
__
Filet de Sole, Normande
"Fishes that tipple in the deep." - Longfellow
__
Petite Bouchée à la Reine
"The daintiest thing they taste." - Henry IV
__
Dindonneau Farci Rôti
Pommes Chatelaines
Choux de Bruxelles
"A table richly spread in regal modes
With dishes piled and meats of noblest sorts
And savour." - Milton
__
Pouding Noël
Pêche Melba
"A surfeit of the sweetest things." - Midsummer Night's Dream
__
Pailles aux Parmesan
"To make the matter savoury." - Hamlet
__
Corbeille de Fruits
"Partook a choice repast." - Massinger
__
Moka
"Coffee, which makes the politician wise
And see through all things with his half-shut eyes." - Pope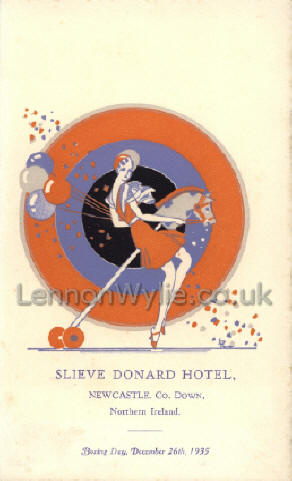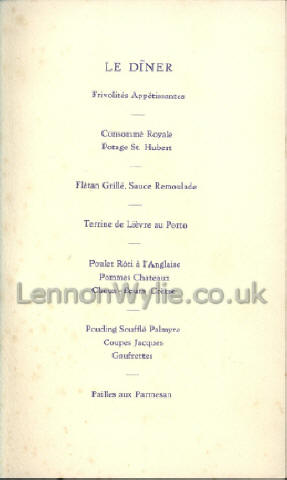 Slieve Donard Hotel, Newcastle, Co. Down, Northern Ireland, Boxing Day, December 26th 1935
Le Dîner
Frivolités Appétissantes
__
Consommé Royale
Potage St. Hubert
__
Flétan Grillé,
Sauce Remoulade
__
Terrine de Liévre au Porto
__
Poulet Rôti à l'Anglaise
Pommes Chateaux
Choux-fleurs Créme
__
Pouding Soufflé Palmyre
Coupes Jacques
Gaufrettes
__
Pailles aux Parmesan
~~~~~~~~
Poem from the Belfast Telegraph, 17th September, 1927
ROSTREVOR
"Jay Gee See"
Rostrevor! Haven of Enchantment,
Mountain, sea, and valley fair:
Nature's bliss in wild profusion,
God has surely scattered there.

Mountain green with sylvan verdure,
Sparkling sea and balmy air:
Flower-strewn paths thro' winding byways,
Refuge from all worldly care.
~~~~~~~~~~~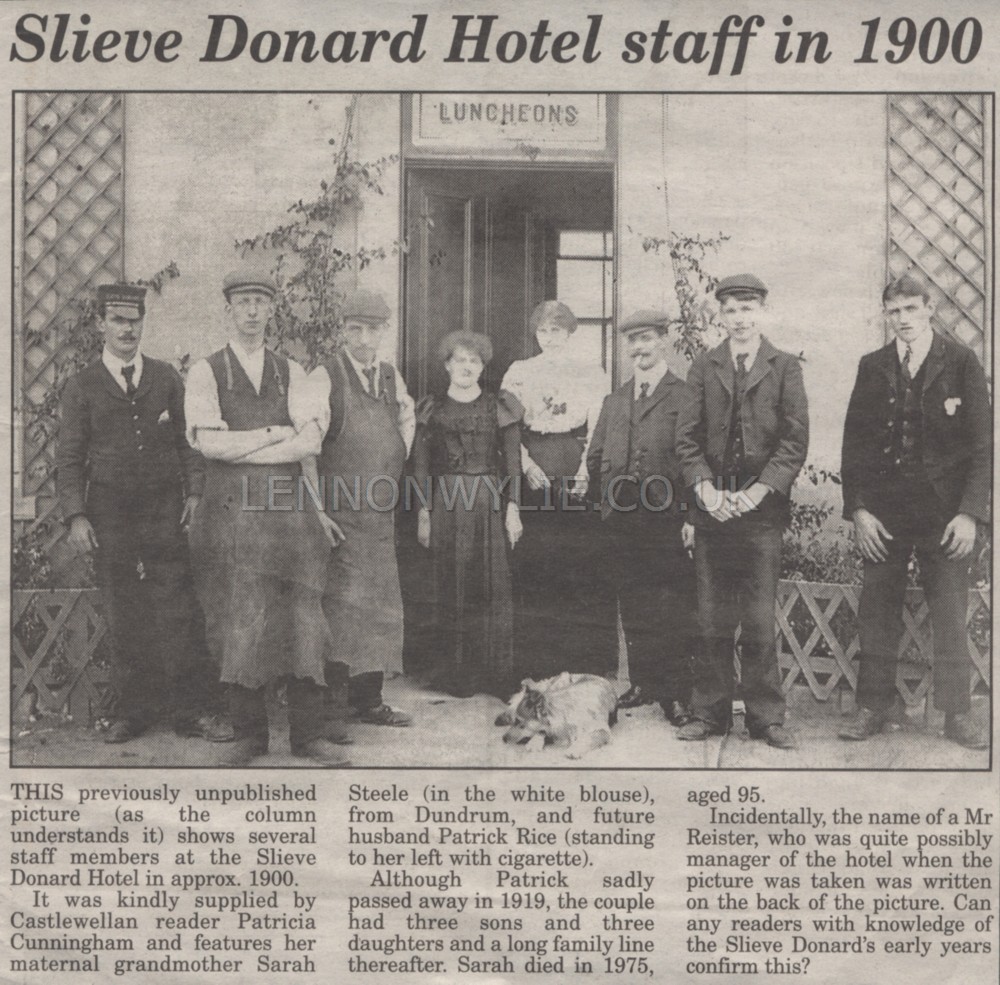 Slieve Donard Hotel staff in 1900
This previously unpublished picture (as the column understands it) shows several staff members at the Slieve Donard Hotel in approx. 1900. It was kindly supplied by Castlewellan reader Patricia Cunningham and features her maternal grandmother Sarah Steele (in the white blouse), from Dundrum, and future husband Patrick Rice (standing to her left with cigarette). Although Patrick sadly passed away in 1919, the couple had three sons and three daughters and a long family line thereafter. Sarah died in 1975, aged 95. Incidentally, the name of a Mr. Reister, who was quite possibly manager of the hotel when the picture was taken was written on the back of the picture. Can and readers with knowledge of the Slieve Donard's early years confirm this?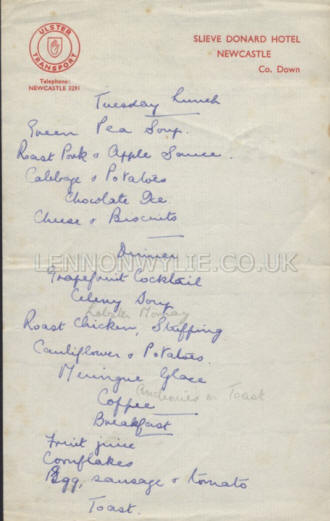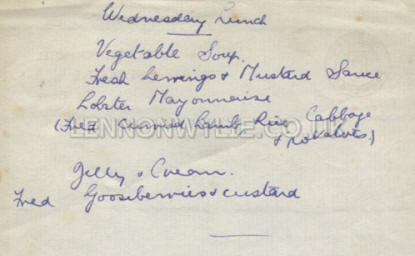 Ulster Transport Slieve Donard Hotel, Newcastle, Co. Down - Tuesday Lunch
Green Pea Soup, Roast Pork & Apple Sauce, Cabbage & Potatoes, Chocolate Ice, Cheese & Biscuits
Dinner - Grapefruit Cocktail, Celery Soup, Lobster Mornay, Roast Chicken, Stuffing, Cauliflower & Potatoes, Meringue Glace, A____ on Toast, Coffee.
Breakfast - Fruit Juice, Cornflakes, Egg, sausage & tomato, Toast
Wednesday Lunch - Vegetable Soup, Fresh herrings & Mustard Sauce, Lobster Mayonnaise, (Fred curried lamb, rice, cabbage & potatoes)
Jelly & Cream Fred Gooseberries & custard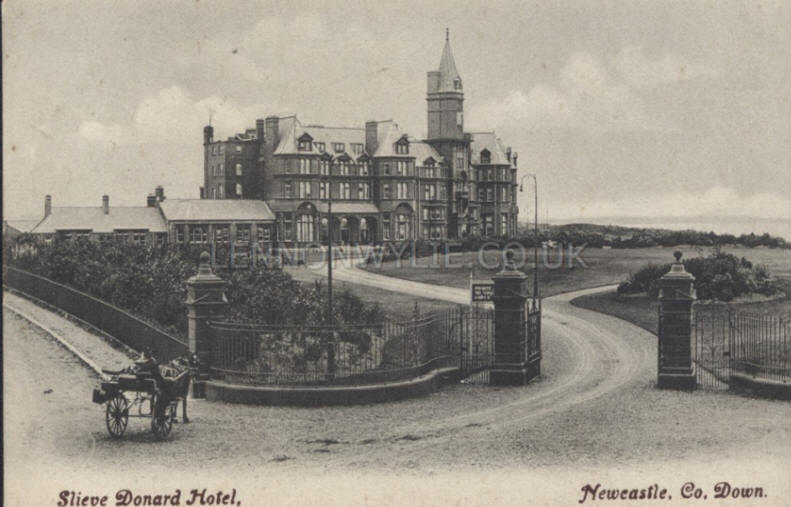 29th August 1912 from A. Me____ _____ in Newcastle to Miss M. Curlett, 18 Charlville Avenue, Lisburn Road, Belfast ~ I am having such a nice time here, tho' weather is rather poor, there is to be a dance on Sat. night, will be home Monday.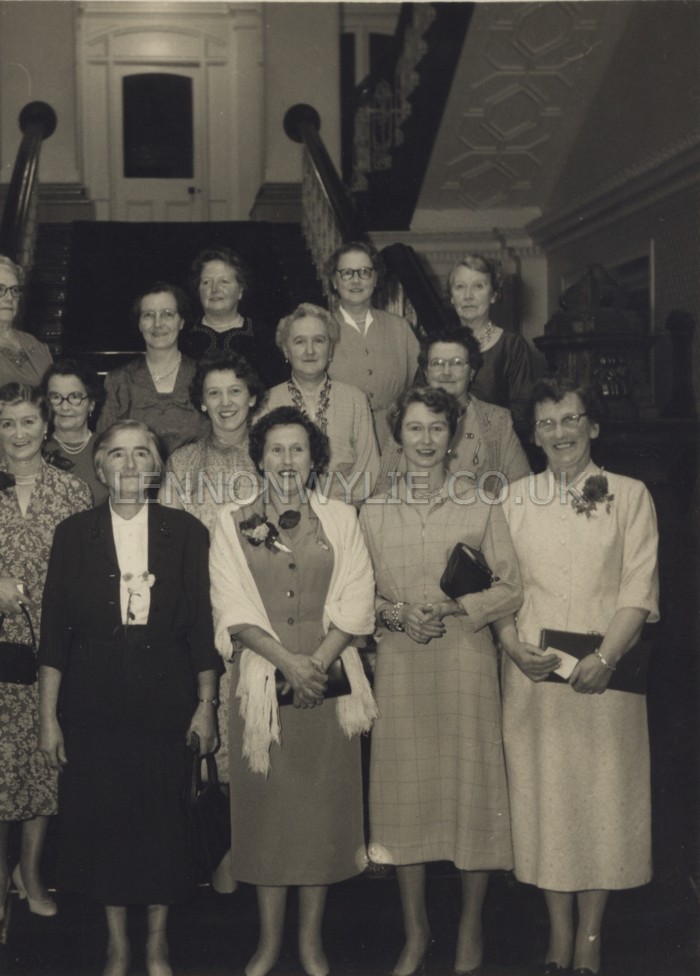 ~
Mrs. Bryce 2/6 Committee members Silver Jubilee Sept. 1958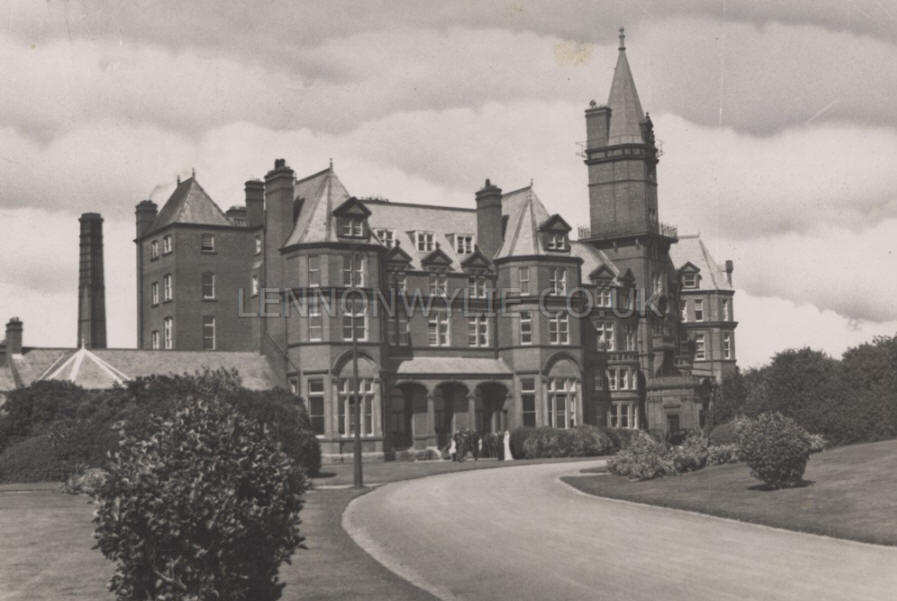 Copyright Photowork, ?? Guild Street, Aberdeen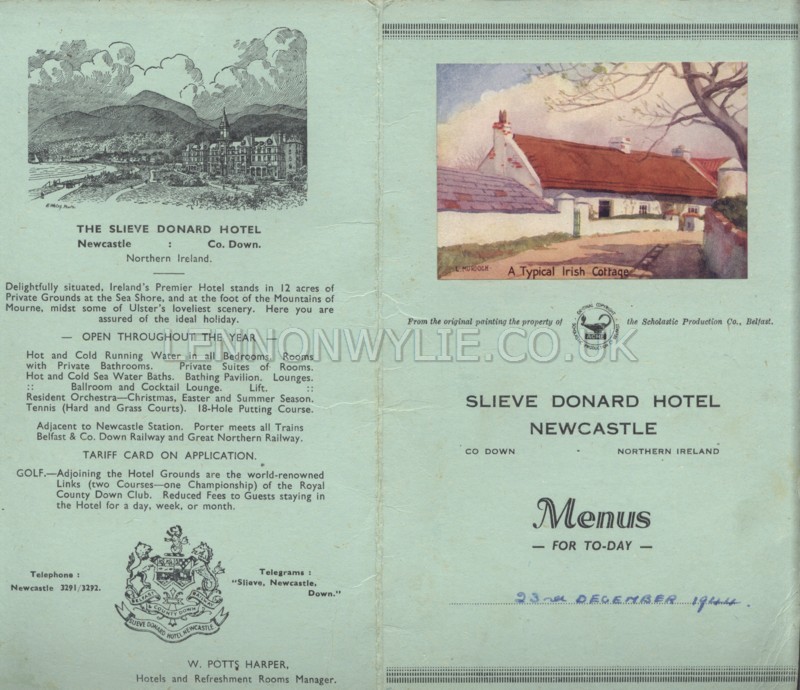 23rd December 1944 - W. Potts Harper, Hotels and Refreshment Rooms Manager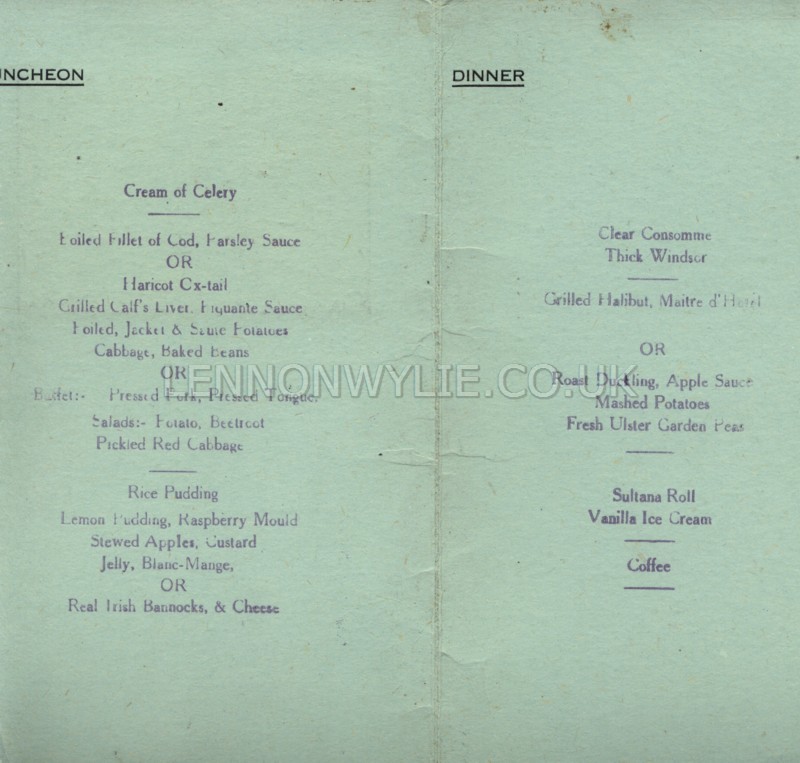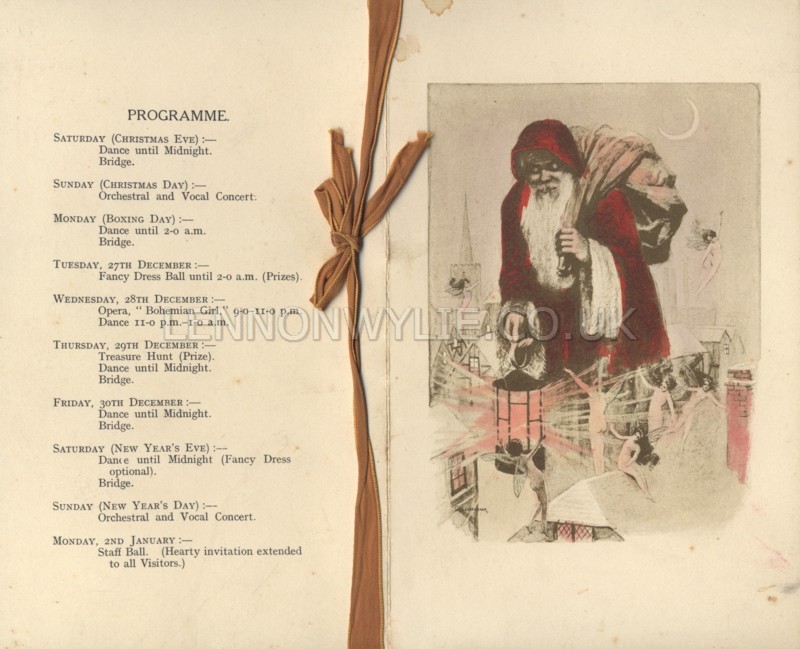 Programme - Saturday (Christmas Eve) :- Dance until Midnight. Bridge; Sunday (Christmas Day) :- Orchestral and Vocal Concert; Monday (Boxing Day) :- Dance until 2 a.m. Bridge; Tuesday, 27th December :- Fancy Dress Ball until 2 a.m. (Prizes); Wednesday, 28th December :- Opera, "Bohemian Girl," 9 - 11 p.m. Dance 11 p.m.-1 a.m.; Thursday, 29th December :- Treasure Hunt (Prize) Dance until Midnight. Bridge; Friday, 30th December :- Dance until Midnight. Bridge; Saturday (New Year's Eve) :- Dance until Midnight (Fancy Dress optional). Bridge; Sunday (New Year's Day) :- Orchestral and Vocal Concert; Monday, 2nd January :- Staff Ball (Hearty invitation extended to all Visitors)


My very best wishes for a Happy Xmas and the Best of Good Luck in the New Year Xmas Day 1927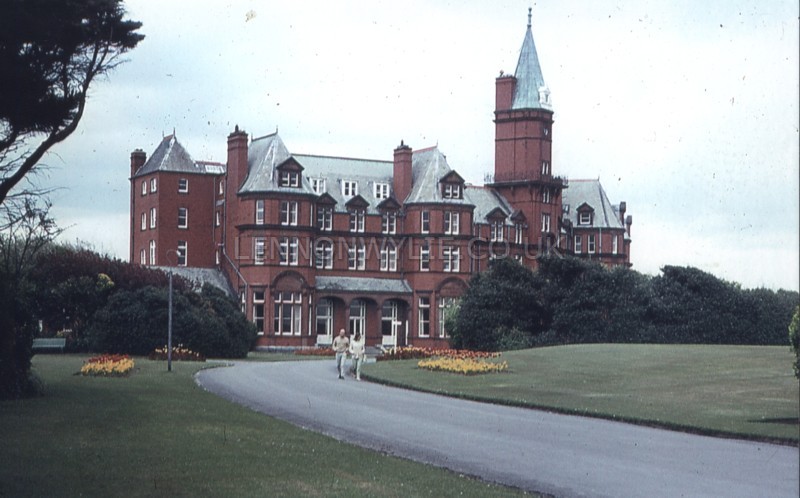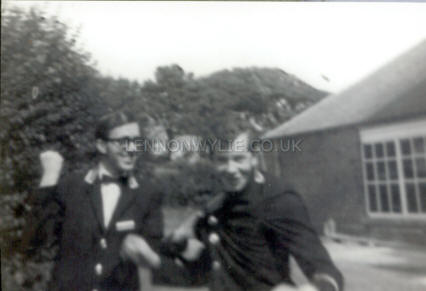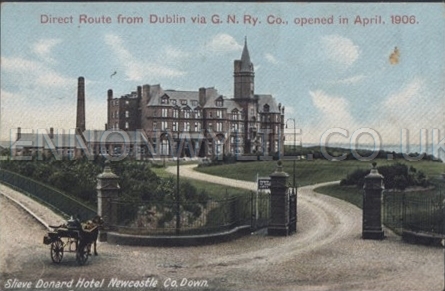 I believe there is Copyright to Mourne Observer on at least one of the following photos but I'm not sure which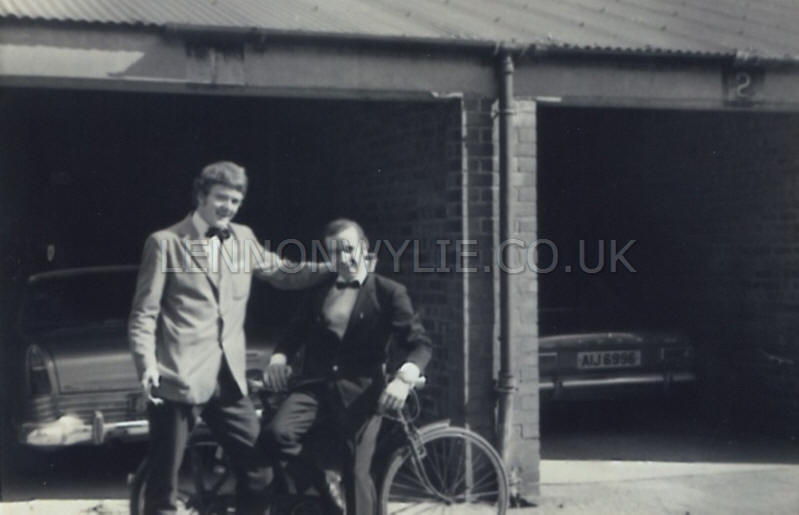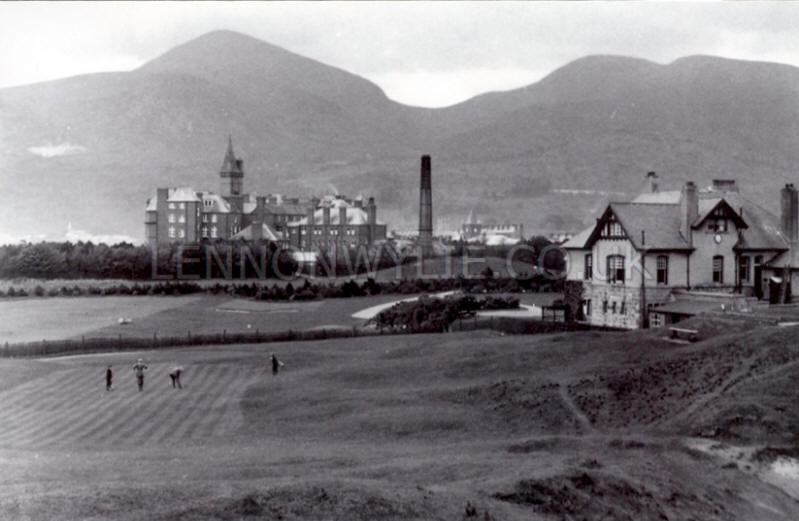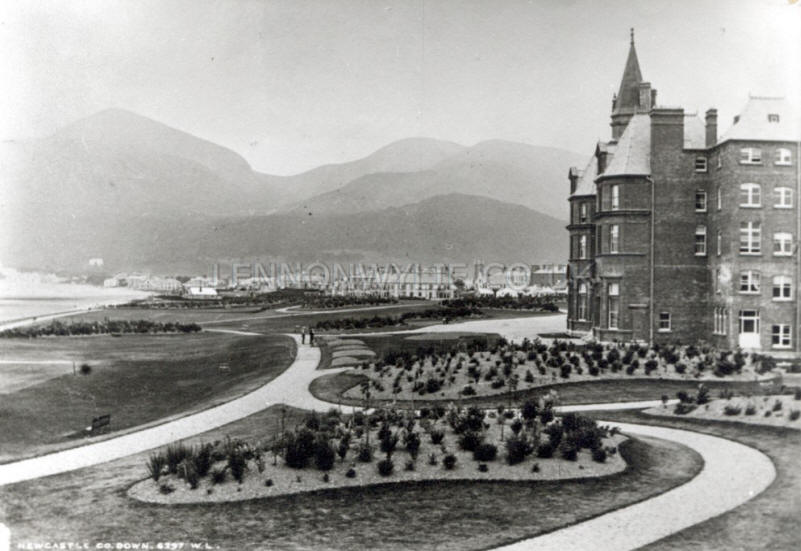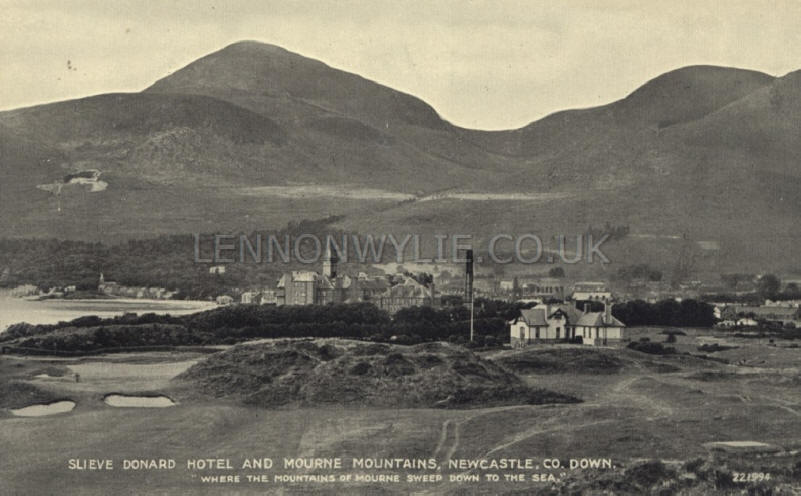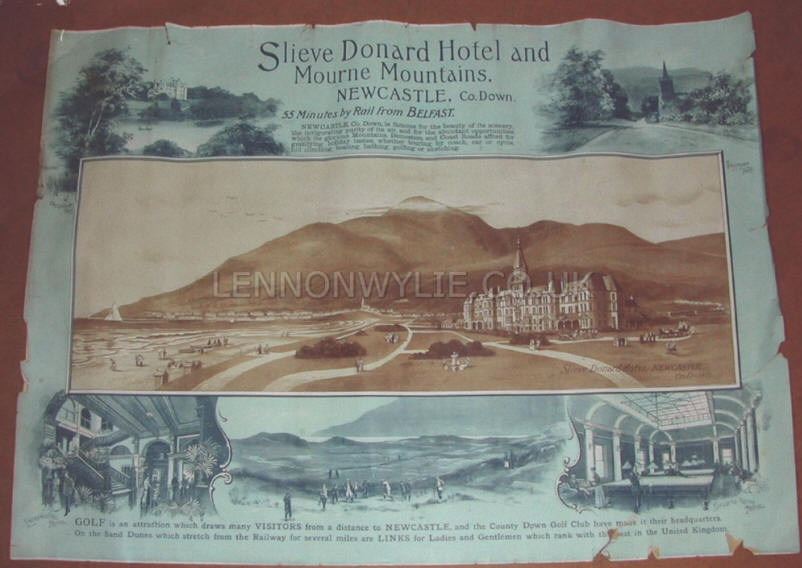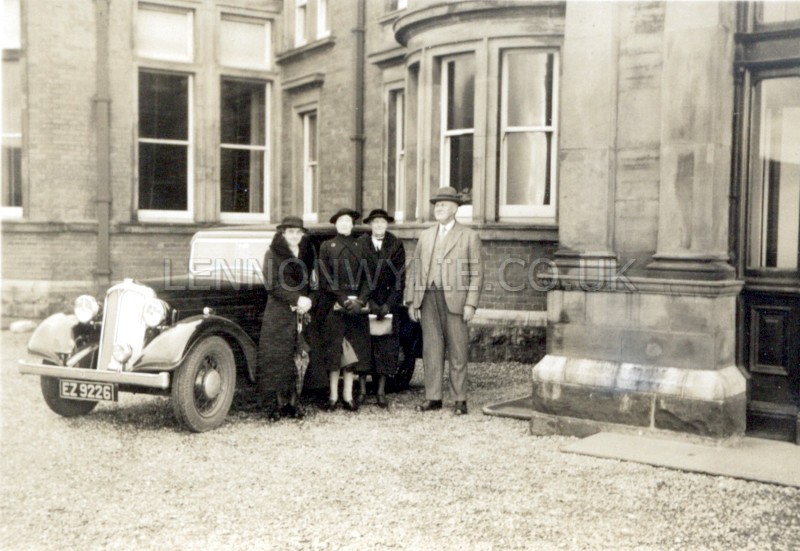 Mr. & Mrs. Hood, Mrs. Burney, Mrs. Gordon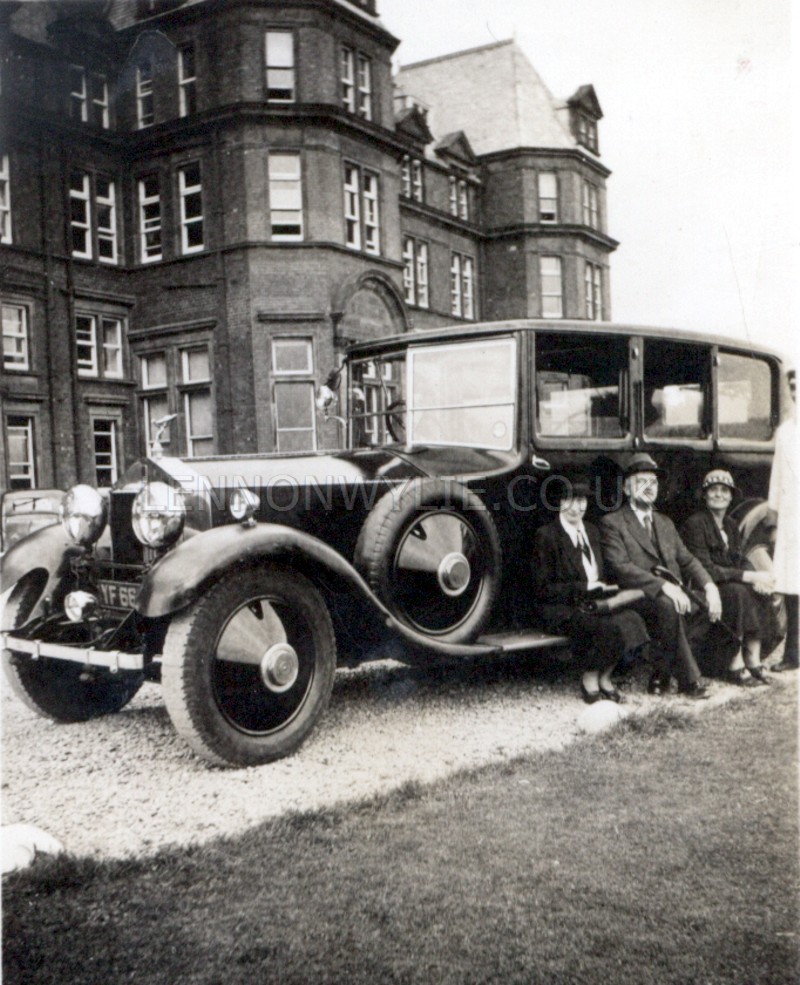 Mr. & Mrs. Hood (centre & left)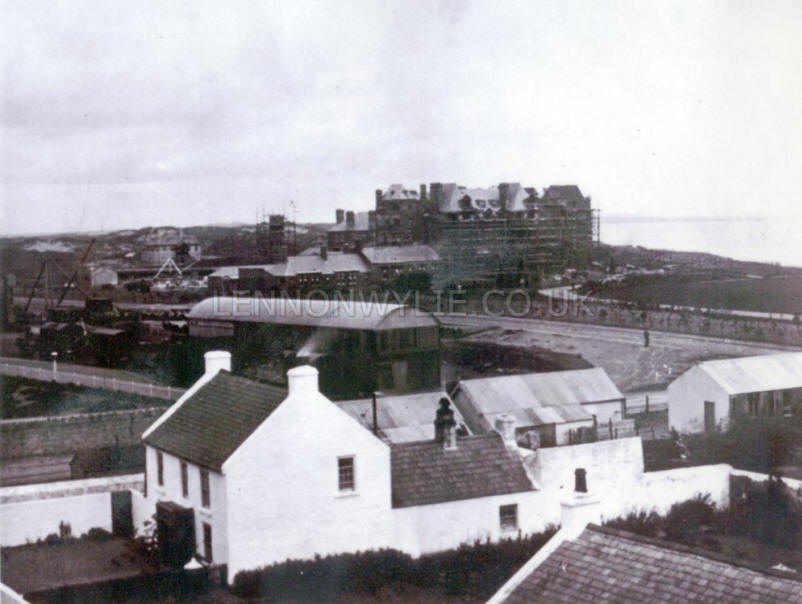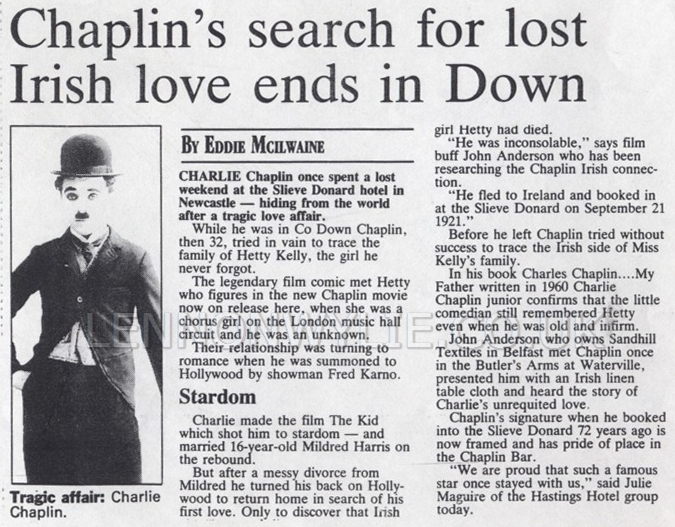 Chaplin's search for lost Irish love ends in Down - by Eddie McIlwaine
Charlie Chaplin once spent a lost weekend at the Slieve Donard hotel in Newcastle - hiding from the world after a tragic love affair. While he was in Co. Down Chaplin, then 32, tried in vain to trace the family of Hetty Kelly, the girl he never forgot. The legendary film comic met Hetty who figures in the new Chaplin movie now on release here, when she was a chorus girl on the London music hall circuit and he was an unknown. Their relationship was turning to romance when he was summoned to Hollywood by showman Fred Karno. STARDOM - Charlie made the film The Kid which shot him to stardom - and married 16 year old Mildred Harris on the rebound. But after a messy divorce from Mildred he turned his back on Hollywood to return home in search of his first love. Only to discover that Irish girl Hetty had died. "He was inconsolable," says film buff John Anderson who has been researching the Chaplain Irish connection. "He fled to Ireland and booked in at the Slieve Donard on September 21 1921." Before he left Chaplin tried without success to trace the Irish side of Miss Kelly's family. In his book Charles Chaplin ... My Father written in 1960 Charlie Chaplain junior confirms that the little comedian still remembered Hetty even when he was old and infirm. John Anderson who owns Sandhill Textiles in Belfast met Chaplin once in the Butler's Arms at Waterville, presented him with an Irish linen table cloth and heard the story of Charlie's unrequited love. Chaplin's signature when he booked into the Slieve Donard 72 years ago is now framed and has pride of place in the Chaplin Bar. "We are proud that such a famous star once stayed with us," said Julie Maguire of the Hastings Hotel group today.



1930 from Rita in Belfast to Miss Ethel Stevenson, Maze View, Corcreeny, Hillsborough


Staff Christmas Dinner Slieve Donard Christmas 1937 Source: Tom Porter, Newcastle
notes on photo - Sean Kelly, waiter; Chef (ringed); Jo Kane (Hat front); Johnson Blair? night porter; Tom Porter, As?Head; Jimmy Faulker as Boxer Spider Kelly; Assistant Manager Glover? (ringed) - now manager of a Scottish hotel;
N. Roseman, waiter
~~~~~~~~~~~~~~~~~~
Who is Calvin?
The following letter was found inside a vase purchased at auction in Belfast by M.M.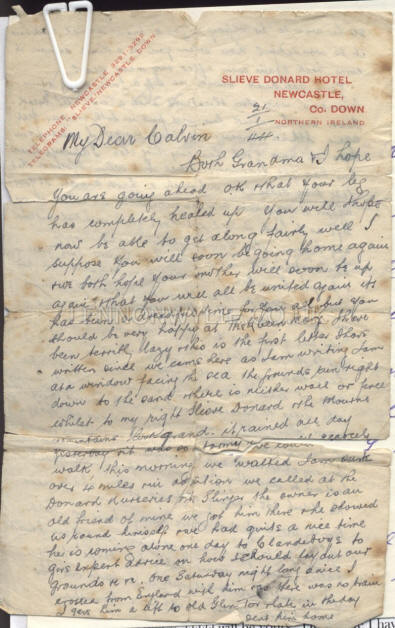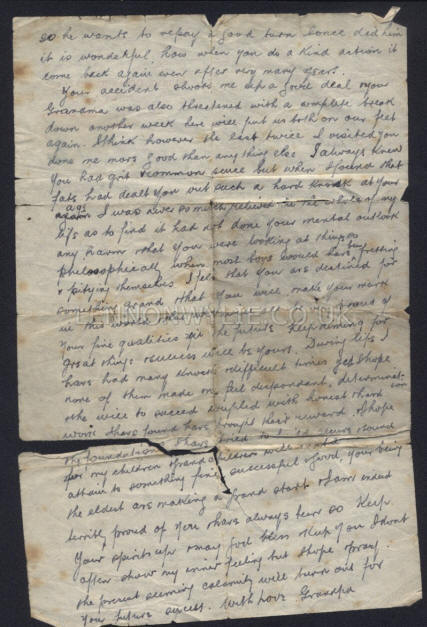 Slieve Donard Hotel, Newcastle, Co. Down, Northern Ireland
21st January 1944
My Dear Calvin, Both Grandma & I hope you are going ahead OK & that your leg has completely healed up. You will I hope now be able to get along fairly well. I suppose you will soon be going home again & we both hope your mother will soon be up again & that you will all be united again. It has been a dreadful time for you all but you should be very happy at The Queen Mary. I have been terribly lazy & this is the first letter I have written since we came here, as I am writing I am at a window facing the sea, the grounds run right down to the sand & there is neither wall or fence, whilst to my right Slieve Donard & the Mourne Mountains look grand. It rained all day yesterday & it was so stormy we couldn't (even) walk, this morning we walked & I am sure over 4 miles & in addition we called at the Donard Nurseries ? Sliryer??? the owner is an old friend of mine, we got him there & he showed us round himself & we had quite a nice time, he is coming alone one day to Clandeboye to give expert advice on how we should lay out our grounds etc. etc. One Saturday night long since I crossed from England with him & as there was no train I have him a lift to Old Glen Tor lake in & ???? sent him home so he wants to repay a good turn I once did him, it is wonderful, how when you do a Kind action it comes back again even after very many years. Your accident shook me up a good deal & your Grandma was also threatened with a complete breakdown, another week here will put us both on our feet again. I think however the last twice I visited you done me more good than anything else. I always knew you had grit & common sense but when I found that fate had dealt you out such a hard knock at your age, I was never so much relieved in the whole of my life as to find it had not done your mental outlook any harm & that you were looking at things so philosophically when most boys would have been fretting & pitying themselves. I felt that you are destined for something grand & that you will make your mark in this world & that we will all be very proud of your fine qualities in the future. Keep aiming for great things & success will be yours. During life I have had many knocks & difficult times yet I hope none of them made me feel despondent, determination & the will to succeed coupled with honest & hard work I have found have brought their reward & I hope the foundations & have tried to build secure & sound for my children & grandchildren will ___ attain to something fine, successful & good, you being the eldest are making a grand start & I am indeed terribly proud of you & have always been so. Keep your spirits up & may God bless & keep you, I don't often show my inner feeling but I hope & pray the present seeming calamity will burn out for your future success. With love. Grandpa



CLICK to enlarge - newspaper clipping re Hotel and other bits of news