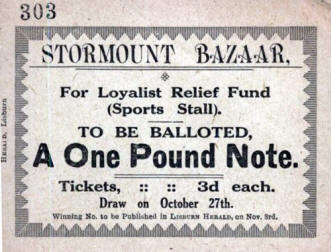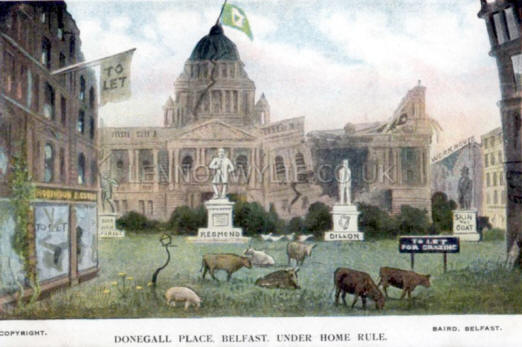 Stormount Bazaar Ballot Donegall Place under Home Rule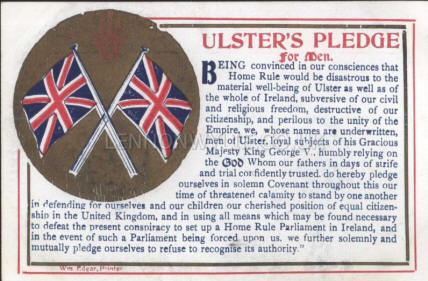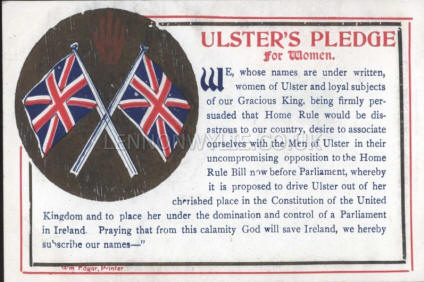 Ulster's Pledge for Men for women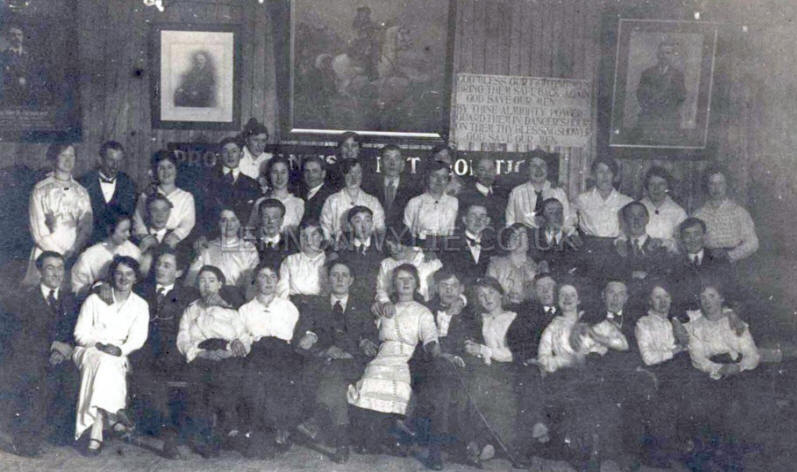 Independent Orange Order H.Q, Great Victoria Street Formed 1903/1910
Banner reads 'Protestantism not Politics'
Picture left top corner of - Thomas Henry Sloan, M.P., South Belfast, resides 17 Canning Street @ York Road Station
Grand Master Robert Lindsay Crawford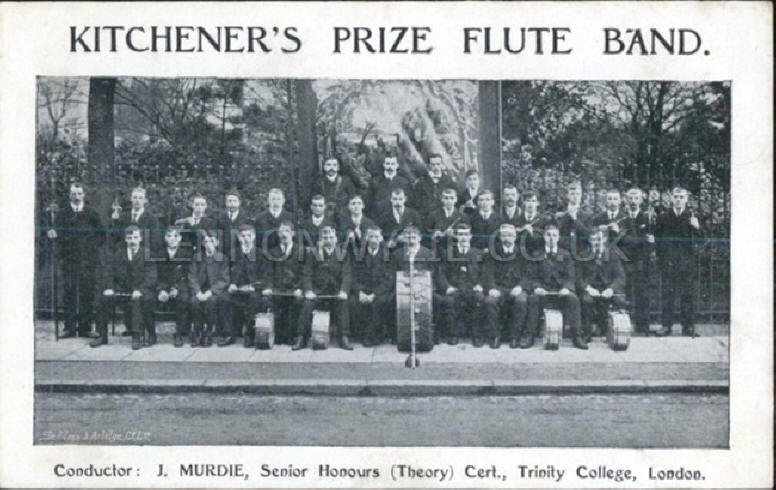 Kitchener's Prize Flute Band - Conductor: J. Murdie, Senior Honours (Theory) Cert., Trinity College, London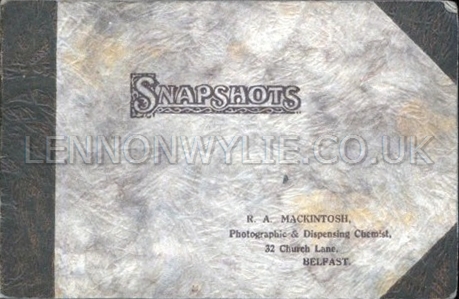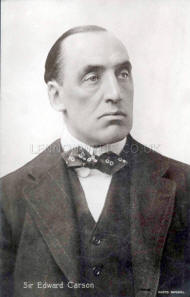 the following photos in Memory of Martha Mahood, Bangor
Lord Carson's Funeral 26th October 1935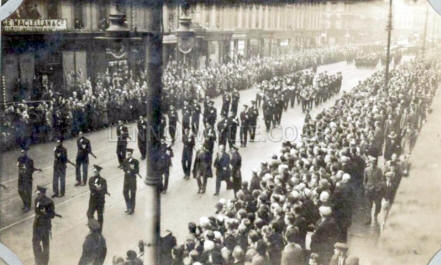 R.U.C. Funeral Party (from McMullans Corner) R.U.C. Preceding Gun Carriage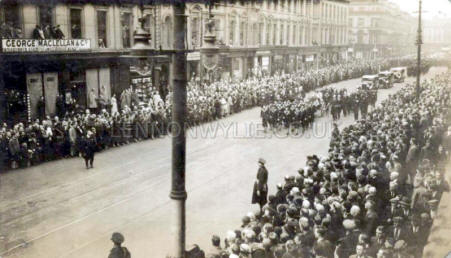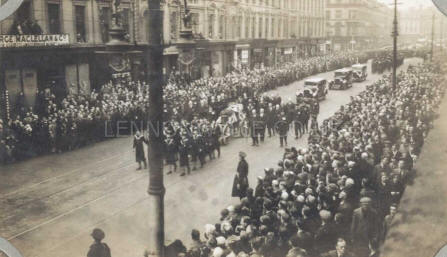 Approach of Cortege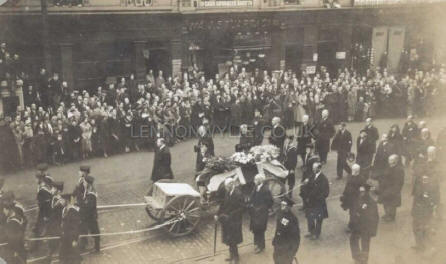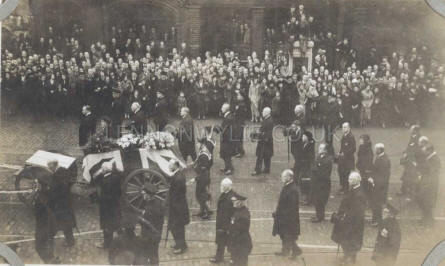 Gun Carriage and Pall Bearers
Pall Bearers - Viscount Craigavon, Sir T. Dixon Chief Mourners - Lady Carson & her son & Commander Carson
Lord Mayor Sir C. McCullagh, Sir D. Bates, Marquis of Londonderry, Col. F. Crawford, Me. Wm. Grant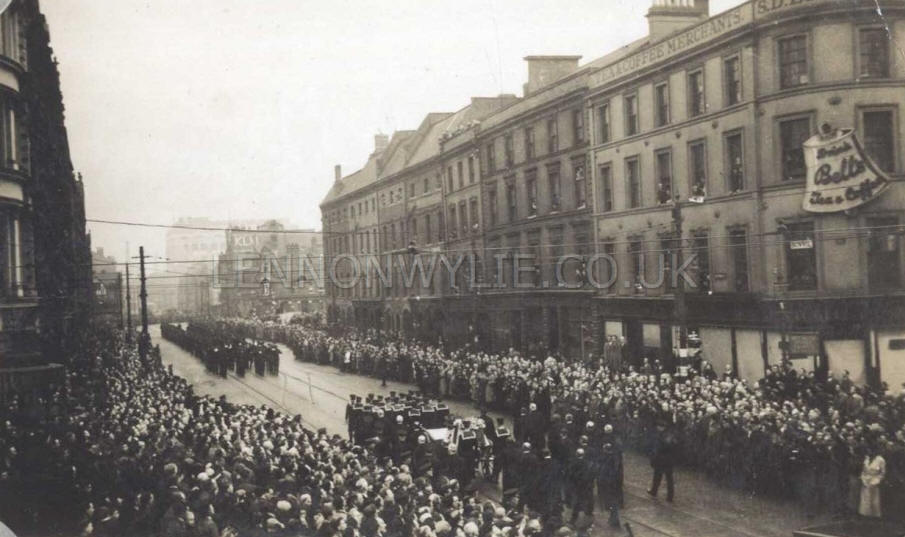 R.U.C. followed by Gun-Carriage & Pall Bearers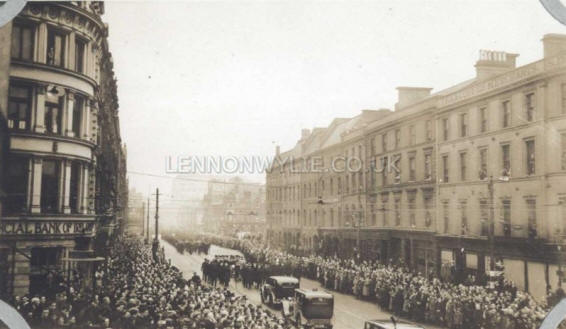 End of Funeral Procession
++++++++++++++++++++++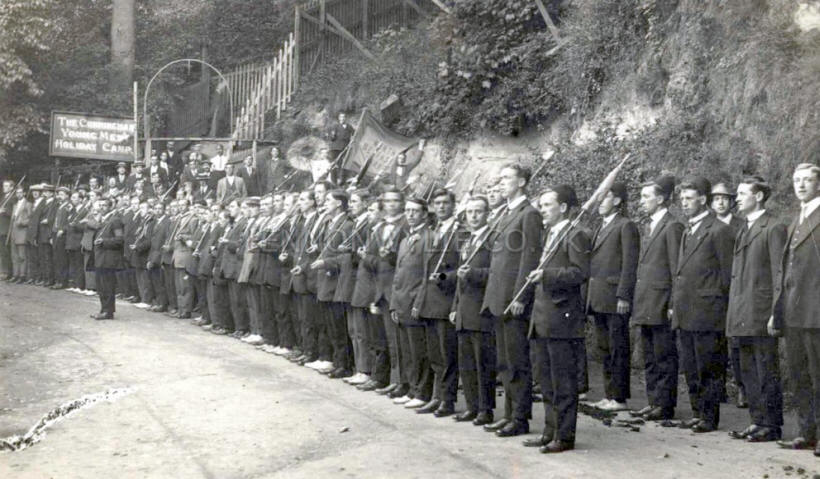 The Cunningham Young Men's Holiday Camp - North Belfast ???????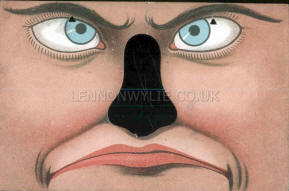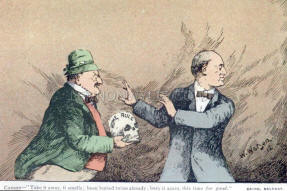 ++++++++++++++++++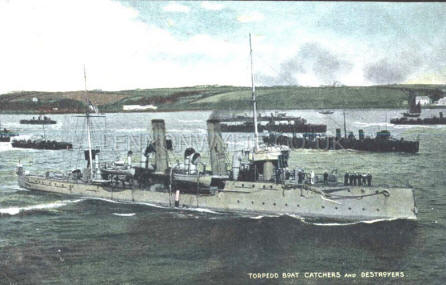 Lord Charles Beresford's Flagship "Caesar" Torpedo Boat Catchers and Destroyers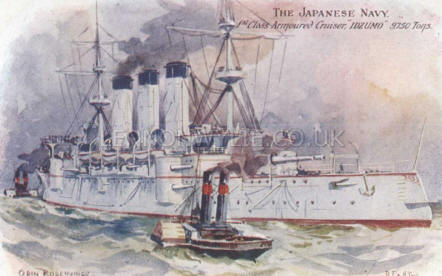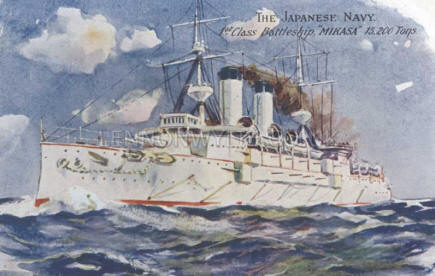 Japanese Navy 1st Class Armoured Cruiser "Idzumo" 1st Class Battleship "Mikasa"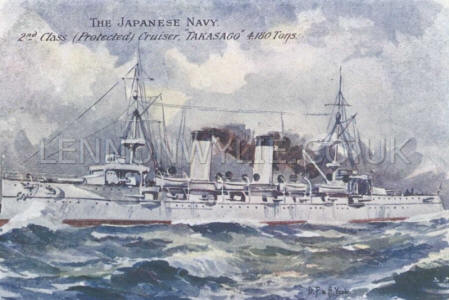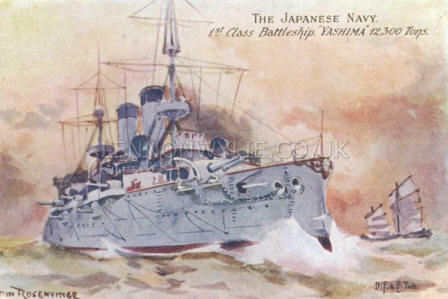 The Japanese Navy 2nd Class (Protected) Cruiser "Takasago" 1st Class Battleship "Yashima"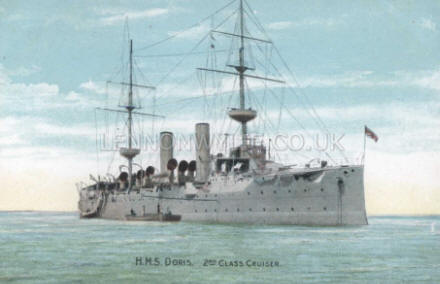 H.M.S. "Caesar" H.M.S. Doris 2nd Class Cruiser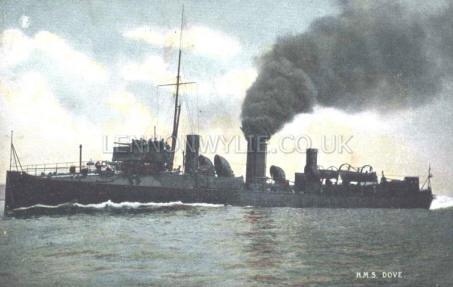 H.M.S. Dove H.M.S. Europa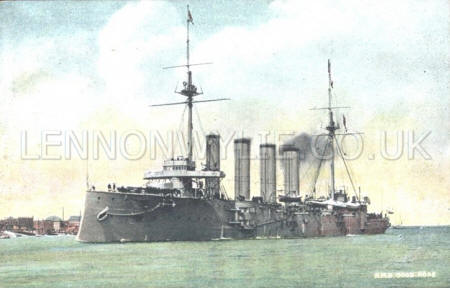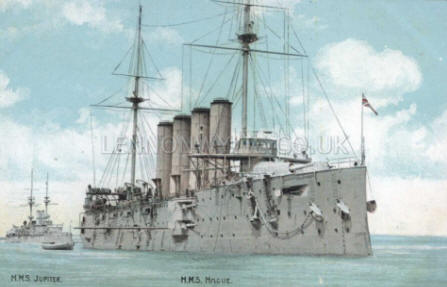 H.M.S. Good Hope H.M.S. Jupiter H.M.S. Hague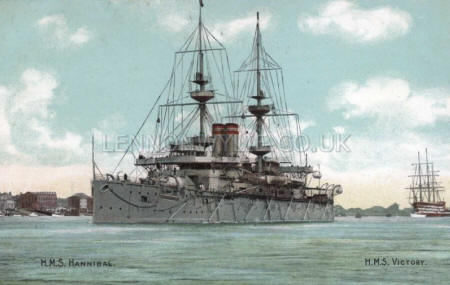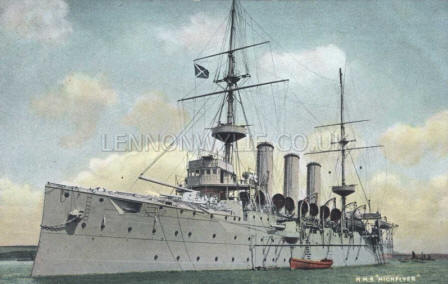 H.M.S. Hannibal H.M.S. Victory H.M.S. Highflyer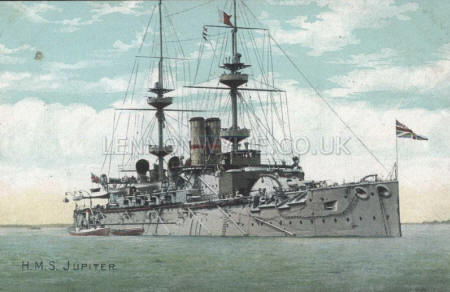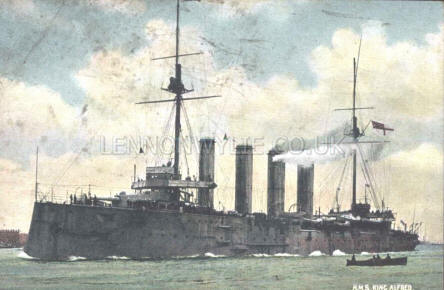 H.M.S. Jupiter H.M.S. King Alfred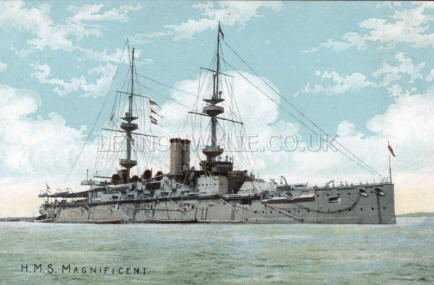 H.M.S. Magnificent H.M.S. Victory H.M.S. Majestic H.M.S. Vincent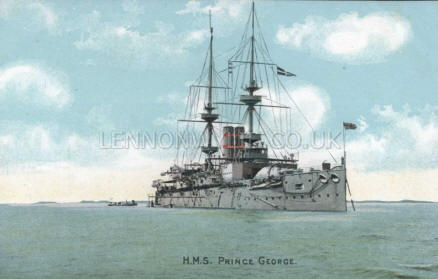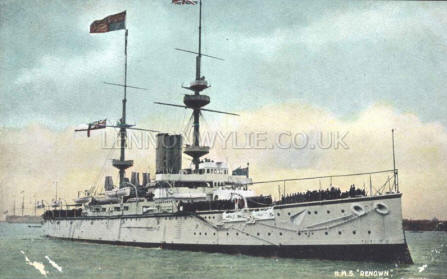 H.M.S. Prince George H.M.S. Renown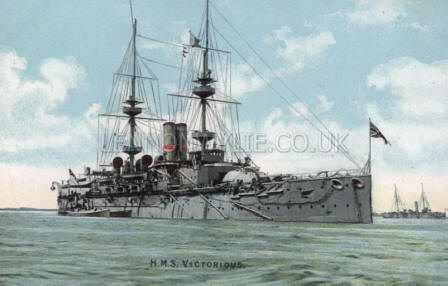 H.M.S. Sutlez H.M.S. Victorious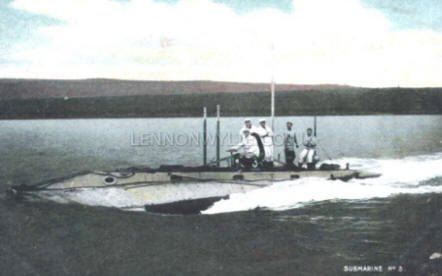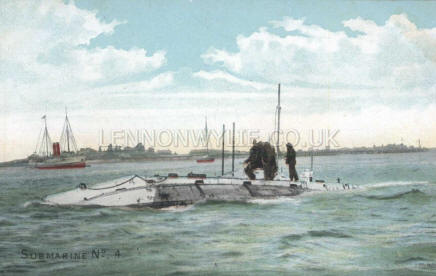 Submarine No. 3 Submarine No. 4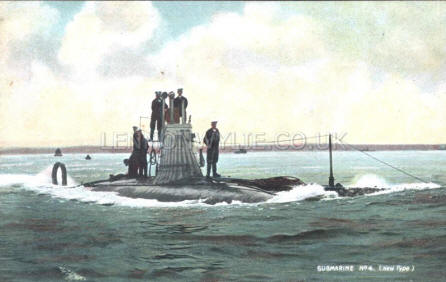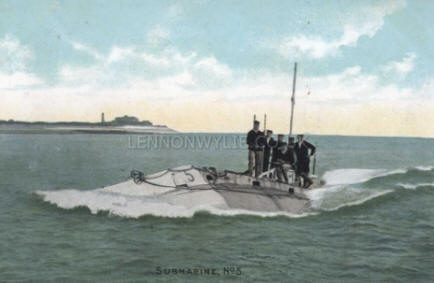 Submarine No. 4 (new type) Submarine No. 5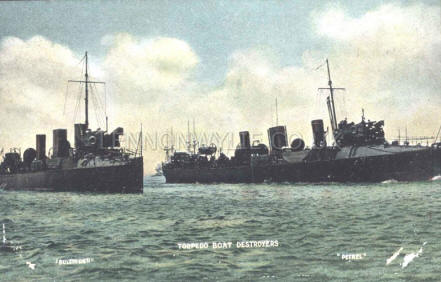 Bullfinch Torpedo Boat Destroyers Petrel Tender with American Mails, Queenstown Harbour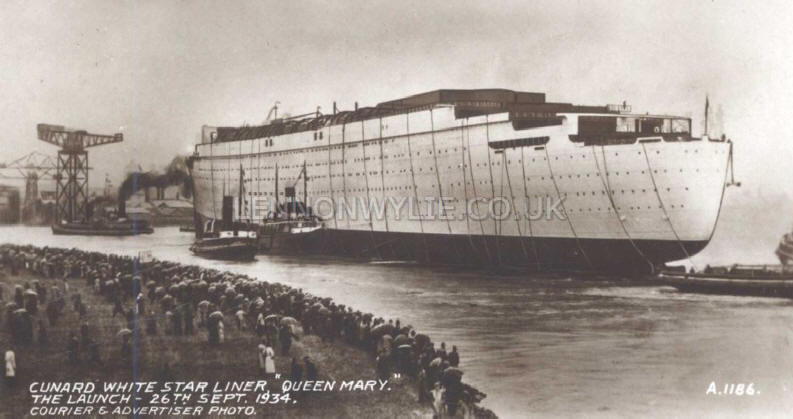 Cunard White Star Liner "Queen Mary" The Launch - 26th September 1934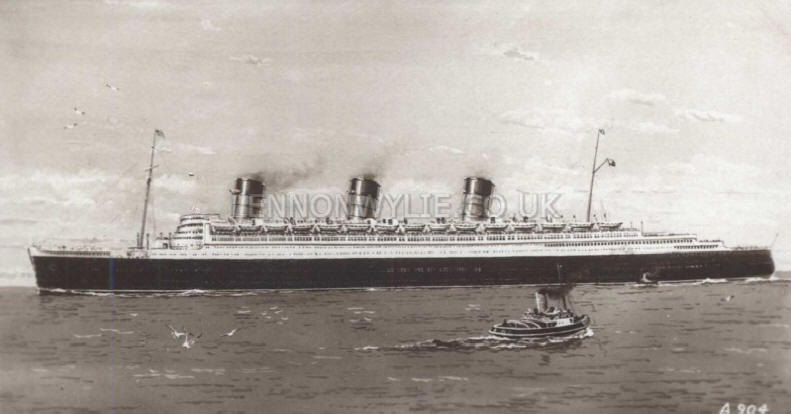 Cunard White Star Liner "Queen Mary" The World's Largest and Fastest Liner. Length 1m018 ft.; height from masthead to water-line, 250ft.; from top of funnels to water0line, 130 ft. Tonnage, 75,000. Speed exceeding 30 knots. Accommodation for 5,000 passengers. Launched on the Clyde, 26th September, 1934 by H.M. The Queen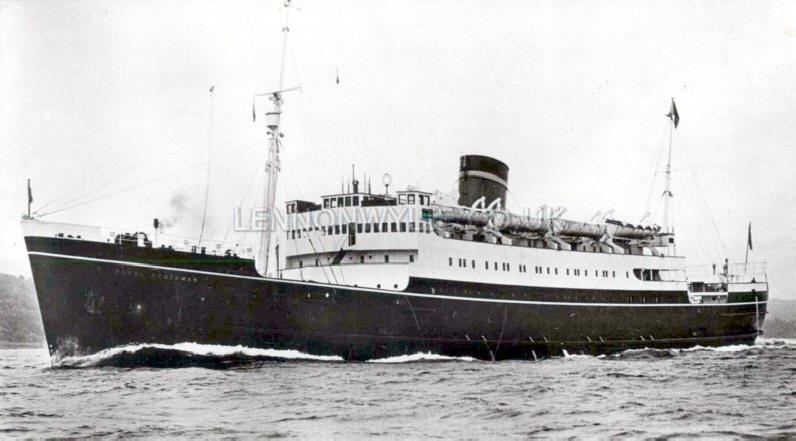 M.V. "Royal Scotsman" 3000 tons. Belfast and Glasgow Express Service, Royal Mail Route
Builders - Harland & Wolff Ltd., Belfast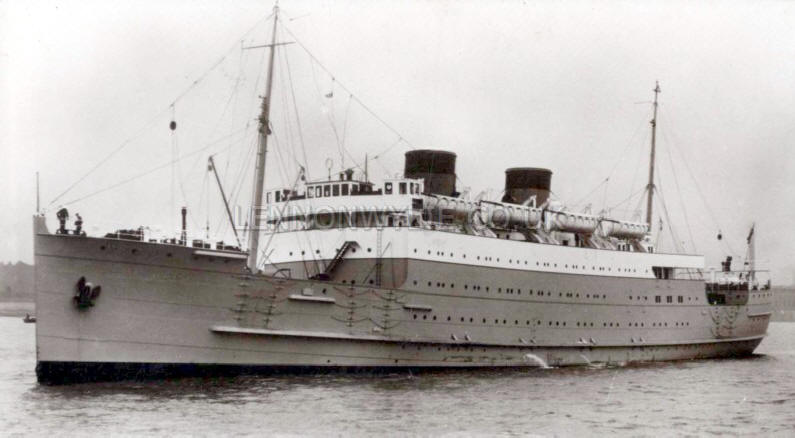 Motor Vessel "Ulster Queen" 3,800 tons. Liverpool-Belfast Express Service.
Ulster Imperial Line (Belfast Steamship Co. Ltd.)
++++++++++++++++++++





1 2 3 4
1) Messrs. B. Fould, Paris - 6th July 1898
2 & 3 - no idea
4) 16th December 1891 - Samuel Adams, Esq., c/o W. D. Brown, Esq., 114 Pembroke Road, Dublin
Great Northern Railway Co. (Ireland), Secretary's Office, Amiens Street, Dublin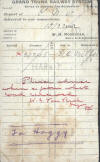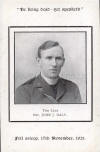 1 2 3 4
1) Montreal, Car Accountant
2) Grand Trunk Railway System 22nd October 1902
3) Cliftonville Football & Athletic Club Sat. 20th October Derry City D. A. Bennett & Coleraine, 8th September
4) the Late Rev. John J. Daly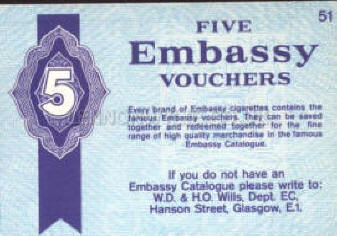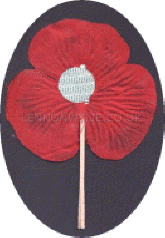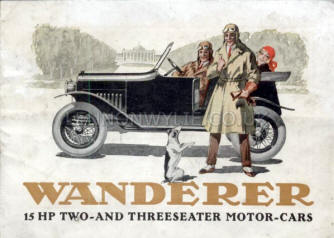 Five Embassy Vouchers Poppy Wanderer Motor Car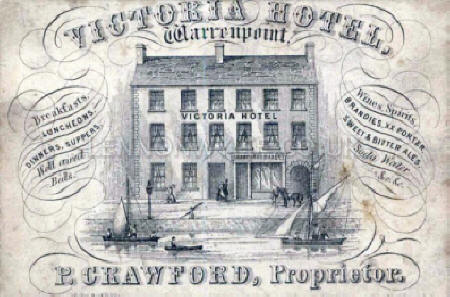 Victoria Hotel Warrenpoint Mickey Marleys Roundabout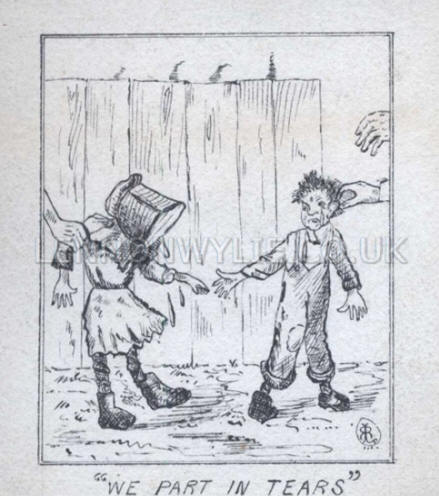 R. R. Larson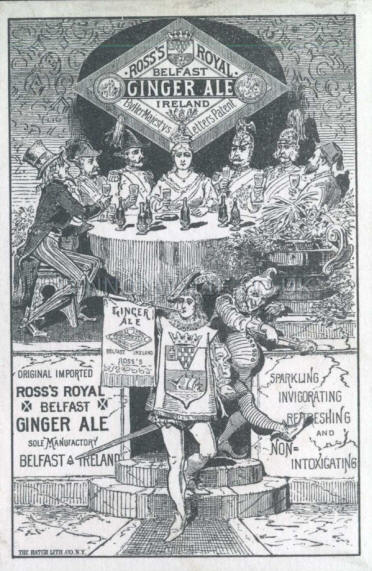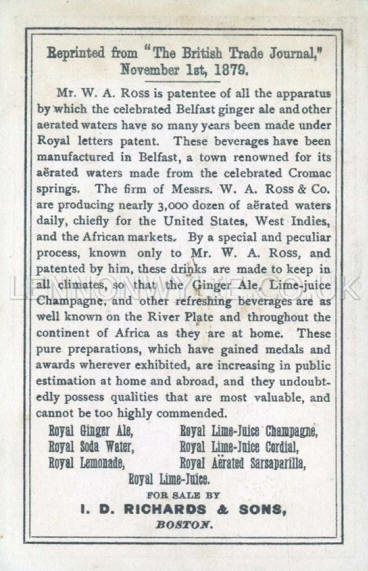 Ross's Royal Belfast Ginger Ale Ireland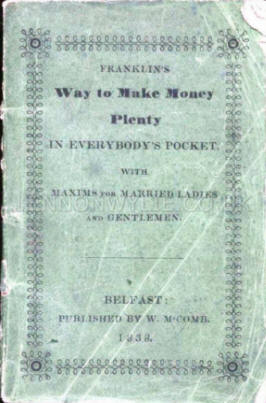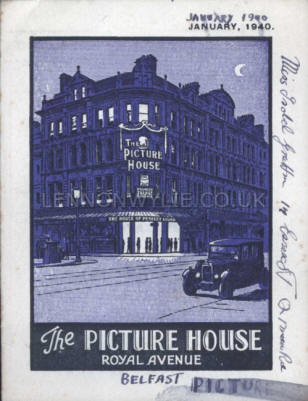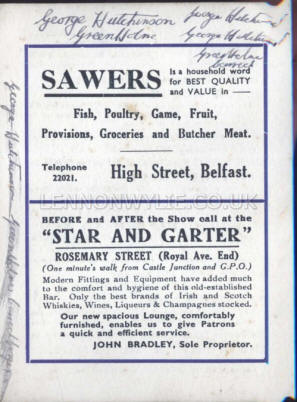 Franklin's Way to Make Money Plenty in Everybody's Pocket with Maxims for Married Ladies and Gentlemen
Belfast - Published by W. McComb, 1838
The Picture House, Royal Avenue January 1940 - Miss Isobel Gratton, 14 Essex Street, Ormeau Road
George Hutchinson Greenholme, Carrickfergus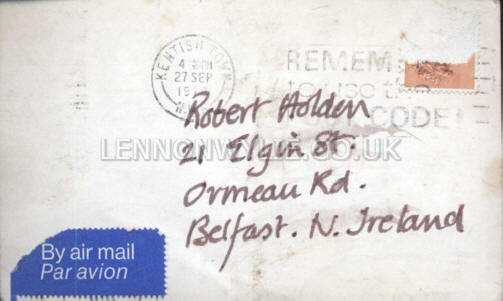 27th September 192? from Kentish Town, to Robert Holden, 21 Elgin Street, Ormeau Road, Belfast from R. W. Moore






Robert Hollingsworth, Esq., City Hotel, New York 29th December 1841 Hon Ron Wilkins?
Detroit December 29th 1841 - Robt. Hollingsworth Esq.
My Dear Sir, I have carefully examined the Law, the charter of the recorded history of the Loan of this City of 1835 - the Bonds of which you hold & herewith _____? you my abstract of the same; with a leaf of the Law of 1835, took from my duplicate copy of the Territorial Law. Coercion never will, I trust be necessary :- but, it is obvious, that your Bonds are as good as gold & silver - as an investment - the City is rich - & should ever the interest be in arrears, the institution of suits? for each semi-annual interest, would always be productive of immediate satisfactory settlement, for the City never could contest the validity of the Contract, the resources are ample ever to insure the payt.
I repeat the assurance, that it is unnecessary for you to visit Detroit, either in regard to State or City Bonds:- &, by this time, I am sure you should be in rect. of both the Oct. & Nov. Coupons? as I informed you by ____? of the 25th ___? of the Auditors Genls. statement to me? viz.? "that the interest had been provided in the ___? Bk? of the City of N.Y. in consequence of the insolvency of the Morris? Canal Company - & I am aware that the present City Hu_____? are straining every nerve to effect exchanges, so as to meet the Oct. ____? before the expiration of the ____? intimated as the probably period intimated for payt. by __? T.? Pitcher, the Mayor.
The difficulty will be avoided in future, yet, should delay occur a notice to me, or, a firm yet dispassionate letter to the Mayor, will have the effect of stimulating payt. We have no respectable Repudiators here - & moreover - your State of your City Bonds, are not within? the equity which Repudiators claim - they are fair bona-fide contracts, & the money was received & expeaded. No. No. you may depend upon it, no Party would ever dream of repudiating the contracts you hold - & if they dared to breathe such doctrine, they would ___? universal & salutary indignation, no Sir, your Bonds, in my estimation, & I have carefully examined the whole premises? - are as sound as the everlasting hills, & will be punctually & faithfully met - or - if slight delay should occur in the payt. of int. - such ___? ____? will be made by both State & City authorities, as to do ample justice & compensate for the delay. I should be happy to see wither yourself or Son in Detroit when pleasure indicates the tour, but, deem such a journey, as a matter of business, as altogether unnecessary. I am, My dear Sir, Truly & Sincerely yours, Ro?? Wilkins?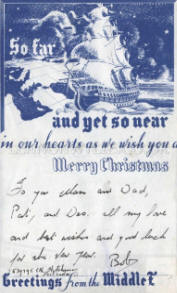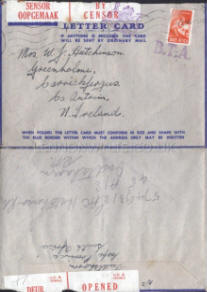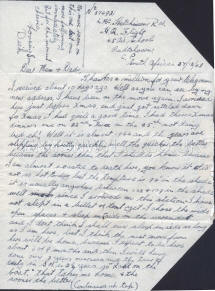 To you Mum and Dad, Pat, and Des, all my love and best wishes and good luck for the New Year Bob 539195
_____________
27th December 1943 - No. 574931 L.A.C. Hutchinson, R.M., H.Q. Flight, 45 Air School, Oudtshoorn, C.P., South Africa
Dear Mum & Dad! Thanks a million for your telegram I received about 10 days ago. Well as you can see by my new address, I have been on the move again. I arrived here just before Xmas, and just got settled down for Xmas. I had quite a good time, I had three Xmas dinners, one on 22nd & two on the 25th, not doing bad eh!, Well it is almost 1944 and the years are slipping by pretty quickly, well the quicker the better because the sooner then that I shall be home because I am almost roasted to death here, you know it is not so hot today but the temperature is 94 degrees in the shade, it is usually anywhere between 102 & 109 in the shade, well since I arrived on this station I have not slept in a billet or tent yet I chose the wide open spaces & sleep outside on the veranda and I don't think I shall ever sleep inside as long as I am here, but I think the next move from here will be home, because I expect to be here about 6 or 9 months and then I will have done over 3 years overseas and the tour of duty in S.A. is 2¼ years so "Roll on the boat" that takes me home & the sooner the better. No more room on this one but one more following immediately. But for the moment cheerio Loveing Son Dick
Mrs. W. J. Hutchinson, Greenholme, Carrickfergus, Co. Antrim
________________________________




Belfast Corporation Transport Department
Inspector H. King, G. Scott phoned, he got two good players to come with him from (will let you know) also J. Mawhirt phoned, he has got a change this leave, seventeen men promised to go down, everything now O.K. train leaves 1-50 tell A. Jackson to be on time. Ken
B. Gwynn, W. Woods, W. Simpson, H. King, P. J. Sally, D. Monro, J. McGonagle, A. Wilson, J. Mawhirt, T. Patton, T. Coleman, M. Rosbotham, R. Burnside, A. Jackson, G. Scott, Robinson, W. R. Patterson, also one other who I do not know by name
+++++++++++++



List of Objects
1
Scales from Moth Wing
Human Hair
Mouse Hair
Caterpillar Hair
2
Cutting of Cane
Cutting of Maple
Cutting of Burr Reed
Cutting of Passion Tree
3
Sea Weed
Dragon Fly's Wing
Lophospermum Seed
Skins of Poppy Seed
4
? of Snake
? of Spider
? of Bug
Disected? Leaf
5
Portion of D?am or Beetle
Poppy Seed
Copper Ore
Sea Mat?
6
Jointed Canfernea?
Lettuce Seeds
Autisnany?
Sole Skin
+++++++++++++++


Love & Return
Tis sweet to think of whom we love
But sweeter far to write
It gives expression to the Love
Which in the heart is ?
I am coming Love o'er the Mountain Wave
In the Summer eventide, And then
Thou fatal wounds, which thou hast got
Shall be for ever fled.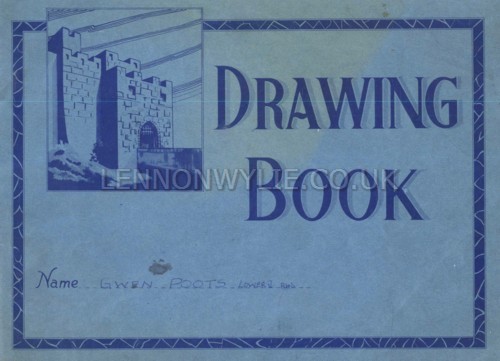 Gwen Poots Lower II AHS or RHS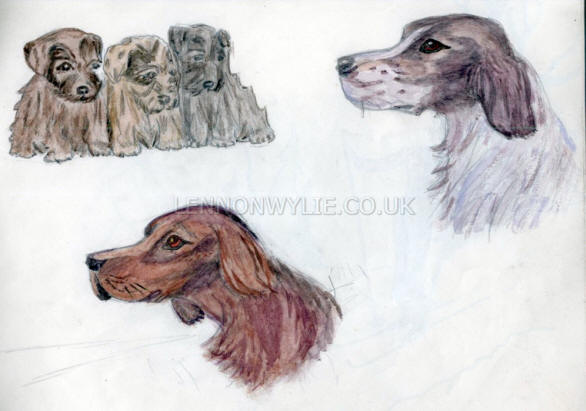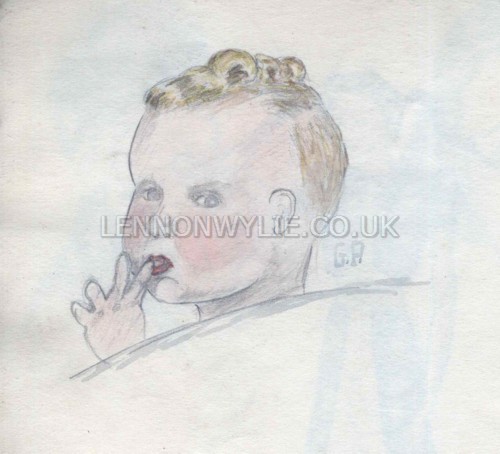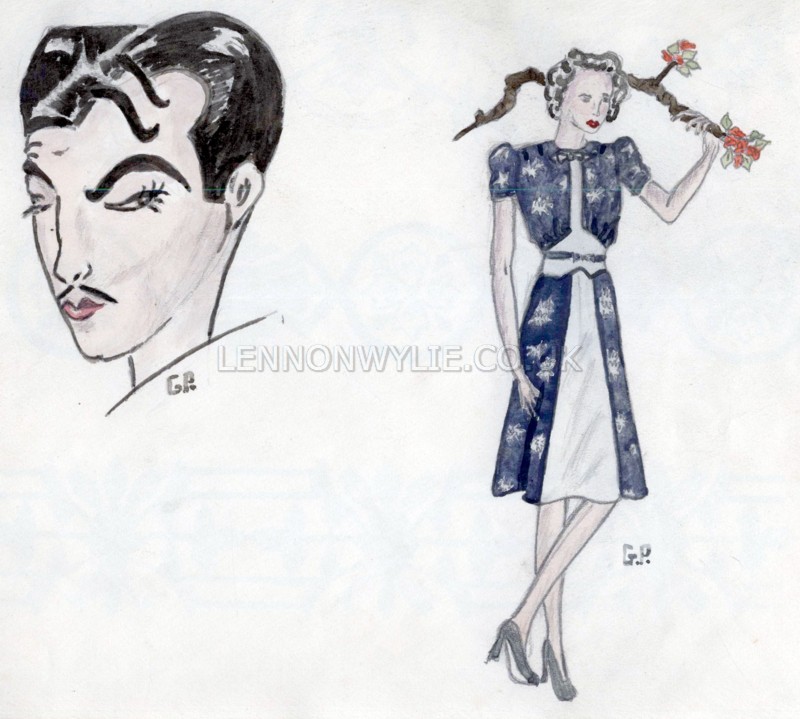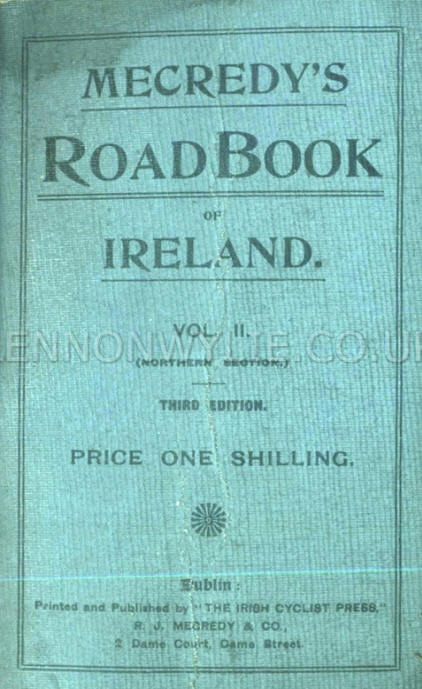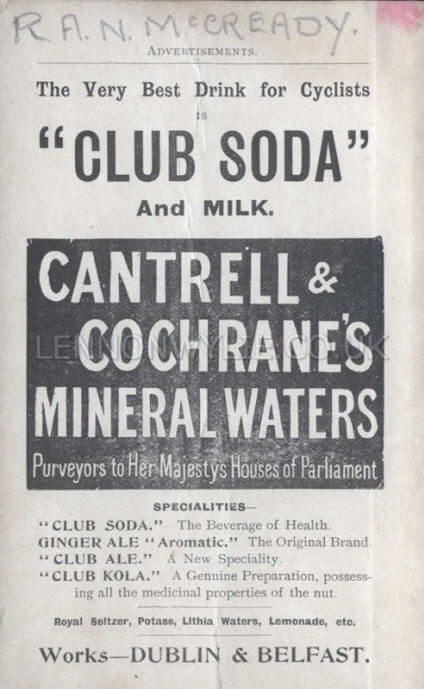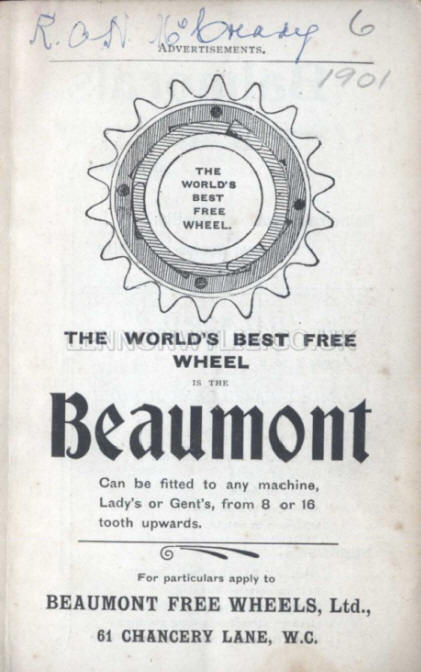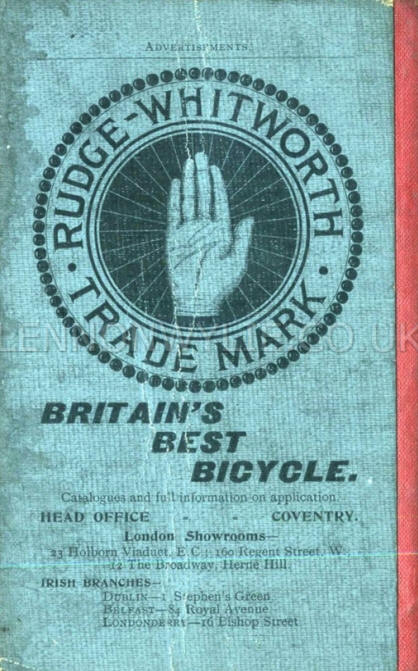 R. A. N. McCready 1901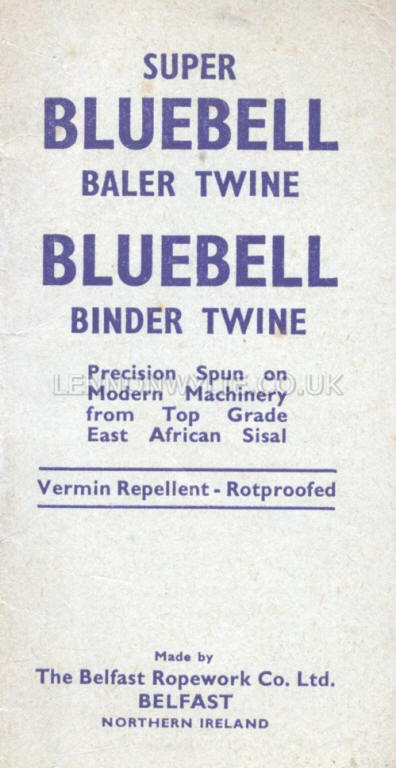 Bluebell Twine Made by The Belfast Ropework Co. Ltd.



from R. H.? Platt


H. S. R. Pyper, Esq., Belfast Mercantile College





33 Florida Drive, off London Road, City, 29th July 1936
R. McCreary Esq., General Manager, Belfast City Tramways, Napier Street
Dear Sir, I beg to submit an application for the position of Motor Inspector, in the Department. I am 37 years of age, I was educated at the Belfast Model School and the Belfast College of Technology, at present I am taking a course in General Motor Engineering with the British Institute of Engineering, Technology, London. I have been in the service of the Department since October 1925, being the first driver to take a Bus on service for the department. (___?)
Before entering the Department I served with the Ulster Special Constabulary (Transport Section) prior to this. I worked in Messrs. Automobile's Ltd., Motor Engineers. I worked in Messrs. Harland & Wolff Elec??? Plant Repair Dept., where I had ex____sion of the over haul and repair of all kinds of electrical plant, motors and _____?, ___? starters, and switch gear of all kinds. I have a thorough knowledge of the working of the Department (_____________?) I am Sir, your ???? Good credentials can be had as to character etc., from a number of local gentlemen.
_________________

R. McCreary, Esq., General Manager
Sir, I am writing to seek your advice on a matter which I have been thinking over for some time. Some time ago I asked you to write on my behalf to the Chief Engineer of the department in which I am employed (Belfast City Tramway & Omnibus Dept.)
Since then changes have taken place in the Omnibus section, a Bus superintendent engineer has been appointed, and he has practically full control, subject to the General Managers Sanctions. The Bus flat has also been considerably augmented and the mileage in____? In view of this it is evident promotion is bound to come sooner or later, and as I have been acting as Bus Inspector on several occasions for the past 6 years. I think I would be doing right in letting the manager know I am a student of the Institute, and in view of the fact that he holds several degrees in engineering (Queens University, Belfast), and has a leaning towards men of that type. However I will leave the matter in your hands.
Rotterdam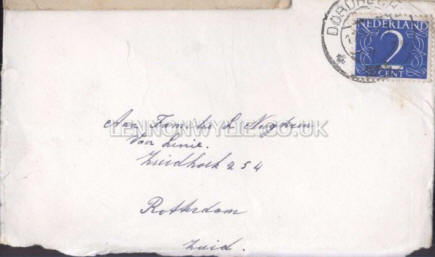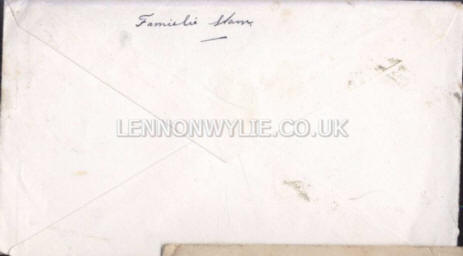 Aan Familie L. Nughren, ?????????????? Rotterdam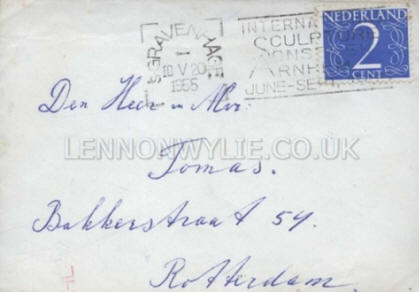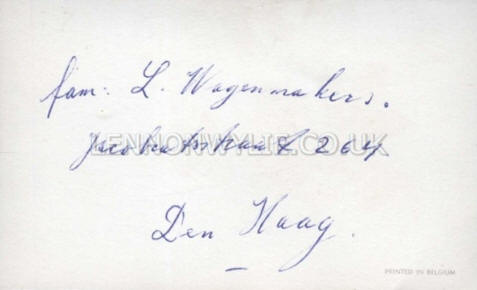 1955 Gravenhage Tomas Rotterdam L. Wagenmakers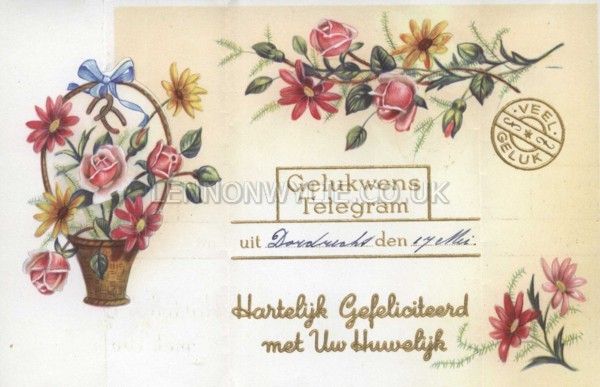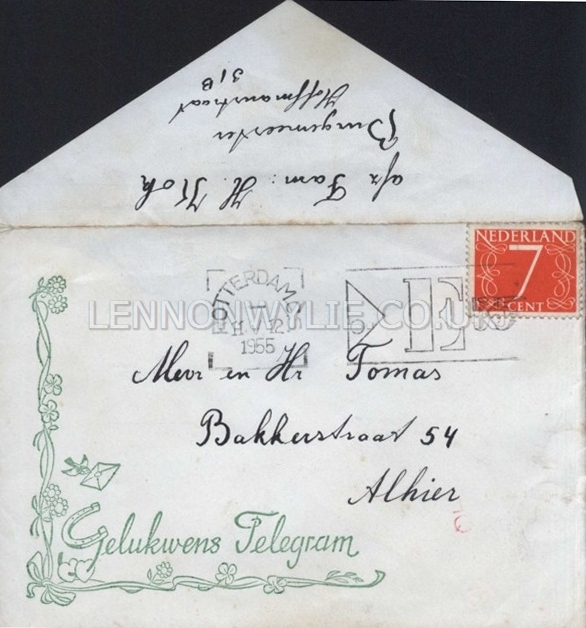 1955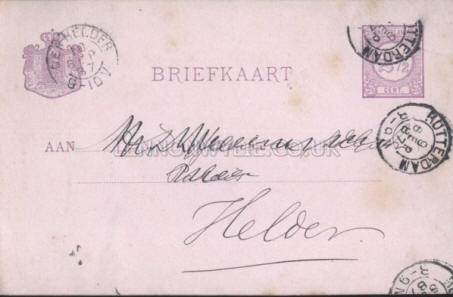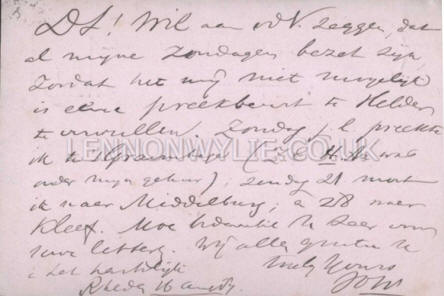 1987 Rotterdam