items on this page don't have a date




14 Sefton Drive, Monday - Dear Bella, I thought to have seen you before this & I am hurt at you not letting me know how Bella was going along. I was sorry Harry let our door so soon as we were all in the house & he is my favourite nephew. Yes, since he was a little Boy. I hope your Holiday helped Harry & you all. I had a letter from Nan, I am glad she got her dress safe & that it is a good fit. Your loving Auntie Gertie I am hoping to see you soon.









1 2 3 4 5 6 7 8
1) To Mr. Mrs. McKibbin and Family From Mr. Mrs. Campbell and Betty with best wishes
2) From Lizzie & Family To Clara & Family
3) To Clara & John From Ellie & John with best wishes
4) From Clara & Walter
5) From Rachel To Lizzie
6) From Lizzie & Harry To Mother & Family
7) -
8) To Grannie Quinn From Samuel, wishing you all the best for Xmas & the New Year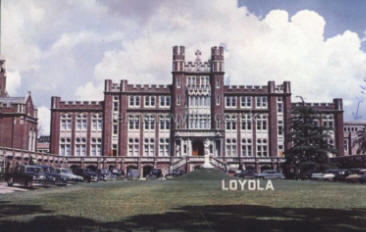 1 2
1) Loyola University of the South, New Orleans, La. The building in the back of the main (on the right side of the picture) is where I work. Wish you could see more of the grounds, they are supposed to get more pictures in.
2) Lourdes Arrived safely and having a very pious time. I hope everything is as usual & that you are looking after yourself. Hope wee Colette is well, give her a big kiss. Love to both, Kathleen - Mr. Chas. Marten, 2 Clifton Drive, Cliftonville, Belfast, N. Ireland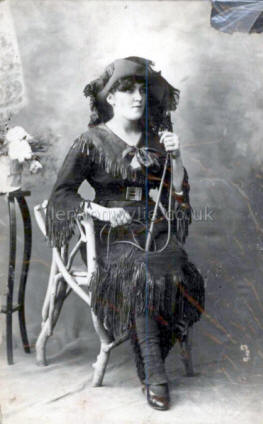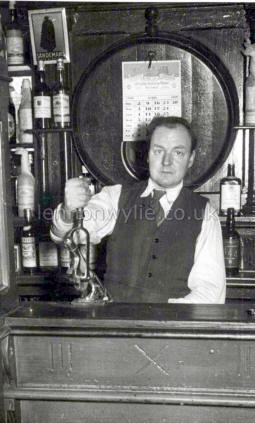 1 2
1) To Dear Cousin, I am sending you my photo, as you asked a kind favouring me. This is the only one that I have at the present. It is taken in an Indian Cow Girl Costume, which I had for a fancy dress ball. I am your Loving Cousin, Rosie Irvine
2) Belfast photographer






1 2 3
1) Postmark Eastbourne to Mr. & Mrs. J.? Humphreys, 32 Waring Street, Belfast, N. Ireland - Eastbourne is a very nice place but the weather could be better, no boats, no bathing, too much wind. Meg
2) Middletown - Mr. John McGough, No. 9 Wivur? S.S. Glasgow, ?? - Dear John, We have lovely weather here & I am as happy as the day is long. Touring? is ? is Cluney? now but I didn't ? Katie was asking about ????
3) To Madeline From Rory with best wishes for a happy St. Patrick's Day, st. A. C., Miss Madeline Gray, c/o Mrs. A. Mackey, Brock Lodge, Castleconnell, Co. Limerick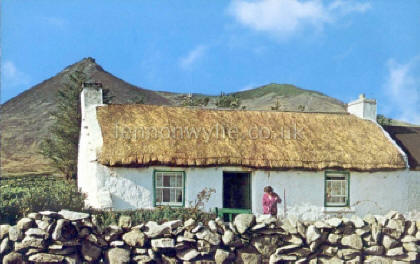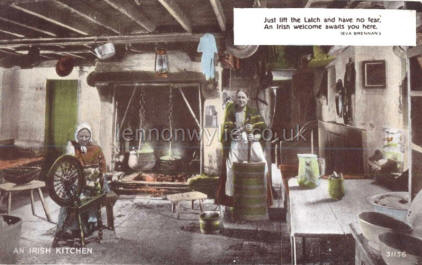 Mourne Mountains An Irish Kitchen - Just lift the latch and have no fear,
An Irish welcome awaits you here, Eva Brennan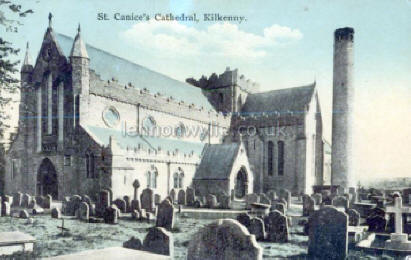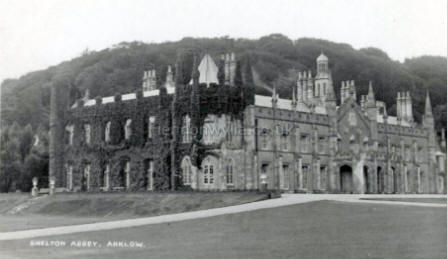 St. Canice's Cathedral, Kilkenny Shelton Abbey, Arklow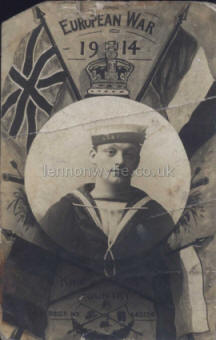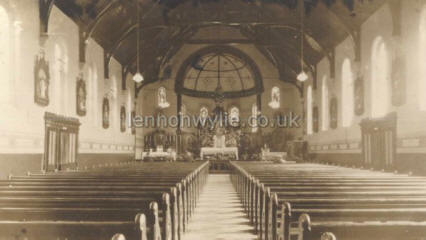 My Wish To You European War 1914 Sacred Heart Church, Belfast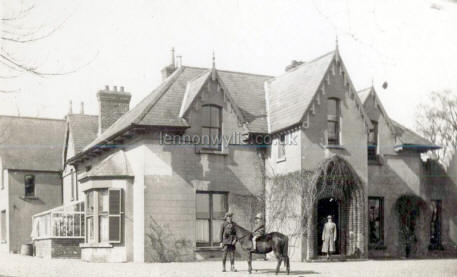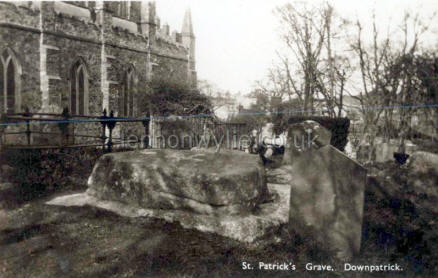 St. Patrick's Grave, Downpatrick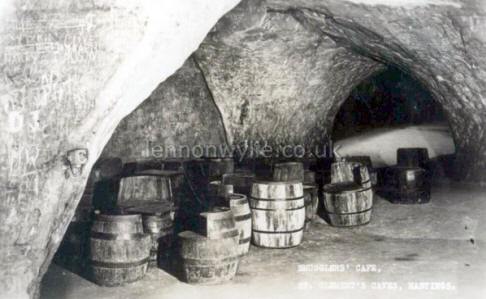 Smugglers' Cave, St. Clement's Caves, Hastings
~~~~~~~~~~~~~~~





1 2 3 4 5 6
1) To-day Long Ago - Robert Sullivan - The son of a wealthy publican, Robert Sullivan, whose name is commemorated in the name of the school at Holywood, was born in that town in January, 1800.
2) A drumming party at Finaghy in 1939. The "Lambegs" have now disappeared from the Belfast parade.
3) Sullivan Collection
4) Remembrance
5) An Ulsterman's Diary
6) The Mountaining Man
He sowed his young strength in this place, Among the weed and stone,
And reared a little corn to keep, The rough flesh on his bones.
He wed a sturdy mountain girl; The brace of sons she bore,
Grew weary of the quiet mists, The greyness round the door.
He waked his wife at lambing-time; The scattered neighbours came,
And gossiped at the ashy hearth, Till curlews cried again.
And now he hears upon the thatch, The lisping of the rain,
And watches as the wasting turf, Throws spears of coloured flame.
Dominic A. Burns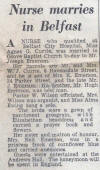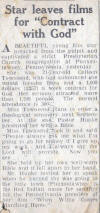 1 2 3 4 5 6 7 8 9
1) A Forgotten Holywood Poet, Robert Sullivan by Alexander Flanigan
2) To-day Long Ago, Tom Moore's Duel, Francis Lord Jeffrey, has many claims to fame, the most amusing of them concerns a duel he fought with Tom Moore one August morning at Chalk Farm in 1806.
3) Nurse marries in Belfast, Agnes G. Currie married Joseph Emerson
4) Airfield Wedding for R.A.F. Couple - Victor Jeynes married Maureen Carbery (see photo below)
5) Desert Air Force Boxing Stars, Belfast Doctor is Member of Team, Flight-Lieut. T. N. N. Brennan, son of Captain C. J. Brennan, Belfast
6) Star leaves film for "Contract with God" Colleen Townsend
7) Sports News
8) Eire and Beattie Election, Public Are Mystified
9) Various - Japs Launch Ship in Borneo; Dr. Joad Visits Dublin; Belfast Street Accidents, Hit by Car and Tram, Gretta Drew (18), Strand Road, Holywood & James Davidson (62) Ballyboley, Ballynure; She Harboured Prisoner, Woman Sentenced, Freda Gwendoline Browning (23), Barefoots' Farm, Liss; Soldier and Wife Found Shot, Northants Tragedy, Harold Ernest Rodhouse (24) and his wife Ruth, Kettering Road, Northamptonshire; Farmer and Overtime, Calls it "A Disgrace" Frederick Alexander Skinner, Billinghurst; Wilhelmshaven Attack, Heavy, Report Says, Three Missing Planes; Ferry Command Bomber Crash, 18 Occupants Dead, Ottawa R.A.F.; "War" Neurosis Causes, Men Who Don't Grow Up; Recruitment of Nurses, Great Britain Speed-up; R.A.F. Man Acquitted, at Ulster Court-Martial, Corporal V. A. Redoubt; Holywood Sessions, Army Blankets Case, Wm. Matier, Golf Club Cottages, Craigavad, Joseph G. McClurg, Culcavy, Moss Road, Millisle; Ballymena Court Day, Food Prosecutions, Alfred J. Wylie, Broughshane Street, Ballymena, Martha McBurney, Albert Place, Maypole Dairy Co., Christopher Blair, Broughshane Street.


Warrant Officer Victor Jeynes and his fiancÚ Miss Maureen Carbery