Alton Newspaper Clippings & Postcards










The Old Place, Dublin in 1858, Trinity College, Malachy Hynes, Friday: Skibbereen in 1847
Irish Times 17th July 1935? Noise in the Streets
London Times 13th May 1942 - New Provost of Trinity x 2
Wednesday May 13, 1942 - The New Provost x 2
"T.C.D." 1905
June 8th, 1943 - The Campanile and Its Bells










The ? Weekly, 19th May 1945 - John Citizen's Log - Provost of Trinity College, Dublin Dr. Ernest Henry Alton
The Irish Times Dr. E. H. Alton
Times, Tuesday June 14th, 1949 T.C.D. Elects Fellow and 18 Scholars
The Irish Times, Thursday February 21st, 1952 Funeral of Dr. E. H. Alton
Obituary Mr. H. P. Alton
Professor W. E. Thrift, Provost T.C.D., and Professor E. H. Alton
Irish Times, February 19th, 1952 - Provost of Trinity College Dead
In Memoriam - Ernest Henry Alton


The Times, Tuesday March 4th, 1952 Obituary Dr. E. H. Alton
The London Times, February 19th, 1952 Obituary Dr. Ernest Alton





The Irish Times, Friday May 8th, 1953 - Marchioness of Normandy opens Moyne Institute in T.C.D.




London Times, 27th July 1942 - Maltreatment by Japanese - Prisoners at Woosung - Barbarity of Japanese
Wounded Men Bayoneted - Allied Civilians Tortured
on the back of the newspaper clippings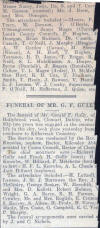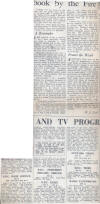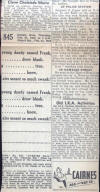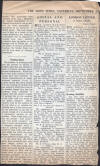 Funeral of Mr. G. F. Gully - Court Case against David Vaughan Sandford Evans, Attigarrett House, Naas - death of John Moorhouse, 8 St. Laurence Terrace, Bray 1951 - Francis Bernard Byrne, Smithgrove Terrace, Cork damages against Francis P. McGowan, Bord na Mona Official - Exam Candidates, David Alexander Cunningham, Robert Burke Hamilton of Belfast; Patrick Joseph McCullagh of Dublin; Liam Alphonsus McDevitt of Sligo; Bartholomew McDonald of Artane; Norman McKee of Belfast; David Nelson Rowe of Dublin - Francis Gerald Kelly (33), Leinster Road West - Engagements
+++++++++++++++++++++++++++
Postcards








1 2 3 4 5 6 7
1) Postcard
2) 1946 10th April, Postmark Dublin, J. Healy, Esq., Brookville, Leesonpark from Abbey Theatre
3) 1945 18th September, Postmark Dublin, John Healy, Esq., Brookville, Leeson Park, Dublin from Abbey Theatre
4) 1949 23rd March, Postmark Dublin, J. Poe Alton, Esq., Elim, Grosvenor Road, Rathmines from Abbey Theatre
5) 1950 October Postmark Dublin, J. P. Alton, Edw., Elim, Grosvenor Road, Dublin from Abbey Theatre
6) 1968? September Postmark Calain? Mr. Henry Alton, 34 Parliament Hill, Hampstead, London, N.W. 3 - Dear Dr., Arrived safely, Frank and myself having a lovely holiday. I was in Tipperary yesterday with Frank family, weather good, Sincerely, Mary McW????
7) 1939 20th June Postmark Rhyl, H. J. Alton, Esq., 40 Trinity College, Dublin, Ireland - Bry & I spent the afternoon at Bangor yesterday & crossed The Suspension Bridge. This is a new photo of this bridge. We are just off to look at shops etc. I will be leaving B. at 6.30 this evening, yours E. M. A., Westminster Hotel, Rhyl, June 20th, 1939






1 2 3 4 5
1) 1936 20th July Postmark Paris, H. G. Alton, c/o Rev. ? Richards, Bri??t's Farm, Dart????, Nr. Princetown, S. Devon, Angle????? - I know I sent you some of these beauties already so you can give this with my respects to Dr. Richards? They call this gargoyle 'The Nun' but it seems to me to be a caricature portrait of a gossiping acquaintance of the sculptor. I hope you are ? with cards. Do not bother to write unless you really inclined to do so. Love from Dad
2) 1962? September Postmark ? Dr. H. G. Alton, Royal Northern Hospital, Holloway, London - Bill hopes to get the rest of my house made right & outside painting done so things are very ok. When is Bry? expected home ? we to see her before she returns to Dublin. ? ? ?
3) 1935 23rd September Postmark Wien1 H. G. Alton, Boyne House, College Road, Cheltenham, Glos., England - Monday, I reached Vienna last night. This morning I have been working at the library to which I go back in 20 minutes. I took out some of the famous MSS., including the Psalter which belongs to Charlemayne's wife, it is written in gold. Hope all is well; shall write you a letter to-morrow. Bring luck E. H. A.
4) 1936 26th June Postmark Leeuwarden H. G. Alton, Boyne House, College Road, Cheltenham, Glos., England - This is a View of the Old Tower (Oldehove) - a fragment of now non-existent old church. I worked hard to-day at the libraries here (there are two) where a lot of the books & manuscripts belonging to Franeker University are to be found. Napoleon did not like the Dutch University and supp??? several including Franeker. I suppose you saw ??????????? Love from us both Dad? What do you think of the stamps I am sending?
5) 1914 3rd August Postmark Folkestone Mrs. Alton, Elim, Grosvenor Road, Dublin All right - trying to get home. Love Harry. Received from the writer at Wiesbaden? (Germany)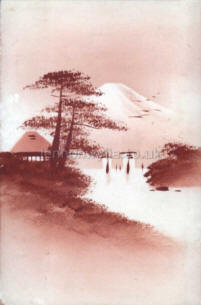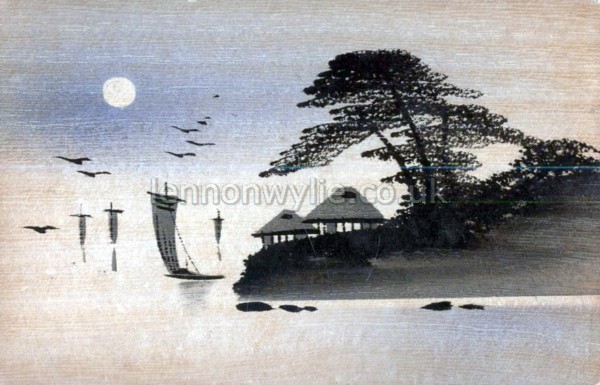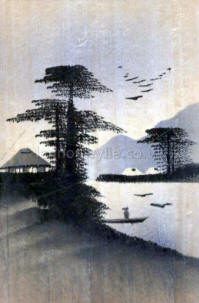 1914 3rd July Postmark Douglas I.O.M. J. PoŽ Alton. Esq., Elim, Grosvenor Road, Rathmines, Co. Dublin - Ever so many thanks for forwarding letters. I think the "Sanderson" ? Camera recommended would suit you, I will write them on my return on Tuesday. Much love to self & all. ???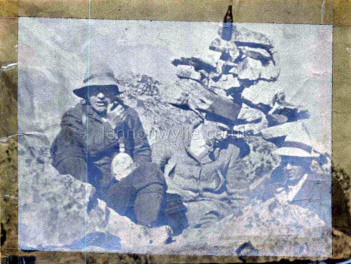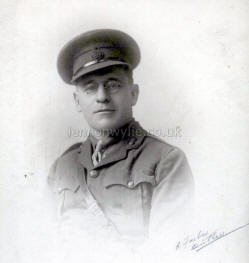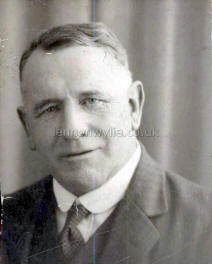 no info on back T. R. Jones,
8 Roland Street,
Holyhead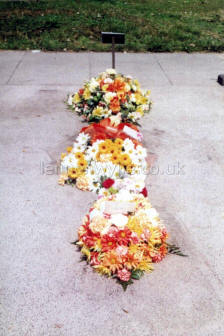 no info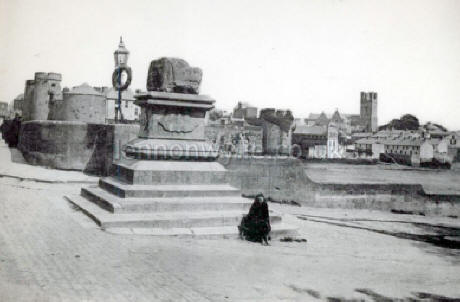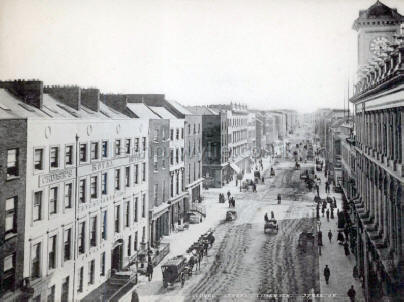 The Treaty Stone, Limerick George Street, Limerick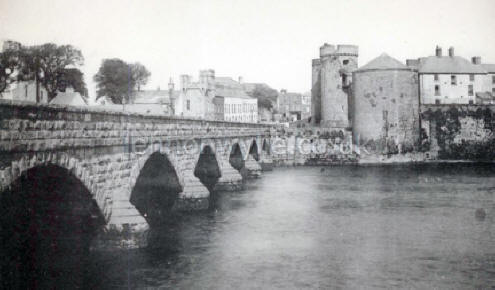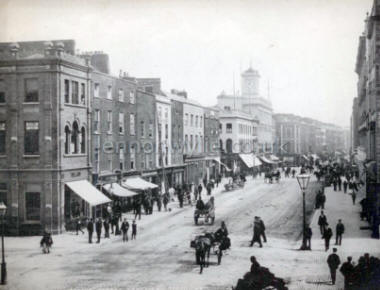 Thomond Bridge and King John's Castle, Limerick George Street, Limerick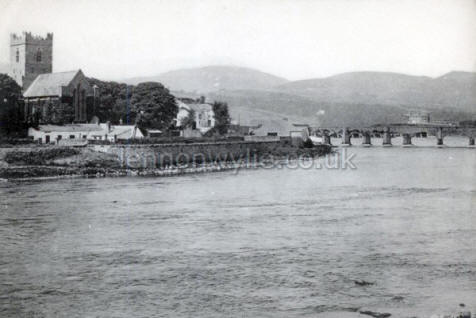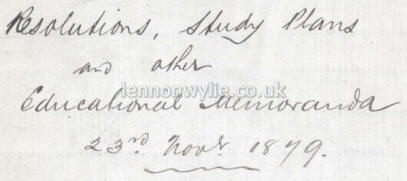 Killaloe, Co. Clare
Resolutions, Study Plans and other Educational Memoranda 23rd November 1879