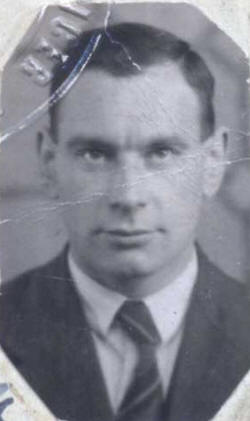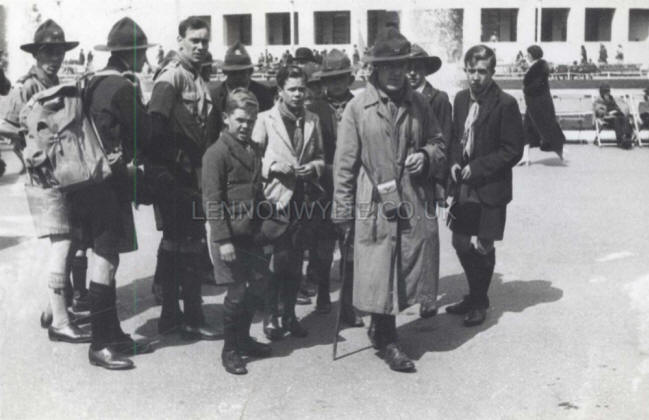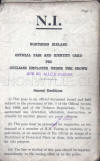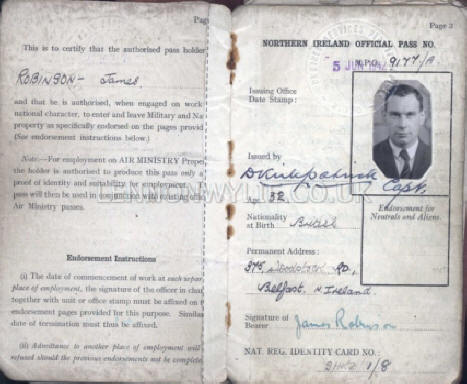 N.I. Official Pass and Identity Card for Civilians Employed Under the Crown and by Allied Forces
5th June 1942 - Issued by Capt. D. Kirkpatrick to Jane Robinson, aged 32, 375 Woodstock Road, Belfast
addresses inside back cover - David Gilmore, Ingleville, Newcastle, Co. Down & Mr? Mitchell, 18? Grasmere Gardens, Belfast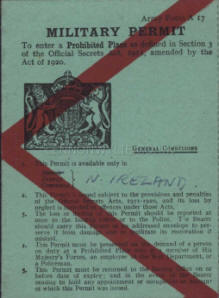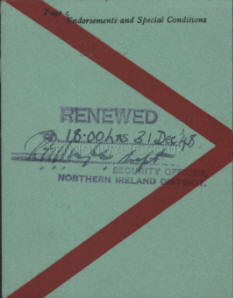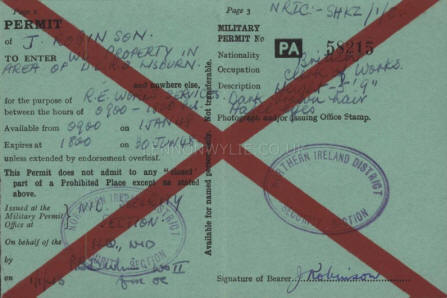 Military Permit - Renewed 18.00 hrs. 21st December 1948 Capt. Rutledge?, Security Officer N.I. District
J. Robinson, British, Clerk of Works, Height: 5' 9"; dark brown hair, hazel eyes









NAMES: - Deacon; Tweedy R.E., Arthurs, Bradshaw, Watkins, Williams, ?, Anne B. Collins (WRAC), Basil George Coleridge, ?, Tonge? Sgt., Guiney? Ops, Denk? Davis, Witney?, ?, ?, ?, Chambers, Mrs. Brown, Stan Hawkes.
Adams, S/Sgt., Daniel? Norden?, J. R. Bill, ?, Taffy?, Harry Wragg?, Curly ?
R.E. W.O.'s & Sgts Mess Christmas 1949, Mackinnon? Road - Herbert?, Bryson, ?, J. Robinson



Glencraig . Craigavad . Co. Down . Ulster 25th April 1938
The Viscountess Craigavon has received Mr. Boyd's letter of the 29th instant and notes that he cannot get two doors already made the required size for the Corner Wardrobe and that he will definitely get old wood and make up the doors. If he can guarantee that it will be the same colour as all the other old furniture in the room she will get him to go ahead with it, but not just at the moment because she has heard of one Corner Cupboard that might be a possibility if it was altered. When she has seen this she will write to him further and in any case will get him to alter the Cupboard to her requirements if she buys. She will, therefore, write again in the course of a few days.
Mr. John Boyd, 19 Cameron Street, Botanic Avenue, Belfast
~~~~~~~~~~~~~~~~~
23rd May 1938
The Viscountess Craigavon writes to tell Mr. Boyd that she has decided to utilise an old Corner China Cupboard that she already has for the Corner Wardrobe in the Dressing Room where she needed one, and, therefore, will not require him to make one up for her in old wood. She, however, will keep his name and address and if at any time she wants any repairs done she hopes that he will do them for her.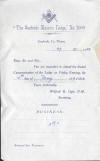 The Seaforde Masonic Lodge, No. 1009, 27.4.1956 - Wilfred R. Ogle, P.M., Secretary to J. Robinson, Sergts. Mess, 3 R.H.A. Regt., Houis? Barracks, Libya, B.F.P.O. 57



a letter from William Conor (artist), 1 Wellington Place, Belfast 21st September 1935
to Mrs. & Dr. Foley, Woodview, Durrow, Leix, I.F.S.
Dear Mrs. Foley, Your sister told me that you and your husband would be pleased to see some of my crayon drawings and advised me to send you a few. So I am sending enclosed here-with a number of my best and most recent efforts. If there are any of these drawings that you and the Dr. would like to possess I should be very pleased to accept 5 guineas each. Although I ask from 10 to 8 here, but being a friend of the Nolan family, and knowing that they would be appreciated I should feel amply rewarded. I am inclined to agree with what your sister selected, and they were "Bringing home the turf" and "Gimme Hoult" These drawings are only temporary mounted, I like wide mounts, say 3½ top & sides, 4½ bottom - I hope you and the Dr. will be interested, and with kind regards. Yours sincerely, William Conor P.S. Forgot to place this letter in parcel.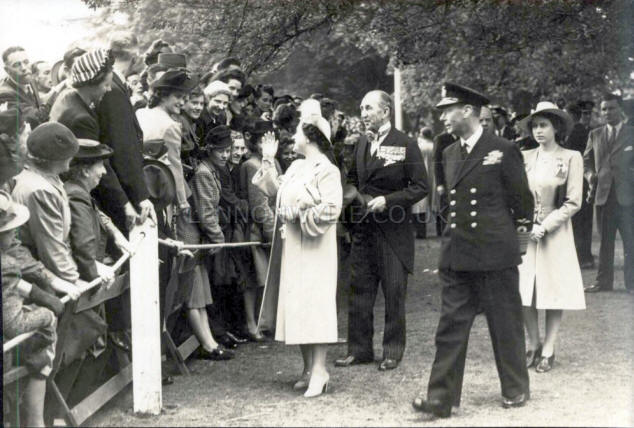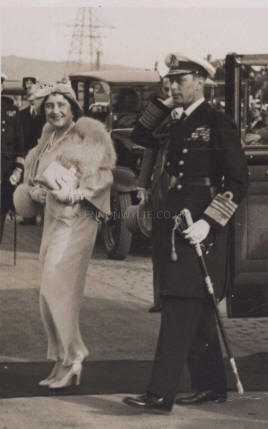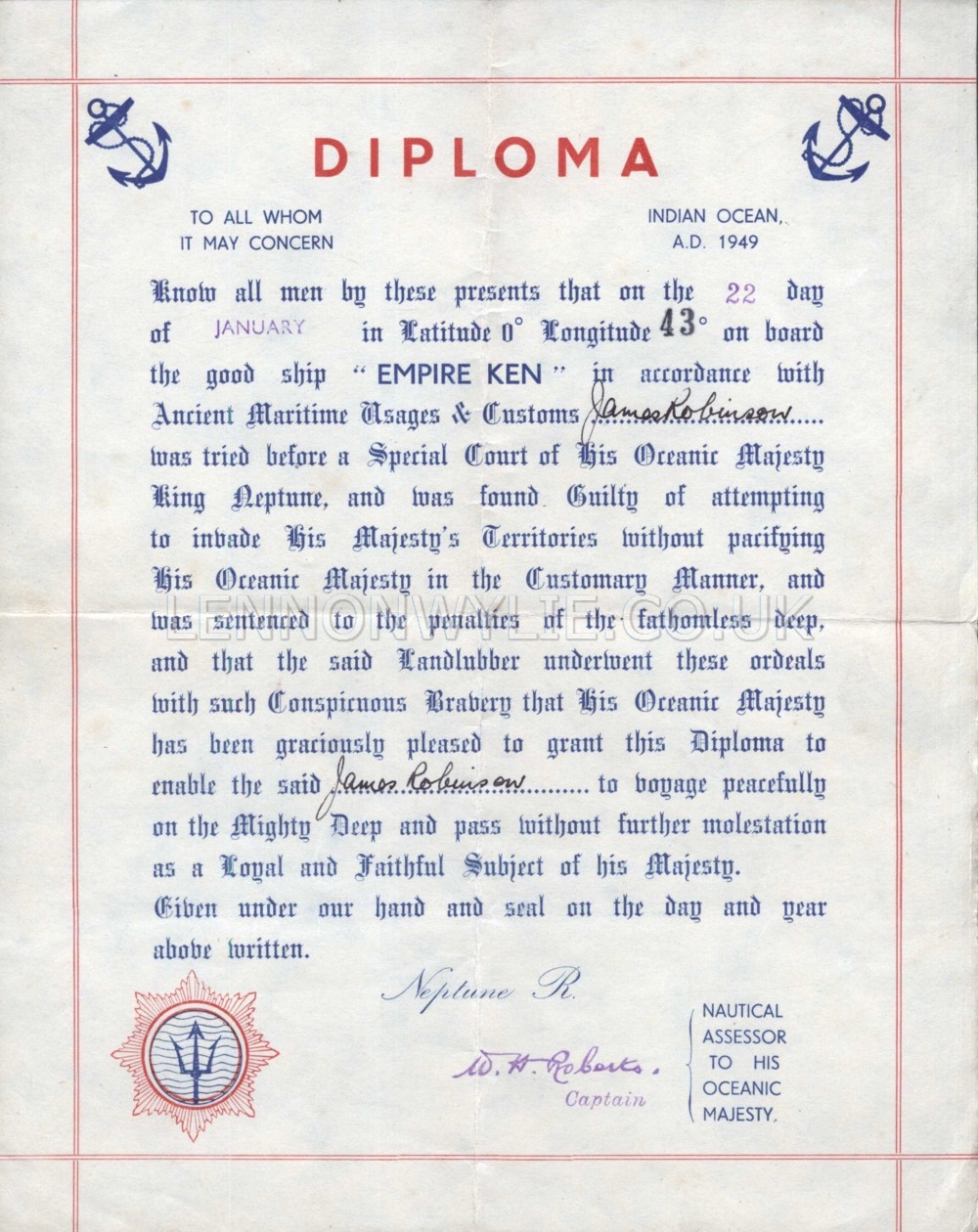 DIPLOMA
Indian Ocean, A.D. 1949 - To all whom it may concern
Know all men by these presents that on the 22 day of January in Latitude 0° Longitude 43° on board the good ship "EMPIRE KEN" in accordance with Ancient Maritime Usages & Customs James Robinson was tried before a Special Court of his Oceanic Majesty King Neptune, and was found Guilty of attempting to invade His Majesty's Territories without pacifying his Oceanic Majesty in the Customary Manner, and was sentenced to the penalties of the fathomless deep, and that the said Landlubber underwent these ordeals with such Conspicuous Bravery that His Oceanic Majesty has been graciously pleased to grant this Diploma to enable the said James Robinson to voyage peacefully on the Mighty Deep and pass without further molestation as a Loyal and Faithful Subject of his Majesty. Given under our hand and seal on the day and year above written. Neptune R. W. H. Roberts, Captain - Nautical Assessor to his Oceanic Majesty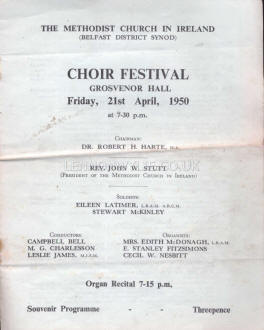 The Methodist Church Choir Festival, Grosvenor Hall, Friday 21st April 1950
Chairman - Dr. Robert H. Harte, M.A.; President of the Methodist Church in Ireland - Rev. John W. Stutt;
Soloists - Eileen Latimer, L.R.A.M., A.R.C.M. & Stewart McKinley; Conductors - Campbell Bell, M. G. Charlesson & Leslie James, M.I.S.M.; Organists - Mrs. Edith McDonagh, L.R.A.M., E. Stanley Fitzsimons & Cecil W. Nesbitt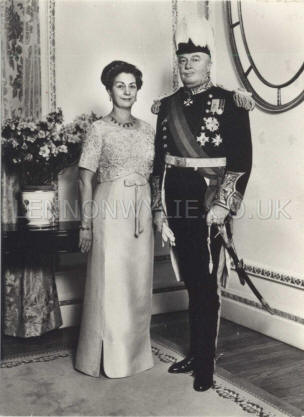 to D. J. Curry: - Government House, Hillsborough, Northern Ireland - from Lord and Lady Grey of Naunton
The following 4 photos were taken from negatives:-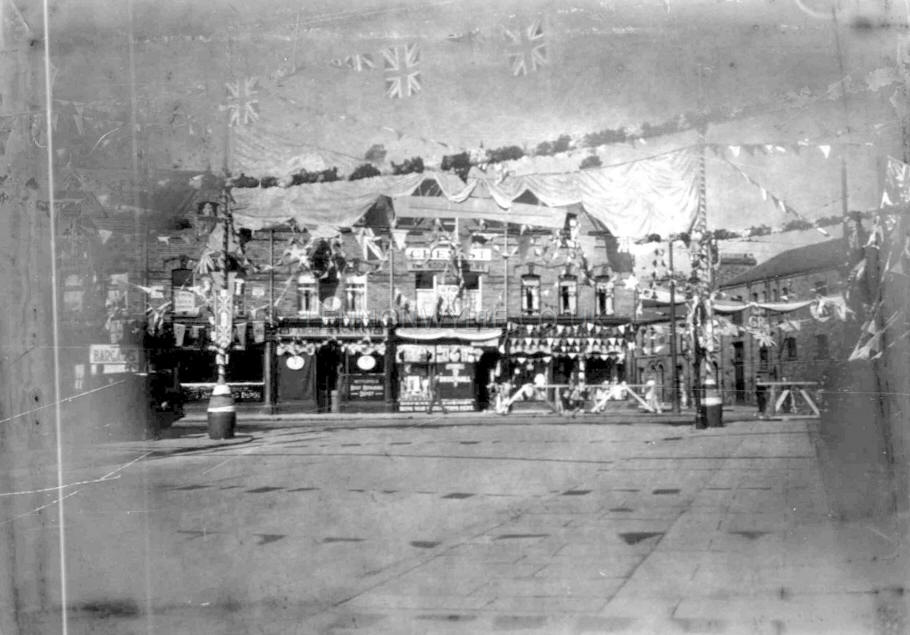 looks like Newtownards Road, one shop is called Archie Kinahan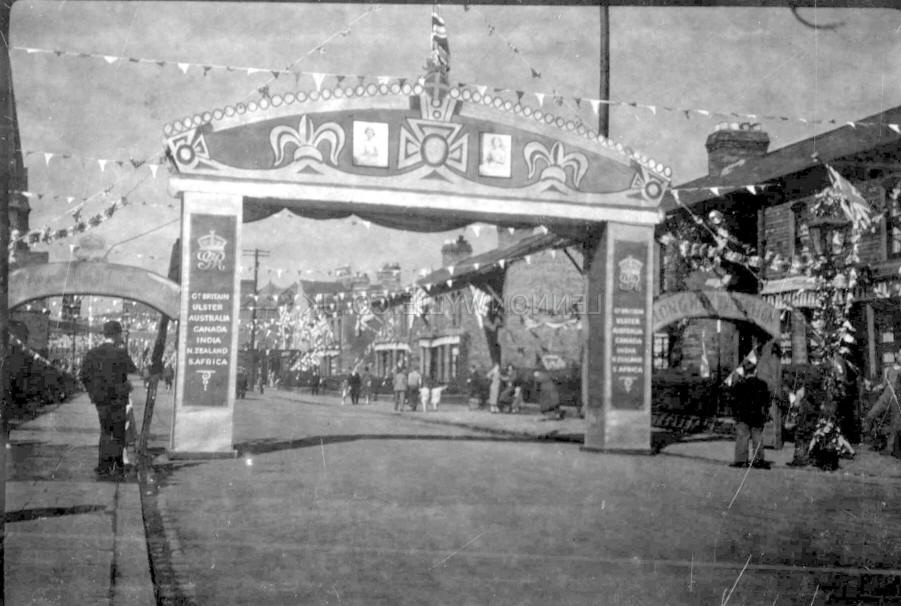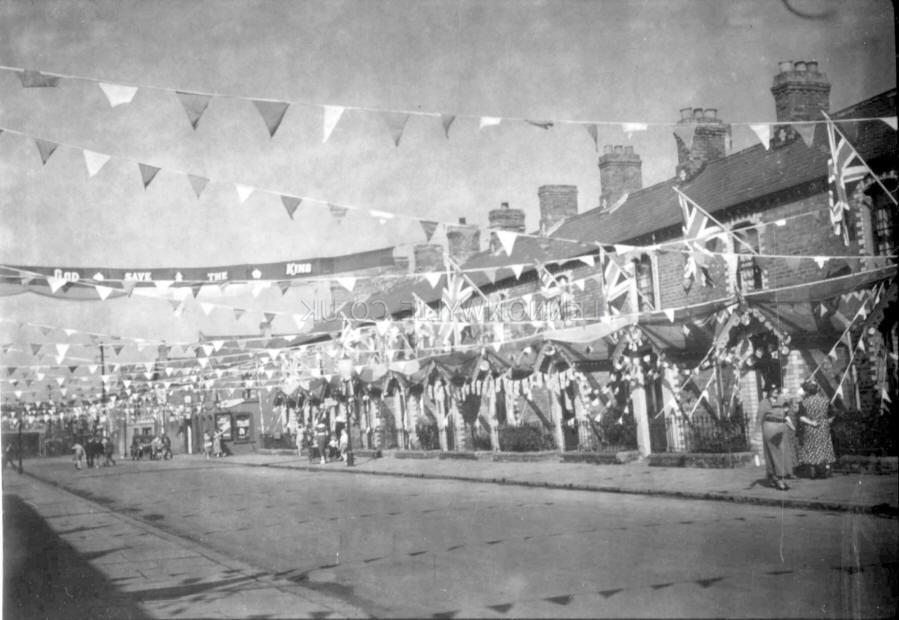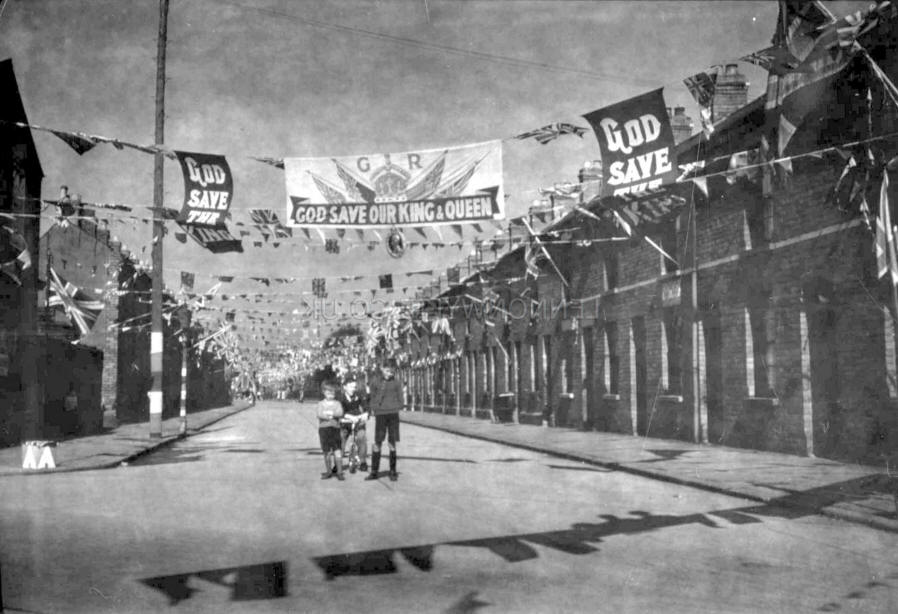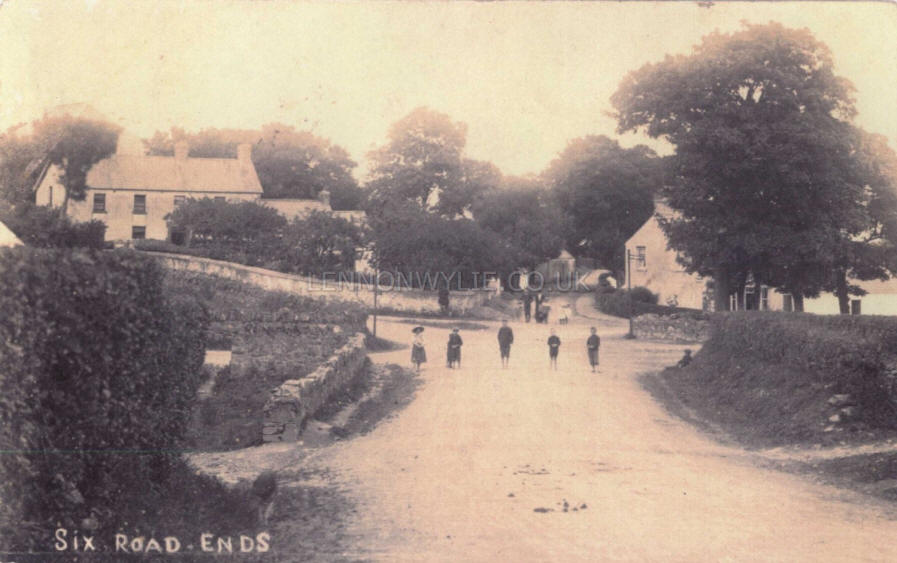 SIX ROAD ENDS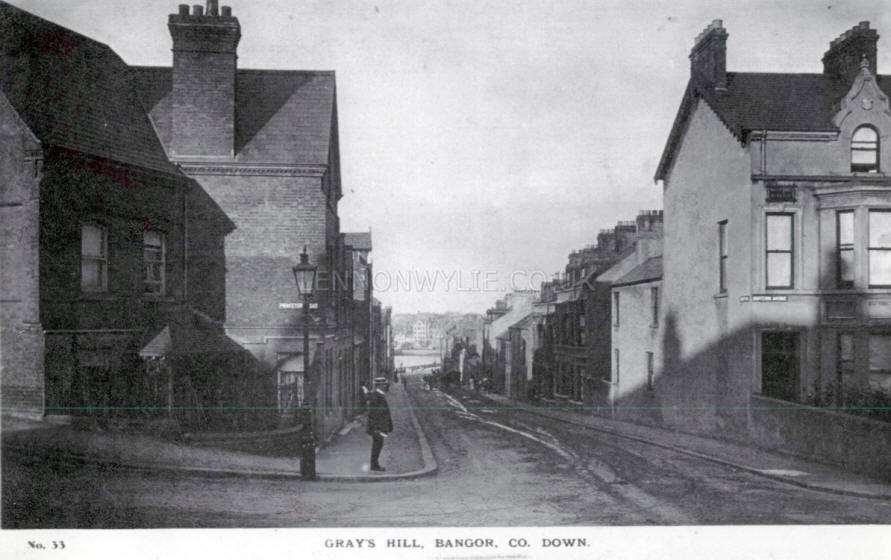 Gray's Hill, Bangor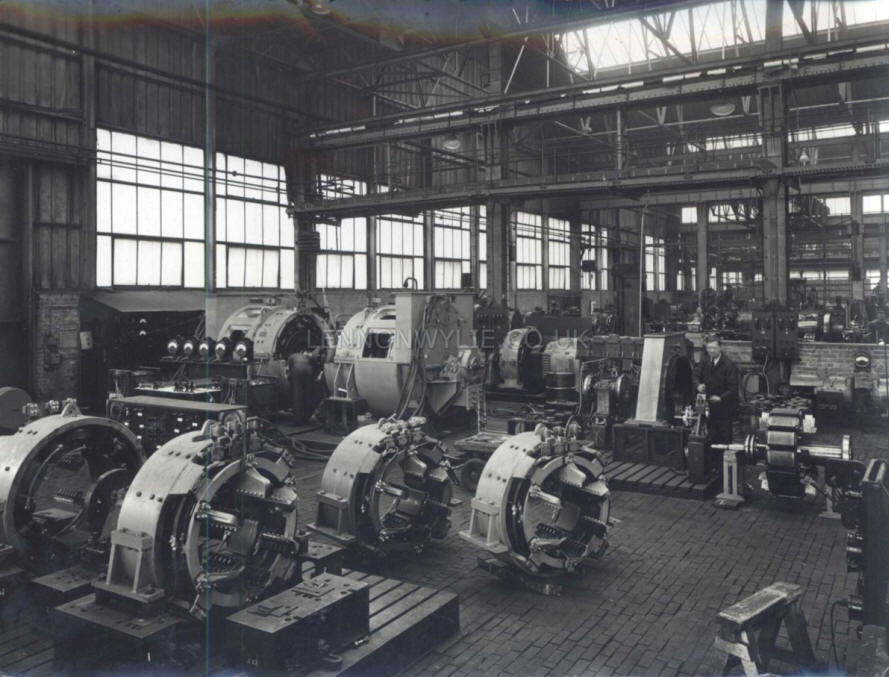 Harland & Wolff Ltd.


no info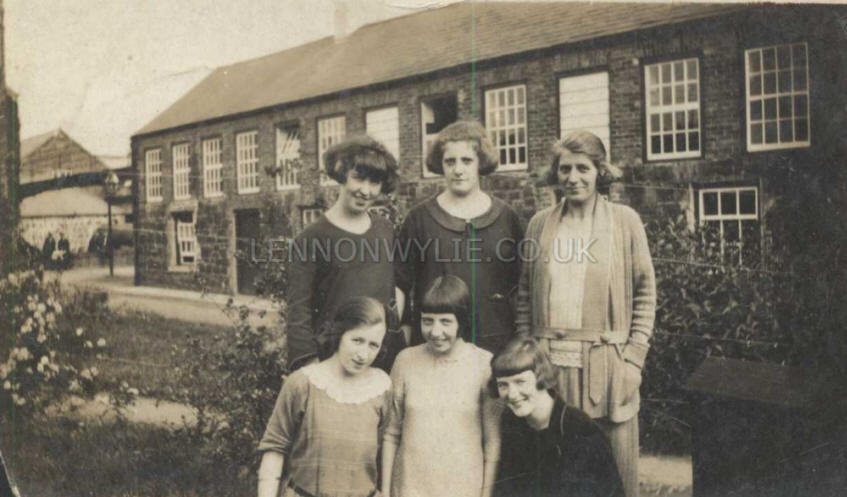 Comber Distillers?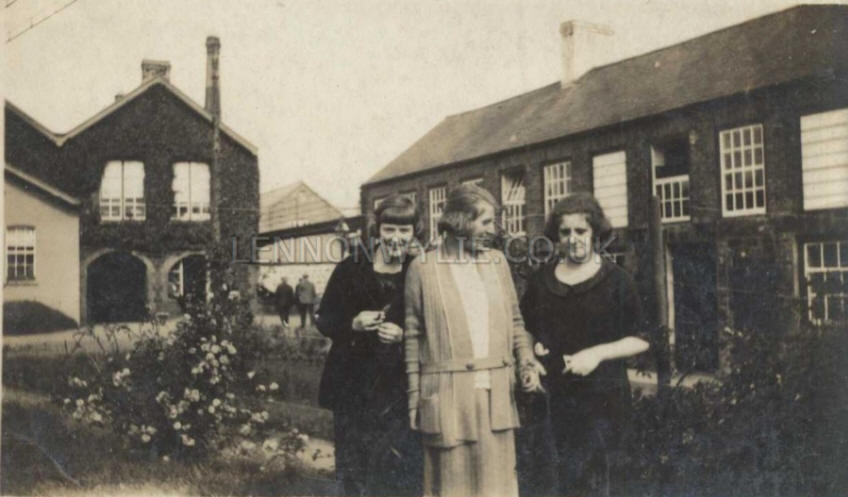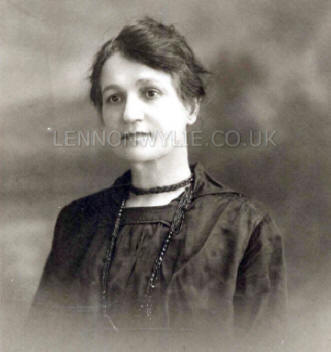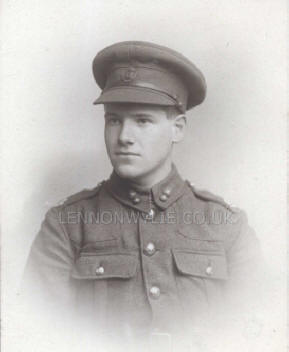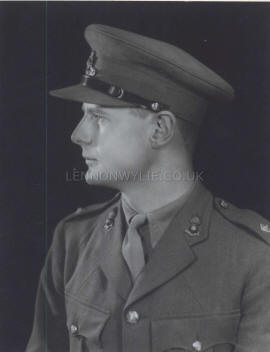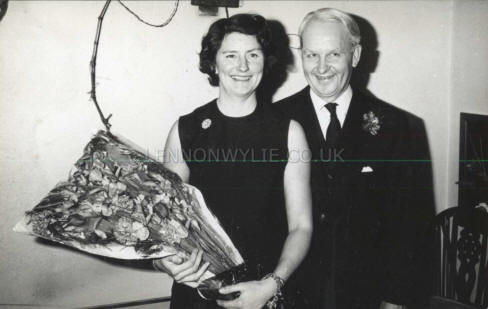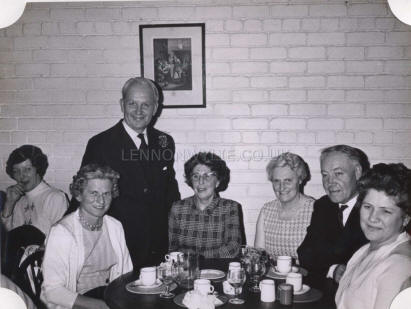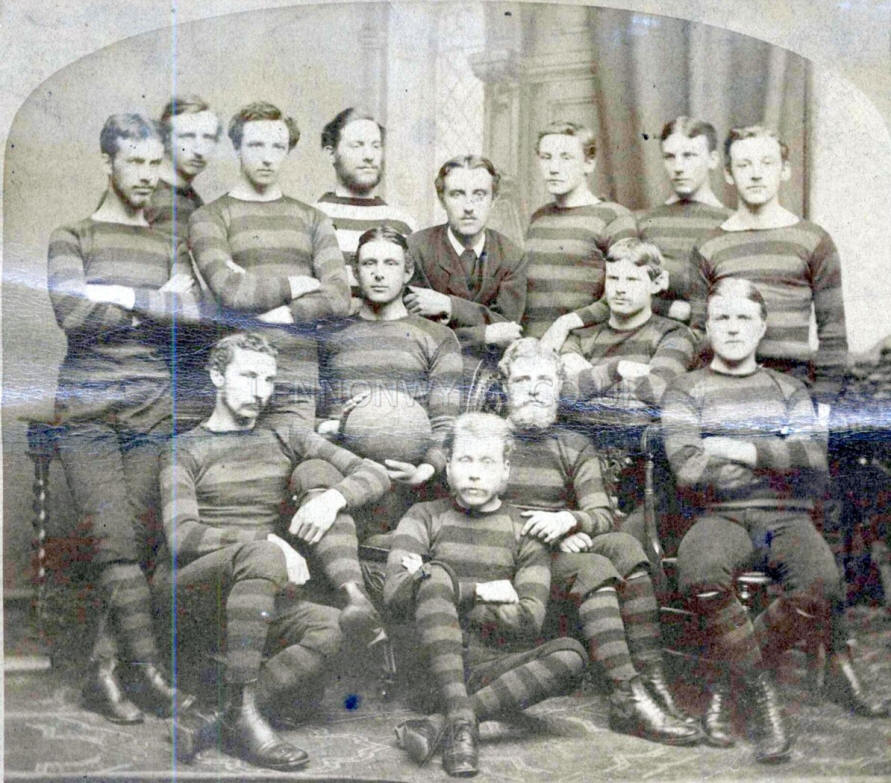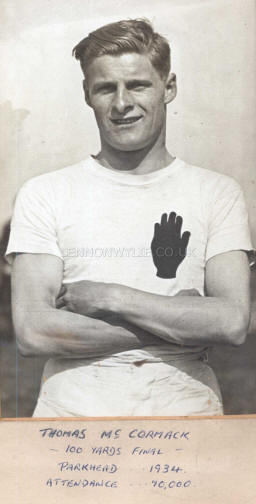 Thomas McCormack, 100 yards final - Parkhead 1934 Attendance 70,000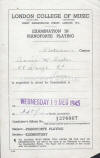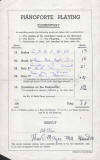 images 1 image 2 image 3 images 4 image 5
images 1 - Privy Purse Office - Buckingham Palace
The Private Secretary is commanded by The King to acknowledge the receipt of Mr. W. Follews? letter of the 24th inst and in reply to say that the naming of his Band is a matter respecting which His Majesty neither gives nor withholds permission. 28 July 1902
image 2 - Ulster Museum, Botanic Gardens, Belfast - 14th March 1978
Ms. Georgina Robinson, Ghian - Tufficha, 3 Coneywarren Drive, Omagh, Co. Tyrone
Dear Ms. Robinson, Further to your enquiry re the Christopher Street hoard I can give you some details from our files though the find was made some time before I joined the Museum. The discovery took place in July 1969 when some old houses had been demolished. A very large number of sovereigns and half-sovereigns were found - first by children. When the news broke there was indeed a gold rush and many coins were bought off children at prices well below their value. The police managed to recover only four coins. These were the subject of an Inquest which declared them to be Treasure Trove. Basically this means they become part of the national collections. There were two men who had these four coins and they were rewarded with the full market value of the coins at that time. The coins are now here in the Ulster Museum. Whether the remaining hundreds of coins have now been sold to dealers or are still knocking around in Belfast is hard to say. One hears rumours of the existence of small groups of them but nothing is ever definite. I doubt if we will see any more of them. It was suggested at the time that two money lenders had lived in the house and that the cache belonged to them. Even if you could prove the hoard was your uncle's this would not benefit you when the coins have disappeared. The matter was thoroughly investigated at the time by the police. Reports of the find can be found in the Belfast Telegraph for 30/31 July and 17 December 1969 as well as the News Letter for 30/31 July and 18 December 1969. You can see these in the Central Library in Belfast.
I trust this is of use to you. Yours faithfully Dr. J. D. Bateson - Numismatics
image 3 - Stamps (Northern Ireland is part of the United Kingdom - No Customs Barrier)
images 4 - London College of Music - Examination in Pianoforte Playing at Portadown Centre, Annie McCusker, 58 Lough Road, Lurgan - 19th December 1945. Score 80/100 1st Class
image 5 - Cucciolo Guarantee - Purchaser's Name - Mr.? B. W. Nesbitt, 44 Cherryvalley Park, Knock, Belfast 21/11/50; Dealer's Name - McIntyre Bros. (Belfast) Ltd., 52 May Street, Belfast


An Irish Bill-Posting Station - Every Poster appearing on this Hoarding was Printed by David Allen & Sons, Ltd.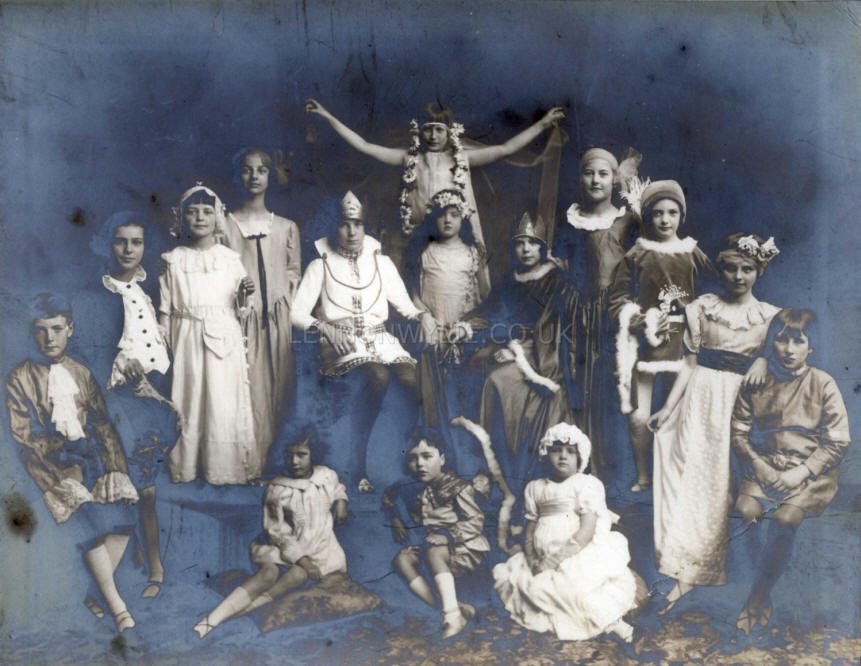 DISPLAY by Pupils of Miss Phyllis Redfearn (London), assisted by Mrs. Patterson on Saturday, 24th April 1926
Mrs. Patterson, Misses V. Pinder, R. Thompson, D. Nugent, M. Rutherford, Miss Florence Allen, Miss Nellie Hamilton, Miss Doreen Stanfield, Miss Vera Pinder, Miss Rita Thompson
BETTY'S DREAM - Miss Sylvia Meharg, Miss Florence Allen, Miss Vera Irwin, Miss Vera Mann, Miss Jessie Morley, Miss Betty Lucas, Master Maurice Patterson, Miss Dorothy Nugent, Miss Meriel Rutherford, Misses Alice Lilley and Kathleen McKeown, Miss Joan Douglas, Miss Vera Irwin.
THE FLOWER GARDEN - Miss Dorothy Nugent, Miss Florence Allen, Miss Vera Pinder, Miss Rita Thompson, Miss Meriel Rutherford, Miss Nellie Hamilton, Miss Doreen Stanfield, Miss Alice Lilley, Miss Kathleen McKeown
THE DREAM LADY - Miss Dorothy Hudson, Miss Vera Pinder, Miss Meriel Rutherford, Miss Dorothy Nugent, Miss Girlie Greer, Miss Florence Allen, Miss Doreen Stanfield, Miss Rita Thompson, Miss Joan Douglas, Miss Nellie Hamilton, Miss Leanna Finlay, Miss Sylvia Meharg, Miss Dorothy Hudson, Master Alec Thompson, Miss Very Irwin and Master Maurice Patterson, Misses Alice Lilley and Kathleen McKeown, Miss Joan Douglas
Violinist - Mrs. Guthrie :: Pianist - Mrs. Patterson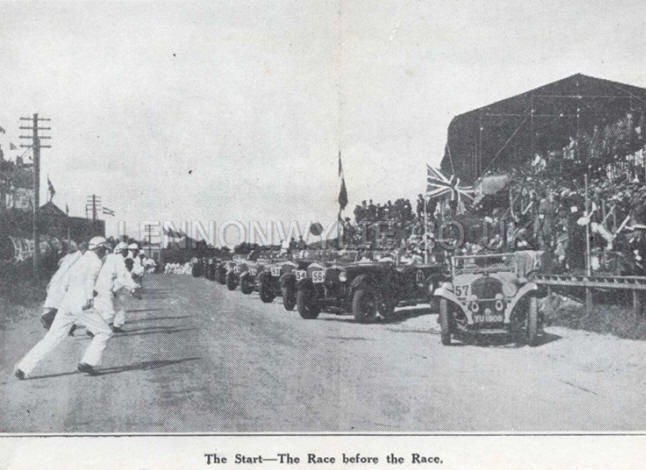 The Start - The Race before the Race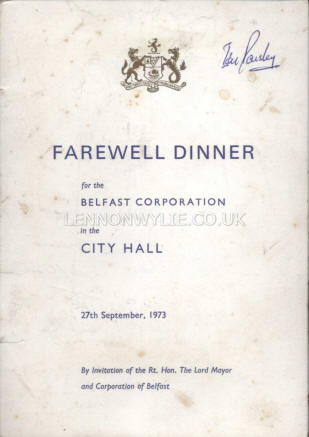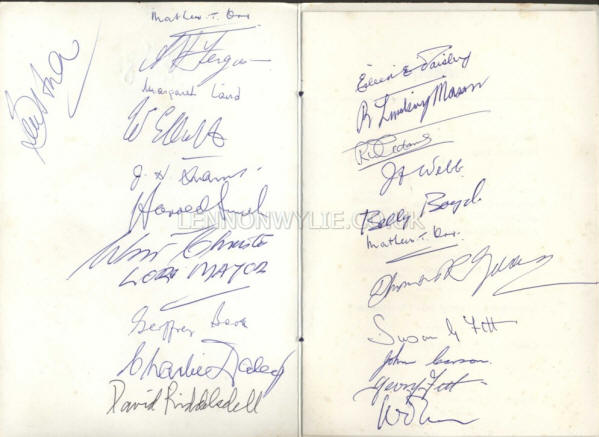 Farewell Dinner for the Belfast Corporation in the City Hall 27th September 1973
signed by Ian Paisley, Mathew Orr, Fergus, Margaret Laird, W. Elliott, Harold ?, Wm. Christie - Lord Mayor, Geoffrey B?, Charlie Daley?, David Riddelsdell?, Eileen Paisley, R. Lindsey? Mason, Webb, Billy Boyd, Mathew T. Orr, Susan G. Fitt, John Carson, Gerry Fitt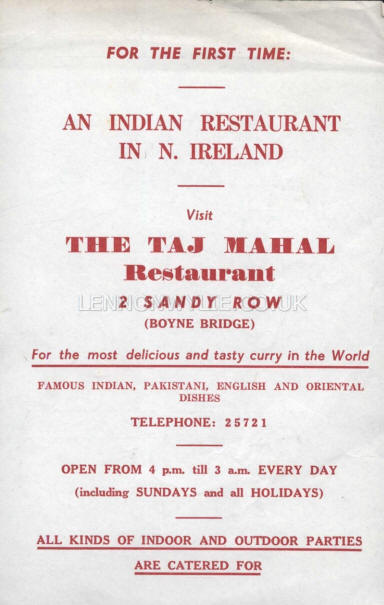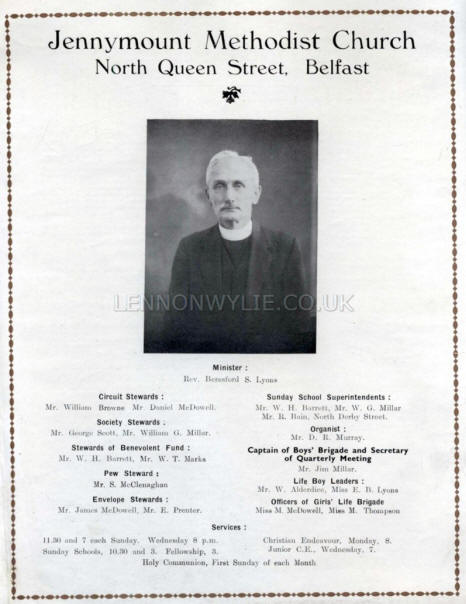 Jennymount Methodist Church, North Queen Street, Belfast - Rev. Beresford S. Lyons


Lovat's Scouts - The Third Contingent Departs
The above photograph shows the third contingent of the Scouts enrolled in the name of Lord Lovat, on parade just before their departure from Inverness (on December 1st) to London to embark for South Africa. Large crowd, including many friends of the scouts, witnessed the departure, and among those who bade good-bye were the Hon. Mrs. Maxwell and the Hon. Ethel Fraser, sisters of Lord Lovat. Before leaving the Cameron Barracks, the scouts were addressed by Colonel H. G. Grant, commanding the Regimental District, who acknowledged the immense service Lord Lovat had rendered in raising the Corps.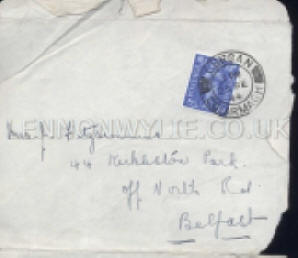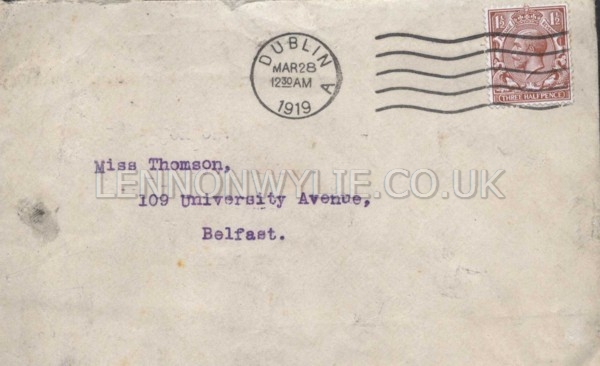 image 1 images 2
image 1 - 25th February 1944 from Lurgan to Mrs. J. Fitzsimmins, 44 Kirkliston Park, off North Road, Belfast
images 2 - March 28th 1919 from Frank Stokes, 60 Dawson Street, Dublin to Miss Thomson, 109 University Avenue, Belfast - re Maypole Dairy Co. shares.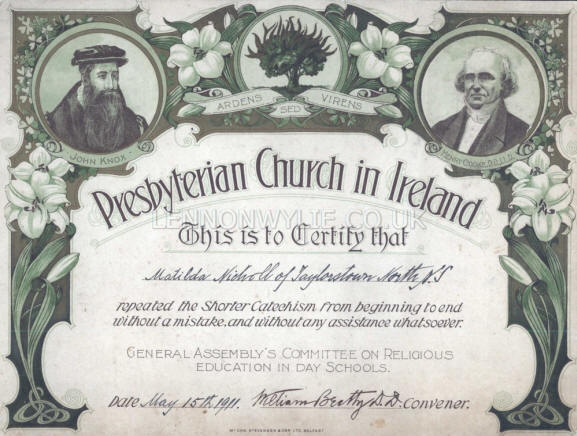 Presbyterian Church in Ireland
Matilda Nicholl of Taylorstown North N.S. - May 15th 1911, Convener William Beatty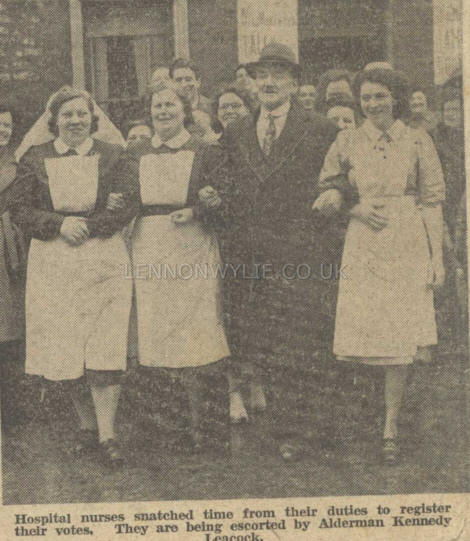 Hospital nurses snatched time from their duties to register their votes.
They are being escorted by Alderman Kennedy Leacock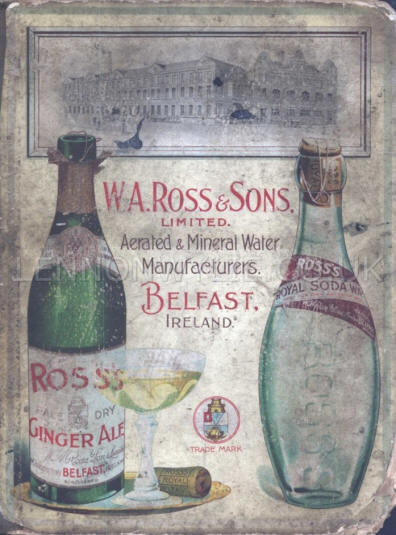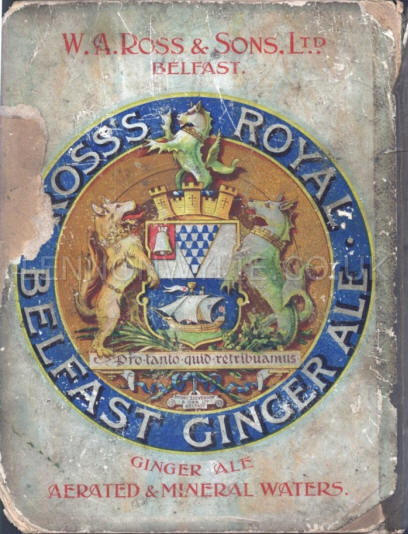 W. A. Ross & Sons Ltd., Belfast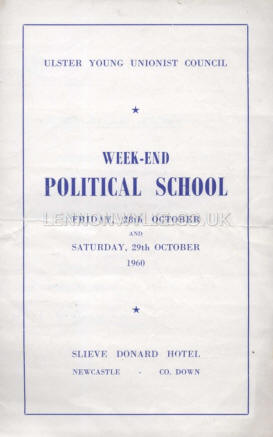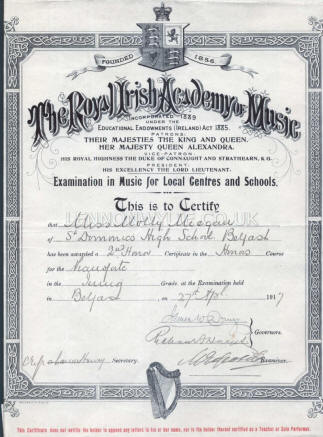 Ulster Young Unionist Council Week-end Political School 1960 - Slieve Donard Hotel, Newcastle
The Royal Irish Academy of Music - This is to Certify that Miss Molly Meegan of St. Dominic's High School, Belfast
27th April 1917


City of Belfast Cemetery Certificate of the Purchase of Right of Burial 30th May 1900
Mrs. Susan Cordner, 6 Ribble Street £3 - Registrar Frank Finlay, Town Clerk Harris