Caparn Photos and Letters - Scott Letters - Gracey Bible
all arrived with me as one lot, not sure they originated together but you never know
from auction in 2018
Caparn Photos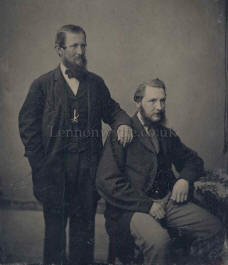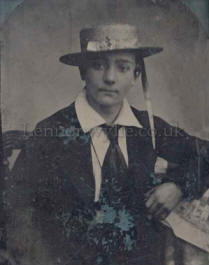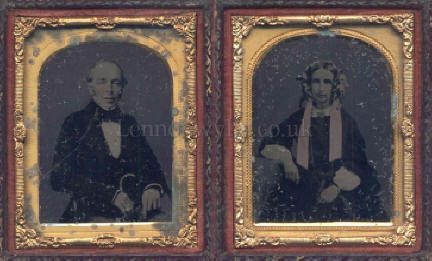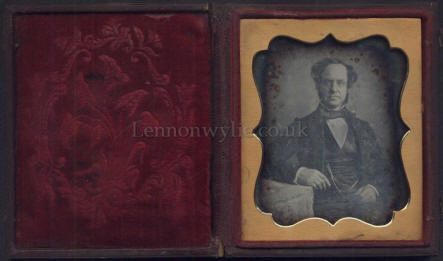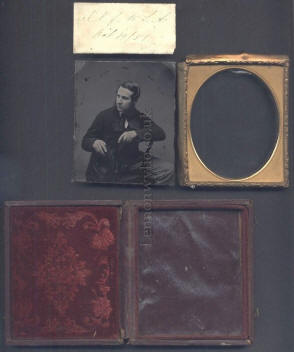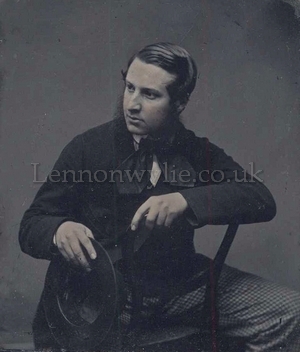 I.? N. G. to L. A. Oct. 19/58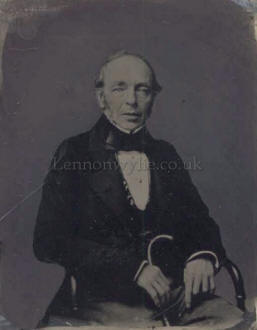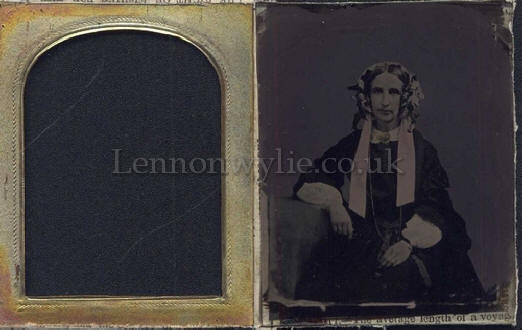 Caparn Letters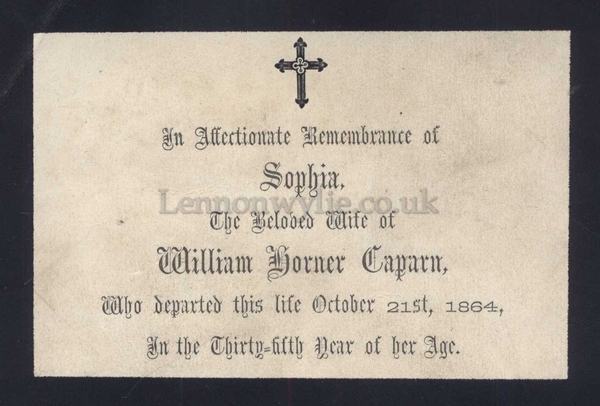 In Affectionate Remembrance of Sophia, The Beloved Wife of William Horner Caparn
Who departed this life October 21st, 1864, In the Thirty-fifth Year of her Age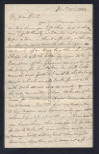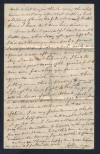 1 2 3 4 5
1) 1854 - Mrs. Caparn, Seaview House, Booterstown, Co. Dublin
2,3, 4) Jany. 2nd 1854 My dear Kate, You must excuse me not writing since you left this, indeed the reason was I felt lonely as I could not sit down to pen a line without reflecting on the day we spent - and never to spend again. So much of our time together - but still I hope its all the better for your sake, for I am sure if the Governor understands the prize he has taken, he will both nourish and foster it until that change comes, which we all look forward to with such dread and anxiety - you were the only counsellor I had, take one of the cases, for instance, if you remember how we panned Bella's first introduction to her man and how nicely you acted when I first popped the question would you have him, this was for the purpose for him to take the more notice and to encourage both sisters, least they might have any objection, as he was not a first rate Mabob, the plan was so well laid under your advice, of course you ? would have him, I said you may be mistaken, the chance may be between Bella & Gussy? they smiled and staired (stared) at each other, not knowing who the person was so I left them to fight among themselves & chat over the matter, after a little time I. L. took courage & made a move, and after that Bella found she was the favourite, she then began to listen to all the Queere things he had to say - but I could never find them out - poor Gussy now finds herself so lonely as both favourites are gone, she flatters herself by going elswhere, she may conquer some fool, I hope whoever he is he may put a new pair a boots on her, as the new ones she brought are all tattered & may be her cloths too - so between them I will have to pay the piper. I don't recollect for many years sitting down to so lonely a dinner as I did on Cxmas day, there was at top my Ould Aunt & self at the bottom. I must say we did not make much noise, only what the Knives & forks make, making harty work of all the good things Cxmas is sure to bring. Mrs. L. & I.s dined with us a few days ago, the Dr. came with them, but he was on his way to Clonmel to dine at the Fremason's lodge, he was in great glee as he intended as being his first time to entertain the meeting with a speech & song! he began to give me a sketch of the speech to know would I approve of it, "Bravo says I" - go on - but he began to sing in the middle of the speech, I thought he would never (stop), he was so full of it, in fact I could not forget some of the words - here they are ~ Let coxcombes grin and cities sneer, while all are blythe and jolly, Let fops despise the badg we wear, We laugh at all their folly; Let empty fools, Despise our rules, By jove we will never heed 'em, Say what they will, we're masons still, And will support our freedom, hima? huma huna! Cho. - Let empty fools etc. - well what do you think now, the whole house must ring/sing a flu? that nothing but clapping of hands & a full volume of Kentish fire, I have not seen him since. Now about yourself, I don't want to flatter you when I say after you left this I did not know you were such a favourite, I was quite surprised at the daily enquiries made after you, even up to this day. I could not believe it. I had to answer a great many of the queries put to me even from those you formed no acquaintance with, how you were & how getting on - this is pleasing to me, as I fought a hard fight to keep both ...... into the hands of others. I thank .... he enabled me twenty years ago to ? anything me in that undertaking - but no more of this - I see my paper running short and not half done - but must cut short. Regretted much I could not embrace your very kind invitation to Cxmas, nothing would give me more pleasure, but at this time we are so ? in the Nursery I could not think of leaving, wishing you & George a happy New Year, believe me your affectionate uncle. J. Hurdy?
5) Cashel JA 3 1854 & Dublin 5A JA 4 54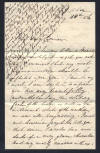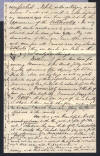 1 2 3 4 5 6
1) 19th May 1856 to Miss Sturdy, Hurdy? Mr. Fitzgerald's, Gordon Street, Clonmel
2, 3, 4, 5) Belhampton? May 18th '56 - My dear Louisa, In my letter to Marina? unacknowledged as yet you will ? I promised that my next communication should be inflicted upon you - True to my word, I am ? to inform you how very beautifully, (notwithstanding the solitary feel of the house as well as the inclement state of the weather) we are all progressing - I must not however forget to tell you that since I wrote two accidents of a very grave character had very nearly occurred with us - One was, the falling of the half cwt during his athletic exercise upon Williams' head, and the other, the tumbling of the stove over the hall door, (? I suppose some six or seven ?, on the heels of Gertrude and the two boys as they, had got in from Killinniney? Without entering more info detail, I shall merely say ? had a wonderfully providential escape they have had. By the first accident as Dr. Duke has said, William might have been killed on the spot, and by the second, all three might have sustained if not fatal at least very serious injury. On Wednesday last when passing by I looked in upon your old friend Mrs. McCalley?, to my utter surprise and I must add with no small amount of commiseration for her rapidly sinking circumstances, I found her the picture of despair with her numbers once so respectable now reduced to TWO! Poor woman! I apprehend? her day for worldly property though not forgive ? ?, is gone by. Without a murmur however ? she resigns herself to the Lord's dealings, assured that whatever may be our position in this world, as every well taught child of God must be the rough path rather than the smooth ice ? ? ? found to have been the ? to the feet. This moment I have been favoured with a peep at your letter to George. With the classic purity (as William would say) of its language & the admirable arrangement of its varied subjects, I am, I do confess, not a little comforted. While acknowledging so much however I must not omit to add how much my seasoned eyes have been offended by the appearance of the billhooks. In very ? such conclusions to your sentences should not be seen from you. My condemnation of them you have often heard, and once for all I would now say abandon billhooks (they are made you know in ??) as vulgar things. William I find has been favouring Mamma & his Uncle Jerry with lengthy specimens of his rhyming capabilities. That he above all my boys as well as girls inherits most of that unfortunate propensity from me, is to portent to admit of contradiction - Favourably however as I think of him in other respects, I cannot fancy him a poet. A bad one myself, he is hardly a shade better, and therefore wishing him no harm I would have him fling his poetic effusions to the winds. How does your beautiful Dublin accent go down with the good people of Clonmel? Whatever they may think of it, I should hope at all events they do not regard you as a ?able specimen of a Metropolitan belle. A great deal of care you know has been taken of you, and it in surely not too much to expect that fruits correspond ? to that care ? ? produced. Hoping poor Mamma's cough is improving, and that while she was away she received no ?, I am my dear Louisa will love to hear and all the Uncle, Aunty, Your ever affectionate Father
5) yeah I didn't do that bit, I got tired Mary
6) -








1 2 3 4 5 6
1) 15th November 1861 Postmark Dublin to Miss Dowling, Cashel, Co. Tipperary
2, 3, 4, 5)10 ?intonville Avenue, Sandymount, Nov. 14/1861 - My dearest Kate, I duly received yours of the 7th Inst. with enclosure all safe. My object in sending you that document was to give you method a chance of doubt the correctness of its statement, and altho' you write rather sarcastically upon the point, I cannot bring my mind to think you doubt its correctness or the fallacy of my statement. You ask me "was I at the Kingsbridge Terminus on Tuesday with," I did not come to town until the Thursday from Athy so ? not well be there. If I recollect right ? you I might possibly spend the Christmas day with you, but you will want to hear what a great change of circumstances has come over and since then. First on the Saturday after I got to Dublin I wrote Mr. M. and resigned my situation ? an unpleasant ? we had in reference to my journey (and amongst other things we had an alright discourse upon was the ? I sent Uncle John) and I felt his manner so decidedly disrespectful that I determined to ? him. I have howsoever (after trying to obtain an Irish Morris travellers hip in ?) succeeded in obtaining a good one from an English source altho I will only visit Ireland twice a year still the ? arising from it will be worth double ? ? so as the old saying is "out of evil comes good" I expect to have everything arranged now in a few days and will then write you further on that subject, my engagement is to commence almost as soon as I have ? ? and owing to this, ? ? ? ? and running down ? I go as I am anxious to spend a few days at home not having been there so long a time, I have however every hope of seeing you as soon as if I had stayed in Dublin, that is setting aside my home visit. My home when at home will be the great metropolis of England and my journies extending over England, Ireland and Scotland at regular periods - I shall much regret leaving dear old Ireland where I have received so much kindness and good feeling shewn towards me, I shall on the other hand be nearer my home should any thing happen there, although removed from the object of my fondest love but please goodness only until time has removed that barrier, ? from between your dear self and liberty to do as you will. You will not blame me my own fond Kate for this step, tis ? for the best, I feel long the unkinship with which I have been ? by my employer, both in his manner and illiberality?, I have strained every nerve to serve him so as to get him to fulfill his promise of giving me a partnership in his business, and after so doing am spending every thing I earned almost for his benefit ? like the poor Fiddler, "more kicks than halfprnes"? look upon this act of ? in your sound, sensible, business like manner, and you will say I have acted right, do not think that because the sea will for a time divide us that affection will be less, but take another adage "Absence makes the heart grow stronger," Almost my last words to you were not to doubt me and I pledge myself you shall never have reason to doubt my affection from any act of mine. I had the pleasure of dining with your kind Uncle and Aunt on Sunday back and the Sunday previous. Next Sunday with your Uncle Arnold? D.V. and the Sunday following at Rathmines which will I believe be my last Sunday in the dear land for some months. In conclusion my dear Kate give my kind love to your Aunts and Cousins explaining these matters to them and say I shall write them a farewell letter ere I go and for yourself my fond one accept the most heartfelt feelings of sincere affection of your ever true and devote lover, Geo. M. Caparn. Miss Dowling
6) Cashel No 16 1861 A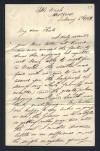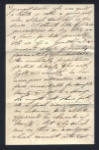 5th January 1862 - The Wash, Hertford - My dear Kate, I duly received your kind letter at home and even amidst the festivity I was then enjoying I regretted not being able to meet you at Cashel. The weather was fine with us and to me I assure you the happiness of seeing my whole family (one excepted) and the greater portion enjoying such good health was truly gratifying. My Mother I am happy to say looks as young as ever, the Governor as he is styled is getting rather gray and all the rest I could discern little or no difference in, with the single exception of my youngest sister who was quite a child or rather a young girl when I last saw her 4 years since. I should like to place yourself and her by side as a pair, for like yourself she is of a youthful and modest style of beauty, fascinating and irresistible. Her inimitably proportioned features literally glow with light and warmth, her hair adds great attraction to a face remarkable for simple beauty, and yet to a stranger she might not shine forth at a first view, requiring an intimacy ? able to appreciate her character of beauty, but why do I run on thus on a subject which cannot interest you in the least, but let me add that even with every luxury and comfort and also means of attracting the mind alone to the scene of festivity pending, that one little spot in the Emerald Isle was uppermost in my thoughts and accompanied with the fondest remembrance of your own ever dear and beloved self. My ever dear Kate little did you imagine or do you yet think the reason of my quitting Ireland for a time, as I have now the opportunity of recalling much of my ill-spent life alone and savour to record to you my solutions for future ? and happenings. I must have informed you as my confident of the situations I held in various parts of England ere I came to abstain in all of which I believe I acquitted myself both to my own and my employers entire satisfaction and at this I was by each one ? liberally I found it totally impossible to keep my head more than just above water or rather it took all my means to live upon and sometimes more, the reason of this was too many companies and being of an easy disposition easily led away to scenes of excitement suitable to my temperament, I noticed this often and with great regret but found after on several occasions resolving to do otherwise, I can't not muster moral courage to keep my resolutions . I bethought myself therefore that a removal to a part where I had no companions and no inducements to such follies might enable me 'D.V.' to do that which is so necessary to any young man aspiring as I am to take unto myself a partner for life, namely to provide ? for table home or the means of at any time forming one. I have come here dear Kate with these intentions and regardless of what my Irish friends may say of me I have taken to myself the lot of Hermit to eventually reappear a different man, both in circumstances and I trust habits for I feel my life to have been most shamefully abused and only regret I did not resolve fixedly? at an earlier date to do what I have now done. You my dearest Kate have now my reasons for leaving you and who has more right to know than your own dear self who are the principal of my so-doings. I trust and know you do also that my endeavours may be crowned with success. I will send you a likeness of myself in a few days now the "Carte de visite" I had taken in Dublin I do not like so intend getting one done in London on Thursday next. In conclusion of this long and somewhat to you tiresome epistle let me wish you all a very happy new year, and with fond love to remain My ever dear Kate, Truly and affectionately your faithful lover Geo. M. Caparn. Miss Dowling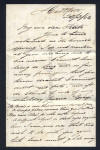 20th March 1862 - Hertford - My own dear Kate, Yours to hand ? ? ? ? ? I do not wonder at your wishing me to live nearer, I cannot bear being so long and so far away from you, but you know dearest I cannot avert my fate, and oft do I think of one of my schoolday poems "Grays"? "The Birds in vain their amorous descant join, Or cheerful fields presume their green attire, These ears, alas! for other notes repine; A different object do these eyes require" how I can run over that and wish to be with you again but time must glide away for some four months ere I can again see you unless by some strange events, what as age it does seem and has assured for some time, my dear mother said only a few days since to me when speaking on this subject "absence makes the heart grow stronger" my dear, you will I know forgive me when I state I could almost have contradicted her, I felt at the time that nowhere could the imagination ? so to the susceptibilities? of the mind, as to form so strong feelings of affection as in your dear presence, then again when I ? on the subject I say to myself I am wrong, tis only now I begin to know how strong is my love for you dear, your presence has an influence over me I cannot explain, nor account for, I ? no more when with you but say as much as I have written since than I com? how it is, I know not but ? say you ? me of the power of speech?, still ? than that influence increasing more every time, explaining no doubt the lyrical transposition of how being blind to turn ? your letter do not work yourself too much or confine yourself to that miserable shop? I must ? ? was ? what was he saying, you do surprise me about Coleman, he was I believe a well meaning young man but not up to my taste, he was slovenly, I cannot say how long it may be ere I go to Dublin again, Trade is just now brisk in Cloves, who would think we have ? over 20 Tons already and our wholesale Trade nearly 400 ? very heavy is it not. Hoping you are well, with fond love my dearest Kate, believe me, your own faithful George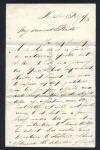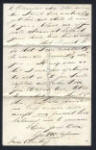 1st February 1863 Hertford - My dearest Kate, You may possibly think this ? it is finished an astounding ? but I know it will be a pleasing one. Your's I had, my dearest thanks, I cannot find words to express my deep gratitude and love for your affable and kind reciprocation of the slight token of affection ? for last letter. I will not further ? to it, but in a few brief words tell you it is my intention to leave Hertford in about three weeks and to return to Ireland, I have obtained the situation of traveller to Alexanders and a better salary than I could have eventually got here and shall be near to you, blame me if you will I cannot help it, your kind love has so ? upon me that I must be so that I can constantly be near and frequently see you. It may seem as tho' I ? form of changes, tis not so, to you I will explain all when I see you (D.V.) ? long, let me know what you think of this, I may also excuse me being concise and accept my fondest love believing me to remain Ever Your Own Geo. M. Caparn. Miss Dowling






1 2 3 4
1) 4th September 1866 Postmark Kilkenny to Mrs. Caparn, Cashel
2, 3) Waterford Sept. 4/66 - My dear Kate, I spent last eveng. with Charles, he is quite well. Maria went to Dublin on Saturday last and he says he expects before the time you name for coming up to ? that all ? be over, he is going on Friday or Saturday next over to Mallow, thence to Killarney for a few days and up to Dublin about the middle of the week is he be not telegraphed ? before then. So you will see it is almost imperative on you to be in Dublin ? Saturday, it would look very bad to us here in South and her only female relative away and no one to give her any comfort at all. I heard you threw away that nasty fish, I thought I smelt it as I came away yesterday. Uncle Chas. was here again last week, he went home on Wednesday. Write ? position of post to Imperial Hotel, Kilkenny, with love your ? George
4) I could be down by Saturday morning. ? (inside envelope) Tell George he may hear from me ?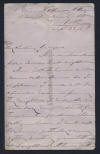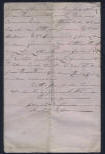 1 2
1, 2) 22nd September 1869 Prince William College, Grand Canal ? ? W. ? to My Darling George - with fondest love & a kiss from Kathleen from your fond Wife Kate Caparn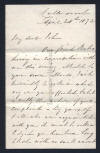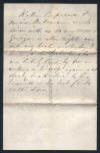 28th April 1872 Cullingwood? - My dear John, Our friend Bates? having in conversation with me this evening, alluded to your ? ? I write hurriedly to ask in what way are you affected, In what is really the nature of your complaint. By yourself & all who are acquainted with you it must be ? ? ? you have been long ? with no small amount of robust health. But this state of things does not always continue. For wise purposes we are occasionally obliged to ? to devises, and in a moment the long enjoyed health of our bodies may be withdrawn from us as necessary then my dear John, as we know not what a day may bring forth, that we always be in a state of readiness to meet our God that our minds be fully convinced that as the blood of Jesus Christ, God's son cleanseth from all sin, so through faith in the efficacy of that blood, this humble ? dance on his finished work, we stand before God ? Christ, being one with Him, and ever complete in Him. Thankful to my dear old friend & school fellow ? ? for his very kind ? to you, and with love to my dear sister Alice?, childhood etc. etc. Believe me, my dear John, as ever Your fond brother Oswald. Katie Caparn & ? ? are to drive with us tomorrow - George is all right now but very hard worked I hear, and ? wgo was lately laid by for a week, is himself again, ? ? & affection to ? ? as his ? ? could desire.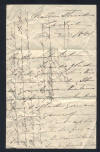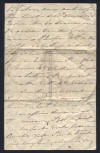 24th August 1881 - Main Street, Cashel - My dearest Kathleen, I was so glad to get your letter this morning & Sunday. It is ? ? ? ? ? ? ? ? to that you are enjoying yourself. Mrs. Wilson? went up to Dublin? yesterday for a few day. Maddie? & Babe were over for a few minutes last evening. Mrs. ? was ? ? ? Mrs. Tainsh? (I give up) there's mention of Eddie, Bob going back to Dublin, Miss Grubb went to Co. Meath, Mrs. Andrew Kingsley. signed Kate Caparn (that womans writing)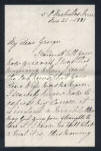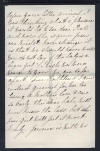 1 2 3 4 5
1) 21st November 1881 Postmark Lincoln to G. M. Caparn, Esq., 71 Marine? Park, Cashel, Co. Tipperary, Ireland
2, 3, 4) 5 St.? Nicholas Terrace, Nov. 21 - 1881 - My dear George, I cannot tell you how grieved I was this morning when I read the sad news that your dear Wife was ? I scarcely know how to express by sorrow, it is indeed a terrible blow, may God give you strength to bear it. I know too well what a trial it is. This morning before your letter arrived I was thinking what a pleasure it would be to see dear Kate and now she is gone from our midst, how strange it is that we should never meet, you do not say if the baby is a boy or girl? I wish we were closer to you, we are so far apart, poor Kathleen, I am indeed grieved for her too, losing a Mothers love & care so early. Her dear babe will never know the loss, but the poor girl will feel it worst surely. Jennie is with us for a few days, she ? Arthur and Cousin Jennie all send love and such sympathy, and now my dear Niece is only one who can give us support in this dreadful trial, I pray the ? gives you strength & comfort. ever your Affect. Sister H.? Bishop ps Write me again when you can
5) Above Hill Lincoln Nov 21 81; Cashel B. No 23 81; Liverpool 15W 22 No 81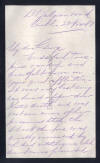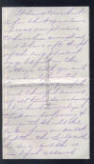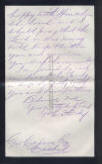 1 2 3 4 5
1) 24th November 1881 Postmark Dublin to George Caparn Esq., Mamit? Cashel
2, 3, 4) 13 Belgrave Road, Dublin 23 Nov. 81 - My dear George, Words fail to express our deep and heartfelt sorrow in your great affliction. It was only last evg. we heard of poor dear Kates death, and was not even aware of her precarious state, the shock therefore was greatly increased by the sad intelligram which dear Maria forwarded. It seems to me but a few short years since it was our pleasure to have her amongst us and I have often thought of the very pleasant evg. I spent in the Cottage with you and our dearly lamented Cousin, her graceful and cheerful manners, at all times so endearing. It is hard to realize that one so loving & so gentle should be taken from our midst, but then the Lord's will be done, and she is now I feel assured happy with Him whom she loved and I shall pray that the Lord in his mercy will keep & sustain you and yours in your deep bereavement. I am joined by each member of the family in deep sympathy with you and dear Kathleen. Believe me. Your ? ? C. Hurdy? Geo. Caparn Esq., Cashel
5) Cashel 8 No 24 81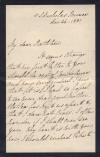 1 2 3 4 5 6
1) 26th November 1881 Postmark Lincoln to Miss Caparn, 71 Main? Street, Cashel, Co. Tipperary, Ireland
2) Mrs. Geo. M. Caparn
3, 4, 5) 5 St.? Nicholas Terrace, Nov. 26 - 1881 - My Dear Kathleen, It seems strange that my first letter to you should be one of condolence and very sorry indeed I am that it is. I had so hoped to see your dear good Mother, the sea had kept us apart & that I dare not cross. I often wonder if I shall ever see you, my heart is with you now, I should indeed like to help you to ? the little babe, it will be a ? for you my dear but as it gets older you will be ? for your care in seeing its ? ? and ? its ? ? I am very grieved for you dear to be left so early without a Mother's care & I know what a loss it is, no one can explain it, but you have your Father and in trying to comfort him it may help you to look up to him who is ever ready to hear our ? and ? he give you peace. I shall be so glad to leave a few lines where you can have this time. Give my kind love to your Father and say I will write next sweet, tell me all you can, how you are getting on with Baby etc. I like its names, which are you going to call it, Maria or Lizzie? I am so pleased with your Cute? (maybe the word photo missing?) you shall have one of mine when taken. I hope to have it done early in the coming year. This is a very indifferent letter but you must ? it. I wanted to write you to ? tho' I really don't feel in letter writing mood. Auntie Jennie is with me, she sends her love to your Father and yourself. Kiss your dear little pet for me and with such love to your Father & yourself. I remain My dear Kate, Your Affectionate Auntie. H.? Bishop
6) Cashel A. No. 28 81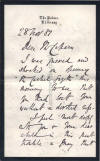 1 2 3 4
1) 22nd November 1881 Postmark Dublin to Miss Caparn, 71 Main Street, Cashel (letter came in this envelope with another)
2, 3) The Palace, Kilkenny, 28 Nov 81 - Dear Mr/ Caparn, I was ? and shocked on opening "The Cashel Gazette" this morning to see that you had lost your excellent & ? wife. I feel most deeply with you & your dear child in this trouble & ? but God himself may be your comfort in this time of trouble. I know full well all that she was to you & what an irreparable loss her removal must be; but thank God, I know too what an earnest & sincere Christian she was, & how ready she was, through her serious merits, to go to Him when he called for her. I know how you valued & esteemed her, and I trust ? ? she is gone from you, her kind & tender counsel will never leave you, but that you will try, & form peace, to follow ? ? fully, and look forward to meeting her in that better home, when ? & know ? ? come - ? ? your sincere friend & former pastor N. P. Osory?
4) Cashel A No 23 81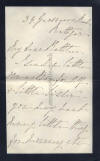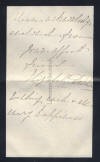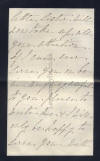 1 2 3 4 5 6 7 8
1) 22nd November 1881 Postmark Dublin to Miss Caparn, 71 Main Street, Cashel
2, 3, 4, 5, 6, 7, 8) 39 Grosvenor Road, Rathgar - My Dear Kathleen, I (no idea, next page) I have been quite laid up with (? again no idea) I hope Papa, Aunt ?, self & little Sister are well, remember while I like you, can always write (I give up)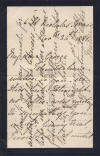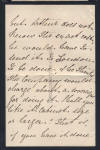 1 2 3 4 5 6
1) 25th November 1881 Postmark Lincoln to G. M. Caparn, Esq., 71 Main Street, Cashel, Co. Tipperary, Ireland
2, 3, 4, 5) 6 St. Nicholas Terrace, 24th November, 1881. - My dear George, I should have written to you 'ere this, but I thought as I ? ? writing to sympathize you in ? ? ? I would wait until your grief was abated a little, although I am sure it will be some time before this great burden of sorrow is lessened. We sympathize deeply with you dear George, & you must give our love & heartfelt condolences to Kathleen, I wish we were living nearer to you & could spend a little time with you & your dear girl who is such a comfort to you. As regards the photo of your dear Wife you can leave it enlarged to any size but Arthur does not know the exact cost, he would have to send it to London to be done, & see ? the Company would charge about a sovereign for doing it. Shall you like it cabinet size or larger? that is, of you have it done. Thank you very much for sending Kathleen's likeness, I do hope we shall see her at some future time. With our united love to you both. I remain, George, your affectionate Sister? Miller
6) Cashel B NO 26 81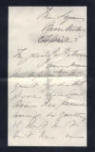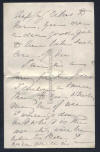 1 2 3 4 5
1) 4th April 1884 Postmark Dublin to Miss Caparn, Main Street, Cashel
2, 3, 4) The ? ? April 2 - Mr dear Kathleen, I am (whatever too hard to read) from Maggie (she can sign her name clearly but writes like chicken scratchings Mary)
5) Cashel B AP 4 84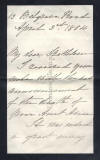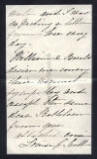 1 2 3 4
1) 4th April 1884 Postmark Dublin to Miss Caparn, Main Street, Cashel
2, 3, 4) from Louise J. Scott (this could be the Scott in those letter) (I'm not even going to try and transcribe the letters, reading this small slanty writing is giving me a headache)


NO DATE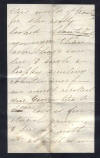 1 2 3 4
1, 2, 3, 4) 27th August From Miller, Kings? Gate, Newark to My dear George - Very many thanks dear boy for the box received this morning, the contents of ? are very much ? indeed by all of us. I cannot give you an account of dear Mother's illness as I did not get home until after her death, so you may judge it was rather sudden. Sally was telegraphed for on Saturday, but poor poor Mother did not know her - she was quite unconscious - her sufferings were dreadful. Only think dear George what a severe pain it was for me, having left her about three weeks before, only rather weak as I thought & then to come home and behold, her lifeless corpse, but to see her in death I think you would not have wished her back again in this world of troubles, for she really looked beautiful, younger than ever I have seen her, & such a happy, smiling countenance - we must recollect dear George that our loss is her eternal gain, & bear up with it as well as we can, dear Father is as well as can be expected - indeed much better than we ever thought he would be. Sally or Molly sends her love & will write on Sunday. I must now say good bye. With fondest love from Miller



Dear Kathleen, I am afraid you will have to pack up and come out again. The new domestic is certainly one of the most remarkable young women in the County. Its 10 o'clock now or a quarter to, to be accurate and mamma says she has no boots cleaned, no clothes washed, in fact no nothing! Tonight in addition to her other manifold attractions she showed a remarkable capacity for appreciating the pathetic - in her own circumstances, and expressed a decided objection to being jawed.? She also wept copiously. And in addition to all this the Great Mr. Goff (NB he bought some herrings for breakfast which were ----) expressed, his opinion that one servant was not enough, and said that he would not think of having the celebrated but mythical dinner at home during the reign of the present domestic. All these points having been duly considered it has been determined by the authorities and I am desired to convey to you the said determination, that one more efficient be appointed to carry on the duties of this most important post and therefore it is earnestly requested that you return to the scene of action as quickly as circumstances will permit. Your affectionate Cousin Charles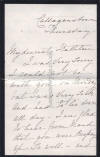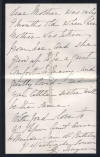 Callaganstown, Thursday
My dearest Kathleen, I was very sorry I could not be with you on Monday but I was very sick and had to lie down all day. I was glad to hear from Maud that you were keeping up so well, and that Baby is so quiet. It is a good sign that she is healthy for a sickly infant is always wailing. You have a heavy charge on you dear Kathleen but please God you will be equal to it. I am glad it is a little girl, they are far more easily managed than boys and easier ruled and guided. I wish I was living nearer to you and could see you oftener. I am sure Mrs. Wilson will advise you in rearing baby. There will not be much trouble with it for a few months. I hope your Papa is feeling better, and that Aunt Annie is pretty well. Your own dear Mother was only 9 months old when her Mother was taken from her, and she grew up to be a great comfort to many, and greatly loved, and your little sister will be the same. With fond love to your Papa, Aunt Annie, Maude. I am N- Kathleen V affectionate Cousin G. Hayes?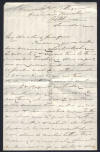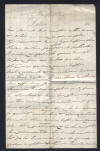 186? Prince William Cottage, Grand Canal, Dublin, Sunday - My darling George, Knowing you write to ? about Baby I will try & ? this to the funeral body? ? is going on very well indeed, tho in fact asking ? ? cradle. I have ? ? in the parlour with me, I sent for Dr. Bogus? yesterday, more to make my mind easy than anything else, & I would not send her out, so he came & ? two more ? & told me to give her nothing but milk & water and light food I have ? for her, she is much better better this morning & more lively, she got a present of a doll & she [2, 3, & 4 Marys Abbey, Dublin 186] has it in the cradle with her & got a very good night, of course Mary has left she did not go till 10 o'clock Friday night, I gave him 2/6 to ? for a cab as the ? is long and left? Baby a? & minded her all the ? I could not be off ? ? child seven I think that night out for a drink & ? ? down again in the morning she called ? ? & ? ? ? but now is quite content & does not mind she never left my arms all day yesterday & last night lay down till I ? to go to bed & had no food all night & then this morning waited in bed till I was ready to take her & ? ? ? then went asleep in my arms after a while. She has just got up so I must ? ? now. Well now the strangest news yet to come yesterday evening Marys Cousin bought me a letter Mary had not gone to America her Mother would not let her go (her Mother wrote it) & to hear how Baby was so seems strange. The girl I have is going on Wednesday I am very sorry for her, she is a nice quiet girl & has very ? ? ? her sickness ? ? ? yesterday & said that she had a letter from ? Mother & wants ? home I believe there is some love lost? so she goes - I mean to get ? in till you come home she can sleep here at night & ? ? ? ? over what is but if she is any good I will keep her for a while - Mr. ? ? was here yesterday morning to see if he would engage a seat for me on Tuesday night but I would not leave Baby till she is quite well - I suppose you are spending a pleasant day with Bat???? I did not go out ? ? ? ? you must have felt very much flattered at going so far? So now I will say good bye with fondest love from your ? fond Wife Kate Caparn (that woman's writing is dreadful - Mary)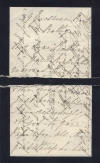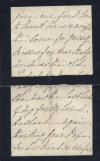 39 Grosvenor Road, Rathgar - My dear Kathleen, Your kind letter received this morning & the two Jacks? have just been ? I am exceedingly obliged to your Papa for all the good things he has (page missing I think) give our fond love to Aunt Avis? & accept the same for yourself, kisses for dear Baby. We miss the old Lady ? ? She was the last link of my fondly loved Husband - again thanking your Papa for his kind & useful present? by Mr. James in kind regards to your Papa. I remain your affectionate friend Elizabeth Devlin? P.P. I am getting around nicely D. G.








"The Rosary" To the Editor of The Daily Mail
Sir, - The conflicting criticisms which have appeared in The Daily Mail on "The Rosary" are easily explained. They express the woman's and the man's point of view, Weak, sentimental, and full of impossible episodes, the book exactly suits the average woman, who reads solely for the plot. Its unreality would disgust the other sex. The authoress doubtless reaches a higher literary standard than the usual run of modern novels (in fact, the style is the best part of "The Rosary"); but were half the adverbs and adjectives deleted the book would be a stronger and therefore a finer artistic work. May Tucker, The Hall, Ashburton
To the Editor of the Daily Mail
Sir, - May I as a blind man express my opinion of "The Rosary"? In the first place it is utterly ridiculous to suppose that Garth would not have recognised Jane by her voice the moment she entered his room and spoke. In the second place, does anyone suppose that a blind man is so helpless that he cannot find his way about his own apartment without the aid of strings passing from his chair to the window, door, and piano? Again, Garth is represented to us as a thorough musician, yet the doctor very unintelligently suggests that a notch should be cut in the piano to enable him to find the middle C. How absurd! I am afraid the authoress understands very little of blind people and their ways, or the book would have been written very differently or not at all. H. S. Elkington, 3 Holland Road, Hove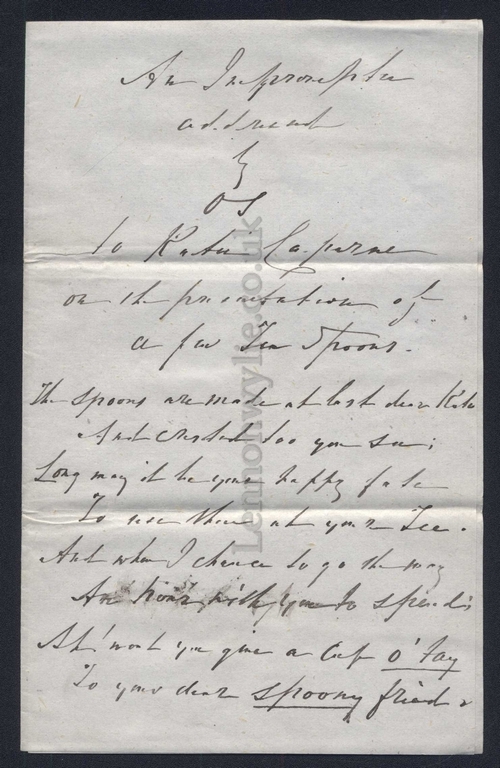 An Impromptu addressed ? ? To Kate Caparne
on the presentation of a few Tea Spoons
The spoons are made at last dear Kate, And crested too you see;
Long may it be your happy fate, To use when at your Tea.
And when I chance to go the way?, And hour with you to spend;
Ah! won't you give a Cup o' Tay. To your dear Spoony friend.