Clements Letters etc.
(Photos on this page 'may' be connected)
I tried to put these in chronological order but some don't have dates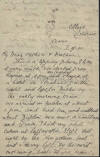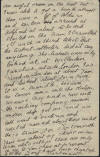 no date but sounds earlier than the rest...
Royal Naval College, Osborne, Cowes, I. of W.
Dear Father & Mother, This is a topping place, I like it very much. We started from Raphoe at 8 pm on Tuesday and stayed at a hotel in Strabane for the night and left for Dublin by the early morning train. We arrived in Dublin at about 1 pm, and had tea and walked about Dublin. We met Armitage and Brown. I had my photo taken at Laffayette's. I left that night by the Kingstown boat and Harry left by the next morning boat. There was an awful cram on the boat but I was able to get a bunk alright, there were a lot of soldiers and sailors. I arrived at Holyhead at about 12.30 and started on the train, I travelled 1st with a third ticket. But the ticket collector didn't say anything. The tickets were only looked at, at Willesden Junction, outside London. I arrived in London at about 7 am, and looked about for a taxi. It is a swindle, because no taxis come into the station, because they had a row with the railway company. However another chap got one and we both went to Victoria and waited round about there until the 10 train for Portsmouth. There are about 109 chaps in our term altogether, there are only three terms here at present, all the rest have been shunted on to Dartmouth. We will probably stay here 4 terms, you are awful squits when you get here, for your first term. We have a jolly decent cadet captain, he is head of our dorm. We are in the Drake term, all the masters are jolly decent. You have to do everything jolly smartly here. You have to do everything at the double. You have a cold plunge every morning. It is slightly warmed. It doesn't feel a bit cold. Everything is done by bugle calls, you are woken up by the "Reveille" We have not played any games yet because the Footer Field are under water. My tutor is a jolly decent chap, you have jolly good food here. It takes sometime to get into the way of things. There are about 30 in each dormitory. Everything is guff here. Guff is the slang for cheek. Wearing your hat at an angle, showing hair, etc. Your loving Son, Alan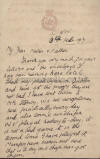 Royal Naval College, Osborne I. of W. 6th Feb. 1917
My Dear Mother & Father, Thank you very much for your letters and the envelopes. It has been raining here lately. I had photos taken in Dublin and have got the proofs, they are not bad. I have sent them to Mrs. Storey. We see aeroplanes here practically every day and also some airships. We played hockey to-day, it is not a bad game, it is the second time I have played it. Mumps have broken out here, that is to say one chap has got them. The dormie hockey matches are coming off soon. I don't expect I'll be in my team as I have only played twice in my life. There is going to be a test down at Kingston on Thursday or Friday, on what you have done so far in the wood shop or machine shop this term. I have been in the wood shops. I will go into the machine shop on Monday, you stay 3 weeks in the wood shop and the rest in the machine shop. There is a dance here every night except Sunday. I am learning dancing. Prince Charles of Belgium is here, he is a 3rd termer, There is no news. There was a 3 mile run yesterday with no stops, I stuck it running the whole way, I am jolly stiff to-day. Your loving Son Alan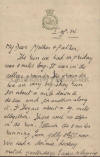 Royal Naval College, Osborne I. of W.
My Dear Mother & Father, The run we had on Friday was 3 miles long. It was in the college grounds, the grounds here are very big, they run for about a mile down to the sea and for another along it, they are about a sq. mile altogether. There were no stops in the run. I stuck the 3 miles running, I am jolly stiff now. We had a dormie hockey match yesterday, I was playing for my dormies. It was a draw. There are 4 dormies in each term and the winning dormies of each term play each other. I have had the proofs of my photo and have sent them on to Mrs. Storey. Prince Charles of Belgium is here, he is jolly ugly, he is rather like the Crown Prince, only that he has fair hair. I had a letter from Patsy, she can write quite well. I am sending a letter off to her to-day. At Kingston I am going into the machine shop on Monday. The machine shops aren't bad, you first have to flatten a piece of cast steel. It is jolly slow and hard work, you then have to do the same with cast iron and then you have to make nuts & bolts with the thread in them. Your loving Son Alan




Royal Naval College, Osborne I. of W. 17th Feb. 1917 (query 1918 also written on this)
Dear Father & Mother, The time is going very quickly here now, we have nearly been here five weeks now. It is awfully warm here, but for the last couple of days it has been quite cold. I played rugger yesterday and got 5 tries. I am in the machine shop at Kingstown now. I have finished chipping and filing my mild steel, you have to chip it off for one eighth of an inch and then file it, it has to be perfectly flat, you chip it with a chisel and a hammer. You have to hit hard so your fingers sometimes get hit instead of the chisel. Cast iron is easier to chip because it is brittle and so if you hit hard more will come off. The term month's order is up to-day, I was in an awful funk, I was 6th of the term. I am going to try and get higher next month and am going to work jolly hard. Fitz-Gibbon was second. The chap who got the Star isn't very much good, he was 14th this month, I beat him. We did not win in the total of the dormie hockey matches. I was 5th in the Engineering order (Preparations), and 17th in the practical order, I did rather badly in the test we had. I did a much better dove-tail corner on the day before. The practical order is the marks which you get for things you have made in the workshops. I am making a teak pipe-rack in voluntary Kingston, I will send it out to you with the photos when it is finished, it is something like this. The photos have been ordered so they will arrive soon, I hope. There is not much more news. I had a letter from Harry yesterday. My tutor-set was not in the finals of the Soccer competition. Your loving Son Alan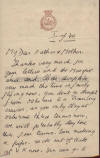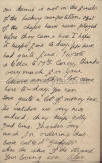 Royal Naval College, Osborne I. of W.
My Dear Father & Mother, Thanks very much for you letters and the Mesopotamia card. I like this place very much, the time is fairly flying now, you don't go straight from Osborne to a training cruiser, as you only stay at Osborne three terms now, we will probably stay here the four terms. I am making a pipe-rack out of teak at V. K. now. You can go to V. K. the day you go to Kingston in the afternoon, you can only go once a week, to V. K., but you go for three hours at a time. I played hockey and rugger last week. Does Mr. Dapennex? live at Ryde. I am going to try and get into the commanders vaulting class, one is chosen out of each term. I like the gymn we have here awfully. There is V. G. every evening here, I go every day possible, it is topping sport. I am doing much better in French this month. Maths counts much the most here. I alike all the subjects we have here, all the masters except a few are jolly decent, all the ones I go to are jolly decent. We have just come out of Sunday "Divisions." The Drake post made rather a boss in the march past, I am in the starboard. It is jolly decent marching with the band. The first thing we were told when we arrived was that we were no longer school boys. I am doing my centre punch at Kingstown now. It looks something like this when it is finished. {Facet, Pointed end} our dormie is not in the finals of the hockey competition. Most of the chaps have never played before they came here. I hope it keeps fine to-day. We have had quite fine. I wrote a letter to Mrs. Carey, thanks very much for your letters, another lot came here to-day. You can save quite a lot of money here. The watches are very nice indeed, they keep jolly good time. Thanks very much for ordering that book called "Gadgets" also the issue of the Strand. Your loving Son Alan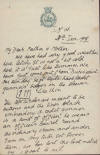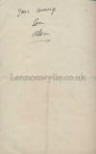 Royal Naval College, Osborne I. of W. 27th Jan. 1918.
Dear Father & Mother, We have had very good weather here lately. It is not a bit cold here, it is just like Summer. We have just come out from "Divisions" our Sunday best suits have cadet gunners' badges on the sleeves. Like this LLL as close as I could find in Webdings, more straight up and down like lollipops, The top circles are meant to be buttons and the lines black embroidery, a Cadet gunner is a kind of officer, he wears an Officers' laurel round the ordinary crown and anchor. I am on my tutor set Soccer team, we lost the last match by 1 goal to nil. I like this place very much indeed. This is the college note paper that I am writing on. They play hockey, rugger and soccer here. Mostly soccer. I play Rugger yesterday. There is a topping canteen here, We go down to the Kingston workshops 4 times a week for 2¼ hours each time. The Kingstown workshops are about ¼ of a mile away. We march there. I am in the wood shop at present, you stay 3 weeks in the wood shop and then go on to the metal shop. The whole term takes it in turn to go to the wood shop. It is jolly good sport. We see aeroplanes here practically every day. I am in the top class of my term here. The chap who got "Honourable Mention" in the exam isn't much good, I suppose he was crammed a great deal for it. There are only 3 terms here now the other two have been shunted on to Dartmouth. Pelty? is not here now. He left at the end of last term. I got a letter from Harry the other day. All the masters here are jolly decent, my tutor is very decent, our tutor set is supposed to be the best in the college, a tutor is a person who looks after your work, games, etc., but you don't go to him for anything like Maths, etc. The time is passing quite quickly here. The cadet captains are awful swells. Your loving Son Alan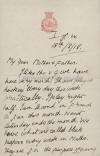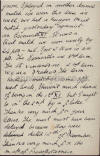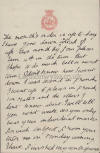 Royal Naval College, Osborne I. of W. 13th March 1918
My Dear Mother & Father, I like the V.G. we have here very much. I have played hockey every day this week practically. I play eight half. I am Second in French so far this month. Next Saturday ends the month. We have what are called block papers every week in Maths. They are for the purpose of giving a chance to a person who has been placed to low in the term. We were inspected by Admiral Colville at Sunday "Divisions." Today is confirmation Sunday, the 3rd termers get confirmed to-day by the Bishop of Winchester. There was a match between Osborne and a team of naval officers brought here by Lieutenant ?????????. It was a jolly good game, it was a draw, two all, I enclose a photo, you can see the canteen in the distance and the squash courts on the left, I play squash here. I like it very much. I was playing for my dormie in hockey the other day against a second term dormie, it was a draw 2 all. We would have won easily only that the captain of our team was at the sick-bay. I have got on quite far with my centre-punch now, you are allowed to take them away when they are finished, you use them at Kingston for a tool. Admiral Colville is the Admiral at Portsmouth, his son is here now, he is a 3rd termer. There were an awful lot of parents looking on at Sunday Divisions to-day. The Bishop of Winchester was at the march past in what looked like a purple dressing gown. I played in another dormie match, we won this time as well. We had a rugger trial match yesterday against an Exmouth XI. It was a trial match, we won easily by 24 pts - nil. I got 2 tries ie. six pts. The Exmouths are 3rd term. We are Drakes? The term hockey matches come off next week, I haven't much chance of being in the 1st XI but I might be in the 2nd by a fluke. Thanks very much for your letters. The mail must have been delayed because they were dated 12th of December. Thanks very much for the map of Mesopotamia. The month's order is up to-day. I have gone down instead of up this month by four places. I am 10th in the term, but I hope to do much better next term. I don't know how I went down, I was second in French, I went up 5 places in French, 1 in Maths and the others I don't know about. I will tell you next week, as you only hear your individual marks for each subject from your tutor on Monday evening. I have finished my centre punch at Kingston now and am doing my nut and bolt at present. A new army and navy ration has come out, it corresponds to sugar cards etc. but instead of 8 oz. you get 14. We are going to be given them for next leave. Your loving Son Alan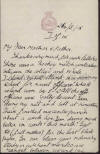 Royal Naval College, Osborne. I. of W. 24/3/18
My Dear Mother & Father, Thanks very much for your letters. There was a hockey match yesterday between the college and Whale Island, Whale Island is a gunnery School for naval officers. Whale Island won by 3 - 2. All the officers were jolly decent. I am doing my nut and bolt at Kingston, I have finished my centre punch about a week ago. I am doing much better in work this month. I got 80 (full marks) for the last block paper. In our class your ordinary Study or current marks are ranged between 115 and 144. So you can old get 144 through current marks while, for the block papers you can get 320 marks, as there is one block every week and that is marked out of 80. So the blocks count much more than anything else. The system of having blocks was introduced it order that anybody who was placed too low might get a good chance of getting up. Whale Island is near Portsmouth. We have begun putting on summer clothes here, it is lovely and warm, just like summer. I go to Kingston workshops to-day. Nothing much has happened lately. While we were marching down, we saw a seaplane dropping great showers of leaflets. The college term matches were played the other day. I was in the sick bay or I might have played for our 2nd XI as I played in the trials, the Exmouths (3) beat us easily in both 1st & 2nd XI matches, but we beat the St. Vincents (2)nd in both - 2 - nil and 1 - nil. It was jolly good of us to beat a senior term. The Exmouths (3)rd term are going to play the Vincents (?) ??? some time during next week, the trial for the cross-country race is going to be to-morrow, the leave is not far off. No more news. Your loving Son Alan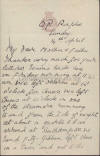 no year but Leave was mentioned in previous letter as being 'not far off'
Royal Naval College, Osborne - O.R. Raphoe. Sunday 14th April (assume 1918)
My Dear Mother & Father, Thanks very much for your letters. I came back here on Friday morning at 11.40am. We left Osborne at 12 o'clock for Cowes. We left Cowes at 1 o'clock in one of the steamers running to and from the Isle of Wight at about a quarter to 3, we arrived at Southampton ? I and Fitz-Gibbon left there in a taxi and got to the Station just as the train for Waterloo. We saw our luggage into the van and got into a 1st for London. The train was not crowded very much. We got into London at about 5.30. We got a taxi at Waterloo and went to Euston. We put our boxes, bags, etc. in the parcel office and then walked to Great Portland Street. Fitz-Gibbon has an aunt living there, with whom we had supper, we left London at about 8 and arrived in Holyhead at 2 am. We then separated, Fitz-Gibbon was going to spend the night in Holyhead, I went on 1st class passengers were allowed in 1st. I arrived in Kingstown at about 7 o'clock. The mail steamer was all camouflaged. I then got into at train that was on the pier and got straight up to Portadown where I had to change. I had also the change again at Strabane. We are given 1st class return tickets at 3rd class single fare, it altogether amounts to £3. 19. 0. I am going to Holyhead next week. Your loving Son Alan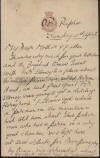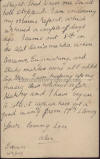 Royal Naval College, Osborne - OP or OR Raphoe. Sunday 21st April (assume 1918)
My Dear Mother & Father, Thanks very much for your letters and the Bagdad times. I went with Mr. Stoney to a place about 30 miles from here called Hornhead, we had great sport. Mr. Stoney (its all about getting eggs from nest, you can click on the images and read it, very boring) I had my teeth looked at, at half term alright. I had to have one small hole stopped. I am enclosing my Osborne report, which arrived a couple of days ago. I came out 8th in the total terms marks, when Exams, Engineering, and Study marks were all added together. I am keeping up my music this holiday & so far Harry and I have begun to collect eggs, we have got a good many from Mr. Stoney. Your loving Son Alan. Excuse writing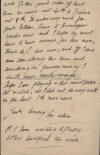 Royal Naval College, Osborne. I. of W. 19th May 1918
My Dear Mother & Father, We just began the tutor set cricket matches to-day. I was playing for mine. I only made one. We beat Price's tutor set by 94 to 44. I was in 3rd wicket down. When I went in we had all ready beaten them so we just sl?ogged. Nothing much has happened this week. I am in Instructional Engines this week at Kingston. Each term has 2 cutters, 2 gigs? and 2 skiffs and you put your name on a list and you go out every day possible if you can get a crew, there are 5 in a gig, 3 in a skiff, and 13 in a cutter, one of each of these is a case? We played two more tutor set matches on Thursday, Friday and Saturday, we won both of them, they were against Watts' & Boissiers' tutor sets. I never expected that we would win either because two of our best men were away. You play everybody in your league, and the winners of the leagues play each other. We have one more match to play in our league, we will be the winners of our league if we win it. There are four tutor sets in our league and four leagues altogether. I was playing in both matches, but did not make any decent scores. The totals were v. Watts 57 - 38. v. Boissiers' 88 - 56. I was very glad to get 2/6 from Patsy for my birthday, I am sending the other 2s/6d on to Harry. The term ends on the 26th of July. It is the shortest term, only 11 weeks. I am getting on all right in work, I am reading a book called the Count of Monte Christo, it is quite good. I had to get 3 stiff? shirts as I found I hadn't any, I never had, I didn't get them because they weren't marked on Gieves list. I have just got a lovely great batch of letters from you, They were addressed to O.P. They are dated the 20th or so of March, they must have been delayed a long time. I got the 2s/6d P.O. about a week ago, thanks very much for sending it. Bormett? isn't much good at work. In the final order of last tern he came out 40th & I came out 8th. Thanks very much for your letters. I have 5 Exchequer bonds now, and I hope by next leave to have enough for two more, I have 30/- here now, and if I save something this term and something on journey money I shall have easily enough. I hope I am playing in this next tutor set match, as I did not do very well in the last. No more news. Your loving Son Alan. P.S. I am writing to Patsy & Miss Hartford this week.



Royal Naval College, Osborne I. of W. 7/7/1918
My Dear Father & Mother, There was a match against Whale Island last Saturday. We were beaten by about 100 - 50. About 6 chaps were given their cricket colours this morning at divisions. Thanks very much for your letters and the sixpence. I don't think, ?????, there is any risk on crossing the channel sea because no boats of that line have been sunk so far during the war, because they are too fast. There is not much more time till the leave now, about a week and 5 days. We have had quite a lot of rain lately. It was badly needed. I expect that Harry & I will drop in at M.G. on the way back and play in an old Boy's match. I hope so, Harry has written to Mr. Carey I think. I expect a letter from him any day now. We leave here on Thursday the 25th at 12 o'clock. The exams begin next Saturday. I hope I do better in next months' order. Last month I should have been 12th instead of 17th because the master we go to for geography gave us 26 marks to little, is this had been added on, I should have been 12th. But it will be added in next month so I should be quite high. I am sending a letter to Daddy to-day. It was sent off on May 12th and arrived here on Friday July 12th. Your loving Son Alan - I ? ? this and did not receive this letter. D.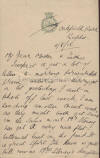 Royal Naval College, Osborne - Oakfield Park, Raphoe. 11/8/18
My Dear Mother & Father, I expect to get a lot of letters to-morrow forwarded from Osborne as Harry got a lot yesterday. I sent a photo off last week, I am sending another next week, as they might both get lump in the same mail. Mr. Stoney has got a very nice flat-bottomed boat in the pond. It is great sport. The house is quite full now as Mrs. Stoney's daughter have come for a month with some of their children. I do not think that there is the slightest danger in the cross channel journey at all. I enclose my report. In the final term order with everything added in. I am 6th, two places higher than my first term. I must try and make it 3 or four next time. It is great sport on the farm here now. They will be steeping? ???? next week some time. We had topping sport, we went to a cherry orchard and had a good time. But the worst of it was that the cherries were nearly over, not like last year. The whole family practically went in a motor & on bikes, we bathed in Lough Swilly? Daddy could you please send any stamps you pick up for our collection, as many Turkish ones as possible. Your loving Son Alan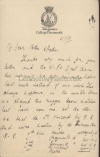 Royal Naval College Dartmouth. Telegrams. 2/11/19
My Dear Mother & Father, Thanks very much for your letter and the 3/- P.O. I got them this morning. We got two extra halves last week instead of one whole. This always happens in the winter terms. We played two rugger league matches last week, won one, lost the other. We beat the St. Vincent's by 9 - 3. And were beaten by the Exmouths 18 - 8. 5th term Hawke not played yet. 4th term Granville lost 17 - 0. 3rd term Exmouth lost 18 -8. 2nd term St. Vincent won 9 - 3. 1st term Drake -- The Stoney's will be very pleased with the presents. The 1st & 2nd College 15 played Blundells 1st & 2nd yesterday. We won both. In the 1st 24 - 10, the 2nd 17 - nil. They were both jolly good games. I was watching the 1st XV match. I am going to look for a farm to-day where you can get tea. Can I get a new Summer monkey jacket and trousers, as the one I got when I first went to Osborne is getting rather shabby. A summer one does for winter as well. Besides it looks a lot better, not being of such thick stuff. I have asked Mrs. Stoney to order one from Gieve, I hope it will be all right. My ?ound jacket is getting small so the new monkey jacket will do for Sunday, most people wear monkey jackets here on Sunday. All the other terms and about half of ours. I am jolly glad the mill is doing well. I was 2nd in maths last month, top in French, 4th in Navigation and mechanics and 10th in History & English. I expect to do a lot better in History and English next month. We have been here just over 5 weeks now on Tuesday, there will be six weeks more. I am going to save as much money as possible to buy cartridges. The amber beads ought to be jolly nice, You could also test them by rubbing on cloth when they ought to lift up small pieces of paper for a little while as you generate electricity by rubbing the amber on cloth. Your loving Son Alan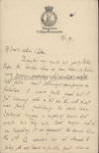 Royal Naval College, Dartmouth. Telegrams. 9/11/19
My Dear Mother & Father, Thanks very much for your letter. I hope the border Show is over soon. A lecture was given yesterday by a chap called Capt. Gotch about Allenby's Campaign in Palestine, it was quite good but it got boring after a bit as the old chap was fairly gabbling the whole time. I played rugger a couple of times last week. We played our last league match on Tuesday. It is against the Senior term 1st or 2nd XV colours are not allowed to play, so we have a pretty good chance. It ought to be a jolly good game. We had a terrific hail-storm here this morning, it only lasted about a quarter of an hour but the ground is quite white now. It is getting jolly cold now. Since the 1st of this month we have been turning out at 10 to 7 instead of 6.30. We only have 40 minutes prep before breakfast. It is much too cold to go anywhere for tea, to-day I expect the canteen will be about my limit. There is not much to say this week. There will be 5 weeks till we break up. Your loving Son Alan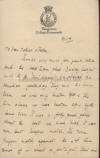 Royal Naval College, Dartmouth. Telegrams 16/11/19
My Dear Mother & Father, Thanks very much for your letter and the bag. I am glad Daddy has got back to Civil again. We played the Hawkes yesterday. They are the Senior term, we were only beaten 6 pts. -0. The term above us was beaten 29 - 0 by the same term. It was a jolly good game, about the best we have had, it was our last league match. The term Rugger match against the 2nd term comes off in about a fortnight. There are five terms here now, so in the Junior year there are only two terms, and in the Senior year three terms. If we beat the ? Vincents, we will have won the Junior year cup. There have been a lot of college 1st XL matches lately against Lieutenants (E) etc., we have won practically all of them so far. There was a swimming relay race last Tuesday, 20 from each term and each person had to do two lengths ie. 60 yards. We were last by a length but we were not allowed into the bath last term while we were in quarantine so we had not much chance. The best time for the 1,200 yards was 15 minutes. That is when each of the 20 cadets did 60 yards. The record individual time for two lengths is 35 seconds which is not bad. We have been here over seven weeks now. There are only four more weeks on Tuesday next. I hope the gun arrives in time for the Christmas leave. I am writing to Mrs. Storey to-day. We had snow here the other day. It is a good deal colder than it was at Osborne. I hope daddy gets home soon. My new monkey jacket has arrived from Gieve?, it is a jolly nice one. Your loving Son Alan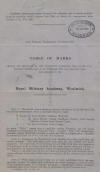 Candidates whose names appear in any of the following lists as having qualified wholly or partially, should preserve this Table of Marks for transmission, when required, to the War Office. Royal Military Academy 12 Jan 1822 Woolwich
Army Entrance Examination, November 1921 - Table of Marks - Showing the results of an open competitive examination held by the Civil Service Commissioners on 15 November 1921 and following days, for entrance to the Royal Military Academy, Woolwich
Note 1 - The fourth column shows the Service, the branch of the Service or the educational establishment which a candidate desires to enter.
W. denotes the Royal Military Academy, Woolwich
S. denotes the Royal Military College, Sandhurst (Cavalry, Foot Guards, Infantry or Royal Army Service Corps.)
A. denotes the Royal Air Force Cadet College
An entry "W.S.A." means that a candidate prefers Woolwich, but will accept Sandhurst or (failing that) the Royal Air Force. An entry "W20. A.S." means that a candidate desires Woolwich, provided he gains the 20th or a higher place; otherwise he prefers the Royal Air Force, and after that Sandhurst.
Note 2. -Deductions for Handwriting and Spelling have been made from the various subjects. The deductions under each head are also totalled and shown separately. The exact total of the deductions would differ from these in consequence of adjustments made in certain subjects, but the totals shown sufficiently indicate to each candidate the degree of attention which his handwriting and spelling require. Where a candidate has sat for more than one Service the total deduction shown under each head is the sum of the deductions made in all the subjects which he has offered.
Note 3. - When cases occur in which two or more candidates obtain the same aggregate number of marks, such candidates are either arranged in order of merit or are bracketed equal. If it becomes necessary to discriminate between bracketed candidates their order of merit will then be determined by the Commissioners.









names include :- Kellett, E. L.; Keary, F. E.; Gibb, D. S.; Clements, A. E.; Kiggell, A. W.; Eley, D. M.; How, R. W. W.; Houghton, F. W.; Gwynn-Jones, J. L.; Cleeve, R. E. B.; Wooldridge, L. O. W.; Crawford, R. A. V.; Findlay, P. H. L.; Gregson, J. H.; Guinness, D. R.; McMullen, G. N.; Knapton, W. G. D.; Herbert, C. E. M.; Stewart, G. W. F.; Hughes Hallett, C. L.; Graham, E. J.; Edgington, A. T.; Orchard, D. R. M.; Davies, A. B.; Haddock, H. (name removed from list); Eking, H. C. W.; Pocock, H. I.; Nicholson, R. A. G.; White, A. G.; Kerr, J. M.; Lane, E. E. A.; Phipps, C. G.; Yates, J. B.; Carey, L. F. de V.; Southey, S.; Stratton, W. H.; Beattie, J. H.; Lewer, L. B.; Smith, K. S.; Strong, J. I.; Douglass, W. S. T.; Brackenbury, R. H. L.; Elkington, J. R. S. W.; Pinchard, F. B.; Eve, R. D. E.; Jelf, R. W.; Streatfeild, N. R.; Everett, G. E. N. (unfit, operation); Walter, E. H.; Sugden, H. H. C.; de Winton, R. P.; Bourke, L. E.; Blacker, W. D.; Shacklock, W. G.; Hazlerigg, A. W.; Northover, G. H.; Pantin, D. E.; Kirton, R. J.; Jermyn, R. O. (nominated to a Kings India Cadetship at R.M. College); Howard-Jones, J.; Beach, L. G. & Hill, R. H. M. (from June 1921 Exam); Honorary Cadet - Nai? Kuicha? na Thalong; Bromhead, E. de G. H.; Grogan, W. R. G.; Booth, F. R.; Mackillop, I. L. H.; Sharpe, J. Y. B.; Rowland, R. St. J.; Baker, J. F. A.; Lewis, D. C. F.; Gibb, F. W.; McNabb, C. V. O'N.; Patterson, K. W. G.; Osmond, S. R.; Macartney, F. G. C.; Heaton, G. A. D.; Burdett, H. H. C.; Christian, C. G. H.; Carless, G. P.; McNair, A. J. G.; Boucher, V.; Cookson, J. E. G.; Man, L. G.; Butcher, H. C.; Collins, W. H.; Davis, A. L. C.; Grech, E. J.; Spicer, L. H.; Lardner-Clarke, A. J.; Craig, P. G. S.; Moorhouse, H. W. N.; Freeman, P. H. P.; Hill, R. C.; Stoneham, D. S. A.; Richardson, J. A. E.; Albright, D. G.; Fitz Herbert, G. F.; Tuke, V. F. E.; Matthews, G. S. C.



Officers Training Corps - Certificate "A" - This is to Certify that Mr. Alan Ernest Clements of the Cheltenham College Contingent, Junior Division, Officers Training Corps, has fulfilled the necessary conditions as to efficient service, and has qualified in the Infantry syllabus of examination, as laid down in the Regulations for the Officers Training Corps. He is, therefore, eligible for consideration for a commission in the Regular Army Reserve of Officers, Militia, Territorial Army, or Active Militia of Canada. The total number of marks he obtained in the examination was 397.
On offering himself as a candidate for -
(1) Admission to the Royal Military Academy, Woolwich,
(2) Admission to the Royal Military College, Sandhurst,
(3) Admission to the Royal Air Force Cadet College,
(4) A commission in the Naval Medical Service,
(5) Admission to the Royal Army Medical Corps,
(6) Admission to the Royal Army Veterinary Corps,
(7) A Paymaster Cadetship in the Royal Navy,
(8) A Naval Cadetship or supplementary first appointment to a commission in the Royal Marines,
he will be entitled to the privileges conferred on holders of this certificate as set forth in the Regulations concerned, and to any further privileges that may be authorised after the date of this certificate. The War Office Date 7th July 1922 signature Major-General, Director of Staff Duties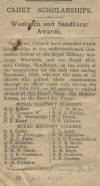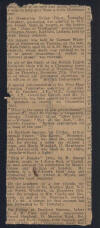 1 2 3
1) Cadet Scholarships - Woolwich and Sandhurst Awards - The Army Council have awarded Cadet Scholarships to the undermentioned Gentlemen Cadets at the Royal Military Academy, Woolwich, and the Royal Military College, Sandhurst, on the result of the competition for the half year ending December 1922, who are the sons of (i) officers who gained their commissions through an officer cadet unit during the war of 1914-1919; or (ii) serving or retired officers of the Royal Navy, the Regular Forces, or the Royal Air Force:
Royal Military Academy - E. L. Kellett; A. E. Clements; L. O. W. Wooldridge; F. E. Keary; H. C. W. Eking; P. H. L. Findlay; H. I. Pocock; D. R. Guinness
Royal Military College - S. A. Cooke; R. H. B. Arkwright; V. M. V. Tighe; A. O. Robinson; R. Chandler; R. H. N. Clarke; J. O. E. Vandeleur; D. Dawnay; A. M. Finlaison; E. V. Lang; R. M. Fanshawe; L. G. S. Younghusband; R. F. B. Rance; R. G. Turner; R. M. Boyle; E. H. Goulburn; C. H. Cousens. London? Morning Post 11 Apl. 1923?
2) Royal Military Academy, Woolwich - Half-Yearly Inspection of Cadets -
On Tuesday the half-yearly inspection of the cadets at the Royal Military Academy, Woolwich Common, was held, the inspecting officer being General Sir George F. Milne, General Officer Commanding-in-Chief, Eastern Command. Among the company were Major-General Sir W. A. Liddell, General the Vicomte de la Panouse, Major-General P. G. Grant, Colonel P. E. Hodgson, Colonel H. F. E. Lewin, and Colonel H. S. de Brett, O.C. Troops, Woolwich Garrison. In the course of his report Major-General Sir Webb Gillman, the Commandant, said the fourth class, who were being recommended for commissions, consisted of 58 cadets, of whom 33 were destined to fill vacancies in the Royal Artillery and 24 in the Royal Engineers. The remaining classes were comprised as follows: The third, of 65 cadets, of whom 28 are R.E. cadets and 37 R.A., the second class of 61 cadets, of whom 23 are to be R.E. cadets and 36 R.A., two being Egyptian cadets, and the first class of 55 cadets, who will bifurcate at the end of next term. One was a Siamese? cadet. Since his last report the enlargement of the workshops had been completed and extra facilities afforded for instruction in woodwork, metal work, and horse -shoeing. The erection of a new sergeants' mess was proceeding slowly, and on its completion be hoped to be able to begin the enlargement of the electrical and physical laboratories. The accommodation for the cadets had slightly improved, owing to the reduction of their number. Addressing the cadets, General Sir George Milne congratulated them upon their work and exhorted them to play hard, manly games and to study "everything in general," so that they might build up the greatest qualification of a soldier - character.
The prize list was as follows :- Sword of Honour (for exemplary conduct), Senior Under Officer Richard H. M. Hill; King's Medal and Pollock Medal (for the best qualified cadet of the half-year), Workshops Prize, and Rainey Anderson Prize (for the best qualified cadet in French), Sergeant E. L. Kellett; Tombs Memorial Prize (for the best qualified cadet who enters the Royal Artillery) and Science Prize, Corporal R. J. Kirtor; Benson Memorial Prize (for the R.F.A. cadet with the highest marks in artillery and riding) and Artillery Prize, Corporal A. T. Edgington; Military Engineering Prize, Tactics Prize, Military Law and Administration Prize and Map-reading Prize, Sergeant H. C. W. Eking; Science Prize and Armstrong Memorial Prize (for the best qualified cadet in science), Corporal A. E. Clements; Mathematics Prize, Corporal D. S. Gibb; Riding Prize, Sergeant R. H. L. Brackenberry; Brian Phillpotts Memorial Prize (for the best qualified cadet in strategy and tactics of campaigns studied), Corporal W. H. Stratton; Champion Connany?, No. 3 Company (commanded by Major H. M. M. Robertson, Under Officer R. P. de Winton).
3) on back of previous clipping - At Greenwich Police Court yesterday (Thursday), protection was granted to William Joseph Slate in respect to the license of the "Duke of Wellington" public-house, Wellington Street, Deptford, hitherto held by Joseph Henry Johnson. An inquest was held by Coroner Whitehouse at Greenwich on Tuesday, on the body of Kate Smith, aged 80, of 2 St. Mary Street, Woolwich, whose death was certified to be due to acute bronchitis - A verdict of "Natural causes" was recorded. In aid of the funds of the British Legion (Woolwich) there will be a Christmas fancy dress dance and carnival at Woolwich Town Hall, on Thursday, December 27th. Particulars of which are announced elsewhere in this edition of the "Kentish Independent" A special sub-committee of the West Ham Education Committee consisting of Alderman B. Gardner, J.P., M.P., Councillor ???w, J.P., Councillor Carroll, and Mr. C. ? Reynolds, has been appointed to consider the question of closing the Channelsea School. "What is the name of this public-house?" inquired Mr. Ratcliffe Cousins at Greenwich, yesterday (Thursday), in an "after hours" ???se - Witness: "Star of the East" - Mr. Ratcliffe Cousins: "Rather appropriate for the time of the year!" At Dartford Sessions on Friday, Arthur Reginald Fraser, "The Mount," Bloomfield Road, Bexleyheath, was fined 40s., including costs, for driving a motor car without a license, and Henry Wakerall, 17 Hawthorne Road, Bexleyheath, was fined 5s. for riding a bicycle without a light. "Ship o' Dreams" lyric, by H. George Gladwin, music by I. Joyce Bull, of Cardiff, has been accepted for publication by Messrs. Warren and Phillips, of London. Mr. Gladwin is a well-known local man and collaborator of Mr. Arthur R. Wyatt, the well-known composer. By the kindness of a few friends, the whist drive held at the Masonic Hall, William Street, Woolwich, on December 13th, under the auspices of Mrs. Clarke and Mrs. ?owie, in aid of St. Dunstan's. realised £23 17s. 0d. A cheque for that amount has been forwarded to |St. Dunstan's. On Friday at Dartford Sessions, before Mr. A. M. Fleet and other magistrates, Edward Shepherd, 19 Moreton Road, Belvedere, and Mark Coates, John Jackson, and John Gamble, all of Occupation Road, Bel....(and we shall never know what they did)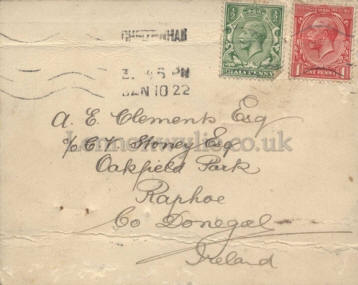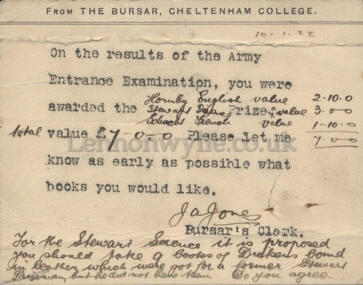 Postmark Cheltenham. Date Jan? 10 1922 to A. E. Clements, Esq., c/o C. V.? Stoney, Esq., Oakfield Park, Raphoe, Co. Donegal, Ireland. From the Bursar, Cheltenham College. 10.1.22 On the results of the Army Entrance Examination, you were awarded the Hornby? English, Stewart Science, Scha?? French Prize value 2. 10. 0; 3. 0. 0.; 1. 10. 0. = 7. 0. 0.. Please let me know as early as possible what books you would like. J. A. Jones, Bursar's Clerk. For the Stewart Science it is proposed you should take 9 books of Dickens bound in leather which were got for a former Stewart Prizeman, but he did not have them. Do you agree.




1 2 3
1) Copy. Royal Military Academy 17 December 1923 Woolwich. 18th December 1923. Dear Sir, Will you kindly note that the Armstrong Memorial Prize, for the Autumn Term 1923, Royal Military Academy, has been awarded to Gentleman Cadet A. E. Clements. His address on leaving this Academy is as follows:- Oakfield Park, Raphoe, Co. Donegal, Ireland. Yours faithfully, ? ? Gillman, Major General, general Staff, Commandant, Royal Military Academy. The Secretary, Institute of R.E., Chatham
2) Gentlemen Cadets. Language Preliminary. June 1923. Table showing the results of an examination held on 19 June 1923 of Gentlemen Cadets presented by the War Office for the Preliminary Examination in French.
Candidates who passed:- Keary, F. E. 148; Clements, A. E. 132; Southey, S. 132; Shacklock, W. G. 125; Candidates who failed to pass:- McMullen, G. N. 114
3) War Office, London, S.W.1. 1st Feby. 1923 43/R.B.C./730 (S.D.3.a.) Sir, With reference to your letter No. 454 dates the 21st December 1922, I am directed to inform you that the following Gentlemen Cadets are awarded Cadet Scholarships at the Royal Military Academy:-
1. Kellett, E. L. 1
x 2. Clements, A. E. 4
3. Wooldridge, L. G. W. 11
4. Keary, F. E. 2
5. Eking, H. C. W. 26
6. Findlay, P. H. L. 13
7. Pocock, H. I. 27
8. Guinness, D. R. 15
The order of merit and marks allotted to Gentleman Cadet A. B. Davies should be stated as, although the emoluments have been resigned, he must be shown on the list as a titular Cadet Scholar, vide para.85 of the Provisional Regulations. I am to request that you will be good enough to invite the parents and guardians of the above to resign the emoluments of the Cadet Scholarships should they be in a position to do so retaining the titular distinction for their sons or wards. In the event of resignation of the emoluments by one of those names above the following will be offered the emoluments so resigned in order of merit.
21 9 Graham, E. J.
6 10. Eley, D. I.
17 11. Knapton, W. G. D.
28 12. Nicholson, R. A. G.
I am, Sir, Your obedient Servant, (Sd). J. E. Turner, Colonel, G. S. for Director of Staff Duties. The Commandant, Royal Military Academy, Woolwich. Certified true copy. ? Bolton, Captain, R.A. Assistant Adjutant, R.M.A.




1)
George by the Grace of God, of the United Kingdom of Great Britain and Ireland and of the British Dominions beyond the Seas, King Defender of the Faith, Emperor of India, Vc.?
To Our Trusty and well beloved Alan Ernest Clements, Greeting. We reposing especial Trust and Confidence in your Loyalty, Courage and good Conduct, do by these Presents Constitute and Appoint you to be an Officer in Our Lands Forces from the Thirtieth day of January, 1924. You are therefore carefully and diligently to discharge your Duty as such in the Rank of Second Lieutenant or in such higher Rank as We may from time to time hereafter be pleased to promote or appoint you to of which a notification will be made in the London Gazette, and you are at all times to exercise and well discipline in Arms both the inferior Officers and Men serving under you, and use your best endeavours to keep them in good Order and Discipline. And We do hereby Command them to Obey you, as their superior Officer, and you to observe and follow such Orders and Directions as from time to time you shall receive from Us, or any your superior Officer according to the Rules and Discipline of War, in pursuance of the Trust hereby reposed in you. Given at Our Court, at Saint James's, the Twenty-sixth day of January, 1924, in the Fourteenth Year of Our Reign. By His Majesty's Command. Alan Ernest Clements, Second Lieutenant, Land Forces, Corps of Royal Engineers. 1. 2. 1924




1 2
1) Aldershot Form 28 (Printed for use of Royal Engineers) Riding Certificate. This is to Certify that Lieut. A. E. Clements, of the Royal Engineers, having undergone a Course of Instruction in the duties of a Mounted Officer, has attained the standard of proficiency in riding required by para:855 of King's Regulations. signature Captain, R.E., Equitation Officer, Royal Engineers. signature Major, R.E., Commanding R.E. Mounted Depot. A. G. Stevenson Colonel Commandant, Chief Engineer, Aldershot Command. Aldershot 3/3/1926. R.E. Printing Office, Aldershot
2) Bombay



1)
1) C. & J. Black, Solicitors, 8 Donegal Square North, Belfast - 23rd August 1965 - Dear Colonel Clements, Thank you for your letter of 21st instant with your Will and cheque for £3 3 0. We have put your Will away safely. Yours sincerely, Lt. Colonel A. B. E. Clements, 8 Blackwood Crescent, Helen's Bay, Co. Down

There is a Will made out in 1982 which is too recent to put here, its by Mrs. Shelagh Marjorie Clements of Blackwood Crescent, Helen's Bay, she wishes to be cremated and her ashes interred alongside her late husband Alan Ernest Clements in the grounds of St. John the Baptist Church, Helen's Bay, County Down. They had a daughter Mrs. Marion Jean Baird and a son Denzil Ernest Clements
I know when I am typing out letters that the person in them has passed away and that I probably wouldn't be typing these out if they were alive, but, I still feel profoundly sad when I reach the end of a collection and there it is in black and white - Mary