QUEENS UNIVERSITY
Autumn Matriculation Examination
?? th October 1922
The following have passed the autumn matriculation examination in connection with Queen's University :-
Faculty of Arts - Dorothy M. Bratty, John N. Brown, Edith M. Cairns, Annie Y. Davey, Arthur D. Davey, Robert D. Ewing, Thomas M. Figgis, Arnold Gray, Michael R. N. Laverty, Frank McKee, Anthony McNamee, Eva Moffett, Elizabeth A. Rodgers, Dinah M. Rosenfield, and Thomas A. B. Smyth
Faculty of Science - Muriel A. McG. Allen, William J. Breakey, Eva E. B. Clow, Eleanor E. J. Connery, Eleanor Erskine, David S. Graham, William B. G. Groves, Ethel M. Holmes, Charlotte C. Johnston, Helen B. Johnston, Ellen T. Kerrigan, Germaine Lecornu, Florence C. Little, Lilian McElroy, Dorothy V. Manning, Frank G. Maunder, James H. L. Maunstephen, Hugh S. Maxwell, Walter Mellor, Charlotte L. Moles, Marjorie J. Nevin, Gladys F. Perry, William S. Roome, David J. Scott, Tilly M. Shane, Mary K. Simpson, John H. Sweeney, James Vincent, William Weir, and Laura Woods
Faculty of Applied Science and Technology - Philip S. Bass, Thomas C. Bell, William C Davison, Hugh McBride, and Alexander L. Orr
Faculty of Medicine - Kathleen F. Atteridge, Eric O. Blake, Robert B. Brown, Isaac I. Coppel, Clodagh E. H. Corry, Arthur G. A. Davidson, Wilfred G. Geddis, John Gourley, Mary B. Hanna, William O. S. Hoy, Alexandra M. Lyster, William E. Lyster, Alice I. Muir, Bernard Murphy, Thomas Purce, Daniel M. Quinn, Robert A. McC. Wallace, and James Witherow
Faculty of Commerce - Robin A. Adair, Samuel Cassidy, John R. Faulkner, Hyman J. Goldring, Irene J. Hanna, Annie G. Kennedy, Mary F. A. Newlan, and Robert A. Wilson
* * * * * * * * * * * * * *
R.B.A.I. Scholarships
(Royal Belfast Academical Institution)
20th September 1920
At the monthly meeting of the Board of Governors of the Royal Belfast Academical Institution, the following elections to Junior Scholarships were made :-
1. R. Smith, Skegoneil National School, £20 a year, tenable for three years
2. D. E. O'Neill, Royal Belfast Academical Institution, £20 a year, tenable for three years
3. R. H. Semple, Royal Belfast Academical Institution, £15 a year, tenable for three years
4. H. Howe, Bloomfield Collegiate School, £15 a year, tenable for three years
The following were elected to Entrance Scholarships of the value of £18 16s a year, tenable for two years :-
1. E. P. Harvey 2. R. A. Wilson - both of Skegoneil National school
The following were also elected to scholarships of the value of £18 16s a year, tenable for two years on the nomination of the Committee of Examination for Higher Grade Leaving Certificates :-
J. McGimpsey, Ulsterville National School; R. G. Brown, Mountpottinger National School
* * * * * * * * * * * * * *
The Prize Winners
May 1930
In recent bank examinations the following were prize-winners :-
Final - 1st (£10 10s), J. O'Keefe, Bank of Ireland, Midleton
2nd (£5 5s), E. G. Saville, Northern Bank, Ballinamore
3rd (£3 3s), J. A. Hunter, Belfast Bank, Belfast
Practice and Law of Banking - £3 3s, J. O'Keefe, Bank of Ireland, Midleton
Voluntary Subjects - 1st French (£2 2s), C. B. Carbery, Bank of Ireland, Ballyconnell
1st in Irish (2 2s), L. G. Murphy, National City Bank, Dublin
Special Diploma in Foreign Exchange - 1st (£7 7s), W. E. Bolster, Bank of Ireland, Ballymahon
2nd (£5 5s), R. A. Wilson, Ulster Bank, Ballymoney
Preliminary - 1st (£5 5s), J. D. Russell, Belfast Bank, Downpatrick
2nd (£2 2s), S. C. Gourley, Northern Bank, Belfast
3rd (£1 1s), E. W. Ruddie, Northern Bank, Bray
Practice and Law of Banking - 1st (£3 3s), E. W. Ruddie, Northern Bank, Bray
Voluntary Subjects - 1st in French (£2 2s), R. W. Harriman, Ulster Bank, Camden Street, Dublin
G. P. Brien, Ulster Bank, Belfast
1st if Irish (£2 2s), E. L. G. McGuinness, National Bank, Clifden
* * * * * * * * * * * * * *
ULSTERS MILLIONS
Victory War Loan Subscriptions
15 February 1917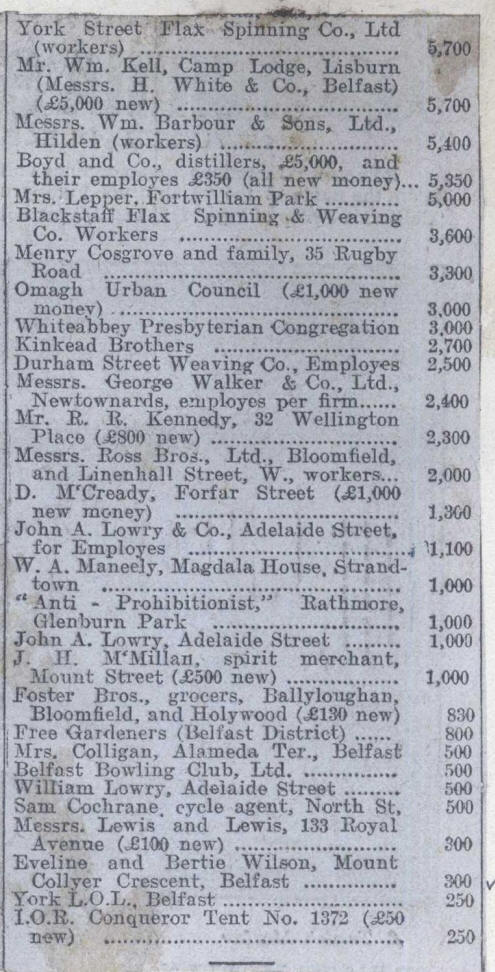 DIARY OF THE WAR
1914
June 25 - Murder of Archduke Ferdinand
July 28 - Austria-Hungary declares war on Serbia
July 31 - State of war in Germany
August 4 - Great Britain declares war on Germany
August 12 - Great Britain declares was on Austria
August 15 - Fall of Liege
August 16 - British Expeditionary Force landed
September 6 - Battle of the Marne begins
November 5 - Great Britain declares war on Turkey
December 8 - Naval battle off the Falklands
December 16 - Scarboro' and W. Hartlepool bombarded
1915
January 24 - Naval battle off Dogger Bank
February 18 - German submarine "blockade" opened
February 25 - Allied Fleet attacks Dardanelles
April 25 - Allied Forces land in Gallipoli
May 7 - The Lusitania torpedoed and sunk
May 23 - Italy declares war on Austria
October 5 - Allied forces land at Salonika
1916
January 8 - British evacuation of Gallipoli completed
February 21 - Battle of Verdun begun
May 31 Naval battle off coast of Jutland
June 5 - Lord Kitchener drowned
July 1 Somme Battle begins
August 27 - Rumania enters the war
September 3 Zeppelin destroyed in flames at Cuffley
December 7 - Mr. Lloyd George Prime Minister
December 12 - German "peace proposals"
1917
January 31 - "Unrestricted U-boat warfare"
March 11 - British take Bagdad (Baghdad)
March 12 0 Revolution in Russia
April 5 - United States declares war on Germany
November 6 - Passchendaele won by the Canadians
November 20 - Hindenburg Line smashed by Byng
December 9 - Fall of Jerusalem to General Allenby
1918
January 8 - President Wilson's 14 Points speech
February 10 - Russia out of the war
May 9 - H.M.S. Vindictive blocks Ostend harbour
May 27 - Great German attack on Aisne
June 9 - New German offensive from Montdidier
June 23 - Great Austrian retreat across the Piavo
July 15 - Third German attack on 50 mile front
July 18 - Foch's great counter-attack
July 20 - Germans re-cross the Marne
August 2 - Fall of Soissons
August 8 - Great British offensive
August 29 - Fall of Bapaume and Noyon
September 1 - Fall of Peronne
September 13 - Yanks wipe out St. Mihiel Salient
September 15 - Austrian Peace Note published
September 25 - Bulgaria proposes armistice
September 27 - British break Hindenburg Line
September 30 - Fall of Damascus
October 1 - Fall of St. Quentin
October 9 - Fall of Cambrai
October 10 - British capture Le Cateau
October 17 - Fall of Ostend, Lille and Douai
October 20 - Belgian coast completely cleared
October 26 - Fall of Aleppo
October 27 - Austria-Hungary asks for peace
October 31 - Turkey granted an armistice
November 3 - Armistice with Austria signed
November 11 - Armistice with Germany signed
FIGURES OF THE WAR
1914?/18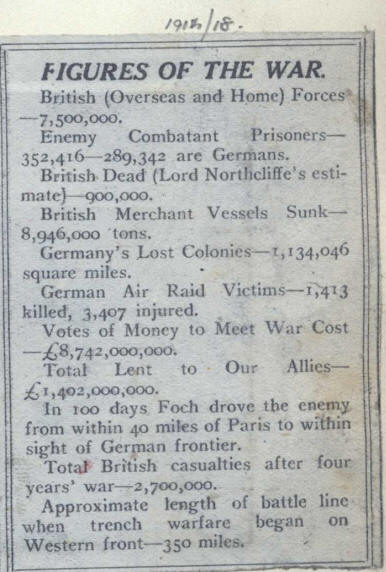 * * * * * * * * * * * * * * * *
IRISH STOCKS AND SHARES
Belfast Stock Exchange
9th November 1904



BREWERIES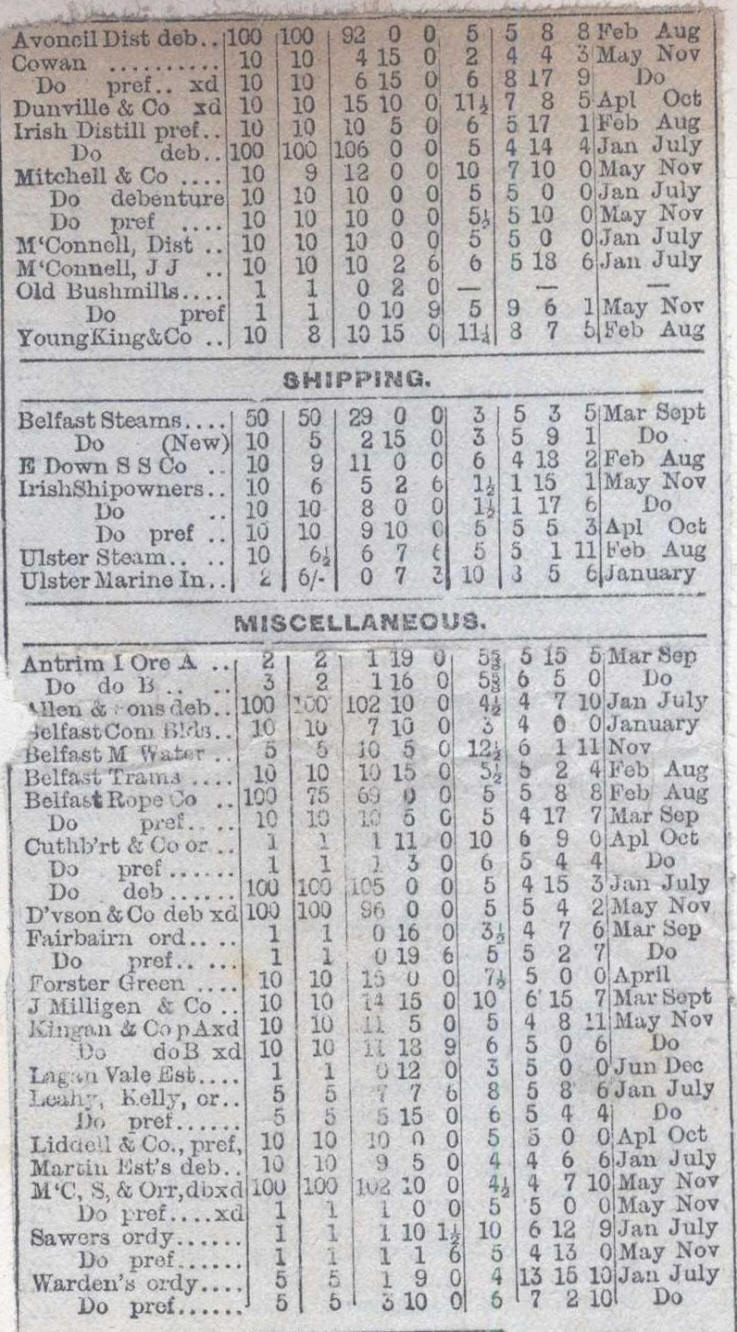 LOCAL STOCKS 1891


AFTER THE HOLIDAY 22nd June 1897
There were a few jarring notes in the jubilee song of Belfast, and although written in the minor it was given with plenty of spirit and enthusiasm. Everybody in fact seemed disposed to fulfil the injunction contained in the concluding stanza of the National Anthem - the one with the shocking bad rhymes - "to sing with heart and voice God save the Queen." An incident which perhaps threw the final chorus a little out was the failure as a spectacle of the much talked of and municipally patronised Cavehill bonfire. Never had a bonfire a finer chance, as far as public interest was concerned, of distinguishing itself. The country people who had kept the streets of the city thronged during the day and the towns people who returned after keeping the jubilee by the sad sea waves joined forces to repair towards Ben Madigan for what was expected to be the one big beacon of Ulster's loyalty. They swarmed like gnats upon the Cavehill Road, they crowded roads and fields alike at Skegoniel and Oldpark. The few thousands of pilgrims on the tor itself were as nothing by comparison with the multitudes of equally devout but less active fire worshippers who gathered about its base and turned up their eyes patiently towards "Napoleon's Nose," watching for the promised blaze. Most of them had contracted a serious "crick in the neck" before the feeble point of light which represented the bonfire of Craigy - Ben Madigan - broke through the heavy mist that covered the hill like a pall. They cheered feebly at first this twinkling but uncertain flame, which some swore was only a will-o'-the-wisp. But when time passed and the corpse-light still flickered, barely holding its own against the mist, each man asked of his fellow "But what went ye out for to see?" Then the big crowds realised that the anticipated spectacular treat was "off," melted away, feeling as one disguested (disgusted) Ghebir tersely put it, "sold." This was all that the Watcher said, but the tone in which the monosyllable was uttered expressed much. As already observed, the disappointment of so many thousands of people tended to bring the final chorus of the jubilee song a little - but only a little - out a tune. Perhaps everyone had expected too much of the Cave Hill bonfires - and too little of the mist. At the same time other local bonfires less representatively created and and less influentially countenanced, such as those at Ligoniel, Whitehead, and Carnalea, came off far better. Yesterday Belfast, as regards its streets and its people, bore the unmistakable aspect of the "butt end of a holiday." Flags still waved from a number of the houses in the city, and most of those business establishments which had undergone more elaborate exterior decoration retained their bravery, so that the festive aspect which the thoroughfares presented on Tuesday was in great measure preserved. Although all the shops reopened and the factories resumed business, a vast number of the jubilee holiday-makers insisted on an "encore turn," and there was a large amount of improvised festivity which inevitably follows a set feast. Today, however, we shall probably regain the even tenour of our way, and the jubilee holidays with us will have become only a memory. In connection with Tuesday's celebrations we may mention that the jubilee was very heartily and loyally kept by the inhabitants of Newtownbreda. In the evening two large bonfires were lighted, one on land belonging to Mr. James McCormick, J.P., and the other in a field belonging to Mr. John Woods, Breda Lodge. Both were surrounded by large crowds who cheered for her Majesty and sang the National Anthem, the Newtownbreda Flute Band supplying an effective accompaniment.
* * * * * * *
VENTILATION OF TRAMCARS 1915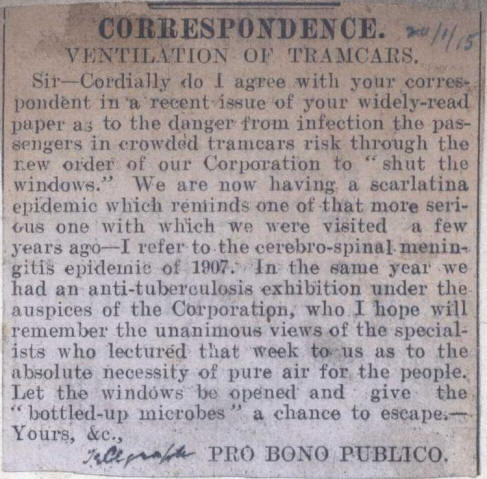 SMOKING IN RAILWAY CARRIAGES 1933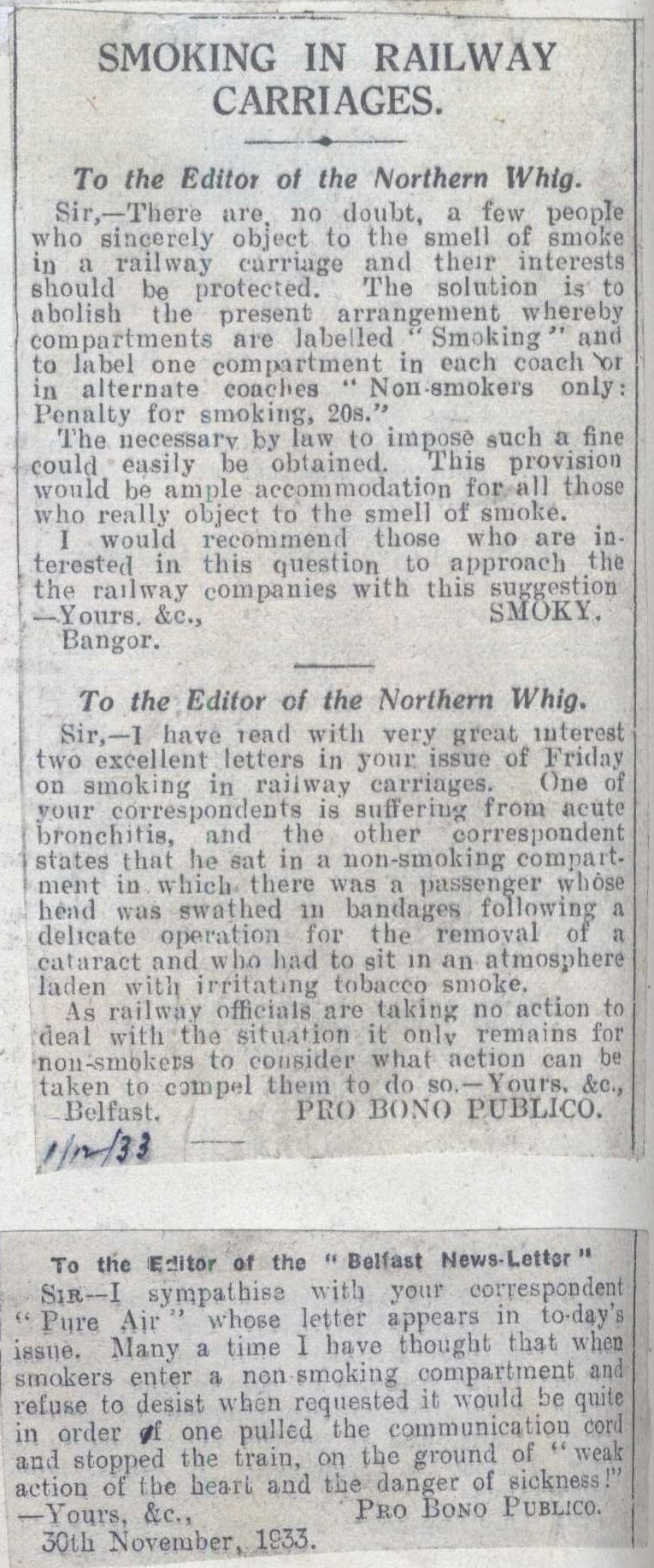 INFLUENZA AND SPOTTED FEVER
1918


1919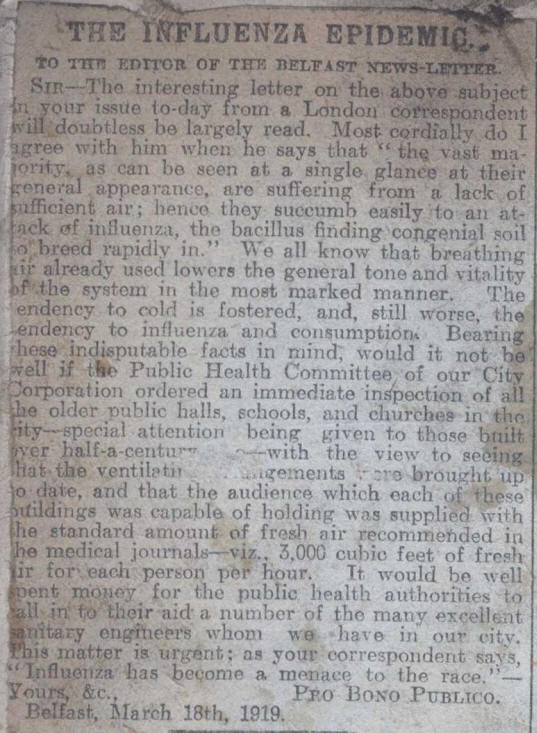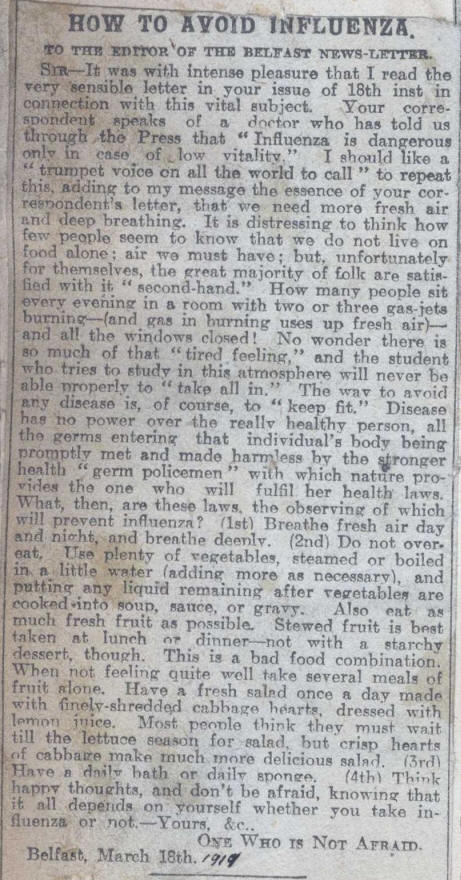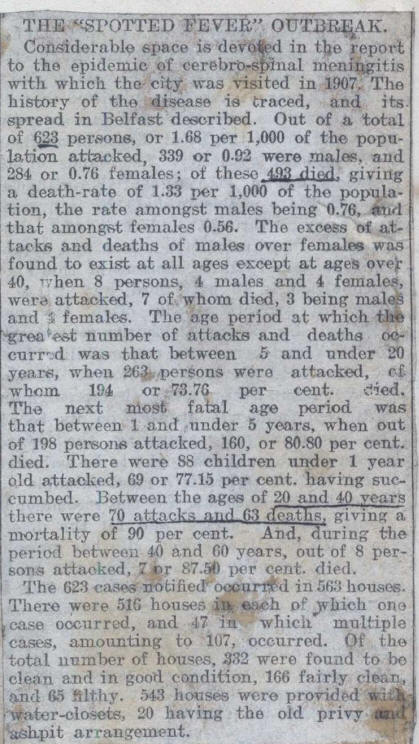 TWIN ISLANDS BATHING 1891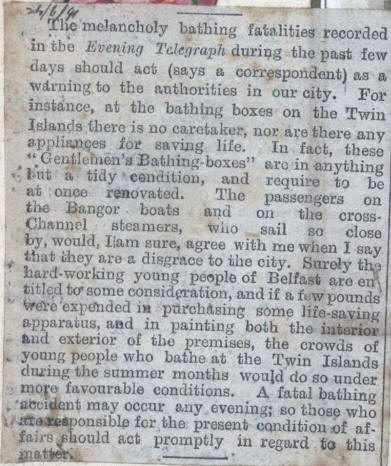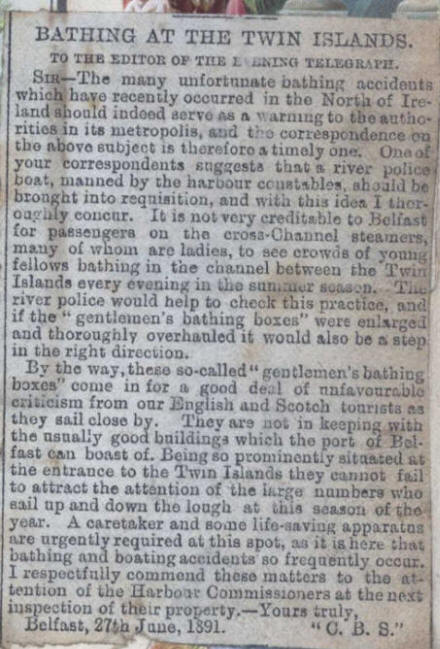 ALEXANDRA PARK 1908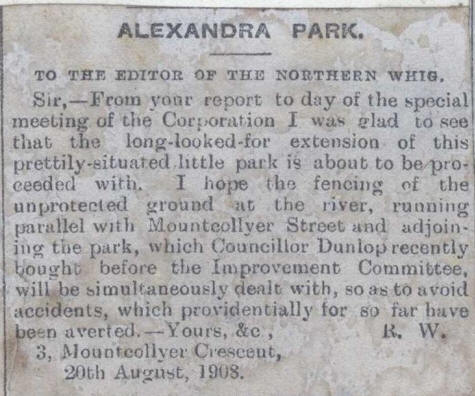 ENCORES AT CONCERTS 1892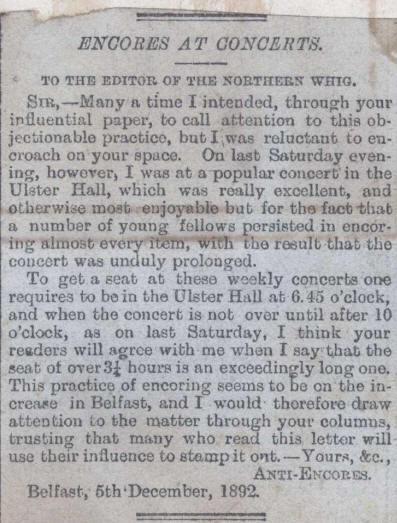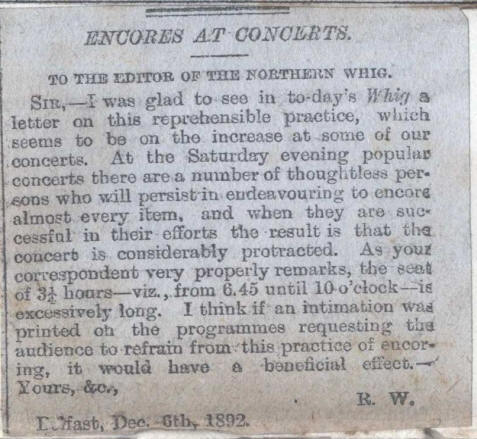 SUNDAY OPENING HOURS 1888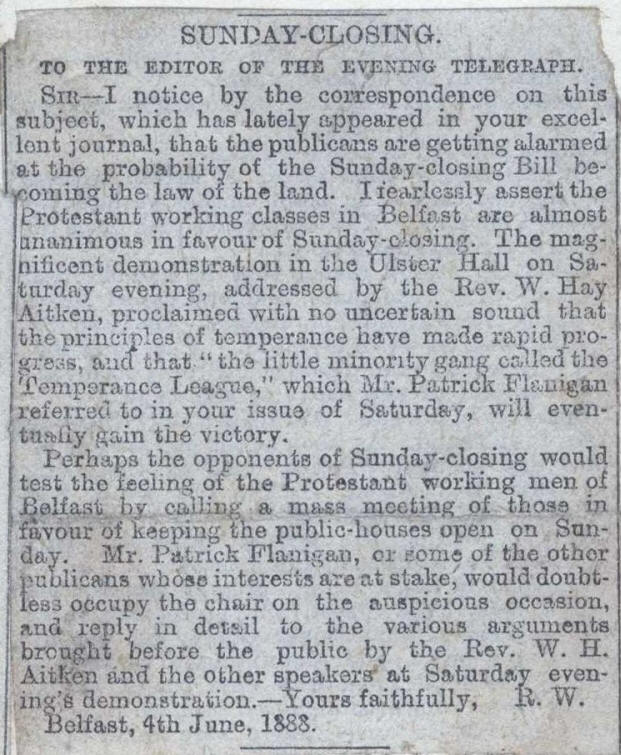 SUNDAY TRAMS 1891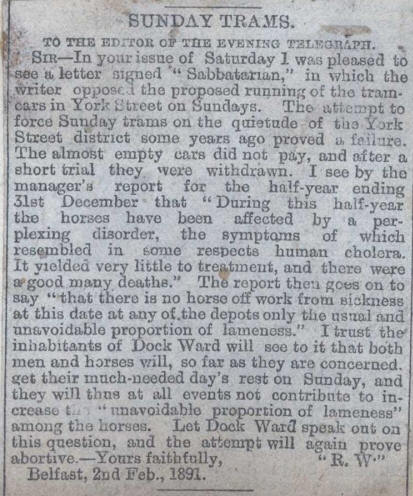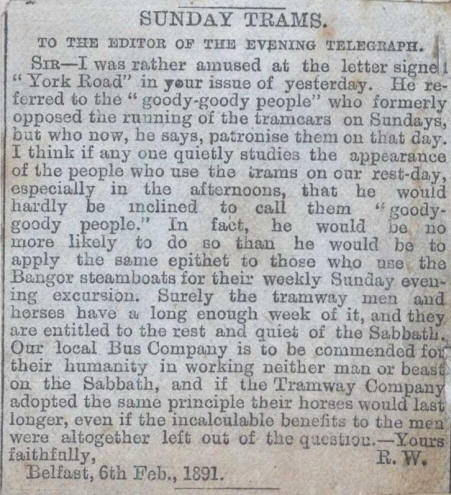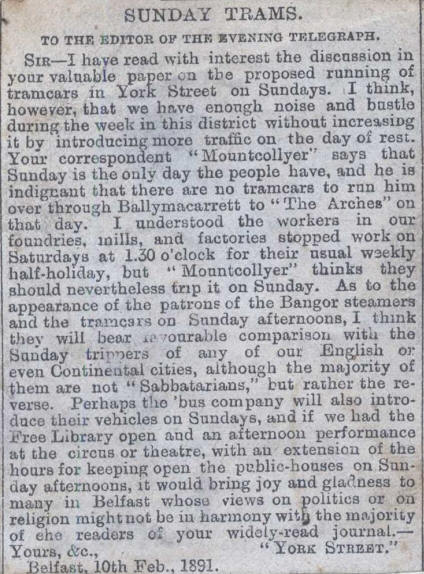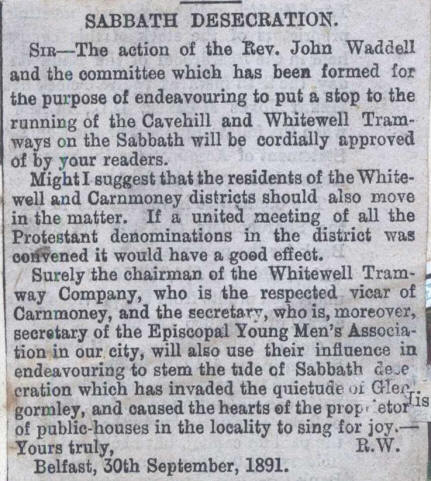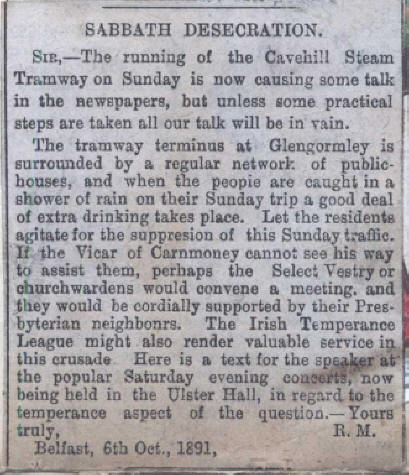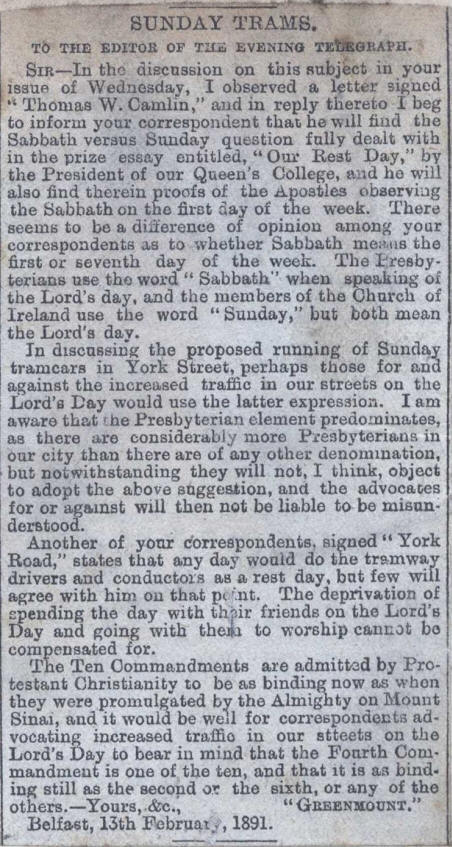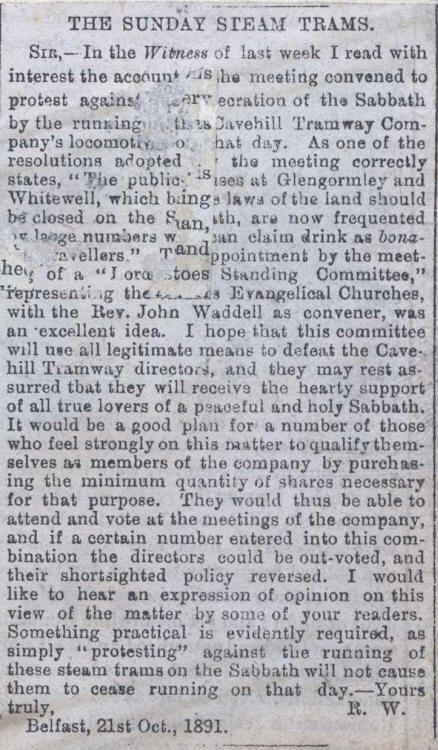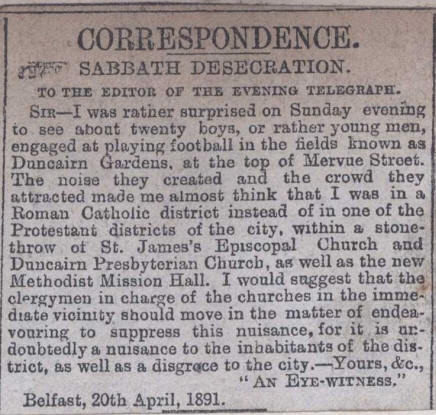 YORK STREET FLAX SPINNING CLIPPINGS
A.G.M.'s - Staff Changes - Annual Reports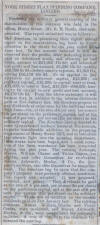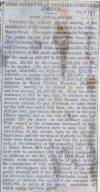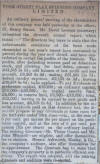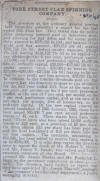 29/7/?? 28/7/24? 30/7/96 29/7/97 29/7/98 27/7/94 29/7/20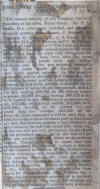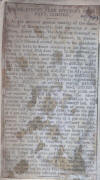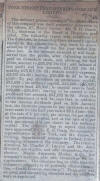 30/6/1923 7/3/1900 26/7/1908? 26/7/01 29/7/02 29/7/03 27/7/04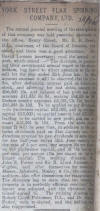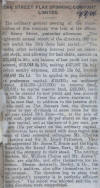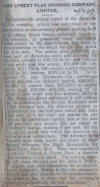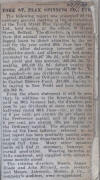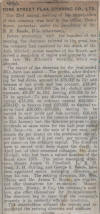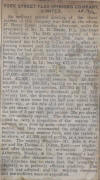 28/7/05 27/7/06 26/7/07 24/7/08 27/7/09 27/7/11 26/7/12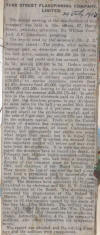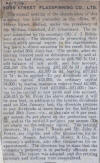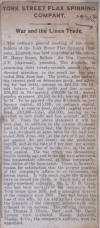 29/7/13? 29/7/14 29/7/15 27/7/16 30/7/17 30/7/18? 31/1/22 28/7/22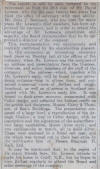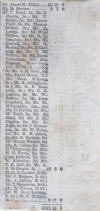 27/7/10 27/7/09 B.M.A. Jubilee Hospital Fund Hospital 22/6/97
22/6/97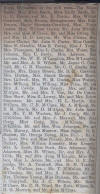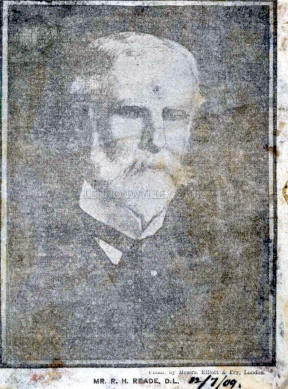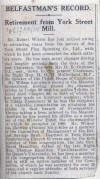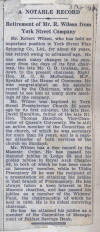 At The Mill 8th Sept. '97 R. H. Reade 12/7/09 Whig 4/8/39 News Letter 4/8/39




Image 1 Image 2
Image 1 - York Street Flax 1887/88/89/90 & Marcus Ward 1891/92/93
Image 2 - York Street Flax 1891/92/93/94/??


PAGE ONE