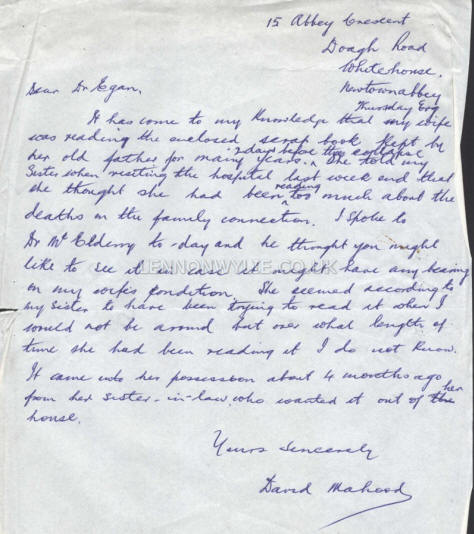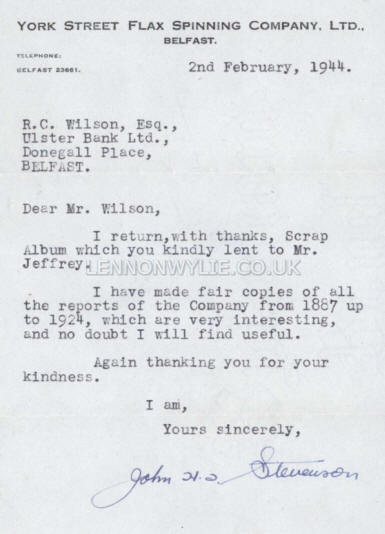 Image above left - 15 Abbey Crescent, Doagh Road, Whitehouse, Newtownabbey, Thursday evening.
Dear Dr. Egan, It has come to my knowledge that my wife was reading the enclosed scrap book kept by her old father for many years 2 days before the collapse, she told my sister when visiting the hospital last weekend that she thought she had been reading too much about the deaths in the family connection. I spoke to Dr. McElderry to-day and he thought you might like to see it in case it might have any bearing on my wife's condition. She seemed according to my sister to have been trying to read it when I would not be around but over what length of time she had been reading it I do not know. It came into her possession about 4 months ago from her sister-in-law who wanted it out of her house. Yours sincerely David Mahood
Image above right - York Street Flax Spinning Company Ltd., Belfast 2nd February, 1944. R. C. Wilson, Esq., Ulster Bank Ltd., Donegall Place, Belfast. Dear Mr. Wilson, I return, with thanks, Scrap Album which you kindly lent to Mr. Jeffrey. I have made fair copies of all the reports of the Company from 1887 up to 1924, which are very interesting, and no doubt I will find useful. Again thanking you for your kindness. I am, Yours sincerely, John ? ? Stevenson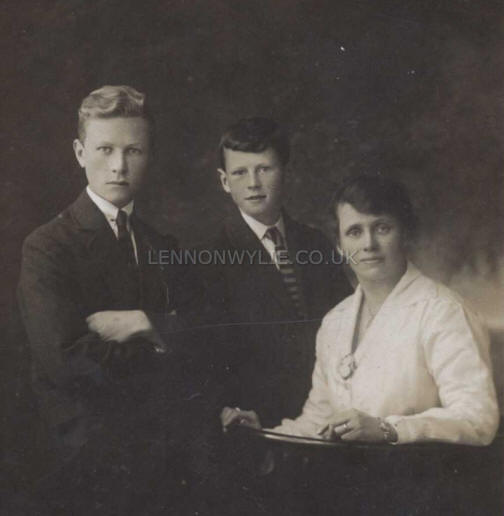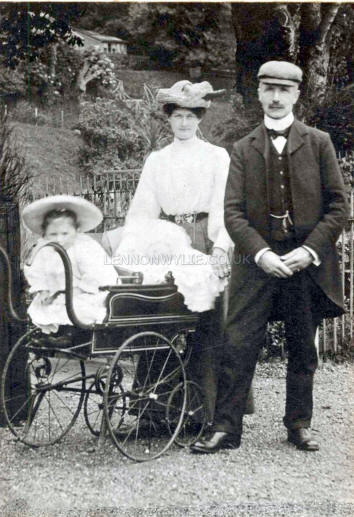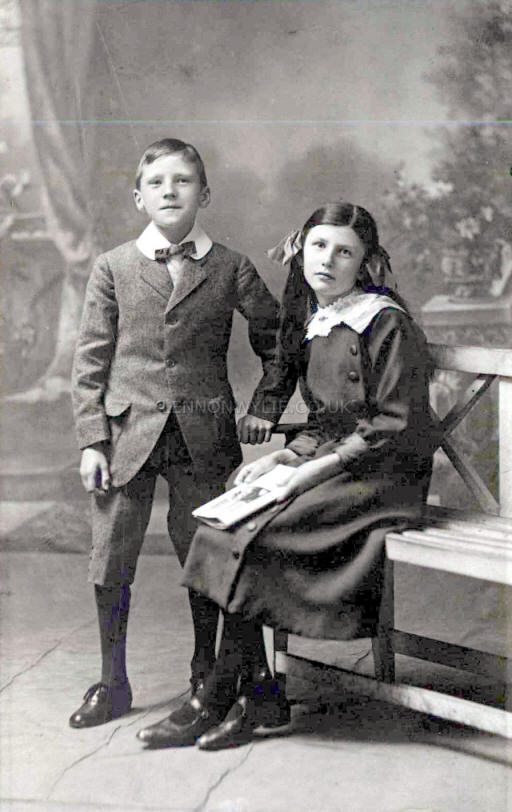 Robert Wilson retires from York Street Mill 3rd August 1939



Robert Wilson, on the occasion of his marriage a dining room clock from York Street Church 12/10/1900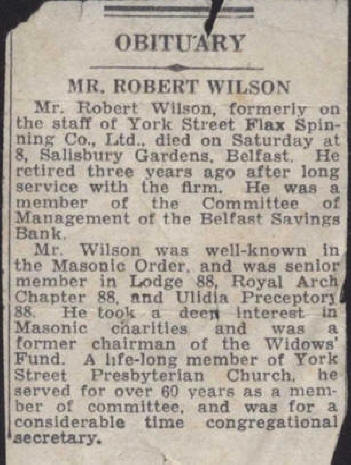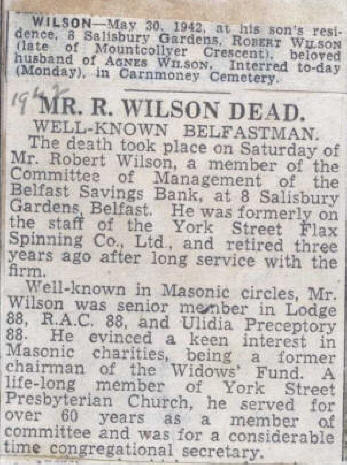 Obituary Mr. Robert Wilson 8 Salisbury Gardens, Belfast York Street Flax Spinning Co. Ltd.
Robert Wilson, May 30th 1942 husband of Agnes




Wilson, Sarah February 12, 1930, 25 The Mount, daughter of Thomas & Sarah Wilson
Wilson, William Henry, 23 April 1935, 25 The Mount, younger son of Thomas & Sarah Wilson



Wilson, Lizzie, 4th April, 1882, 4 Canning Street, daughter of William Wilson, Borough Cemetery



Wilson, Pte. Willie Wilson (aged 22) Irish Guards 14th September 1917, nephew of Adam and Lizzie Graham, Rose Lodge, Andersonstown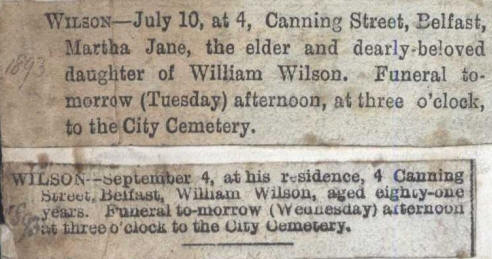 Wilson, Martha Jane, 4 Canning Street, Belfast, 10th July 1893, daughter of William Wilson, City Cemetery
Wilson, William Wilson, 4 Canning Street, Belfast, 4th September 1893, aged 81 years




Wilson, Elizabeth, 4 Canning Street, Belfast, 21 November 1905, widow of William Wilson, aged 80 years
Wilson, Eliza, 4 Canning Street, Belfast, 13 June 1891?, sister of William Wilson, aged 74 years


4 Canning Street, Belfast Sale of Furniture 7th December 1905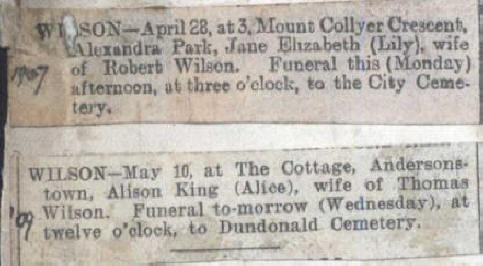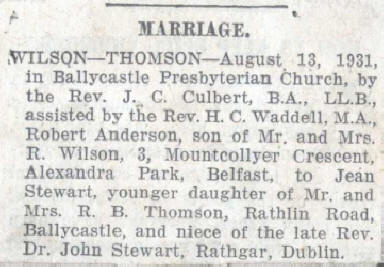 Wilson, Jane Elizabeth (Lily), 3 Mount Collyer Crescent, Alexandra Park, 28 April 1907, wife of Robert Wilson
Wilson, Alison King (Alice), The Cottage, Andersonstown, 10th May 1909?, wife of Thomas Wilson
Wilson - Thomson, 13 August 1931, Robert Anderson Wilson to Jean Stewart Thomson in Ballycastle




Wilson, Mary Elizabeth, Andersonstown, 8th January 1910?, daughter of Thomas Wilson, aged 13 years
Wilson, a son, 17th October 1934 to Mr. & Mrs. R. A. Wilson, Dunaneanie, Colinton Gardens, Serpentine Rd.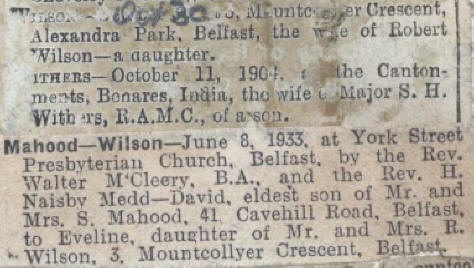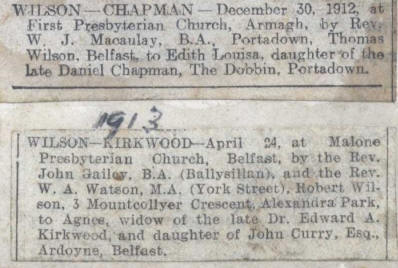 Wilson, a daughter, Oct. 30, 1904, 3 Mountcollyer Crescent, Robert Wilson
[Withers, a son, 11 October, 1904, Cantonments, Benares, India, wife of Major S. H. Withers, R.A.M.C.]
Mahood - Wilson, 8th June 1933, David Mahood to Eveline Wilson, York Street Pres. Church
Wilson - Chapman, 30th December, 1912, Thomas Wilson to Edith Louisa Chapman, at Armagh
Wilson - Kirkwood, 24th April 1913, Robert Wilson to Agnes Curry (widow of Dr. Edward A. Kirkwood)




Wilson - Kirkwood, 3rd August 1892, Thomas Wilson to Alice King Kirkwood, Malone Pres. Church
Wilson - Russell, 28th November 1928, James Kirkwood Wilson to Lina Russell, Clough Unitarian Church




Wilson, a son, 20th January 1906, to wife of Robert Wilson, 3 Mountcollyer Crescent
Teaz - Wilson, 29th April, 1925, Rev. E. Teaz, Larne, to Edith Chapman, at Montrose, Malone Road




Wilson, Thomas, 48 Carlisle Street, 3 July 1918, at Royal Victoria Hospital, Dundonald Cemetery
Proctor - Wilson, 12th November 1924, Arthur Proctor to Jane Wilson, at Liverpool



Wilson - Anderson, 18th September 1900, Robert Wilson to Lily Anderson, at Woodburn Church, Upper Falls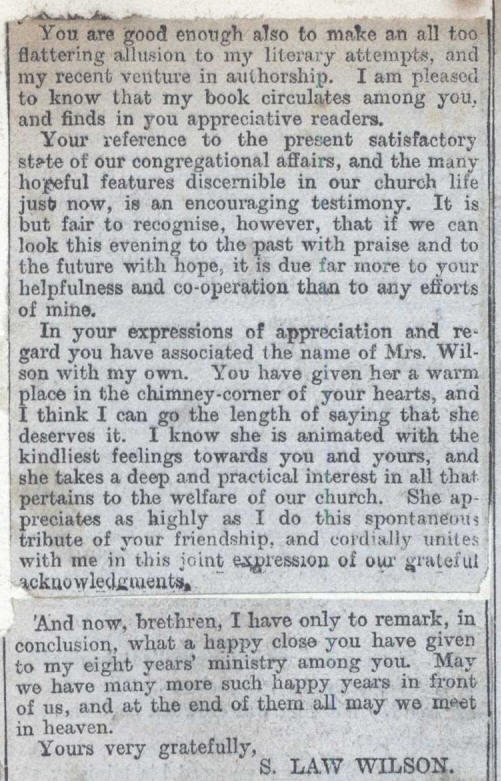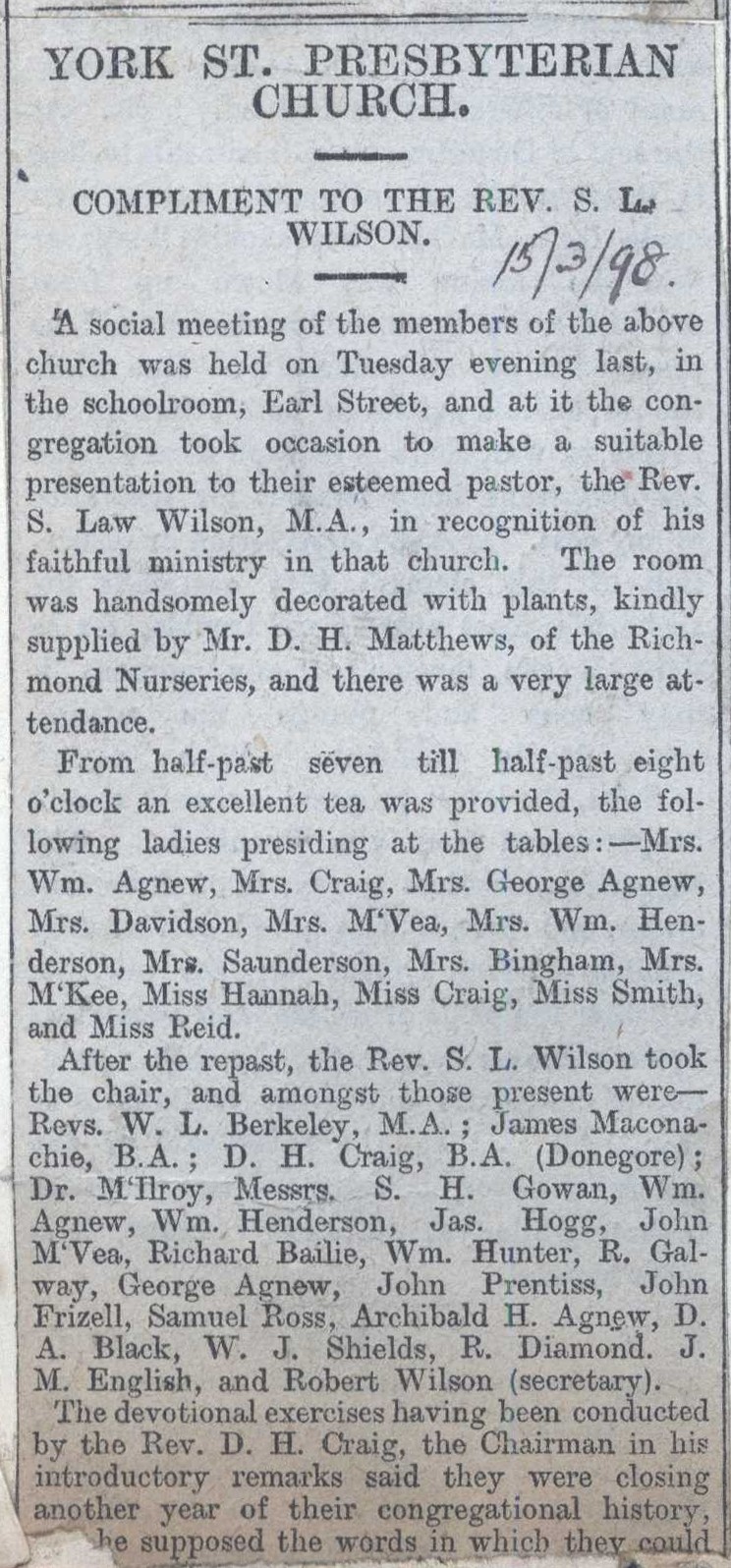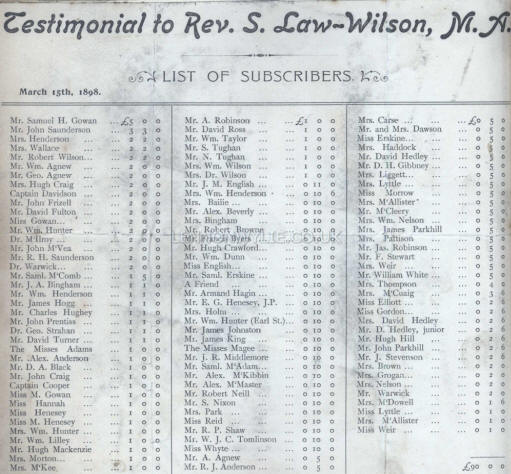 Rev. S. Law Wilson, M.A., D.D. 1/7/17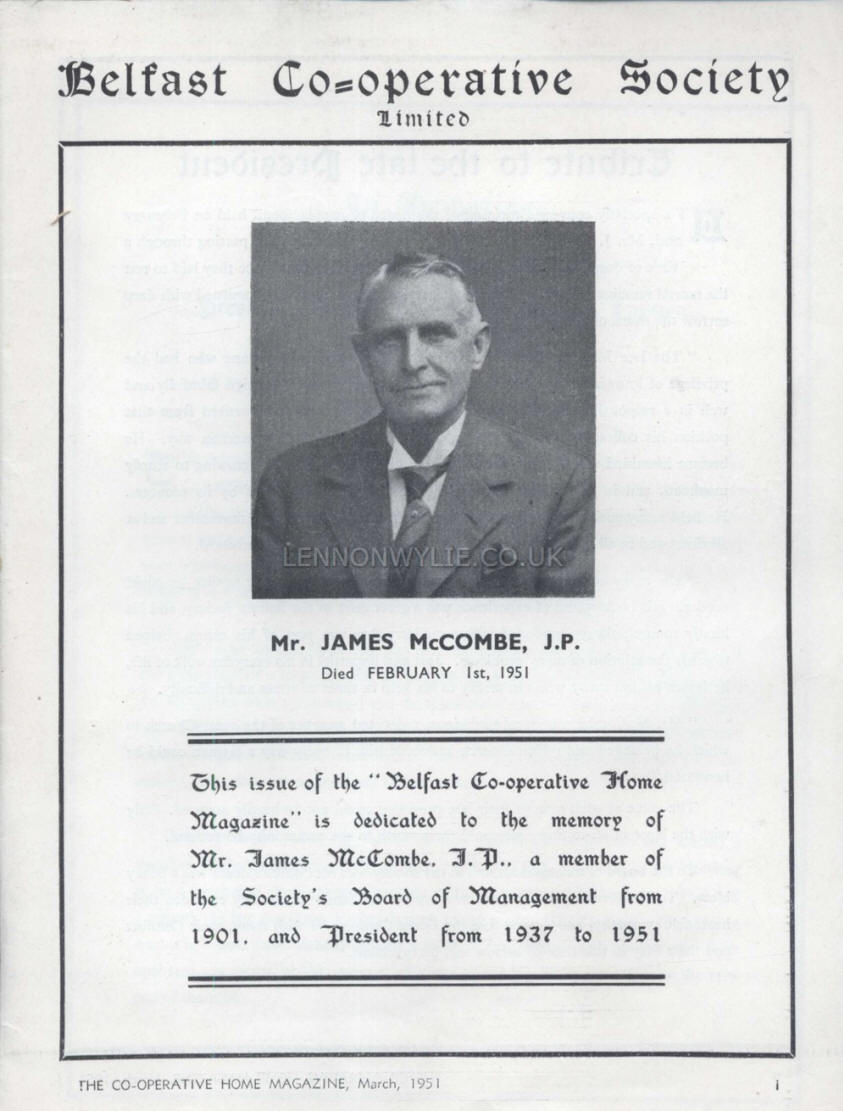 Belfast Co-operative Society, Mr. James McCombe, J.P., Died 1st February, 1951








CLICK to enlarge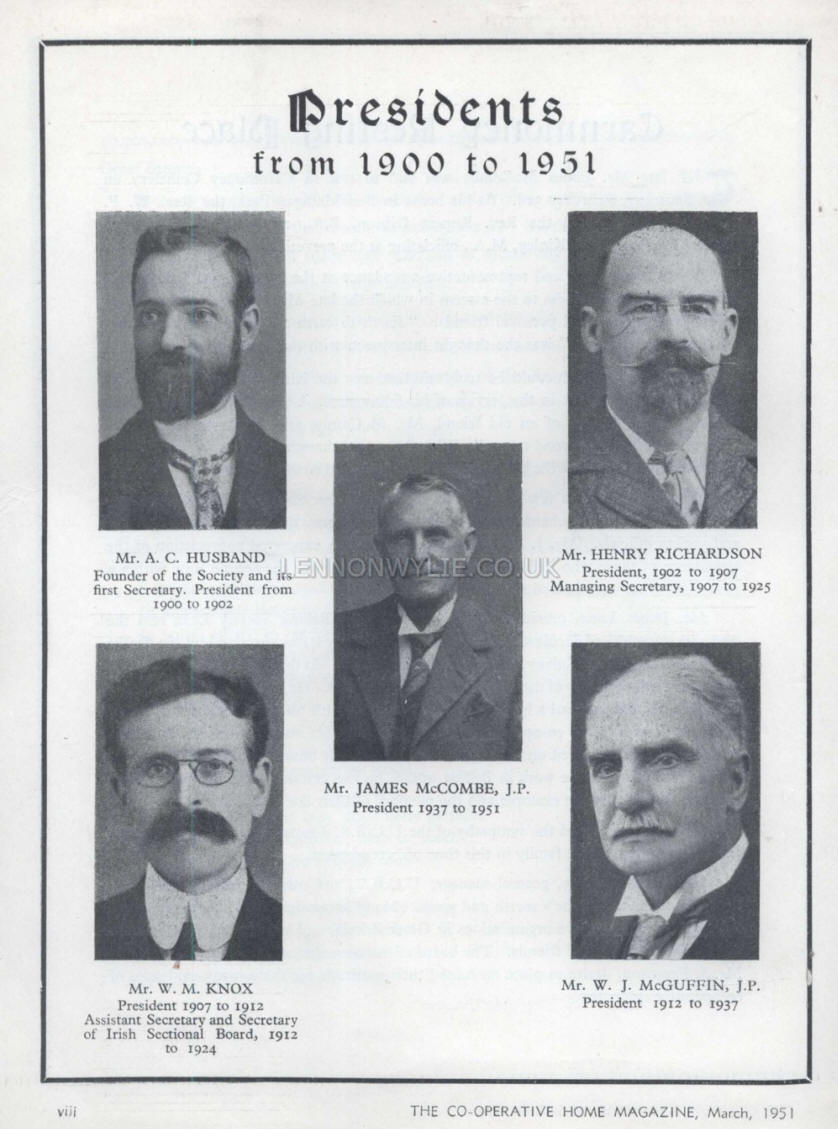 ~~~~~~~~~~~~~~~~~~~~~~~~~~~~~~~~~~~~~~~~~~~~~~~~~~~~~~~




Connell, Elizabeth Wilson, 19th July 1923, Sonoma, Strandtown, wife of John Connell
Thomson, Mary, 18th November 1944, widow of James Thompson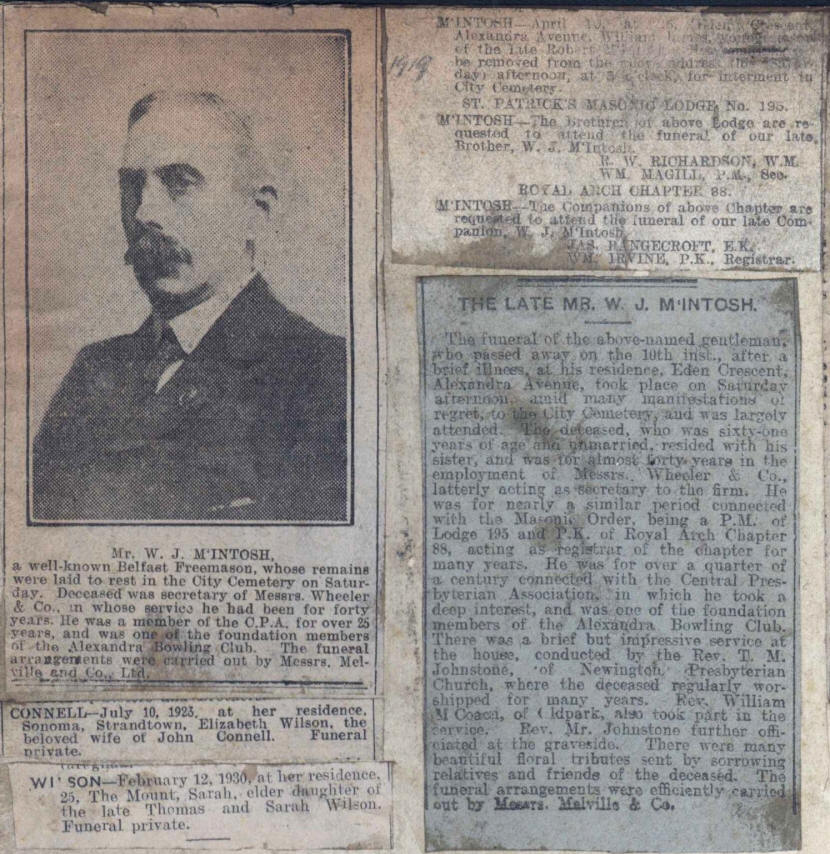 McIntosh, William James, 10th April 1919, at ?6 Eden Crescent, Alexandra Avenue,
Connell, Elizabeth Wilson, 10th July 1923, wife of John Connell
(for Sarah Wilson details see further up page)




Graham - Kirkwood, 13 January 1892, Adam Graham to Lizzie Kirkwood, in Malone Pres. Church
Kirkwood - Graham, 29th April 1903, James Kirkwood to Martha Graham, at Malone Pres, Church




Kirkwood, Martha, 7th April, 1930, widow of James Kirkwood (Molly Kirkwood, Adam & Lizzie Graham)
Kirkwood, James, 12th June 1928, late of Monk's Hill, Ballygomartin, Balmoral Cemetery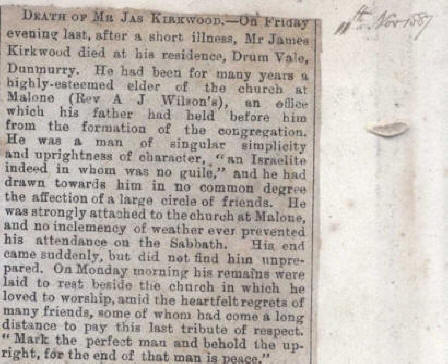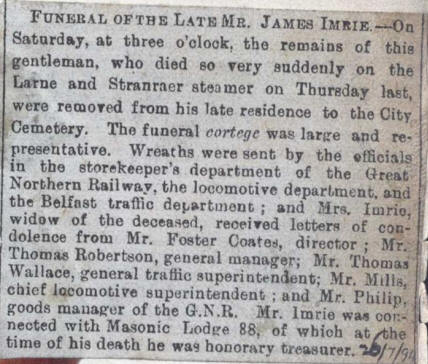 Mr. Jas. Kirkwood, 11th November 1887, Drum Vale, Dunmurry
Mr. James Imrie, 26/7/1894, died suddenly on Larne and Stranraer steamer, City Cemetery


Gibson - Barnett, 24th August 1938, Rev. Frederick Rupert Gibson, B.A. to Elizabeth Barnett, at McCracken Memorial Pres. Church




Dr. Richard Ross, Died 13th November 1895, of Co. Monaghan
Mr. John Curry, 348 Crumlin Road




Curry, Margaret S., 16th January 1940, at 440 Crumlin Road, Ardoyne, daughter of the late Wm. & Margaret Curry
Curry, Joseph S. Curry, 6th July 1929, 2 Lawnbank, Ballysillan to Carnmoney (A. L. Curry)




Curry, Lucy, 19th December, 1916, Ardoyne, Crumlin Road, Shankill Burying Ground, (Saml. J. Curry)
Curry, Annie Lowry (Nana), 13th December 1913, 2 Lawnbank, Ballysillan, daughter of Joseph S. and Annie Curry, aged 17 years. Carnmoney Burying Ground (Joseph S. Curry)




Curry, Daisy Gertrude, 1 January, 1933, wife of R. G. Curry, 11 Chestnut Gardens, Cliftonville
Curry - Syre, 11th September 1930, Robert George Curry to Daisy Gertrude Syre at St. James's Church, Belfast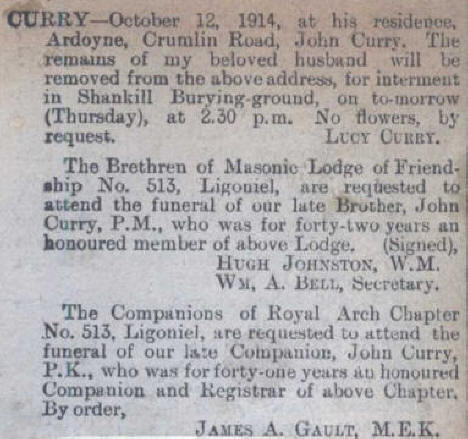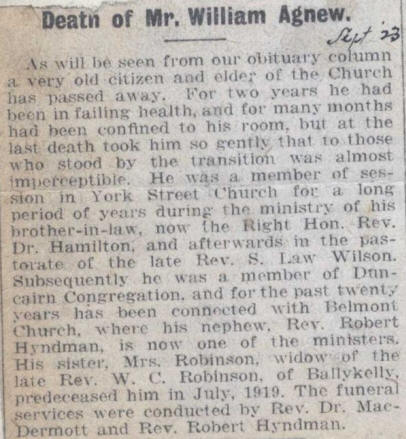 Curry, John, 12th October 1914, Ardoyne, Crumlin Road, husband of Lucy, to Shankill Burying Ground
Mr. William Agnew, Sept. '23



Martin, Edith Lambert, 28th December 1939, Font Hill, Cassel Avenue, Bournemouth West, daughter of the late Henry Matier, of Dunlambert, Belfast and widow of the late Surgeon Captain ? McCardie Martin, R.N., D.S.O.
Stewart, Agnew Stormount, 31st December 1923, 17 Summer Street, daughter of late John Stewart, Forth River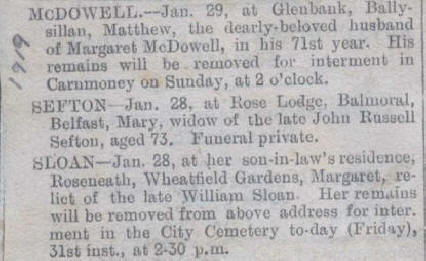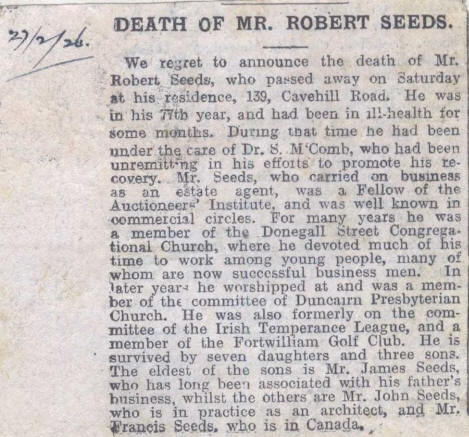 McDowell, Matthew, 29th January, 1919, Glenbank, Ballysillan, husband of Margaret McDowell, aged 71 years
Sefton, Mary, 28th January, 1919, Rose Lodge, Balmoral, widow of late John Russell Sefton, aged 73 years
Sloan, Margaret, 28th January, 1919, Roseneath, Wheatfield Gardens, relict of late William Sloan to City Cemetery
Seeds, Robert, 27th February, 1926, 139 Cavehill Road (7 daughters and 3 sons)




McDowell, Margaret, 23rd December 1931, 38 Windermere Gardens, Chichester Park, widow of Matthew McDowell, late of Glenbank to Carnmoney
McDowell, David, 7th April, 1925, Cregagh Villa, Cregagh, son of late Matthew McDowell, Glenbank to Umgall




Salters, Jane, 8th December, 18??, 4 Canning Street, widow of late George Salters, City Cemetery
Moreland, John Wilson, 29th August 1892, 172 York Street, son of William Moreland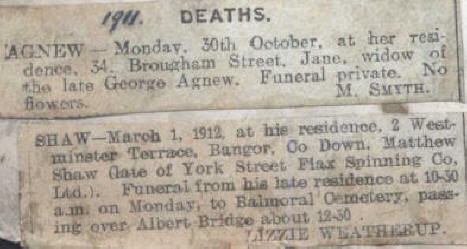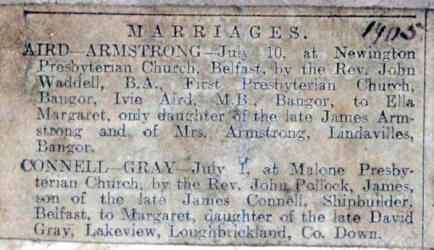 Agnew, Jane, 30th October 1911, 34 Brougham Street, widow of the late George Agnew (M. Smyth)
Shaw, Matthew, 1st March 1912, 2 Westminster Terrace, Bangor to Balmoral Cemetery (Lizzie Weatherup)
Aird - Armstrong, 10th July, 1905, Ivie Aird, M.B., to Ella Margaret Armstrong at Newington Pres. Church
Connell - Gray, 1st July, 1905, James Connell to Margaret Gray, at Malone Pres. Church




Mahood, a daughter, 31st Marsh, 1934, to Eveline, wife of David Mahood
Kennedy, William, 17th June, 1894, Charnwood, Chichester Park




Andrews, a daughter, 30th October 1904, at Maxwell Court, Comber, Mrs. John Millar Andrews
McCullagh, a son, 1st October, 1904, at 31 Alma Terrace, Carlisle Circus, wife of Dr. R. Cheveley McCullagh
Watson - Reid, 5th December, 1905, Rev. W. A. Watson to Elizabeth Ellison (Lizzie) Reid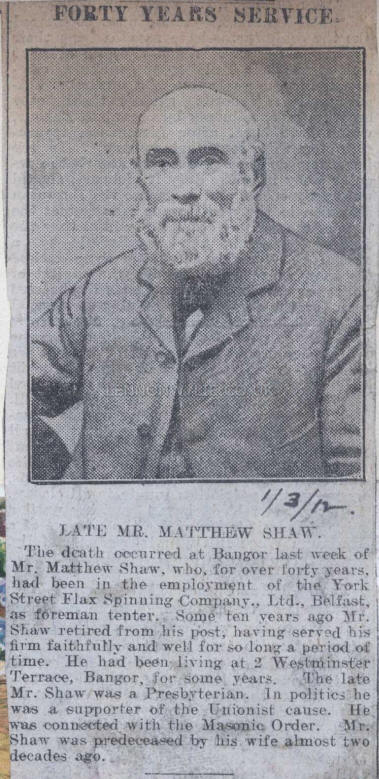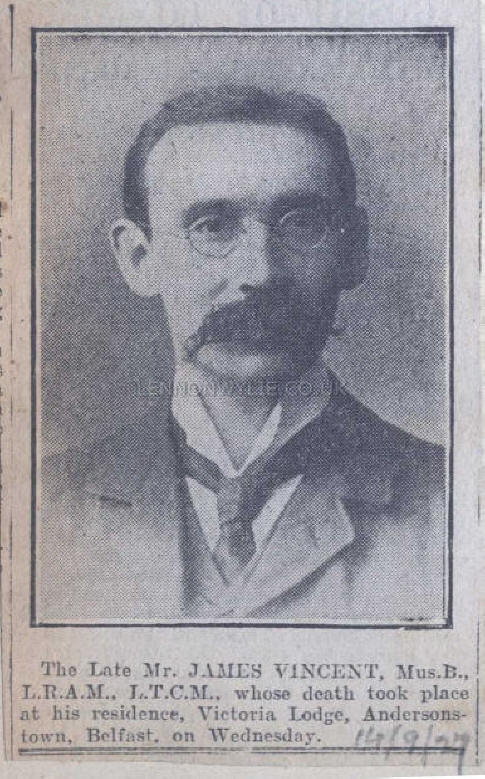 Mr. Matthew Shaw, 2 Westminster Terrace, Bangor 1st March 1912
Vincent, James, Mus.B., L.R.A.M., L.T.C.M., 14th September 1927, Victoria Lodge, Andersonstown




Vincent, James H., Mus.Bac., 14th September 1927, at Victoria Lodge, Andersonstown to City Cemetery
Vincent, Hessie Anderson, 25th December, 1924, Victoria Lodge, Andersonstown to City Cemetery




Vincent - Anderson, 17th July, 1905, James Henry Vincent, Mus.B., L.R.A.M. to Hessie Anna (Cissie) Anderson
Baxter - Black, 5th August 1931, John J. Baxter, B.A. to Ivy Geraldine Black, at St. Jude's Church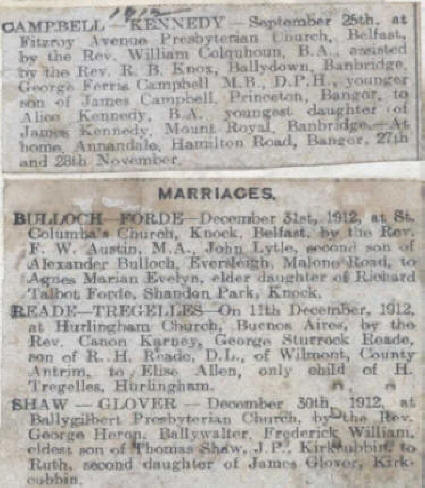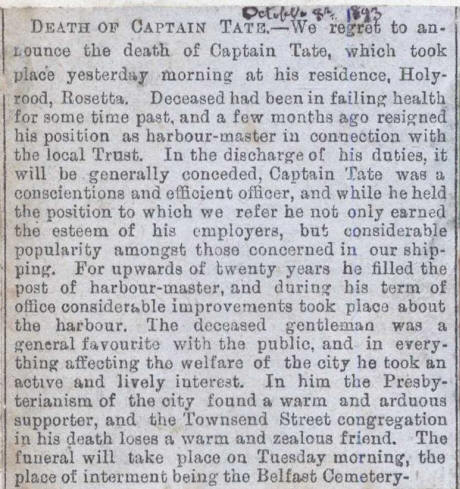 Campbell - Kennedy, 25th September 1912, George Ferris Campbell, M.B., D.P.H. to Alice Kennedy, B.A.
Bulloch - Forde, 31st December, 1912, John Lyttle Bulloch to Agnes Marian Evelyn Forde, Knock
Reade - Tregelles, 11th December, 1912, George Sturrock Reade to Elise Allen Tregelles in Buenos Aires
Shaw - Glover, 30th December, 1912, Frederick William Shaw to Ruth Glover at Ballygilbert Pres. Church
Captain Tate, 8th October 1893, Holywood, Rosetta (Harbour Master) to Belfast Cemetery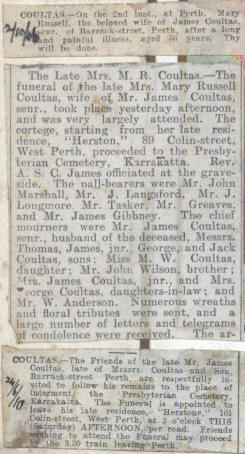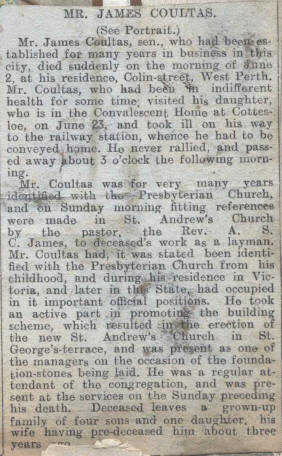 Coultas, Mary Russell, 2nd October 1906, Barrack Street, Perth, wife of James Coultas, senr.
Coultas, James, 2nd June 1910, Barrack Street, Perth (4 sons, 1 daughter)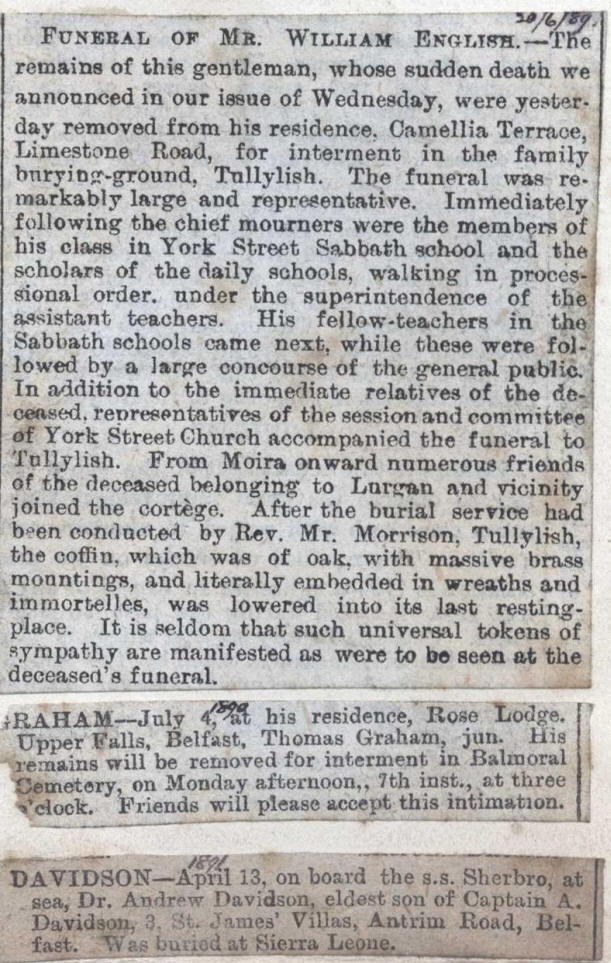 2nd March? 1881, 1887 or 1889 (not clear)
English, William, 20th June 1889, Camellia Terrace, Limestone Road to Tullylish
Graham, Thomas, jun., 4th July 1890, Rose Lodge, Upper Falls to Balmoral Cemetery
Davidson, Andrew, 13th April 1891, on board S.S. Sherbro at sea, son of Captain A. Davidson, 3 St. James' Villas, Antrim Road, buried at Sierra Leone



Mr. David Hannay, 16th September 1895, Auburn Villas, Glenburn Park, Cavehill Road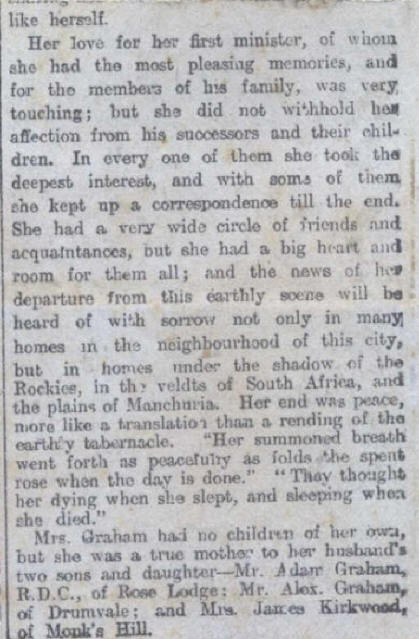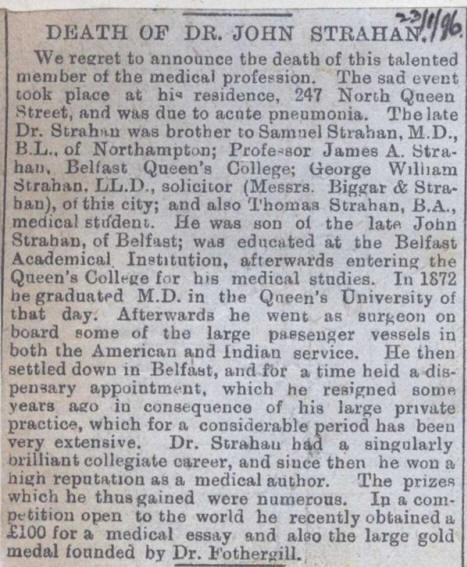 Mrs. Sara Kirkwood Graham, 30th March 1915, Rose Lodge, Upper Falls, widow of the late Thomas Graham
Dr. John Strahan, 23rd January 1896, 247 North Queen Street, brother to Samuel Strahan, M.D., B.L., of Northampton; Professor James A. Strahan, Belfast Queen's College; George William Strahan, LL.D., solicitor and Thomas Strahan, B.A.



Graham, Adam, 24th December 1933, Rose Cottage, Andersonstown, husband of Lizzie Graham to Shankill BG
Graham, Alexander, 18th October, 1932, Drumvale, Drumbeg, husband of Sarah Graham to Ballycairn New BG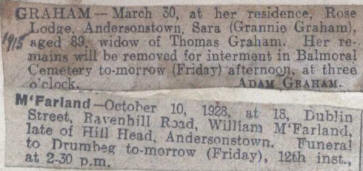 Graham, Sara (Grannie Graham), aged 89, 30th March 1915, Rode Lodge, Andersonstown, widow of Thomas Graham to Balmoral Cemetery (Adam Graham)
McFarland, William, 10th October 1928, 18 Dublin Street, Ravenhill Road to Drumbeg
McFarland, Miss Hessie, 12th June 1928, aged 73 years, Victoria Lodge, Andersonstown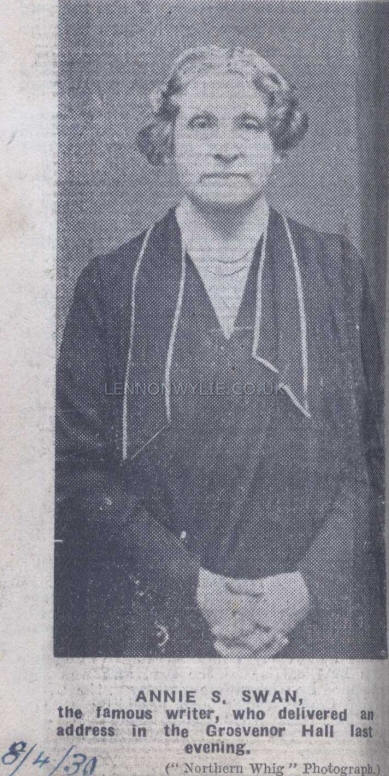 Annie S. Swan, the famous writer 6/4/30


Swain, Anna Belshaw, 7th May 1938, 14 Lomond Avenue, widow of Thomas Swain, Moira (M. E. Young)
***********************************************************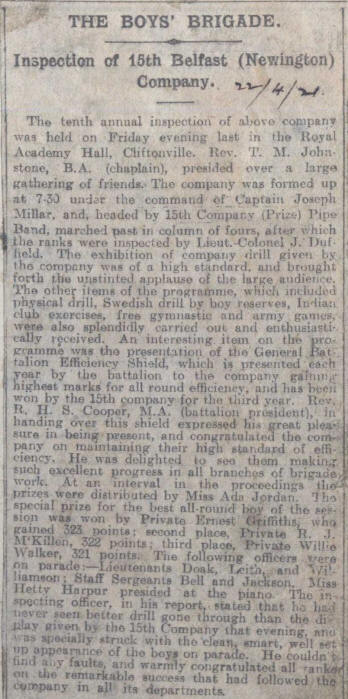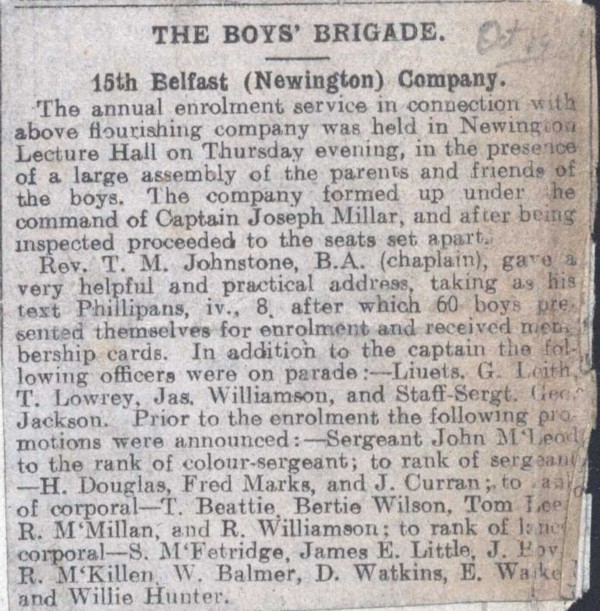 The Boys' Brigade Inspection of 15th Belfast (Newington) Company 22/4/21. Royal Academy Hall, Cliftonville, Rev. T. M. Johnstone, B.A. (chaplain). Lieut.-Colonel J. Duffield. Rev. R. H. S. Cooper, M.A. Miss Ada Jordan. Privates Ernest Griffiths, R. J. McKillen and Willie Walker. Lieutenants Doak, Leith and Williamson; Staff Sergeants Bell and Jackson. Miss Hetty Harper
The Boys' Brigade date unclear Oct 19?? 15th Belfast (Newington) Company. Newington Lecture Hall. Lieutenants G. Leith, T. Lowrey, Jas. Williamson and Staff Sergeant Geo. Jackson. Sergeant John McLeod. Sergeants H. Douglas, Fred Marks and J. Curran. Corporals T. Beattie, Bertie Wilson, Tom Lee?, R. McMillan and R. Williamson. Lance Corporals S. McFetridge, James E. Little, J. Boy?, R. McKillen, W. Balmer, D. Watkins, E. Wa?ke (Walker?) and Willie Hunter
***************
YORK STREET PRESBYTERIAN CHURCH CLIPPINGS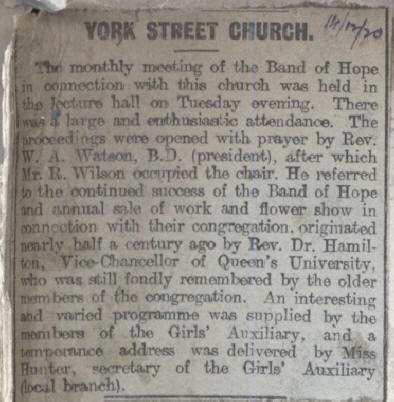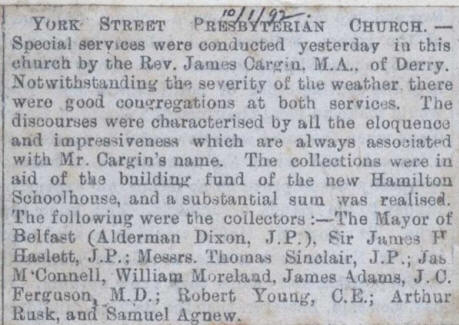 14/12/20 10/1/92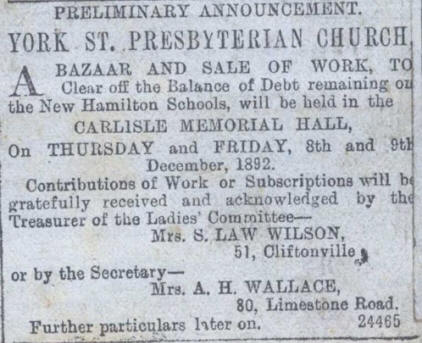 30/5/1891 December 1892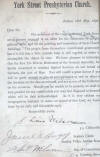 18/5/1896 Opening of New Hamilton Schools, Grand Concert 24/3/1892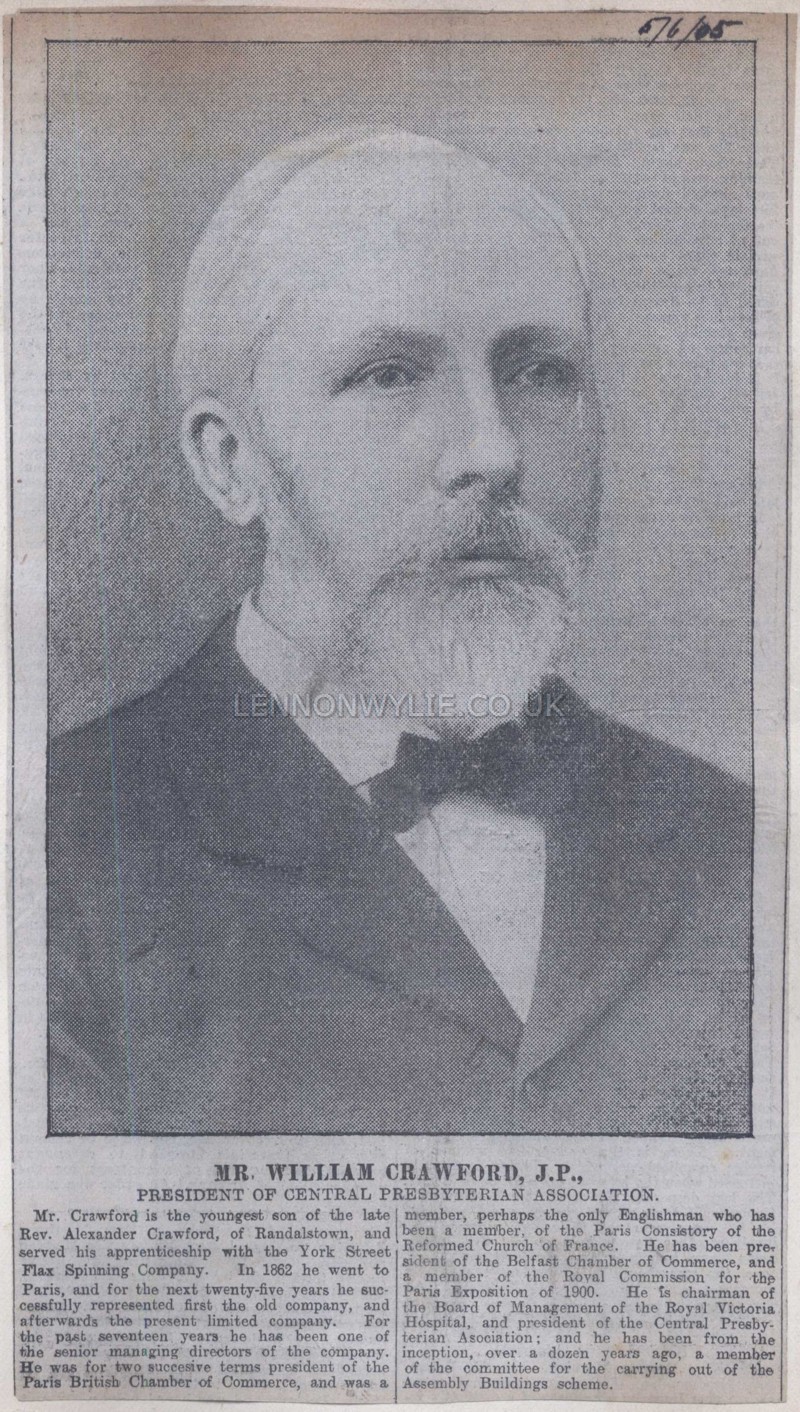 Mr. William Crawford, J.P. 5/6/1905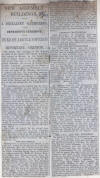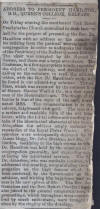 5/6/05 Rev. Thomas Hamilton, D.D. April 1887 & May/June 1889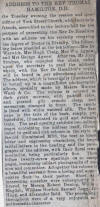 Address to Rev Thomas Presidency of Queen's 4/5/89 10/11/15
Hamilton, D.D.








26/1/1890 Dec 1889 20/3/24 20/3/1924 A.G.M. 11/12/90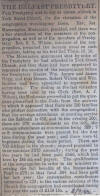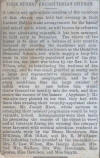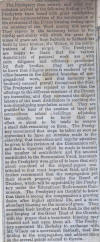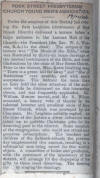 6/9/1892? Bazaar The Finding 3/11/03 Moderators Y.M.C.A. 19/12/04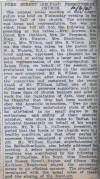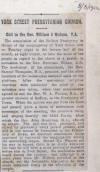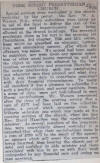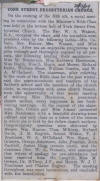 12/4/05 Rev. Wm. A. Watson 8/8/02 Address to S. H. Gowan 3/7/94? 31/3/09
& 5/6/04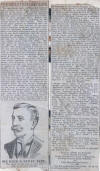 Smiley Bells & Clock Rev. W. A. Watson
1904? 3/1/06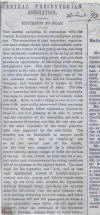 Excursions 14/6/98 22/6?/97 3/8/96 25/6/95 18/6/94 26/6/93 13/7/91








Whit Monday Excursion 10/6/89 & 19/6/88 12/7/10 26/5/06 27/5/05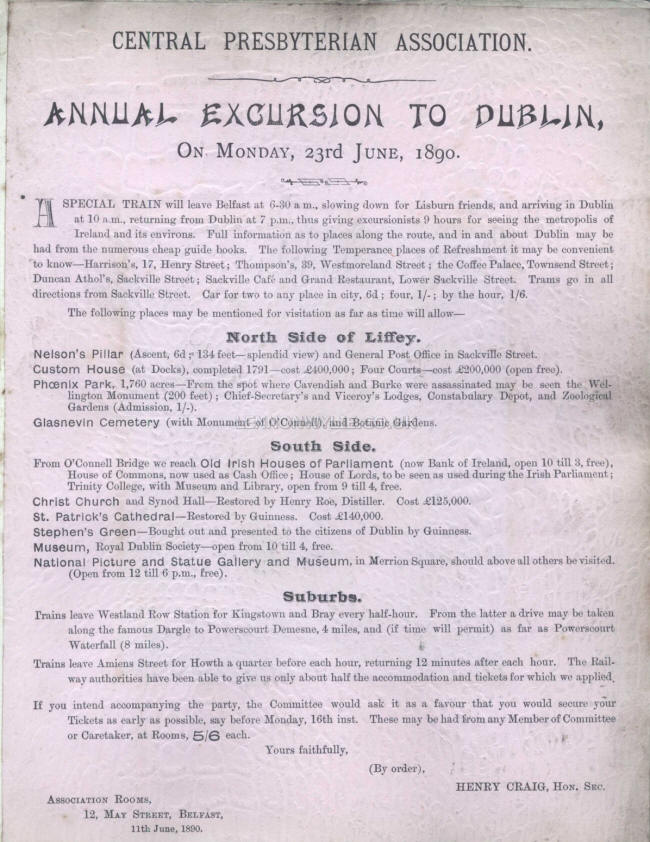 Central Presbyterian Association - Excursion to Dublin 23rd June 1890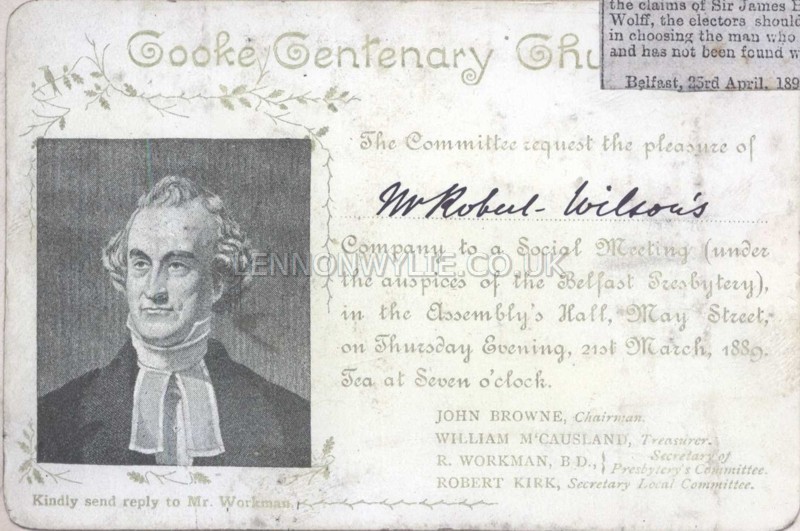 Cooke Centenary Church Mr. Robert Wilson 21st March 1889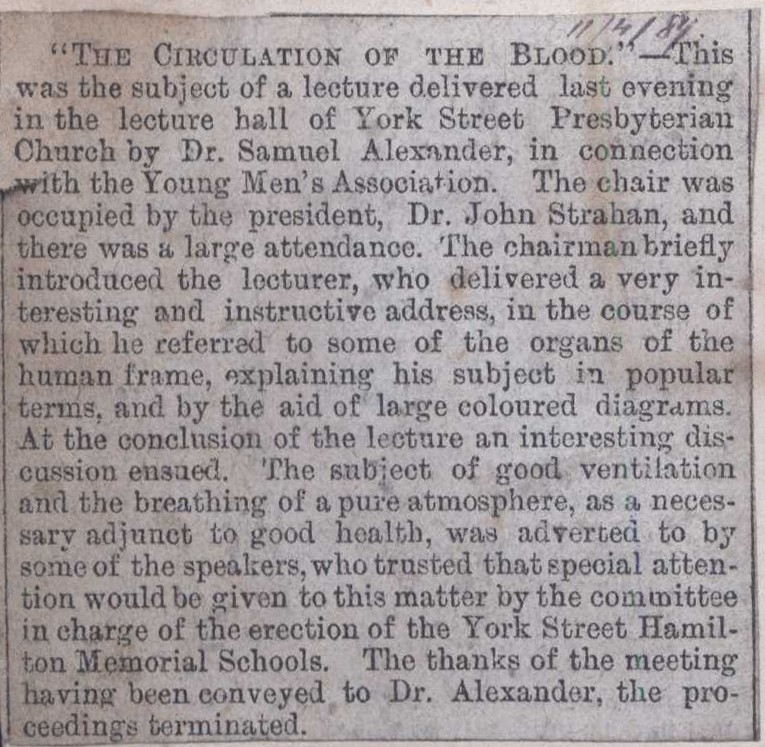 11/4/89 Circulation of the Blood
*************************************************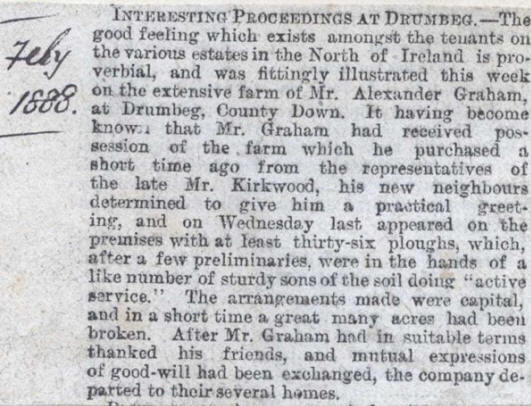 February 1888 - Interesting Proceedings at Drumbeg
The good feeling which exists amongst the tenants on the various estates in the North of Ireland is proverbial, and was fittingly illustrated this week on the extensive farm of Mr. Alexander Graham, at Drumbeg, County Down. It having become known that Mr. Graham had received possession of the farm which he purchased a short time ago from the representatives of the late Mr. Kirkwood, his new neighbours determined to give him a practical greeting, and on Wednesday last appeared on the premises with at least thirty-six ploughs, which, after a few preliminaries, were in the hands of a like number of sturdy sons of the soil doing "active service." The arrangements made were capital, and in a short time a great many acres had been broken. After Mr. Graham had in suitable terms thanked his friends, and mutual expressions of good-will had been exchanged, the company departed to their several homes.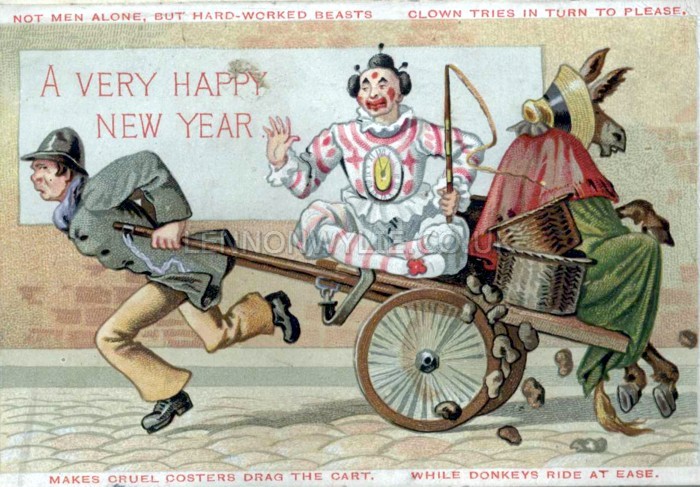 MOT MEN ALONE, BUT HARD-WORKED BEASTS
CLOWN TRIES IN TURN TO PLEASE
MAKES CRUEL COSTERS DRAG THE CART
WHILE DONKEYS RIDE AT EASE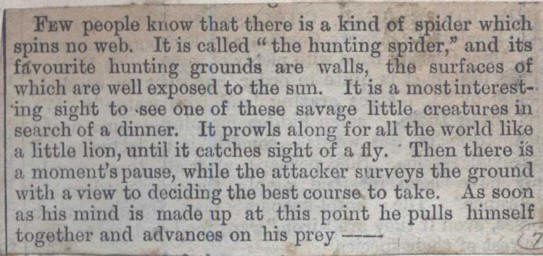 Missing Word Competition No. 44
Few people know that there is a kind of spider which spins no web. It is called "the hunting spider," and its favourite hunting grounds are alls, the surfaces of which are well exposed to the sun. It is a most interesting sight to see one of these savage little creatures in search of a dinner. It prowls along for all the world like a little lion, until it catches sight of a fly. Then there is a moment's pause, while the attacker surveys the ground with a view to deciding the best course to take. As soon as his mind is made up at this point he pulls himself together and advances on his prey ----
(see below article also)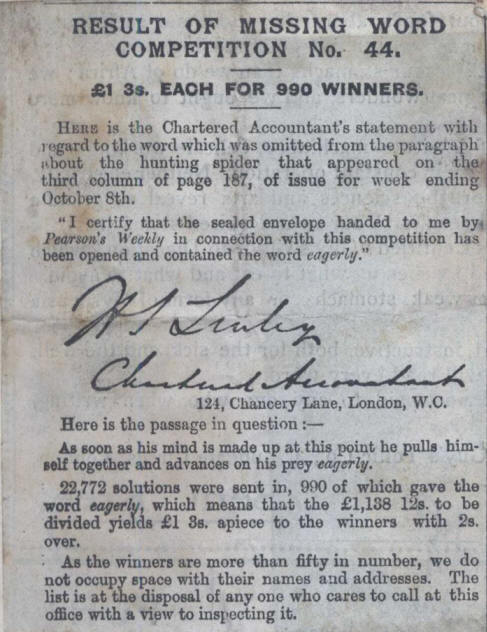 £1 3s. each for 990 Winners
The missing word was 'eagerly' (see above 'Spider' article)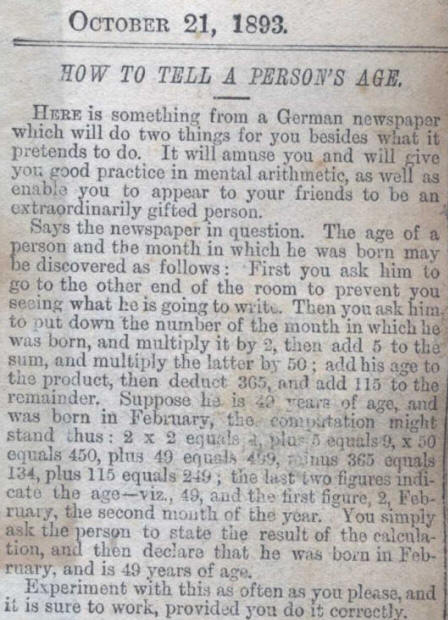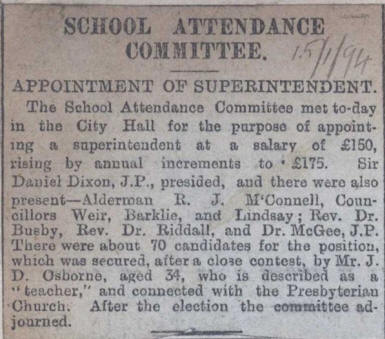 21 October 1893 how to tell a person's age 15/1/94 Mr. J. D. Osborne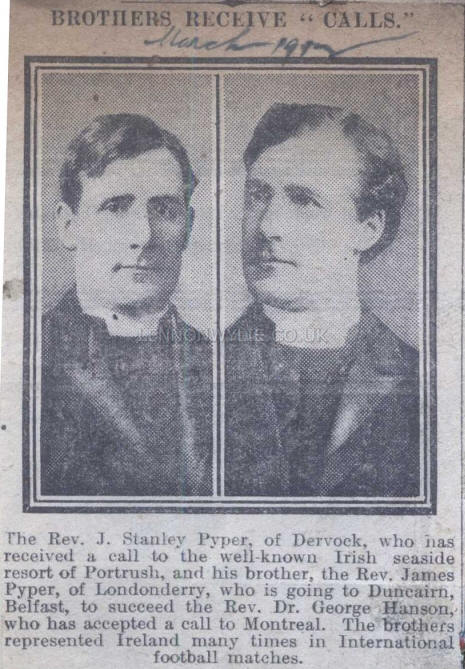 Brothers Receive "Calls." March 1912?
The Rev. J. Stanley Pyper, of Dervock, who has received a call to the well-known Irish seaside resort of Portrush, and his brother, the Rev. James Pyper, of Londonderry, who is going to Duncairn, Belfast, to succeed the Rev. Dr. George Hanson, who has accepted a call to Montreal. The brothers represented Ireland many times in International football matches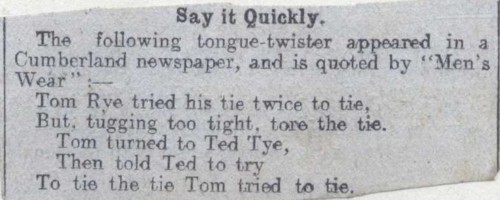 Say it Quickly
The following tongue-twister appeared in a Cumberland newspaper, and is quoted by "Men's Wear" :-
Tom Rye tried his tie twice to tie,
But, tugging too tight, tore the tie,
Tom turned to Ted Tye,
Then told Ted to try
To tie the tie Tom tried to tie.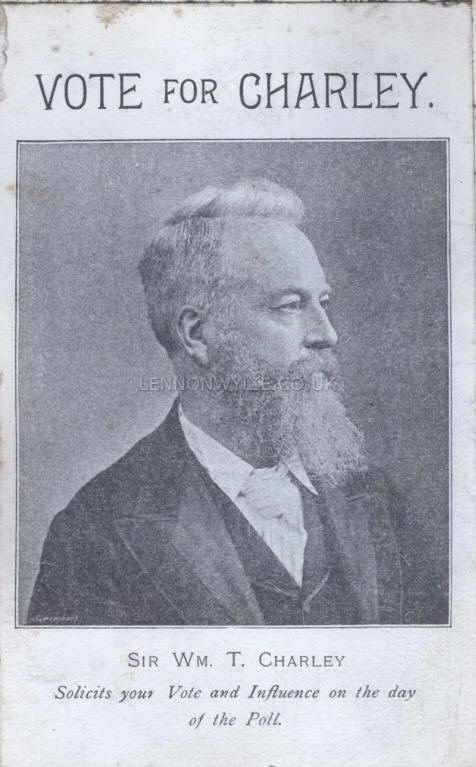 ***********************************
ALEXANDRA BOWLING CLUB





8/5/20 30/10/20 7/9/22?


PAGE TWO