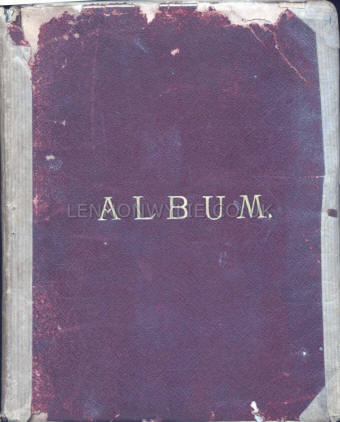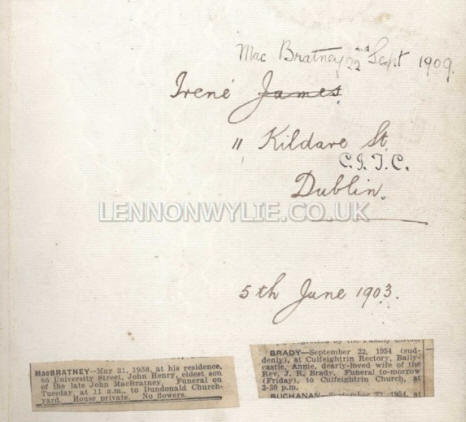 Irene James, 11 Kildare Street, Dublin C.I.J.C.? Dublin 5th June 1903 - MacBratney 22nd September 1909
MacBratney, May 21, 1938, at his residence 66 University Street, John Henry, eldest son of the late John MacBratney. Dundonald Churchyard
Brady, September 22, 1954 (suddenly), at Culfeightrin Rectory, Ballycastle, Annie, dearly-loved wife of the Rev. J. R. Brady.
April 15, 1941 - Yesterday was the 10th anniversary of the first large-scale air-raid on Belfast, in which more than 500 people were killed and 1,500 injured. The attack began before 10 p.m. on the 15th (Easter Tuesday) and continued into the early hours of the 16th. Many people have sharp memories of that terrible night. One Belfast newspaperman recalled to me that after spending all night at the office, he walked home about ?a.m. through streets gaping here and there with bomb craters, littered with goods and chattels and rubble, and flanked by demolished shops and houses, some of them still burning. As he neared his home in the suburbs the trail of destruction continued. Windows of houses were shattered and blinds flapped forlornly in the morning air. When he reached home he was mightily relieved to find it intact, save for a crack in a window pane. His wife, who had no idea of the havoc elsewhere, had started her household duties. She said: "You'll have to fix the vacuum cleaner. I didn't get the stairs done yesterday and they're rather dusty."
April 16th, 1949
An air-raid memory. Eight years ago, as I write, Belfast was reeling under the shock of the worst night the city had ever experienced. A little before 10 o'clock German raiders, estimated at about 100, started to come over in relays, and for several hours showers of incendiaries and high explosives were falling. It has never been made clear why the enemy pilots attacked the north and north-west area of the city, with its paucity of military targets, but the suggestion has been made that they mistook the consecutive and narrow ponds of the Waterworks for docks. Be that as it may, that night will live in the memories of all who survived it. As a result of the raid at least 700 people lost their lives, and 1,511 were injured. In addition there were 16 fatal military casualties. According to the official returns there were in all 139 outbreaks of fire, four being described as "conflagrations," and 19 as "serious." Just before dawn the enemy departed, and what a sight the northern end of the city presented - houses flattened, debris piled high across street, people digging among the rubble for their dead, fires burning fiercely and no water with which to quench them! Nine-tenths of a description of what a colleague and myself saw failed to pass the censor.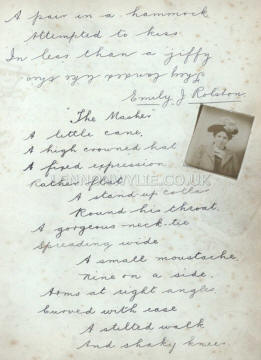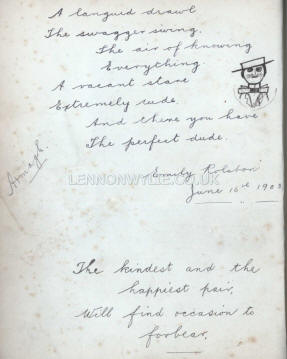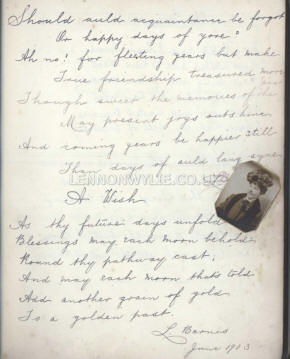 A pair in a hammock Attempted to kiss, In less than a jiffy they landed like this. Emily J. Rolston

The Masher, A Little Cane, A high crowned hat, A fixed expression, Rather flat.
A stand up collar, Round his throat, A gorgeous neck-tie, Spreading wide.
A small moustache, Nine on a side, Arms at right angles, Curved with ease.
A stilted walk, And shaky knee, A languid drawl, The swagger swing, The air of knowing everything.
A vacant stare, Extremely rude, And there you have the perfect dude. - Emily Rolston, June 16th 1903 Armagh
The kindest and the happiest pair Will find occasion to forbear
Should auld acquaintance be forgot Or happy days of yore?
Ah no! for fleeting years but make true friendship treasured more,
Though sweet the memories of the past may present joys outshines,
And coming years be happier still than days of auld Lang syne. L. Barnes
A Wish - As thy future days unfold, Blessings may each morn behold,
Round thy pathway cast, And may each morn that's told,
Add another grain of gold, To a golden past. L. Barnes June 1903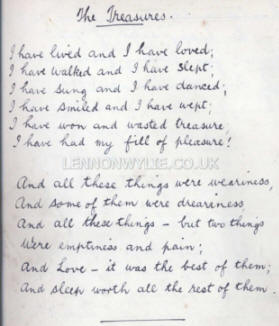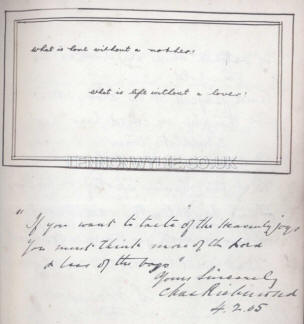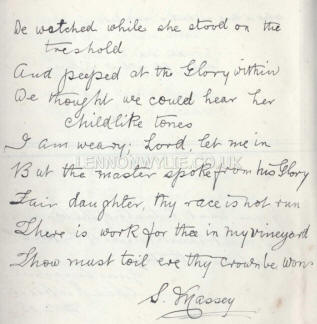 The Treasures - I have lived and I have loved, I have walked and I have slept;
I have sung and I have danced, I have smiled and I have wept;
I have won and wasted treasure, I have had my fill of pleasure!
And all these things were weariness, And some of them were dreariness,
And all these things - but two things, were emptiness and pain;
And love - it was the best of them; And sleep worth all the rest of them.
What is home without a mother and what is life without a lover?
S. Massey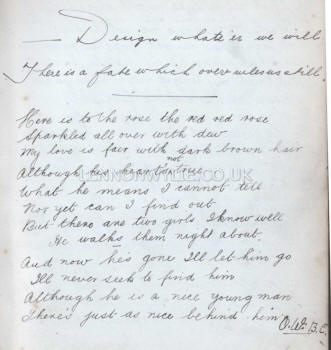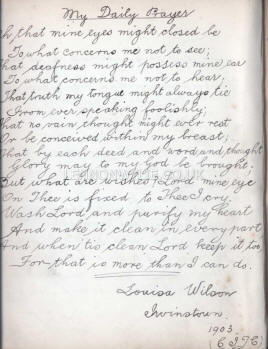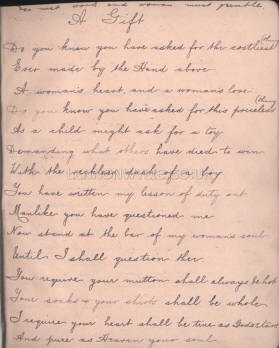 Design whatever we will, There is a fate which over rules us still
Here is to the rose the red red rose, Sparkled all over with dew,
My love is fair with dark brown hair, Although his heart's not true,
What he means I cannot tell, Nor yet can I find out,
But there are two girls I know well, He walks them night about.
And now he's gone I'll let him go, I'll never seek to find him,
Although he is a nice young man, There's just as nice behind him. O. W., B.C.
Louisa Wilson, Irvinstown, 1903 (C.I.J.C.)
man must work and woman must grumble
A Gift - Do you know you have asked for the costliest thing ever made by the Hand above,
A woman's heart, and a woman's love.
Do you know you have asked for this priceless thing, as a child might ask for a toy,
Demanding what others have died to win.
With the reckless dash of a boy you have written my lesson of duty out,
Manlike you have questioned me.
Now stand at the bar of my woman's soul until I shall question thee
You require your mutton shall always be hot, your socks and your shirts shall be whole,
I require your heart shall be true as God's stars and pure as Heaven your soul.
You require a cook for your mutton & beef, I require a far better thing,
A seamstress you're wanting for stockings & shirts, I look for a man & a king.
A king for a beautiful realm called Home, A man that the maker God shall look upon, as he looked on the first
and say "It is very good"
I am fair & young but the rose will fade from my soft young cheek (HELP!) some day,
Will you love me them mid the falling leaves as you did mid blooming May.
Is your heart an ocean so wide & deep, I may lavish my all in its tide,
A loving woman finds heaven, or hell, On the day she is made a bride,
I require all things that a man should be all things that are good & true,
If you'll give all this, I will stake my life to be all you demand of me,
But if you cannot do this, a laundress or cook you can hire with little pay,
But a woman's heart & a woman's love are not to be won this way. S. Barnes (not & always) 8/6/03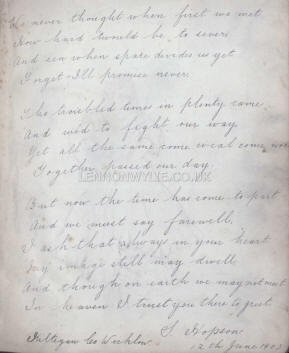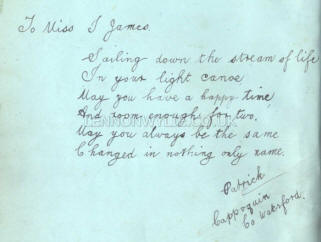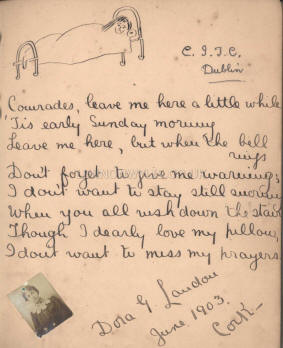 We never thought when first we met how hard t'would be to sever,
And ?? when space divides us yet, Forget - I'll promise never.
Tho troubled times in plenty came and we'd to fight our way,
Yet all the same come weal come woe together passed our day.
But now the time has come to part and we must say farewell,
I ask that always in your heart my image still may dwell.
And though on earth we may not meet, in Heaven I trust you there to greet. S. Hopson, 12th June 1903 Kiltegan Co. Wicklow
To Miss I. James - Sailing down the stream of life, In your light canoe,
May you have a happy time, And room enough for two,
May you always be the same, Changed in nothing only name. Patrick, Cappoquin, Co. Waterford
C.I.J.C. Dublin - Comrades, leave me here a little while, 'Tis early Sunday morning,
Leave me here, but when the bell rings, Don't forget to give me warning;
I don't want to stay still ____ when you all rush down the stairs,
Though I dearly love my pillow, I don't want to miss my prayers. Dora G. Landau, June 1903 Cork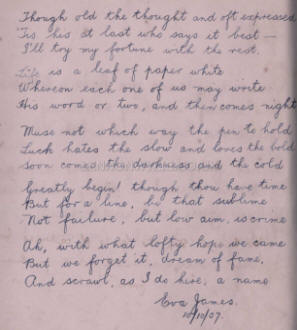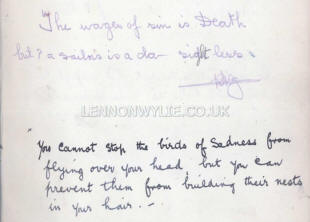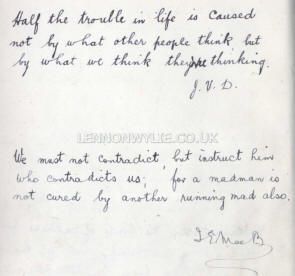 Though old the thought and oft expressed, 'Tis his at last who says it best -
I'll try my fortune with the rest, Life is a leaf of paper white,
Whereon each one of us may write, His word or two, and then comes night.
Muse not which way the pen to hold, Luck hates the slow and loves the bold,
Soon comes the darkness and the cold.
Greatly begin! though thou have time, But for a line, be that sublime,
Not failure, but how aim, is crime.
Ah, with what lofty hope we came, But we forget it, dream of fame,
And scrawl, as I do here, a name. - Eva James, 10/10/07
The wages of sin is Death. but a sailor's is a darn sight less -
You cannot stop the birds of Sadness from flying over your head
But you can prevent them from building their nests in your hair.
Half the trouble in life is Caused not by what other people think
but by what we think they're thinking - J. V. D.
We must not contradict but instruct him who contradicts us,
for a madman is not cured by another running mad also.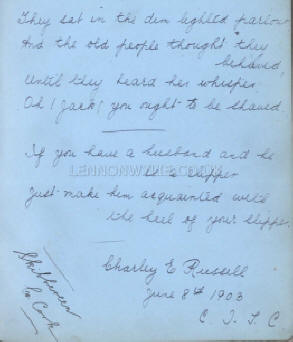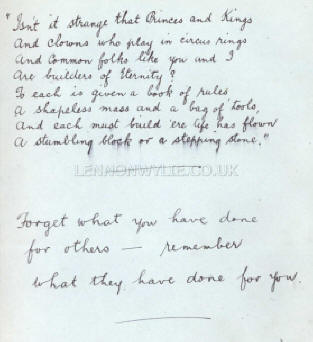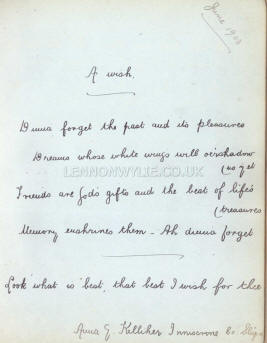 They sat in the dim lighted parlour, And the old people thought they behaved,
Until they heard her whisper, Oh! Jack! you ought to be shaved.
If you have a husband and he is a clipper, Just make him acquainted with the heel of your slipper - Charley E. Russell, June 8th 1903 C.I.J.C. Skibbereen, Co. Cork
"Isn't it strange that Princes and Kings and clowns who play in circus rings,
And Common folks like you and I, Are builders of Eternity?
To each is given a book of rules, a shapeless mass and a bag of tools,
And each must build 'ere life has flown, a stumbling block or a stepping stone"
Forget what you have done for others - remember what they have done for you
June 1903 A Wish - Dinna forget the past and its pleasures, Dreams whose white wings will o'ershadow us yet,
Friends are God's gift and the best of lifes's treasures, Memory enshrines them - Ah dinna forget.
Look what is best, that best I wish for thee. - Anna ? Kelliher, Inniscrone, Co. Sligo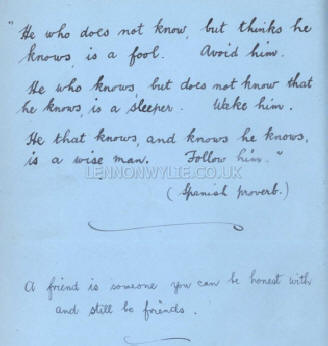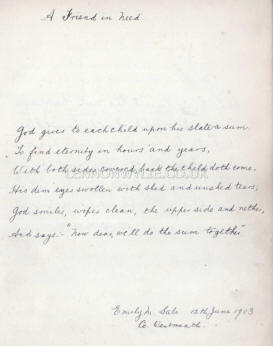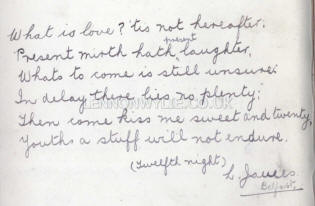 "He who does not know, but thinks he knows is a fool. Avoid him.
He who knows, but does not know that he knows, is a sleeper. Wake him.
He that knows, and knows he knows, is a wise man. Follow him." (Spanish proverb)
A friend is someone you can be honest with and still be friends
Emily M. Sale, 12th June 1903, Co. Westmeath
What is love? 'tis not hereafter; Present mirth hath present laughter,
What's to come is still unsure, In delay there lies no plenty;
Then come kiss me sweet and twenty, Youths a stuff will not endure (Twelfth night) L. James, Belfast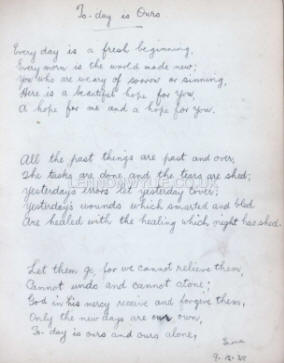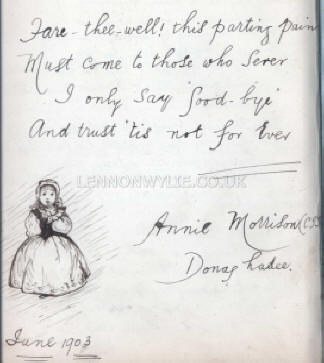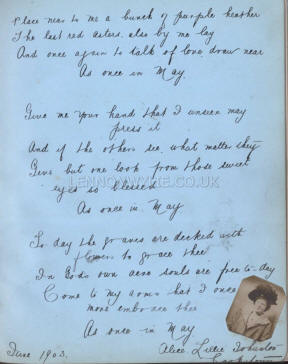 To-day is Ours - Everything is a fresh beginning, Every morn is the world made new;
You who are weary of sorrow or sinning, Here is a beautiful hope for you, A hope for me and a hope for you.
All the past things are past and over, The tasks are done and the tears are shed;
Yesterdays errors let yesterday cover; Yesterday's wounds which smarted and bled are healed with the healing which night has shed.
Let them go, for we cannot relieve them, Cannot undo and cannot atone;
God in his mercy receive and forgive them, Only the new days are our own, To-day is ours and ours alone. - Irene 9.12.38
Fare-thee-well! this parting pain must come to those who Sever,
I only say good-bye and trust 'tis not for ever - Annie Morrison (C.I.J.C.) Donaghadee June 1903
Place near to me a bunch of purple heather, The last red asters also by me lay,
And once again to talk of love draw near, As once in May
Give me your hand that I unseen may press it, And if the others see what matter they,
Give but one look from those sweet eyes so blessed, As once in May.
To-day the graves are decked with flowers to grace thee, In God's own care souls are free to-day,
Come to my arms that I once more embrace thee, As once in May. - June 1903 Alice Lillie Johnston, Cookstown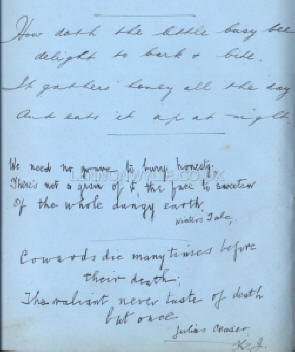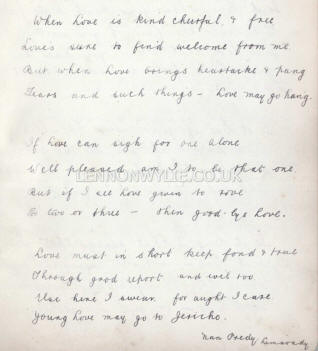 How doth the little busy bee delight to bark & Bite, It gathers honey all the day and eats it up at night.
We need no grave to bury honesty, There's not a grain of it, the face to sweeten, Of the whole dungy earth.
Winters' Tale
Cowards die many times before their death, The valiant never taste of death but once. Julius Caesar K.J.
When Love is kind, cheerful & free, Love's sure to find welcome from me.
But when Love brings heartache & pang, Tears and such things - Love may go hang.
If Love can sigh for one alone, Well pleased am I to be that one,
But if I see Love given to rove, To two or three - then good-bye Love.
Love must in short keep fond & true, Through good report and evil too,
Else here I swear, for aught I care, Young Love may go to Jericho - Nan Predy, Limavady
A Question - Is it love when your heart beats faster whenever the pair of you meet?
Is it love that when you pass her your cheek feels a sudden heat?
Is it love if your vision trembles and swims, if you see one girl?
Is it love that for you she dissembles the defiant air of a churl?
Is it Cupid that causes these feelings? Is it love - who'll answer the question?
Those throbbings and whirlings and reelings, Is it love - or just indigestion? 10.6.03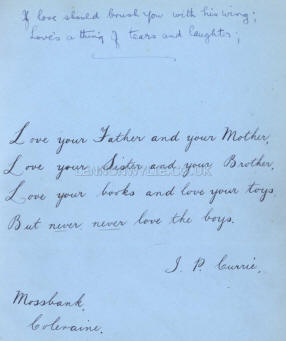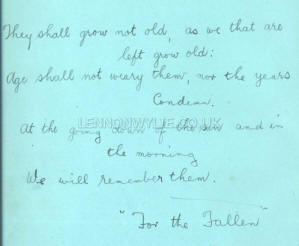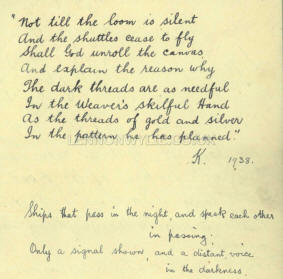 If love should brush you with his wing; Love's a thing of tears and laughter
Love your Father and you Mother, Love your Sister and your Brother,
Love your books and love your toys, But never, never love the boys - J. P. Currie, Mossbank, Coleraine
They shall grow not old, as we that are left grow old; Age shall not weary them, nor the years Condemn,
At the going down of the sun and in the morning, We will remember them "For the Fallen"
"Not till the loom is silent, And the shuttles cease to fly,
Shall God unroll the canvas, And explain the reason why.
The dark threads are as needful, In the Weaver's skilful hand,
As the threads of gold and silver, In the pattern he has planned." K. 1938
Ships that pass in the night and speak each other in passing,
Only a signal shown and a distant voice in the darkness.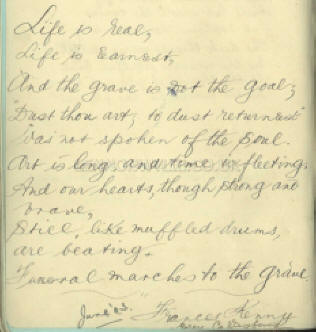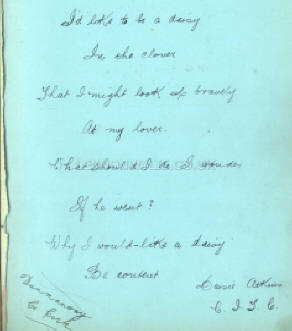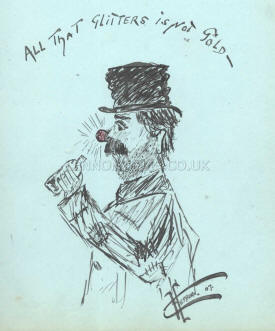 Life is real, Life is earnest, And the grave is not the goal;
"Dust thou art; to dust returnest" Was not spoken of the soul.
Art is long, and time is fleeting and our hearts, though strong and brave,
Still, like muffled drums, are beating, Funeral marches to the grave. June 03 Frances Kenny. Gorey?, Co. Wexford
I'd like to be a daisy in the clover, That I might look up bravely at my lover,
What should I so I wonder If he went? Why I would like a daisy Be content. Daisie Atkins C.I.J.C. Dunmanway, Cork
All that glitters is not gold - Hepburn 07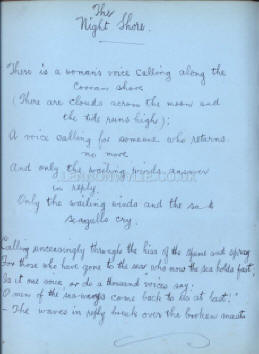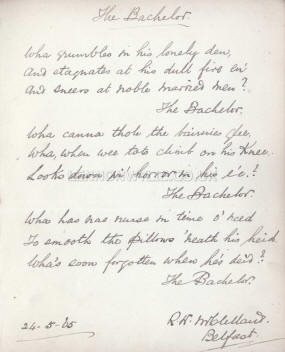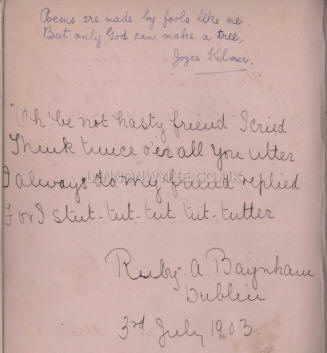 The Night Shore - There is a woman's voice calling along the Corran shore,
(There are clouds across the moon and the tide runs high);
A voice calling for someone who returns no more,
And only the wailing winds answer in reply,
Only the wailing winds and the sad seagulls cry.
Calling unceasingly through the hiss of the spume and spray,
For those who have gone to the sea who now the sea holds fast;
Is it one voice, or do a thousand voices say;
O men of the 'sea-ways come back to us at last!'
The waves in reply break over the broken mast.
The Bachelor - Who grumbles in his lonely den, And stagnates at his dull fire en'
And sneers at noble married men? The Bachelor
Who canna thole the bairnies glee, Who, when wee tots climb on his knee,
Looks down in horror in his e'e? The Bachelor
Who has nae nurse in time o' need, To smooth the pillows 'neath his heid,
Who's soon forgotten when he's dead? The Bachelor 24.5.05 R. H. McClelland, Belfast
Poems are made by fools like me, But only God can make a tree. Joyce Kilmer
"Oh! be not hasty friend I cried, Think twice o'er all you utter,
I always do, my friend replied, For I stut-tut-tut-tut-tutter. Ruby A. Baynham, Dublin 3rd July 1903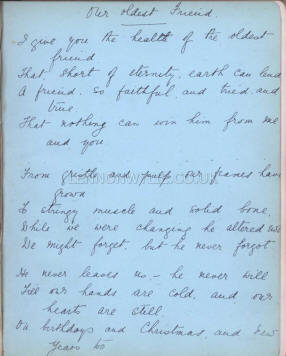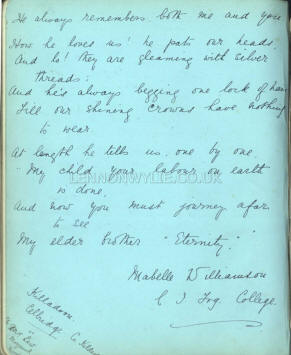 Slowly and sadly they laid him down, They plastered his face with butter,
They battered his head with as old tin can, And left him alone in the gutter.
You asked me to write in your album, To put something original in,
There's nothing original in me, Except original sin. Alice K. L. Rooney, C.I.J.C. 3rd July 1903

A little pretty witty Charming she!
Our oldest Friend - I give you the health of the oldest friend, That, short of eternity, earth can lend,
A friend, so faithful and tried and true, That nothing can win him from me and you.
From gristle and pulp our frames have grown, To stringy muscle and solid bone,
While we were changing he altered not, We might forget, but he never forgot.
He never leaves us - he never will, Till our hands are cold, and our hearts are still,
On birthdays and Christmas, and New Years too, He always remembers both me and you.
How he loves us! he pats our heads, And lo! they are gleaming with silver threads;
And he's always begging one lock of hair, Till our shining crowns have nothing to wear,
At length he tells us, one by one, My child your labour on earth is done,
And now you must journey afar to see, My elder brother "Eternity" - Mabelle Williamson, C. I. __ College (C.I.J.C.?)
Killadoon, Celbridge, Co. Kildare or ??? Mr. Law, Moyrusk, Moira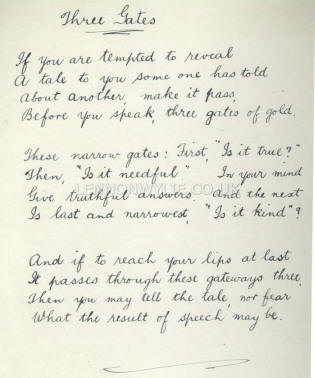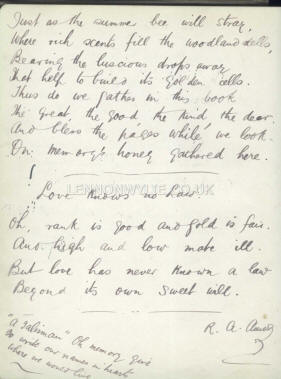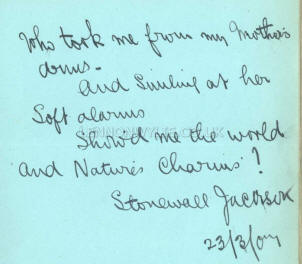 Three Gates - If you are tempted to reveal, A tale to you some one has told,
About another, make it pass, Before you speak, three gates of gold.
These narrow gates; First, "Is it true?" Then, "Is it needful?" In your mind
Give truthful answers. And the next, Is last and narrowest, "Is it kind?"
And if to reach your lips at last, It passes through these gateways three,
Then you may tell the tale, nor fear, What the result of speech may be.
Just as the summer bee will stray, Where rich scents fill the woodland dells,
Bearing the luscious drops away, That help to build its Golden cells.
Thus do we gather in this book, The great, the good, the kind, the dear,
And bless the pages while we look, On memory's honey gathered here.
Love knows no Law - Oh, rank is good and gold is fair, And high and low make ill,
But love has never known a law, Beyond its own sweet will. - R. A. A????
"A Talisman" Oh memory give, to write our names in hearts, where we would live.
Who took me from my Mother's arms, and smiling at her soft alarms,
Show'd me the world and Natures Charms! - Stonewall Jackson 23/3/07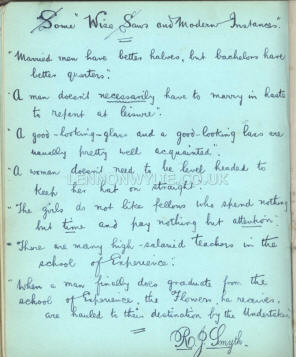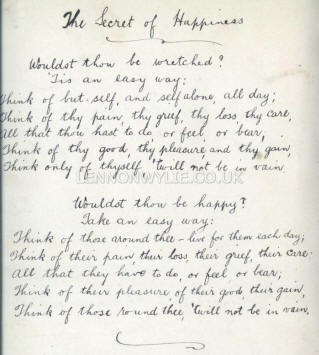 Some Wise Laws and Modern Instances -
"Married men have better halves, but bachelors have better quarters."
"A man doesn't necessarily have to marry in haste to repent in leisure."
"A good-looking-glass and a good-looking-lass are usually pretty well acquainted."
"A woman doesn't need to be level headed to keep her hat on straight."
"The girls do not like fellows who spend nothing but time and pay nothing but attention."
"There are many high-salaried Teachers in the school of Experience."
"When a man finally does graduate from the school of Experience the Flowers,
he receives, are hauled to their destination by the Undertaker." - R. J. Smyth
A few sayings of great men about women
All that I am or ever hope to be, O owe to my angel Mother - Abraham Lincoln
Earth holds nothing more tender than a pious woman's heart - Martin Luther
Despise our bondage so we will, Tis woman, woman rules us still - Thos. Moore
Even in the darkest hour of earthly ills, woman's fond affection flows clemantine R.O'B.
The Secret of Happiness - Wouldst thou be wretched? 'Tis an easy way; Think of but self, and self alone, all day; Think of thy pain, they grief, thy loss, thy care, All that thou hast to do, or feel, or bear;
Think of thy good, thy pleasure, and thy gain, Think only of thyself, 'twill not be in vain.
Wouldst thou be happy? Take an easy way; Think of those around thee - live for them each day;
Think of their pain, their loss, their grief, their care. All that they have to do, or feel, or bear;
Think of their pleasure, of their good, their gain, Think of those round thee, 'twill not be in vain.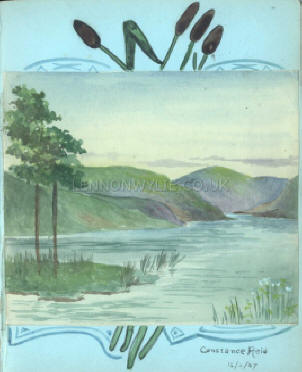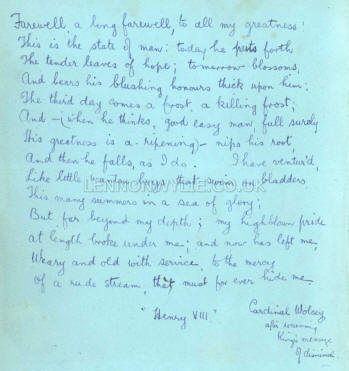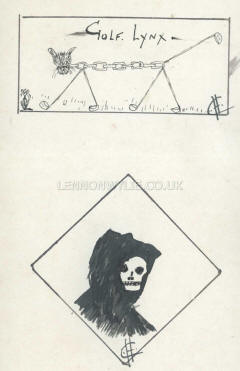 Constance Reid 14/3/07
Farewell, a long farewell, to all my greatness! This is the state of man; to-day he puts forth
The tender leaves of hope; tomorrow blossoms, And bears his blushing honours thick upon him;
The third day comes a frost, a killing frost; And - (when he thinks, good easy man, full surely
This greatness is a ripening) - nips his root, And then he falls, as I do. I have venture'd,
Like little wanton boys that swim on bladders, This many summers in a sea of glory;
But far beyond my depth; my highblown pride at length broke under me; and now he's left me,
Weary and old with service, to the mercy of a rude stream, that must for ever hide me. Henry VIII Cardinal Wolsey, after receiving Kings message of dismissal
Golf Lynx CH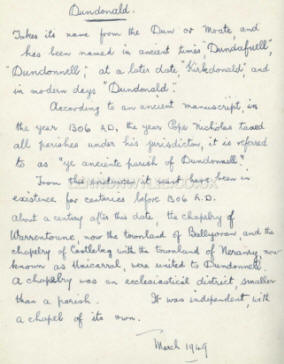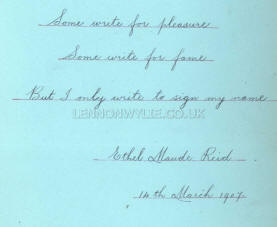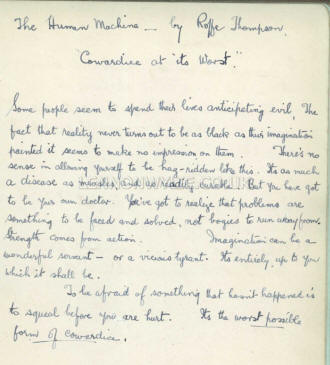 Dundonald - Takes its name from the Dun or Moate, and has been named in ancient times, "Dundafuell", "Dundonnell," at a later date, "Kirkdonald," and in modern days "Dundonald."
According to an ancient manuscript, in the year 1306 A.D., the year Pope Nicholas taxed all parishes under his jurisdiction, it is referred to as "ye anciente parish of Dundonnell."
From this evidence it must have been in existence for centuries before 1306 A.D. About a century after this date, the chapelry of Warrentoune, now the townland of Ballyoran, and the chapelry of Castlebeg with the townland of Neranry, now known as Unicarral, were united to Dundonnell. A chapelry was an ecclesiastical district, smaller than a parish. It was independent with a chapel of its own. March 1949
Some write for pleasure, Some write for fame, But I only write to sign my name - Ethel Maude Reid, 14th March 07
The Human Machine - by Rolfe Thompson "Cowardice at its Worst"
Some people seem to spend their lives anticipating evil, The fact that reality never turns out to be as black as their imagination painted it seems to make no impression on them. There's no sense in allowing yourself to be hag-ridden like this. Its as much a disease as measles, and as readily curable. But you have got to be your own doctor. You've got to realize that problems are something to be faced and solved, not bogies to run away from. Strength comes from action. Imagination can be a wonderful servant - or a vicious tyrant. Its entirely up to you which it shall be. To be afraid of something that hasn't happened is to squeal before you are hurt. Its the worst possible form of cowardice.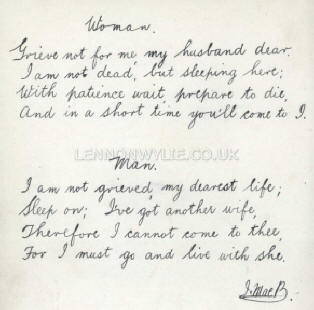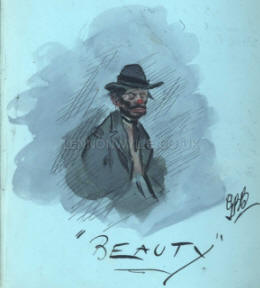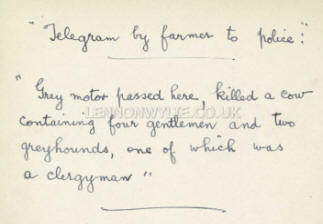 Woman - Grieve not for me, my husband dear, I am not dead, but sleeping here;
With patience wait, prepare to die, And in a short time you'll come to I.
Man - I am not grieved, my dearest life; Sleep on; I've got another wife,
Therefore I cannot come to thee, For I must go and live with she. J. MacB or J. MaeB
"Beauty" G.B.B.?
"Telegram by farmer to police;" "Grey motor passed here, killed a cow, containing four gentlemen and two greyhounds, one of which was a clergyman"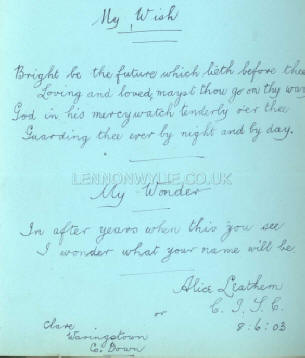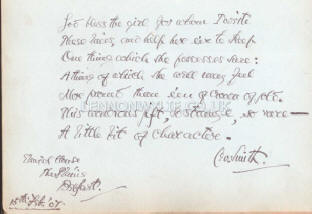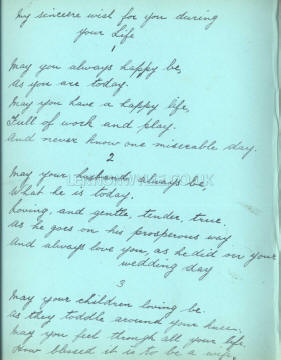 My Wish - Bright be the future which lieth before thee, Loving and loved, mayst thou go on thy way,
God in his mercy watch tenderly o'er thee, Guarding thee ever by night and by day.
My Wonder - In after years when this you see, I wonder what your name will be. - Alice Leathem, C.I.J.C. 8.6.03 Clare, Waringstown, Co. Down
God bless the girl for whom I write, These lines, and help her e're to keep,
One thing which she possesses sure; A thing of which she well may feel.
More proceed these e'er of ____ of solo, This wondrous gift, so strange, so rare - A little bit of character. Geo. Smith
Elswick House, The Plains, Belfast 15th February '07
My sincere wish for you during your life, may you always happy be,
as you are today, may you have a happy life, full of work and play,
and never know one miserable day
May your husband always be, what he is today,
loving, and gentle, tender, true, As he goes on his prosperous way,
and always love you, as he did on your wedding day
May your children loving be, as they toddle around your knees;
may you feel through all your life, how blessed it is to be a wife,
and pity those who life strife.
When you in a corner sit, when you are even too old to knit,
may you, when you are too old to see, put on your specks and think of me,
as your ever loving friend. - A. J. Greene an afterwards
When their grave they close on you, It, with flowers will I sorrowing strew,
and these are the words I'll say, when in my heart for you and your I'll pray,
Give them eternal rest, O Lord, and let perpetual light shine upon them.
May we be always friends in life and afterwards. A. J. Greene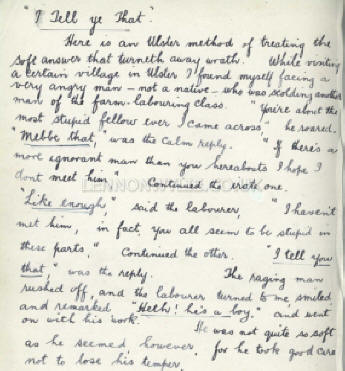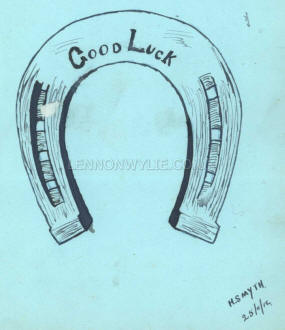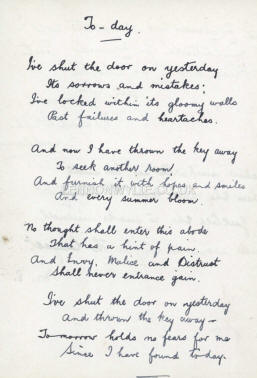 "I Tell ye That" Here is an Ulster method of treating the soft answers that turneth away wrath. While visiting a certain village in Ulster I found myself facing a very angry man - not a native - who was scolding another man of the farm labouring class. "You're about the most stupid fellow ever I came across," he roared. "Mebbe that," was the calm reply. "If there's a more ignorant man than you hereabouts I hope I don't meet him." Continued the irate one. "Like enough," said the labourer, "I haven't met him, in fact, you all seem to be stupid in these parts," Continued the other, "I tell you that," was the reply. The raging man rushed off, and the labourer turned to me, smiled and remarked. "Heth! he's a boy." and went on with his work. He was not quite so soft as he seemed however, for he took good care not to lose his temper.
Good Luck - H. Smyth 25/11/12
To-day - I've shut the door on yesterday, its sorrows and mistakes;
I've locked within its gloomy walls, past failures and heartaches.
And now I have thrown the key away to seek another room,
And furnish it with hopes and smiles and every summer bloom.
No thought shall enter this abode that has a hint of pain,
And envy, malice and distrust shall never entrance gain.
I've shut the door on yesterday and thrown the key away,
Tomorrow holds no fears for me since I have found To-day.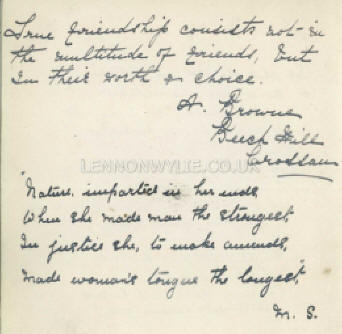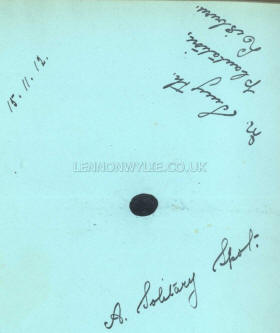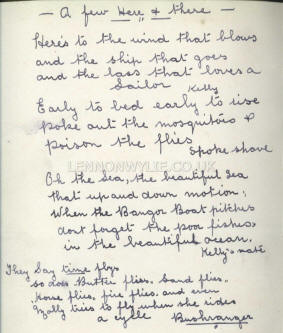 True friendship consists not of the multitude of friends, but in their worth & choice. - A. Browne, Beech Hill, Crossan
"Nature, imparted in her ____, When she made man the strongest,
In justice she, to make amends, made woman's tongue the longest." M.S.
M. Smyth, Plantation, Lisburn 15.11.12
- A few here & there - Here's to the wind that blows and the ship that goes and the lass that loves a Sailor
Early to bed, early to rise, poke out the mosquitoes & poison the flies. Spoke shave
Oh the Sea, the beautiful Sea,
that up and down motion;
When the Bangor Boat pitches,
don't forget the poor fishes
in the beautiful ocean. - Kelly's mate
They say time flys
so does Butter flies, Sand flies, Horse flies, fire flies, and even Molly tries to fly when she rides a cycle - Bushranger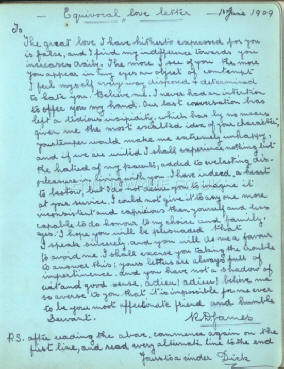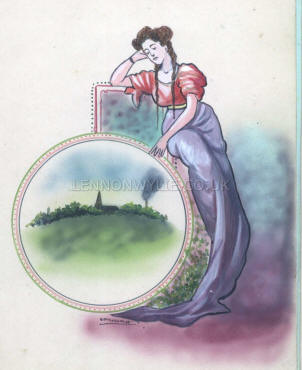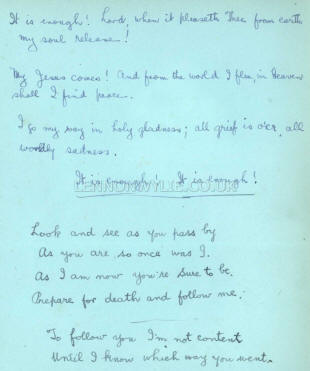 Equivocal love letter 1st June 1909
To
The great love I have hitherto expressed for you
is false, and I find my indifference towards you
increases daily. The more I see of you, the more
you appear in my eyes an object of contempt.
I feel myself every way disposed & determined
to hate you. Believe me, I never had an intention
to offer you my hand. Our last conversation has
left a tedious insipidity, which has be no means
given me the most exalted idea of your character,
your temper would make me extremely unhappy,
and if we are united I shall experience nothing but
the hatred of my parents, added to everlasting dis
pleasure in living with you. I have indeed, a heart
to bestow, but I do not desire you to imagine it
at your service. I could not give it to anyone more
inconsistent and capricious than yourself and less
capable to do honour to my choice and family
___. I hope you will be persuaded that
I speak sincerely, and you will do me a favour
to avoid me. I shall excuse you taking the trouble
to answer this; yours letters are always full of
impertinence, and you have not a shadow of
wit and good sense, adieu! adieu! believe me
so averse to you that it is impossible for me ever
to be your most affectionate friend and humble
Servant. R. D. James
P.S. after reading the above, commence again on the first line, and read every alternate line to the end. Yours to a cinder Dick
V. McCullach
It is enough! Lord, when it pleaseth Thee from earth my soul release!
My Jesus comes! and from the world I flea, in Heaven shall I find peace.
I go my way in holy gladness; all grief is o'er all worldly sadness. It is enough! It is enough!
Look and see as you pass by, As you are so once was I,
As I am now you're sure to be, Prepare for death and follow me.
To follow you I'm not content, Until I know which way you went.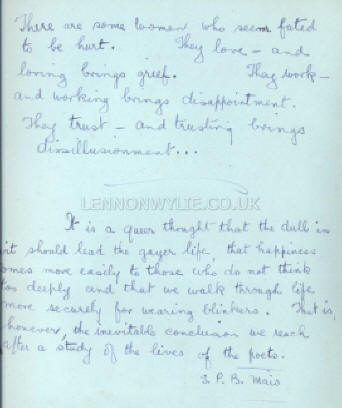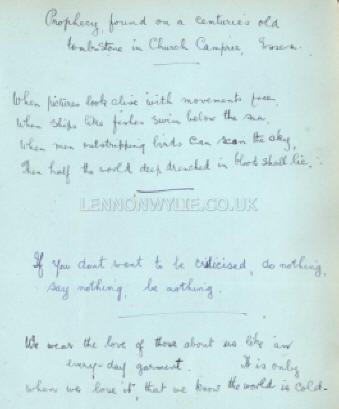 There are some women who seem fated to be hurt. They love - and loving brings grief. They work - and working brings disappointment. They trust - and trusting brings disillusionment.
It is a queer thought that the dull in wit should lead the gayer life, that happiness comes more easily to those who do not think too deeply and that we walk through life more securely for wearing blinkers. That is, however, the inevitable conclusion we reach after a study of the lives of the poets. S. P. B. Mais
Prophecy found on a centuries old tomb-stone in Church Camprie, Essex
When pictures look alive with movements free, When ships like fishes swim below the sea,
When men outstripping birds can scan the sky, Then half the world deep drenched in blood shall lie.
If you don't want to be criticised, do nothing, say nothing, be nothing.
We wear the love of those about us like an every day garment. It is only when we lose it that we know the world is cold.
Evening Tele 8th Sept. 1937 - Swans at Funeral of Benefactor - In Vicinity of Belfast - Spent Night on Grave
From Glengormley, near Belfast, comes an amazing story of the gratitude of three swans. For several seasons the swans have been "in residence" at a pond near Hydepark, and one of the residents was in the habit of feeding them daily. A few days ago their benefactor died, but he was not forgotten by the birds he had befriended. When his remains were removed from his home to be laid to rest at Mallusk Graveyard the three swans sadly followed in the wake of the mourners. After the grave had been filled in and the friends had left the cemetery the three swans then paid their final tribute to the memory of the departed. Covering the grave with a mantle of white the swans sat side by side throughout the long hours until the following morning, when they left the cemetery. Apparently they have taken up their abode in new surroundings, as they have not yet returned to their former haunt. The story is vouched for by Mr. B. Pullan, chief of Messrs. Pullan & Co.'s mill, Roughfort, Glengormley, and also by the caretaker of the cemetery.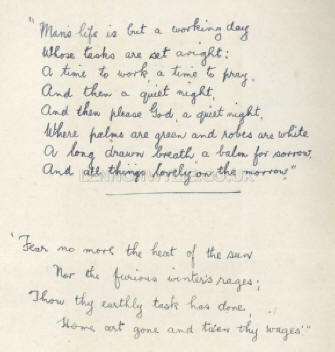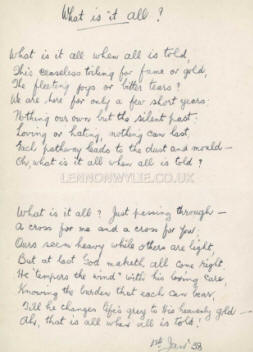 "Mans life is but a working day, Whose tasks are set aright;
A time to work, a time to pray, And then a quiet night,
And then please God, a quiet night, Where palms are green and robes are white,
A long drawn breath, a balm for sorrow, And all things lovely on the morrow"
"Fear no more the heat of the sun, Nor the furious winter's pages;
Thou thy earthly task has done, Home art gone and ta'en thy wages"
What is it all?
What is it all when all is told, This ceaseless toiling for fame of gold,
The fleeting joys or bitter tears? We are here for only a few short years.
Nothing our own but the silent past, Loving or hating, nothing can last,
Each pathway leads to the dust and mould, Oh, what is it all when all is told?
What is it all? Just passing through - A cross for me and a cross for you,
Ours seem heavy while others are light, But at last God maketh all come right.
He "tempers the wind" with his loving care, knowing the burden that each can bear,
Till he changes life's grey to his heavenly gold - Ah, that is all when all is told! 1st January 1938
When the stroke that we dread is long delayed, we quiet our fears by whispering to our hearts that it will not fall, by assuring ourselves that the danger is past; and so we smile again; but even while the smile is fluttering on our lips, suddenly comes the blow, and the smile passes for ever from our faces. May 1938 Irene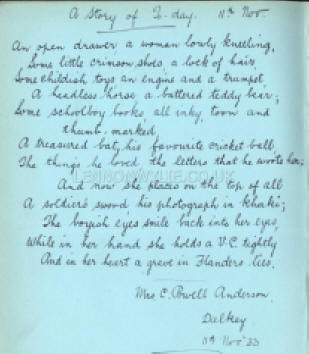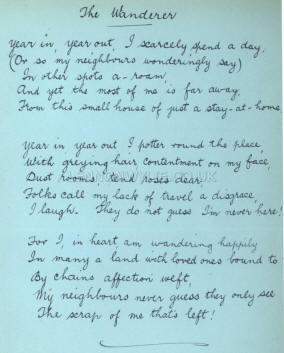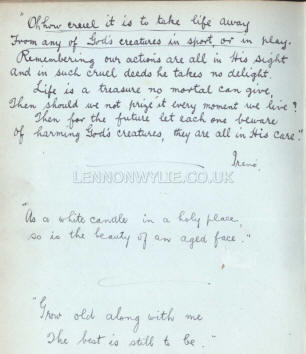 A Story of To-day 11th November
An open drawer, a woman lowly kneeling, Some little crimson shoes, a lock of hair,
Some childish toys, an engine and a trumpet, A headless horse, a battered teddy bear;
Some schoolboy books, all inky, torn and thumb marked, a treasured bat, his favourite cricket ball,
The things he loved, the letters that he wrote her; And now she places on the top of all.
A soldier's sword, his photograph in khaki; The boyish eyes smile back into her eyes,
While in her hand she holds a V.C. tightly, And in her heart a grave in Flanders lies. Mrs. C. Powell Anderson, Dalkey, 11th Nov. '33
The Wanderer - year in, year out, I scarcely spend a day. (Or so my neighbours wonderingly say)
In other spots a-roam, and yet the most of me is far away, from this small house of just a stay-at-home.
year in, year out, I potter round the place, with greying hair, contentment on my face,
Dust rooms, tend roses dear, Folks call my lack of travel a disgrace, I laugh, they do not guess I'm never here!
For I, in heart, am wandering happily, In many a land with loved ones bound to, By chains affection weft,
My neighbours never guess they only see, the scrap of me that's left!
"Oh how cruel it is to take life away from any of God's creatures in sport or in play.
Remembering our actions are all in His sight and in such cruel deeds he takes no delight.
Life is a treasure no mortal can give, Then should we not prize it every moment we live?
Then for the future let each one beware of harming God's creatures, they are all in His care" Irene
"As a white candle in a holy place, so is the beauty of an aged face"
"Grow old along with me, they best is still to be"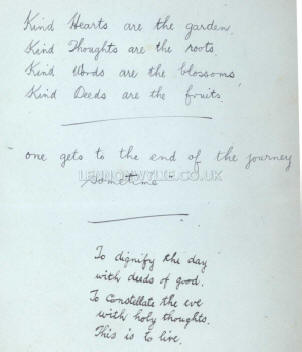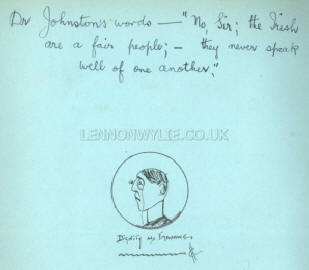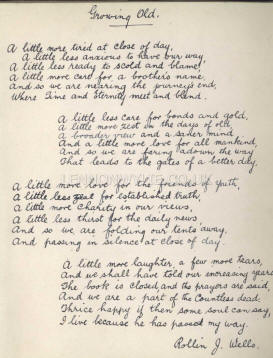 Kind hearts are the garden, Kind thoughts are the roots,
Kind words are the blossoms, Kind deeds are the fruits.
"one gets to the end of the journey sometime"
To dignify the day with deeds of good.
To constellate the eve with holy thoughts, this is to live.
Dr. Johnston's words - "No, Sir; the Irish are a fair people; - they never speak well of one another"
Dignity and Impudence C.H.
Growing Old
A little more tired at close of day, A little less anxious to have our way,
A little less ready to scold and blame, A little more care for a brother's name,
And so we are nearing the journey's end, where time and eternity meet and blend.
A little less care for bonds and gold, A little more zest in the days of old,
A broader view and a saner mind, And a little more love for all mankind,
And se we are faring adown the way that leads to the gates of a better day.
A little more love for the friends of youth, A little less zeal for established truth,
A little more charity in our views, A little less thirst for the daily news,
And so we are folding our tents away, and passing in silence at close of day.
A little more laughter, a few more tears, and we shall have told our increasing years,
The book is closed, and the prayers are said, and we are a part of the Countless dead.
Thrice happy if then some soul can say, I live because he has passed my way. - Rollin J. Wells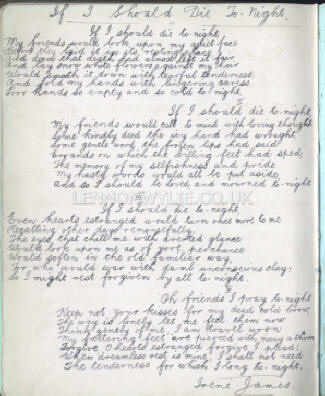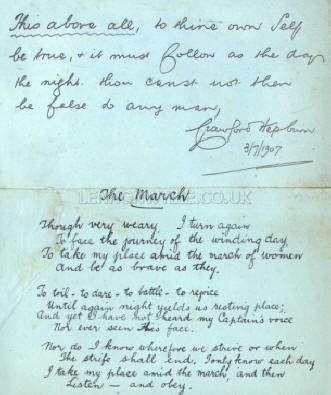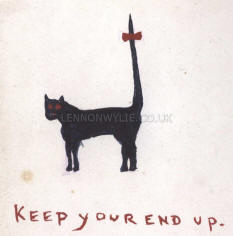 If I Should Die To-Night
If I should die to-night, my friends would look upon my quiet face before they laid it in its resting place,
And deem that death had almost left it fair and lay snow white flowers against my hair,
Would smooth it down with tearful tenderness and fold my hands with lingering caress,
Poor hands so empty and so cold to-night
If I should die to-night, my friends would call to mind with loving thought some kindly deed the icy hand had wrought,
Some gentle word the frozen lips had said, errands on which the willing feed had sped,
The memory of my selfishness and pride, my last words would all be put aside
And so I should be loved and mourned to-night.
If I should die to-night, even hearts estranged would turn once more to me, recalling other days remorsefully,
The eyes that chill me with averted glance would look upon me as of yore perchance,
Would soften in the old familiar way, for who would war with dumb unconscious clay,
So I might rest forgiven by all to-night.
Oh friends I pray to-night, keep not your kisses for my dead cold brow, the way is lonely, let me feel them now,
Think gently of me, I am travel worn, my faltering feet are pierces with many a thorn,
Forgive, O hearts estranged, forgive I plead; when dreamless rest is mine, I shall not need,
The tenderness for which I long to-night. Irene James
This above all, to thine own self be true, & it must follow as the day the night thou canst not then be false do any man - Crawford Hepburn 3/7/1907
The March
Though very weary, I turn again, to face the journey of the winding day,
To take my place amid the march of women, and be as brave as they.
To toil - to dare - to battle - to rejoice, until again night yields us resting place;
And yet I have not heard my Captain's voice, Nor ever seen His face.
Nor do I know wherefore we strive or when, The strife shall end, I only know each day,
A take my place amid the march, and then Listen - and obey.
Keep your end up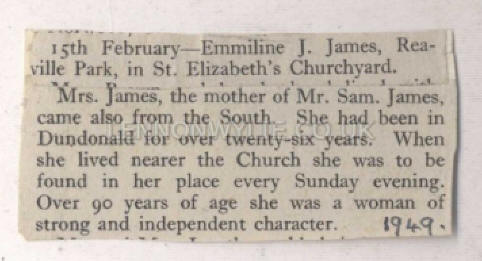 15th February - Emmiline J. James, Reaville Park, in St. Elizabeth's Churchyard.
Mrs. James, the mother of Mr. Sam. James, came also from the South. She had been in Dundonald for over twenty-sex years. When she lived nearer the Church she was to be found in her place every Sunday evening. Over 90 years of age she was a woman of strong and independent character. 1949