ALBIN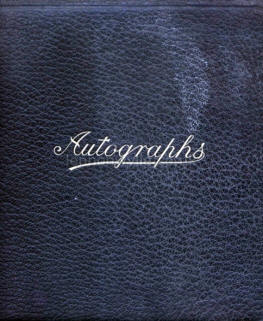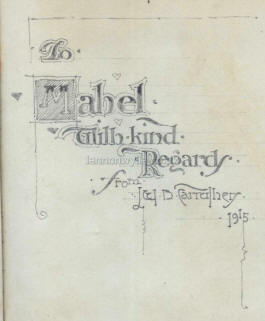 To Mabel with kind Regards from L. W. B. Carraghey 1915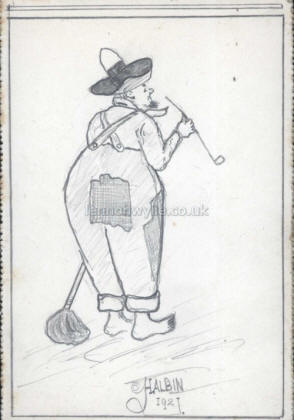 H. Albin 1921 W. Fletcher Sealon Oct. 16th 1916
Feeling fed Up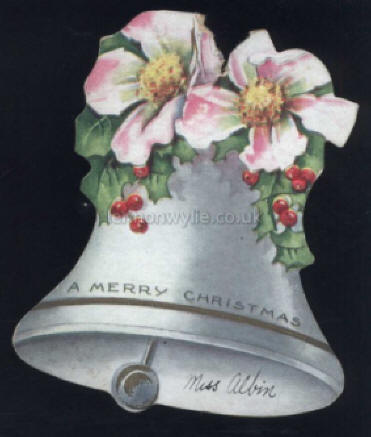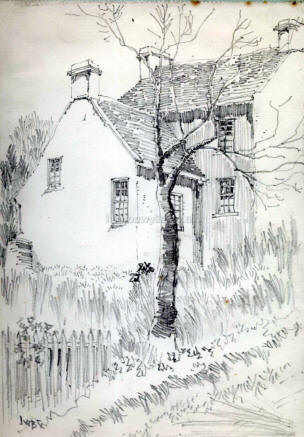 Miss Albin L.W.B.C.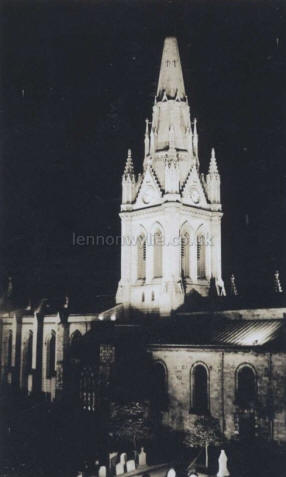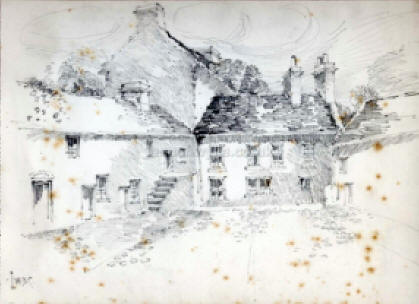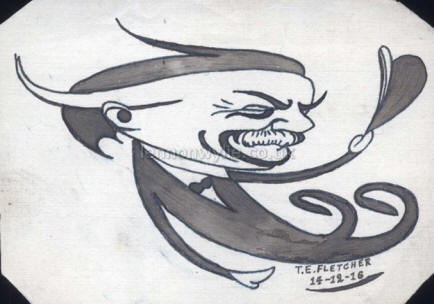 L.W.B.C. T. E. Fletcher 14-12-16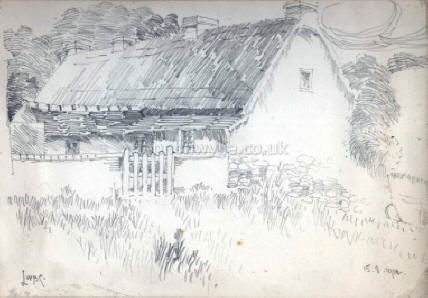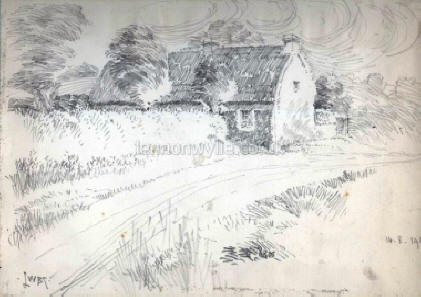 L.W.B.C. 15.8.1912 L.W.B.C. 14.8.1912
++++++++++++++++++++++++++++++++++++++++++++++++++++++++++++++++++++++
MANN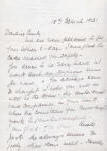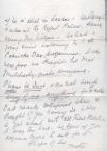 18th March 1931 Miss Frances Mann, c/o Mahon's Office, St. Thomas' Hospital, London
from 1 Howard Terrace, Dungannon, Co. Tyrone
Darling Curly, We are very pleased to get your letters to-day. I am glad the cake reached you safely - you seem to be very hard at work such an anxious ___? you have & you always seem so cheerful. I hope you will do well in the exam - the Sister must have confidence in your work when she considers you know enough work to pass successfully, I am glad you saw Uncle Jack, he always seems so jolly & has done well - I wonder if he is still in London - Mr. Darragh is also at The Regent Palace, fancy seeing Mr. Wilson. We had a great time listening in to St. Patricks Day programme. It was very poor we thought ??? ??? Mulchachy quite amusing. Please be sure & do not send any of us anything for Easter. Dad nearly collapsed when he thought of you having so little to get about with all these months, it was too bad. Be sure if you require more to ask for it. Heaps of Love. Mother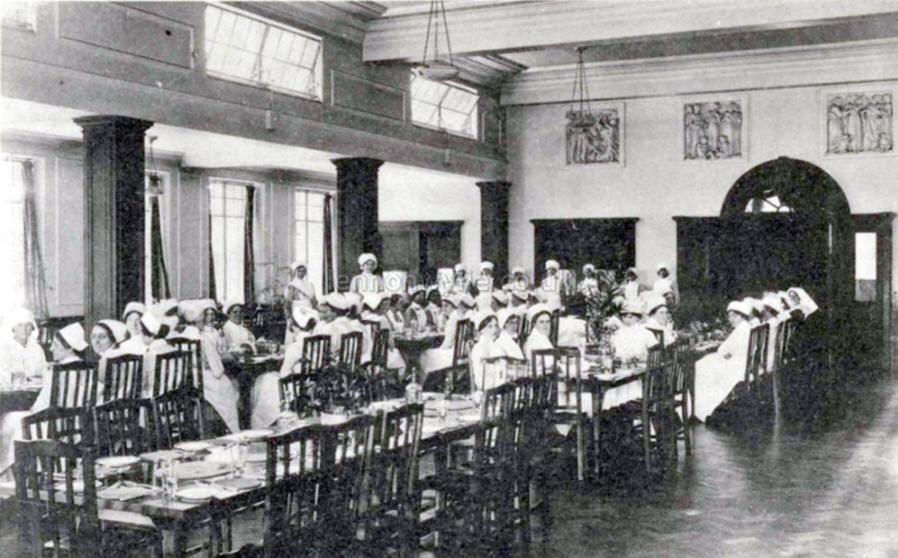 St. Thomas's Hospital Nurses Dining Room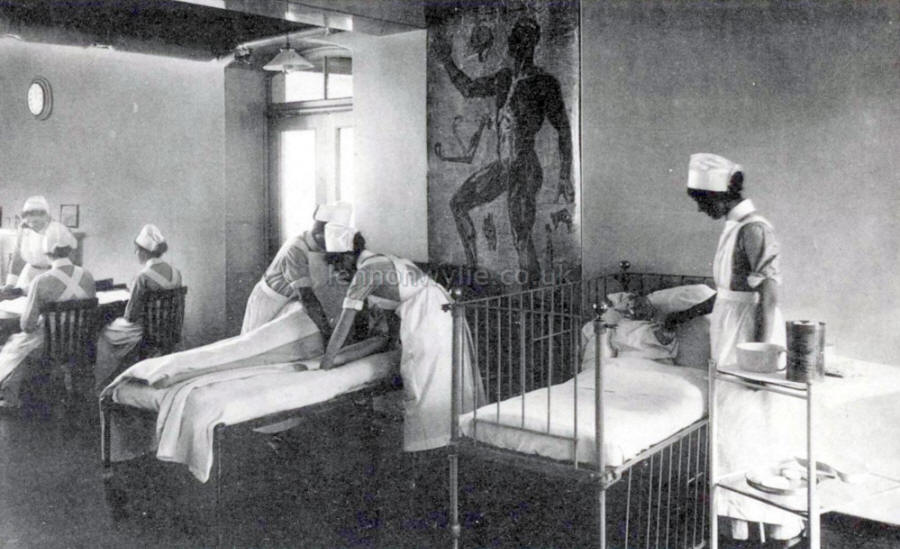 St. Thomas's Hospital Preliminary Training School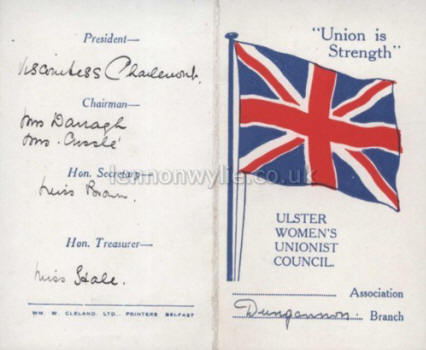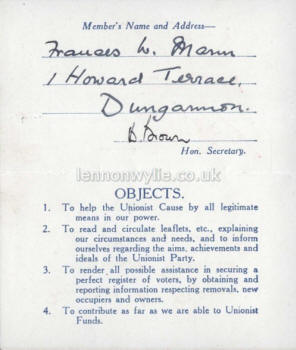 Ulster Women's Unionist Council
President - Viscountess Charlemont Chairman - Mrs. Darragh, Mrs. Crissle or Cussle
Hon. Sec. - Miss Brown Hon. Treas. - Miss Hall Dungannon Branch
Member's Name and Address - Frances W. Mann, 1 Howard Terrace, Dungannon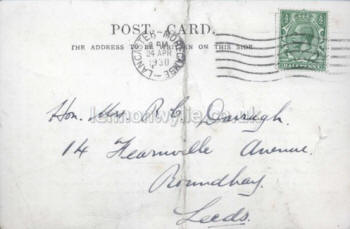 24th April 1930 Postmark Lancaster - Morecambe
Hon. Mrs. R. C. Darragh, 14 Fearnville Avenue, Roundhay, Leeds
from London Midland and Scottish Railway Company



Frances W. Mann 1917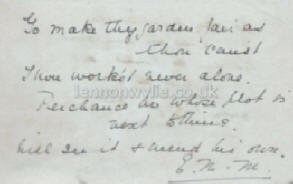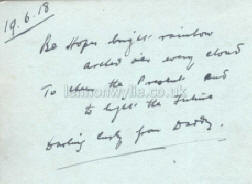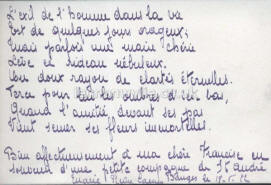 1 2 3
1) To make thy garden fair as thou canst, Thou works never alone, Perchance we whose plot is next to thine, Will see it & weed his own E.N.M.
2) 19.6.18 to Darling Curly from Daddy
3) Marie Renee Eamon? 18-5-18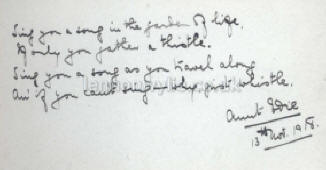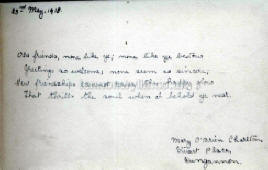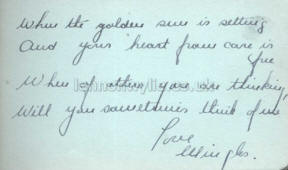 1 2 3
1) Sing you a song in the garden of life, If only you gather a thistle, Sing you a song as you travel along, And if you can't sing - why, just whistle. Aunt Edie 13th Nov. 1918
2) 23rd May 1918 Old friends, none like ye; none like ye bestow, Greetings so welcome; none seem so sincere; New friendships cannot erase the happy glow That thrills the soul when it behold ye near. Mary O'Brien Charlton, Stuart Place, Dungannon
3) When the golden sun is setting, And your heart from care is free, When of others you are thinking, Will you sometimes think of me. Love (squiggles)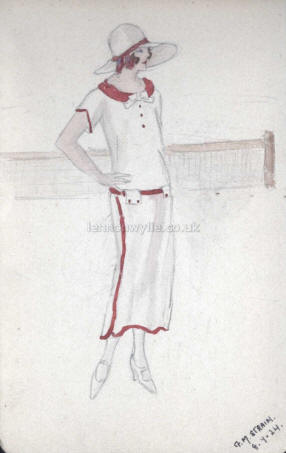 G. M. Strain 8.7.24 Joan I. Pedley
October 1921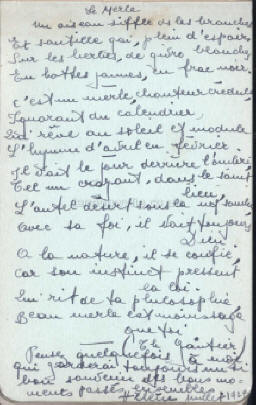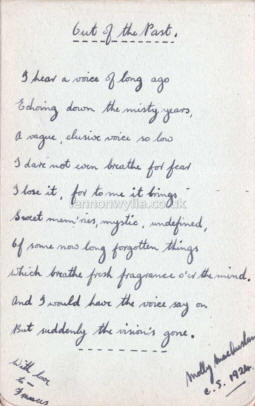 1 2 3
1) Helene Juillet? 1924
2) Cut of the Past - I hear a voice of long ago, Echoing down the misty years, A vague, elusive voice so low, I dare not win breathe for fear, I lose it, for to me it brings, Sweet mem'ries, mystic, undefined, If some now long forgotten things, which breathe fresh fragrance o'er the mind. I would have the voice say on, But suddenly the vision's gone.
With love to Frances - Molly MacAuslan? ?. 8. 1924
3) Instructing her dolly in the art of going to sleep M.H. (e.s.) 1924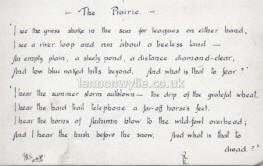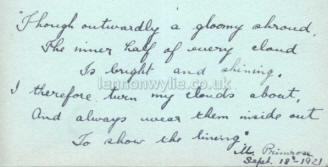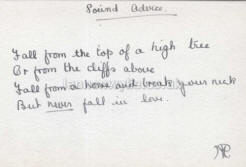 1 2 3
1) The Prairie - I see the grass shake in the sun for leagues on either hand, I see a river loop and run about a treeless land, An empty plain, a steely pond, a distance diamond-clear, And low blue naked hills beyond. And what is that to fear? I hear the summer storm outblown, the drip of the grateful wheat, I hear the hard trail telephone a far-off horse's feet, A hear the horns of Autumn blow to the wild-fowl overhead; And I hear the hush before the snow. And what is that to dread? R. K. I. or J. K. S. 12.9.20
2) "Though outwardly a gloomy shroud, The inner half of every cloud, Is bright and shining. I therefore turn my clouds about, And always wear them inside out, To show the lining" M. Primrose Sept. 18th 1921

3) Sound Advice - Fall from the top of a high tree, Or from the cliffs above, Fall from a horse and break your neck, But never fall in love. M. P.? or P. M.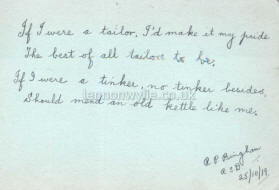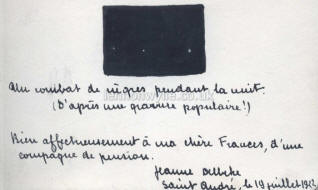 1 2 3
1) There was once a girl called Frances, Who liked very much going to dances, Her hair - well - twas red! But everyone said, That the best part of her were her glances. Oh Frances! Cheerio Yours Sada Eada Edda e.s. 1924
2) If I were a tailor, I'd make it my pride, The best of all tailors to be, If I were a tinker, no tinker besides, Should mend an old kettle like me. R. P. Bingham R.S.B. 25/10/19
3) Jeanne Delbeke?, Saint André, le 19 jiullet 1922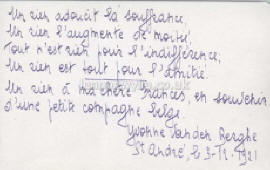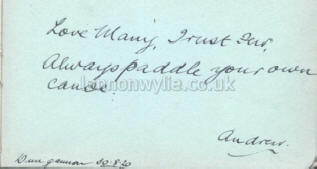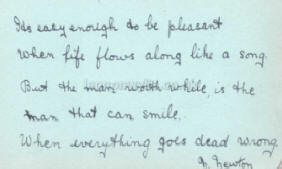 1 2 3
1) Yvonne Vanden Berghe, St. André, le 3-19-1921
2) Love many, trust few, Always paddle your own canoe. Andrew Dungannon 30.8.20
3) Its easy enough to be pleasant, When life flows along like a song, But the man worth while, is the man that can smile, When everything goes dead wrong. N. Newton.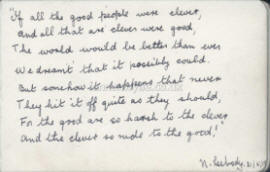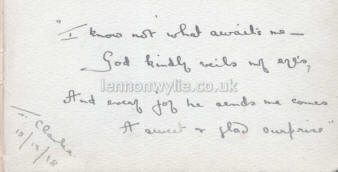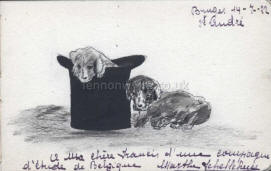 1 2 3
1) "If all the good people were clever, And all that are clever were good, The world would be better than ever, We dreamt that is possibly could. But somehow it happens that never, They hit it off quite as they should, For the good are so harsh to the clever, And the clever so rude to the good!" N. Leebody 31/5/19
2) "I know not what awaits me - God kindly veils my eyes, And every job he sends me comes, A sweet & glad surprise" J. Clarke 13/12/18
3) Bruges 14.7.22 St. André Martha Fehellehues?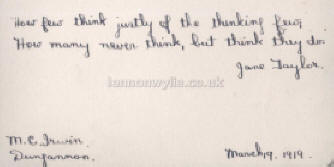 1 2 3
1) How few think justly of the thinking few; How many never think, but think they do. Jane Taylor M. C. Irwin, Dungannon. March 19. 1919
2) Tis beauty that doth oft make women proud; Tis virtue that doth make them most admired. Gerald Pimm, Guy's, London
3) Sweet Kate was heard one day to sigh, "With beauty lost I'd wish to die" "Oh no!" said Frank with humour quaint. "Not wish to dye but merely paint" Ella McFadzean c.s. or e.s.1920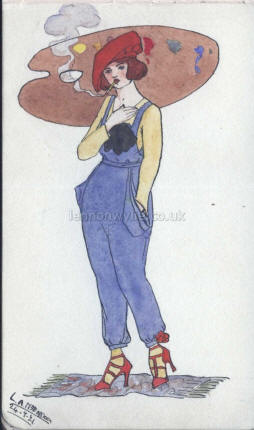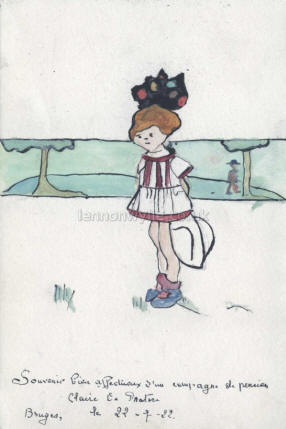 1 2 3
1) Portrait of Myself Sophie C. Eliott-Lynn 18.9.21
2) L. A. McEndoo? 24.9.21
3) Claire De? Pratere? Bruges, le 22.?.22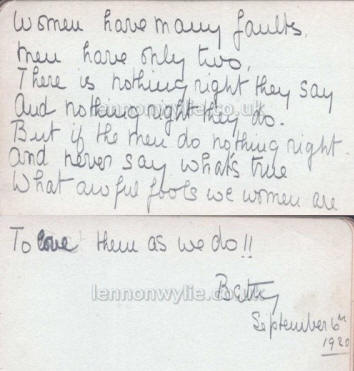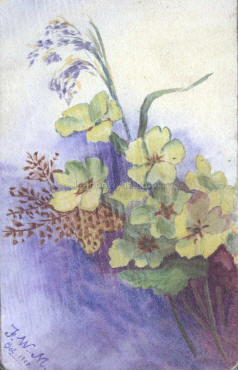 1 2
1) Women have many faults, Men have only two, There is nothing right they say, And nothing right they do.
But if the men do nothing right, And never say what's true, What awful fools we women are, To love them as we do!!
Betty September 6th 1920
2) F. W. M. Oct. 1918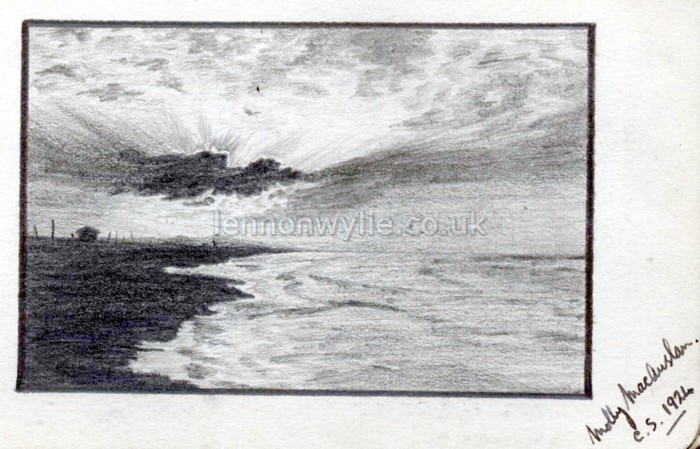 Molly MacAuslan e.s. 1924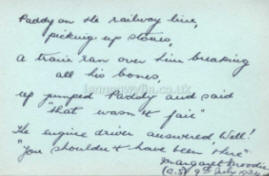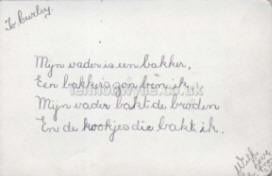 1 2 3
1) The world is so full of a number of things, I am sure we should all be as happy as kings. M. R. Dickson 9.7.34
2) Paddy on the railway line, picking up stones, A train ran over him breaking all his bones, Up jumped Paddy and said "that wasn't fair" The engine driver answered, Well! "you shouldn't have been there" Margaret Moodie (e.s. or c.s.) 9th July 1924
3) To Curley With Love from S. P. 1921?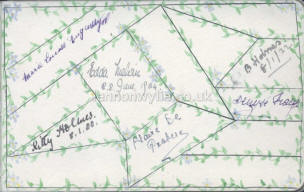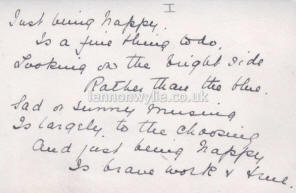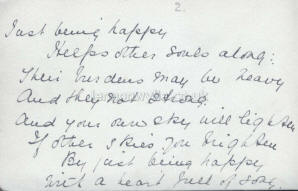 1 2 3
1) Marie Louise Dugardyn - B. Holmes 8/1/22 - Edda ? e.s. June 1924 - Kitty Holmes 8.1.22 - Claire De? Prabere? - Deuyse Tracys?
2) Just being happy, Is a fine thing to do, Looking on the bright side, Rather than the blue. Sad or Sunny musing, Is largely to the choosing, And just being happy, Is brave work & true.
3) Just be happy, Helps other Souls along; Their burdens may be heavy, And they not strong. And your own sky will lighten, If other skies you brighten, By just being happy, With a heart full of song.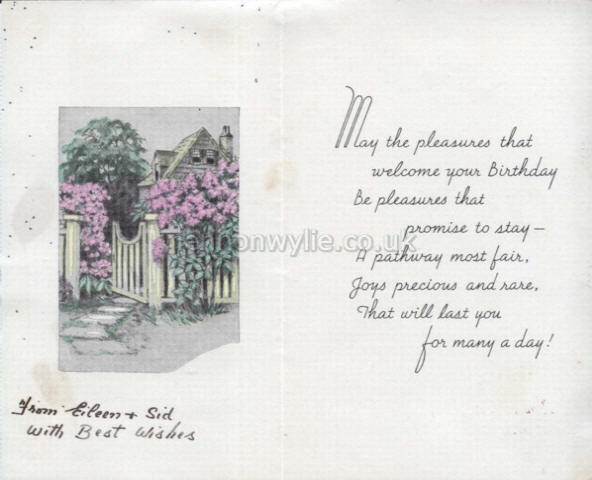 from Eileen & Sid with Best Wishes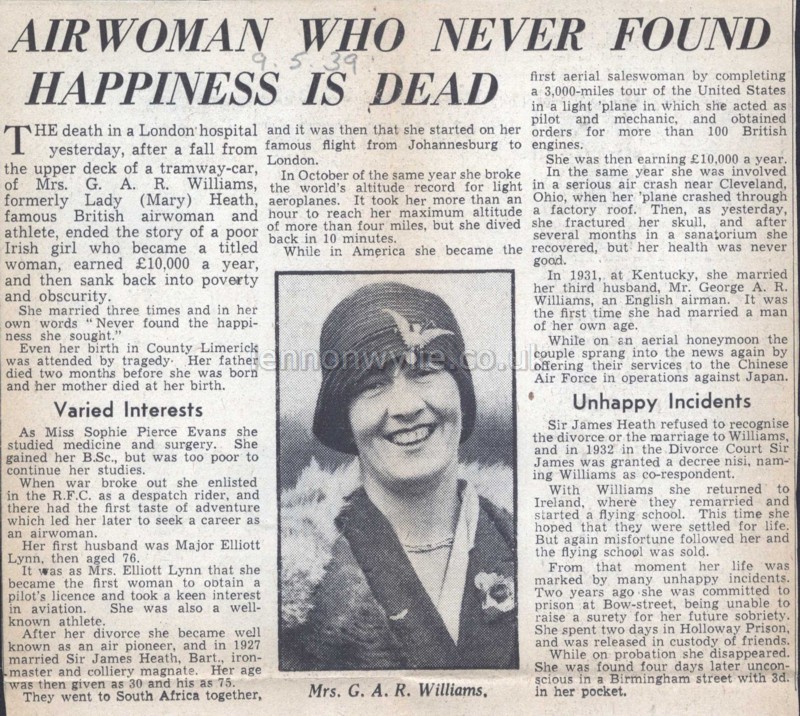 9th May 1939 - Airwoman who never found happiness is dead - Mrs. G. A. R. Williams
The death in a London hospital yesterday, after a fall from the upper deck of a tramway-car, of Mrs. G. A. R. Williams, formerly Lady (Mary) Heath, famous British airwoman and athlete, ended the story of a poor Irish girl who became a titled woman, earned £10,000 a year, and then sank back into poverty and obscurity. She married three times and in her own words "Never found the happiness she sought" Even her birth in County Limerick was attended by tragedy. Her father died two months before she was born and her mother died at birth.
Varied Interests.
As Miss Sophie Pierce Evans she studied medicine and surgery. She gained her B.Sc., but was too poor to continue her studies. When war broke out she enlisted in the R.F.C. as a despatch rider, and there had the first taste of adventure which led her later to seek a career as an airwoman. Her first husband was Major Elliott Lynn, then aged 76. It was as Mrs. Elliott Lynn that she became the first woman to obtain a pilot's licence and took a keen interest in aviation. She was a well-known athlete. After her divorce she became well known as an air pioneer, and in 1927 married Sir James Heath, Bart., iron master and colliery magnate. Her age was then given as 30 and his as 75. They went to South Africa together, and it was then that she started on her famous flight from Johannesburg to London. In October of the same year she broke the world's altitude record for light aeroplanes. It took her more than an hour to reach her maximum altitude of more than four miles, but she dived back in 10 minutes. While in America she became the first aerial saleswoman by completing a 3,000 miles tour of the United States in a light 'plane in which she acted as pilot and mechanic, and obtained orders for more than 100 British engines. She was then earning £10,000 a year. In the same year she was involved in a serious air crash near Cleveland, Ohio, when her 'plane crashed through a factory roof. Then, as yesterday, she fractured her skull, and after several months in a sanatorium she recovered, but her health was never good. In 1931, at Kentucky, she marries her third husband, Mr. George A. R. Williams, an English airman. It was the first time she had married a man of her own age. While on an aerial honeymoon the couple sprang into the news again by offering their services to the Chinese Air Force in operations against Japan.
Unhappy Incidents
Sir James Heath refused to recognise the divorce or the marriage to Williams, and in 1932 in the Divorce Court Sir James was granted a decree nisi, naming Williams as co-respondent. With Williams she returned to Ireland, where they remarried and started a flying school. This time she hoped that they were settled for life. But again misfortune followed her and the flying school was sold. From that moment her life was marked by many unhappy incidents. Two years ago she was committed to prison at Bow Street, being unable to raise a surety for her future sobriety. She spent two days in Holloway Prison, and was released in custody of friends. While on probation she disappeared. She was found four days later unconscious in a Birmingham street with 3d. in her pocket.
+++++++++++++++++++++++++++++++++++++++++++++++++++++++++++++
SKETCH PAD - no name