Anderson Auto. Book
this Page One go to Page Two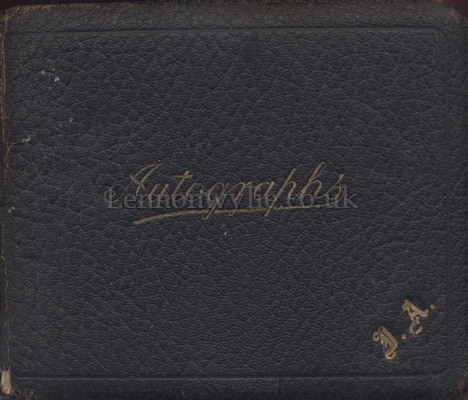 Isabel Anderson 2nd November 1915
purchased at auction 15/12/2016






1 2 3 4 5
1) Wherever you go by hook or by crook? Beware of the girl with the "Autograph Book" Ro B 15/11/13
2) If writing in Albums, Remembrance insures, With the greatest of pleasure, I'll scribble in yours. James A. Hunter, Holywood, Co. Down. 9-11-15
3) You find the Links & make a "tee," Then place the ball there as you see, And hit it hard as hard can be, That's Golf. (Clifton Bingham) Still I like it . . . Still delight to sing, Clubs, players, caddies, Balls and everything. Isabelle Anderson, Belfast
4) "Sailor's Knots." E. M.? 14/4/192?
5) 14th April 1920 I wish for you weather delightfully sunny, A heart full of love, & a purse full of money, And when you are ready to settle in life, May you find a good husband or Make a good wife. E. Uprichard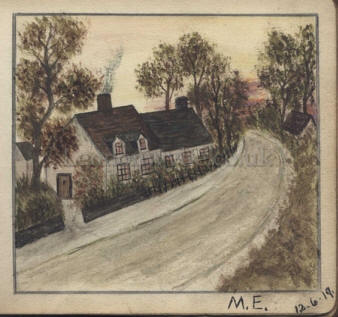 1 2 3 4 5
1) It isn't the man who knows the most, That has the most to say, It isn't the man who has the most, That gives the most away. B.A. May 1918
2) Love. The night has a thousand eyes, And the day but one; Yet the light of the bright world dies, With the dying sun. The mind has a thousand eyes, And the heart but one; Yet the light of a whole life dies, When love is done. C. Stitt, Bangor 20/10/19
3) Love many, trust few, Always paddle your own canoe. Its better to have loved and lost, Than never to have loved at all. Lis or Sis Rodgers, Comber 1.10.17?
4) Before going to war pray once, Before going to sea pray twice, Before getting married pray three times, And then prepare for the worst. M. C. 12/11/15
5) M. E. 12.6.19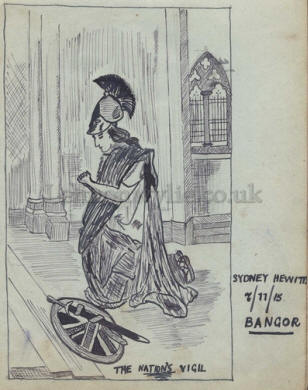 1 2 3 4 5
1) Never trust a man girls, Not even a brother, Girls if you must love, Love one another. Sis Rodgers, Comber 7.10.17 Do you do that Sis. M. G.
2) Our life exempt from public haunt, Finds tongues in trees, books in the running brooks, Sermons in stones, and good in everything.
3) The Musician's Dinner. R. G. "beef and cabbage"
4) The Nation's Vigil. Sydney Hewitt 7/11/15 Bangor
5) Never trouble, trouble, Till trouble, troubles you, For you'll only double trouble, And trouble others too. ? ?








1 2 3 4 5
1) Of all the girls in our town, The black, the fair, the red, the brown, That dance & prance it up & down, There's none like Belle Anderson. F. Barton 12/11/15 Drumclay House, Enniskillen
2) February '18 -
Dear Belle, The great love I have hitherto expressed for you
is false, & I find my indifference towards you
increases daily. The more I see of you the more
you appeal in my eyes an object of contempt.
I feel myself everyway disposed & determined
to hate you. Believe me. I had never any intention
to offer you my hand. Our last conversation had
left a tedious insipidity, which has by no means
given me the most exalted idea of your character,
your temper would make me extremely unhappy,
& if we are united I shall experience nothing but
the hatred of my parents added to the ever lasting dis
pleasure of living with you. I have indeed a heart
to bestow, but I do not desire you to imagine it
at your service. I could not give it to anyone more
inconsistent & capricious than yourself, and less
capable to do honour to my choice family.
Yes! I hope you will be persuaded that
I speak sincerely, & trust that you will do me the favour
to avoid me. I shall excuse you taking the trouble
to answer this, your letters are always full of
impertinence, & you have not a shadow of
wit & good sense. Adieu Adieu, believe me
I am so adverse to you that it is impossible for me
ever to be your most affectionate friend.
A. Chump.
To interpret the above correctly, commence again on the first line & read every alternate line to the end.
C. McC.
3) By gum it stuck. W. M. C.
4) Good Advice. Be a good girl, Lead a good life, Get a good husband, And make a good wife. W. M. Connell 25/11/15
5) Blessed is the man that sitteth on a tin tack, For he shall surely rise. March 24th 19. E. R. S.?







1 2 3 4 5 6
1) Belfast 17th November 1915. "No star is lost we ever yet have seen, We always may be what we might have been." Jas. B. Bowers? Burns?
2) Motto. The inner side of every cloud is bright & shining, I therefore turn my clouds about, And always wear them inside out to show the linings. March 24th 1919. E. P. S.?
3) Remember me when at the tub, Remember me with every rub, And if the suds they are too hot, Lather away and forget-me-not. Hubert Anderson, 17 Lomond Avenue
4) As sure as comes your wedding day, A broom to you I'll send, In sunshine use the brushy part, In storm the other end. M. M. S.
5) May she to whom this book belongs, Light trouble have, if any, Her hours of grief may they be few, Her happy moments many. May Burns, Belfast 18.11.15
6) Shure An'I Can't Starve. E. M. A. 23/10/17










1 2 3 4 5 6 7 8
1) Belle now Belle ever, Anderson now but, not for ever. Katie Mawhinney 27.11.15 P.S. In years to come, when this you see, I wonder what your name shall be. I. C.
2) Build a little homely house, And fence it round about, With Quietude and Happiness, To keep the trouble out. All the walls are Thankfullness, All the planks are Prayer, Faith and trust keep off the rust, That comes of anxious care. Hope's the roof that shelters you, From every wind of wrong, And Love's own light on the hearth burns bright, To warm you all day long. May L. Waugh 26/7/1918
3) Out of the fields of Remembrance, Out of the years that have been, Garnered is all the harvest, But the loveliest sheaf I glean. Rich with a brightness unfading, Ripened by sunlight and dew, Is the golden sheaf of my wishes, That are one with the thought of you. My Wish. Many happy years, unbroken friendships, and cheerful recollections. J. Mitchell 20/11/19
4) 24th March 19 The passions can seldom be trusted, The heart often: the head always, Never say die, never tell a lie, never put your finger in other people's pie. E. P. S.
5) Courtesy is the oil in the machinery of social life, It is necessary for comfort, and it helps to make people happy. L. McKimm, Belfast 20/11/19
6 & 7) Please do not turn this leaf over! There! I knew you were all curiosity. N. A.
8) Love. The love that comes the slowest, Is the slowest to depart, So the whisper spoken lowest, Goes nearest to the heart. N. McKeown, Bangor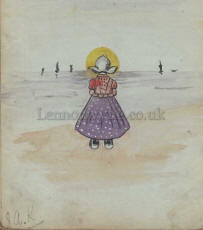 1 2 3 4 5 6 7 8
1) To write in your Album, dear friend do you ask, Ah well - it is not such a difficult task, For all I can say is contained in one line, May the blessings of Heaven for ever be thine. E. Cathcart, "The Chestnuts" Whitehead. 7/8/18
2) Remembrance. I've searched these pages o'er and o'er, To see what others wrote before, So in this quiet little spot, I here inscribe for-get-me-not. 25/11/15 H. McCloy, Bangor, Co. Down
3) Latin as she is spoke. I. Girlibus sittibus in servatorum, Boyibus comeabus in at the doorum, Armabus wundabus little waistorum, Boyibus kneelibus down on the floorum, Tryibus kissibus sweet girliorum. II. Fatheribus passibus outside the doorum, Hearibus kissibus sweet girliorum, Stampabus swearibus, tableau vivorum, Kickabus boyibus out by the doorum, Boyibus comeabus never no morum. C. V. S. Whiteabbey 7 VIII 18
4) The happiest time of any man's life, Is when he is clasped in the arms of Another man's Wife. (His Mother) F. C.
5) This time next year, Where shall we be, Shall I see you, Or shall you see me. A Business Pal. Remember me when far away, And only half awake, Remember me on your wedding day, And send me a piece of your cake. F. Barton Drumclay House, Enniskillen
6) O, Love for a week, for a year, or a day. But give me the Love, That loveth alway. J. M. 20.11.19
7) Smile a little, smile a little, As you go along, Not alone when life is pleasant, But when things go wrong. Care delights to see you frowning, Love's to hear you sigh, Turn a smiling face upon her, Quick the dame will fly. Smile a little, smile a little, All along the road, Every life must have its burden, Every heart must have its load? Why sit down in gloom & darkness, With your grief to sup, As you drink fates bitter tonic, Smile across the cup. M. Barton. 12/11/15
8) J. A. K.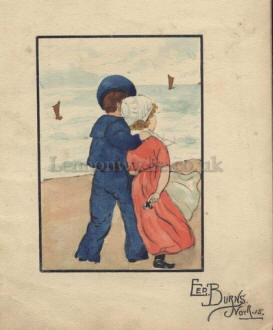 1 2 3 4 5 6 7
1) I am not denying that women are foolish, God made them to match the men. V. Annett 14/4/20
2) Here's to the ship that sails the sea, And here's to them that's in her, And here's to you and I my dear, And every new beginner. J. ????
3) If all the world was paper, And all the sea was Ink, I ne'er could ne'er could ne'er could write, The praises of Belle Anderson
4) Ted? Burns Novr. 15
5) A woman spends twenty years to make a man of her son, A woman makes a fool of him inside twenty minutes. J. H. B.
6) Sunshine. When a bit of sunshine hits ye, After passing of a cloud, When a fit of laughter gits ye, An' yer' spine is feelin' proud, Don't forgit to up and fling it, At a soul that's feelin' blue, For the minit that ye sling it, It's a boomerang to you. 25th Nov. 1915. Florence I. Connolly, Belfast
7) "Music, when soft voices die, vibrates in the memory"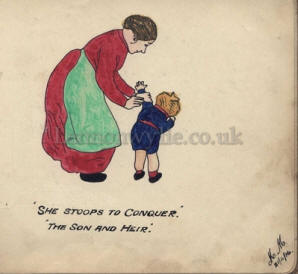 1 2 3 4 5 6
1) If I should write, you'd only laugh, So I merely sign my autograph. Daisy Brown, Donaghadee 22/1/16
2) Here's to all those that I love, And here's to all those that love me, And here's to all those that love those that I love, And here's to all those that love me. J. Prenter 18 July 1917
3) 'She stoops to Conquer,' 'The son and Heir' N. M. 21/4/16
4) Maiden, that readest this simple rhyme, Enjoy thy youth, it will not stay; Enjoy the fragrance of thy prime, For O, it is not always May? Enjoy the Spring of Love and youth, To some good angel leave the rest, For Time will teach thee soon the truth, There are no birds in last year's nest. Nettie McAdam 5th August 1918
5) The way of transgressors is hard, but its not lonesome. J. W. A.
6) What? Write in this book! Where critics look, And gentlemen spy, Nor I! Nor I! Sadie Brown, Donaghadee 22/1/16










1 2 3 4 5 6 7 8
1) It is easy enough to be pleasant, When life flows along like a song, But the man worth while is the man who will smile, When everything goes dead wrong. For the test of the heart is trouble, And it always comes with the years, And the smile that is worth the praise of men, Is the smile that comes through tears. A. Jackson, 20 July 1917, Strandtown, Belfast
2) Courage is a virtue one can never spend, So let it be with you or me until The very end. Maude Arnold 17/11/19 Belfast
3) Little drops of whisky, Little drops of stout, Make a man's complexion, Travel to his snout. Rita Craig 11/1/16 62 Ardenlee Avenue, Belfast
4) May the wings of love, Ne'er lose a feather, 'Till your old Shoes, And my old Boots, Are under the bed together. W. N. H.?
5) For the Knuts, Your King and country need you. E. Anderson, 8th Novr. '15
6) When the evening sun is sinking, And from cares your mind is free, When of distant friends your thinking, Will you sometimes think of me. Isabel Maxwell 7th August 1918
7) Noble Service. We cannot all be heroes, And thrill a hemisphere, With some great daring venture, Some deed that mocks at fear; But we can fill a lifetime, With kindly deeds and true, There is always noble service, For noble souls to do. N. Ervine, Belfast 1919
8) Eva Rodgers, Comber 8/11/17