WW1 Soldiers database 8th Index WW2 Soldiers database
streets (at) marylennon.co.uk
Living Roll of Honour
these are the names of the remaining (original) men of the 8th Belfast HAA
and then there were 3 ...
Jim Lennon 1919 (100)
Herbert Coulter 1916 (103)
Tommy Dickson 1916 - 2012
Bertie Goodwin 1919 - 2013
Billy Bickerstaff 1920 - 2016
Jim Brennan 1920 - 2020
John Houston 1919
~~~~~~~~~~~~~~~~~~~~~~~~~~~~~~~~~~~~~~~~
WW1 Soldiers database 8th Index WW2 Soldiers database
streets (at) marylennon.co.uk
latest news -
and then there were 4.....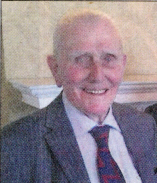 we have lost another of the 8th Belfast men, William 'Billy' Bickerstaff sadly passed away suddenly on the 10th April 2016
~~~~~~~~~~~~~~~~~~~~~~~~~~~~~~~~~~~~
and then there were 5.....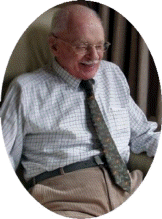 another sad loss for the family of the 8th Belfast HAA, Bertie Goodwin, age 92, passed away on the 17th January 2013,
his daughter Susan told me that although his hearing had gone almost completely he still had his sense of humour and terrific memory.
He would have been 93 on the 17 February this year, we send our love and thoughts to Susan and her family at this sad time.
The Service is at Kingsdown Crematorium Swindon on Friday 1st February at 1500 hrs
~~~~~~~~~~~~~~~~~~~~~~~~~~~~~~~~~~~
and then there were 6...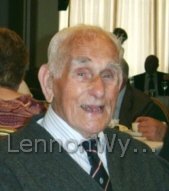 we lost Tommy Dickson on the 1st April 2012, he was 95 and he and my dad were good friends
(see photo below and go to the link for more)
Tommy always had the happiest smiliest face, he was deaf as a door post and just smiled and nodded no matter what you said to him, I feel very sad that he is gone and to his daughter Maureen I send a big hug
~~~~~~~~~~~~~~~~~~~~~~~~~~~~~~~~~~~
Lots of photos here of .....the final Burma Star Belfast Parade on the 65th Anniversary of VJ Day- 15th August 2010
~~~~~~~~~~~~~~~~~~~~~~~~~~~~~~~~~~~
Photos now online of the Service and afterwards at the Lansdowne Court Hotel and it was lovely to meet so many of the people who have contacted by email over the past couple of years, a great day weatherwise and wonderful turnout and a good time was had by all, lots of chatting and standing about, anyone who showed me photographs of their soldiers, please send them so I can put them on the site, also anyone who took photos on Sunday, either at St. Anne's or in the Lansdowne I would love copies of them, they don't have to be professional standard -- Mary
Published Date: 04 October 2010
Burma veterans mark end of era
By Staff reporter

SECOND World War veterans yesterday gathered for the final time for a poignant service of remembrance. Up to 20 members of the Belfast branch of the Burma Star Association were joined by family, friends and dignitaries for a special ceremony at St Anne's Cathedral in the city, as the standard of the organisation was officially laid up for safekeeping. Like many of their counterparts in the rest of the UK before them, a decision was taken to bring the curtain down on a proud association, due to a combination of dwindling numbers and the increase in the average age of members.
The Burma Star Association was formed in 1952, bringing together local members of the Army, Navy and Royal Air Force who fought in the Far East during the six-year conflict. At its inception, the association registered a total of 154 members. Its standard was dedicated in St Anne's in April the following year. Hymns and lessons used during that event formed yesterday's order of service. The service of remembrance and thanksgiving was officiated by Dean Houston McKelvey.
In his address, he paid tribute to the veterans in attendance as well as those who paid the ultimate sacrifice in the battlefields of the Far East.
"You, the members of the Burma Star Association and your comrades from the association who have gone before... You have kept the faith with those who fell in action, with those who died in captivity, with those who later suffered for their service," he said. "So, please do not leave this place feeling depressed or downhearted by the inevitable passage of time. "Rather, shoulders back, heads up - You have kept faith with your comrades, and before God and man, I say - 'Well done. Mission accomplished in war and peace. Thank you. God speed.'"
Dignitaries at the special service included Belfast lord mayor, Pat Convery, alongside the respective mayors of Newtownabbey and Bangor. The Burma Star Association previously received the freedom of the latter two council areas. Ulster Unionist MLA Danny Kinahan, whose father Sir Robin served in Burma, read a lesson during the service. Speaking prior to the service, Brian Rodgers, president of the NI branch of the Burma Star Association, revealed that people had travelled from as far away as Canada and the United States to be in attendance. While emphasising the occasion would mark the "end of an era", the former serviceman also maintained the event was memorable. "I happen to be the youngest member and it is sad because I see the older members, with their disabilities and so forth, but their interest and allegiance to the association is remarkable," he said.
In August, the last Burma Star Association commemoration parade took place in Belfast to mark the anniversary of Victory over Japan Day (V.J. day).
Commenting on future events, Mr. Rodgers said: "Those of us who can will still observe V.J. Day and will lay a wreath, but there will be no parade."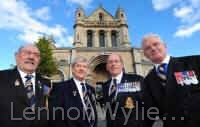 Burma campaigners George McFerran, Andy Weir, Harry Sharkey and Tony Baker before the service
~~~~~~~~~~~~~~~~~~~~~~~~~

"On October 3rd, 2010 at 3.30 pm, Dean Houston McKelvey will be holding a service during which the Standard of the
Belfast Branch of the Burma Star Association will be laid up in St. Anne's Cathedral, Belfast

"We would like as many people as possible with family links to those who served to be present in the Cathedral.
Please contact us by sending an e-mail to admin@belfastcatheral.org or a SAE and we will be in touch".

The close links between the Cathedral and the Burma Campaign are symbolised by the Association's Memorial in the
North Aisle and the memorial of the 8th (Belfast) Regiment of the Royal Artillery.

The address of Belfast Cathedral, is Donegall Street, Belfast BT1 2HB.

~~~~~~~~~~~~~~~~~~~~~~~~~~~~~~~~

we went to the Burma Star Luncheon at the Lansdowne Court Hotel in Belfast on Saturday 26th September 2009
movie clip and photos
if anyone was there and has some photos they would like to send me, please contact me at the above email address

photo of Tommy Dickson and his daughter Maureen
Tommy's wife unfortunately had a bad fall last year and wasn't able to attend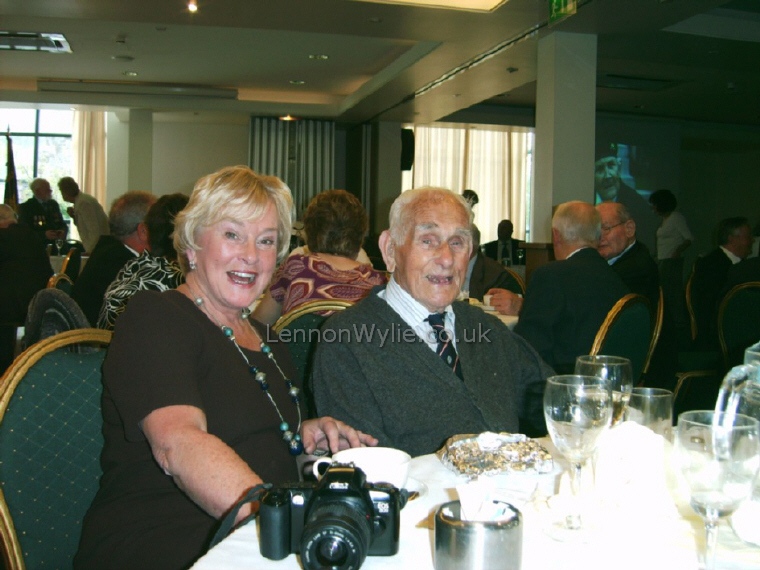 Tommy Dickson 1916 - 2012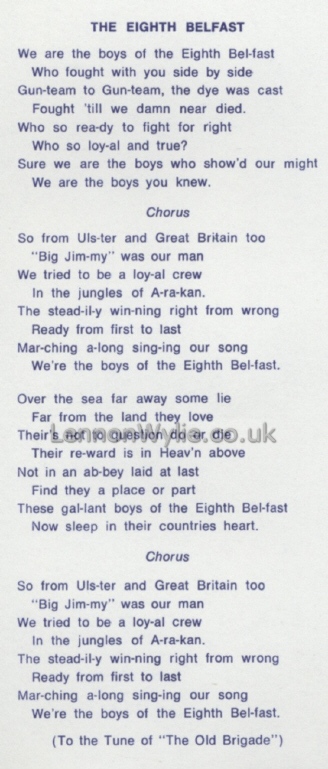 The Eighth Belfast
to the tune of "The Old Brigade"
We are the boys of the Eighth Bel-fast
Who fought with you side by side
Gun-team to Gun-team, the dye was cast
Fought til' we damn near died.
Who so rea-dy to fight for right
Who so loy-al and true?
Sure we are the boys who show'd our might
We are the boys you knew.
Chorus
So from Uls-ter and Great Britain too
"Big Jim-my" was our man
We tried to be a loy-al crew
In the jungles of A-ra-kan.
The stead-il-y win-ning right from wrong
Ready from first to last
Mar-ching a-long sing-ing our song
We're the boys of the Eighth Bel-fast.
Over the sea far away some lie
Far from the land they love
Their's not to question do or die
Their re-ward is in Heav'n above
Not in an ab-bey laid at last
Find they a place or part
These gal-lant boys of the Eighth Bel-fast
Now sleep in their countries heart.
Chorus
So from Uls-ter and Great Britain too
"Big Jim-my" was our man
We tried to be a loy-al crew
In the jungles of A-ra-kan.
The stead-il-y win-ning right from wrong
Ready from first to last
Mar-ching a-long sing-ing our song
We're the boys of the Eighth Bel-fast.