Lost Small Lots or Individual Family Photos
Loyd - Hastings/Leary - Beattie/Pedlow/Baillie - Savage - July 1926 -
original photographs are not my property and are not available
back to photos Index
Loyd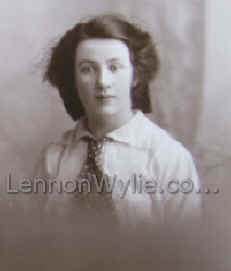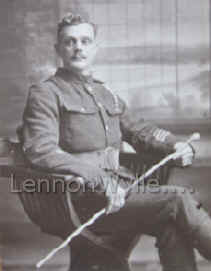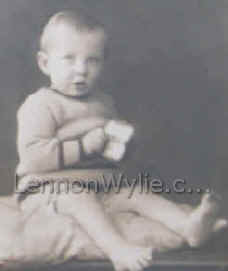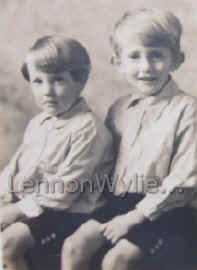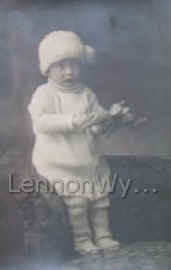 LOYD - 20th JULY 1932 - Studio, Royal Avenue, Belfast
***********************
Hastings - Leary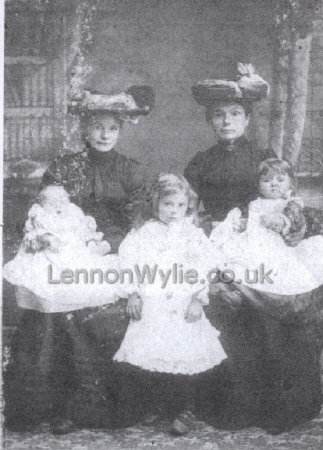 photo taken circa 1904
back left - Elizabeth Leary, neé Hastings 1880 - 1959
back right - Elizabeth Hastings, nee McKitterick, born in Co. Armagh in 1858 (mother of Elizabeth - left)
front left - Thomas Leary b. 1903
middle - Marguerite Leary, b. 1899 - 1981
front right - Thomas Henry Greenwood
Elizabeth and Jennie were sisters, the two eldest children of Samuel Hastings & Eliza McKittrick
Jennie emigrated to Canada with the other 3 Hastings sisters shortly after this photo was taken

Barrow-in-Furness to N.I. 1908. Sherwood Street, all East Belfast
************************
BEATTIE FAMILY below all these photos were together, Baillie, Beattie and Pedlow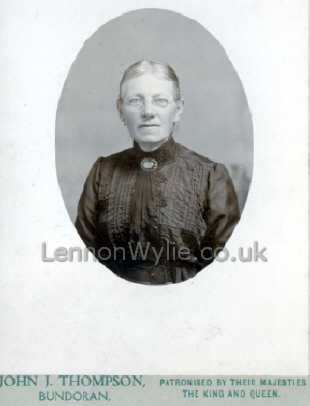 Mary Elizabeth Beattie - King Street, Fintona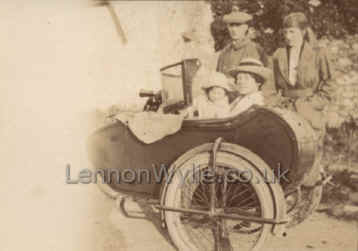 Alex Irvine and Thos. King Beattie - T. K. Beattie, Mrs. Beattie, Miss Rea S?. Beattie 3/7/21 Kill Chapel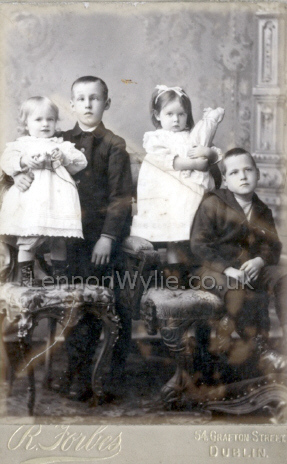 on back... This is Mummie, Gladys M. Pedlow, Douglas Pedlow, Lilian Pedlow, Herbert Pedlow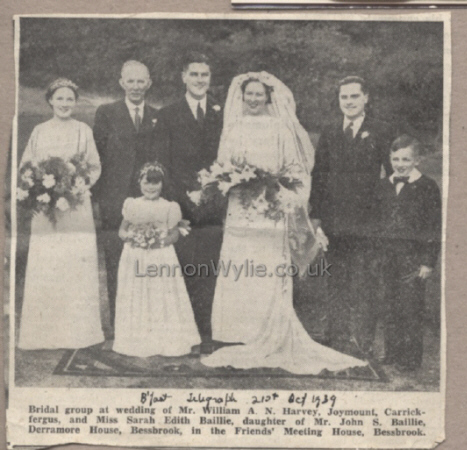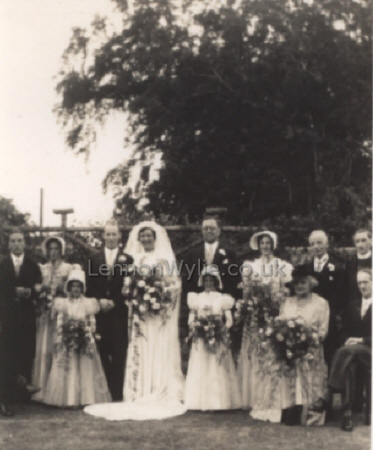 Belfast Telegraph 21st Oct. 1939
Bridal group at wedding of Mr. William A. N. Harvey, Joymount, Carrickfergus, and Miss Sarah Edith Baillie, daughter of Mr. John S. Baillie, Derramore House, Bessbrook, in the Friends' Meeting House, Bessbrook
*********************
SAVAGE - writing inside the cover of "A History of the Savage Family in Ulster" and photographs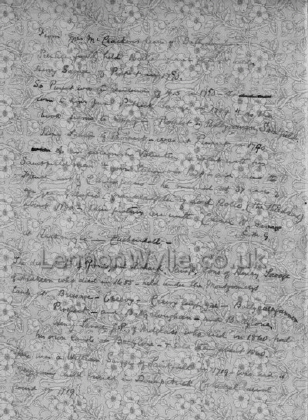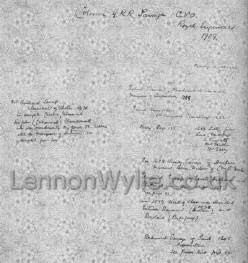 A question mark after the word means it is not clear, a question mark on its own represents a complete word illegible, a question mark in the middle of a word means an illegible letter
From Mrs. McCracken's lease of Ballycloughan
Prentice family held Ballycloughan - from 4th holder Henry Savage of Prospect in 1790.
So Prospect was the residence of H.S. in 1790 - It came to him from Patrick Savage in 1784 !! as this book seems to imply - Prospect is Ballygowan, Saintfield.
Henry Savage of Prospect - was at Prospect in 1790 an ensign? in Volunteers he went with his Saintfield men to join ? Regt. and drive? the French? away? - ? ? - he married at 37 years of age Grace Gillespie - grand daughter of Lord Rollo (the third Lord?) about 1780 - their pictures? are with Colonel W. Savage C.M.G. at Parkmoyle? - Cushendall -
The descendents of James and Richard Savage, sons of Henry Savage of Ardkeen who died in 1655 - held under the Montgomerys land at Bressage? - Creevy - Creevy Lough Gal - Ballycarngannen Prospect - and Ballycloughan - and Ballylone.
Henry Savage J.P. of Ardglass who died in 1860 had his own lands at Ballylone - & sold them about 1860.
There was a William Savage of Saintfield in 1719 - who had a very young child buried in Downpatrick Cathedral burial ground in 1719.

Colonel G. R. R. Savage C.V.O. Royal Engineers 1909
Ferry? 11.78.122. (I have 2 scrapbooks belonging to G. R. R. Savage - South Africa 1885-86 defence works, Simon's Bay, lots of photos, also polo photos and Newspaper album Ceylon 1885 onwards, photos of G.R.R. Savage jumping and running and riding horses)
Robert Stewart - Newtownards was made Marquis of Londonderry 1729?
James Hamilton 1st Viscount Clandeboye 1622
Ferry Page 122
1629 Letter from Lord Clandeboye in Tirmalty? McMullen McGarry
In 1628 Henry Savage of Ardkeen married Alice, widow of Con? O'Neale?
Raymond Savage of Lecale, Ardkeen and Sketterick born 1500 died 1575 (see page 81) in 1559 Head of Clan was divided between Raymond (Ardkeen 1536) and Rowland (Portaferry)
Redmond Savage of Saul? 1605? Inquisition (see Knix? Hist? page 44)
Sir Rowland Savage Senechal of Ulster 1470 his daughter Cecilia, married Sir John (Cahannah?) Clandonnell who was (murdered) by King James IV Scotland? All the Marquis? of Antrim are descended from her.
********************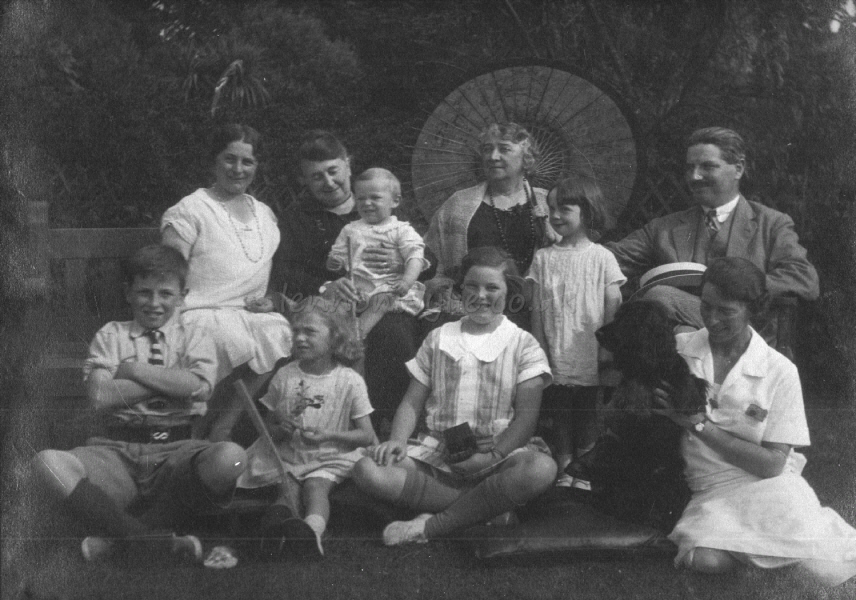 writing on the back, very faint - July 1926
Dermot 11½ - Moyra 5½ - Johnnie or Johnathan 1.2 mths - Patricia 12½ - Ann 4½
*********************