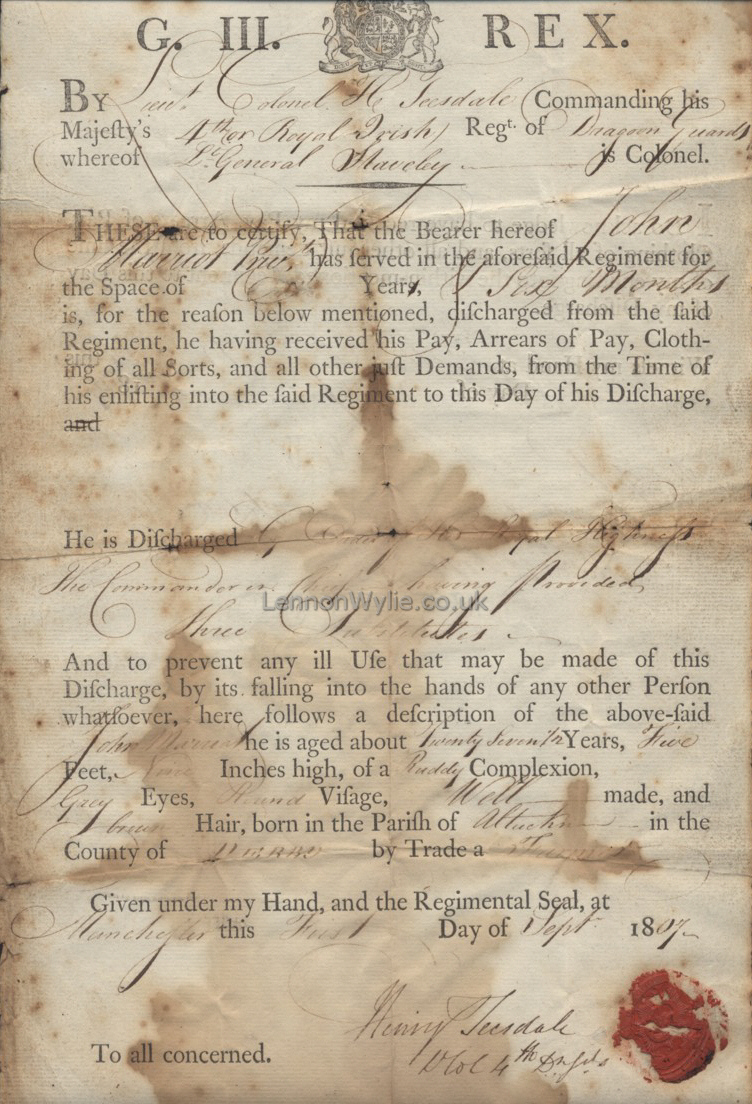 G. III. REX.
By Lieut. Colonel H. Teesdale, Commanding his Majesty's 4th Royal Irish Regt. of Dragoon Guards whereof Lt. General Staveley is Colonel.
These are to certify, that the Bearer hereof John Marriot, has served in the aforesaid Regiment for the Space of 6? years and six months is, for the reason below mentioned, discharged from the said Regiment, he having received his Pay, Arrears of Pay, Clothing of all Sorts, and all other just Demands, from the Time of his enlisting into the said Regiment to this Day of his Discharge
He is Discharged by Order of His Royal Highness The Commander in Chief, having provided three Substitutes.
And to prevent any ill Use that may be made if this Discharge, by its falling into the hands of any other Person Whatfoever, here follows a description of the above said John Marriot he is aged about twenty seven ½ years, five feet, nine inches high, of a Ruddy Complexion, Grey Eyes, Round Visage, Well made, and brown Hair, born in the Parish of Altuc...... in the County of Derry by Trade a ?
Given under my Hand, and the Regimental Seal, at Manchester this First Day of Sept. 1807.
To all concerned Henry Teesdale, Lt. Col. 4th Drgds.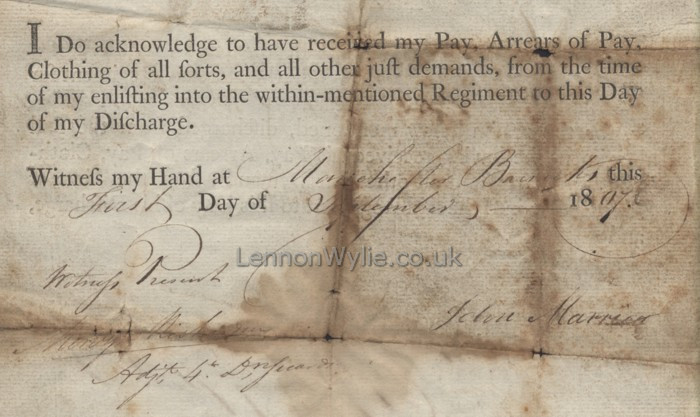 I Do acknowledge to have received my Pay, Arrears of Pay, Clothing of all forts, and all other just demands, from the time of my enlisting into the within-mentioned Regiment to this Day of my Discharge.
Witness my Hand at Manchester Barracks this First Day of September 1807
Notarys Present
John Marriot
Henry? Richardson? Adjt. 4th Drguards