Small WW2 Collection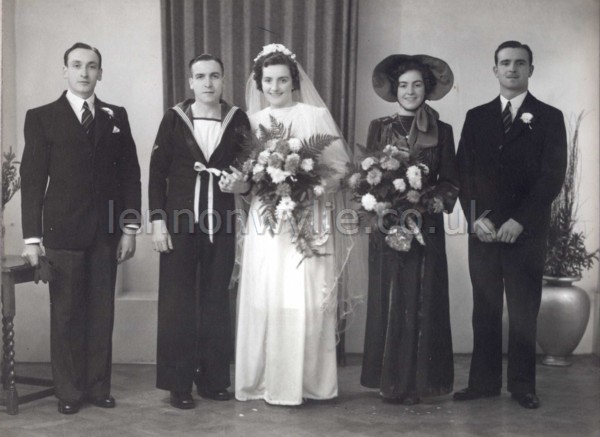 Photographer - W. Abernethy, 47a Donegall Place, Belfast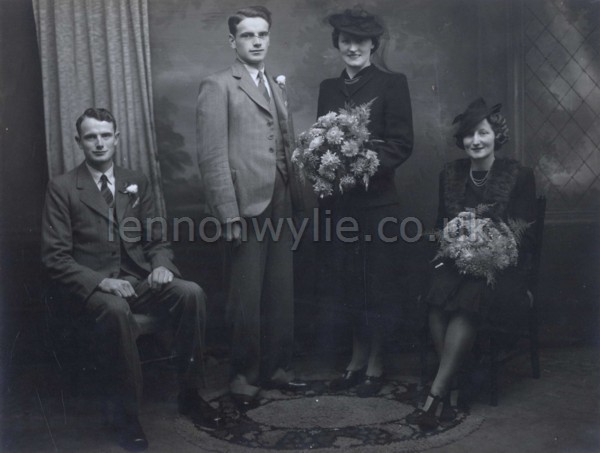 Ashleigh Studios, 112 Royal Avenue, Belfast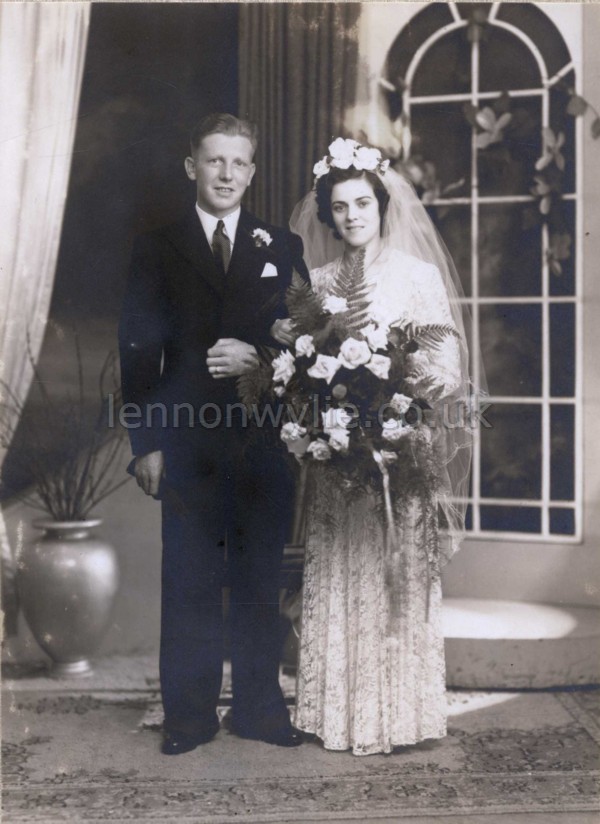 Ashleigh Studios, 112 Royal Avenue, Belfast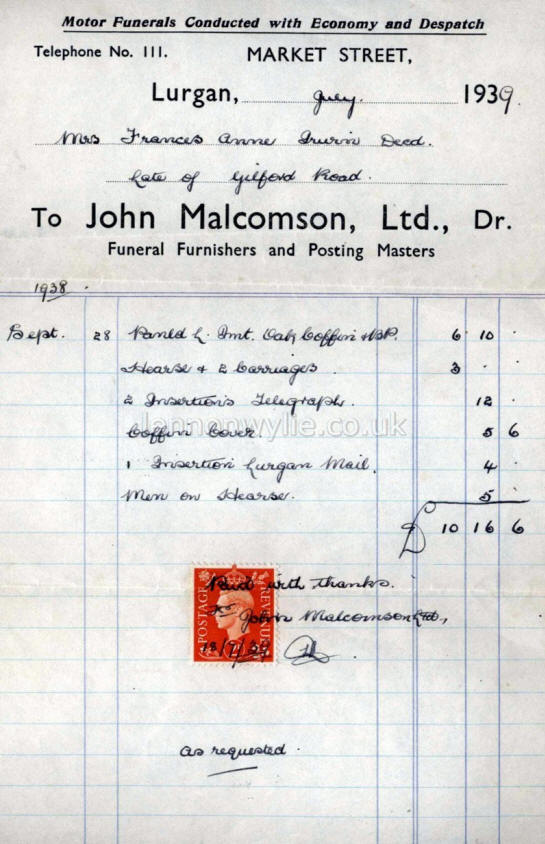 Market Street, Lurgan, July 1939 Mrs. Frances Anne Irwin Decd. late of Gilford Road
John Malcomson, Ltd., Funeral Furnishers and Posting Masters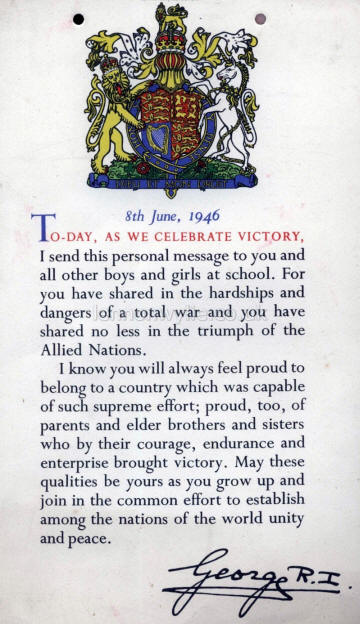 8th June 1944 - To-day, as we celebrate victory, I send this personal message to you and all other boys and girls at school. For you have shared in the hardships and dangers of a total war and you have shared no less in the triumph of the Allied Nations. I know you will always feel proud to belong to a country which was capable of such supreme effort; proud, too, of parents and elder brothers and sisters who by their courage, endurance and enterprise brought victory. May these qualities by yours as you grow up and join in the common effort to establish among the nations of the world unity and peace. George R.I.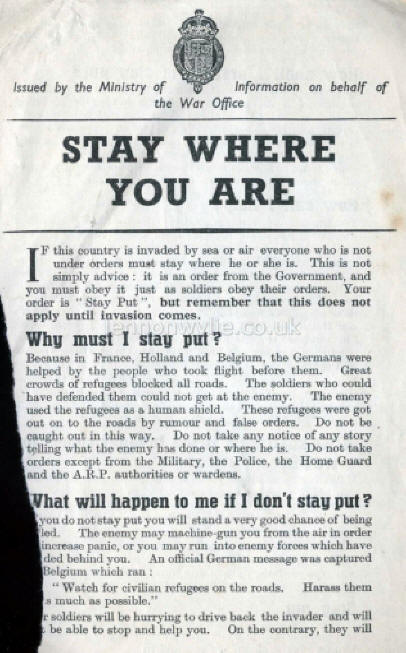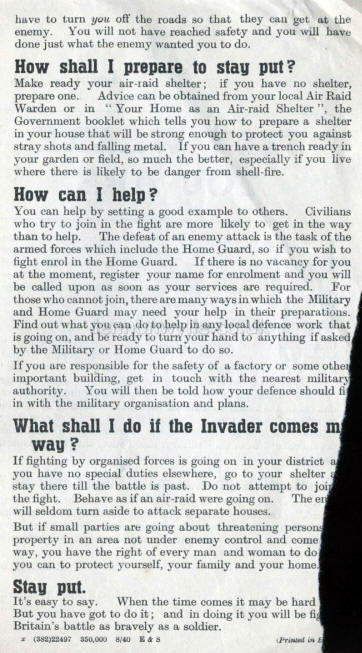 Issued by the Ministry of Information on behalf of the War Office
STAY WHERE YOU ARE
If this country is invaded by sea or air everyone who is not under orders must stay where he or she is. This is not simply advice: it is an order from the Government, and you must obey it just as soldiers obey their orders. Your order is "Stay Put", but remember that this does not apply until invasion comes.
Why must I stay put?
Because in France, Holland and Belgium, the Germans were helped by the people who took flight before them. Great crowds of refugees blocked all roads. The soldiers who could have defended them could not get at the enemy. The enemy used the refugees as a human shield. These refugees were got out on to the roads by rumour and false orders. Do not be caught out in this way. Do not take any notice of any story telling what the enemy has done or where he is. Do not take orders except from the Military, the Police, the Home guard and the A.R.P. authorities or wardens.
What will happen to me if I don't stay put?
If you do not stay put you will stand a very good chance of being ?. The enemy may machine0gun you from the air in order to increase panic, or you may run into enemy forces which have ? behind you. An official German message was captured in Belgium which ran: "Watch for civilian refugees on the roads. Harass them as much as possible." Our soldiers will be hurrying to drive back the invader and will not be able to stop and help you. On the contrary, they will have to turn you off the roads so that they can get at the enemy. You will not have reached safety and you will have done just what the enemy wanted you to do.
How shall I prepare to stay put?
Make ready your air-raid shelter; if you have no shelter, prepare one. Advice can be obtained from your local Air Raid Warden or in "Your Home as an Air0raid Shelter", the Government booklet which tells you how to prepare a shelter in your house that will be strong enough to protect you against stray shots and falling metal. If you can have a trench ready in your garden or field, so much the better, especially if you live where there is likely to be danger from shell-fire.
How can I help?
You can help by setting a good example to others. Civilians who try to join in the fight are more likely to get in the way than to help. The defeat of an enemy attack is the task of the armed forces which include the Home Guard, so if you wish to fight enrol in the Home Guard. If there is no vacancy for you at the moment, register your name for enrolment and you will be called upon as soon as your services are required. For those who cannot join, there are many ways in which the Military and Home Guard may need your help in their preparations. Find out what you can do to help in any local defence work that is going on, and be ready to turn your hand to anything if asked by the Military or Home Guard to do so.
If you are responsible for the safety of a factory or some other important building, get in touch with the nearest military authority. You will then be told how your defence should fit in with the military organisation and plans.
What shall I do if the Invader comes my way?
If fighting by organised forces is going on in your district and you have no special duties elsewhere, go to your shelter and stay there till the battle is past. Do not attempt to join the fight. Behave as if an air-raid were going on. The enemy will seldom turn aside to attack separate houses. But if small parties are going about threatening personal property in an area not under enemy control and come your way, you have the right of every man and woman to do whatever you can to protect yourself, your family and your home.
Stay put.
It's easy to say. When the time comes it may be hard to stay put. But you have got to do it; and in doing it you will be fighting Britain's battle as bravely as a soldier.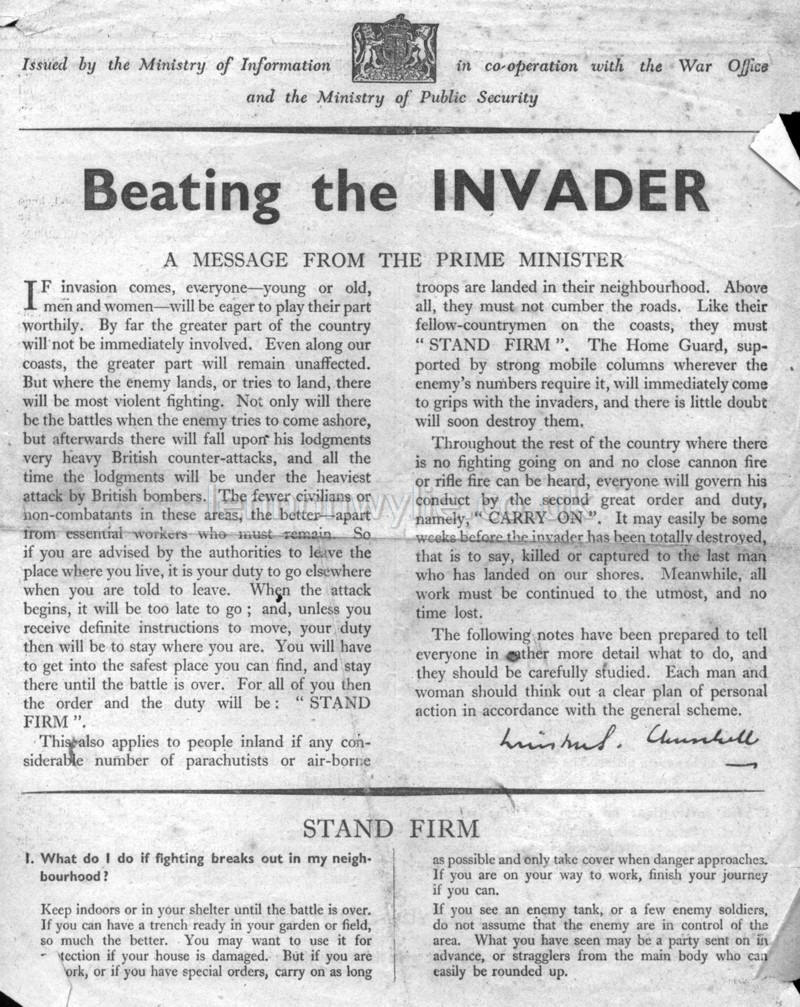 Issued by the Ministry of Information in co-operation with the War Office and the Ministry of Public Security
Beating the INVADER - A Message from the Prime Minister
If invasion comes, everyone - young or old, men and women - will be eager to play their part worthily. By far the greater part of the country will not be immediately involved. Even along our coasts, the greater part will remain unaffected. But where the enemy lands, or tries to land, there will be most violent fighting. Not only will there be the battles when the enemy tries to come ashore, but afterwards there will fall upon lodgments very heavy British counter-attacks, and all the time the lodgments will be under the heaviest attack by British bombers. The fewer civilians or non-combatants in these areas, the better - apart from essential workers who must remain. So if you are advised by authorities to leave the place where you live, it is your duty to go elsewhere when you are told to leave. When the attack begins, it will be too late to go; and, unless you receive definite instructions to move, your duty then will be to stay where you are. You will have to get into the safest place you can find, and stay there until the battle is over. For all of you then the order and the duty will be: "STAND FIRM". This also applies to people inland if any considerable number of parachutists or air-borne troops are landed in their neighbourhood. Above all, they must not cumber the roads. Like their fellow-countrymen on the coasts, they must "STAND FIRM". The Home Guard, supported by strong mobile columns wherever the enemy's numbers require it, will immediately come to grips with the invaders, and there is little doubt will soon destroy them. Throughout the rest of the country where there is no fighting going on and no close cannon fire or rifle fire can be heard, everyone will govern his conduct by the second great order and duty, namely, "CARRY ON". It may easily be some weeks before the invader has been totally destroyed, that is to say, killed or captured to the last man who has landed on our shores. Meanwhile, all work must be continued to the utmost, and no time lost. The following notes have been prepared to tell everyone in rather more detail what to do, and they should be carefully studied. Each man and woman should think out a clear plan of personal action in accordance with the general scheme. Winston Churchill
STAND FIRM
1. What do I do if fighting breaks out in my neighbourhood? - Keep indoors or in your shelter until the battle is over. If you can have a trench ready in your garden or field, so much the better. You may want to use it for protection of your house is damaged. But if you are at work, or if you have special orders, carry on as long as possible and only take cover when danger approaches. If you are on your way to work, finish your journey if you can. If you see an enemy tank, or a few enemy soldiers, do not assume that the enemy are in control of the area. What you have seen may be a party sent on in advance, or stragglers from the main body who can easily be rounded up.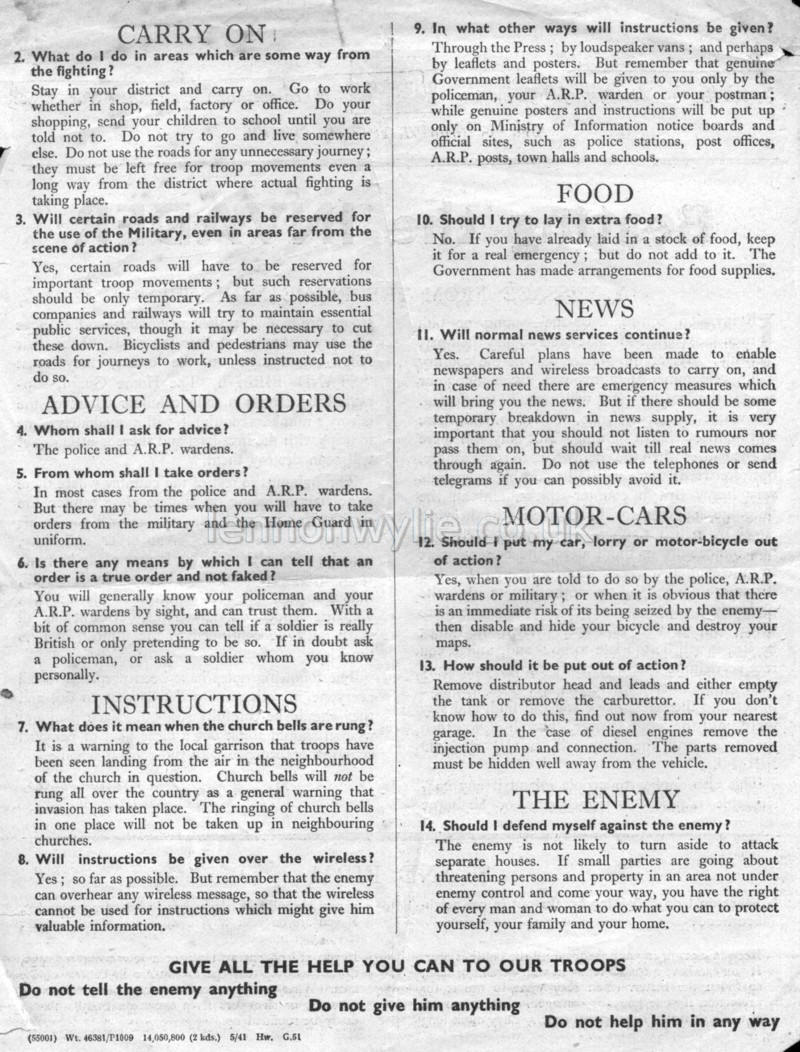 CARRY ON!
2. What do I do in areas which are some way from the fighting? - Stay in your district and carry on. Go to work whether in shops, field, factory or office. Do your shopping, send your children to school until you are told not to. Do not try to go and live somewhere else. Do not use the roads for any unnecessary journey; they must be left free for troop movements even a long way from the district where actual fighting is taking place.
3. Will certain roads and railways be reserved for the use of the Military, even in areas far from the scene of action? - Yes, certain roads will have to be reserved for important troop movements; but such reservations should be only temporary. As far as possible, bus companies and railways will try to maintain essential public services, though it may be necessary to cut these down. Bicyclists and pedestrians may use the roads for journeys to work, unless instructed not to do so.
ADVICE AND ORDERS
4. Whom shall I ask for advice? - The police and A.R.P. wardens.
5. From whom shall I take orders? - In most cases from the police and A.R.P. wardens. But there may be times when you will have to take orders from the military and the Home Guard in uniform.
6. Is there any means by which I can tell that an order is a true order and not faked? - You will generally know your policeman and your A.R.P. wardens by sight, and can trust them. With a bit of common sense you can tell if a soldier is really British or pretending to be so. If in doubt ask a policeman, or ask a soldier whom you know personally.
INSTRUCTIONS
7. What does it mean when the church bells are rung? - It is a warning to the local garrison that troops have been seen landing from the air in the neighbourhood of the church in question. Church bells will not be rung all over the country as a general warning that invasion has taken place. The ringing of church bells in one place will not be taken up in neighbouring churches.
8. Will instructions be given over the wireless? - Yes; so far as possible. But remember that the enemy can overhear any wireless message, so that the wireless cannot be used for instructions which might give him valuable information.
9. In what other ways will instructions be given? - Through the Press; by loudspeaker vans; and perhaps be leaflets and posters. But remember that genuine Government leaflets will be given to you only by the policeman, your A.R.P. warden or your postman; while genuine posters and instructions will be put up only on Ministry of Information notice boards and official sites, such as police stations, post offices, A.R.P. posts, town halls and schools.
FOOD
10. Should I try to lay in extra food? - No. If you have already laid in a stock of food, keep it for a real emergency; but do not add to it. The Government has made arrangements for food supplies.
NEWS
11. Will normal news services continue? - Yes. Careful plans have been made to enable newspapers and wireless broadcasts to carry on, and in case of need there are emergency measures which will bring you the news. But if there should be some temporary breakdown in news supply, it is very important that you should not listen to rumours nor pass them on, but should wait till real news comes through again. Do not use the telephones or send telegrams if you can possible avoid it.
MOTOR-CARS
12. Should I put my car, lorry or motor-cycle out of action? - Yes, when you are told to do so by the police, A.R.P. wardens or military; or when it is obvious that there is an immediate risk of its being seized by the enemy - then disable and hide your bicycle and destroy your maps.
13. How should it be put out of action? - Remove distributor head and leads and either empty the tank of remove the carburettor. If you don't know how to do this, find out now from your nearest garage. In the case of diesel engines remove the injection pump and connection. The parts removed must be hidden well away from the vehicle.
THE ENEMY
14. Should I defend myself against the enemy? - The enemy is not likely to turn aside to attack separate houses. If small parties are going about threatening persons and property in an area not under enemy control and come your way, you have the right of every man and woman to do what you can to protect yourself, your family and your home.
GIVE ALL THE HELP YOU CAN TO OUR TROOPS
Do not tell the enemy anything - Do not give him anything - Do not help him in any way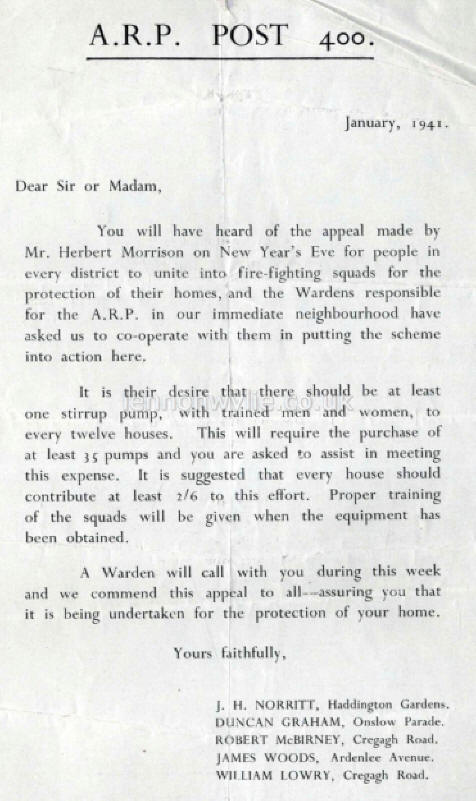 A.R.P. Post 400 January 1941
Dear Sir or Madam, You will have heard of the appeal made by Mr. Herbert Morrison on New Year's Eve for people in every district to unite into fire-fighting squads for the protection of their homes, and the Wardens responsible for the A.R.P. in our immediate neighbourhood have asked us to co-operate with them in putting the scheme into action here. It is their desire that there should be at least one stirrup pump, with trained men and women, to every twelve houses. This will require the purchase of at least 35 pumps and you are asked to assist in meeting this expense. It is suggested that every house should contribute at least 2/6 to this effort. Proper training of the squads will be given when the equipment has been obtained. A Warden will call with you during the week and we comment this appeal at all - assuring you that it is being undertaken for the protection of your home.
Yours faithfully, J. H. Norritt, Haddington Gardens; Duncan Graham, Onslow Parade; Robert McBirney, Cregagh Road; James Woods, Ardenlee Avenue; William Lowry, Cregagh Road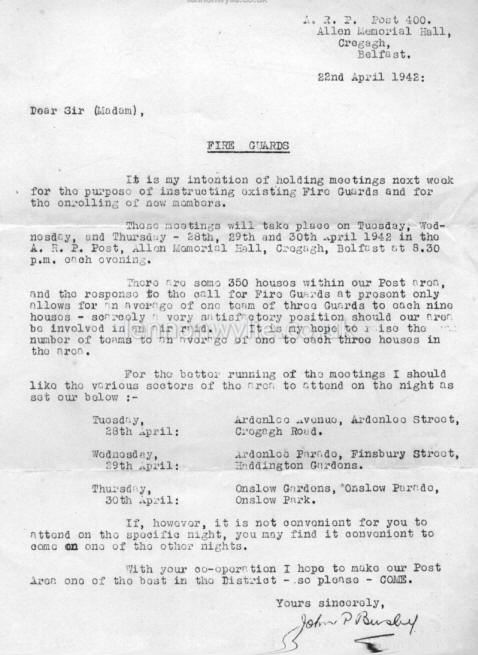 A.R.P. Post 400, Allen Memorial Hall, Cregagh, Belfast 22nd April 1942
Dear Sir (Madam), FIRE GUARDS It is my intention of holding meetings next week for the purpose of instructing existing Fire Guards and for the enrolling of new members. These meetings will take place on Tuesday, Wednesday, and Thursday - 28th, 29th and 30th April 1942 in the A.R.P. Post, Allen Memorial Hall, Cregagh, Belfast at 8.30 p.m. each evening. There are some 350 houses within our Post area, and the response to the call for Fire Guards at present only allows for an average of one team of three Guards to each nine houses - scarcely a very satisfactory position should our area be involved in an air-raid. It is my hope to raise the ? number of teams to an average of one to each three houses in the area.
For the better running of the meetings I should like the various sectors of the area to attend on the night as set out below :-
Tuesday 28th April - Ardenlee Avenue, Ardenlee Street, Cregagh Road
Wednesday 29th April - Ardenlee Parade, Finsbury Street, Haddington Gardens
Thursday 39th April - Onslow Gardens, Onslow Parade, Onslow Park
If, however, it is not convenient for you to attend on the specific night, you may find it convenient to come on one of the other nights. With your co-operation I hope to make our Post Area one of the best in the District - so please - COME. Yours sincerely, John P. Busby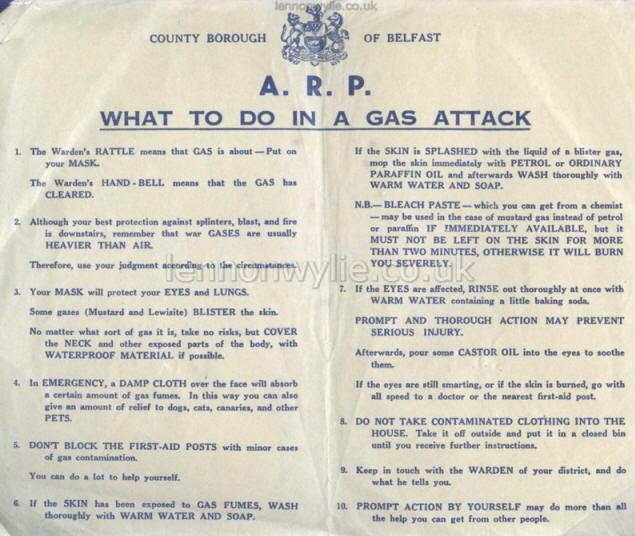 County Borough of Belfast A.R.P.
What to do in a Gas Attack
1. The Warden's RATTLE means that GAS is about - Put on your MASK. - The Warden's HAND-BELL means that the GAS has CLEARED.
2. Although your best protection against splinters, blast, and fire is downstairs, remember that was GASES are usually HEAVIER THAN AIR. - Therefore, use your judgment according to the circumstances.
3. Your MASK will protect your EYES and LUNGS. - Some gases (Mustard and Lewisite) BLISTER the skin. - No matter what sort of gas it is, take no risks, but COVER the NECK and other exposed parts of the body, with WATERPROOF MATERIAL if possible.
4. In EMERGENCY, a DAMP CLOTH over the face will absorb a certain amount of gas fumes. In this way you can also give an amount of relief to dogs, cats, canaries, and other PETS.
5. DON'T BLOCK THE FIRST-AID POSTS with minor cases of gas contamination. - You can do a lot to help yourself.
6. If the SKIN has been exposed to GAS FUMES, WASH thoroughly with WARM WATER AND SOAP. - If the SKIN is SPLASHED with the liquid of a blister gas, mop the skin immediately with PETROL or ORDINARY PARAFFIN OIL and afterwards WASH thoroughly with WARM WATER AND SOAP. - N.B. - BLEACH PASTE - which you can get from a chemist - may be used in the case of mustard gas instead of petrol or paraffin IF IMMEDIATELY AVAILABLE, but it MUST NOT BE LEFT ON THE SKIN FOR MORE THAN TWO MINUTES, OTHERWISE IT WILL BURN YOU SEVERELY.
7. If the EYES are affected, RINSE out thoroughly at once with WARM WATER containing a little baking soda. - PROMPT AND THOROUGH ACTION MAY PREVENT SERIOUS INJURY - Afterwards, pour some CASTOR OIL into the eyes to soothe them. - If the eyes are still smarting, or if the skin is burned, go with all speed to a doctor or the nearest first-aid post.
8. DO NOT TAKE CONTAMINATED CLOTHING INTO THE HOUSE. Take it off outside and put it in a closed bin until you receive further instructions.
9. Keep in touch with the WARDEN of your district, and do what he tells you.
10. PROMPT ACTION BY YOURSELF may do more than all the help you can get from other people.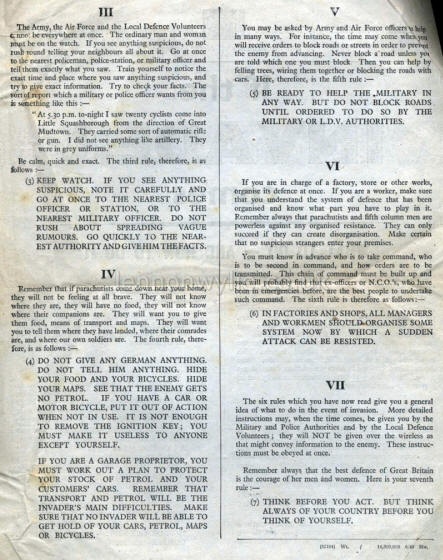 Issued by the Ministry of Information in co-operation with the War Office and the Ministry of Home Security.
IF THE INVADER COMES
What to do - and How to do it
The Germans threaten to invade Great Britain. If they do so they will be driven out by our Navy, our Army and our Air Force. Yet the ordinary men and women of the civilian population will also have their part to play. Hitler's invasions of Poland, Holland and Belgium were greatly helped by the fact that the civilian population was taken by surprise. They did not know what to do when the moment came. You must not be taken by surprise. This leaflet tells you what general line you should take. More detailed instructions will be given you when the danger comes nearer. Meanwhile, read these instructions carefully and be prepared to carry them out.
I
When Holland and Belgium were invaded, the civilian population fled from their homes. They crowded on the roads, in cars, in carts, on bicycles and on foot, and so helped the enemy by preventing their own armies from advancing against the invaders. You must not allow that to happen here. Your first rule, therefore, is:-
(1) IF THE GERMANS COME, BY PARACHUTE, AEROPLANE OR SHIP, YOU MUST REMAIN WHERE YOU ARE, THE ORDER IS "STAY PUT" - If the Commander in Chief decides that the place where you live must be evacuated, he will tell you when and how to leave. Until you receive such orders you must remain where you are. If you run away, you will be exposed to far greater danger because you will be machine-gunned from the air as were civilians in Holland and Belgium, and you will also block the roads by which our own armies will advance to turn the Germans out.
II
There is another method which the Germans adopt in their invasion. They make use of the civilian population in order to create confusion and panic. They spread false rumours and issue false instructions. In order to prevent this, you should obey the second rule, which is as follows:-
(2) DO NOT BELIEVE RUMOURS AND DO NOT SPREAD THEM. WHEN YOU RECEIVE AN ORDER, MAKE QUITE SURE THAT IT IS A TRUE ORDER AND NOT A FAKED ORDER. MOST OF YOU KNOW YOUR POLICEMEN AND YOUR A.R.P. WARDENS BY SIGHT, YOU CAN TRUST THEM. IF YOU KEEP YOUR HEADS, YOU CAN ALSO TELL WHETHER A MILITARY OFFICER IS REALLY BRITISH OR ONLY PRETENDING TO BE SO. IF IN DOUBT ASK THE POLICEMAN OR THE A.R.P. WARDEN. USE YOUR COMMON SENSE.
III
The Army, the Air Force and the Local Defence Volunteers cannot be everywhere at once. The ordinary man and woman must be on the watch. If you see anything suspicious, do not rush round telling your neighbours all about it. Go at once to the nearest policeman, police-station, or military officer and tell them exactly what you saw. Train yourself to notice the exact time and place where you saw anything suspicious, and try to give exact information. Try to check your facts. The sort of report which a military or police officer wants from you is something like this:-
"At 5.30 p.m. to-night I saw twenty cyclists come into Little Squashborough from the direction of Great Mudtown. They carried some sort of automatic rifle or gun. I did not see anything like artillery. They were in grey uniforms."
Be calm, quick and exact. The third rule, therefore, is as follows:-
(3) KEEP WATCH. IF YOU SEE ANYTHING SUSPICIOUS, NOTE IT CAREFULLY AND GO AT ONCE TO THE NEAREST POLICE OFFICER OR STATION, OR TO THE NEAREST MILITARY OFFICER. DO NOT RUSH ABOUT SPREADING VAGUE RUMOURS. GO QUICKLY TO THE NEAREST AUTHORITY AND GIVE HIM THE FACTS.
IV
Remember that if parachutists come down near your home, they will not be feeling at all brave. They will not know where they are, they will have no food, they will not know where their companions are. They will want you to give them food, means of transport and maps. They will want you to tell them where they have landed, where their comrades are, and where our own soldiers are. The fourth rile, therefore, is as follows:-
(4) DO NOT GIVE ANY GERMAN ANYTHING. DO NOT TELL HIM ANYTHING. HIDE YOUR FOOD AND YOUR BICYCLES. HIDE YOUR MAPS. SEE THAT THE ENEMY GETS NO PETROL. IF YOU HAVE A CAR OR MOTOR BICYCLE, PUT IT OUT OF ACTION WHEN NOT IN USE. IT IS NOT ENOUGH TO REMOVE THE IGNITION KEY; YOU MUST MAKE IT USELESS TO ANYONE EXCEPT YOURSELF. IF YOU ARE A GARAGE PROPRIETOR, YOU MUST WORK OUT A PLAN TO PROTECT YOUR STOCK OF PETROL AND YOUR CUSTOMERS' CARS. REMEMBER THAT TRANSPORT AND PETROL WILL BE THE INVADER'S MAIN DIFFICULTIES. MAKE SURE THAT NO INVADER WILL BE ABLE TO GET HOLD OF YOUR CARS, PETROL, MAPS OR BICYCLES.
V
You may be asked by Army and Air Force officers to help in many ways. For instance, the time may come when you will receive orders to block roads or streets in order to prevent the enemy from advancing. Never block a road unless you are told which one you must block. Then you can help by felling trees, wiring them together or blocking the roads with cars. Here, therefore, is the fifth rile:-
(5) BE READY TO HELP THE MILITARY IN ANY WAY. BUT DO NOT BLOCK ROADS UNTIL ORDERED TO DO SO BY THE MILITARY OR L.D.V. AUTHORITIES.
VI
If you are in charge of a factory, store or other works, organise its defence at once. If you are a worker, make sure that you understand the system of defence that has been organised and know what part you have to play in it. Remember always that parachutists and fifth column men are powerless against any organised resistance. They can only succeed if they can create disorganisation. Make certain that no suspicious strangers enter your premises. You must know in advance who is to take command, who is to be second in command, and how orders are to be transmitted. This chain of command must be built up and you will probably find that ex-officers or N.C.O.'s, who have been in emergencies before, are the best people to undertake such command. The sixth rule is therefore as follows:-
(6) IN FACTORIES AND SHOPS, ALL MANAGERS AND WORKMEN SHOULD ORGANISE SOME SYSTEM NOW BY WHICH A SUDDEN ATTACK CAN BE RESISTED.
VII
The six rules which you have now read give you a general idea of what to do in the event of invasion. More detailed instructions may, when the time comes, be given you by the Military and Police Authorities and by the Local Defence Volunteers; they will NOT be given over the wireless as that might convey information to the enemy. These instructions must be obeyed at once. Remember always that the best defence of Great Britain is the courage of her men and women. Here is your seventh rule:-
(7) THINK BEFORE YOU ACT. BUT THINK ALWAYS OF YOUR COUNTRY BEFORE YOU THINK IF YOURSELF.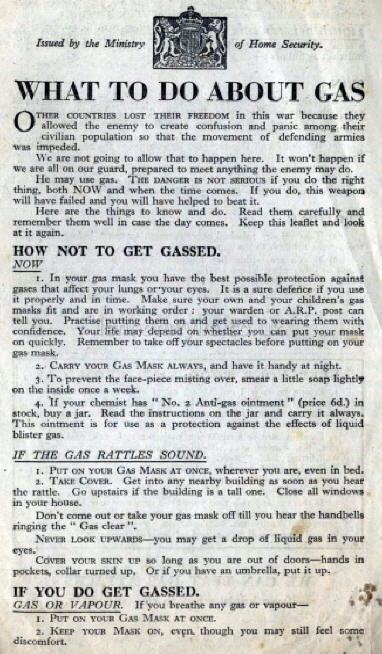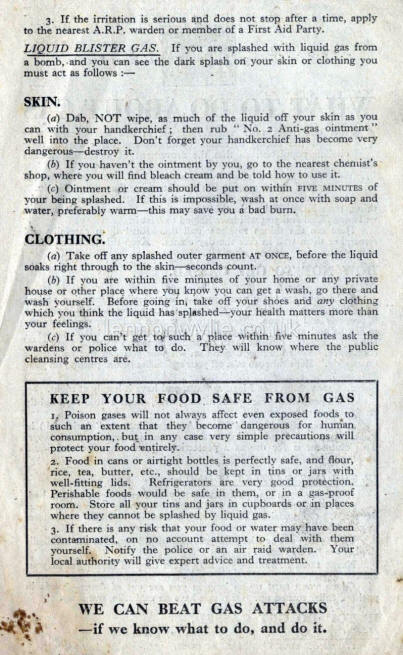 Issued by the Ministry of Home Secretary
WHAT TO DO ABOUT GAS
OTHER COUNTRIES LOST THEIR FREEDOM in this war because they allowed the enemy to create confusion and panic among their civilian population so that the movement of defending armies was impeded. We are not going to allow that to happen here. It won't happen if we are all on our guard, prepared to meet anything the enemy may do. He may use gas. THE DANGER IS NOT SERIOUS if you do the right thing, both NOW and when the time comes. If you do, this weapon will have failed and you will have helped to beat it. Here are the things to know and do. Read them carefully and remember them well in case the day comes. Keep this leaflet and look at it again.
HOW NOT TO GET GASSED - NOW
1) In your gas mask you have the best possible protection against gases that affect your lungs or your eyes. It is a sure defence if you use it properly and in time. Make sure your own and your children's gas masks fit and are in working order: your warden or A.R.P. post can tell you. Practice putting them on and get used to wearing them with confidence. Your life may depend on whether you can put your mask on quickly. Remember to take off your spectacles before putting on your gas mask.
2) CARRY YOUR GAS MASK ALWAYS, and have it handy at night
3) To prevent the face-piece misting over, smear a little soap lightly on the inside once a week.
4) If your chemist has "No. 2 Anti-gas ointment" (price 6d.) in stock, buy a jar. Read the instructions on the jar and carry it always. This ointment is for use as a protection against the effects of liquid blister gas.
IF THE GAS RATTLES SOUND
1. PUT ON YOUR GAS MASK AT ONCE, wherever you are, even in bed.
2. TAKE COVER. Get into any nearby building as soon as you hear the rattle. Go upstairs if the building is a tall one. Close all windows in your house. Don't come out or take your gas mask off till you hear the handbells ringing the "Gas clear" - NEVER LOOK UPWARDS - you may get a drop of liquid gas in your eyes. COVER YOUR SKIN UP so long as you are out of doors - hands in pockets, collar turned up. Or if you have an umbrella, put it up.
IF YOU DO GET GASSED - GAS OR VAPOUR
If you breathe any gas or vapour -
1. PUT ON YOUR GAS MASK AT ONCE
2. KEEP YOUR MASK ON, even though you may still feel some discomfort
3. If the irritation is serious and does not stop after a time, apply to the nearest A.R.P. warden or member of a First Aid Party
LIQUID BLISTER GAS - If you are splashed with liquid gas from a bomb, and you can see the dark splash on your skin or clothing you must act as follows:-
SKIN
(a) Dab, NOT wipe, as much of the liquid off your skin as you can with your handkerchief; then rub "No. 2 Anti-gas ointment" well into the place. Don't forget your handkerchief has become very dangerous - destroy it.
(b) If you haven't the ointment by you, go to the nearest chemist's shop, where you will find bleach cream and be told how to use it.
(c) Ointment or cream should be put on within FIVE MINUTES of your being splashed. If this is impossible, wash at once with soap and water, preferably warm - this may save you a bad burn.
CLOTHING
(a) Take off any splashed outer garment AT ONCE, before the liquid soaks right through to the skin - seconds count.
(b) If you are within five minutes of your home or any private house or other place where you know you can get a wash, go there and wash yourself. Before going in, take off your shoes and any clothing which you think the liquid has splashed - your health matters more than your feelings.
(c) If you can't get to such a place within five minutes ask the wardens or police what to do. They will know where the public cleansing centres are.
KEEP YOUR FOOD SAFE FROM GAS
1. Poison gases will not always affect even exposed foods to such an extent that they become dangerous for human consumption, but in any case very simple precautions will protect your food entirely.
2. Food in cans or airtight bottles is perfectly safe, and flour, rice, tea, butter, etc., should be kept in tins or jars with well-fitting lids. Refrigerators are very good protection. Perishable foods would be safe in them, or in a gas-proof room. Store all your tins and jars in cupboards or in places where they cannot be splashed by liquid gas.
3. If there is any risk that your food or water may have been contaminated, on no account attempt to deal with them yourself. Notify the police or an air raid warden. Your local authority will give expert advice and treatment.
WE CAN BEAT GAS ATTACKS - if we know what to do, and do it.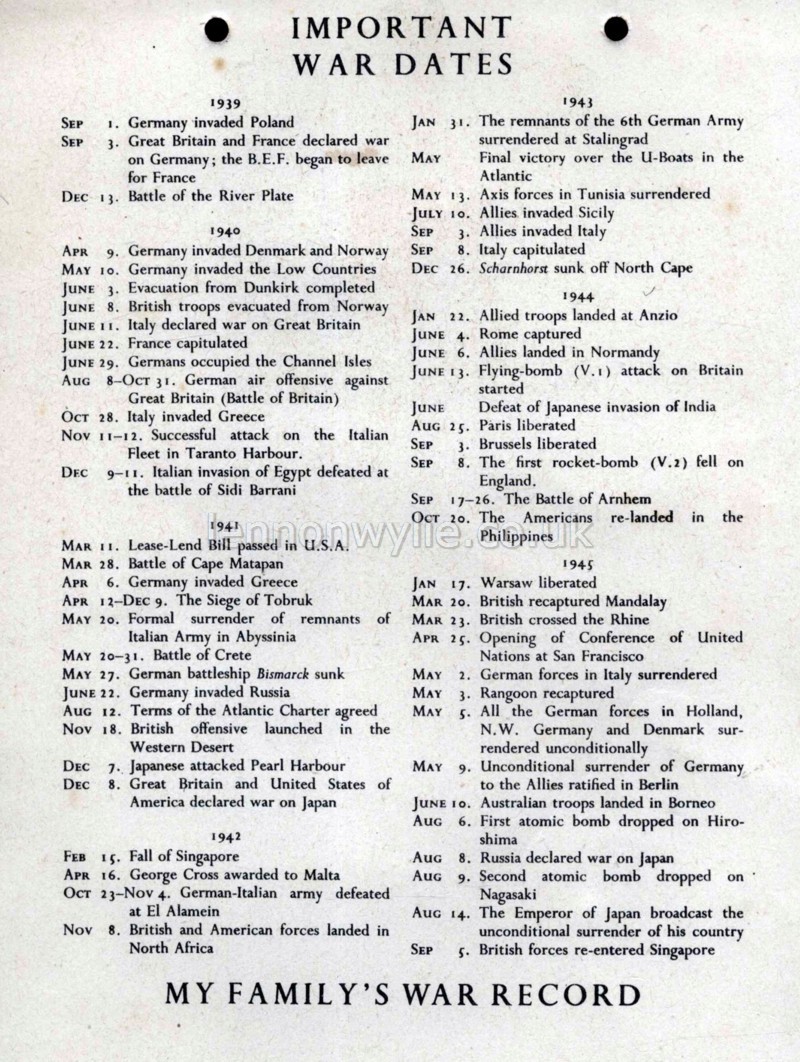 IMPORTANT WAR DATES

Air Raid Shelters
Hobart & Heron, Architects C.E.S. Belfast 9th September 1941