collection with an assortment of names
Tumilson, Dennis, Magowan, Northern Whig 1899
the Ferguson item has been moved to the Poskitt Collection

Holywood (on back, M. Geddes, Holywood?)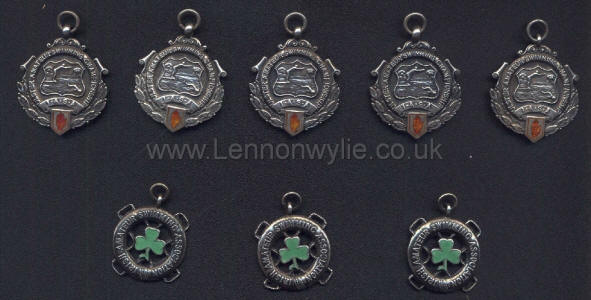 P. A. Tumilson for Ulster Amateur Swimming Championships 1955/57/58 Alliance, Freestyle & Backstroke
and Irish Amateur Swimming Association 1957 Medley& 100 Metres Back Stroke
Girls, Belfast and she was under 14 in 1955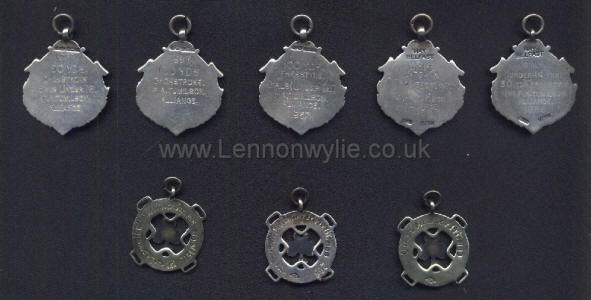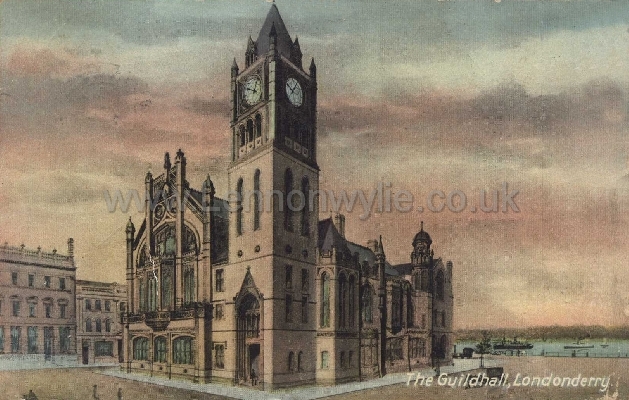 The Guildhall, Londonderry
5th August 1916 Postmark Londonderry to Miss Dennis, Sunnydews(?), 8 Valley Road, Streatham, London, S.E., England - Dear D., Thanks very much for letter, have not time to write now, so thought you would like a card, this place is about 9½ miles from us, was surprised to see your new address, will write you later. I thought you had eloped, or were pushing up Daisies, I've been on the sick list, hope you won't be on yours as much when I come to Croydon. Love from Whiskers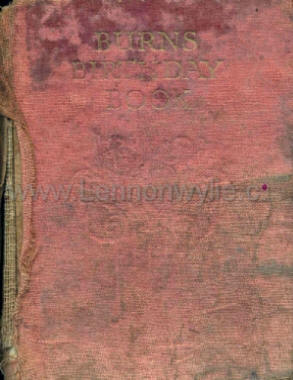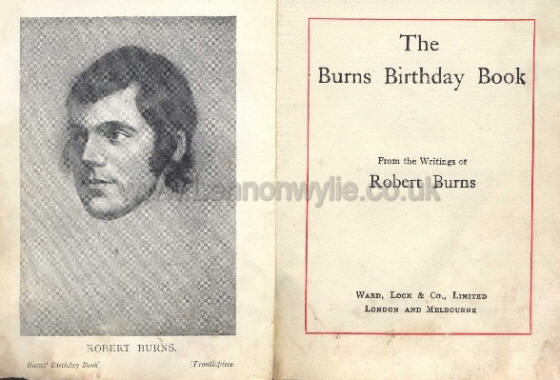 The Burns Birthday Book from the writings of Robert Burns
H. E. Magowan










1 2 3 4 5 & 6 7 8 9 10
1) January 5th, Daphne Sinclair, Born 1932; January 6th, G. McCormick, 1923
How long I have liv'd - but how much liv'd in vain! How little of life's scanty span may remain!
What aspects old Time, in his progress, how worn! What ties cruel fate in my boson has torn!
How foolish or worse, till our summit is gain'd! And downward, how weaken'd, how darken'd, how pain'd!
This life's not worth having with all it can give - For something beyond it poor man sure must live. "The Lazy Mist"
2) January 11th, Patricia Heather
She is not the fairest, altho' she is fair; O' nice education, but sma' is her share'
Her parentage humble as humble can be; But I lo'e the dear lassie because she lo'es me. "Yon Wild Mossy Mountains"
3) January 13th, Miss M. Nicholson, Learmount Castle, Londonderry; January 14th, N. or H. Ramage
O woman, lovely woman fair! An angel form's fa'n to thy share,
'T wad been o'er meikle to gi'en thee mair - I mean an angel mind. "She's Fair and Fause"
4) January 17th, Jeanette L.
O Guid ale comes, and guid ale goes, Guid ale gars me sell my hose,
Sell my hose, and pawn my shoon, Guid ale keeps my heart aboon. "O Guid Ale Comes"
5 & 6) January 19th, Helen M. Wallace, 1933
Luve for luve is the bargain for me, Tho' the wee cot-house should haud me;
And the warld before me to win my bread, And fair fa' my Collier Laddie. "My Collier Laddie"
7 & 8) January 23rd, Sheila Gillespie; Mrs. Pat Wood, Married 20/1/51
As fair art thou, my bonnie lass, So deep in luve am I;
And I will luve thee still, my dear, Till a' the seas gang dry. "A Red, Red Rose"
9) January 28th, Granny Magowan, 1876, died 7.30 p.m. 3/6/61 (Sat); January 30th, Moira Leeson, 1929
To see her is to love her, And love but her for ever;
For Nature made her what she is, And never made anither! "Bonnie Lesley"
10) February 1st, Mavis Rentoul; February 2nd, Gilliam Carton or Canton, 1947, Born 1931; Jean Davidson, 1947, Born 1931
O Why should fate sic pleasure have, Life's dearest bands untwining!
Or why sae sweet a flower as love Depend on fortune's shining! Song











1 2 & 3 4 5 6 7 & 8 9
1) February 3rd, John McCullough & Feb. 3rd.1906; R. Greenlees; February 4th, Elizabeth Elliott
Love sits in her smile, a wizard ensnaring; Enthron'd in her een he delivers his law;
And still to her charms she alone is a stranger - Her modest demeanour's the jewel of a' "Young Jessie"
2 & 3) February 7th, E. McBrien
On the seas and far away, On stormy seas and far away;
Nightly dreams, and thoughts by day, Are aye with him that's far away. "On the Seas and Far Away"
4) February 11th, Willie Heather 1908
'Twas na her bonnie blue e'e was my ruin; Fair tho' she be, that was ne'er my undoing;
'Twas the dear smile when naebody did mind us, 'Twas the bewitching, sweet, stown glance o' kindness.
5) February 13th, P. Sherwood 1930
The lav'rock lo'es the grass, The muirhen lo'es the heather;
But gie me a braw moonlight, And me and my love together. "Brose and Butter"
6) February 17th, Meta Hamilton, 5 Mill View Terrace, Belfast Road, Newry 1921 Age 21
Your beauty's a flower, in the morning that blows, And withers the faster, the faster it grows;
But the rapturous charm o' the bonnie green knowes, Ilk spring they're new deckit wi' bonnie white yowes. "Hey for a Lass wi' a Tocher"
7 & 8) February 20th, Anthea Boyd
Then come, thou fairest of the fair, Those wonted smiles, O let me share;
And by thy beauteous self I swear No love but thine my heart shall know. "Fairest Maid on Devon Banks"
9) February 25th, Karen Baird, 1957
Hale be your heart, hale be your fiddle; Lang may your elbuck jink and diddle,
To cheer you thro' the weary widdle O' war'ly cares, Till bairns' bairns kindly cuddle Your auld, grey hairs. "Second Epistle to Davie"










1 & 2 3 & 4 5 6 7 8 9
1 & 2) March 1st, Patricia Magennis, 1945; March 2nd, Patricia Hamilton (P. Ham.) Hi!!!!Magowen
Oppress'd with grief, oppress'd with care, A burden more than I can bear, I set me down and sigh;
O life! thou art a galling load, Along a rough, a weary road, To wretches such as I! "Despondency"
3 & 4) March 7th, Mrs. Lauder; March 9th, Magdalene Douglas (Dalene) Drysdale 1921
It's no the frosty winter wind, It's no the driving drift and snaw;
But aye the tear comes in my e'e, To think on him that's far awa' "The Bonnie Lad that's Far Awa'"
5) March 13th , 1955 Rutherford 2nd daughter; March 14th, Eleanor Rea; March 15th, 1955 Michelle Young (nee Jany Montgomery)
It's no in titles nor in rank: It's no in wealth like Lon'on bank To purchase peace and rest:
It's no in makin' muckle mair; It's no in books; it's no in lear; To make us truly blest. "Epistle to Davie"
6) March 18th, Margaret E. Leeson, born 1930
For the future be prepar'd, Guard whatever thou can'st guard; But thy utmost duly done,
Welcome what thou can'st not shun. Follies past give thou to air, Make their consequence thy care. "Lines written on Friars-Carse Hermitage"
7) March 20th, Hazel Drysdale
Lee me wander, let me rove, Still my heart is with my love;
Nightly dreams, and thoughts by day, Are with him that's far away. "On the Seas and Far Away"
8) March 22nd, Patricia Hyde, Born 1933; March 24th, Gordon Storey 1956
Is there a man, whose judgment clear, Can others teach the course to steer,
Yet runs, himself, life's mad career Wild as the wave? "A Bard's Epitaph"
9) March 25th, Donald Walter Storey, 7.30 p.m. Wed '53; March 26th, Sheila O'Hare, 1928
I am naebody's lord - I'll be slave to naebody, I hae a guid braid sword, I'll tak' dunts frae naebody;
I'll be merry and free, I'll be sad for naebody; If naebody care for me, I'll care for naebody. "I Hae a Wife o' M Ain"











1 2 3 4 5 6 7 8 9
1) March 30th, Avril Drake
So gratefu', back your news I send you, And pray, a' guid things may attend you! "Lines"
2) April 3rd, Betty McColl, 1929; Rosemary Byers Small Fri 1953
She, the fair sun of all her sex, Has blest my glorious day;
And shall a glimmering planet fix My worship to its ray? "To Clarinda"
3) April 8th, Jonathan Smith Elliott, born 1974 (Aughnacloy)
All-Hail then, the gale then, Wafts me from thee, dear shore!
It rustles and whistles - I'll never see thee more! "The Farewell"
4) April 10th, Pam Mackle, 1927; Derek Gamble, 1931
(Then) know this truth, ye sons of men! (Thus ends thy moral tale),
Your darkest terrors may be vain, Your brightest hopes may fail. "Ode to the Departed Regency Bill"
5) April 12th, Adele Fiona Webb
Will ye go to the Hielands, Leezie Lindsay, Will ye go to the Hielands wi' me?
Will ye go to the Hielands, Leezie Lindsay, My pride and my darling to be? "Leezie Lindsay"
6) April 15th, Mrs. Cissie Jones (nee McBride) 1891; April 17th, D. Baird, 1919
To sum up all, be merry, I advise; And as we're merry, may we still be wise! "An Address Spoken by Miss Fontene??"
7) April 21st, Ruth Sherwood 1938; April 23rd, Shirley Jane Temple 9 p.m. 1928 Santa Monica Hospital
The charms o' the min', the langer they shine, The mair admiration they draw, man;
While peaches and cherries, and roses and lilies, They fade and they wither awa', man. "The Ronalds of the Bennals"
8) April 24th, Kathleen Telford; April 26th, Daphne Williams 1930
All you who follow wealth and power With unremitting ardour, O,
The more in this you look for bliss, You leave your view the farther, O. "My Father was a Farmer"
9) April 28th, Owen O'Callaghan 1928; Andrew Storrie 1923; April 29th, Barbara O'Flagherty 1953
Hale be your heart! hale be your fiddle! Lang may your elbuck jink and diddle,
To cheer you through the weary widdle O' this wild warl', Until you on a cummock driddle A grey-hair'd carl.
"Epistle to Major Logan"










1 2 3 4 5 6 7 8 9
1) April 30th, Olive Elliott 1930; Joan Finch 1928; May 1st, Mary Harris; May 2nd, Mary McWilliam 1931
To plough and sow, to reap and mow, My father bred me early, O;
For one, he said, to labour bred, Was a match for fortune fairly, O. "My Father was a Farmer"
2) May 3rd, John Magowan Sen., Rockhamilton, Newry 1870; May 4th, Nevin Gray(?) born 3.0 p.m. 1959; May 5th, Peggy McCullough Born 1927
She's fresh as the morning, the fairest in May; She's sweet as the ev'ning amang the new hay;
As blythe and as artless as lambs on the lea, And dearest to my heart as the light to me e'e. "Auld Rob Morris"
3) May 6th, Girvan Weir 1931; Billy Sherwood 1932; Dinal Holland 1930; May 7th, W. Magowan 1900 died 4/11/71; Dorethea McConnell 1935
While Europe's eye is fix'd on mighty things, The fate of empires and the fall of kings;
While quacks of State must each produce his plan, And even children lisp the Rights of Man;
Amid this mighty fuss, just let me mention, The Rights of Women merit some attention. "The Rights of Women"
4) May 12th, 1947 Maureen McConnell Born 1933; May 13th, Catherine Foster
We part - but, by these precious drops That fill thy lovely eyes!
No other light shall guide my steps Till thy bright beams arise. "To Clarinda"
5) May 21st, Jean Harris; May 22nd, Barbara Caroline Magowan (Wed. 11.0 a.m. 1957); May 23rd, Ann Brooks 1942
Some, lucky, find a flow'ry spot, For which they never toil'd nor swat;
They drink the sweet and eat the fat, But care or pain; And, haply, eye the barren hut With high disdain. "Epistle to James Smith"
6) May 26th, Eily Miller; John Magowan 1943 died 14th Oct. 2005
If thou hast known false love's vexation, Or hast been exiled from thy nation,
Or guilt affrights thy contemplation, And makes thee pine,
Oh! how must thou lament thy station, And envy mine! "The Hermit"
7) May 27th, P. J. McKay born 1916; Ann M. Twigg 1931; Ella M. Fulton 1931; May 29th, Sheelagh (McGowan) Johnston
May 29, The past was bad, and the future hid; Its good or ill untried, O;
But the present hour was in my pow'r, And so I would enjoy it, O. "My Father was a Farmer"
8) May 30th, Alex. Sutherland 1916 died Dec. 23rd 1981
The lover may sparkle and glow, Approaching his bonnie bit gay thing;
But marriage will soon let him know He's gotten - a buskitt up naething. "Extempore Epistle on Naething to Gavin Hamilton, Esq."
9) June 2nd, Maureen F. Twigg 1931; June 3rd, Vera M. Dodds 1929; Jess Hamilton 1931; June 4th, Anne Atkinson (Ack! Ack!!!); Margaret Stewart 1932
When I sleep I dream, When I wauk I'm eerie;
Sleep I can get nane For thinking on my dearie. "Summer's a Pleasant Time"











1 2 & 3 4 5 6 7 8 9
1) June 5th, Jean Hale 1930; June 6th, Violet Magowan
Now blooms the lily by the bank, The primrose down the brae;
The hawthorn's budding in the glen, And milk-white is the slae. "Lament of Mary, Queen of Scots"
2 & 3) June 9th, Jacqueline Montgomery 1931 Married 6/5/53; June 10th, Eve Palm Korijat(?) Duke of Edinburgh 1921
Oh could the fates but name the price Would bless me with your charms and you!
With frantic joy I'd pay it thrice, If human heart and power could do! "Sylvander to Clarinda"
4) June 11th, Anita Hale 1937; Lottie Heather; June 13th, Margot Wilson
O Wha is she that lo'es me, And has my heart a-keeping?
O sweet is she that lo'es me, As dews o' summer weeping,
In tears the rose-buds steeping! "O Wha is She that Lo'es Me"
5) June 13th, Valerie Weir 1928
For a' that, an' a' that, Here's Heron yet for a' that!
The independent commoner Shall be the man for a' that. "The Heron Ballads"
6) June 18th, Dick McIlroy 1928
"To those who love us!" - second fill; But not to those whom we love;
Lest we love those who love not us! - A third - "to thee and men, love!" "To Clarinda"
7) Heather Magowan 1930-1996 June 23rd, Colin James McGowan 1967; Lindberg 1930; Marconi 1930
(And) fill them high with generous juice, As generous as your mind;
And pledge me in the generous toast - "The whole of human kind!" "To Clarinda"
8) June 28th, Eleanor Jones 1928
I am a fiddler to my trade, And a' the tunes that e'er I play'd,
The sweetest still to wife or maid, Was whistle owre the lave o't. "Three Jolly Beggars"
9) June 29th, Ann Hamilton, Mill View Terrace, Belfast Road, Newry 1937 5 years; July 1st, S. E. Magowan 1937
She is a winsome wee thing, She is a handsome wee thing,
She is a bonnie wee thing, This sweet wee wife o' mine. "My Wife's a Winsome Wee Thing"










1 2 3 4 5 6 7 8 9
1) July 5th, William Ellison, 17 Hyde Terrace, Newry 1924; July 6th, Mary McCoy, 6 Nicholson's Terrace, L'Derry age 88; H. McCausland 1930
(But) ye whom social pleasure charms, Whose hearts the tide of kindness warms,
Who hold your being on the terms, "Each aid the others,"
Come to my bowl, come to my arms, My friends, my brothers! "Epistle to John Lapraik"
2) July 8th, Ethné A. Holmes, Knockmoyle, Omagh Married 4/4/61; July 10th, Gloria Thompson Born July 1939
Her daddie forbad, her minnie forbad; Forbidden she wadna be;
She wadna trow't the browst she brew'd Wad taste sae bitterlie. "Her Daddie Forbad"
3) July 12th, Iris Robb; July 13th, Thos. Magowan, jun. 1955
But by those hopes I have above! And all those faults I dearly rue!
The deed, the boldest mark of love, For thee, that deed I dare to do! "Sylvander to Clarinda"
4) July 16th, Jack case 1915
How cruel are the parents Who riches only prize, And, to the wealthy booby, Poor woman sacrifice!
Meanwhile the hapless daughter Has but a choice of strife;- To shun a tyrant father's hate, Become a wretched wife.
5) July 19th, Joyce Hamilton 1927
Happy, ye sons of busy life, Who, equal to the bustling strife, No other view regard!
Ev'n when the wished end's denied, Yet while the busy means are plied, They bring their own reward: "Despondency"
6) July 23rd, Norman Brown Lpool(?)
May He who gives the rain to pour, And wings the blast to blaw,
Protect thee frae the driving show'r, The bitter frost and snaw! "On the Birth of a Posthumous Child"
7) July 29th, Andrew James Wood 1956 (Sun); July 30th, Sheila Keenan 1928; Betty Boyd 1944
Life is but a day at most, Sprung from night, in darkness lost;
Day, how rapid in its flight - Day, how few must see the night;
Hope not sunshine every hour, Fear not clouds will always lour. "Lines written on Friars-Carse Hermitage"
8) August 1st, E. Crosthwait
O Gin my love were yon red rose, That grows upon the castle wa'.
And I mysel' a drap o' dew, Into her bonnie breast to fa'! "O Were My Love Yon Lilac Fair"
9) August 7th, Janet Gilmore 1951
Ye hills, ye plains, ye forests, and ye caves, Ye howling winds, and wintry-swelling waves!
Unheard, unseen, by human ear or eye, Sad, to your sympathetic scenes I fly. "Elegy on the Death of Robert Dundas"











1 2 3 4 5 6 7 8 9
1) August 10th, Elizabeth Magowan born 1977 (Donaghmore); August 12th, Pat McAuley; Liz McMinn
Again the silent wheels of time Their annual round have driv'n,
And you, tho' scarce in maiden prime, Are so much nearer Heav'n. "To Miss Logan"
2) August 15th, Mary Elliott
All in its rude and prickly bower, That crimson rose, how sweet and fair!
But love is far a sweeter flower Amid life's thorny path o' care. "O Bonnie Was Yon Rosy Brier"
3) August 16th, Marilyn McCoy; Victor George John Magowan 1937 V.J. Day 1945 died 14 October 2005; August 17th, James Heather 1867
Sir Robert, a soldier, no speech would pretend, But he ne'er turn'd his back on his foe - or his friend,
Said, "Toss down the whistle, the prize of the field," And, knee-deep in claret, he'd died ere he'd yield. "The Whistle"
4) August 22nd, Pamelea Rea (Pamela); August 23rd, Eleanor McCullough 1911; Anne Stuart 1929
Scots, wha hae wi' Wallace bled, Scots, wham Bruce has aften led;
Welcome to your gory bed, Or to Victorie! "Bruce's Address to His Army"
5) August 25th, Teresa O'Sullivan
From thee, Eliza, I must go, And from my native shore;
The cruel Fates between us throw A boundless ocean's roar:
But boundless oceans, roaring wide, Between my love and me,
They never, never can divide My heart and soul from thee! "Eliza"
6) August 30th, Geraldine Hosford
(That) he's the poor man's friend in need, The gentleman in word and deed. "Dedication to Gavin Hamilton, Esq."
7) September 2nd, Wm.(?) Houston; Sam Gamble 1893
Sweet Anna has an air - a grace, Divine, magnetic, touching;
She talks, she charms - but who can trace The process of bewitching? "To Alexander Cunningham, Esq."
8) September 3rd, Elizabeth McAdam; September 5th, Hazel M. Crawford; Pamela Baird 1955
The man, in life wherever plac'd, Hath happiness in store,
Who walks not in the wicked's way, Nor learns their guilty lore! "Paraphrase of the First Psalm"
9) September 9th, Coralie G. Hardy 1918
To paint an angel's kittle wark, Wi' auld Nick there's less danger;
You'll easy draw a weel-kent face, But no sae weel a stranger. "To an Artist"











1 2 3 4 5 6 7 8 9
1) September 12th, Florence Jones 1926 Married 6/9/1949; September 14th, Mary Gilmour
(And) by thy een, sae bonnie blue, I swear I'm thine for ever, O! -
And on thy lips I seal my vow, And break it shall I never, O! "Bonnie Peggy Alison"
2) September 15th, Teresa McParland 1933
(Then) catch the moments as they fly, And use them as ye ought, man:
Believe me, happiness is shy, And comes not aye when sought, man. "A Bottle and an Honest Friend"
3) September 18th, Eliz. Gibson married M.(?) Ince(?) 21 Knighton Road, Olford, Kent
A Gaudy dress and gentle air May slightly touch the heart: But it's innocence and modesty That polishes the dart. "My handsome Nell"
4) September 26th, Thelma Hamilton 1932 married 7/2/51; F. McWhirter triplets 1952
A Bonnie lass, I will confess, Is pleasant to the e'e,
But without some better qualities, She's no a lass for me. "My Handsome Nell"
5) September 27th, Kenneth Stewart born 12 noon Saturday 1930; Billy Turkington(?) 1931 (not sure if the other P or D 1931 refers to Kenneth Stewarts death maybe?)
Of all the numerous ills that hurt our peace, That press the soul, or wring the mind with anguish,
Beyond comparison, the worst are those That to our folly of our guilt we owe. "Remorse"
6) September 30th, Norman Brown became grandfather ? Heather Hughes daughter 7.0 p.m. 1961; Margo Heather 1953
Some hae meat, and canna eat, And some wad eat that want it;
But we hae meat and we can eat, And sae the Lord be thankit. "The Selkirk Grace"
7) October 3rd, Sheila Hale 1932; Sadie Thompson (nee Magowan) 1914; October 4th, G. Hodder(?) 1932
Ask why God made the gem so small, And why so huge the granite?
Because God meant mankind should set The higher value on it. "Lines on Miss Davies"
8) October 6th, Mary McCormick born 1918; Heather Faloon 1929; October 8th, Emily Brown 1895
Th' expectant wee-things, toddlin stacher thro' To meet their dad, wi' flichterin' noise an' glee,
His wee bit ingle, blinkin' bonnily, His clean hearth-stane, his thriftie wifie's smile,
The lisping infant prattling on his knee, Does a' his weary carking cares beguile,
An' makes him quite forget his labour an' his toil. "The Cotter's Saturday Night"
9) October 11th, Molly Davies born 1931
When neibors anger at a plea, An' just as wud as wud can be,
How easy can the barley-bree Cement the quarrel!
It's aye the cheapest lawyer's fee, To taste the barrel. "Scotch Drink"










1 2 3 4 5 6 7 8 9
1) October 13th, Heather Thompson 1945; Ann E. McKeown born 1932; October 14th, Valerie Black
Oh! scenes in strong remembrance set! Scenes never, never, to return!
Scenes, if in stupor I forget, Again I feel, again I burn!
From ev'ry joy and pleasure torn, Life's weary vale I'll wander through
And hopeless, comfortless, I'll mourn A faithless woman's broken vow. "The Lament"
2) October 15th, Anne Dubel 1949
I see the spreading leaves and flowers, I hear the wild birds singing;
But pleasure they hae nane for me, While care my heart is wringing. "Sweet Closes the Evening"
3) October 21st, John Richard Torrans 1945 died Nov. 18th 1945; October 22nd, Ruth Salisbury 1939
It warms me, it charms me, To mention but her name, It heats me, it beets me, And sets me a' on flame! "Epistle to Davie"
4) October 25th, Helen Barry; October 26th, Mary Philomena Julett or Jellett McDonald 1947
I'll act with prudence as far's I'm able, But, if success I must never find
Then come misfortune, I bid thee welcome, I'll meet thee with an undaunted mind. "Fickle Fortune"
5) October 27th, Lillie McCoy born 1910; October 29th, Helen McMichael
Now, wha this tale o' truth shall read, Ilk man and mother's son take heed:
Whane'er to drink you are inclin'd, Or cutty-sarks run in your mind,
Think! ye may buy the joys o'er dear - Remember Tam o' Shanter's meare. "Tam O' Shanter"
6) October 30th, Eileen Hillyard
The passion of prying into futurity makes a striking part of the history of human nature in its rude state, in all ages and nations. "Halloween"
7) November 6th, Violet Magowan 1926; Marion Bryson 1936
Guid speed an' furder to you, Johnny, Guid health, hale han's, an' weather bonny;
Now when ye're nickan down fu' canny The staff o' bread,
May ye ne'er want to stoop o' bran'y To clear your head. "Third Epistle to John Lapraik"
8) November 11th, Freda Barclay
Cats like milk, And dogs like broo,
Lads like lasses weel, And lasses lads too. "Gude'en to you, Kimmer"
9) November 15th, Rosemary Sinton 1928
This life has joys for you and I; And joys that riches ne'er could buy, And joys the very best.
There's a' the pleasure o' the heart, The lover an' the frien';
Ye hae your Meg, your dearest part, And I my darling Jean! "Epistle to Davie"









1 2 3 4 5 6 7 8
1) November 18th, Torrens twins 1948 James, Derek & George Brian; John McCoy born 1940; November 19th, Nellie Magowan born 19th Nov. 1904/1905 died 12/11/46; Elizabeth Swales
Then gently scan your brother man, Still gentler sister woman;
Though they may gang a kennin' wrang, To step aside is human:
One point must still be greatly dark, The moving Why they do it;
And just as lamely can ye mark How far, perhaps, they rue it. "Address to the Unco Guid"
2) November 22nd, Hazel Magowan born 1933 died 6/3/34
I never was cannie for hoarding o' money, Or claughtin't together at a', man,
I've little to spend, and naething to lend, But deevel a shilling I awe, man. "The Ronalds of the Bennals"
3) November 25th, Wm. Greer Magowan 1944, accident Sunday 25/6/61, died Tuesday a.m. 27/6/61
Though fickle fortune has deceived me, She promis'd fair and perform'd but ill;
Of mistress, friends, and wealth bereav'd me, Yet I bear a heart shall support me still. "Fickle Fortune"
4) November 26th, Griffith McComb 1930
The mournfu' sang I here enclose, In gratitude I send you;
And wish and pray, in rhyme sincere, A' guid things may attend you. "To Miss Ferrier"
5) November 30th, Winston Churchill 1874 died 8.30 a.m. 24/1/1965; December 1st, Catherine Adams Rutherford 1952
Auld Nature swears the lovely dears Her noblest work she classes, O:
Her 'prentice han' she tried on man, An' then she made the lasses, O. "Green Grow the Rashes, O."
6) December 5th, Elaine Magowan born '34 died 26/2/35; December 6th, Frank Fisher 1866 died Friday 16/11/1951; Jean Hamilton (Magowan) 1912 died 16th March 1992
"Praise Woman still," his lordship roars, "Deserv'd or not, no matter!"
But thee, whom all my soul adores, Ev'n Flattery cannot flatter. "Epigram on Mrs. Riddel"
7) December 8th, Xavier Gibson 1923: Madge Cromie 1928
The wintry west extends his blast, And hail and rain does blaw;
Or, the stormy north sends driving forth The binding sleet and snaw:
While tumbling brown, the burn comes down, And roars frae bank to brae;
And bird and beast in covert rest, And pass the heartless day. "Winter"
8) December 14th, Mrs. Jas. Heather 1872 died on birthday 1967 aged 95; Jimmy Magowan died 1968
Then how should I for Heav'nly mercy pray, Who act so counter Heav'nly mercy's plan?
Who sin so oft have mourn'd, yet to temptation ran. "Stanza"







1 & 2 3 4 5 6 7
1 & 2) December 17th, Brian Hamilton 1946, killed on Motor accident 20/11/64
The sweeping blast, the sky o'cast, The joyless winter-day,
Let others fear, to me more dear Than all the pride of May:
The tempest's howl, it soothes my soul, My griefs it seems to join;
The leafless trees my fancy please, Their fate resembles mine! "Winter"
3) December 22nd, Mrs. Small and Jennifer
Once fondly lov'd, and still remember'd dear; Sweet early object of my youthful vows!
Accept this mark of friendship, warm, sincere - Friendship! 't is all cold duty now allows. "Verses to an Old Sweetheart"
4) December 26th, Noel Miniss; December 27th, Patricia M. McNeill
Swiftly seek, on clanging wings, Other lakes and other springs;
And the foe you cannot brave Scorn at least to be his slave. "On Scaring some Water-fowl"
5) December 29th, Mrs. W. Weir, Sunville, Church Ave., Newry
(But) it's not her air, her form, her face, Tho' matching beauty's fabled queen,
'T is the mind that shines in every grace; An' chiefly in her rogueish een. "On Cessnock Banks"
6) Deaths :-
C. V. McConnell 22/8/47
Mrs. O'Callaghan 24/8/47
M. McCoy (Saturday) 6/3/48
Robt. Lauder )Friday) 22/10/48
Jas. Torrens (Friday) 19/8/49
David Hamilton (Thur.) 19/10/50 Canada
M. Magowan Senr. died Friday 25/5/51
Sarah Boyd (Thur) 5/2/53
Susan Savage (Nurse) (Thur) 9/2/56 11.0 p.m.
Bob Drysdale (Sun. 1/12/57)
Jas. Heather (Wed a.m. 22/1/58) in 91st year
Violet McCoy (Saturday 1/3/58)
Sarah Anderson (nee Watt) (Sunday 2/3/58 3.30 p.m.)
Janet Lauder (Tuesday 12.30 a.m., 80th year 3/3/59)
Robt. Watt (Uncle Satilmore?) died 10/2/60 90 years Savelmore (townland)
Sarah Hamilton died 4.0 a.m. 18/3/60
Adam Lemon died 24/5/61 (Wed)
Agnes (Granny) Magowan died 7.30 p.m. Sat 3/6/61? 88 years
Harry Heather died 24/2/62
Annie Margt. Magowan died 10.0 p.m. 8/3/62 (Thur)
Ivan Sutherland died 25/5/1962
Jack Gamble died 15/10/1962
Jack McKinstry(?) died 24/6/63 (Mon)
Bob T. Hamill or Hamilton died 7/2/64 Fri
Willie Nash died 25/2/65
Willie Magowan killed 27/6/61
Jack Magowan died 10.45 p.m. 23/9/71 (Thur);
Pat Leatham married Leslie Coffey 4/10/58
Muriel Magowan & Aubrie McComb married 8/12/62?
McComb twins born25/6/64
7) 25/5/64 Jas. Henning died (of Fishers?)
21/11/64 (Fri) Brian Hamilton (killed)
14/6/65 Joe Hamilton died (2.30 a.m.)
17/7/64 John Watt died
15/4/66 Robt. Jas. (Bob) Watt died
28/12/68 Rev. N. Small died (5.0 p.m.)
23/9/69 Ethel Lauder died
10/2/70 Ismay Wood (nee Sutherland Alex. sister) S. Africa
3/7/71 Jimmy Gray died
Monday 17/12/51 Mavis Clarke married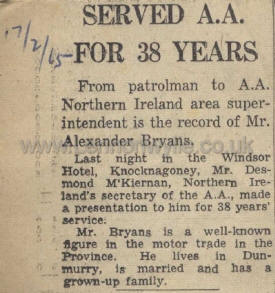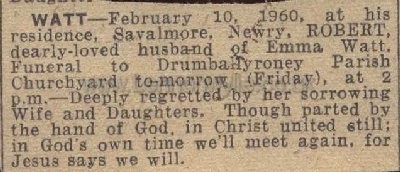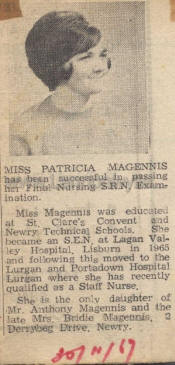 1 2 3
1) 17/2/65 Served A.A. for 38 years. From patrolman to A.A. Northern Ireland area superintendent is the record of Mr. Alexander Bryans. Last night in the Windsor Hotel, Knocknagoney, Mr. Desmond McKiernan, Northern Ireland's secretary of the A.A., made a presentation to him for 38 years' service. Mr. Bryans is a well-known figure in the motor trade in the Province. He lives in Dunmurry, is married and has a grown-up family.
2) Watt - February 10, 1960, at his residence, Savalmore, Newry, Robert, dearly-loved husband of Emma Watt. Funeral to Drumballyroney Parish Churchyard to-morrow (Friday), at 2 p.m. - Deeply regretted by her? sorrowing Wife and Daughters. Though parted by the hand of God, in Christ united still; in God's own time we'll meet again, for Jesus says we will.
3) 30/11/67 Miss Patricia Magennis has been successful in passing her Final Nursing S.R.N. Examination. Miss Magennis was educated at St. Clare's Convent and Newry Technical Schools. She became an S.E.N. at Lagan Valley Hospital, Lisburn in 1965 and following this moved to the Lurgan and Portadown Hospital, Lurgan where she has recently qualified as a Staff Nurse. She is the only daughter of Mr. Anthony Magennis and the late Mrs. Bridie Magennis, 2 Derrybeg Drive, Newry



17/9/70 Wed in Canada Chalmers - Magennis
Miss Patricia Magennis, daughter of Mr. Anthony Magennis and the late Mrs. Bridie Magennis, Derrybeg Drive, Newry, was wed to Mr. Ronald Chalmers, Honover, Ontario, Canada, in the Church of St. Rose of Lenia, Toronto. The ceremony with Nuptial Mass and Papal Blessing was performed by Rev. Fr. Sheeney. The bride was given away by a friend, Mr. Ernest Monaghan. Miss Nadine Stewart, was bridesmaid and Mr. Kenneth Chalmers was bestman. The wedding reception was held in the Guildwood Inn, Toronto and the honeymoon was being spent in Ireland.



The Northern Whig
Belfast, Saturday, November 18, 1899
Front page column one:-
Births, Marriages & Deaths
Births
Gregg - November 16, at 42 Chichester Street, Belfast, the wife of J. Gregg, M.R.C.V.S., of a son
Mathews - November 15, at York House, Chertsey, the wife of Walter Mathews, of a daughter
Phillips - November 13, at Waltair, Madras, the wife of W. W. Phillips, I.C.S., of a son
Woolf - November 14, the wife of Julian Woolf, of 51, Buckland Crescent, London, N.W., of a son
Marriages
Bush - Warner - November 14, at St. John the Baptist's Church, Frenchay, by Canon Bush, Rector of Duloe, assisted by the Rev. W. Brooke, Rector of the Parish, James Graham, second son of Canon Bush, to Esther Hastings, youngest daughter of the late Major Ashton Cromwell Warner, 20th Hussars, and Chief Constable of Bedfordshire, and step-daughter of W. Belfield, Esq., of Frenchay
Chatwin - Beaumont - November 14, at Solihull Parish Church, by the Rev. T. B. Harvey Brooks, M.A., Rector, Francis Augustus Chatwin, of South Lodge, Leamington, and Church Street, Birmingham, Solicitor, to Louisa, youngest daughter of the late John Beaumont, of Huddersfield
Prentis - Arnold - November 14, at St. Mary's, Prittlewell, by the rev. G. H. Manby, M.A., Charles Edward Combe, younger son of the late Surgeon-Major Charles Prentis, B.M.S., to Mabel Justine, only daughter of W. H. Arnold, of Southend-on-Sea
Deaths
Bolon - November 16, at his residence, Broughshane Street, Ballymena, William Bolon. The remains of my beloved husband will be removed for interment in the family burying-ground, Old Churchyard, Ballymena, this (Saturday) forenoon, at eleven o'clock. Friends will please accept this intimation. Mary Bolon
Gowan - November 17, at Ballyeasboro', Kirkcubbin, James Gowan, aged thirty-four years. His remains will be removed for interment in Ballyhalbert Burying-ground on Monday, 20th instant, at one o'clock p.m.
Hodsoll - November 11, at 80, Oakley Road, Canonbury, London, N., Thomas William Henry Hodsoll, only son of the late Thomas and Sophia Hodsoll, formerly of Wrotham, Kent, aged seventy-two years.
Sheridan - November 17, at her residence, Newry Hotel, Newry, Harriet, the dearly-beloved daughter of Thomas Sheridan. Her remains will be removed for interment in the family burying-ground, Seapatrick, Banbridge, on Monday morning, the 20th instant, at eleven o'clock.
Walker - November 14, at his residence, 36, North Side, Clapham Common, London, S.W., Edward Walker, M.A., Barrister-at-Law, aged fifty-six years.
Column Five
..... bottom of page - Missing - Miss Lizzie McCammon, about 18 years of age, left her residence in Eden on Wednesday Night, 15th inst. She was dressed in a brown skirt, with marone blouse; fair hair hanging down her back; short and rather high shouldered. Any information regarding her will be thankfully received by Miss McCammon, Post Office, Eden; or Miss Higgin, Rosganna, Kilroot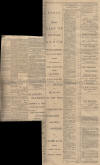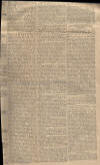 The Northern Whig
Belfast, Saturday, November 18, 1899
1 2
1) The Transvaal War, British Soldiers' Widows' and Orphans' Fund, Belfast Subscriptions
2) Sad Shooting Accident near Ballymena - Yesterday morning a young man named William John Watt, of Ballee, a little over a mile from Ballymena, reported to the constabulary at Harryville that a man who had been out fowling had been shot close to where Watt resides. Sergeant Dugdale, accompanied by Constables Hadden and Flannigan, at once proceeded to the place, and found the injured man, George McMullen, Sadder, Linenhall Street, Ballymena, lying in a dangerous condition in the house of Mr. Watt at Ballee. McMullen was conscious, although in a weak state from haemorrhage, and was able to corroborate the statement that the severe injuries which he has received were accidental. It seems that the injured man, in company with his cousin, Robert Henry McMullen, had been out in the locality of Ballee and were shooting at some pigeons at shortly after eight o'clock that morning. They were afterwards proceeding down a field in the neighbourhood, the injured man walking slightly in advance and on the left hand side of his cousin, Robert McMullen. Each of them carried a double0barrelled gun, and both firearms were at "full cock." In some unaccountable way, and by mere accident, the left barrel of the gun which Robert McMullen was carrying suddenly discharged, and the shot from it lodged in his cousin George's right side immediately below the lung, leaving a frightful gash in the injured man's side. Dr. McWhirter and Dr. D'Evelyn were communicated with, and arrived promptly on the scene, and gave most valuable assistance in attending to the deceased's injuries. The medical gentlemen upon examination of the injured man held out no hope for his recovery. The occurrence was subsequently reported by Sergeant Dugdale to District-Inspector Hardy. The police remained at the place where the injured man lay and rendered all the assistance in their power in the circumstances. Pending a magisterial inquiry into the case, Robert McMullen was detained in custody in Harryville Barrack. At three o'clock yesterday afternoon he was brought before Mr. Thomas Burns, J.P., and formerly admitted to bail. Up to the time of writing the injured man lies in a very precarious condition. Friday night. As anticipated, owing to the very serious nature of the case, George McMullen succumbed to his injuries this evening, death taking place at about five o'clock. Great sympathy is expressed with his wife and family in their sad bereavement.



The Northern Whig
Belfast, Saturday, November 18, 1899
Column One
Ladysmith, Boar, Kribi, Patria, John McGiveran, Estcourt, Durban
Column Two
continue Boer War; Belfast new ambulance; Celestial Fireworks
Column Three
Children and burns; Fund for Widows and Orphans; Queen's College, Belfast Session 1899-1900; Van Accident, Yesterday Hugh Hill, aged 67, residing at 23 Spencer Street, an employee on the Queen's Island, was admitted to the Royal Hospital suffering from a fracture of the leg caused by being run over by a van at the Queen's Quay
Column Four
London Correspondence; The Larne and Stranraer Mail Service
Column Five and Six and Seven and Eight and Nine
The War - Great Battle at Ladysmith; An Official Account, The List of Casualties; Boers Leaving Ladysmith to Intercept General Buller; British Prisoners at Pretoria; Beleaguered Kimberley; The Position at De Aar; Bridgework for South Africa; Boer Spies at Lourenzo Marques; Sir Wilfrid Lawson Asked to Resign; Great Britains Interference with Correspondence



The Northern Whig
Belfast, Saturday, November 18, 1899
Column One
Football, Queen's College v. North of Ireland; Derry Celtic v. Cliftonville; Hunting Appointments; Fire Tests
Column Two
McKean v. Keady Linen Company; Sale of Mansfield's Estate; The Cost of War
Column Three
A Dog Case, John Finlay, of 54 Parkmount Street, processed James Russell, of 21 Moyola Street, to recover £4 10s, for the trover of a collie bitch, which the plaintiff alleged to be his property. Mr. Henry Hanna (instructed by Mr. A. F. Wright) appeared for the plaintiff, and Mr. W. Harper represented the defendant. The plaintiff said he was a clerk in the employment of Mr. H. McNeile McCormick. He got a collie puppy from John Rea on the 15th March, the dog having been born on the 12th of January. On the 16th September his father lost the dog, and on the 20th September he advertised the loss. On the 22nd October the puppy came back, and on the 31st of that month the defendant, through the instrumentality of another young man, got possession of the dog. He went to the defendant's house to get the animal, but Mr. Russell said the bitch was his, not witness's. Mr. Harper - what we say is that the plaintiff had our dog for a considerable time. Mr. Hanna - and that we stole it? Mr. Harper - Pardon me, I did not say that, but you apparently know what I ought to say. (Laughter) The plaintiff further said that the bitch was called "Nettle" by him, but it would answer to any name. The defendant said his bitch was called "Nora." He got the puppy from Mr. James Fleming, of the Edinburgh Castle, York Road, in May, the puppy having been born in April. He was absolutely certain the bitch which the plaintiff claimed was his (Mr. Russell's) property. Mr. Fleming and quite a number of other witnesses gave like testimony. His Honour said that the plaintiff had failed to prove the dog was his, and he would give a "dismiss on the merits."
Harbinson v. Gregg - This was an action brought by Wm. Harbinson against the Messrs. Gregg, for the recovery of the price of a horse, value for about £11 5s, which was rendered useless to him through a timber van belonging to the defendants colliding with it. The evidence for the plaintiff was that the defendants' van was on the wrong side of the road, and the projecting timber knocked down plaintiff's horse. The animal was so much injured that it had to be destroyed. The defence was a denial of any knowledge of the collision complained of. His Honour held the defendants liable, and gave a decree for £11 5s, with 20s witnesses' expenses. Mr. McErlean appeared for the plaintiff, and Mr. Henry Hanna (instructed by Messrs. Love & Alexander) appeared for the defendants. The Court then adjourned until eleven o'clock this (Saturday) morning.
Column Four
Belfast Police Courts Yesterday
Custody Court [Before Messrs. Garrett Nagle, R.M., and William McCormick]; Larceny Cases - Thomas Brannigan was charged with the larceny of a purse containing 10s 4d and three pawn tickets from Maggie Lappin. District-Inspector Kelly prosecuted in this and the other police cases. The evidence showed that the prisoner and Lappin were in a public-house in Smithfield on Thursday evening. In that house witness missed her purse, and she charged the accused with the larceny of it. A remand until Tuesday was granted, bail being allowed. - Constable Irvine charged Mary Taggart with the larceny of £1 10s, the property of Thomas Daly, Mr. Bryan McErlean defended. It appeared that Daly met two women in Church Lane on Thursday night. They asked Daly to stand a drink. He consented, and took them to a public house. On coming out, witness and prisoner met two other women, one of whom took Daly's purse out of his trousers pocket, and handed it to the prisoner, who ran away with it. The case was remanded until Tuesday.
Alexander Cooke was charged with the larceny of a quantity of lead piping from a vacant house in Eglinton Street. A constable deposed to arresting the prisoner. After being cautioned, he stated that at noon on the 15th inst. he and another boy named Baxter went down Eglinton Street. Baxter went round to the back, and returned with the lead piping in his hand. Baxter's mother, he said, told him to take the pining to Smithfield and sell it. In order that Baxter might be brought up in custody and further evidence produces, a remand was granted till Tuesday.
Interfering with the Police - Patrick McCoy, Hamilton Street, was charged on remand with having seriously assaulted Constable Joseph Baird in the execution of his duty on the Lisburn Road on the morning of the 15th inst. Prisoner pleaded for a chance, as this was his first offence. Mr. Nagle said that, taking into consideration the injuries the prisoner had received and the serious nature of the case, only six weeks imprisonment would be imposed.
Patrick Donnelly was charged with having been drunk and disorderly on Thursday. The constable stated that when he was coming from the Summons Court the accused shoved him with his shoulder, almost knocking him off the footpath. The prisoner stated to the Bench that he was under the influence of liquor at the time. Fined 10s and costs.
Prisoners Discharged - Constable Trinder charged John Thompson and William Cameron with having entered the yard of the Glenravel Street Barrack on Thursday night for an unlawful purpose. The constable stated that at midnight he was on duty in Henry Place, when he observed the prisoners climbing over the gate of the barrack yard, which is about nine feet high. When they noticed witness they dropped into the yard, and were afterwards arrested. One of the prisoners stated from the dock that they had just left at the time one of the dragoons to the soldiers' barracks, and were returning home when arrested. They denied having been in the barrack yard, and were discharged.
Summons Court [Before Messrs. J. A. Doran and James Johnston] The Vaccination Acts - Thomas Rea, 135 Ormeau Road, was summoned by the Guardians of the Poor for failing to have his child vaccinated in accordance with the Act of Parliament. Mr. William Harper prosecuted for the Guardians. Mr. N. Tughan, who appeared for the defendant, asked for a copy of the Guardians' resolution authorising the proceedings. Mr. Harper said that his appearance as an officer of the Guardians was sufficient to show that the Guardians had intended to proceed in the case. The Bench accepted Mr. Harper's appearance. Dr. Torrens proved that the mother had registered the child's birth with him, and that the child had never been presented to him for vaccination since that time. Andrew Torrans, an officer of the Guardians, said that he had called with the parents on the 3rd inst., when Mr. Rea stated that he did not believe in vaccination. Dr. Graham proved that he had declined to vaccinate the child, as it had been physically unfit to undergo such an operation. He would vaccinate the infant in two months' time from the present if it were able to stand the operation. Their Worships adjourned the case for two months.
Mr. S. E. Allworthy, 62 Eglantine Avenue, was summoned by the same authority for a similar offence. Mr. Harper prosecuted. Mr. Allworthy stated that he thought the Act of 1898 would have excused him. Mr. Harper pointed out that the Act only applied to England. The magistrates imposed a fine of 1s and 12s 6d costs.
Lisburn Rural District Council - Monthly meeting
The Dundee Spinners' and Manufacturers' Association
Column Five
Belfast No. 2 Rural District Council; The Condition of Londonderry Asylum
Fatal Fight on Board a Steamer - At the Londonderry Recorder's Court yesterday a case was heard arising out of a fight on board the steamer Brantwood at the quay in October last. Thomas Cassidy, belonging to Belfast, boatswain of the steamer, was indicted for the manslaughter of Hugh Fullerton, of Donaghadee, who also belonged to the Brantwood. Mr. Maxwell, who pleaded guilty for the prisoner, said that he had advised his client to do this, although the depositions showed the affair was an accident, and that Fullerton provoked the fight, which ended in the combatants falling overboard, Fullerton being drowned. The prisoner had got an excellent character from his captain. The Recorder said that the prisoner was in law guilty of manslaughter, but he was glad to be able to say that the fight, according to the informations, appeared to have been a fair one. There was nothing mean or shabby about it, except perhaps the circumstance that there should not have been a fight at all. But he thought that neither of the men had reckoned upon going over the edge of the vessel into the water. Under all the circumstances he would sentence the prisoner to a month from the date of his committal, which would expire that day, so that the prisoner was discharged on entering into his own bail of £20 to be of good behaviours for the next twelve months.
Property Sales - Messrs. McKelvey & McCombe sold the following properties at their salerooms, 85 Royal Avenue, Belfast, yesterday, 17th inst.: - Two dwelling houses, Nos. 31 and 33 Alma terrace, Crumlin Road, Belfast, let at £90 per annum; less ground rent, £18 4s; profit rent, £71 16s. Biddings :- Mr. Jenkins, £700, £800, £900, £975, £1,025, £1,060, £1,080, £1,100; Mr. Carlisle, £750, £850, £950, £1,000, £1,050, £1,070, £1,090, £1,110. Mr. Carlisle was the purchaser in trust at £1,110. Two dwelling houses, 35 and 37, Alma Terrace, Crumlin Road, Belfast; letting value, £85 per annum; less ground rent, £18 4s; profit rent, £66 16s. Biddings :- Mr. Carlisle, £500, £600, £650, £700; Mr. William McCormick, £550, £625, £675, £950. Mr. William McCormick was the purchaser in trust at £950. Messrs. Read & Macnab, solicitors, 4 Dawson Street, Dublin, had carriage of the sales.
Column Six
Correspondence - Royal Ulster Works - To the Editor of the "Northern Whig"
Sir, - Why should the ratepayers give £25,000 for the Royal Ulster Works as a technical school when, according to Marcus Ward & Co.'s own estimate, the premises are valued for about £8,000 less than that sum? See their printed balance-sheets. - Yours, &c., Ratepayer. 17th November, 1899.
Patrons and Managers of National Schools; Presentation of Royal Humane Society's Certificate at Carrickfergus; North of Ireland British Israel Association; The Busiest Man in London


The Northern Whig
Belfast, Saturday, November 18, 1899
Column One
Glasgow, Friday - The Glasgow and South-Western passenger train between Glasgow and Renfrew last night, while standing at a danger signal at Shields Junction, near Glasgow, was run into by a goods train of twenty waggons, which had been backed from a siding to the main line. The two vans came together with considerable force, and a number of the windows of the passenger train were broken, but otherwise little damage was done to the rolling stock. Eleven persons complained of being shaken, but they were able to proceed on their journey. Their names are :- Archibald Urie, Avondale Villa, Paisley; Mr. and Mrs. Teasdale, Bell Street, Renfrew; Mr. and Mrs. McLullaish, Hawkhead Asylum; Andrew McLellan, Moss House, Cardonald; John McGregor, Orchard Street, Renfrew; and James Abbot, Renfrew. It is stated that the accident was caused by some misapprehension in the signalling.; Constitution of the Clyde Trust; Death of a Well-Known Liberal Unionist - Dingwall, Friday. Bailie Thomas Nicoll.; Yorkshire College, Leeds
Column Two
The Queen's Visit to Bristol; Fatal Railway Accident, Scunthorpe; The Mysterious Death of A Belfastman - With reference to the death in Greenock under peculiar circumstances of a man named John McGiveran, a post-mortem examination of the body showed that death was not due to violence, and on the surgical report the two men in custody, named Erskine and Alcorn, have been released. It will be remembered that the deceased was under the influence of drink, and had fallen on the stairs at Erskine's door.; The S.S. Patria Abandoned, Hamburg, Friday; The French Concessions in China, Paris, Friday
Column Three
The Illustrated Weeklies
Column Four
Ill Treatment of a Child (part story) ..ened Like a Dog, London, Charles Edward Frampton, etcher, was charged with ? and persistently ill-treated his ? aged eight years, in a manner ? him unnecessary suffering and ? health.; The United States Consul at Pretoria; Taking Egypt Under Cover; Mr. Joseph Arch's Intended Marriage
Column Four
Dublin, Friday Night; The Kaiser's Version of "Oberon"; From the Red Sea to Zanzibar; One of Rhodes's Fads; A Prince's Ardour Checked; The Jute Trade
Column Five and Six
The American Markets, Stock Market; Shipping Intelligence; Wrecks and Casualties; Mail New
the end