Various Names
these came together but may not be related
Malcolm - Hodge - Logan - McKeown - Caskie - Hayworth - McCance - Linton - Mooney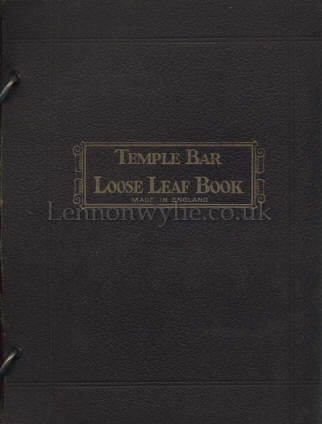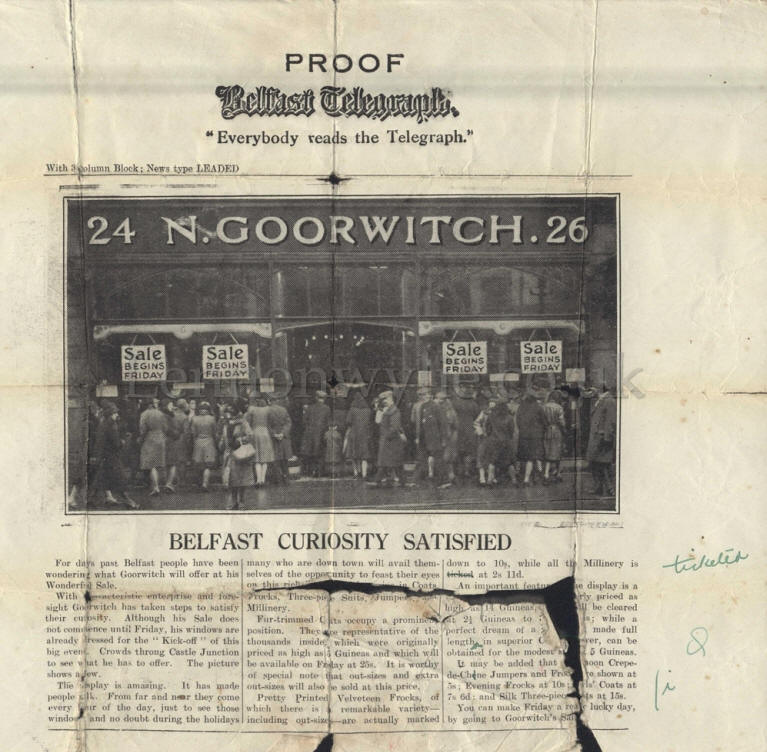 PROOF
Belfast Telegraph
"Everybody reads the Telegraph"
With 3 column Block; News type LEADED
24 N. Goorwitch 26
Belfast Curiosity Satisfied
For days past Belfast people have been wondering what Goorwitch will offer at his Wonderful Sale. With Characteristic enterprise and foresight Goorwitch has taken steps to satisfy their curiosity. Although his Sale does not commence until Friday, his windows are already dressed for the "Kick-off" of this big event. Crowds throng Castle Junction to see what he has to offer. The picture shows a few. The display is amazing. It has made people talk. From far and near they come every hour of the day, just to see those windows and no doubt during the holidays many who are down town will avail themselves of the opportunity to feast their eyes on this rich .......... in Coats, Frocks, Three-piece Suits, Jumpers, and Millinery. Fur-trimmed Coats occupy a prominence position. They are representative of the thousands inside, which were originally priced as high as 5 Guineas and which will be available on Friday at 25s. It is worthy of special note that our-sizes and extra out-sizes will also be sold at this price. Pretty Printed Velveteen Frocks, of which there is a remarkable variety - including out-sizes - are actually marked down to 10s, while all the Millinery is ticked (Ticketed) at 2s 11d. An important feature of the display is a ......... priced as high as 14 Guineas, .... will be cleared at 2½ Guineas to .....; while a perfect dream of a ..... made full length in superior ......., can be obtained for the modest sum of 5 Guineas. It may be added that ...oon Crepe-de-Chene (Chine) Jumpers and Frocks are shown at 5s; Evening Frocks at 10s; Girls' Coats at 7s 6d; and Silk Three-piece suits at 15s. You can make Friday a really lucky day, by going to Goorwitch's Sale.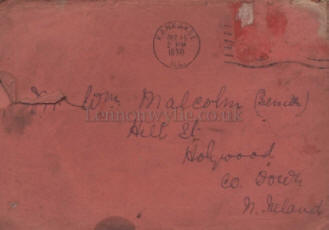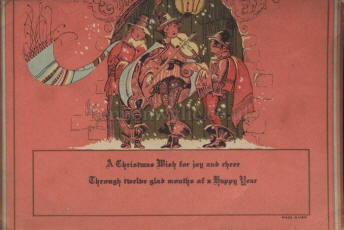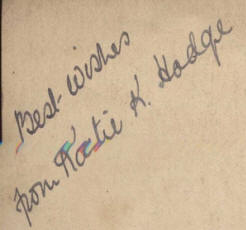 Kankakee 15 December 1930 Mr. William Malcolm (Senior), Hill Street, Holywood, Co. Down, N. Ireland
A Christmas Wish for joy and cheer, Through twelve glad months of a Happy Year - Best Wishes from Katie K. Hodge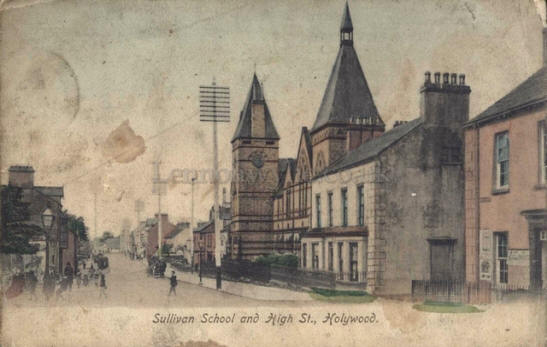 Sullivan School and High Street, Holywood
Holywood 19 June 1905 to Miss May Logan, 9 Bachelors' Walk, Lisburn - Dear May, Received your Postcard & paper on Saturday morning. Glad to hear all are very well. Grannie just in here, usual. Ella is just at her washing. Mother is keeping better & Miss Simpson & Miss Nevin & Ann & all the rest are well, with love from us all. From Jimmie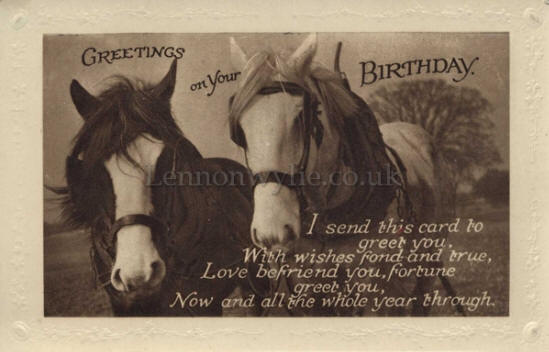 Belfast 28 January 1934 to Mr. S. McKeown, 3 Irwell Street, Broadway, Bangor, Belfast
Greetings on Your Birthday - I send this card to greet you, With wishes fond and true, Love befriend you, fortune greet you, Now and all the whole year through - Many happy returns from Aunt Sarah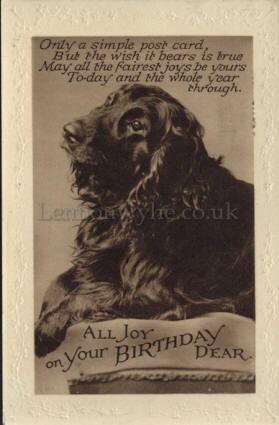 Belfast 28 January 1934 to Master John McKeown, 3 Irwell Street, Broadway, Belfast - To wish you many happy returns. Aunt Sarah
Only a simple post card, But the wish it bears is true, May all the fairest joys be yours, To-day and the whole year through.
All Joy on Your Birthday Dear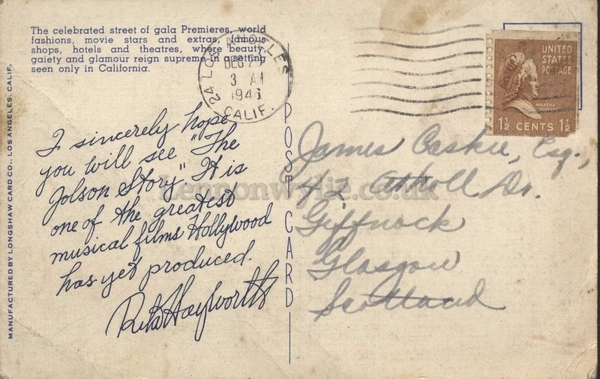 Los Angeles 20 December 1946 to James Caskie, Esq., 42 Atholl Drive, Giffnock, Glasgow, Scotland - I sincerely hope you will see "The Jolson Story" It is one of the greatest musical films Hollywood has yet produced. Rita Hayworth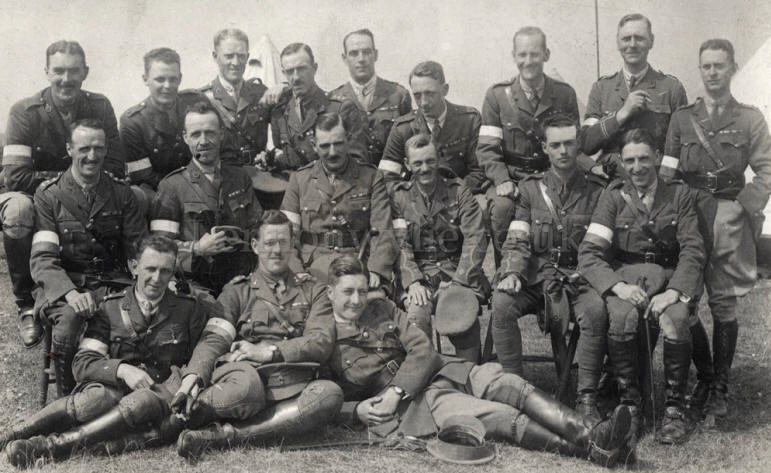 Adjacent? 55 Divisional Squads TA in Camp Isle of Man 1922
I.O.M. august 1922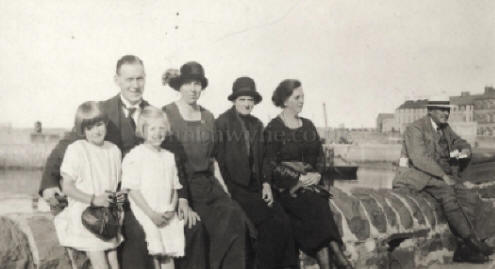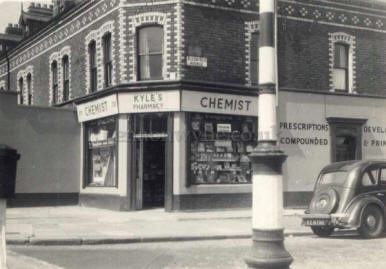 Donaghadee maybe? Kyle's Chemist, Bloomfield Avenue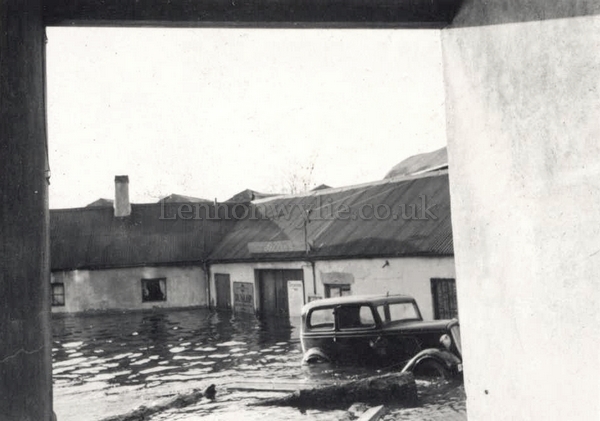 Market Yard, Campsie. Trees floating through the water (timber yard) November 1951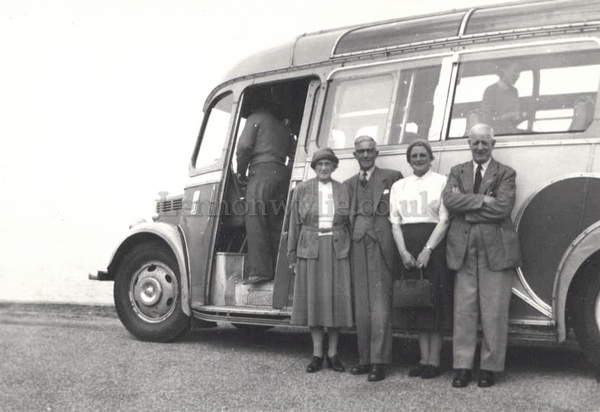 The Bus we went on tour round Isle of Arran and Lochranza (Scotland)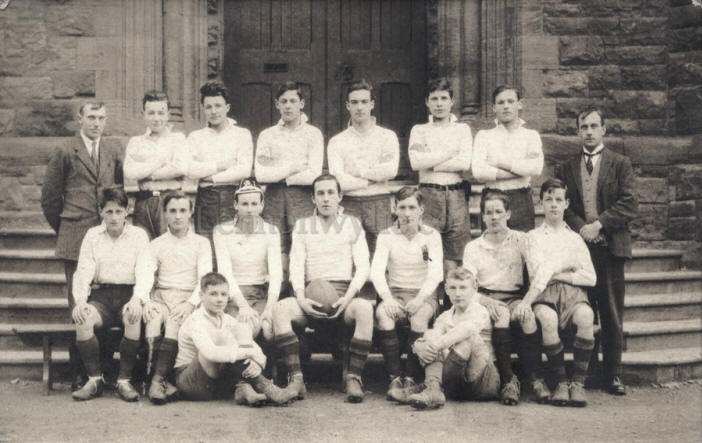 Jim - 3rd player from left (back)
The McCance stuff is a letter dated in the 1980s, too recent to post online, it is from 11 Chisholm Road, Richmond, Surrey from John Cuddington or Puddington or Luddington making reference to a photograph that was delivered and also reference to a Dutch Prince? and R. Delarnian? a mathematician, Onslow spoons c1740-1750, O'Neill family crest, the red hand of Ulster.
... this letter accompanied by 3 typed pages ...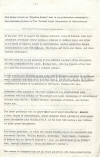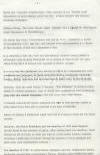 Two Boxes known as "Freedom Boxes" now in my possession presented to two relatives of mine by The "Antient Loyal Corporation of Carrickfergus" - In the year 1787 August 6th Charles Manners, Duke of Rutland, then Lord Lieutenant of Ireland; whilst making a progress to various towns and cities in the North of Ireland; landed at Carrickfergus, having sailed from Bangor accompanied by Lord Hillsborough, The Bishop of Down and Conor, and other eminent personages. He was received on the quayside by the different members of the corporation and was presented by the mayor, William Kirk, with the freedom of the town in a gold box accompanied by a suitable address. In the evening his excellency and suite with a numerous company of gentlemen were splendidly entertained by the corporation, on which occasion his Lordship conferred the honour of knighthood on the mayor, William Kirk esq. Seventeen other gentlemen who were present at this entertainment were presented with the freedom of "The Antient and Loyal Corporation of Carrickfergus" amongst them the Rev. William Bristow, Sovereign of Belfast, and William Finlay, Esq. The latter gentleman was my great-great-great-great Grandfather, a linen Draper of Carrickfergus, whose daughter Maria married my great-great-great Grandfather John McCance M.P. as his first wife having a son William, my great-great Grandfather. The former gentleman, to whom the second freedom box in my possession was presented; The Rev. William Bristow, Sovereign; - (Lord Mayor, I believe):- of Belfast was my Father's Mother's; - (i.e. my grandmother on my Father's side, herself a Bristow); - Great Grandfather's brother" This seems to indicate that not all those gentlemen who were present at the dinner and "splendid entertainment" were members of the "Antient Loyal Corporation of Carrickfergus" since The Rev. William Bristow was himself sovereign of Belfast. William Finlay, The Linen Draper most probably was a member of "The Antient Loyal Corporation of Carrickfergus." His father was also a Carrickfergus man and an M.D., apparently a doctor of considerable skill, who was still himself alive and practising as a doctor on the occasion of The Lord Lieutenant's visit. It is interesting that this visit and presentation occurred during Grattan's parliament when an Irish Parliament sat in Dublin in what is now the head office of the Bank of Ireland just opposite to Trinity College. It is true that this parliament was elected to office by a comparatively small electorate who belonged, at least nominally, to the established Church of Ireland, Roman Catholics and Non Conformists alike being disenfranchised. However, even the great Daniel O'Connell, "The Liberator" is known to have stated on several occasions, that he would have preferred an Irish Parliament, even with this limited electorate than the Union with Great Britain. O'Connell achieved for Roman Catholics the right to vote but was unable to bring about Home Rule with a reversion to an Irish Parliament. Reform of Grattan's Parliament might have led to a happier future for the whole country. However, the French Revolution and the rebellion of 1798 made England, herself beset by the greatest of perils, after putting down the rebellion, force through an act of Union by what can only be called pretty dubious methods, involving a great deal of bribery through the granting of Irish peerages and other even more questionable methods! The rebellion of 1798, in which Roman Catholics and Non Conformists joined, hoping for support from revolutionary France, (whence came Wolfe Tone after the rebellion had failed on one French ship, himself to suffer execution), was, with hindsight, a tragic blunder for Ireland. England was engaged in a life and death struggle with revolutionary France and could not but treat any unrest in Ireland involving any French aid as something which must, at all costs, be put down. Hence the Act of Union, which, once again with hindsight, can only be seen as a tragic blunder both from the point of view of Ireland and of England.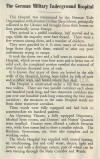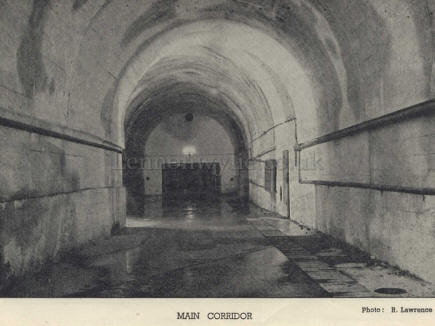 The German Military Underground Hospital
St. Peter's Valley, Jersey
This Hospital was constructed by the German Todt Organisation with Russian Civilian Slave Labour, principally collected in the Ukraine and brought from their homes on foot practically across Europe. They arrived in a pitiful condition, half starved and in rage, while the majority were bare footed. There were a few women among them, and a number of children. They were guarded by S.S. men, many of whom had large fierce dogs with them, trained to seize any poor unfortunate trying to escape. It took the slaves two and a half years to construct this Hospital, which covers over four acres and is hewn out of solid rock, the completed portion entailed the removal of over fourteen thousand tons of rock. It is known that many of them are buried in the side walls of the Hospital, having been killed by falls of rock and in other ways, and buried where they died. The Hospital is constructed under a hill that separates two valleys. There are two parallel corridors each about one hundred yards long, and two transverse corridors also just over one hundred yards long connecting the two main corridors; the entrance to the main Hospital wards are from these transverse corridors. These wards were fully equipped and had beds to accommodate six hundred patients. An Operating Theatre, a fully equipped Dispensary, Medical Store rooms, and Doctors' and Nurses' Quarters were installed. Doctors were allotted a cubicle between two, while four nurses had to share a smaller cubicle. The Kitchens, Storerooms, etc. were also complete and in working order. The whole Hospital was supplied with central heating, air conditioning, hot and cold water, electric light and power, and with a drainage system, part of which can be seen running through the Main Corridor and Wards.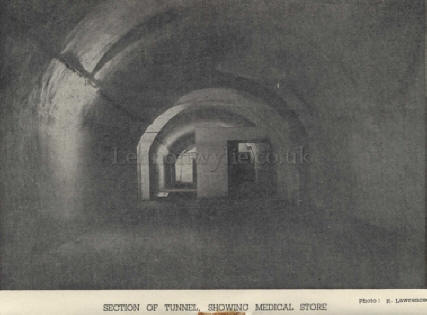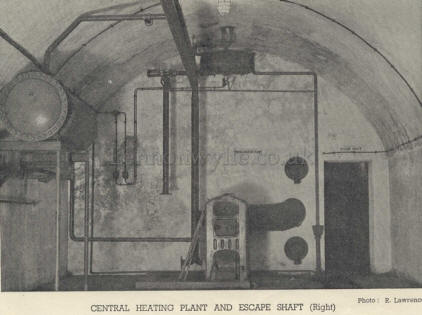 A third and fourth transverse corridor and a Mortuary were started but never completed, these can be viewed from the main corridors and give some idea of the conditions under which the slave labour had to work. In addition to the unfinished galleries that can be seen, several other galleries which were started by the Germans were sealed off by them after bad falls of rock had taken place. There are two escape shafts from the deepest part of the Hospital some one hundred and thirty feet below ground, one is unfinished and consists of a rough shaft to the surface, this is liable to cave in at any time. The other one is complete and consists of two very steep flights of narrow concrete steps leading to a landing some twelve feet below the ground level which is reached by a ladder. The Hospital has an emergency electric light plant driven by a Diesel Engine, this plant could also supply power for the Air-Conditioning Plane, but in case of emergency the Air-Conditioning could be hand operated, and the air pumps for this purpose can be seen in the various Wards and Storerooms. This Hospital is the largest underground construction in the Island. Several others were in course of construction as stores, etc. but were not as near completion as the Hospital. The British Liberation Forces unfortunately removed all the equipment before handing the construction over to the States of Jersey.
STATISTICS
The Hospital has a floor space of 27,611 square feet in the completed portion. Approximately 271,937 cubic feet of rock, that is about 13,600 tons have been excavated from the completed part of the hospital. About 4,000 tons of concrete was used to line the galleries and walls.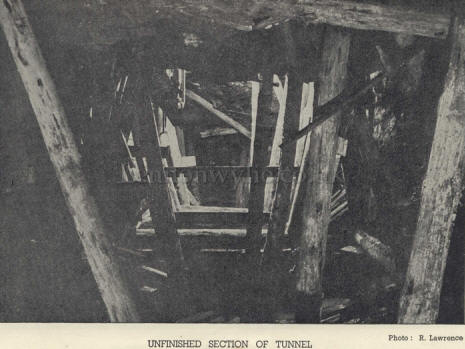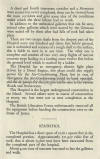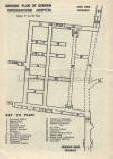 Ground Plan of German Underground Hospital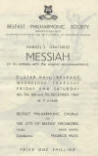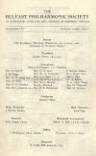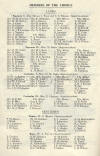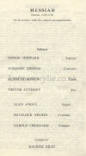 Belfast Philharmonic Society Ninetieth Season 1963-64
Handel's Oratorio Messiah
Patron - His Excellency The Lord Wakehurst, K.G., K.C.M.G., LL.D. Governor of Northern Ireland
President - Robert Watts, C.B.E., M.C.
Committee - Albert V. Froggatt, J.P., Chairman
Mrs. S. Carroll, J. H. Craig, Rev. G. F. Craig, M.A., Mrs. M. Esler, Mrs. H. D. Heazley, Miss M. L. Johnston, M.A.; Miss D. M. Kerr, Mrs. W. A. Littlejohn, Miss M. Logan, G. L. Marshall, O.B.E., M.A., Mrs. M. L. Martin, Hooton Mitchell, Mrs. W. R. McDowell, J. Ritchie McKee, R. J. Neely, F.C.A., Miss J. Page, W. A. Smyth, T. G. McC. Stuart, Mrs. O. Warnock, Miss N. Watters
Conductor - Maurice Miles Hon. Treasurer - J. Ritchie McKee Hon. Secretary - Joan Page
Organist - Alan Angus, F.R.C.O. Rehearsal Accompanist - Hilary A. Bell, L.R.A.M., A.R.C.M.
Secretary - R. Leslie Bell, B.COM.S.C., A.C.A.
Members of the Chorus
Ladies
Soprano I - The Misses J. Page and J. C. Rogers (Superintendents)
Mrs. M. M. Downey, Mrs. H. W. Eakins, Mrs. A. Freel, Mrs. O. Greeves, Mrs. E. Ireland, Mrs. H. J. B. Leathem, Mrs. A. Maguire, Mrs. A. Majury, Mrs. E. M. Murran, Mrs. D. McCracken, Mrs. M. McCrisken, Mrs. G. McKee, Mrs. P. McMullan, Mrs. J. Roberts, Mrs. H. Sinfield, Mrs. B. M. Smith, Mrs. E. G. Stirling, Mrs. N. Wilson. The Misses P. A. Bradshaw, A. Byers, J. C. Craig, W. Craig, O. Erskine, S. Erwin, M. A. Farren, V. J. Hamilton, F. Innis, D. Jameson, I. Johnston, E. Kyle, M. Lemon, K. J. R. McCarley, M. McIlwaine, E. McNeill, K. O'Hare, M. Sands, P. M. Scovell, N. Thompson, N. E. Trash, M. Watson, E. Watson, E. S. Watt, M. A. Wilson
Soprano II - Miss M. Seeds (Superintendent)
Mrs. O. W. Adair, Mrs. O. Blair, Mrs. N. Cassidy, Mrs. J. D. Collins, Mrs. E. Fleming, Mrs. E. Goligher, Mrs. G. E. Jeffery, Mrs. M. Johnston, Mrs. A. Murphy, Mrs. A. Owens, Mrs. M. I. Reid, Mrs. W. M. Ross, Mrs. M. Shaw, Mrs. M. E. Sterling, Mrs. I. S. White, Mrs. J. Wynne. The Misses D. Allen, G. Allen, A. M. Boyd, V. S. Carson, E. Elwood, J. Erwin, M. C. Evans, R. Hewitt, K. Houston, M. E. Jones, M. Logan, A. D. Millar, Miss M. N. Mulligan, S. H. Montgomery, H. McMillan, E. A. McVicar, H. Patterson, M. A. Richey, P. E. Robinson, V. Rowan, M. Valentine
Contralto I - Miss D. M. Kerr (Superintendent)
Mrs. E. A. Barber, Mrs. J. R. Clarke, Mrs. M. A. Doran, Mrs. A. Luff, Mrs. W. R. McDowell, Mrs. J. E. O'Callaghan, Mrs. M. L. Simpson, Mrs. M. Todd, Mrs. J. Turner, Mrs. E. Welsh, Mrs. E. Whiteside. The Misses K. M. Abernethy, T. Byrne, A. Clarke, R. Dunn, P. Ferran, F. Hanlon, I. Harper, M. L. Johnston, M. J. Kennedy, A. R. J. Kennett, Y. Orr, M. J. Stewart, J. Taggart, N. Watters
Contralto II - Mrs. E. Heazley (Superintendent)
Mrs. D. E. Bell, Mrs. R. Blair, Mrs. R. Davidson, Mrs. J. H. Stanford, Mrs. H. J. White. The Misses Joan E. Ball, A. J. Duff, D. Harvey, I. Houston, J. Lilley, E. H. Meeke, V. McConnell, H. R. Reilly, Kathleen Ritchie, B. B. Simpson
Gentlemen
Tenor - H. G. Brown (Superintendent)
P. W. Beach, C. Black, H. J. Cameron, J. Cathcart, I. W. Coey, W. M. Cuthbert, J. Forbes, J. G. Gordon, F. Hamill, N. Helsby, S. A. Jamison, T. Johnstone, C. Keenan, A. A. Kettley, R. S. Mackey, H. Miskelly, A. H. MacLaughlin, N. McNally, R. J. Neely, G. Neeson, F. Neill, T. O'Neill
Bass - W. A. Smyth (Superintendent)
S. Crookes, R. A. Deane, D. J. Dunlop, D. A. Freeland, D. Galashen, R. C. Hinds, S. W. Johnston, W. Lindsay, T. Marriott, N. Mulholland, C. MacLaughlin, G. L. McBride, D. McIntyre, W. McLarnon, R. McMullan, J. Norwood, J. E. O'Callaghan, S. Skillen, A. Smyth, C. Stirling, N. Todd, W. Walker, J. Walsh, J. H. Wilson
Soloists
Honor Sheppard - Soprano; Marjorie Thomas - Contralto; Kenneth Bowen - Tenor; Trevor Anthony - Bass; Alan Angus - Organ; Havelock Nelson - Continuo; Harold Uprichard - Trumpet
Conductor - Maurice Miles




Miss G. Linton
West Church, Ballymena
Messiah
Tuesday 12th December 1950
Soprano - Gladys Thompson; Contralto - Marion Walker; Tenor - Raymond Marshall; Bass - Samuel Edwards
Choir of Sixty Voices
Organist - Hilda Irwin; Conductor - William Livingstone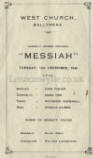 West Church, Ballymena
Messiah
Tuesday 14th December 1948
Soprano - Joan Fisher; Contralto - Dora Orr; Tenor - Raymond Marshall; Bass - Donald Cairns
Choir of Seventy Voices
Organist - Hilda Irwin; Conductor - William Livingstone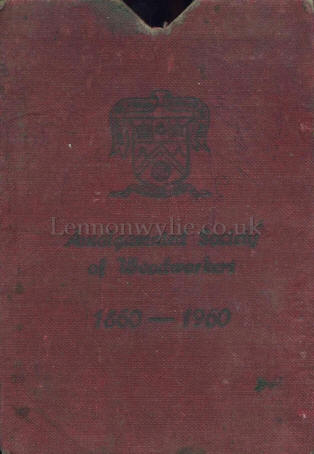 Amalgamated Society of Woodworkers
1860 -1960



Greetings from S. Mooney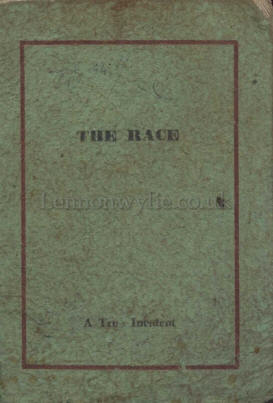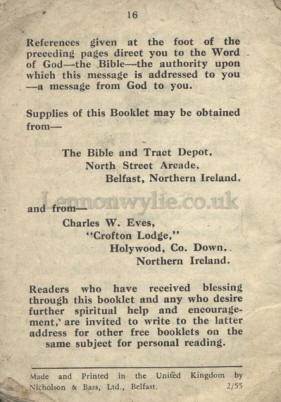 The Race - A True Incident
Charles W. Eves, "Crofton Lodge" Holywood, Co. Down, Northern Ireland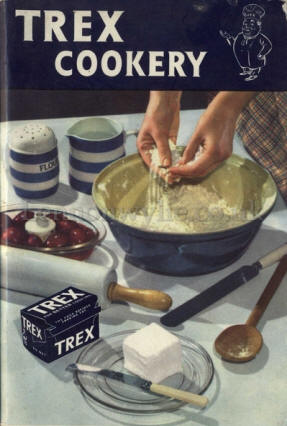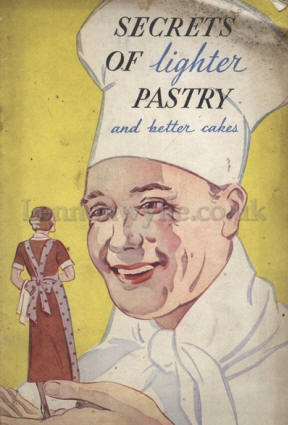 Trex Cookery