1968

Holiday Album Patricia Harte Helen's Bay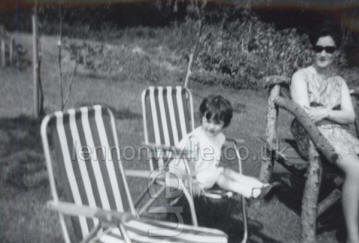 Gale & Nicola Watt, Rossglass June 1968
FRIDAY June 14th 1968, At 10.00, we left Rossglass on our first visit back to Northern Ireland. We took Benjamin Batric with us in the back of the Vauxhall. Having lunch at 1.00 on the way, we arrived at Harry and Anne's house in Alsager Cheshire, at 3.00. We stayed there until 5.30 and were at the ship in Liverpool Docks a couple of hours later. Half an hour afterwards, we drove on board.
SATURDAY June 15th, at 7.30 a.m. we drove off at Belfast and were at Uncle Noel's house in Holywood for breakfast at 8.00. In the afternoon we called at Jane's in Donegal Park Avenue but she was out, so we called at Judy's in Jordanstown and stayed till 9.15!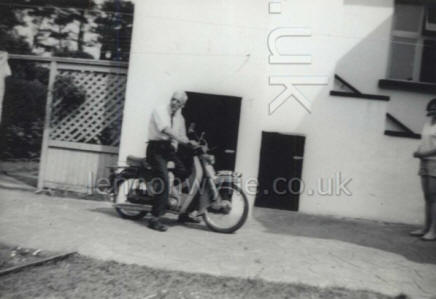 R. H. Harte, Hollywood (Holywood) on Wesley's motorbike
SUNDAY June 16th, After dinner, the three of us went to Kabakona, Helen's Bay, and saw Aunt Hilda, James, Mary and Mary's fiancé, Bill Strahan. At 7.00 we went to Jane's and gave her her wedding presents.
MONDAY June 17th, We went into Belfast and has lunch at the Step-Aside Cafe, I bought three dolls for my collection. After our early lunch we met Mrs. Turner, wife of the Methodist minister of Carlisle Memorial Church and had afternoon tea at the Manse. We were back in Holywood by 6.00 after fruitlessly trying to buy some toy soldiers for Cousin Peter.



TUESDAY June 18th, In the afternoon we went to call on Eileen Hughes at her parents home in Mount Vernon, she has come back from Africa to have her baby. After a meal in another Step-Aside Cafe, Mum and Dad left me with Dorothy MacElroy for a couple of hours in Annadale terrace.
WEDNESDAY June 19th, We went to Kabakona for dinner. Mary has quite an array of Wedding Presents laid out in the dining room. Some people came for afternoon tea and we stayed for tea. Then we took James to the Royal Victoria Hospital, where he is a doctor, and went on to collect Jane. We went to Carrickfergus to see her and David Robinson's new house. Mum and Dad left us at her house in Donegal Park Avenue, and later she and David, who arrived in the evening, took me back to Holywood.
THURSDAY June 20th, In the afternoon, Dad and I took Mum to see Mrs. McKenna, who was our 'help' in Bartras and Burnbrae. Leaving her there we went to Somerton House, the Preparatory School attached to B.H.S., to see Mr. Rawlings, the headmaster. Afterwards, we went next door to see his wife, before collecting Mum, and a cup of tea. In the evening Mum and Dad went to see Mr. and Mrs. Noble in Jordanstown, opposite Burnbrae, leaving me at Mrs. Heaney's, where I saw my ex-fellow Rangers: Joan Rolston, Pat Dixon (Dougherty that was) and Rhoda Kelly.
FRIDAY June 21st, In the afternoon, we went into Belfast for Dad to hire a morning suit and go to a meeting. Then, we called at Hilary Carroll's house in Ormeau Avenue, there was no-one at home. Aunt Ethel, Aunt Jill's mother, is now in Holywood.
SATURDAY June 22nd, In the afternoon, we went to Lurgan and had tea with Anne and Bill and their family. They took us to see their marvellous new house. It was nearly complete, but the stair landing was only a frame, across which Bill had to help Mum and I.
SUNDAY June 23rd, we took Jane for a picnic at White Park Bay in the afternoon.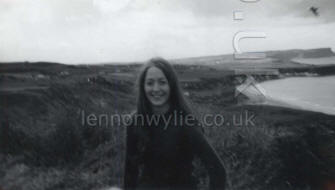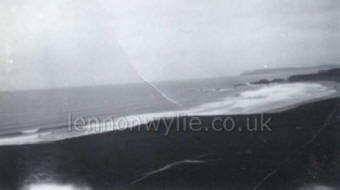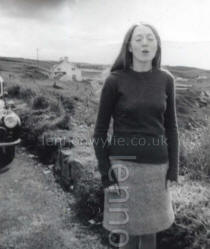 Jane Adams at Whitepark Bay
MONDAY June 24th, We took Judy and her mother for a drive up the North Antrim coast in the afternoon and had a very good tea in the Marine Hotel, Ballycastle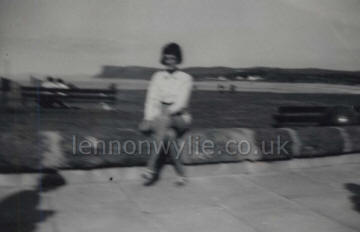 Judy Latto
TUESDAY June 25th, Dad left me at Judy's and Mum at Mrs. Noble's while he went to B.H.S. he collected me about 3.00 and we went to the Nobles. Mum had popped over the road to see Mrs. MacKnight in Burnbrae. We had afternoon tea with Mrs. Noble. Then we called at Maureen Barnett's, no-one at home. In the evening, Mum and Dad left me with Jane while they went for a dinner to the Turners at the Manse. Janes minister called with a bible as a Wedding Present for her. She made us a chip supper.
WEDNESDAY June 26th, In the evening, Mum and Dad took me to Dorothy's. She gave me a doll of Elizabeth she had made for my collection.

Mr. and Mrs. W. McB. Adams request the pleasure of the company of Miss Patricia Harte at the marriage of their daughter Jane Anne to Mr. David J. Robinson, at Seaview Presbyterian Church, on Thursday, 27th June, 1968, at 12 noon, and afterwards at Belfast Castle - 12 Downview Drive, Belfast 15. R.S.V.P.
THURSDAY June 27th 1968, Jane's Wedding. It was in Seaview Presbyterian Church. Before we went in, we went and spoke to Eileen who was going to sit in her car outside. As she was coming down the aisle, Jane turned her head towards me, I was at the end of the pew and smiled at me, raising her hand to me. The Reception was at Belfast Castle and was a sit-down affair, as at Eileen's. I had an accident with a strawberry which stained my dress. After the meal, her sister Jo, and cousin Edith, who were the bridesmaids, brought me with them to the room where Jane would change her clothes. There was a tiny turret dressing room off it. When they helped her remove the sweet peas from her hair, she tossed one to me and it landed in my skirt.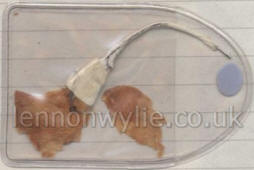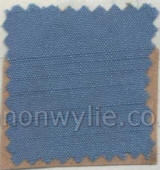 sweet pea from Brides hair material of Patricia's dress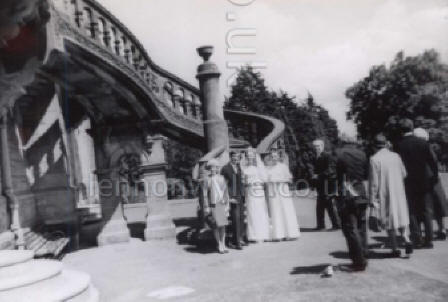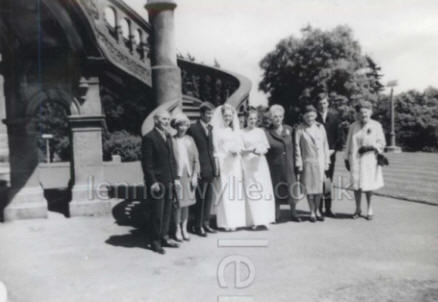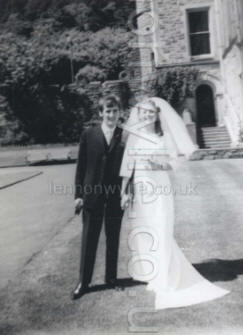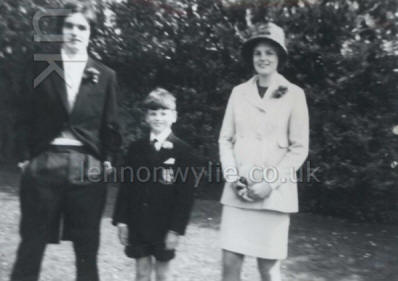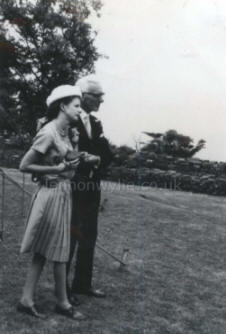 Wendy, Peter & Wesley Harte Patricia & R. H. Harte
FRIDAY June 28th, In the morning we went into Holywood to collect my dress, which was left at the local cleaners last night. The strawberry stain wasn't out and it had to be done again! In the afternoon, we collected Mary from Kabakona and took her into Belfast to collect her Wedding Dress, which was laid along the back seat of the car. Then we collected my dress in Holywood. This time the stain was out.
SATURDAY June 29th, Mary's Wedding, It was in St. John's Church at the end of Sheridan Drive. The bride vowed "to obey", whereas, in the Presbyterian Service, the vow in "to be dutyfull". The Reception was in a large marquee in the grounds of nearly Kabakona. There were many small, none-too-steady tables and when Dad got up to speak to someone, my glass of orange squash spilled over my dress. Mary was married by the Bishop of ?, who had a friend of her father. Was he the Bishop of Clogher?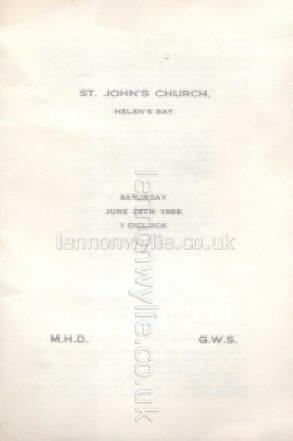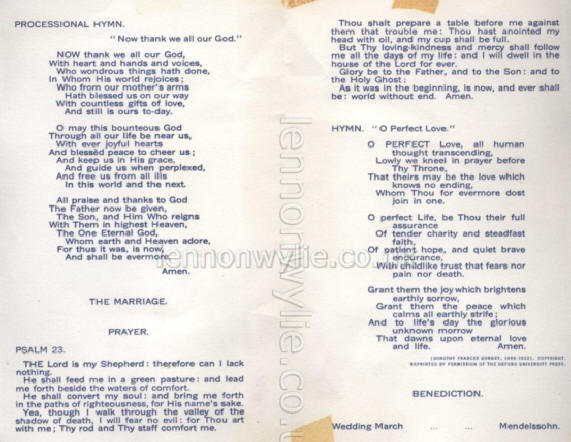 St. John's Church, Helen's Bay, Saturday, June 29th, 1968 1 o'clock M.H.D. G.W.S.
As there was not time when we got back to Holywood to send me dress to the cleaners again before Judy's 21st Birthday Party in the evening, Mum washed it. Uncle Noel rigged up a Heath-Robinson contraption, involving a rope, a broom handle and the kitchen table (or a chair). In the evening we went to Judy's 21st . . . Mum helped Mrs. Latto in the kitchen. So, part of the time, did Dad. There was champagne, the cork coming out with the traditional noise. Sylvi Blan - B.H.S. head girl when Judy and (I?) were in the same form, sang solo "We shall Overcome" in the sing-song.
SUNDAY June 30th, Since last night's party didn't finish until about 1.30 a.m., I wasn't in bed until an hour later. We went to Kabakona for dinner and stayed until about 9.30.
MONDAY July 1st, We took Peter and had lunch in the Step-Aside in Belfast. There we met Mr. Malcolmson, English master to B.H.S. Then the four of us went to Ormeau Road cinema to see "The Bible"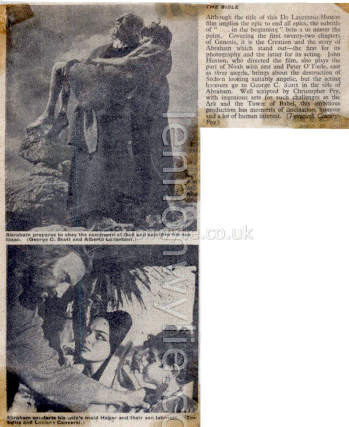 TUESDAY July 2nd, In the afternoon we went into Belfast and in the evening Mum and Dad took me to Dorothy's
WEDNESDAY July 3rd, Leaving Holywood about 6.30, we drove on board "The Ulster Prince" an hour later
THURSDAY July 4th, We drove off the boat at Liverpool after breakfast at 7.00 and went to Harry and Anne's for lunch. We left Cheshire at 2.00 and stopping for a cup of tea at 3.45 arrived home about 7.00.
1969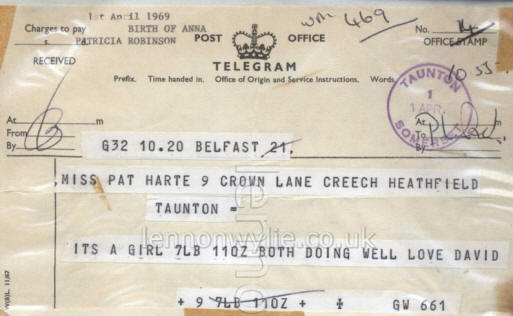 1st April 1969 Birth of Anna Patrician Robinson to Taunton, Somerset from Belfast - Miss Pat Harte, 9 Crown Lane Creech Heathfield, Taunton - its a girl 7lb 11oz both doing well love David
FRIDAY April 11th 1969, In the afternoon, after leaving Mum's friend, Betty Bainham to the bus in Taunton, as she stayed the night with us, we went to Wookie Hole to see Titania's Palace. It is about 4' or 5' square and is on a table in a not-too-big room with a handrail all round it. One has time to look properly, unlike at Madame Tusaud's. The Palace has everything that you could think of in marvellous miniature, down to Oberon's cello and Titania's crown. But there are no chimneys or kitchen.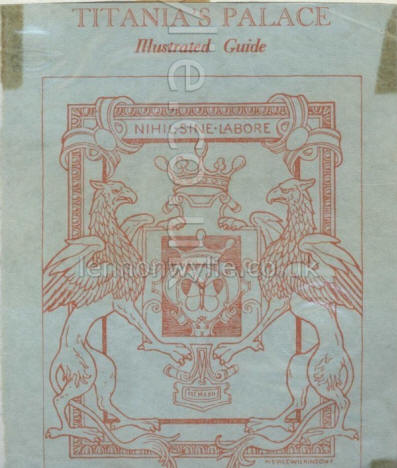 TUESDAY April 22nd 1969, At 11.00 we left Rossglass en route for Northern Ireland. Stopping on the way for our usual type of car-picnic, we were with Harry and Anne in Cheshire for tea. About 7.00 we reached Liverpool Docks.
WEDNESDAY April 23rd, "The Ulster Prince" docked at Belfast at about 7.00 and we left after breakfast, walking through a covered passage-way, rather like at the airport. Our car was waiting for us, having been driven off by men from the ship, and we went to call on Jane at Carrickfergus. She had had a baby, Anna Patricia, on April 1st, which was mainly why we were over. We arrived at Kabakona, Helen's Bay in time for dinner. This time we were going to stay with Aunt Hilda. In the evening, Uncle Noel, Aunt Jill and Peter called.
THURSDAY April 24th, In the morning we took Aunt Hilda shopping and called on Mary and Bill Stahan, their house is a little like Bartra in style. In the afternoon friends of Aunt Hilda called.
FRIDAY April 25th, In the morning we went into Holywood shopping. There, we saw, for Queen's University 'Rag Week'. students pushing each other in prams. In the afternoon Dad and Mum left me at Jane's for a couple of hours; then, they collected me and took me to Maureen Barnet's in time for tea. I am going to spend the week-end with her. There is a severe water shortage here, owing to an explosion at Silent Valley reservoir. Some places have water and some haven't; we should have brought our caravan water-carrier.
SATURDAY April 26th, Sylvia Blair called in the morning and Judy Latto in the afternoon. After tea Maureen and I took Judy to Carrickfergus to meet Ricky Wallace. Then Maureen's boy-friend, Frank O'Neill, came over and later in the evening Mrs. Robson called. About 11.30 Maureen and I took Frank home across town.
SUNDAY April 27th, It was about 12.00 before I had my breakfast. After dinner Maureen took me, collecting Frank on the way, to Kabakona. When we arrived, Mary and Bill were there; also Anne and Deborah. Mary and Bill left shortly afterwards and the rest of Anne's family arrived. Uncle Noel and his family came for tea.
TUESDAY April 29th, Yesterday evening we went across Belfast to call on Dorothy McElroy. This morning we went to Carrickfergus to collect Jane and Anna and bring them to Kabakona for the day. On the way back, we stopped briefly in Holywood; when the car was stationary, Anna started to cry but she stopped as soon as the car started. About 5.00 David came, and, about four hours later, he took his wife and daughter home.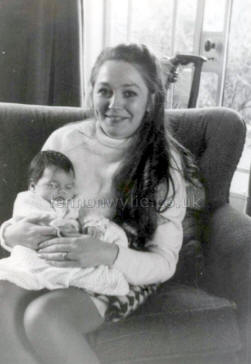 WEDNESDAY April 30th, In the morning, Dad and Mum left me with Jane in Carrickfergus while they went shopping etc. Two friends of Jane's called before lunch and then Leslie Sturges (McDowell as was). In the evening Joan Rolston came to Kabakona.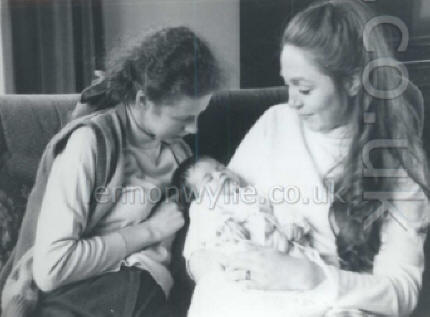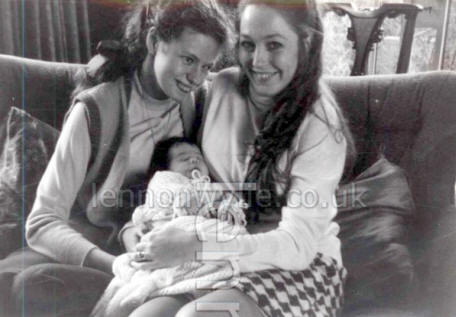 FRIDAY May 2nd, Yesterday, Dad and Mum left me with Jane for the afternoon. Jo, her sister was there; she had been riding. This afternoon, we waited in the car while Dad went to see his accountant. Then, we went for tea and supper to the 'hilarious' Lattos in Jordanstown. Their house is in one of the areas, Glen Road, without water.
MONDAY May 5th, On Saturday afternoon, Dad and Mum left me with Dorothy, after calling on Hilary Carroll. Yesterday afternoon, we went to Uncle Noel's in Holywood. This morning we took Aunt Hilda to Lurgan and had dinner with Anne.
TUESDAY May 6th, In the afternoon, Dad and Mum left me with Jane. When they collected me, went to call on Hilary again briefly, she had been out before, she came out to the car to talk to me.
THURSDAY May 8th, Yesterday afternoon, we took Aunt Hilda for a drive and after tea we left for Belfast Docks. This morning, we drove off the "Ulster Prince" at 7.5 after 'tea and toast'. We spent a couple of hours with Harry and Anne. Picnicing on the way, we were home for tea.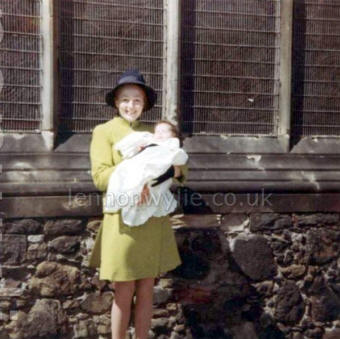 Jane and Anna Robinson 18.5.69
MONDAY May 19th 1969, Dad is going to help Guy Beresford at his 'dig' in Cornwall. Although an amateur, in University terms, Guy is employed as a roving archaeologist by, I think, the Ministry of Works. So, we left Rossglass, complete with caravan and Benjamin Batric, at about 11.30. We had lunch in the caravan on the way and arrived at Hallegather Farm, where we were going to park the caravan, at 4.30. In the evening, we went exploring: found Guy's caravan, but couldn't find Berry Court his 'dig'. Later, when I was in bed, he called at our caravan.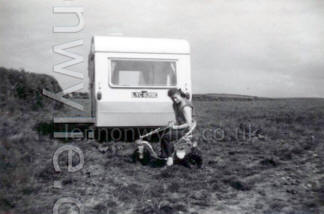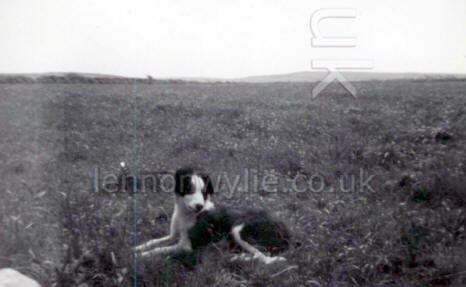 WEDNESDAY May 21st, Yesterday, Mum and I stayed in the caravan while Dad was at Bury Court. It is the site of a 13th century Hall, a previous building on the site belonged, I think, to the steward of Robert of Mortain, half brother of William the Conqueror. To-day, all three of us went there early. Guy gave Mum and I a lift in his Austin Champ down the lane, which is longer but not anything like as steep as at Cadbury. It is very low lying here and consequently hot and fly-ridden. After our sandwich lunch, another reminder of Cadbury, Dad left Mum and I back to the caravan.
FRIDAY May 23rd, Yesterday, Mum and I stayed in the caravan again and I made friends with a local dog. Dad brought Guy back for tea. This morning, we left Hallegather about 11.30 and stopped for lunch in the caravan as before, arriving home about 3.00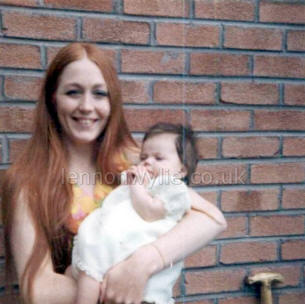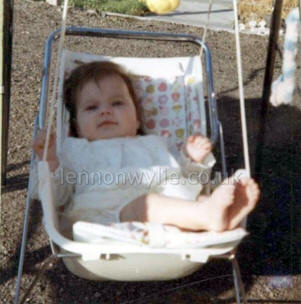 July 1969 3 months 3½ months
~~~~~~~~~~~~~~~~~~~~~




Howell and Muriel Ritson have moved to the following address, where all future correspondence should be forwarded:- Redhall, Ballycarey, Co. Antrim October 1946 #26870
Minnie Storey with Mr. and Mrs. S. Shannon's Compliments, Randalstown, 2nd June 1947 #28877
W. J. Lynas, Military, Civilian and Ladies Tailor, 114 High Street, Holywood, Co. Down #27390
P. Noble, Piano and Organ Tuner, 47 Holland Drive, Knock, Belfast #53960 & #23100





Mrs. E. S. Robinson, Cambridge Villa, 412 Castlereagh Road, Belfast
Mr. & Mrs. Wm. Pentland, The Cottage, Cregagh, Belfast
Rev. Thos. & Mrs. Davis, The Manse, Youghal
Mr. & Mrs. Thos. Dunwoody, The Square, Ballybay Christmas 1906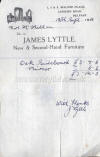 1924, 15th July, Lagan Milling Co. Ltd., Messrs. Cowan Bros., Bridge Street & 15th April 1907
1935, December Wilkinson Walsh & Turnbull, St. George's Market, Belfast Mr. A. Wilson, Antrim
1937, 18th September, James Lyttle, 1, 3 & 5 Malone Place, Lisburn Road, Belfast Mrs. McMillan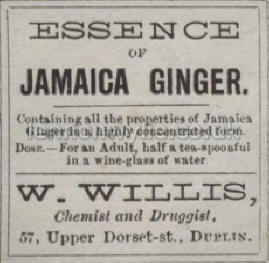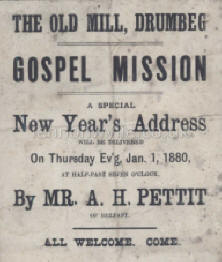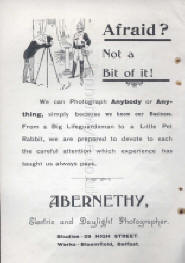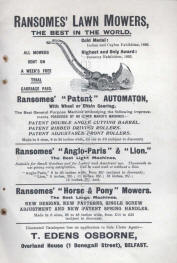 W. Willis, Chemist and Druggist, 57 Upper Dorset Street, Dublin
1880 Mr. A. H. Pettit, The Old Mill, Drumbeg
Abernethy, Electric and Daylight Photographer, 29 High Street, Belfast
T. Edens Osborne, Overland House, 1 Donegall Street, Belfast











P. J. Kilmartin, Telegord House, 110 Middle Abbey Street, Dublin - Mr. Thomas Nicholson 1943; Gerald Watt, Esq., 1943; Thomas McConaghy, Esq., 1944; John Walker, Esq., 1950, John Hackett, David ?




1937, William James McMillan, Moneyreagh, Comber & Crittall ? Co. Ltd.