Anketell





Postmark Down May 19th 1853 Postmark Dromara May 20th 1853 Postmark Ballynahinch May 20th 1853
Anketell, Esq., Ballinahinch - mention of Henry H. Joy, Mountjoy Square
++++++++++
Belfast & County Down Railway





Postmark Belfast December 24th 1847
Thomas Ward, Esq, Secretary, Belfast & County Down Railway, 24 Fountain Street, Belfast
mention of 3 Duncan Street; M. or W. Jollie; Blair and Ayrshire Iron Companies; Robertson
++++++++++
Bristow, Northern Bank 1861
(This next collection of letters "BRISTOW" I can find no indication online that any of the things written below ever happened, take with a huge pinch of salt)






1) 2)
1) 21st January 1861 The Property of Mr. Valentine, Northern Bank, Belfast "Dandy Jim" (the Elder!)
Oh! have you heard the news of late, A manager thought very great,
A "Tartan" he did lately find, Who tells him that All Gold is "Mine"

Now what is mine you will agree, (chum) I should get it all quite free,
When Crisis comes its a bad sign, For those who don't know Gold is "Mine"

He's got all ???? with disease, And dare not now to me say Please!
I magnet=eyesd him till quite bl??, And tell him that all Gold is "Mine"

Chorus - Now Poor old Jamie's getting sad, at which I cannot be too glad,
When he is ready to resign, He'll tell me that all Gold is "Mine"!!

Chorus - And if he should come back again, We'll send him down a show'r of rain,
To wash his Clay its the best wine, For Jamie who knows Gold is "Mine" !!!

Chorus 21 Jany, 1861 Mr. Valentine, Northern Bank, Belfast
Quadruple "entendres"!
2) 21st January 1861 Portaferry James Bristow, Northern Bank, Belfast
James Bristow is a very nice man, He can do what no body can,
He can eat the steeple & swallow the †, And eat an old fellow right off his Horse?
Singing; Diddle him dido Diddle him dido, Diddle him, Diddle him, Diddle his day!

He'll get great help upon Valentines day, For then we get up a Novelish play,
We'll send all the poetry round all out friends!, And we'll surely get somebody at their wits ends.
Singing; Diddle him die/do etc.

We'll then get up Scandal by the Cartload, And libel I'll write aye in quires by God,
And see who's accountable justification, I'll robbery? pure by hundreds estimation,
Singing; Diddle him etc.

So now a foretaste of what's coming you get, You may call me a devil or a devils pet,
You'll not get a change down in the postal? laws, They don't legislate ??? in a poor mans cause!
Singing; Diddle him etc.

You see a queer spirit is now fine abroad, A change has come over you? all very nod,
From threats of the law & raging & storm, Not one of you idiots can now do me harm.
Singing Diddle him dido etc. P.T.O. (Pity, oh!)






9th March 1861 Belfast H. Montgomery Esq., Northern Bank, Belfast S Wearing? Fiddle R
No. 6 York Street - Mine good Respected Friend. Valentine does you not tink that the month of February after all was a good "White Washing" month as I predicted. viz? To try & wind all up & get your hands washed clean of me if you could. Read the letter which brought me up latter end of September 1860 to Lend 10,000 £ - read mine - which brought that one forth & see how it will look in print & passed to the Shareholders. I have got a few Revelations rather Startling if out before the public - you see I'm not in a Hurry going home after all I get so much "Tittle, Tattle" I find it to my advantage to remain here for a time until I make some establishments too hot for their occupants!
You don't Comprehend perhaps what I mean, you Shall, before the day is expired, Yours Joseph Macann. Belfast 9th March 1861
A little Conversation etc. after a Concert in Music Hall, somewhere about the year 1850 to 1867, but prior to the "Great Tribulation" now visiting the Earth through its Banks between a J.B. Base Drummer and a Player German Fiddler. (Begins with a ("Jew-Et"!)
Mine pleasant new Con-fed-der-eat don't hit de drum so berry hard,
And you shall Muse I call ??? find what will be your own reward.
Von Bank Manager's Cash I want, I give you now this leetle card,
Mine goot big Base Drummer.

Observe how sweet I draw de Notes from my Cremona viol-in,
By moving right hand to and fro, & thus de "Muse"-(hickic all in),
It mews & barks like cats and dogs as ven dere sta___? b___? in.
Mine goot friend & big Base Drummer.

This Violin I own "dear Sir" I've often had my thoughts about,
And wish much I could play like you for we have many RATS about,
I could hunt them up & down all with my dogs & cats about.
If I were a Fiddler not a Drummer.

I'm glad you now did mention it mine berry good & valued friend,
For in the inlaid fiddle Case my Violin to you I'll send,
And ven you plays upon it pray don't let de Bow too much descend.
And you will be von vere good Fiddler.

I vish vere mush to speculate on Linens "yarns" & cotton too,
De value of mine Violin I do not mind to tell to you,
Von Hundred pounds it may have cost von trifling present take it ???
Mine vere mush respected Drummer.

So very kind I find you are I must now take you by the hand,
And all accommodation that's in my poor Banks at your command,
All Bills or drafts or overcheques you may rely I'll always stand,
My very kind and pleasant little Fiddler.

1854
Thus things went on quite musical & Jamie turn'd a Fiddler,
In "Eighteen Hundred fifty four he found the Jew a diddler,
He Punch-ed at Shareholders Tin till he was quite a Riddler,
This accomplished little Pet Violin-ist.

Then go be D--d you German Jew & your Cremona fiddle too,
I find I was a silly fool that day I took the Bribe from you,
"Intolerable" now to find this 60,000 in a Stew.
Oh! you d--d little scoundrel Fiddler.

Mine mush respected friend I see you are at last for berry hard,
Uncle got his Security & for you has von great regard,
Tis berry bad of you dear friend "mine" business now to retard,
Mine greatly valued Drummer & Fiddler.

Well now! you Jew may just have done for I by you am put about,
And maybe the Shareholders mow may move to have me turned out,
So to the Devil now you go & see if HUGH has got the Rout.
Of the Devil's own little German Fiddler.

Oh! berry vell if dats de vay & now you vish me to Hell go,
Give me von lock of your vite 'air I wants to make a fiddle-bow,
To play "von tune" to old Cock Hugh to dance along wid Devil!
SO! Exit
Plaguer playing on a common fiddle,
Chorus - Fiddle Di Fiddle D Dee
Rum-ti-tum tum-ti-tum
Fiddle d'ye C £ ?
Ah! Hooh!!! (and a pencil drawing of a fiddle)






26th March 1861 James Bristow, Northern Bank, Belfast - Note 32
When nice a man's a perjured liar, His fellow man of him will tire, His proper place is in Hells Fire!
James Bristow
Republic now's the Devils bent, To catch each Yankee Dollar Cent, Bristow is locked? Hells presidents!
James Bristow
And once he presides there one year, He'll make poor Imps? with Brimstone fear, "Wh??ker"? will send "old grain" to cheer
James Bristow
Jamie will dictate, HUGH will write, To Will on earth with all their might, To fetch him out of Railway plight
James Bristow
Their paper shall be Lawyers Skins, And Bankers too the Devils fins, First well Pricked in with Corker? pins
James Bristow
Their Ink shall be poor clients blood, Mixed up with foot of High Street Mud, Where hands need washing much by God
James Bristow
Old HUGH shall Sit at foot as "VICE", He'll write a Trust Deed in a trice, As President you'll not be nice
James Bristow
You'll wash your hands in widow's tears, And moist from eyes of Starving dears, To whom you are much in arrears
James Bristow
You'll keep? your fire up with their Coffins, Over whom you've had your fiendish laughings, While gorged your Glutton ___? with quaffings
James Bristow
You'll rule on earth with Giant force, By God old SATAN is not worse, You'll ride to Bank on Hell hound horse
James Bristow
You'll then give Valentine a "wrinkle", Of honest folks be sure to think ill, In your grey eye's the Devils twinkle
James Bristow
Presiding Judge of Fallen Spirits, In hell you'll gild all by their Merits, The lost £400,000 there its.
James Bristow
Shareholders of that sum fall short, By "Pullinger's" two pass book's sport, Do coin in Hell & make up for it
James Bristow
Don't charge bills there too much per Cent, For fear your GOLD could not be lent, And make Short dates lest folks Repent!
James Bristow
One Volume preparing for Publication ending with the Poem called "Spirits of Salt" (not Malt)
Note No. 38, etc. etc. etc. etc. the spirit of old Judge Macann has come to my elbow Inspiration to make up all the Banker & Distiller Case in various forms of Poetry Such as "Johnnie Cope" & Billy Barlow" these are got rather
Pop=you=liar Airs of late! Mister Jay=me! Joseph the greatest HEELER now on "Record"!
A request from the P.O. officials to leave all open
Shall I?






28th March 1861 Postmarks Newtownards Portaferry Belfast Care of M.? Valentine, for James Bristow Esq., Northern Bank, Belfast
Comber 23rd October 1850 - Gentlemen, Being unable at present to discharge the debt due to the Northern Bank by the firm of Byrne & Gaffikin which is the first charge on the Comber Distillery concerns of that firm - I have to request you will with all convenient speed bring these concerns to Sale by public auction & I hereby engage on or before the 20 day of November next to satisfy you with security for the payment of any deficiency which the proceeds of such Sale may leave in the debt due to the Bank after deducting all Costs of such Sale. I am Gentlemen, your most d??? Wm. Byrne
To the Directors Northern Banking Co.
Note 36 The New "Whacker"
Jamie Bristow are ye Sleepin' yet, Or is your Base Drum beatin' yet,
For faith I think my last prise hit you very Sore this morning.
Will you again try Perjury, To Cheat the honest in broad day,
You surely for enough o' that play, Before Judge Macann that morning.

Oh! but that was a Killing letter, Comber was Belfast you the setter?,
did write it Hugh dictated better, at 12 o'clock that morning.
Yet you swore twas written by Byrne, Your own hand write you could not discern,
What's your deserving for that turn, you tried on him that morning.

You should be strung up by the neck, Full Eighty yards & let down Crack,
With jerk enough to break your back, For perjury that morning.
Your ___? the Chattels for the ___?, Pan ten times o'er you McNeill sent?
For Robbery was all you bent, On Mrs. Byrne that Morning.

You've ruined that Insolvent Bank, On Sudlier plan you turn your Rank,
Keep playing tunes with notes all blank, For the Shareholders Some morning.
Your pupping ground is near Coleraine, Twill Sanguin'as is the strain,
Like Call/Craft you know who I mean, When forget this is the morning.

Electing the president for Hell, Unanimous on you'd fell,
Your friends already Sulphur smell, When going to the Bank in the morning.
Lord keep us all now from your power, By Bills or over-drafts one hour,
Your fiendish face like Vitriol Sour, Will meet one any morning.

Why Scrape your arms with Such great force, A letter! Itch! why that is worse,
That "Scotch Fiddle" is a Bankers Curse, To play 'Money' tunes in the morning.
Your itching arms & your itching legs, And your itchy rump like nettle jegs,
With Sulphur now you may cure your 'pegs', If you take it in the morning.

(To be followed by "Aqua fortes" or nitric acid)






u
8th April 1861 Byrne Verses Postmarks Down Portaferry Belfast James Bristow, Northern Bank, Belfast
Hugh Wallace & Co., Down Down Down ---- Down among the dead men let him Lie!!!
Note 48 Tune "Billy Barlow"!
That was a nice compliment you got from Court, The Judge knew you were of the false swearing sort,
Had I known you as much then as Now I do know, I would never have adjudicated Bristow.
Oh, dear! now wasn't that so a nice little compliment James Bristow.

The apology which the Judge made Mr. Byrne, Gave your blood hound hunting a rather odd turn,
The Shadow of falsehood Byrne didn't once show, While you swore thro' thick & thin Jamie Bristow
Oh! dear! but your shadow goes low, When you swear thro' think & thin Jamie Bristow.

There was one Andrew Wallace a great valuator, Swore "no Man in his Senses" might sooner or later,
To fine more than a thousand pounds that was a go!, To make a mad man of "Misshacken" Bristow
Oh, dear! he offered that low, But paid far more purchase to Jamie Bristow.

So now you've a Customer Comber Malt making, Whom you got Sworn mad for Distillery taking,
That mans Signature is illegal you know, If that Merry Andrew Swore truly Bristow
Oh, dear" he's a great fool I know, To promise so large a sun unto Bristow.

Some people at Swearing are regular lumpers, They discharge in Cargoes Such tremendous thumpers,
Some Swear up too high & some go rather low, Defeating the object of Jamie Bristow
Oh, dear! a thousand pounds O, No sane man would ever ____? at Bristow.

Then that "ad interim" little £19 Codger, Meant more in your graces as you found him a dodger,
Your affinity's great for all such rogues we know, For you more in that Spirit sphere Jamie Bristow.
Oh, dear! t'with all rogues we know, He more's in that spirit sphere Jamie Bristow.

A daughter appeal you would not listen to, Though Illegally Byrne was imprisoned by you,
To G----? liberty from the prison Oh, No!, Won't be "entertained" by old Jamie Bristow.
Oh, dear! you would not let him go, Should he die though illegally there by Bristow.

An opinion's afloat in which all are agreed, That you are the essence of goodness indeed,
And here's a few proofs I in poetry show, Which makes quite a Saint of old Jamie Bristow.
Oh, dear! he is all goodness O, This devil's own Saint called old Jamie Bristow.

Page 158 (Mr. Commissioner MaCann) His Honour proceeded to fine Judgement ---
"I now find that John Gassan the ad interim assignee (in whom reflection have been made from the outset of this case) Arthur Gaffikin and Mr. Potts had only to be asked at the latest moment by the Bank to make voluminous affidavits against the Bankrupt. In these affidavits they volunteer Statements on belief which they fortify by Oath that would involve this unfortunate in being dismissed from this Court in disgrace! He had not attempted to Conceal the truth & he was prepared to abide the Consequences even if exposing himself to severe reproof and the suspension of his Certificate rather than be guilty of falsehood! for he has not been guilty of a suggestion of falsehood, he is a man who has suffered extreme injustice & extreme hardships & I am glad to have the opportunity in some degree of repairing the injustice done him. His honour Concluded by passing the final examination of Mr. Byrne with liberty to apply for his Certificate.
"The Bank did realize Mr. Byrnes property" I will not say under what circumstances !!!!!
Jamie! Jamie! Jamie!
Jamie! Jamie
Jamie!!!!!
(what circumstances Satanic Agency!) Hanover Quay ---






30th April 1861 Byrne & Another Verses Jamie Bristow, Northern Bank, Belfast
Hugh Wallace & Co. Down the Realway to H____ Down among the dead men let him Lie!!!!
Note 61 Tune "Billy Barlow"!
I must go some day to see Bristows museum, The swearing pick pockets I want to see 'em,
But between you & me they need not go below, For the Safe it is empty of Jamie Bristow.
Oh, dear! his friends are so low, That they can't pick the pockets of Jamie Bristow.

There's a lot of my "friends" overflowing with bile, I'll cure them with "Ipecac" that's the new style,
To save them from dying when off they might go, To the Infernal Regions with Jamie Bristow.
Oh, dear! they're bilious I know, "Ipe-cac-u-anha" I'll give them Bristow

A Sister is enraged about her Mamma, She must get a dose of good "puls-a=till=a"
Her 'dander' will come down a trifle I know, Before you'd say Jack Robson Jamie Bristow.
Oh, dear! they find it's no go, To impose any linger upon me Bristow.

In the "Chamber of Commerce" I slipped in one day, A book covered yellow it fell in my way,
Your Bank versus Byrne was the title I know, And that's how I found out so much of Bristow.
Oh, dear! your swearing oh! oh!, It quite shook my nerves all old Jamie Bristow.

It's a very good thing we have law in the land, Or old Jamie Bristow might murder command,
But Hemp comes from Russia twisted up so, To hang any murderer Jamie Bristow.
Oh, dear! In Russia I know, Our Sunday is Thursday there Jamie Bristow.

So when any Bills from that comes in your way, You discount them though drawn out upon a Sun=day,
But if in this Country they're drawn up I know, You're sure to reject them old Jamie Bristow.
Oh, dear! this world it is so, There's a Sunday in some part each day old Bristow.

When you have a Sunday the Lord only knows, By your Steeple chasing with punch at the close,
With wine at your dinner the more foul to show, And God knows the Grace that is got from Bristow.
Oh, dear! that blessing we know, It all ends in Curses on Jamie Bristow.

Like a dirty pot Jamie your mind needs a Scrubber, Your Conscience is vulcanized India Rubber,
I must send some "Taxus Erecta" also, In this world there's no man needs it more than Bristow.
Oh, dear! it will brush you up so, You will pass there for decent old Jamie Bristow.

*professional Contraction for Ipecacuanha?
copy "Northern Bank" Belfast 19th March 1861
Sir, "Your promissary note for "£150: 6: due 13nd (See copy Letta Book!)
"January last still remains unpaid!!!!
"Still remains unpaid!!!
(and still will remain unpaid! till you go down below & then the Devil afear of you coming back & Collect it!)
"Unless we get payment of it before Monday "next we will put it into Mr. Wallaces "hands (Down Below?)
Your ___? __? p.pro. Northern Banking Co. (signed) Jas. Bristow





May 1861 Ross Verses Coates (alias "Smallclothes") Jamie Bristow Esquire, Northern Bank, Belfast
Note 128 Tune "Dan Tucker"!
You must know Mr. James Bristow, The "Banner" far & wide did go,
With letters I am inundated, From multitudes you've badly treated.

Out of the way old Jamie Bristow, You're too late with your Close fist O,
Out of the way old Jamie Bristow, Your Solicitors they can "twist" O.

There's Mr. Thomson of N??? Hill, Of him you thought you'd get your will,
Till one stood out a man of Ross, For his Five thousand pounds so cross.

Out of the way etc. etc. etc.

Your Chairman Coates alias Small Clothes, (By your direction I suppose!)
Went to Ross by way of sport, To keep him from the Bankrupt Court!

Out of the way etc. etc. etc.

Ross of course took it quite funny, And told Coates he must have his money,
Said Coates "I'll pay the half myself (?), To keep my old friend - off the shelf"!

Out of the way etc. etc. etc.

My debt said Ross I'll have in full, You know I am no Bankers "tool"!
Well! Well! said Coates just be it so, Here's the amount & off I go.

Out of the way, etc. etc. etc.

A question now I want to put, To answer it I hope will suit,
Can you to me show forth the docket, To prove it came out of the Coates' pocket?

Out of the way etc. etc. etc.

So much material now I've got, I mean to dish these up quite hot,
To me it nothing is but play, To send Old Bristow out of the way.

Out of the way etc. etc. etc.

Will Wallace now is got across, Three thousand pounds he has of dross,
And mine it is aye every shilling, So he's another Swindling Villain.

Out of the way etc. etc. etc.

My pen has made up a nice farce, Both you & he may Kiss my ARSE,
You have Robbed me & so has he, And you're both guilty of Perjury.

Out of the way etc. etc. etc.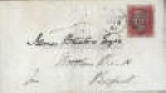 1 2 3 4 5
1) 18th September 1861 Postmark Belfast James Bristow, Esq., Northern Bank, Belfast
2) 12th October 1861 Postmark Belfast Messrs. Bristow & Valentine, Northern Bank, Belfast
Bank Note No. 5 Air - Comberland
As Sung by Jamie Bristow in his Hop-era of "The Devil to Pay, and nothing to pay him with"!!!!!

An affidavit next I swore, Which perjured me for evermore, Macan, Macan, Macan, Macan!
For I swore a letter which I wrote, Was penned by Byrne, Byrne swore 'twas not, Before Macan, Macan, Macan, Macan!
Chorus - The Devil take that Comber-land, Ah, Hugh! ah, Hugh! For Judge Macan, he was the man,
Got me disgraced by Comber, Ah, Hugh! ah, Hugh! I got disgraced by Comber!!!!

The "Cow by Daylight" I forgot, But William Byrne I know did not, Judge Macan, Macan, Macan, Macan.
Twelve guineas was to be her price, And very cheap for one so nice! Judge Macan, Macan, Macan, Macan!
Chorus - The Devil etc. etc. etc.

The debt I swore was incorrect, Without the cow, now that's a fact!!! Judge Macan, Macan, Macan, Macan!
I compound interest charged also, Nearly One Thousand Pounds I know, Judge Macan, Macan, Macan, Macan!
Chorus - The Devil etc. etc. etc.

3) The proofs are all upon record, To justify this - every word - Macan, Macan, Macan, Macan,
I may as well now state at last, I can't be libelled in Belfast! Macan, Macan, Macan, Macan!
Chorus The Devil etc.

A press copy Byrne then did show, In my handwriting - oh, dear oh!!!!!!, To Macan, Macan, Macan, Macan!
My oath the judge would not receive, But ordered me the court to leave, Did Macan, Macan, Macan, Macan!
Chorus - The Devil, etc.

Comber town it is the place, Where I met with my first disgrace (?) Macan, Macan, Macan, Macan!
For there I did a villainous turn, By pouncing upon William Byrne, Macan, Macan, Macan, Macan!
Chorus - The Devil etc. etc. etc.

4) To the Whacker I gave it on trust, For a long bill, take it I must, Macan, Macan, Macan, Macan!
The chattels I did him bestow, Were worth a thousand pounds or so, Macan, Macan, Macan, Macan!
Chorus - The Devil etc. etc. etc.

I drove Byrne thro. all Courts of Law, Until he was not worth a straw, Macan, Macan, Macan, Macan!
By dint of the shareholders cash, Eventually I did him smash, Macan, Macan, Macan, Macan!
Chorus - The Devil, etc. etc. etc.

Up to Athy he fetched me then; The jury found for Byrne again, Macan, Macan, Macan, Macan!
His law costs I was forced to pay, Because I cheated him, they say, Macan, Macan, Macan, Macan!
Chorus - The Devil, etc. etc. etc.

5) Then I drove him into the Bankrupt Court, But soon I found that was no sport, Before Macan, Macan, Macan, Macan!
I made my witnesses swear lies, Which did the Judge so much surprise, Macan, Macan, Macan, Macan!
Chorus - The Devil, etc. etc. etc.

I put him into prison too, For near five months, thro' old friend Hugh, Macan, Macan, Macan, Macan!
His Distillery I then did sell, For half its value I now know well, Macan, Macan, Macan, Macan!
Chorus - The devil, etc. etc. etc.

Jamie Bristow Sweareth what he knows to be a lie but confesses afterwards unto x
x = Lord (Londonderry)
(this newspaper clipping has been amended and is not genuine)
"Doctor" Jamie Bristow, the accomplished Banker and will-maker, late of Wilmont, surrendered this morning to take his trial on two indictments - one for perjury, and the other for forging the signature to the will of the late Hugh Wallace. The prisoner looked very chop-fallen when placed in the dock. He was without a particle of color, and appeared to have suffered a good deal by his lengthened captivity and its attendant circumstances. When called upon to plead, he admitted his guilt as far as the indictment for perjury was concerned. The Crown then withdrew the other indictment, and the prisoner was put back to await his sentence. The crime of perjury is punishable at common law with fine and imprisonment. As, however, the offence in the present instance was committed under circumstances affecting considerations of great importance to society, it is improbable that the sentence will be less than three years' penal servitude!
++++++++++
Buckley 1861




Postmarks Brighton and London S.W. 24th January - 20th December 1861
Mr. Buckley, Esq., 79 Victoria Street, Belfast
++++++++
Craig 1792




27th March 1792 B. Noble Dublin March Twenty Seventh 1792 - Wm. Craig, Esq. C. Fergus. (Carrickfergus)
mention of Wm. Rowley, Dock, Dobbin - Lease dated 14th September 1681 - One other parcel of ground commonly known or called by the name of Garynabonogue, situate lying and being in the East suburbs of the Town of Carrickfergus, containing in breadth six score and ten feet and the same in length be it more or less, bounded on the West, North & East with the Lands of Henry Davys Alderman, now in the possession of the ____? of John Matthews, and on the South with the Lands of the said Henry Davys, now in the possession of John Rowland? and Jacob Houshold? - the said Land called Garynabonogue being now in the occupation of Isabella Crawford, Widow
++++++++
Harley 1916?




25th May 1916 Postmark Leeds to G. T. Harley, Esq., Downpatrick, Co. Down, Ireland
Harrogate 25.V.16 Capt. Herdman will call with you 10 o'c. Saturday 27th inst. to sign deed
++++++++
Hunter 1844




3rd November 1844 Postmark Down - Robert Hunter Esq., 55 Armiens Street, Dublin
Downpatrick mention of Brice v Potter

+++++++++
McDonnell 1881



30th March 1881 Mrs. Mary McDonnell, Miss Little's Millinery Establishment, Portaferry, Co. Down

++++++++
McNeile 1835








9th June 1835 Postmark Belfast - Alexander McNeile, Ballycastle - David Davidson
mention of Tom Casement
++++++++
Morwood 1861



24th September 1861 Postmarks Derry & Belfast Miss Henrietta Morwood, Moville

++++++++
Nixon 1873



9th July 1873? Postmark Armagh John Nixon, Esq., Ballywillwill, Castlewellan
++++++++
Rev. Boyd 1833




30th January 1833 Postmark Belfast Revd. H. E. Boyd, Dromara, Dromore Geo. C. Hyndman

++++++++
Rowan 1861




Thomas and John Rowan, Mrs. Sarah Rowan, Mary Deverell
++++++++
Stafford 1772




16th May 1772 Dublin from Bullock

++++++++
Vint 1838




9th September 1838 Postmarks Belfast, Carrickfergus, Holywood?
+++++++++
Wallace







1 2 3 4
1) W. N. Wallace, Esq., Corporation Street, Belfast
2) 12th August 1873 Postmark Slough - W. N. Wallace, Esq., Downpatrick, Co. Down, Ireland
3) 29th May 1863 Postmark London W. N. Wallace, Esq., English Street, Downpatrick, Co. Down, Ireland
4) 13th December Messes. H. Wallace, Esq., Solicitors, Downpatrick









24th January 1840 from H. Johnston mention of Rentoul, Stevenson - 26th December 1846 mention of Gilliland, Adair







1846 mention of John Martin Esq., Mills, Killeleagh, McLaughlin - Young, Ballywillwill, 24th July 1869, Fisher's Farm, Castlewellan, Wm. N. Wallace, Esq., Waterfoot House, Newcastle










1846 Killileagh Mills









1846 1847 1848







1846 1869







1852 1851






1851 1849






1857
++++++++
White 1848




3rd & 10th January 1848 John White, Esq., 30 North Great George's Street, Dublin Thomas Ward
Belfast & County Down Railway

++++++++
Young 1870 1872





4th May 1872 Postmark Belfast - The Representatives of the late Revd. Wm. Young, Ballywillwill, Castlewellan
23rd August 1870 Postmarks Castlewellan, Down & Leeds The Revd. Wm. Young, Castle Wellan, Ireland
Shackleton & Son - Singleton & Co.