Letters from (Tony?) E. H. Thompson to (his married sister?) (Mrs. S. R.?) Cecil Shipway
(yes Cecil, maybe a childhood nickname?) during WW2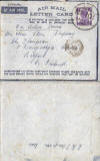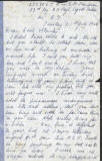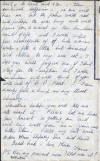 1942 - 24th July 1942 On Active Service to Mr. & Mrs. Stan Shipway, Ch. Thompson, 5 Derryvolgie Avenue, Belfast, N. Ireland 2339067 D? E. H. Thompson, 83rd Hy. A. A. Regt. Signal Section, M.E.F. Tuesday 21st July 1942 - Dear Cecil & Stanley, I didn't know where to send this note but you should be settled down, more or less and bickering at one another in married life. I send you both my love and best wishes. I know, that you will be very happy. Your airgraph arrived on Sunday Cecil, telling me of your plans and so I am late with my greetings, but you will forgive me. I know very well, what the pre marriage arrangements are like and realise, that you have been busy and will be for some time, so you can skip writing to me for a while. Our time is different to yours, but at 1.30 p.m. Saturday August 31st your time B.S.T., I will be lying perspiring on my bed, siesta time, you know. I will rise up stagger outside to my chagul and toast - to Cecil and Stan - their continued happiness - no one will hear me, but the palms will nod and perhaps the ever busy ants will pause for a second in their humdrum round of life, and I will sip a few mouthfulls of lukewarm water & feel a little bit homesick and retire to my wee cot - I hope you will forgive me, if I don't stay for the reception but I will remember and will think of you both and of ?. ?. Road. - I can nearly feel a lump in my throat already. Sometime perhaps you will tell me all about it. Please let me know, how Ernest is getting on and wish him well from me in your next letter Stan. Also my best wishes to Mr. & Mrs. Shipway Snr. and Avril? Good luck - love & kisses Tony. P.S. Was my present nice? What was it?



1942 - 13th October 1942 to Mrs. S. Shipway, Royal Hotel, Irvinestown, N. Ireland from 2339067 D?? E. H. Thompson, 83rd Hy. A. A. Regt. Signal Section - Paifarce? Dear Cecil & Stan, I have been receiving numerous airgraphs from you of late and feel that I needs must say Hello for a few lines how that you inform me, that you have received from your pile up, by way of a bicycle, I think I can safely say, that I had a really good chuckle at the end. I wonder did you laugh at the time. I hardly think so. However, it's all over now, I hope. I fancy that Irvinestown in the Black out! on a wet night would not be very exciting, still I think I would prefer it to some places I know. If Stan should read this, he will think, that you have written to me complaining of same town. I should like to cause a little row in the Shipway household - would it be your first? Please let me know if you hear of Ernest. Love to you both Tony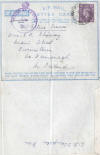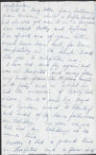 1943 - 22nd July 1943 Field Post Office On Active Service to Mrs. S. R. Shipway, Main Street, Irvinestown, Co. Fermanagh, N. Ireland 2339067 D? E. H. Thompson, 83rd Hy. A. A. Regt. Signal Section, M.E.F. 21st July 1943 - Dear Cecil & Stan, I'm afraid, that I'm too late again and this won't arrive in time for August 1st, a very important date, I understand, but I do wish you both, continued happiness together. I'm sorry, that you were unwell Cecil, Jimmy gave me the full details in confidence, when you had fully recovered, keep it dark, needless to say I'm delighted to know, that all is well and that you have fully recovered. I am patiently awaiting the promised snap of Doug and about snaps, I hope to see the embarkation leave snaps, when I get home, so I have not yet seen them. You need never apologise about your writing Cecil, for next to Dad, you are my most regular contributor. I had a long letter from Catherine from Durban, she is a trifle homesick but she will get over it in a few years. How about Betty and Sylvia, I'm afraid one of your letters must have been lost, for I am completely in the dark. I would like you to enlighten me. I have had sand fly again and was in Hospital and away from my tent from 30th June until 15th July and so whilst in bed the invasion of Sicily took place, the 12th past by, Hazel and Lynham moved to Clontarf and most of the home folks were on holiday. So you see, we all had our holidays at the same time. Really I had a grand time in Hospital and a fever is of no consequence out here. The general conditions were just like being in bed at home with a mild dose of flu. We had a wireless and some very nice Sisters from Bonnie Scotland and all told I enjoyed myself. I saw a few rather old pictures and had one very nice bathe before returning to my unit. I met many chaps in hospital from all parts and all units and it was that, I think, which I enjoyed more than anything else. Well folks, I must close now and once more I wish you two, many more years of general happiness and small quarrels. So love & cheerio. Tony



1943 - 3rd November 1943 Christmas to Mrs. S. R. Shipway, Main Street, Irvinestown, Co. Fermanagh, N. Ireland Sender's Address, 2339067 D?? E. H. Thompson, No. 2 Sub-Section, Syria Fortress? Signals, M.E.F. from Tony, The Season's Greetings to you two lovebirds, long may it continue.





1944 - 27th January 1944 Field Post Office On Active Service to Mrs. S. R. Shipway, Main Street, Irvinestown, Co. Fermanagh, N. Ireland 2339067 Dvr.? E. H. Thompson, No. 2 Sub-Section, Syria Fortress Signals, M.E.F. Wednesday 26th January 1944 - Dear Cecil, Owing to a cold, now gone, I haven't written for a few days and so I am late, for that great date February 4th. However I will say, that I hope it was a happy one and I wish you many happy returns of the day, now passed. I received an airgraph and two letter cards from you, all within a few days. Glad you liked the stockings, there are three pair for you. Yours are the most likely ones to fit Sybil, as I couldn't get any her size. If yours do fit her, let me know and I will send her some as soon as possible. It is great news about Earnest, you and Stan seem to be having a grand time in your wee home. By the time I arrive home you will be a very skilled housewife indeed. I can sympathise with you, re your neck, as I well remember a few years ago painting the office ceiling - it is hard work. I am in quite good form and enjoying myself, but oranges are at present my chief delight. I ate five yesterday and four today, they cost 6d for 1 kilo or 2 1/5? pounds. I was up amongst the snow a few days ago and had a grand time, it was lovely, dry and flaky. Must go now - to bed, so good luck to you two. yours with love Tony





1944 - 23rd July 1944 Field Post Office On Active Service to Mr. & Mrs. S. R. Shipway, Main Street, Irvinestown, Co. Fermanagh, N. Ireland, 2339067 L/Cpl. E. H. Thompson, 31 Ind. Armd. Div. Sigs. M.E.F. Friday 21st July 1944 - Dear Cecil and Stan, I have two letter cards here dated 26th & 30th June from you Cecil, you are the first to use my new address. You seem to have had quite a time with your dress maker, glad it turned out O.K. in the end. That's right, Henry Fonda is the name of my pal. Your letter wasn't censored, so the weather report arrived O.K., you must have made your place a home from home for Eric King. I almost forgot your anniversary of August 1st and am afraid I will be late, but I have a good excuse. Still all the best and many happy returns of the day to you two. My excuse is, that quite unexpectedly I got 7 days leave 16th - 23rd July and am now sitting in a Hotel in Tel Aviv writing to you. Between me and the sea is a promenade, two roads and some trees and so I have a lovely view. Tel Aviv in Palestine is approx. 60? miles from Haifa, 40 miles from Jerusalem and next door to the ancient port of Jaffa. It is as big as Belfast, but much more beautiful, indeed it is the finest spot in the Middle East. Jaffa, which is Arab, is very poor in comparison. The population consists of Jews from all over the world, but mainly from Europe. Most of the inhabitants speak German plus several other languages, some of them speak 10 tongues? The women are very beautiful and really white and not at all Jewish in appearance. There are some lovely blondes with wow figures, who are more like pure Germans. The people are very friendly and helpful and I have visited Jewish settlements and homes. But dates with the better type are out of the question and I don't care for the other sort. I am just back from a two day tour of Jerusalem, Bethlehem, Jericho and the Dead Sea and it was a wonderful trip indeed. It was during the trip, that I remembered 29th July, 1st & 4th August, but I had no writing materials. I visited all the spots of Biblical interest and it was wonderful really, the scenery too was lovely. I swam in the Dead Sea, which is 25.8% salt, 1300 feet below sea level, 50 miles long, 10 miles broad and 1200 feet deep. You simply can't sink and when swimming your feet and legs stick up above the water and kick only air. It is a horrible taste and in the eyes it is like acid. Cheerio, I must go for some more milky ice cream, cream cakes and lunch, my £16 is almost gone, so all the best for August 1st and always yours with love. Tony




1944 - 1st November 1944 to Mrs. S. R. Shipway, Main Street, Irvinestown, Co. Fermanagh, N. Ireland from 2339067 Cpl. E. H. Thompson, Force 281 Signals, M.E.F. Xmas 1944 May all your troubles be little ones, love & best wishes, Tony? to Cecil & Stan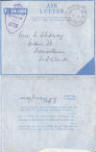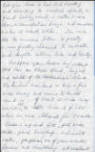 1945 - 7th June 1945 Field Post Office to Mrs. S. Shipway, Main Street, Irvinestown, N. Ireland 2339067 Cpl. E. H. Thompson, Force 281 Signals, H.Q. Force 281, M.E.F., 6th June 1945 - Dear Cecil, Yours of 28th May arrived today and this is just a line to wish you three all the best now that you are together again in Irvinestown. Items have arrived just a few days late, but ? always do and I greatly appreciated the good wish remembered, midst all your worries. I'm so very sorry to hear that you had a rough time, but pleased and proud that you weathered the storm so well and are forgetting the period of pain, short in terms of days, but with every appearance of a lifetime when it has to be endured. But you have a ? and healthy and according to neutral reports, a grand babby, which is rather more than a consolation prize and somehow makes it worth while. I'm sure that the anxious father is greatly or was greatly relieved to see Mother and daughter return hale and hearty. I suppose you know by now that I am on Rhodes Island, largest and capital of the Dodecanese Islands. The Turkish mainland is only a few miles away and seems to be all round us. About 15 miles away we can see the little island of Simi, where we were stationed for 5 months. Rhodes is a grand spot, good wide roads, and grand buildings, unlimited water, gorgeous (one of your words) flowers and shrubbery and excellent bathing. We still of course have no fresh food, which is rather a bind, but can't be helped. The people were very hungry but aren't too bad now. Prices are very high and there is very little to be had in the shops anyway. I keep in touch with Mas? and Sheila, who are stationed just outside Cairo, but so far I have not been able to get leave to go and visit them, but will keep trying. I am now assured that I will be home for some leave a little before Christmas so it won't be too long now. With love and best wishes to Cecil, Stan & Helen. Tony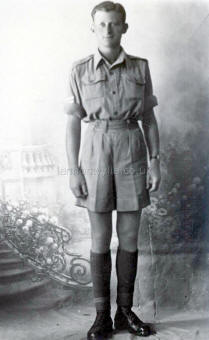 The Priceless Ape!
1945 - 14th June 1945 Rhodes small size, A to make her smile when she's cross
14th June 1945 Rhodes large size, B to make her laugh when she's crying




Herewith Guide to Military Photo A
1 - not yet bald
2 - unwrinkled brow showing clear conscience
3 - Steadfast Gaze or Glassy stare
4 - Skip a bit
5 - Full cheeks, healthy life
6 - Firm chin
7 - Swan like neck
8 - Nonchalant set of ? & shirt
9 - PTO
Overleaf Guide to Military Photo B
1 - Cause of pained look not known
2 - Right shoulder weighed down, under weight of responsibility incurred by two stripes
3 - Shorts K.O. 3/- India 1941
4 - Who mentioned knees?
5 - Hosetops
6 - Puttees
7 - Note Gleaming boots
8 - Fine military bearing and majestic background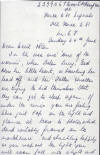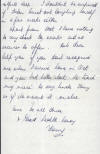 24th June (no year but goes with photos above) 2339067 D?? Cpl. E. H. Thompson, Force 281 Signals, ? Force 281, M.E.F. - Dear Cecil & Stan, In the wee sma' 'ours of the mornin'. when Helen Lucy, God Bless her little heart, is howling her head off and her Father & Mother are trying to kid themselves that they can get to sleep again. If under the circs. you are feeling blue just pop on the light and glance at these to photos, which stand suitably framed on the mantelpiece and chuckling happily as you snap out the light, you will soon fall into a light and restful sleep. I shouldn't be surprised if Helen burst out laughing herself in a few weeks either. Apart from that I have nothing to say about the snaps and no excuses to offer. But dear help you if you don't recognise me when I arrive home in October and you had better start to teach my niece to say Uncle Tony as if she meant it or else. Love to all three & good health honey, Tony




NAAFI 194?
Dear Helen, Have you ever been had or did you really expect to find chocolates in the box. I suppose you are looking more like a ? every day. Ask your mother to keep the ring for you & to buy you something with the £1 & lodge it to your P.O. account. Please thank her for a lovely letter & tell her I am sorry about the pram. Your Uncle Earnest looks grand, cheerio, love & kisses to all Uncle Tony
1945? - Envelope - 25th June 1945 Field Post Office to Mrs. S. R. Shipway, Main Street, Irvinestown, Co. Fermanagh, N. Ireland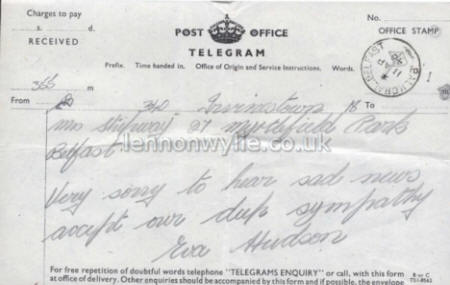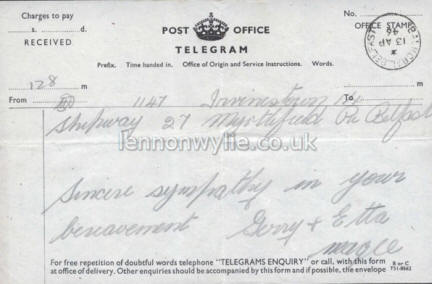 1946 - 11th April Postmark Balmoral Belfast Post Office Telegram to Mrs. Shipway, 27 Myrtlefield Park, Belfast - Very sorry to hear sad news, accept our deep sympathy, Eva Hudson
13th April Postmark Balmoral, Belfast Post Office Telegram to Shipway, 27 Myrtlefield Park, Belfast - Sincere sympathy in your bereavement, Gerry & Etta Magee
~~~~~~~~~~~~~~~~~~~~~~~~~
Items with no date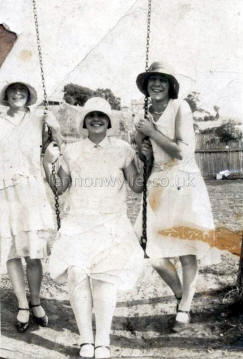 Belfast photographer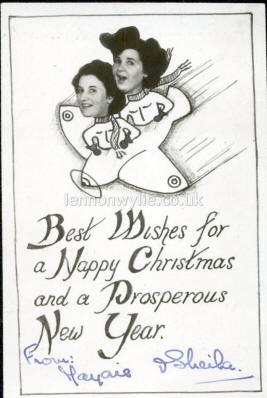 From Marjorie & Sheila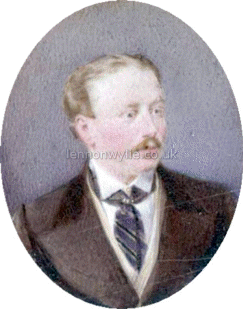 Miniature of James Fairman, Diana's Great Grandfather on the Fairman side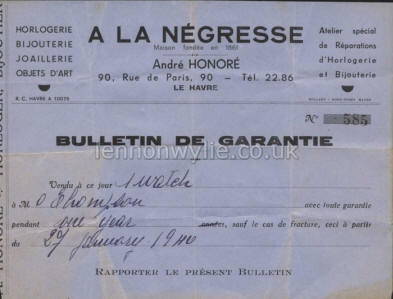 A La Négresse