SAVAGE
writing inside the cover of "A History of the Savage Family in Ulster" and photographs, also clips and photos from 2 scrapbooks owned by Col. G. R. R. Savage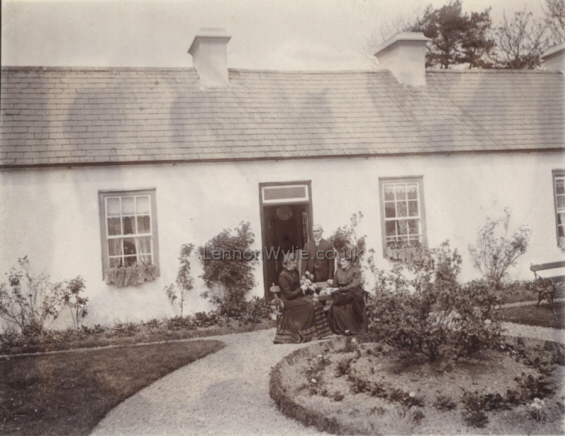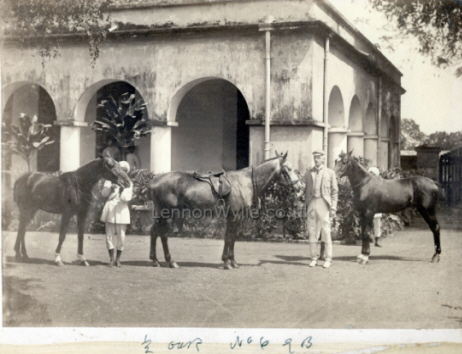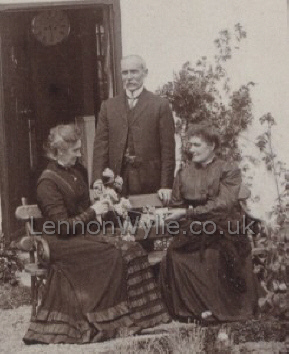 ½ our No. 6 G B


A question mark after the word means it is not clear, a question mark on its own represents a complete word illegible, a question mark in the middle of a word means an illegible letter
From Mrs. McCracken's lease of Ballycloughan
Prentice family held Ballycloughan - from 4th holder Henry Savage of Prospect in 1790.
So Prospect was the residence of H.S. in 1790 - It came to him from Patrick Savage in 1784 !! as this book seems to imply - Prospect is Ballygowan, Saintfield.
Henry Savage of Prospect - was at Prospect in 1790 an ensign? in Volunteers he went with his Saintfield men to join ? Regt. and drive? the French? away? - ? ? - he married at 37 years of age Grace Gillespie - grand daughter of Lord Rollo (the third Lord?) about 1780 - their pictures? are with Colonel W. Savage C.M.G. at Parkmoyle? - Cushendall -
The descendents of James and Richard Savage, sons of Henry Savage of Ardkeen who died in 1655 - held under the Montgomerys land at Bressage? - Creevy - Creevy Lough Gal - Ballycarngannen Prospect - and Ballycloughan - and Ballylone.
Henry Savage J.P. of Ardglass who died in 1860 had his own lands at Ballylone - & sold them about 1860.
There was a William Savage of Saintfield in 1719 - who had a very young child buried in Downpatrick Cathedral burial ground in 1719.

Colonel G. R. R. Savage C.V.O. Royal Engineers 1909
Ferry? 11.78.122. (I have 2 scrapbooks belonging to G. R. R. Savage - South Africa 1885-86 defence works, Simon's Bay, lots of photos, also polo photos and Newspaper album Ceylon 1885 onwards, photos of G.R.R. Savage jumping and running and riding horses)
Robert Stewart - Newtownards was made Marquis of Londonderry 1729?
James Hamilton 1st Viscount Clandeboye 1622
Ferry Page 122
1629 Letter from Lord Clandeboye in Tirmalty? McMullen McGarry
In 1628 Henry Savage of Ardkeen married Alice, widow of Con? O'Neale?
Raymond Savage of Lecale, Ardkeen and Sketterick born 1500 died 1575 (see page 81) in 1559 Head of Clan was divided between Raymond (Ardkeen 1536) and Rowland (Portaferry)
Redmond Savage of Saul? 1605? Inquisition (see Knix? Hist? page 44)
Sir Rowland Savage Senechal of Ulster 1470 his daughter Cecilia, married Sir John (Cahannah?) Clandonnell who was (murdered) by King James IV Scotland? All the Marquis? of Antrim are descended from her.



1 2
1) written inside scrapbook - Business in South Africa in 1885-6 G. R. R. Savage, In charge of Defence Works, Simon's Bay
2) Royal Military Academy and Royal Military College's Challenge Sports Shield in 1868 held at Beaufort House, Kensington, London. Event 120 yds Hurdles won by Gentleman Cadet G. R. R. Savage (for Woolwich)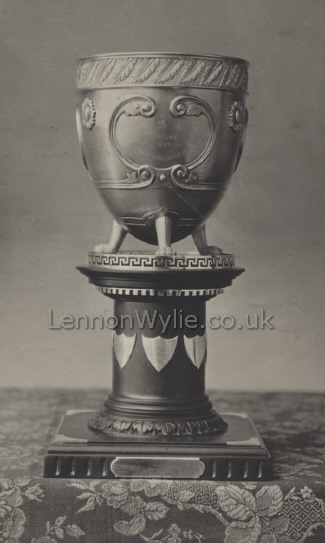 Ceylon, 100 yds. Challenge Cup (Open) Run at Kandy? 1900
Won by Colonel G. R. R. Savage, R.E. aged 51 in 10 and 1/5 sec. Record Ceylon Time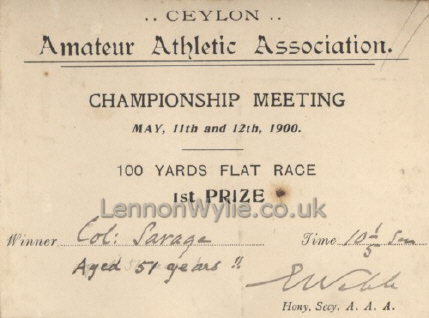 Ceylon Amateur Athletic Association
Championship Meeting, May 11th and 12th 1900
100 Yard Flat Race 1st Prize
Winner Col. Savage Time 10 and 1/5 sec.
Aged 51 years Hony. Secy. A.A.A. Webb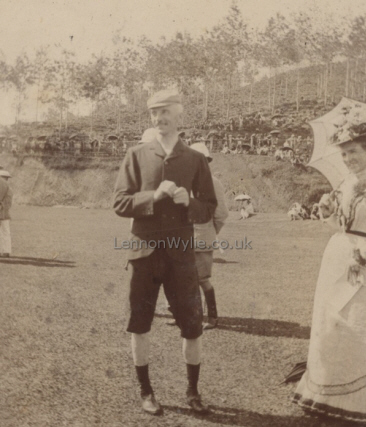 G. R. R. SAVAGE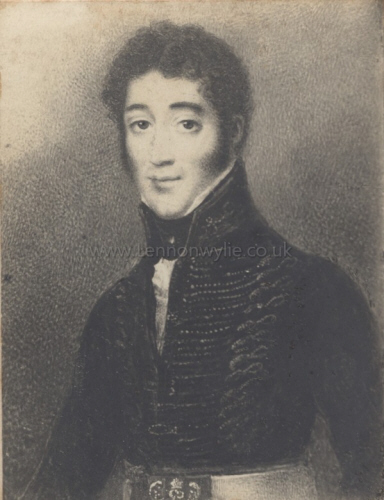 Given to Colonel G. R. R. Savage, by Grace Johnston in 1909 - sent from Ardglass - A copy of Portrait of George Savage, (son of Henry Savage of Prospect, who died about 1805) Capt. 13th Light Dragoons; he was Grandfather of Colonel Wilford Lloyd, Capt. R.A. born 1855 and Uncle of Colonel G. R. R. Savage C.V.O., R.E.
Photo from a miniature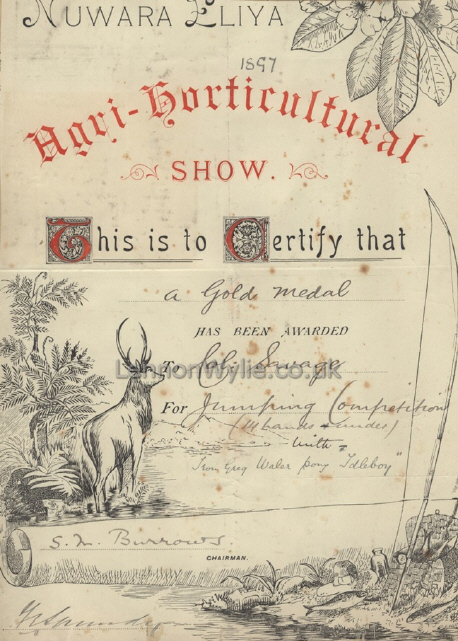 Nuwara Eliya 1897 Agri-Horticultural Show
This is to certify that A Gold Medal has been awarded to Col. Savage for Jumping Competition (14 hands and under) with ? Greg Wales pony Idleboy - S. M. Burrows, Chairman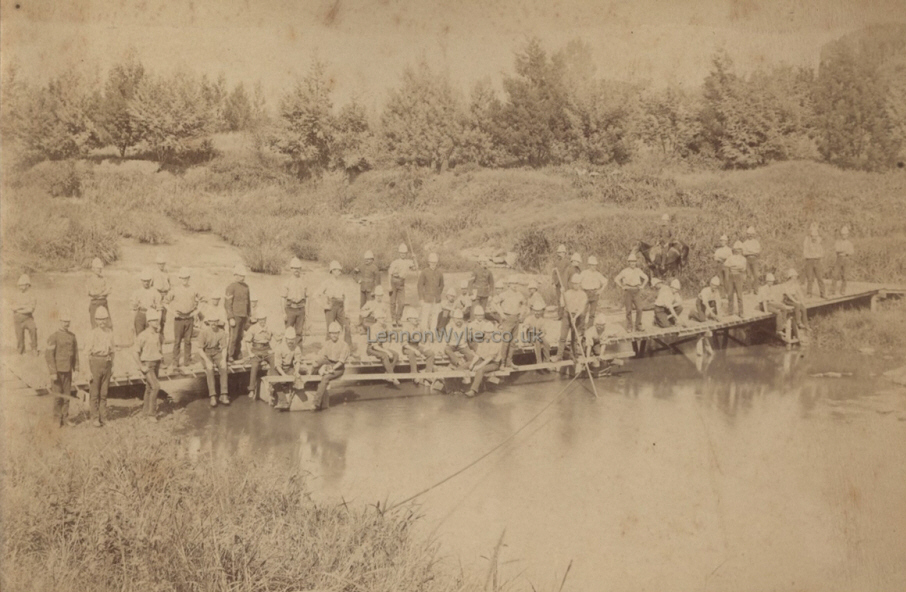 Capt. Savage ? Company - Bridging? Natal 1887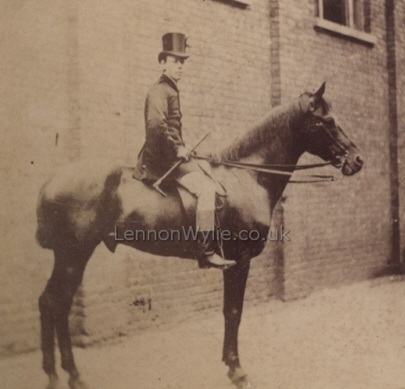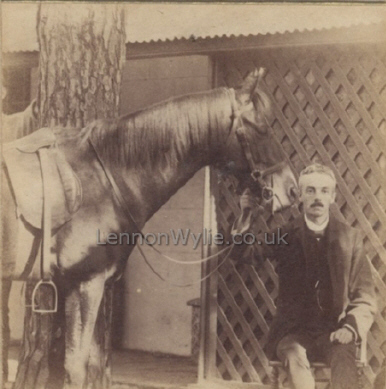 "Dandy" in England South Africa - 1885 - "Dandy" and his owner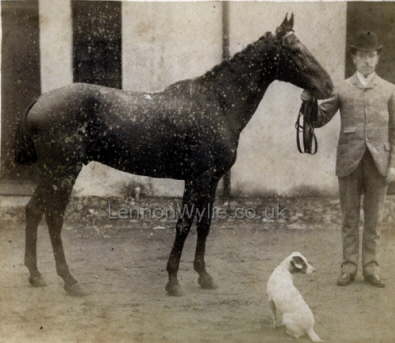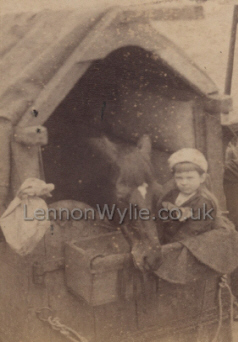 Capt. Hawkins or Dawkins Hereward? & groom "Dandy" on voyage home, 1886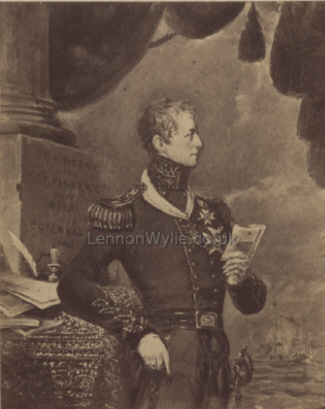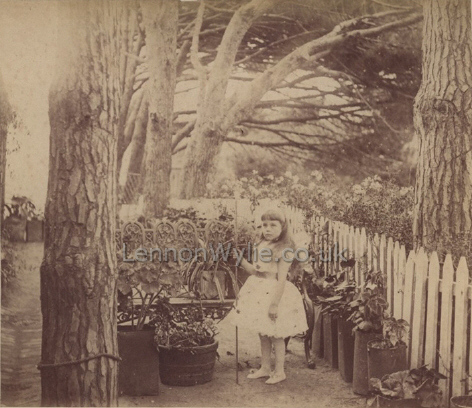 1 2
1) Sir John Savage K.C.B., K.H., R.M., At Trafalgar, from a painting in Chatham Mess
2) Year 1886 Kathleen Savage - as "Queen of the fairies?"
the end