Deaths
In affectionate remembrance of John and Nora, dearly beloved children of John and Elizabeth Aiken, who departed this life March 25th, 1890. Aged respectively five and three years, Interred in Carnmoney Cemetery
~~~~~~~~~~~~~~
In Loving Remembrance of William Aiken, who died on Thursday 25th January, 1894, aged 76 years, Interred in the City Cemetery, Saturday, 27th
~~~~~~~~~~~~~~
In Loving Remembrance of Joseph Aiken, who died on the 6th December, 1893, aged 86 years, at his residence, Woodbine Cottage, Gale Farm, Belmont Road, Bolton, and was this day interred at Park Chapel, Near Bury, December 8th.
~~~~~~~~~~~~~~
The Late Mrs. Thomson
October 190?
At the sitting of the board, the Chairman referred to the sad death of the wife of Councillor Archibald Thomson, and moved that the clerk send a letter of sympathy on behalf of the council to Mr. Thomson and also one to Mrs. Bell, the mother of the late Mrs. Thomson. Mr. Henderson seconded the motion, which was passed nem. con.
~~~~~~~~~~~~~~
Death of Mr. Thos. McErvel
A Popular Belfastman
Prominent Horticulturist
September 6th, 1911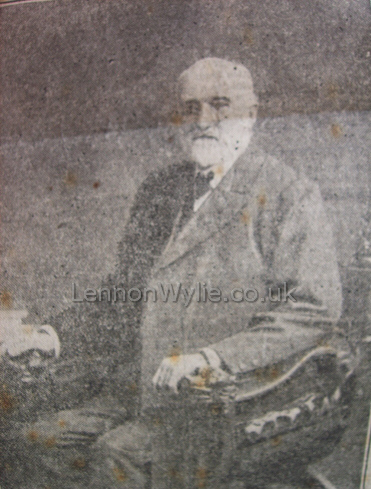 Very genuine regret will be felt by his friends, whom he numbered by the thousand, at the death of Mr. Thomas McErvel, which, we are sorry to record, took place at his residence, Upper Clifton, Bangor, at eight o'clock in Tuesday night, after a somewhat protracted illness. Mr. McErvel was born seventy-two years ago at Gartree, where his father had an extensive farm adjoining the well-known Langford Lodge of the Pakenham family. He was thus from a child familiar with those agricultural and horticultural pursuits with which for the greater part of his life he was intimately identified. After receiving a sound education, he embarked on a business career, when he became apprenticed at the old and well-known Elephant Tea House of William Gilmore, in High Street, Belfast. He obtained a thorough grounding in business affairs, and in course of time went out to the West Indies, where he took up an important appointment in a large wholesale house, subsequently proceeding to Canada. He returned to Belfast in the late sixties and in partnership with his brother, Mr. James McErvel, who survives him, commenced the business which has since been identified with their joint names as T. & J. McErvel in Victoria Square, then known as Poultry Square, and later as Police Square. Both brothers possessed a keen business insight, allied with qualities of tact, energy, and the strictest integrity, and fully conversant as they were with the wants of the farmers, they rapidly built up an extensive connection which developed with the progress of time until the firm had reached the successful and influential position it enjoys to-day.
Messrs. McErvel hold the sole agency of many of the leading makers of agricultural and horticultural implements, the large display of which, of the most up-to-date kind, constitute every year a prominent feature of the machinery section at the Royal Ulster Agricultural Society and other Irish shows. There is probably not a farmer in the North of Ireland who did not know Mr. McErvel, and those who had business dealings with him regarded him as a personal friend in whose judgment and advice they placed the utmost reliance. An important branch of the trade is that devoted to seeds of the best quality and profitable to farmers; the excellence of those dealt in by Messrs. McErvel is indicated by the frequency with which they take first prize at the various shows. Their meals and feeding stuffs, which they grind themselves, have also a high and far-spreading reputation. In consequence of the great growth of the business, the firm was converted into a limited liability company some years ago, with the late Mr. McErvel as chairman, the other directors being Mr. James McErvel and Mr. Robert Verner. The commodious premises, adapted to the requirements of the large and varied trade that is carried on were built on an extensive site at the corner of Victoria Square and Church Lane. Mr. McErvel was one of the oldest members of the Royal Ulster Agricultural Society and the Royal Horticultural Society, in the welfare of both of which he took a practical and enthusiastic interest, and to each organisation he gave willingly of his sound counsel based upon his ripe and intelligent experience. He was a "sportsman" in the fullest sense of the term, and a warm admirer and supporter of every manly form of recreation. In bowling especially he took an enthusiastic interest, and the Belmont Bowling Club - of which he was an ex-president and an esteemed member up till his death - has lost in him a sincere friend. He was also very fond of athletics, and at the principal North of Ireland race meetings and hunt gatherings his was a familiar and always welcome figure. The trips which for several years he organised on Lough Neagh were always keenly anticipated and thoroughly enjoyed, and at these his characteristic bonhomie and instincts of hospitality and geniality were perhaps seen at their best. In religion he was a devoted member of the Unitarian body, and worshipped at Rosemary Street Church. He took a deep interest in the Moneyrea Church, in connection with which he was largely instrumental in the erection of the school attached thereto. Politically he was a sympathiser with the Liberal cause, and was often heard jocularly, when in the company of Unionist friends, to declare himself a "confounded old Radical." But he never allowed his political feelings to intrude upon personal friendships, and he was immensely popular socially with all classes, creeds, and grades of political faith. He had a most generous heart, too, and a liberal supporter of deserving causes which commended themselves to him. To his wife, an Antrim lady, and his family he was greatly devoted, and heartfelt sympathy will go out to them in their bereavement. He leaves a widow, two daughters, and three sons (Archie, who is in West Africa; Tom, who is in his fathers' business, and John). A grand old man has passed out of Belfast life - a winning personality which cannot be replaced.
~~~~~~~~~~~~~~
Death of Mrs. McCaughey
June, 20th, 1910
Very deep regret will be generally expressed in Belfast at the sad death of Mrs. McCaughey, wife of Councillor John McCaughey, J.P., of Derryvolgie Avenue, Belfast, the popular representative of Woodvale Ward in the Corporation. Mrs. McCaughey had been ailing for some time, and had gone to Rostrevor for the benefit of her health; but notwithstanding the best medical skill and most careful nursing she passed away this morning, to the sorrow of a very wide circle of friends. The funeral will take place to the City Cemetery on Wednesday, on arrival of the train due at the Great Northern terminus at 12-10 p.m. We extend sincere sympathy to Mr. McCaughey and the other relatives upon whom the shadow of a great bereavement has fallen.
~~~~~~~~~~~~~
Late Mr. John McConnell
(By "One Who Knew Him")
Outdoor sport of almost every description has lost a warm supporter by the death of Mr. John McConnell, the well-known jewellery expert, of North Street and latterly of Donegall Place, Belfast. Though prominently connected with the musical societies of Belfast for many years, and a most capable performer, he was also very closely identified with various branches of sport. The Ulster Cricket Club have every reason to remember his services to the club, for though it was never publicly mentioned - out of respect to his wishes - he never failed to present a handsome and valuable prize for competition at the annual athletic sports of the club on Easter Mondays. In a similar fashion it was his custom to lend his patronage to other forms of physical recreation and to give practical effect to his warm interest in other healthful pastimes. It was largely due to the great interest he took in swimming that the races at Pickie Rock, Bangor, were promoted so successfully for many years. Belonging to a past generation - for he had passed the allotted span of human life - he was an acknowledged authority on the changes and developments in Belfast during the last half-century, and his reminiscences of old Belfast were of a most interesting character. A man of rare parts, he was highly esteemed and most popular with all who knew him. The announcement of his death will be a source of keen regret to his old friends in the Ulster Cricket Club, in swimming circles, and amongst the business community generally
~~~~~~~~~~~~~
OBITUARY
Mr. Robert Denison
September, 14th, 1907
The many friends of Mr. Robert Denison, secretary of Messrs. Kingan & Co. Ltd., will be shocked as well as deeply grieved to hear of his death, which took place on Saturday last at his residence, Salisbury Avenue. Mr. Denison, who had previously been apparently in his usual good health, was taken suddenly ill on Friday, and notwithstanding prompt and skilful medical treatment, the seizure proved fatal in the course of a few hours.
The deceased, who was the son of the late Mr. R. F. Denison, of the Belfast Bank, was only forty years of age. He was well known and much esteemed in commercial circles. His apprenticeship was served with Messrs. Josias Cunningham & Co., stock brokers, and he remained connected with that firm for fifteen years. For the last five years he occupied the responsible position of secretary to Messrs. Kingan & Co. Ltd. He was a most capable business man, and was regarded as one of the best lay authorities on company law in the city. Many years ago he was famous as a swimmer, and won numerous prizes and championships in the days when the chief local swimming competitions were decided at Bangor. Personally Mr. Denison was much esteemed by all whom he met, his courtesy and kindliness being proverbial. He leaves a widow and six children, with whom in their bereavement sincere sympathy will be felt.
~~~~~~~~~~~~~~
Brazier - October 19th, at Elsinore, Egremont, in her 89th year, Mary, widow of the late David Brazier, of this city. Interment at St. James's Cemetery, to-day (Monday), at 2,30 p.m.
~~~~~~~~~~~~~~
In Loving Memory of John Francis Latarche, who died 24th January, 1907, in the 79th year of his age. 64 Princes Road, Liverpool
~~~~~~~~~~~~~
Mr. & Mrs. William Irwin Mahaffy thank you sincerely for your kind expressions of sympathy on the death of their son, Henry Irwin Mahaffy, Second Lieutenant Royal Flying Corps, November 1917, Ward Villa, Bangor
~~~~~~~~~~~~~
Mrs. Reece and family desire to tender their sincere thanks for the many expressions of sympathy extended to them, both, in kind enquiries and also sympathy in their bereavement, Highfield, Liscard, January 1909
Hold them, Oh Father, in Thy arms, And let them henceforth be, Our messengers of love between, Our human hearts and Thee.
~~~~~~~~~~~~~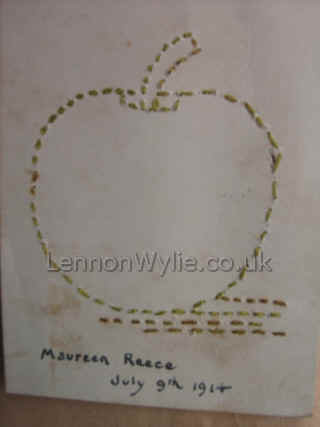 Maureen Reece July 9th 1914
Death - Mr. Daniel K. Warnock
Thursday 21st Dept. 1902 at 7 p.m.
The death of this popular and highly esteemed young gentleman, which took place on Thursday at his residence, Ballyholme, Bangor with painful suddenness, Mr. Warnock had been at business in Belfast as usual yesterday, and returning home shortly after six, fell dead within a few moments of his arrival at his house. Disease of the heart is supposed to have been the cause of death. His death has left a deep regret throughout a wide circle in the city. Mr. Warnock's demise occurred quite unexpectedly, and when the sad news was learned in Bangor and district expressions of sympathy with his bereaved wife and relatives and of ? sorrow were heard on all ?. The deceased, as is generally known, was long and honourably connected with the firm of Dunville Ltd., and by reason of his sterling worth and integrity, in addition to his many amiable personal qualities, he had ? himself to a large circle of friends, acquired alike throughout his business career and in all his private relations. This esteem was fully manifested by the number that attended yesterday to pay a last tribute of respect to a generous and steadfast friend and upright citizen. The remains were removed at 10.30 a.m. from his late residence at Ballyholme, for interment in the family burying ground, Lambeg, a district in which the family of the late Mr. Warnock have been located for several generations.
The chief mourners were :- Messrs. John McConnell, F. L. Little, Wm. Robinson, John Russell, C.E., James Baxter, Samuel C. Hunter, C.E., Lieutenant McKillop (New Zealand Mounted Rifles), W. J. Murphy, John Aiken, Henry Baxter, Wm. R. Black and W. H. Johnston.
Amongst the general public, as the procession left Bangor en route for Belfast, were:- Sir Donald Dixon, P.C., D.L., Lord Mayor of Belfast, Rev. J. Osborne, C.C., Bangor; Sir Edward Fulton, K.O.S.G.; Alexander McMonagle?, editor "Ulster Echo," Dr. Mitchell, Patrick Laverty, LL.B., solicitor; John Donnelly, George McMurray, Captain Johnston, Daniel Murray, R. J. Woods, John Byrne, William Nugent?, H. C. Craig, James McGrath, Patrick Roden, Joseph McConnell, Thomas Matthews, O. Murray, Robert D?, David M?, Wm. Thomas, Wm. Marshall, Seaton F. Milligan, M.R.I.A.; D. Warden, Captain Brown, Wm. Pollock, G.P.O., John Roden, Archibald Thomson, Kennedy Stewart, J. C. Tho?, James Holywood, Alex. Forrester, Robert Gardiner, Hugh McLaughlan, James Davidson, George Maguire, solicitor; James Macaulay, Thomas Sheriff, etc.
On arrival at the Queen's Bridge the cortège was met by a large number of sympathetic Belfast friends, amongst whom were:- Very Rev. D. McCashin, Adm., V.F., St. Malachy's; Very Rev. Martin Byrns, C.P., rector, St. Saviour's, Broadway, W?' and Rev. J. ?, Alderman William McCormick, J.P.; Jeremiah MacVeagh, M.P.; Dr. Dempsey, J.P.; Dr. O'Malloy, J.P.; Dr. A?, Robert McAllister, J.P.; Wm. John McCoy, Bernard McCoy, Henry McShannon?, D? McShannon, Surgeon-Dentist McStay, John McGlade, James Byrne, M. D?, John Henry, Wm. H. Connolly, Lisburn; Thomas Maguire, solicitor; George Maguire.
There also attended at the funeral representatives of the Ballyholme Sailing Club and of the employees of Messrs. Dunville and Co. Ltd.
On arrival at Lambeg the Interment took place amidst manifestations of heartfelt sympathy and regret, and the last prayers were recited at the graveside by the Rev. Father Osborne.
Wreaths were sent by Madame Fauvesn, Mrs. Brownlie and family, Knock; Mr. and Mrs. T. C. Sheriff, Mrs. B. N. McDowell, the staff of Dunville & Co., Ballyholme Sailing Club, Mr. and Mrs. John McStay, Mr. and Mrs. John Aiken, Mr. John Russell, Fras. J. Little, Dublin; Mr. and Mrs. Geo. Maguire, Mr. S. C. Hunter, C.E., and Mrs. Hunter, Mr. and Mrs. Geo. McMurray, Mr. Jim Byrne, Mr. John and Mrs. Joseph McConnell, Mr. and Mrs. Werner, Mr. and Mrs. James Baxter.
~~~~~~~~~~~~~~~~~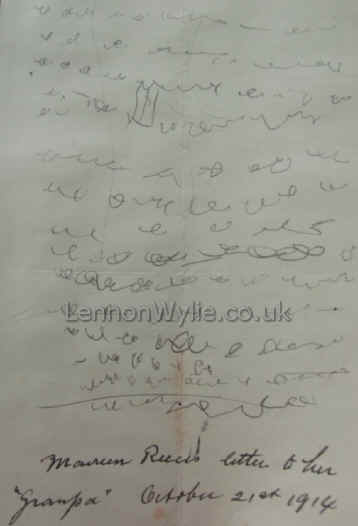 Maureen Reece letter to her "Granpa" October 21st 1914
~~~~~~~~~~~~~~~~~
BANGOR LITERARY CLUB
Session 1904-5
Second Annual Production
THE HOUSE OF DORNTON
Or, The Road to Ruin
A Comedy in Three Acts and Twelve Scenes
by Thos. Holcroft
Lodge Hall, Bangor
27th and 28th February 1905
The entire production under the personal supervision of Mr. John Aiken
Patron: Mr. F. R. Benson
General Management Committee: Mr. P. S. Bell, Chairman; Mr. H. Black: Mr. C. F. McBride; Mr. M. Shiels; Mr. W. Dailey.
Hon. Sec.: Mr. V. Salter, Pickie, Bangor
Hon. Treas.: Mr. F. C. Wright
The Music has been selected and arranged by Mr. Fred Hughes
Orchestra: Piano, Miss Henry; 1st Violin, Mr. Appleton; 2nd Violin, Miss Hughes; Flute, Mr. Sydney; Violincello, Mr. F. Hughes.
Costumes worn by Male Characters supplied by Messrs. Jansen, 109 Donegall Street, Belfast
Periqueur, H. Leslie Thomas, Lombard Street, Belfast
Furnishings by Messrs. W. Bailie & Co., Main Street, Bangor
Lighting Effects by Mr. S. P. Corry, Ulster Motor Works, Belfast
The New Proscenium and Scenery used in the production have been designed and painted by Mr. William Millar, Decorator, King Street, Bangor, and are the property of the B.L.C.
Framework constructed by Mr. James Savage, Builder, Mount Herald, Bangor, from design supplied by Mr. Wm. Millar
Stewards: Messrs. Shields, Boyd, Lewis, Black, Holmes, Hanna and Pollock
CAST
DORNTON Mr. Philip S. Bell
SULKY Mr. A. Melville McClure
MILFORD Mr. Sidney H. Gallway
HARRY DORNTON Mr. Robert M. Simpson
SILKY Mr. Wilfrid M. Chambers
GOLDFINCH Mr. Victor Salter
MR. SMITH Mr. Rupert Gallway
HOSIER Mr. G. J. Stewart
JACOB Mr. James Morrison
SERVANT Mr. Wm. Pyper
FOOTMAN Mr. W. R. Dailey
WIDOW WARREN Miss Florence McMurray
SOPHIA Miss Daisy McCaughey
JENNIE Miss Olive Henry
~~~~~~~~~~~~~~
POST OFFICE LARCENIES
Remarkable Lisburn Case
Woman Returned for Trial
A special Court was held in the Courthouse, Lisburn, at 12.30 to-day, before Messrs. E. Donaghy, W. J. Frazer, and Wm. Ritchie, when Eliza Jane Nolan, widow of an ex-postman, was charged - That she did, on or about the 4th, 8th and 13th days of August, 1911, steal from the Lisburn head post office, certain postal packets being in course of transmission by post, and containing therein certain chattels, the property of his Majesty's Postmaster-General. Mr. Edward R. Bate, solicitor to the Post Office, Ireland, Dublin, conducted the prosecution, and accused was not professionally represented.
In opening the case, Mr. Bate said it was brought at the suit of the Postmaster General as a result of some inquiries which had taken place with reference to the Lisburn Post Office, over which a shadow of suspicion had been hanging for some time; but that, he was pleased to say, had now been removed to a great extent. Having read the charge, Mr. Bate, continuing, said the offence came under Section 50 of the Post Office Act, 1908. A postal packet was deemed to be in transmission from the time it was handed in at the post office till the time it was delivered to the person to whom it was addressed. In consequence of certain information which came to his knowledge, the postmaster of the head post office at Lisburn kept the defendant, who was employed as a charwoman, under observation on the morning of the 20th August, and he went over to a place where some clothes were lying, and underneath defendant's shawl he saw the postal packet (produced) which ought to have been as a matter of fact in the hands of a postman. Afterwards when the defendant was leaving the premises the postmaster went over to the shawl and found the packet was no longer there. He called her back, and as a result of a conversation which took place the woman was placed under arrest, and on her house being searched subsequently a number of postal packets were found. He (Mr. Bate) had selected three packets from the bundle, and would adduce evidence in detail with reference to those.
The first witness examined was John Irwin, 29 Divis Street, Belfast, an assistant packer in Berrington & Co., Ormeau Avenue, Belfast. The parcel produced addressed to Mrs. Bell, Magheragall, Lisburn, was posted by him on 3rd August at Great Victoria Street Post Office. Martha Bell, Magheragall, said she had not received the parcel (produced) from the post. It contained neck binding for a pinafore. The parcel was first shown to her by Sergeant Green. Minnie Rea, Rose Land Ends, Ballinderry, stated that the parcel addressed to Mr. W. J. McMurray, Laundry Works, Lisburn, was posted by her at Rose Lane Ends Post Office on 2nd August. It contained two pillow (sorry the paper clipping is incomplete but you can guess the outcome)
~~~~~~~~~~~~~~~
Coroner's Inquest
About half-past six o'clock on Wednesday evening a fatal accident occurred to a man named McRoberts while engaged removing furniture. The van, the property of the contractors, Messrs. James Young & Co., carriers, Belfast, had arrived from the city with the household furnishings of new residents for Loreli (Lorelei), and was in charge of two men named William Johnston McRoberts and William McKay. When they reached the steep lane leading from Princetown Road to their destination, which is one of the villas directly opposite Pickie Bathing Place, the trace-horse was unyoked, and McRoberts proceeded to lead the remaining animal attached to the van down the hill. McKay's statement is that he warned deceased regarding the danger of this proceeding, and wanted to put the chain on the wheels to check the waggon, but McRoberts would not have it, as he thought that one horse would not be able to draw a braked vehicle. As the van approached the foot of the incline the impetus was so great that McKay had to hold back the waggon while McRoberts held the horse by the head and attempted to keep it back. The deceased apparently had slipped or was trampled on by the horse. At any rate, he fell on his face and the wheel of the vehicle passed over his back, killing him instantaneously. The horse then stumbled over the embankment and the van rolled right over and lay at the edge pf the plantation, wheels uppermost. Dr. Mitchell was at once summoned, and he was soon afterwards joined by Drs. Moore and Bell, but medical aid was of no avail. Dr. Mitchell made an examination of the body. He found three of the ribs broken, and that death was due to the broken ribs being crushed in and lacerating the heart and lungs. Sergeant Dixon arrived immediately after the accident, and took charge of the body, which he had subsequently removed to the yard of the "Yachtsman" Hotel, Main Street. Mr. Samuel Baird, managing director of the contracting firm, was in Bangor superintending another removal when the accident occurred. He at once hurried to the scene, and did all he could to render assistance. Deceased, who was about 30 years of age, resided at Lisburn, where he leaves a widow and three children to mourn his loss.
THE INQUEST
The inquest took place yesterday evening in the "Yachtsman" Hotel, Bangor, before Dr. R. C. Parke, J.P., Coroner for North Down, and the following jury:- Messrs. Thos. Matthews, J.P. (foreman); Robert Yarr, Wm. Johnston, James McCullagh, Martin Fisher, H. McKee, David C. Ross, Thomas Muirhead, Thomas Scotland, Joseph McClean, George Danskin, Samuel Keenan, Patrick Campbell, Geo. Russell, William McBride, Henry Palfrey and ? Gorman ? ? ? appeared on behalf of the police.
The jury having examined the remains.
John Johnston McRoberts, father of the deceased, identified the body as that of his son, William Johnston McRoberts, who was 29 years of age. Deceased had been a labourer in the employ of Messrs. James Young & Co., carriers, Belfast. Deceased was married and had three children. Witness last saw his son on Sunday evening, when he was strong and well. A Juror - Has he been in the habit of driving horses? Witness - Yes, about six years. William McKay, of 85 Corporation Street (sorry that's all folks, the clipping has been cut short)
TOWN COURT DRUNK
John Moore, Killaughey Street, was summoned for being drunk on 11th February (no year but assume its early 1900's as most clipping are between 1902 and 1911