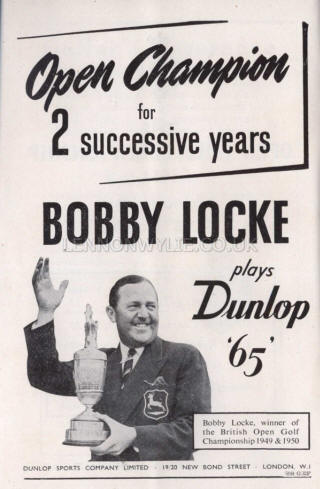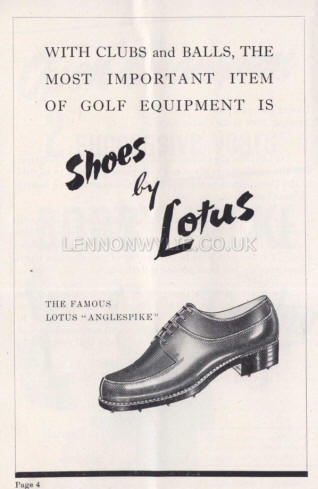 Bobby Locke Lotus
~~~~~~~~~~~~~~~~~
THE TOWN HALL, PORTRUSH July 1951
To The Competitors, British Open Golf Championship
On behalf of the Council of the urban District of Portrush and the residents, it gives me very great pleasure to extend to the Competitors in the Open Golf Championship a hearty "Ulster" welcome. We are deeply conscious of the honour which has been done to this Health and Holiday Resort by the selection of the Royal Portrush Golf Course as the venue for the Championship. It is the first time in the history of golf that the Open Championship has been played in Ireland.
We can assure the Competitors, their friends, and the thousands of spectators, who will gather to witness the Championship, that the people of Portrush will spare no effort to make their stay a happy one: the beautiful surroundings and its many amenities will combine to make the visit memorable.
I wish the Competitors, their friends and the spectators a grand sporting event and a really happy holiday.
W. R. KNOX, M.B.E., M.M., J.P., C.C., Chairman, Urban District Council of Portrush
~~~~~~~~~~~~~~~~~
A Foreword
Though Portrush has been the scene of many Irish Championships and other important tournaments in the past, this is the first time that they have been privileged to act as hosts to the Open Championship. To all who have come to play, to work or to look on, I want to extend the warmest of welcomes. Though I have no right to speak for more than the members of our Club, I am quite certain that every golfer in the North of Ireland will wish to join in this welcome. And I know that the Urban Councils and private citizens of Portrush and Portstewart are equally sincere in hoping that you all will enjoy your stay, and will carry away nothing but happy memories.
G. N. C. Martin, Brigadier, Captain.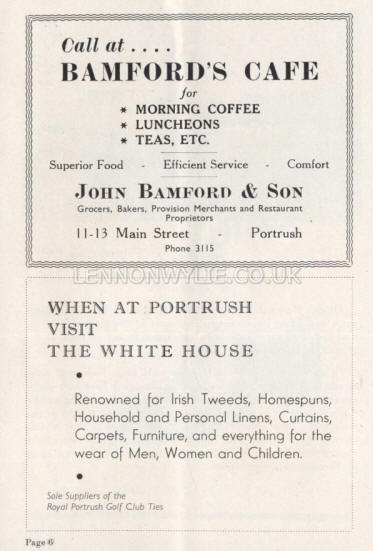 Bamford's Cafe Bobby Golfwear
~~~~~~~~~~~~~~~~~~
Message of Welcome from Portstewart Golf Club
We congratulate our neighbour and friendly rival, Royal Portrush Golf Club on their initiative and successful efforts in securing the British Open Golf Championship with Portstewart as the qualifying course. The President, Captain and Members of Portstewart Club are delighted to share in the staging of the major event in the year's golfing calendar, particularly in this Festival year and on the first occasion that it has been held outside Great Britain.
We can assure Royal Portrush of every possible assistance to make the event a success, not only during the qualifying rounds, but for the whole meeting. Unfortunately the proposed extensions and alterations to this course, started some time ago with a view to making it a better test of golf, have had to be temporarily abandoned as it would not have been possible to have them completed and in playing order this year. We have been enabled, however, to complete the extensions and repairs to and refurnishing of the Clubhouse which will afford a comfortable centre for officials and players with magnificent views from the lounges over the strand, bay, and River Bann, framed by the Derry and Donegal hills in the background.
We are extremely grateful to our other neighbour, Castlerock Golf Club, for the kind and generous offer in throwing open their beautiful course to our members during the period of the Championship. We return thanks, first of all those who before the event have worked so hard, both in front of and behind the scenes, to make the event the success we hope for, including officials, ground staff, Post Office personnel, Police, A.A. and R.A.C., and secondly to all players, spectators, pressmen, programme sellers, markers, etc., and we trust that, if with the amount of work involved, any detail has been overlooked, you will forgive us.
It only remains to extend a very hearty welcome to all players, officials, pressmen, and spectators, and we sincerely hope that you will so enjoy every moment of the event and of your stay in the locality, that on your departure when we say "Will ye no come back again?" you will without hesitation sat "Yes"
Alex. E. Martin, Captain
~~~~~~~~~~~~~~
Championship Committee
Chairman: T. H. H. Warren, O.B.E., D.L.
Deputy Chairman: Lt.-Colonel C. O. Hezlet, D.S.O.
Rear Admiral F. R. Barry; H. G. Bentley; W. M. B. Burridge; R. P. St. J. Charles; H. M. Dickson; A. Kyle; D. H. Kyle; Lt.-Colonel J. O. MacAndrew; G. W. Mackie; Dr. J. D. McCormack; Brigadier G. N. C. Martin, C.B.E., D.S.O., M.C.; Colonel T. J. Mitchell, D.S.O.; H. F. Simpson; R. W. D. Skene; C. J. H. Tolley
Secretary: Commander (S) J. A. Storer Carson, V.R.D., R.N.V.R.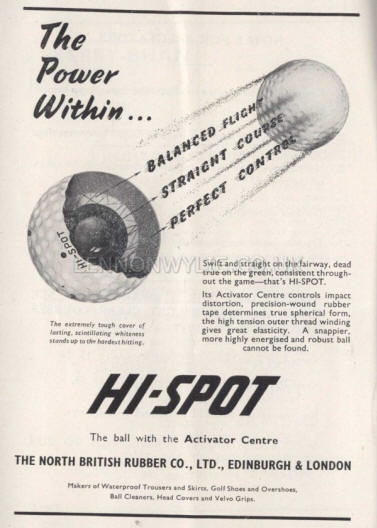 Skerry-Bhan Hotel Hi-Spot
~~~~~~~~~~~~~~
Notes for Spectators
1. Keep behind the barriers and the white lines; keep behind the Stewards.
2. Always wait until both players have played before moving.
3. No photographs or cinematograph pictures are to be taken on the course.
4. No dogs allowed.
5. Do not pester the players for autographs. The Stewards are anxious to give everyone an opportunity of seeing as much of the play as possible.
PLEASE OBEY THE STEWARDS AND SEE THAT ALL PLAYERS GET CLEAR COURSES AND FAIR PLAY
Keep LEFT at Holes 2, 4, 5, 6, 9, 10, 12, 13, 14
Keep RIGHT at Holes 1, 3, 11, 15, 16, 17, 18
No Spectators allowed on 7 and 8 Fairways
SPECTATORS ARE REQUESTED NOT TO RUN ON THE COURSE AT ANY TIME
~~~~~~~~~~~~~~~~~
THE OPEN GOLF CHAMPIONSHIP HISTORY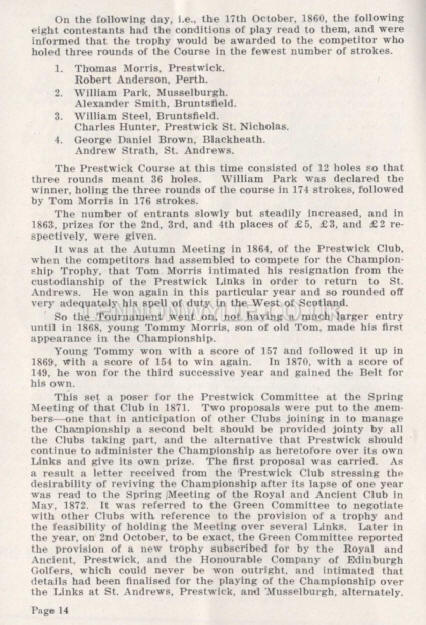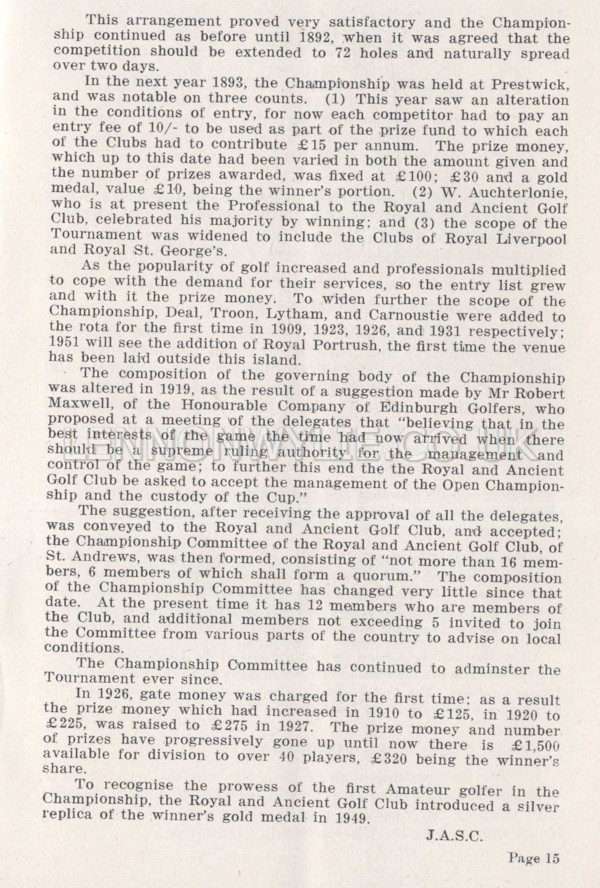 ~~~~~~~~~~~~~~~~
CONDITIONS FOR THE OPEN GOLF CHAMPIONSHIPS 1951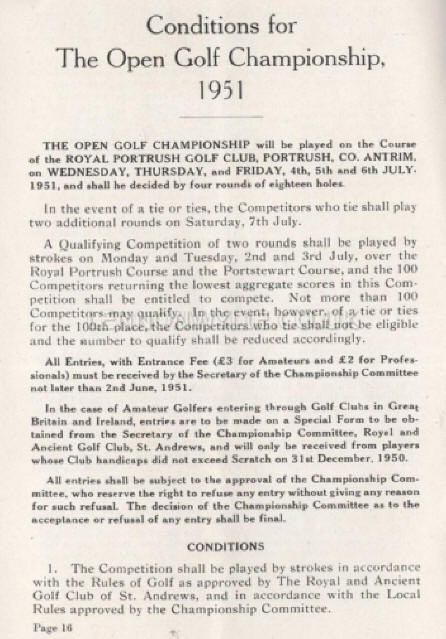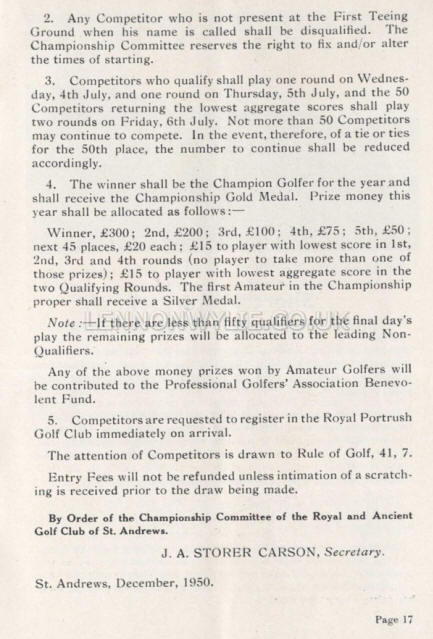 ~~~~~~~~~~~~~~~
SHORT HISTORY of ROYAL PORTRUSH GOLF CLUB and TOWN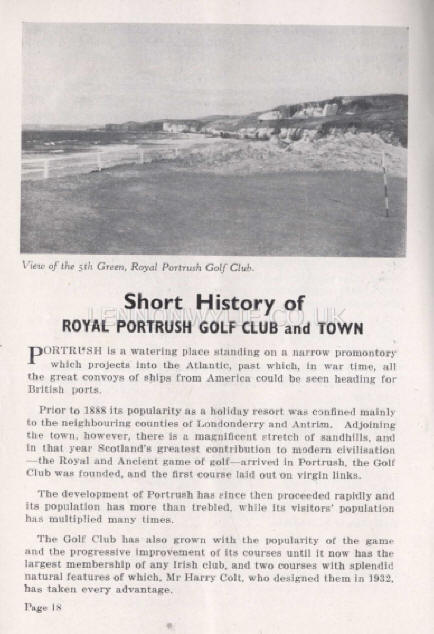 ~~~~~~~~~~~~~~~~~
ROYAL PORTRUSH - CHART OF COURSE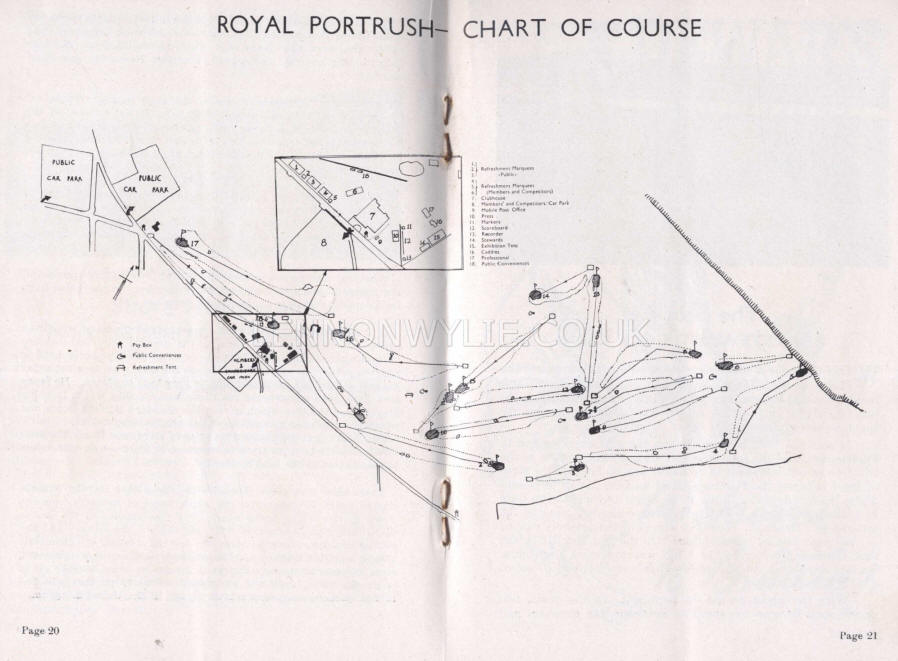 ~~~~~~~~~~~~~~~~
THE STORY of PORTSTEWART GOLF CLUB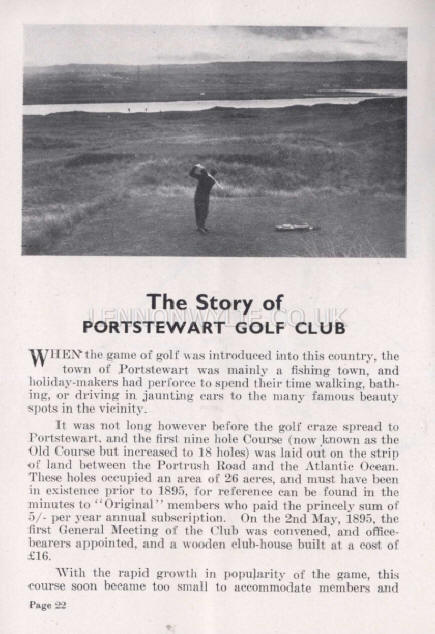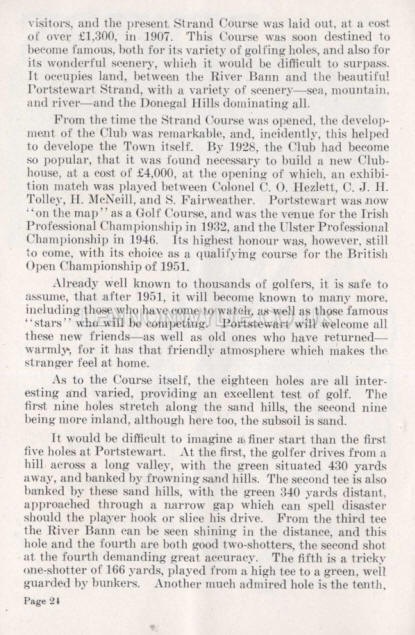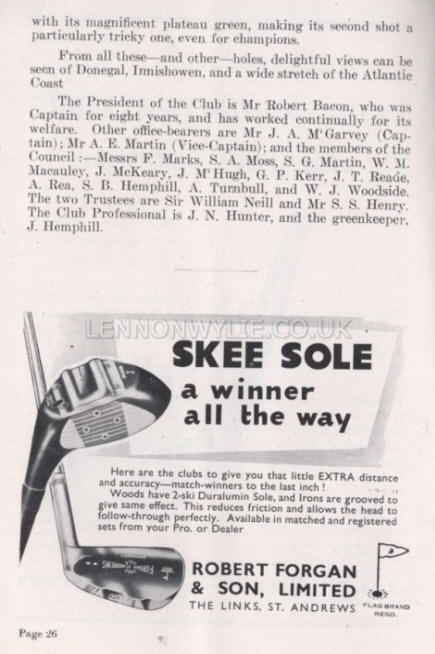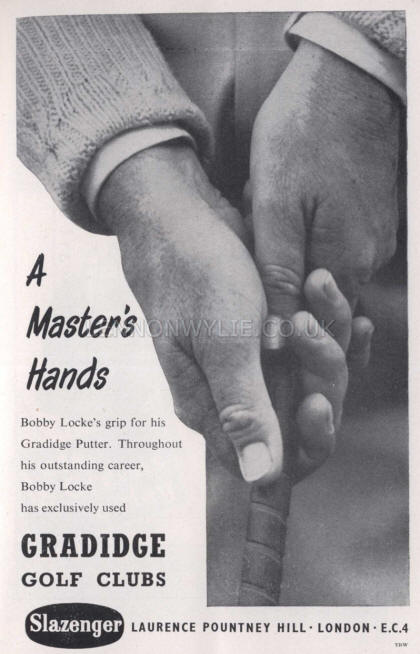 Robert Forgan & Son Ltd. Slazenger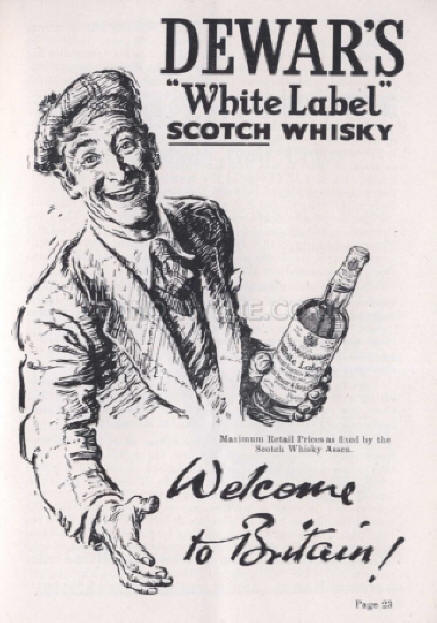 Dewar's Tom Auchterlonie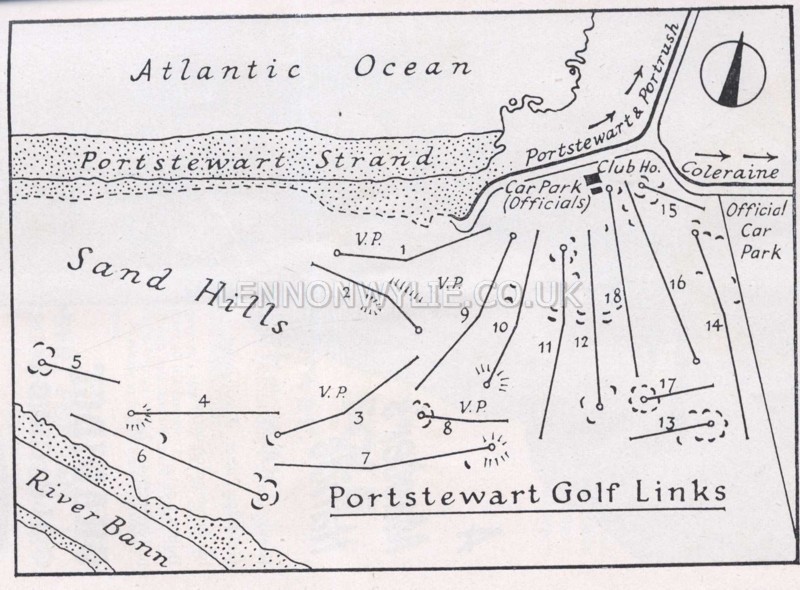 Portstewart Golf Links Map
~~~~~~~~~~
The Open Golf Championship
The Belt



CLICK to see place and score of Champions from 1860 to 1950
see below for names and dates of Champions from 1860 to 1950
1860
1861
1862
1863
1864
1865

1871
W. Park
T. Morris, Sen.
T. Morris, Sen.
W. Park
T. Morris, Sen.
A. Strath

No Championship
1866
1867
1868
1869
1870



W. Park
T. Morris, Sen.
T. Morris, Jun.
T. Morris, Jun.
T. Morris, Jun.
The Belt was won three times in succession by Tom Morris, Jun., and became his property.


THE CUP

1872
1873
1874
1875
1876
1877
1878
1879
1880
1881
1882
1883
1884
1885
1886
1887
1888
1889
1890
1891

1892
1893
1894
1895
1896
1897
1898
1899
1900
1901
1902
1903
1904
1905


T. Morris, Jun.
Tom Kidd
Mungo Park
Willie Park
Bob Martin
J. Anderson
J. Anderson
J. Anderson
B. Ferguson
B. Ferguson
B. Ferguson
W. Fernie
J. Simpson
Bob Martin
D. Brown
W. Park, Jun.
Jack Burns
W. Park, Jun.
Mr. John Ball
Hugh Kirkaldy
72 Holes played in succeeding years
Mr. H. H. Hilton
W. Auchterlonie
J. H. Taylor
J. H. Taylor
H. Vardon
Mr. H. H. Hilton
H. Vardon
H. Vardon
J. H. Taylor
James Braid
Alex. Herd
H. Vardon
Jack White
James Braid


1906
1907
1908
1909
1910
1911
1912
1913
1914
1915 to
1920
1921
1922
1923
1924
1925
1926
1927
1928
1929
1930
1931
1932
1933
1934
1935
1936
1937
1938
1939
1940 to
1946
1947
1948
1949
1950

James Braid
A. Massey
James Braid
J. H. Taylor
James Braid
H. Vardon
E. Ray
J. H. Taylor
H. Vardon
1919 No. Championship
G. Duncan
J. Hutchison
W. Hagen
A. G. Havers
W. Hagen
J. Barnes
Mr. R. T. Jones
Mr. R. T. Jones
W. Hagen
W. Hagen
Mr. R. T. Jones
T. D. Armour
G. Sarazen
D. Shute
T. H. Cotton
A. Perry
A. H. Padgham
T. H. Cotton
R. A. Whitcombe
R. Burton
1945 No. Championship
S. Snead
F. Daly
T. H. Cotton
A. D. Locke
A. D. Locke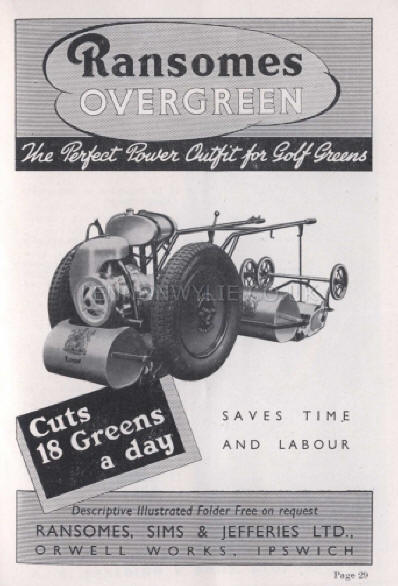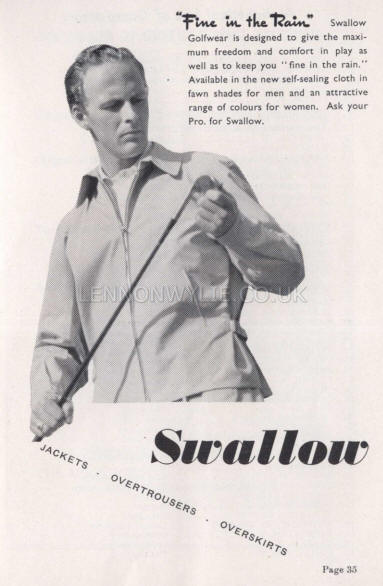 Ransomes Overgreen Swallow
Alphabetical List of Competitors
Name

Club

Name

Club

Adams, James
Ado, J. B.
Adwick, K. W. C.
Agnew, Mr. T. B.
Alliss, Peter
Alliss, P. A.
Allott, F. G.
Angelini, A.
Armstrong, Major W. B. J.
Ayton, L. B.
Bacon, Samuel
Beamish, Wing Cdr. C. H.
Bendern, Mr. John de
Bousfield, Ken
Bradshaw, E.
Bradshaw, H.
Branch, W. J.
Brown, Eric
Budd, Mr. Arthur C.
Bulla, J.
Bullock, Fred
Burke, J.
Burrell, Tom
Burton, Richard
Carr, Mr. J. B.
Carroll, Mrs. J. P.
Carroll, J.
Casera, A.
Cawsey, Ernest
Cawsey, Jack H.
Cerda, A.
Charnley, Mr. T.
Cheal, T. P.
Chevalier, C. T.
Clark, Arthur E.
Clarke, W. J.
Clegg, Frank
Coe, Mr. Charles
Cottingham, Mr. R. F.
Cremin, Eric
Crichton, Mr. W. M.
Dailey, Allan
Daly, Fred
Demaret, J.
Donck, Flory Van
Donovan, Lt.-Col. Harold F.
Dorward, Gordon
Drew, Mr. Norman V.
Ellmore, Mr. J. W.
Enderby, Mr. Keppel E.
Fairbairn, T. H. T.
Fallon, J.
Faulkner, Max
Ferguson, Richard
Ferguson, Michael
Field, S. S.
Fleming, S. B.
Gaffney, W.
Gardner, T.
Gledhill, Geoffrey
Glover, Mr. John
Grappasonni, U.
Green, W. H.
Greene, Christy
Griffiths, Mr. Graham
Haliburton, T. B.
Halsall, R.
Hancock, W. C. A.
Hargreaves, Jack
Hassanien, Hassan
Hastings, W. M.
Hausseguy, Paul
Havers, Arthur
Hawkins, J.
Hemphill, Mr. Samuel B.
Henderson, James
Henderson, W. J.
Hill, Walter
Horne, Reg
Howard, George
Howley, Mr. W. J.
Hunter, John
Irvine, Mr. William
Isherwood, A. J.
Jacobs, J. A.
Jacobs, J. R. M.
Jarman, E. W.
Jarman, R.
Jennings, Roger
Jones, Mr. Leslie
Julian, Mr. A. B.
Kane, C.
Wentworth
Chantaco, France
Manston Green
Royal Portrush
Ferndown
Weston Super Mare
Enfield
Italy
Dub Laoghaire
Worthing
Co. Armagh
Royal Portrush
Royal & Ancient
Coombe Hill
Delgany
Portmarnock
Ganton
Hartsbourne
Hurlingham, Argentine
U.S.A.
Glasgow
Unattached
Northampton
Coombe Hill
Sutton
Sutton
Grange
Italy
Blackwell
Pype Hayes Municipal
Ranelagh, Argentine
Virginia, Australia
Peterborough Milton
Heaton Moor
Huntington, U.S.A.
Lisburn
Unattached
Oklahoma
Holme Hall
Australian
Khartoum
Royal Wimbledon
Balmoral, Belfast
U.S.A.
Waterloo, Belgium
Frankfurt, Germany
Deeside
Bangor
Grimsby
Lakes, Australia
Reddish Vale
Huddersfield
Unattached
Lucan
Dundalk
Dunstable Downs
Castlerock
Milltown
Sandiway
Northamptonshire County
Knock
Italy
Moortown
Kilcroney
Long Ashton
North Middlesex
Birkdale
Stockport
Sutton Coldfield
Gezira, Egypt
Barassie
Marly C.C. France
Moor Park
Maidenhead
Portstewart
Clandeboye
Nairn
Bulwell Forest
Hendon
Swinton Park
Royal Dublin
Portstewart
Pollok
Warrington
Lindrick
Gezira, Egypt
West Lancs.
Prenton
Rotherham
Cleethorpes
Khartoum
Royal Dublin
Karlsson, Harry
Keartland, Mr. B. T.
Kenyon, E. W. H.
King, Sam
Kirkpatrick, Mr. R. L.
Knight, R. A.
Knipe, J.
Kyle, Mr. Alex.
Lacey, A. J.
Lamaze, Mr. Henri de
Lawrence, Mr. R. Balfour
Lees, Arthur
Lees, Walter
Lennox, Mr. Brodie A.
Locke, A. D. (Bobby)
Lyle, Walter B.
McCartney, J.
McHale, Mr. J.
McHarg, Dr. W.
McIntosh, G. W.
McKenna, J.
McKenna, John
McKinley, D. H.
McLachlan, Jack
McNeill, Ted
McNeill, Mr. W. A.
Martin, James
Meyer, Mr. Rollo, Jr.
Middleton, H.
Moses, J. R.
Murray, J. S.
Nagle, Ken
Neill, C. K.
Nettlefold, Mr. L.
Nida, Norman Von
O'Brien, D.
O'Connor, Christy
O'Connor, Kevin
O'Connor, Pat
Packer, Mr. Graham A.
Padgham, A. H.
Panton, John
Patterson, Ernest
Pelissier, A.
Poulton, A.
Preston, Bernard G.
Ranells, Mr. Laurence J.
Rees, Dai
Riegel, Skee
Robertson, W. G.
Roffe, G. N.
Rotar, Charles
Rudd, A.
Sawey, Pat
Scrutton, Mr. Philip
Sellschopp, Mr. Erik
Shankland, Bill
Sheppard, Alistair G.
Sinclair, Edwin
Smith, Walter
Smithers, W. D.
Stevenson, P. G.
Stranahan, Mr. Frank R.
Sutton, Norman
Taggart, Mr. Jackson
Tew, Mr. A. M.
Thirwell, Mr. Alan
Thomson, Hector
Thomson, Peter W.
Travaini, P.
Twite, B. C.
Verity, Tom
Verwey, J. W.
Wade, J.
Walker, Mr. Arthur
Walker, Mr. K. W.
Ward, C. H.
Ward, E.
Waters, Alan
Webster, Mr. Frank
Weetman, Harry
Wheeler, Mr. L. W.
Whiston, Adam
Whitcombe, E. E.
Whitcombe, R. A.
White, Capt. Clarence D.
White, G. M.
Wiggett, J. E.
Wilson, Norman
Young, H. A. J.
Zimmerman, Al.

Lidingo, Sweden
Royal Johannesburg
Worsley
Knole Park
Tullamore
Wanstead
Coombe Wood
Sandmoor
Berkshire
St. Cloud, France
Royal & Ancient
Sunningdale
Shipley
Glasgow
South Africa
Clober
Cliftonville
Saucon Valley C.C., U.S.A.
Castlerock
Ringway
North West
Douglas
Ballymena
Royal, Co. Down
Pleasington
Royal Belfast
Greystones
Weston Super Mare
Belvoir Park
Sandwell Park
Cowglen
Pymble, Australia
Shandon Park
Kingston Beach, Tasmania
Australia
Ennis
Tuam
Elm Park
Woodbrook
Port Elizabeth, South Africa
Sundridge Park
Glenbervie
Donaghadee
Port Marly France
Burhill
Kings Norton
Royal Lytham & St. Annes
South Herts.
U.S.A.
Belvoir Park
Coventry
Frankfurt
Sale
Royal Belfast
Addington
Wohltorfer, Germany
Templenewsam
Hawkstone Park
Unattached
Heysham
Long Ashton
Royal Portrush
Inverness, U.S.A.
Leigh
Royal Portrush
Grimsby
Gosforth
Unattached
Riversdale, Australia
Italy
Abbeydale
Selangor, Malaya
Virginia Park, South Africa
Bradford
Wanderers, South Africa
Nairn
Little Aston
Tyrrells Wood
Worplesdon
Skerries
Croham Hurst
Gog Magog
Dun Laoghaire
Chigwell
Parkstone
Frankfurt, Germany
Coxmoor
Cavendish
Bray
Sonning
Alderwood C.C., U.S.A.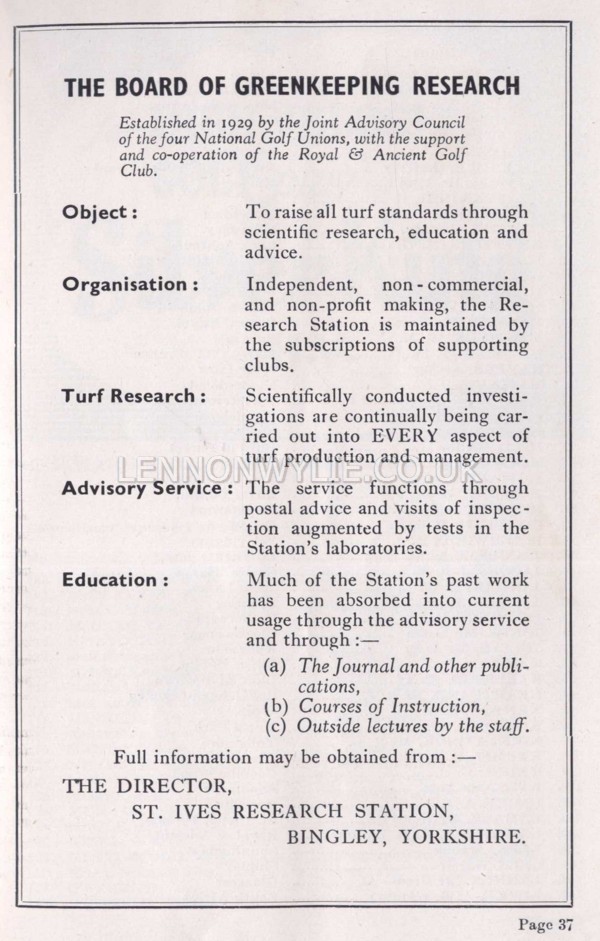 The Board of Greenkeeping Research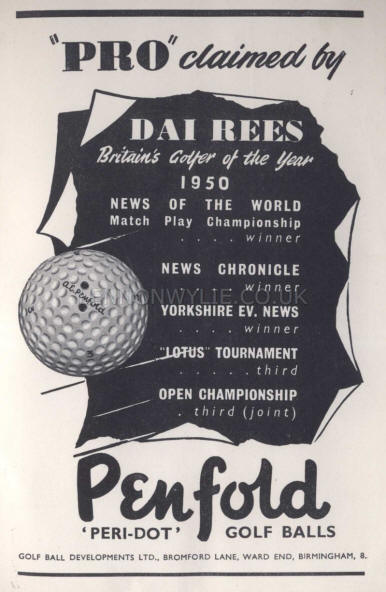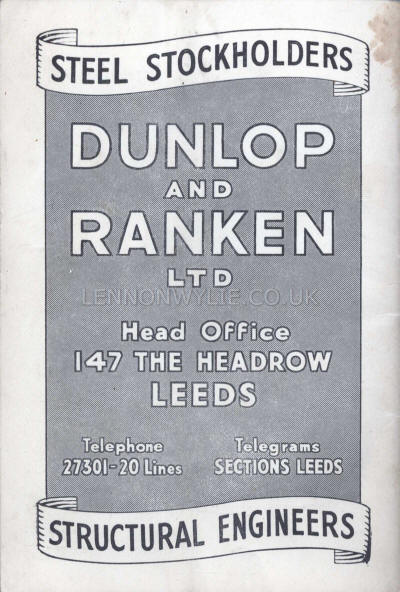 Penfold 'Peri-dot' Golf Balls Dunlop & Rankin Ltd.










Second Round - Draw for Wednesday & Thursday 4th & 5th July - First Round
Scores