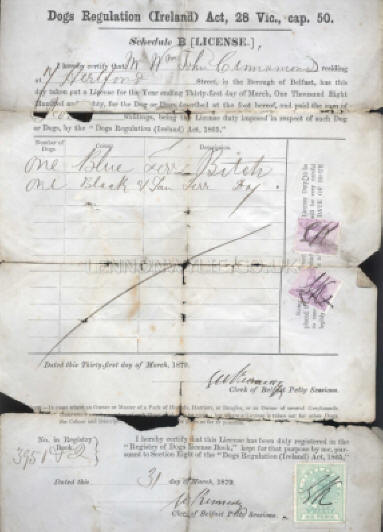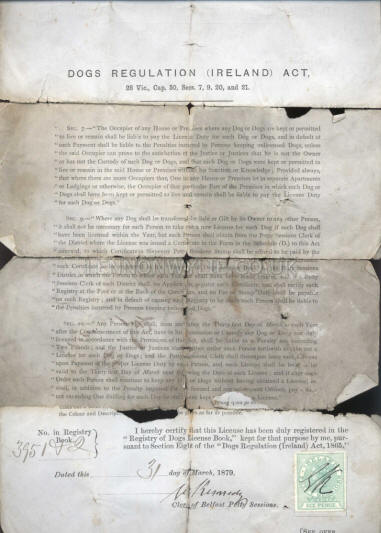 Dogs Regulation (Ireland) Act, 28 Vic., cap. 50
Mr. Wm. John Cinnamond, 7 Hertford Street, Belfast 31st March 1879
One blue terrier bitch & one black & tan terrier dog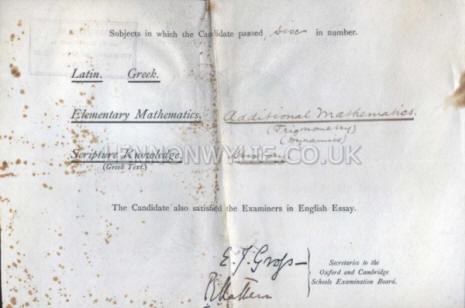 Universities of Oxford and Cambridge
McCance, Henry B., aged 15, passed the Oxford and Cambridge Higher Certificate Examination in the month of July, in the year 1908.
Signed by Vice-Chancellor of Oxford, T. Herbert Warren and Vice-Chancellor of Cambridge, E. S. Roberts
Subjects in which the Candidate passed. six in number:- Latin, Greek, Elementary Mathematics - Additional Mathematics, Trigonometry, Dynamics, Scripture Knowledge , History. The Candidate also satisfied the Examiners in English Essay. E. J. Grofs? & P. E. Matheson? - Secretaries to the Oxford and Cambridge Schools Examination Board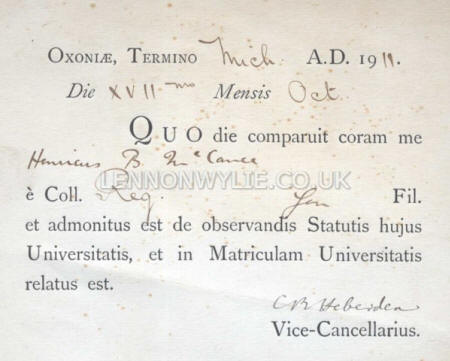 Henrius B. McCance
this is a certificate of matriculation, or enrolment, into Oxford university. On the 17th day of October 1919, in the Michaelmas Term, Henry McCance, having been warned to observe the rules of this university, is hereby matriculated into the university. Loose translation. It is signed by the Vice Chancellor, CB Heberden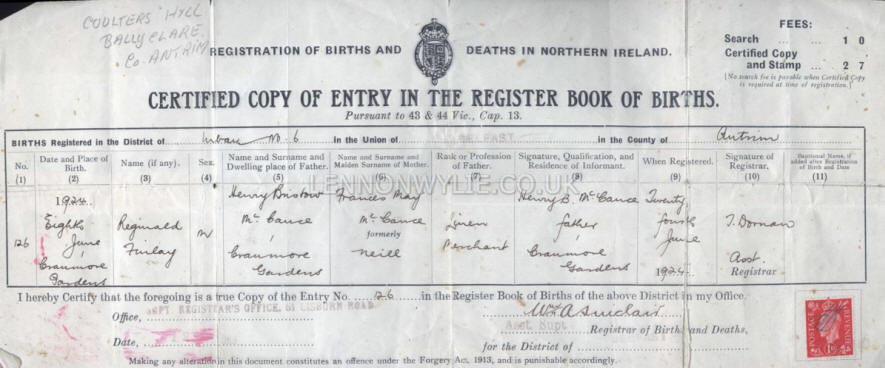 Reginald Finlay McCance
Coulters Hill, Ballyclare, Co. Antrim
born 8th June 1924, 1 Cranmore Gardens
Henry Bristow McCance, Frances May McCance nee Neill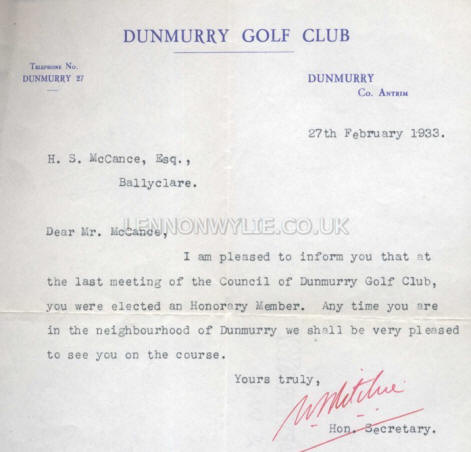 27th February 1933 to H. S. McCance, Esq., Ballyclare from Dunmurry Golf Club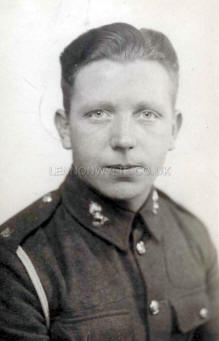 possibly Reginald Finlay McCance born 8th June 1924 photo taken 31st January 1940
Died: 22nd January 2008, Cremated in Roselawn
~~~~~~~~~~~~~~~


Major John Henry Frothingham Moat K.I.A. 26th January 1942
To Finlay, To have in remembrance of Jeff. Happy Xmas








#1 #2 #3 #4 #5 #6
#1 The Green Howards, Alexandra Princess of Wales's Own Yorkshire Regiment - who was killed in action in Malaya on the 26th January 1942 while serving as a Company Commander in the Cambridgeshire Regiment
His Book of Remembrance
#2 Oxford University Army Candidate, First Commission, 1929 - Foreign Service, in Shanghai and India - Active Service, Palestine 1938-9 - Mentioned in Dispatches, Medal - Norway and Malaya - Staff Appointments: Staff Captain, XIV Infantry Brigade, G.S.O. III, S.W. Area; G.S.O. III, Base Sub-Area, Aandalsness, G.S.O. III, IV Corps, G.S.O. II, Army Co-operation, Northern Ireland
#3 Buckingham Palace - The Queen and I offer you our heartfelt sympathy in your great sorrow. We pray that your country's gratitude for a life so nobly given in its service may bring you some measure of consolation. George R.I.
#4 Personal Tribute - In the Times of 28th March 1942 C.D. writes: Major John Henry Frothingham Moat was an Ulsterman, born in 1907, and educated at Mourne Grange, at Radley, and at Exeter College, Oxford. He was commissioned in The Green Howards in 1929, and his foreign service included Shanghai, India, and Palestine, where he held staff appointments. For his work in Palestine he was mentioned in dispatches. Known as 'Jeff' to those - and they were a goodly company - who enjoyed intimate contact with him, he passed through life radiating friendliness. A personality of great charm and exceeding modesty, holding clear and firm convictions, he was absolutely straight and contemptuous of anything petty or unethical. Believing at heart that life should be regarded as a glorious adventure, he lived each hour of each day with a zest and happiness that only a few can attain. A capacity for self-sacrifice impelled him to apply for what he deemed to be more arduous duty; it was as though he heard a clear call and answered it for his conscience' sake. He was transferred to Malaya with an infantry unit only to be killed in action very shortly after arrival. So culminated Jeff Moat's philosophy of a soldier's vocation that could have been expressed by the sentence, 'I know that I shall live, I do not mean I shall not be killed'. His friends and comrades will reverently lay his memory in that upper chamber called peace. There opening the windows wide towards the glorious sunshine they will remember him, not with tears, but with immense gratitude for those perfect years of good companionship, kindliness, and inspiration.
#5 Personal Tribute - In the Times of 9th April 1942 the Rector of Exeter College, Oxford, writes: I might perhaps be allowed to add a word to C.D.'s charming tribute to the memory of the late Major J. H. F. Moat. There are some men of whom a college can be proud not so much for their scholarship or for their athletic prowess, as simply, so to speak, for themselves. The ideal 'University Candidate' for the Army is, I suppose, one who has approved himself as Jeff Moat did with us, as worthy to be respected and thoroughly liked by all, from the Senior Don whom he partnered at golf to the veriest freshman whom he knew how to put at his ease. Such a man, taught by his social training how to give and take, will have acquired a foretaste of the loyalty which a soldier owes to his comrades and to the common cause. Jeff was withal a cheerful soul who could make light of his personal share in perilous adventures alike in Palestine and in Norway, and faced future risks with the untroubled heart of the true warrior. R. R. Marett
#6 Extracts from Letters - Radley College, Berkshire Please forgive a letter from a stranger, but I do want to let you know how sorry I and the rest of us who were here with him were to see the notice of your husband's death. I feel that I want you to know that we at Radley know of, and mourn, the loss of yet another O.R., and as your husband's Social Tutor is dead, I am taking it upon myself to write to you as representing Radley. Your husband was a loyal O.R. and we shall miss him indeed. He paid us several visits after he went down from Oxford, and was one of those who did not lose touch with his old school, and I feel that I have lost yet another friend. V.H.
Exeter College, Oxford. The sad news in to-day's Times tells us that the College has lost one of its most loyal members. As for my own part, 'Jeff', as I always called him, was one of my most intimate friends. The College has lost already not a few who were among the best, but I don't think I have felt any disaster more than this which has afflicted you, and has deprived the country of one of the bravest of its sons. He had been in so many tight places already that one believed him to bear a charmed life; but this was is relentless. R. R. M.
I have been luckier than I deserve in the number of friends given me, and Jeff was one of the very best. I felt for him as hundreds of other people must have felt too, the warmest affection. He was so affectionate himself, and so uncontrollably gay. Those wonderful high spirits and that most individual laugh.








#1 #2 #3 #4 #5 #6
#1 My own memory is full of happy remembrances of him. A night in Oxford, May 1940, when he was just back from Norway; another visit on his way to High Wycombe in August with a lot of 'Brass Hats', when we drank beer in the garden in the morning. It was a miracle to me that he never seemed to grow any older; even though he started to have some grey hairs, he was as young in appearance and spirit when I saw him only the other day, it seems, as when I first knew him fifteen years ago. There are few people of whom one can be certain that they never had an enemy in the world and he is one of them. Everyone's memories of him are happy ones. I was struck when I was in Oxford for last week-end that everyone in College, in Common Room, and in the Lodge, was talking of him. D.B.
He was so keen and thorough as a soldier, devoted to his Regiment and its traditions, that his loss will be greatly felt, not least in this College where he was very popular, and the more we had seen of him since he went down had confirmed the promise he had shown. Of the losses this College has suffered in this war, his is among those which will be mostly acutely regretted. C.T.A.
Jeffy was one of the best (in every sense of the word) men I ever knew, and war seems to pick out men of his sort. I out of his many friends will cherish his memory more than I can say. T.A.P.
It is your fight and you will face it just as Jeffy went out to meet his, with great courage and with a grim and gay determination to carry out what he deemed to be his duty. I believe the word duty was liable to be scoffed at by a pre-war generation, but men like Jeff have shown that duty is far from dead - that it is worth fighting for, worth dying for. And if it is worth dying for, surely it is worth the living. F.N.F.F.
#2 I so liked and respected your husband, and he contributed in no small measure to making the 2nd Battn. the happy Battalion it used to be. It is not given to everyone to have the high sense of duty, courage, and self-sacrifice to give up a safe job and look for hardship and danger as he did, and he has indeed set a splendid example. The death of one so young and with so many years before him is always tragic, but I do feel that in his case it is even more so. F.K.
I can only say how terribly Jeff will be missed by all his friends, not only now, but after the war when his integrity and common sense would have been so much needed to build things up again. I haven't been soldiering with him for some years now, but I shall always remember him with affection. He was a new kind of officer when he first joined from the 'Varsity, and I think people were inclined to look on him, with his broader outlook and saner ideas, with suspicion at first. But we soon changed that and he was a real influence in the Regiment, though I doubt he realised it. He was too modest. A.F.P.E.
... His, I feel, is indeed the happier lot . . . Jeff was all that a man should be - perfect in character, in sportsmanship, in courage, and in his family life. He knew a man when he met one; he knew no malice; he trusted everyone. He would die as he had lived - smiling and happy to the end - dying for an ideal and certainly not in vain . . . The Regiment mourns the loss of this gallant servant - this fine friend and comrade - and in doing so, salutes his memory. D.C.
I cannot tell you how terribly grieved I am to hear of Jeff's death in action. All of us in the Regiment were so very fond of him. He was always so cheerful and bright, however unpleasant the conditions sometimes were, particularly in Norway. A.E.R.
#3 This is the most ghastly day of the war for me - I still jeep thinking it must be a dreadful dream. Why Jeff had to be singled out so soon God alone knows - it almost makes one ashamed to be alive . . . But there is no point in my telling you how much I shall miss him, or emphasizing the luck I had to be a friend of his; one only meets one person like him in a lifetime . . . It has taken me quite a long time to really understand that I shall never see him again, and all those amusing mannerisms of his. I don't think men realize how fond they are of each other until one of them goes. How inspiring those last letters of his sound. His heart was always in regimental soldiering, and his men would have done anything for him, I know. T.J.C.
As Colonel of the Cambridgeshire Regiment I want to send you a word of very real and deep sympathy in the tragedy that has so suddenly come to you. I have only just read a letter from a boy in the Regiment who also gave his life evidently in the same action telling about your husband having arrived with the battalion, and saying how much he wanted to get into his company and how he admired him. He joined a regiment which created for itself a really fine tradition of fighting quality in the last war - and I am as sure as I sit here that the Regiment fought well in Malaya, and that your husband was in the forefront of the battle. He died for a cause for which all decent people feel is worth fighting . . . R.M.L.
It is hard to think that we will not see him again. I cannot but think that he still lives and with that thought in our minds we may take comfort to carry on. When I think of all that has happened my feelings get the better of me. I suppose there is an excuse as I nursed him, watched him grow into a fine boy, brought him home from Mourne Grange School when his father, my best friend, passed on, was his guardian, and saw him attain manhood. Then I am lucky to have had him nearby, for you may really say his last year. It is strange how our lives are planned for us. A.P.T.
#4 That grand big boy has gone ahead and I can quite realize because of his wonderful sense of duty and selflessness he'd be where the danger was most acute, regardless of consequences. It was such a joy to see how from the little kid he'd blossomed out into such a fine type, and unusual, reflecting the character and utter unselfishness of outlook of his father; as clean, as straight and fearless in the things of life that matter. B.S.
I just don't know how to write you about Jeff. It is so completely heart-breaking to think of you, and there does not seem anything to say that is any help. There seems nothing but to think back on your short but absolutely grand life together before the war, and thank God for it. Not everybody has known the terrific companionship that you and Jeff seemed to have, and all the friendship and fun and happiness in your lives. So it is something to be treasured; all the present-day hatefulness and misery can't take away those happy years. Jeff was one of the grandest and most attractive people; they seem always the ones to be taken. C.L.
My memory keeps recalling Milton's lines --
For Lycidas is dead, dead ere his prime, Young Lycidas and hath not left his Peer.
and then reflection assures me that dear old Jeff had reached his prime, for he did not need to be middle-aged or old to accomplish that goal. . . . We may well be proud and content in the certainly that our beloved Jeff has so nobly fought his fight, has finished his course, and so right well Kept the Faith. A.C.H.D.
#5 I can best tell you who I am by saying I am one of those many people who knew and were fond of your husband. I suppose no man was more universally beloved than he. And so I write you my deepest sympathy; the world is a sadder place for me now that I shall not see him again, with all his charm and fun. When a gallant lad like that passes on before us, two sayings of two wise men, who themselves knew toil and sorrow, always come back to me.
Nothing is here for tears, nothing to wail or Knock the breast, no weakness, no contempt,
Dispraise or blame, nothing but well and fair And what may quiet us in a death so noble. (Milton)
The other is from Bunyan, when he tells of the passing of his 'Valiant-for-truth': So he passed over the river and all the trumpets sounded for him on the other side.
As I believe our war is for all that is of good report, so I believe that for all gallant boys who make for their country the supreme offering - all the trumpets sound. A.B.R.
. . . Through Palestine and Weymouth the Major was always a great friend, more than a Master, to me - he was simply grand, and I loved him. I'd always hoped to see him again, but now - I can't write much, please excuse me. From his Batman
Poor Master Jeff's death in the bloom of his young manhood - and a fine young man he was. There is none who knows him as well as I do, and he was always a good boy and verry wise in all his ways. He spent most of his time with me in the garden. It was a great blow to me to hear of his death. His father's old gardener
#6 Printed 1942 in Great Britain at the University Press, Oxford
~~~~~~~~~~~~~~~~~~~~
Photo album - Malakand 1946/47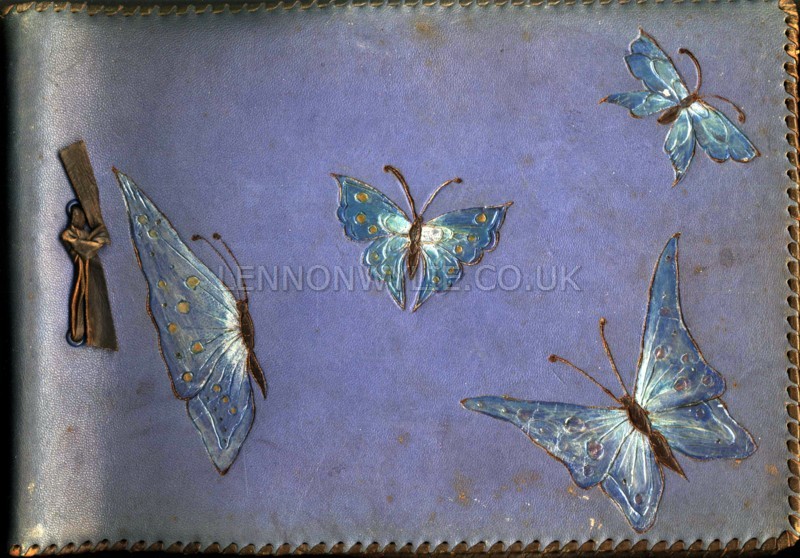 this is a leather of some kind, soft and tactile, whip stitched round the edge with gold something and the butterflies are embossed and painted with metallic paints 1940s - beautiful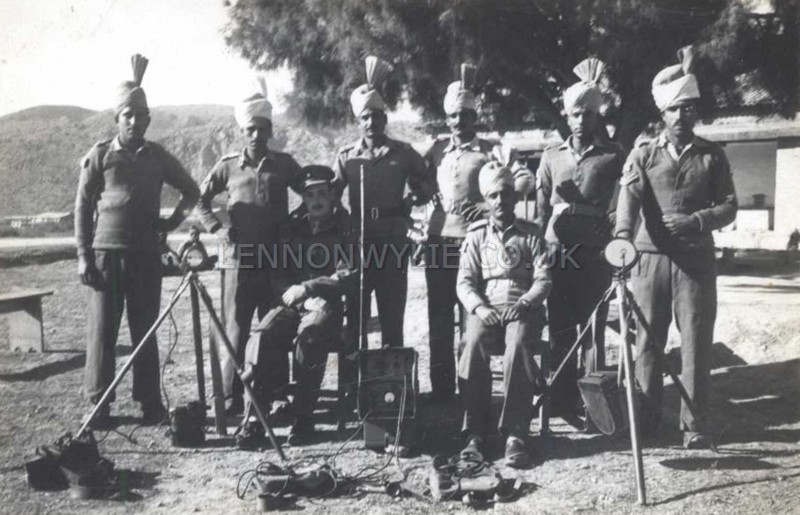 Self (Reginald Finlay McCance), Sub. ____ Akbar and N.C.O.s of Signal Platoon 9th bn. Baluch Regt.
Wah November 1945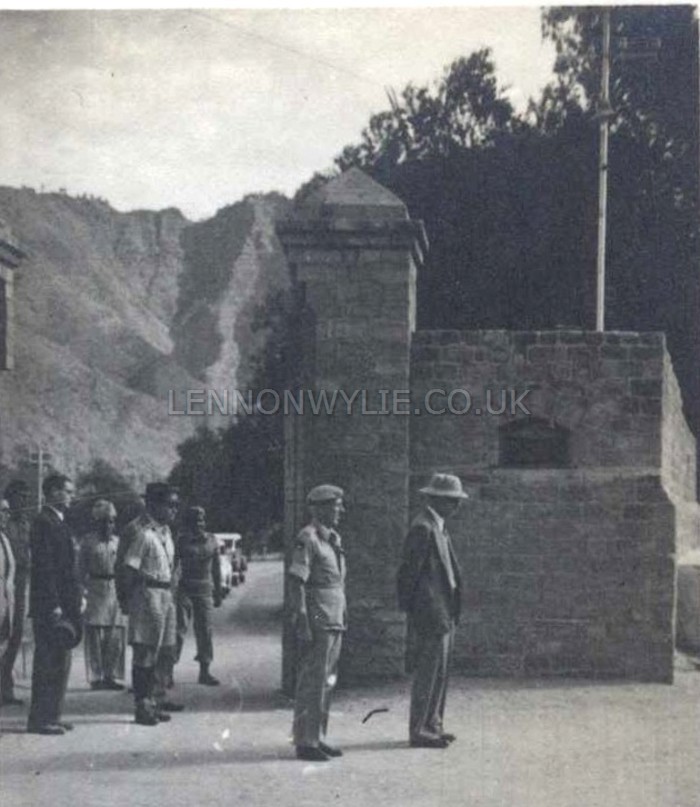 Governor of N.W.F.P. (North West Frontier Province) with Lieut. Col. Featherstone C.O. 2nd bn Baluch regt. inspecting the Guard at Malakand Fort
August 1946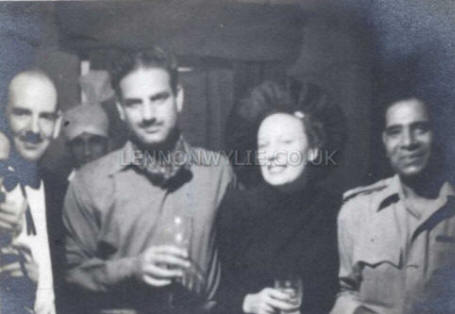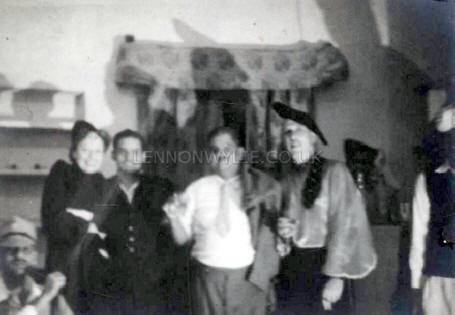 Fancy dress party at Malakand Fort September 1946 L. to R. Peter Campbell, Z.A., Mrs. Featherstone and the Doc
Another picture of the fancy dress party at Malakand September 1946 L. to R. Albran, Mrs. Featherstone, Iqbal, Chaman Lal (J. or G. E.) and Peter Campbell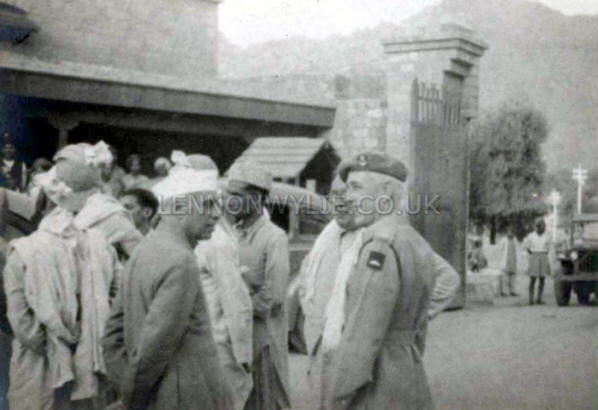 Pandit Nehru talking to Lieut. Col. Featherstone on his visit to Malakand October 1946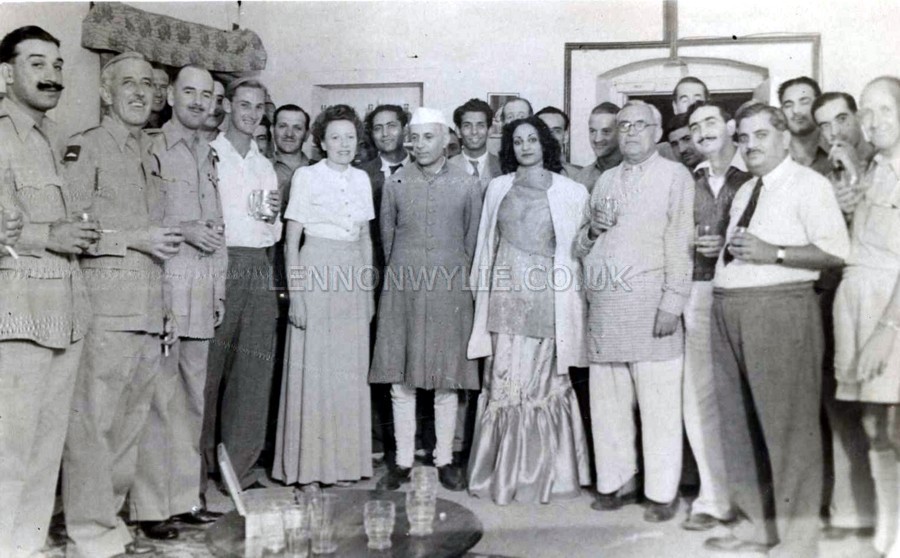 Pandit Nehru in the officers Mess at Malakand with officers of the 2nd Bn. Baluch regt., members of the press, Mrs. Z.A., Mrs. Featherstone and chums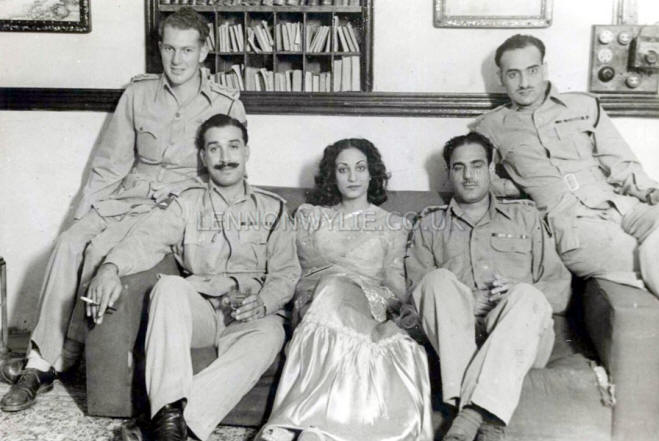 "Rocky" Knight, Ismail, Mrs. Z.A., Z.A. and Abran Officers Mess Malakand November 1946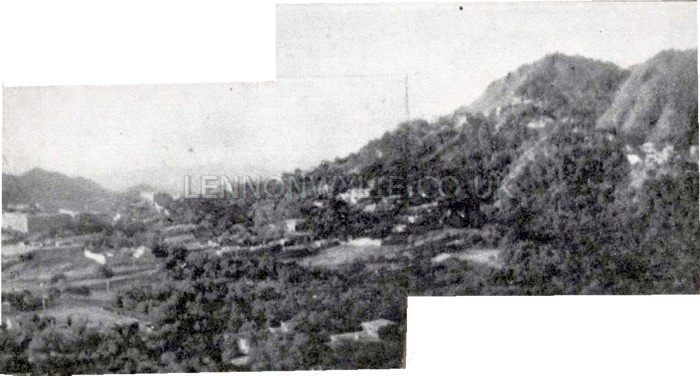 View of Malakand taken for the Regimental Xmas card of the 2nd bn. Baluch regt. in October 1946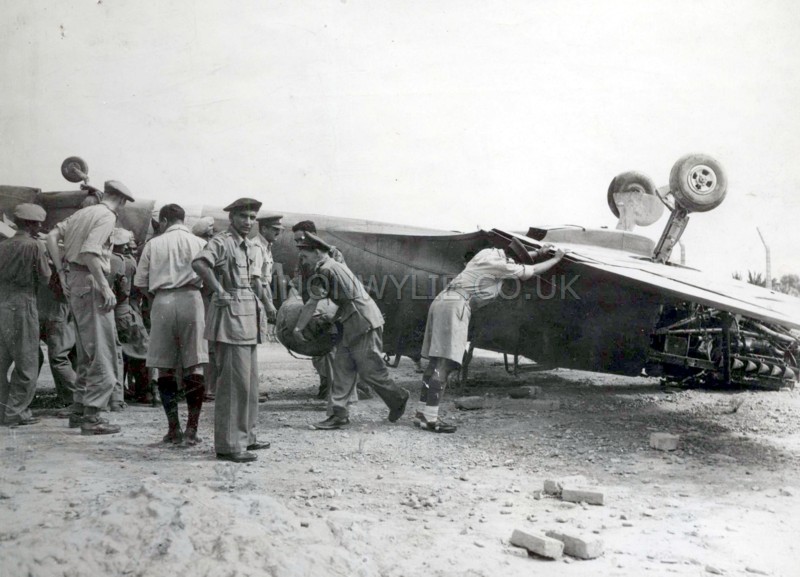 Self (Reginald Finlay McCance), and officers attending the Air rescue course in Peshawar
Peshawar Air Field July 1946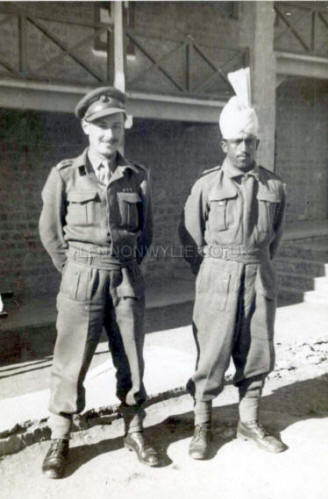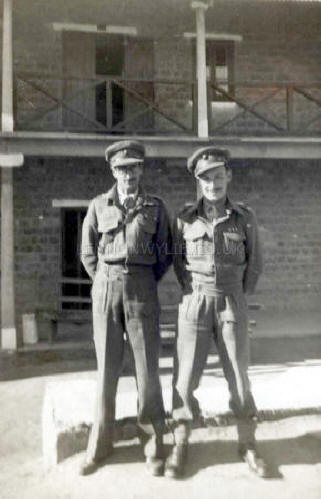 Self (Reginald Finlay McCance) and "Wadi" my Batman. Razmak January 1947
Self (Reginald Finlay McCance) and Kanga, Q.M. 2nd bn. Baluch regt. Razmak. January 1947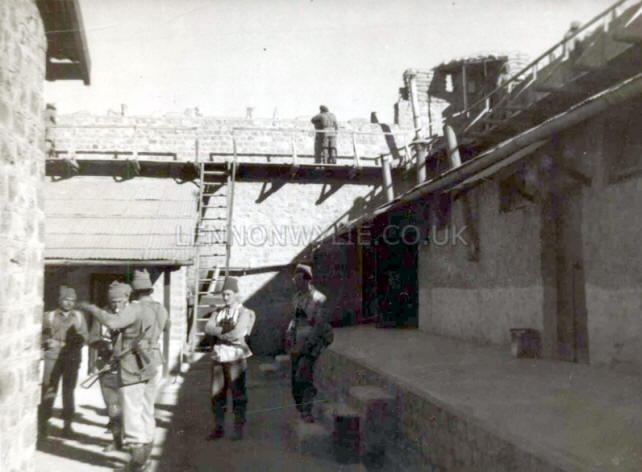 Self (Reginald Finlay McCance) and officers and V.C.O.'s of the 2nd bn. Baluch regt. being shown over Alexandra piquet. Razmak November 1946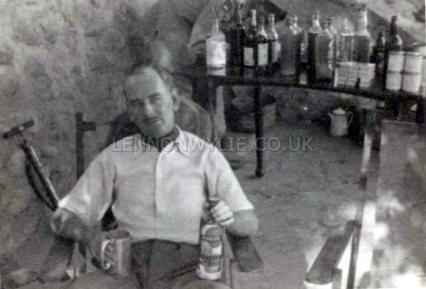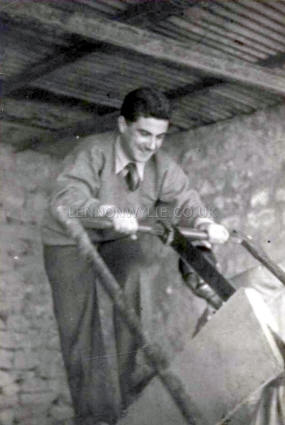 Peter Campbell Malakand July 1946 Tony Brown Malakand July 1946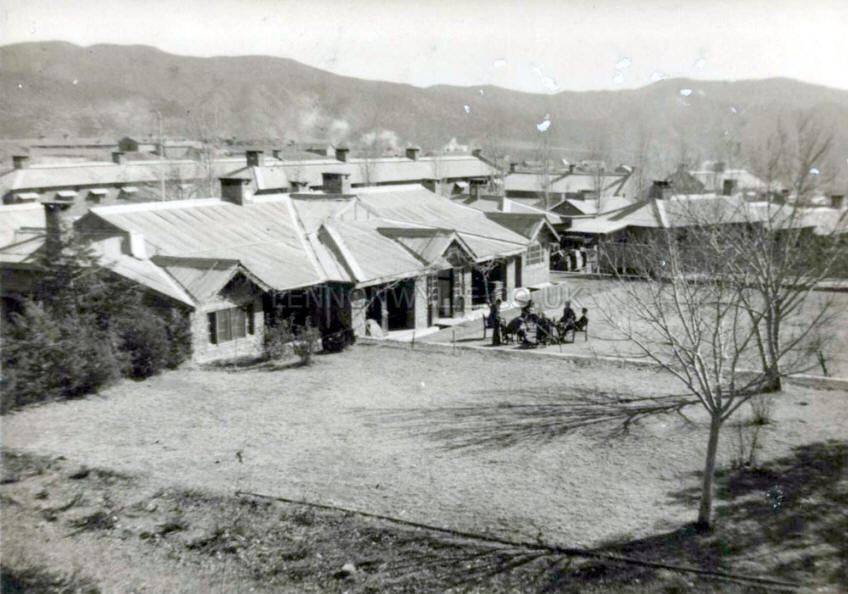 View of the officers mess of the 2nd bn. The Baluch regt. with the rest of Razmak in the background. Razmak January 1947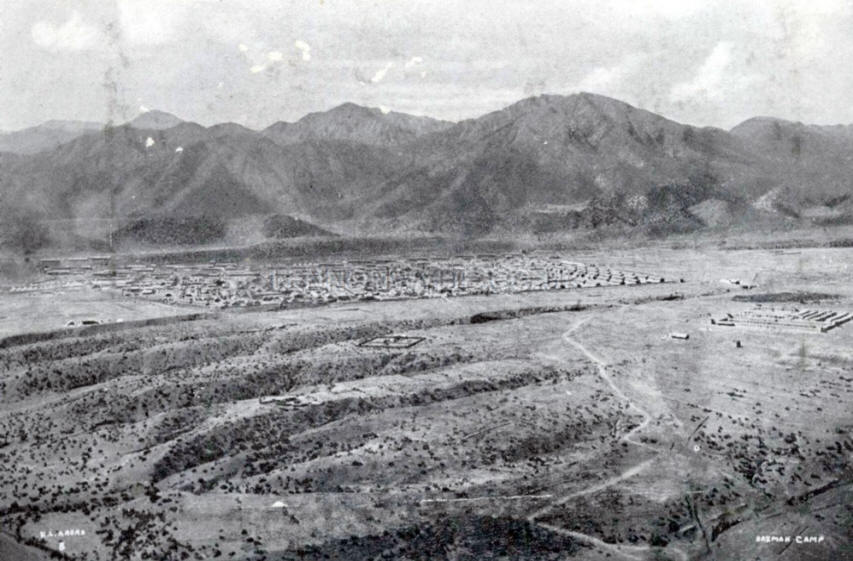 general view of Razmak from the Xmas card of one of the regts. stationed there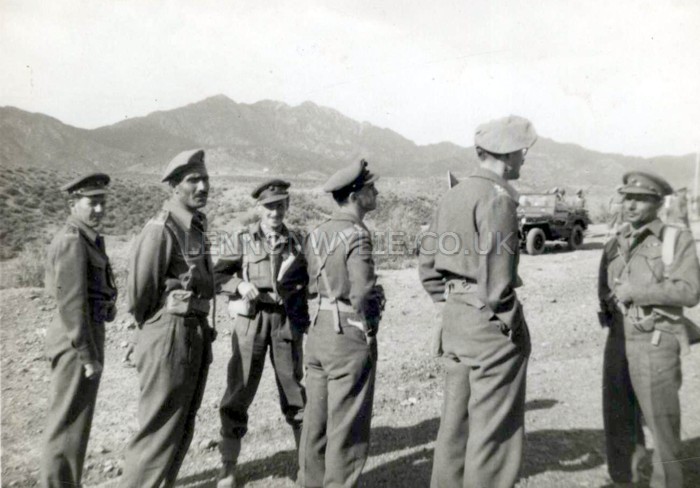 Self (Reginald Finlay McCance) and officers of the 2nd bn. Baluch regt. waiting to go to a demonstration given by the F.F.R. Razmak December 1946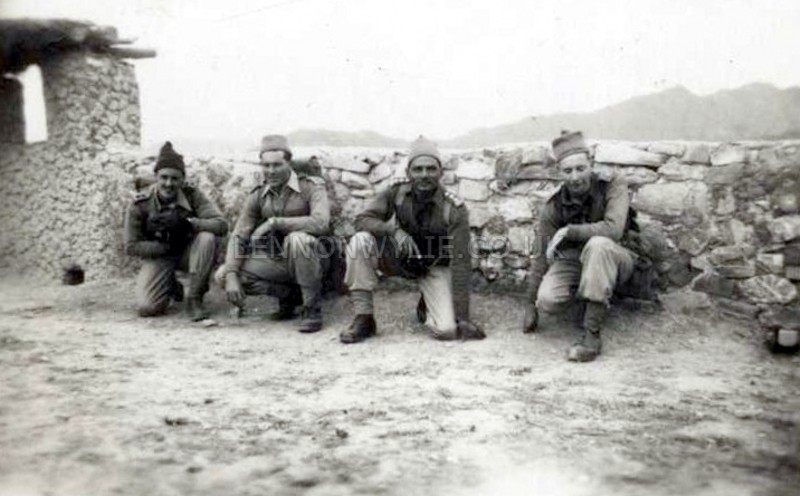 Self (Reginald Finlay McCance), Rocky, Iqbal and Moon?, taken at the top of Jowar Piquet December 1946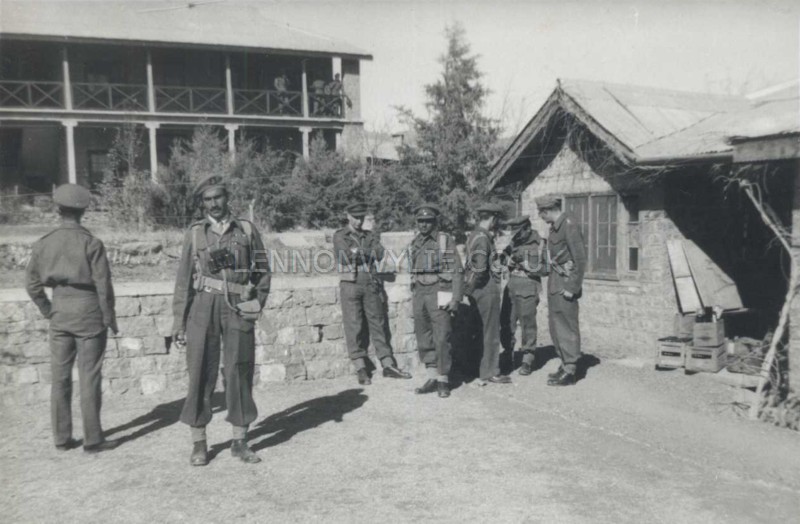 Some of the officers of the 2nd bn. Baluch regt. outside the Mess at Razmak. January 1947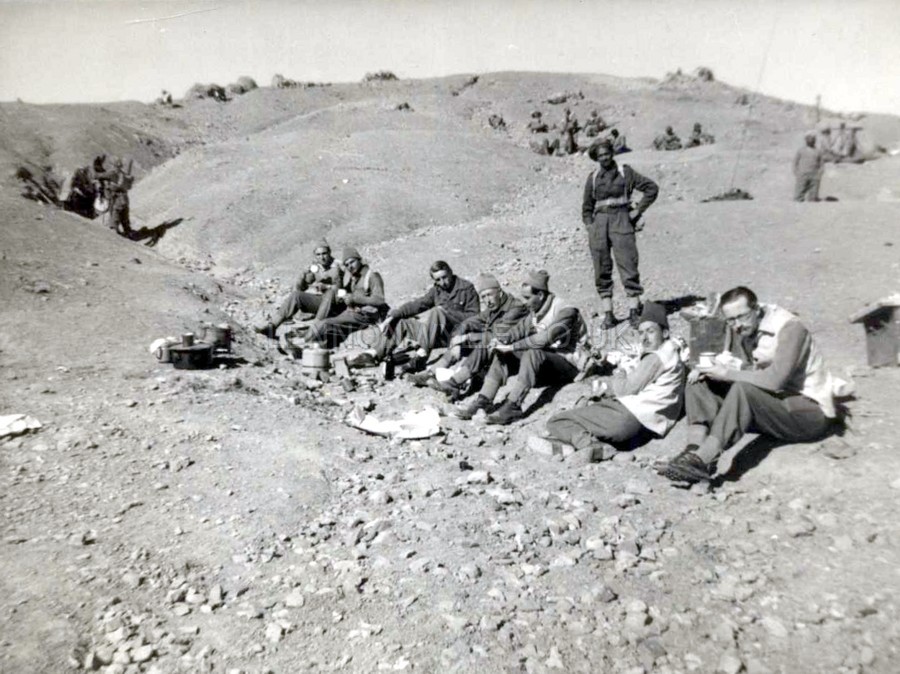 Self (Reginald Finlay McCance) bn. H.Q. 2nd bn. Baluch regt. breakfasting in a R.O.D. at Razmak Narai. In the background is a Sik? Mountain Bty. position. Razmak December 1946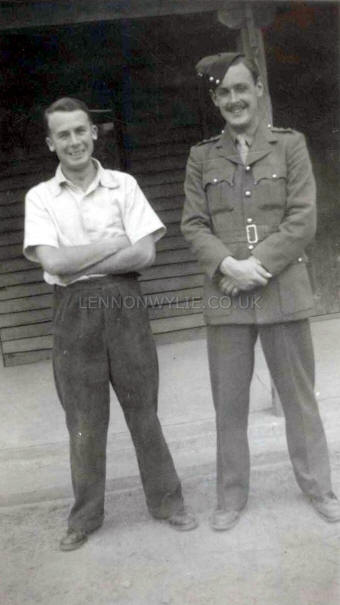 Self (Reginald Finlay McCance) and Robert Wilson Bde. ?ty. officer. 'Pindi January 1946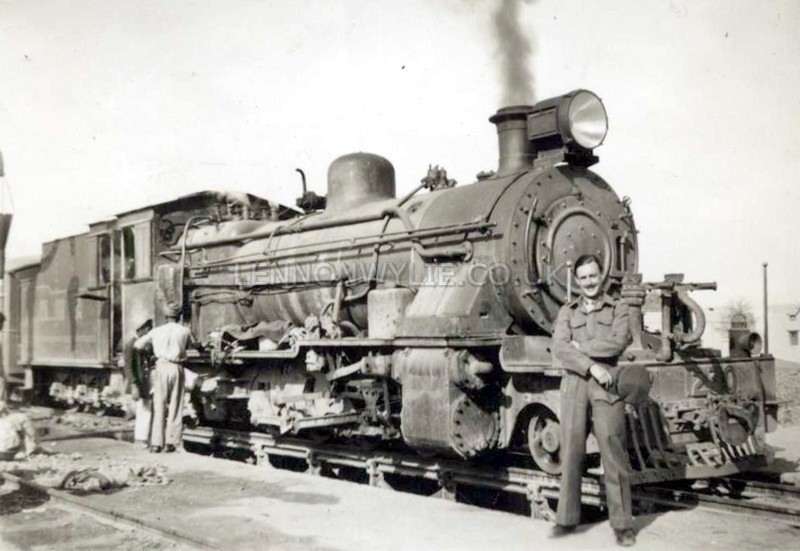 Self (Reginald Finlay McCance) at Lakimarwat station on the marrow gage line from Bannu to Mari Indus February 1947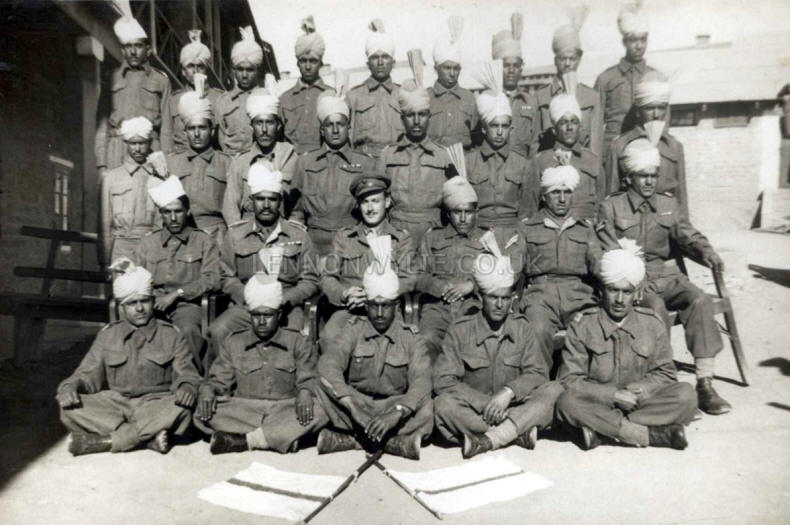 Signal Platoon 2nd bn. Baluch regt. Razmak January 1947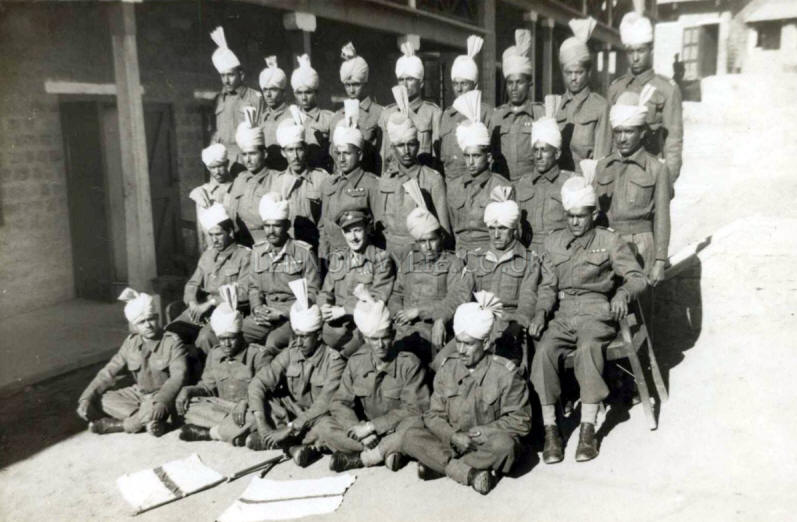 as above taken from a side angle


CLICK to enlarge
HQ Coy. Staff. Razmak January 1947
Top row L. to R. Huw.? ___? Salim Khan, Huw? Clerk Lal Khan, C.Q.M.H. Abbas? Khan
bottom row L. to R. Sub. __ld Ashraf? (Sigs)? Self (Reginald Finlay McCance) (Coy. Cmdr.) ___ Abdulla Khan
on leave Sub. ____ ___ (___) Lt. Ellis (Intelligence sec.) (mortars?)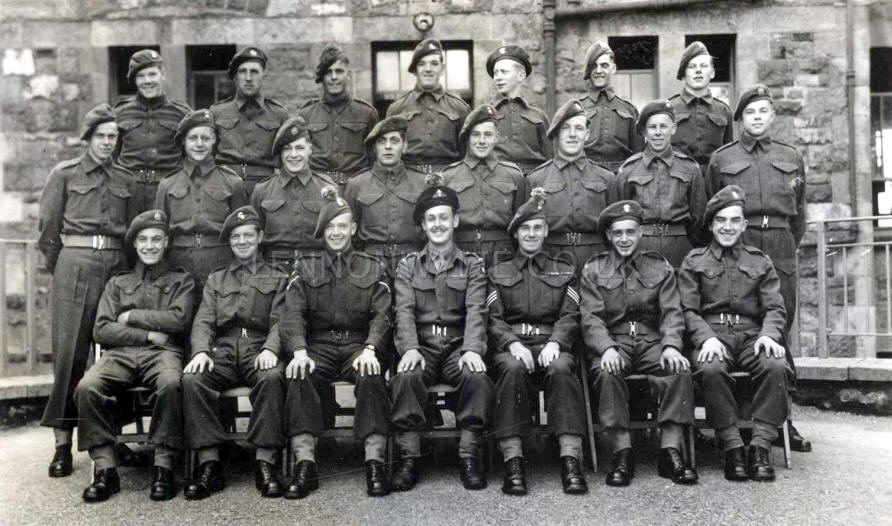 CLICK to enlarge
Self (Reginald Finlay McCance) and one of my squads on the day they passed out with L/Cpl. Lea___? and Sgt. Griffin
27 (____) P.T.C. Armagh June 1947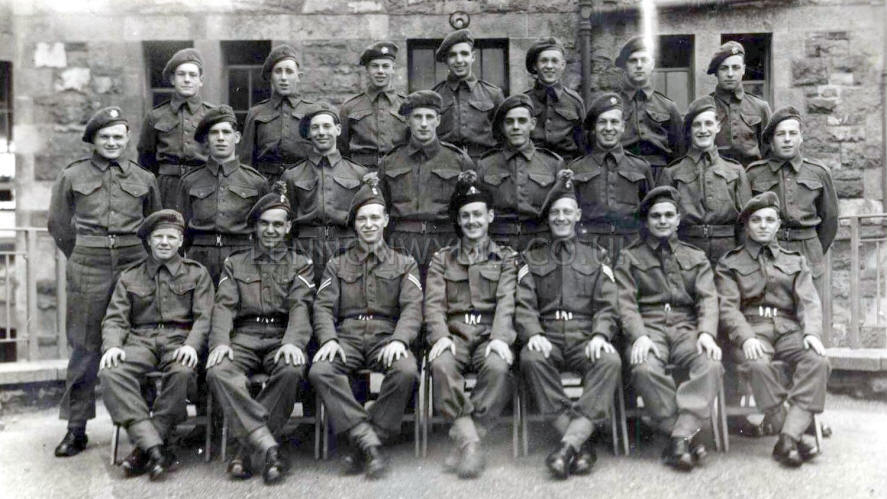 CLICK to enlarge
Self (Reginald Finlay McCance) with my other squad on their passing out day with L/Cpl. Edwards, Cpl. Hardy and Sgt. Nation? 27 (I___?) P.T.C. Armagh June 1947
~~~~~~~~~~~~~~~~~






Fishing Indenture - 18th September 1953 William Smyth, Milltown House, Newtownstewart, County Tyrone and Henry Bristow McCance, Coulters Hill, Ballyclare, County Antrim




Fishing Indenture - 17th September 1956 Mabel Eleanor Margaret Smyth, Millbrook House, Milltown Newtownstewart, County Tyrone and Henry Bristow McCance, Coulters Hill, Ballyclare, County Antrim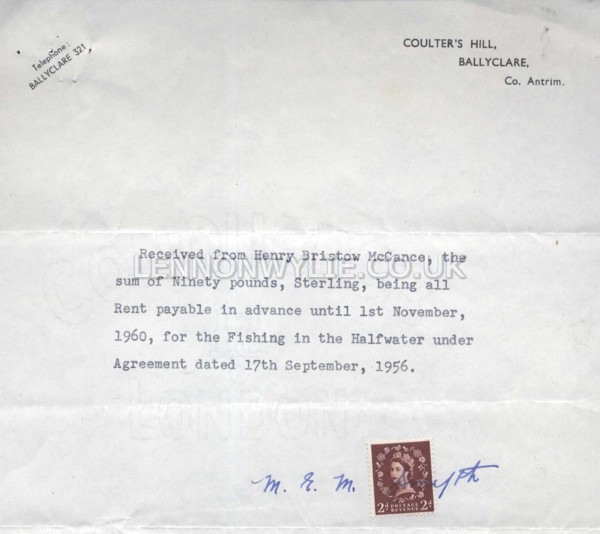 17th September 1956 from Henry Bristow McCance, Coulter's Hill, Ballyclare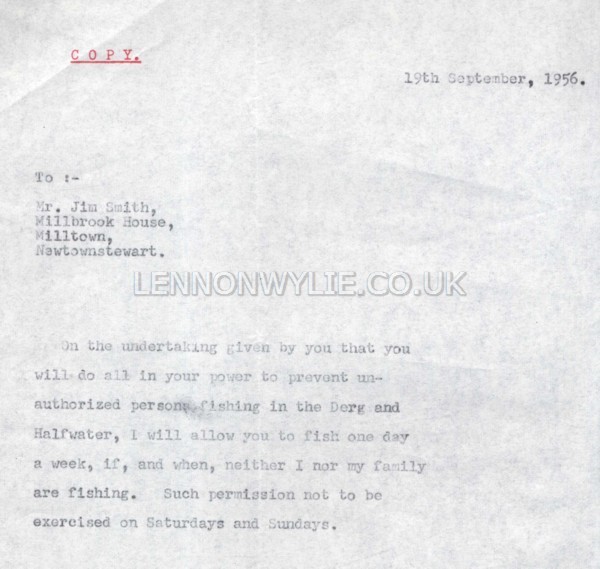 19th September 1956 To Mr. Jim Smith, Millbrook House, Milltown, Newtownstewart





Fishing Indenture - 25th October 1956 William Smyth, Milltown House, Newtownstewart, County Tyrone and Henry Bristow McCance, Coulters Hill, Ballyclare, County Antrim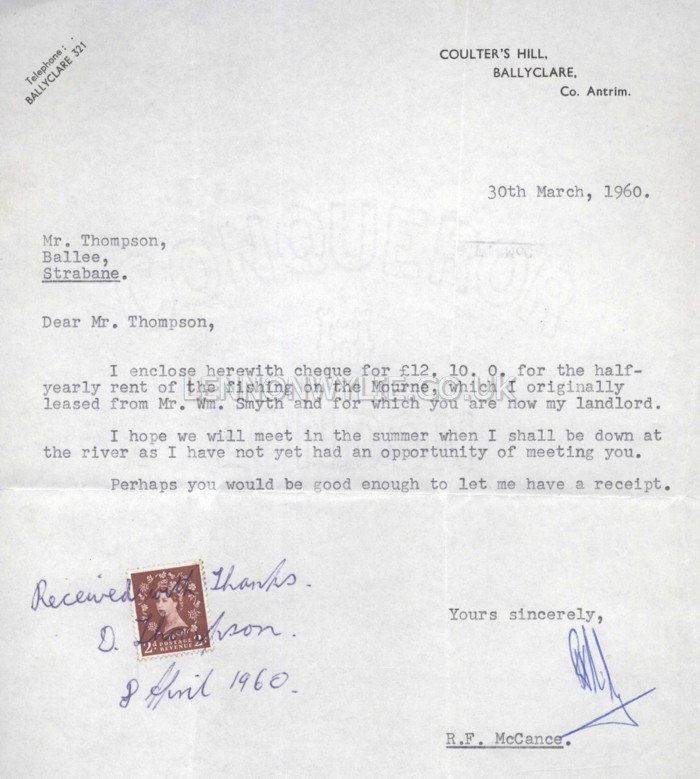 30th March 1960 to Mr. Thompson, Ballee, Strabane from R. F. McCance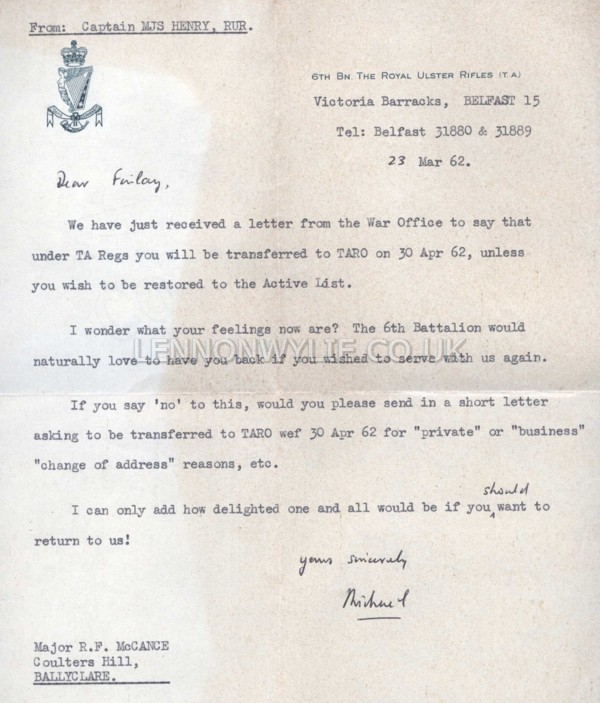 From: Captain MJS Henry, RUR 6th Bn. The Royal Ulster Rifles (T.A.), Victoria Barracks, Belfast 15 23rd March 1962
Dear Finlay, We have just received a letter from the War Office to say that under T.A. Regs you will be transferred to TARO on 30 April 62, unless you wish to be restored to the Active List. I wonder what your feelings now are? The 6th Battalion would naturally love to have you back if you wished to serve with us again. If you say 'no' to this, would you please send in a short letter asking to be transferred to TARO wef 30 April 62 for "private" or "Business" "change of address" reasons, etc. I can only add how delighted one and all would be if you should want to return to us! yours sincerely Michael Major R. F. McCance, Coulters Hill, Ballyclare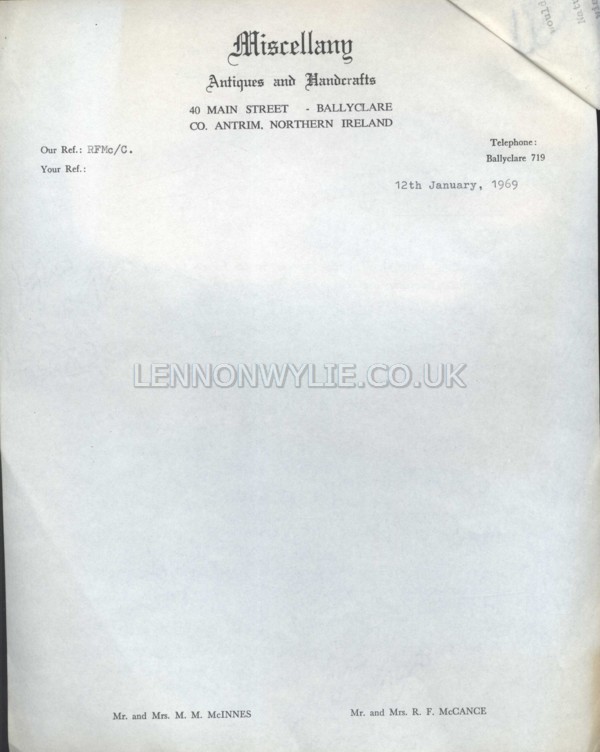 Miscellany Antiques and Handcrafts, 40 Main Street, Ballyclare
Mr. and Mrs. M. M. McInnes & Mr. and Mrs. R. F. McCance