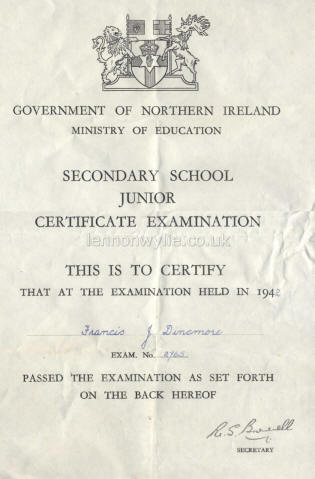 S.S.J.C.E. 1939 Secondary School Junior Certificate Examination 1942
Phyllis J. Allen Francis J. Dinsmore






1 2 3 4 5
1) British Sailors' Society, 95 Scottish Provident Buildings, 2 Wellington Place, Belfast
26th August 1941
Mrs. Dinsmore, Kells
Dear Mrs. Dinsmore, I am forwarding the materials for the Flag Day collection in Kells and Connor:- 33 Trays, 33 Badges, 2 Superintendents Badges, 4000 Flags, 36 Boxes, 2 Receipt Books, 1 Depot Register Sheet. These quantities should be sufficient for 33 collectors, but if you require further supplies please command me and the matter will have immediate attention. If, on the other hand you have any materials left over after the collection is made we will be glad if you will return them, carriage forward, to this office. May I take this opportunity to thank you once again for your sympathy and real practical help? It is only through the co-operation of good people like yourself that the Society is enabled to carry on its world-wide work for the benefit of our gallant sailors who are risking their lives daily on the high seas so that we may have our food, and materials for our industries, and that our shores may be defended against a ruthless enemy. With all bext wishes for the success of your effort on behalf of these brave men.
Yours sincerely W. T. A. McClelland

2) British Sailors' Society, 95 Scottish Provident Buildings, 2 Wellington Place, Belfast
10th September 1941
Mrs. Dinsmore, Templemoyle House, Kells
Dear Mrs. Dinsmore, In Mr Gamble's absence I beg to acknowledge your letter of Monday and the total proceeds of the Kells "Anchor Day" being £83. This result is really amazing, and I think must be the best result we have obtained from anywhere in the North of Ireland. On the behalf of the British Sailors' Society, as well as on Mr. Gambles and my own behalf I tender to you, and through you, to your splendid band of workers, our warmest thanks. The amount collected will give great joy to many of our gallant seamen. Our sailor lads are certainly doing their bit and the contribution they are making to our was effort, I trust will never be forgotten by us lands people. I do hope they will not be thrown aside like old junk when the war is over, as happened after the last war when some of our sailors had to go about from house to house and office to office trying to make a living by selling silk stockings, brushes, soap, etc. At that time something like 50,000 were unemployed and most of that number had to be helped financially or otherwise by the British Sailors' Society. Today the Society is rendering help in many ways to the men of the Royal Navy, the Royal Merchant Navy and the Fishing Fleets who have suffered hardship. Many of these brave men have been received and succoured at our Hostels in various ports, including Belfast, Londonderry, Dublin, Cork and Galway. I assure you that we heartily appreciate your sympathy and practical help on behalf of "All those who go down to the sea in ships" I have pleasure in forwarding official receipt for being the amount collected.
With kind regards, Yours sincerely W. T. A. McClelland

3) British Sailors' Society, 95 Scottish Provident Buildings, 2 Wellington Place, Belfast
11th September 1942
Mrs. Dinsmore, Templemoyle House, Kells
Dear Mrs. Dinsmore, Will you please accept the very heartiest congratulations and thanks of the British Sailors' Society for the splendid success you have made of the Kells and district "Anchor Day" collection. £90 is an excellent total, and again Kells has achieved the highest proportionate result of any part in Northern Ireland. I have pleasure in forward official receipt for the amount collected. You might be good enough to convey to your grand band of helpers our warm appreciation of their excellent work, on behalf of the heroes of the sea. Your continued practical sympathy is a great encouragement to us in our work, and Mr. Johnstone joins me in expressing sincere thanks.
Yours sincerely W. T. A. McClelland

4) British Sailors' Society, 95 Scottish Provident Buildings, 2 Wellington Place, Belfast
8th September 1943
Mrs. K. M. Dinsmore, "Templemoyle House, Kells, Co. Antrim
Dear Mrs. Dinsmore, In Mr. McClelland's absence I am writing to acknowledge your letter of 8th inst. and to inform you that we have received the sum of £85. 2. 11. being amount of "Anchor Day" collection organised by you in Kells and District. I should like to take this opportunity of thanking you for your continued help and support. I should also be glad if you would convey our thanks to all who helped to make this day such a great success. We have also received receipt books and depot register sheet. As you suggest I will acknowledge the donations from the Rev. Clarke and the Rev. Calderwood. Yours sincerely, T. M. Johnstone

5) British Sailors' Society, 95 Scottish Provident Buildings, 2 Wellington Place, Belfast
18th August 1944
Mrs. Dinsmore, Templemoyle House, Kells
Dear Mrs. Dinsmore, Again I have to thank you for the huge success which you made of the Kells and District "Anchor Day" and for sum of £82.6.2½ being proceeds thereof, which you so kindly forwarded to this office. In the four years which you and your helpers have run, this effort in Kells and District the total amount raised has been £340.13.11, and I can safely say that that there is no other place in Ulster comparable in size, with such splendid record of contributions to this Society. Once again I must ask you to convey our deep sense of appreciation to all those who lent you assistance year after year. I have pleasure in enclosing our official receipt for the sum of £82.6.2½
Kind regards, yours sincerely W. T. A. McClelland







British Sailors' Society Receipts
1 2 3 4 5
1) 10th September 1941 £82-3-7½
2) 10th September 1942 £90-0-8
3) 9th September 1943 £86-3-5
4) 15th September 1944 £82-6-2½
5) 19th September 1945 £57-8






British Sailors' Society Collectors 1941
Miss Campbell & Miss S. Swann, Appletee, Shankbridge - Appletee
Miss Montgomery & Jean Turtle, Crebilly, Ballymena - Dunnyvadden & Crebilly
Miss Lily Hanna, Lisnevenagh, Randalstown - Lisnevenagh &Creavery
Mrs. Jane Millar & B. Mathews, Oldgreen Row, Kells - Kells & Oldgreen Row
Miss Boyd & Miss McClean (not selling) Castlegore, Moorfields - Clattery Knowes Cross & Moorfield scored out
Miss Kissick, Gilgad, Kells - Castlegore & Gilgad
Miss I. McKee & Agnes Wilson, Eskylane, Randalstown - Eskylane, Tobernaveen & Galnagh
Miss Madge Lynn, Crumkell, Ballymena - Crumkell
Miss S. Frew & Miss Turtle, Artnagullion, Kells - Artnagullion & Carnearney
Miss Keilty, Connor & Kells - Ross & Whapstown
Miss Agnes McCartney, Ballycowan, Ballymena - Carnaughts & Crebilly Valley
Miss Jean McDowell, Kildrum - Kildrum
Misses Mary & Maud Dunlop, Slatt, Ballymena - Slatt
Misses Nancy Mathews & Isa Agnew, Connor, Kells - Connor
Miss Magee & Miss Greenwood, Ballylesson, Ballymena - Ballee & Ballylesson
Miss M. Murdock & Isa McMeekin, Forthill, Kells (in place of P. Hoey) - Carncomb, Forthill & Maxwellswalls
Lizzie O'Neill, Sharvogues, Randalstown - Sharvogues & Magherabeg
Miss H. Barr, Liminary, Kells - Liminary
Miss Francey & Mrs. Allen, Ballymacvea, Shankbridge - Ballymacvea
Miss Madge Wilson, Tannaghmore, Randalstown - Tannaghmore
Miss K. Hamilton, Ballycowan House, Ballymena - Ballycowan
Mrs. McClintock, Ferniskey, Kells - Ferniskey
Miss McCluney & B. Glasgow, Old Green, Kells - Upper & Lower Tannybrake, Tully, Lisnawhiggle Road to Shankbridge
Miss Wilson in place of Jean Kelly, Tannaghmore - Edenvale
Miss M. Dunlop & Hannah Carlise, Tullynamullen - Tullynamullen
Miss Eileen Fleming, Tardee - Tardee
Miss Anderson, Cross, Kells - Upper & Lower Cross, Kells
Miss Hoey - Clattery Knowes, Moorfields




British Sailors' Society Collectors 1942
Miss L. Campbell & S. Swann - Appletee, Shankbridge - £1-10-9
Misses Montgomery & Turtle - Crebilly, Ballymena - £3-18-0½
Miss L. Hanna - Lisnevenagh, Randalstown - £8-11-6½
Miss L. Swann & B. McFarland - Kells, Ballymena - £2-15-11½
Misses Jane Boyd & Molly McClean - Castlegore, Moorfields - £5-1-11½
Misses Agnes & Kerr - Moorfields, Ballymena - £2-6-6
Miss McKee & Wilson - Eskylane, Kells - £2-16-6
Miss M. Lynn - Crumkell, Ballymena - £1-7-7
Miss S. Frew - Artnagullion, Kells - £1-19-4½
Miss M. Hyndman - Ross, Kells - £1-5-6
Miss A. McCartney - Ballycowan, Ballymena - £1-13-4
Miss J. McDowell - Kildrum, Shankbridge - £2-10-0
Miss M. Dunlop - Slatt, Ballymena - £1-16-6½
Mrs. Jane Millar - Oldgreen, Kells - £2-14-8½
Miss N. Matthews - Connor - £2-6-4
Miss Magee - Ballylesson, Ballymena - £12-5-2
Miss Murdock - Forthill, Kells - £0-19-8
Miss P. Hoey - Maxwellswalls, Kells - £2-5-10
Misses Kissick - Gilgad, Kells - £2-16-5
Miss G. McVeigh - Sharvogues, Randalstown - £2-19-6½
Miss H. Barr - Liminary, Kells - £1-16-6
Miss Francey - Ballymacvea, Shankbridge - "4-14-4
Misses Rowan - Tannaghmore, Randalstown - £2-15-0
Miss K. Hamilton - Ballycowan, Ballymena - £2-2-3
Miss or Mrs. McClintock - Ferniskey, Kells - £3-9-2 (V. McCluney scored out)
Miss McCluney - Oldgreen, Kells - £3-10-10
Miss J. Kelly - Edenvale, Kells - £1-7-4½
Miss M. Dunlop - Tullynamullen, Shankbridge - £1-15-11
Miss L. Wilson - Tardee, Kells - £1-3-7
Rev. O. W. Clarke - St. Saviour's Rectory, Connor - £0-12-6
Mrs. Alex. Wilson - Tullygarley, Ballymena - £0-6-0
Frank Dinsmore - Templemoyle, Kells - £0-0-6
J. F. Dinsmore - Templemoyle, Kells - £2-0-0
Nellie Wilson - Templemoyle, Kells - £0-0-6




British Sailors' Society Collectors 1943
Miss L. Campbell & S. Swann - Appletee, Shankbridge - £1-0-6½ & £1-19-6
Misses Montgomery & Turtle - Crebilly, Ballymena - £5
Miss L. Hanna - Lisnevenagh, Randalstown - £9-17-2
Mrs. J. Millar & Miss B. Mathews - Kells, Ballymena - £3-19-3
Misses Boyd & McClean - Castlegore, Moorfields - £2-7-4
Misses McKee & Wilson - Eskylane, Kells - £3-0-2
Miss M. Lynn - Crumkell, Ballymena - £1-6-2½
Miss S. Frew - Artnagullion, Kells - £2-0-10½
Miss M. Hyndman - Ross, Kells - £1-2-5½
Miss A. McCartney - Ballycowan, Ballymena - £1-6-11
Miss J. McDowell - Kildrum, Shankbridge - £2-9-6½
Miss M. Dunlop - Slatt, Ballymena - £1-10-6½
Miss N. Mathews - Connor - £2-6-11
Miss Magee - Ballylesson, Ballymena - £9-19-1
Miss Murdock - Forthill, Kells - £1-1-1
Miss P. Hoey - Maxwellswalls, Kells - £2-7-11½
Misses Kissick/McKissack - Gilgad, Kells - £4-6-2
Miss G. McVeigh - Sharvogues, Randalstown - £1-16-0
Miss H. Barr - Liminary, Kells - £1-16-6
Miss Francey - Ballymacvea, Shankbridge - £5-5-5½
Miss Redmond - Tannaghmore, Randalstown - £1-2-8½
Miss K. Hamilton - Ballycowan, Ballymena - £1-10-5½
Mrs. McClintock - Ferniskey, Kells - £1-18-2¾
Miss M. McCluney - Oldgreen, Kells - £3-16-1
Miss J. Kelly - Edenvale, Kells - £1-4-5½
Miss M. Dunlop - Tullynamullen, Shankbridge - £2-4-11½
Miss L. Wilson - Tardee, Kells - £1-12-0
Rev. O. W. Clarke - Connor, Kells - £5-17-4
Rev. S. Calderwood - Kells R. P. Church - £1-6-6
Mrs. Wilson - Slatt, Ballymena - £31-13-10¾




British Sailors' Society Collectors 1944
Miss L. Campbell & S. Swan - Appletee, Shankbridge - £1-16-11½
Misses Montgomery & Turtle - Crebilly, Ballymena - £5-5-3
Miss L. Hanna - Lisnevenagh, Randalstown - £11-2-8½
Mrs. J. Millar & Miss B. Matthews - Kells, Ballymena - £3-19-8
Misses Boyd & McClean - did not collect
Misses McKee & Wilson - Eskylane, Kells - £2-16-11
Miss M. Lynn - Crumkell, Ballymena - £1-15-0½
Miss S. Frew - Artnagullion, Kells - £1-11-10
Miss Agnes McCartney - Ballycowan, Ballymena - £0-11-0½
Miss Jean McDowell - Kildrum, Shankbridge - £1-8-8
Misses M. & M. Dunlop - Slatt, Ballymena - £1-8-0
Miss N. Matthews - Connor - £2-0-8
Miss Magee - Ballylesson, Ballymena - £12-4-9½
Misses Kissock - Gilgad, Kells - £5-1-0
Lily Keilty - Connor - £0-15-0½
Miss Murdock - Forthill, Kells - £2-15-3
Miss L. O'Neill - Sharvogues - £2-14-8½
Miss H. Barr - Liminary, Kells - £1-19-0½
Miss E. Francey - Ballymacvea, Shankbridge - £3-19-4½
Miss M. Wilson - Tannaghmore, Randalstown - £2-11-6
Miss K. Hamilton - Ballycowan, Ballymena - £0-16-11
Mrs. McClintock - Ferniskey, Kells - £2-3-5½
Miss M. McCluney - Oldgreen, Kells - £3-18-11
Miss S. Wilson - Tannaghmore, Randalstown - £1-14-1½
Miss M. Dunlop - Tullynamullen, Shankbridge - £1-15-10½
Miss E. Fleming - Tardee, Kells - £1-15-2
Miss Anderson - Moorfields, Cross - £1-3-3
Miss Hoey - Moorfields - £1-1-0½
sub from James F. Dinsmore - £2-0-0



British Sailors' Society Collectors 1943
K. Hamilton - Ballycowan - £0-16-7
M. Wilson - Tannaghmore - £0-16-0½
L. Hanna - Lisnevenagh - £9-10-5
H. Ban - Liminary - £1-16-5½
McKee & Wilson - Eskylane - £2-14-4
Mary Dunlop - Tullynamullen - £2-10-6
S. Frew - Artnagullion - £1-19-0
L. Keilty - Connor - £0-19-10
M. Magee - Ballylesson - £13-1-4½
J. Millar - Oldgreen - £4-13-6
Mrs. McClintock - Ferniskey - £1-9-7½
E. O'Neill - Sharvogues - £3-4-8½
Mathews & Agnew - Connor - £1-14-4½
Montgomery & Turtle - Crebilly - £3-16-7½
Miss Kissock - Gilgad - £3-18-2½
Miss Francey - Ballymacvea - £4-7-0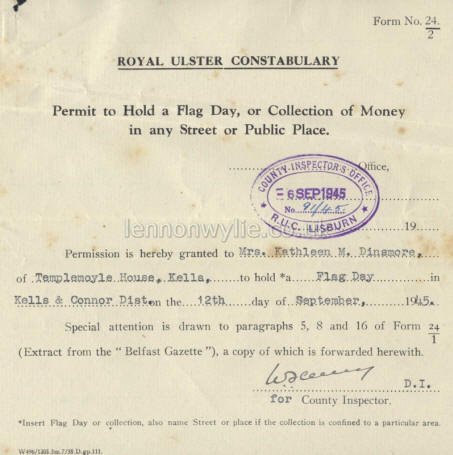 Royal Ulster Constabulary, Lisburn
Permit to Hold a Flag Day, or Collection of Money in any Street or Public Place
County Inspector's Office 6th September 1945
Permission is hereby granted to Mrs. Kathleen M. Dinsmore of Templemoyle House, Kells to hold a Flag Day in Kells & Connor on the 12th September 1945

Postcards and Envelopes, no interesting messages on either so here are the names and addresses
Francis Dinsmore, Templemoyle Dye Works, Kells, Co. Antrim
Frank Dinsmore, Kells, Ballymena 1960 1966
Francis Dinsmore Limited, Templemoyle Mills, Kells, Ballymena, Co. Antrim 1980
Mrs. J. F. Dinsmore, c/o 104 Princetown Road, Bangor, Co. Down
F. J. Dinsmore, Esq., Dundisent, Kells, Antrim 1963?
Mr. & Mrs. F. J. Dinsmore, Templemoyle House, Kells, Co. Antrim 1947 1958 1962
The Twins, Templemoyle House, Kells, Ballymena, Co. Antrim
Mr. & Mrs. F. Dinsmore, Dundisent, Kells, Co. Antrim (Phil & Frank) 1956
Evelyn Kelly, 10th Essex Street, Tawa Flat, Wellington N.Z. 1956
Mrs. J. F. Dinsmore, Templemoyle House, Kells, Ballymena 1947 1954
Miss S. Dinsmore, Templemoyle House, Kells, Co. Antrim 1954
Dinsmore Twins, Manor House, Milford, Armagh (Manor House School) 1949
Maureen Dinsmore, Templemoyle House, Kells, Ballymena, Co. Antrim 1949 1950 1979
Misses M. & S. Dinsmore, Manor House (School), Milford, Co. Armagh 1949
Miss Susie Moore, "Mount Norris" Randalstown, Co. Antrim 1940
The Rt. Hon. Sir Rolland & Lady Nugent, Portaferry House, Co. Down 1959
Miss M. Ramsey, Cottage Hospital, Ballymena, Co. Antrim 1941
Mrs. Thos. Nimick, 932 Blythe Avenue, Drexel Hill, Pennsylvania 1941
Miss Patricia Curran, Manor House School, Milford County, Armagh 1947
Patricia Clifford, Rt. 87, Novelty, Ohio, U.S.A.1947
Mr. Frank Dinsmore, The Courthouse, Arranmore Island, Co. Donegal
Mrs. Otto Wiese, 5007 Izard Street, Omaha, Nebraska 68132
Master L. G. Dinsmore, Templemoyle, Kells, Co. Antrim
Mrs. K. E. Hayland?, "Windrows" Madisonville ?? Basking Ridge, N.J.
Miss Sheelagh Dinsmore, Templemoyle House, Kells, Ballymena
Newspaper clippings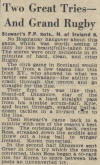 1 2 3 4 5 6 7
1) The British Sailors' Society Acknowledges, with warmest Thanks, the following "Anchor Day" Collections - Cullybackey - Captain R. J. McIvor £23-11s-5d; Garvagh - Rev. A. Gardiner B.Sc. £19-5s-0d;
Kells - Mrs. Dinsmore £86-3s-5d; Moy - Rev. W. M. McMillan M.A. and Mrs. McMillan £15-3s-5d;
Newtownards - B.S.S. Ladies' Guild, Newtownards Branch, and Mr. W. Harvey A.S.A.A. £121-14s-4d
2) British Sailors' Society The Final Total from Connor, Kells and District Flag Day and Subscriptions amounted to £86-3s-5d.
3) Rugby Ulster Schools' Cup, Coleraine AI Beaten in Final, Holders retain Trophy - One of the biggest crowds for many years witnessed the final of the Ulster Schools' Cup at Ravenhill, Belfast, on Saturday, when after a very keenly contested match, Royal Belfast Academical Institution by 2 goals (10 points) to nil. R.B.A.I. were the holders of the trophy, and their opponents last year were also C.A.I. R.B.A.I. were the better side and fully deserved their victory. Although winning the toss and having the wind behind them in the first half, Coleraine failed to make use of this advantage, and as there was no score at the interval the spectators came to the conclusion that the match was as good as lost for Coleraine. The Coleraine forwards were in no way responsible for their side's defeat. They outplayed their opposites in the set scrums, but their heeling was not so clean and in the open they were not so prominent. Of the Coleraine pack, Getty, Pollock and Buller were most noticeable. Coleraine's weakness lay in the centres. A fairly good service of the ball was given by Tweed and Dinsmore, but many movements were spoiled by either Eyre or Morrison holding on too long and being tackles in possession, when a kick or pass to the wings would have been an advantage. Consequently Henry and Russell had little or no chance, and on the part of Coleraine there were none of the thrilling runs by the wings so typical of schools cup finals. Though against a heavier set the Belfast forwards played stubbornly throughout, and got the ball cleanly to the half-backs. The half-backs in turn quickly passed to the "three" and there were many fine passing bouts by the Belfast backs. A feature of the game was the hard and sure tackling by both sides. Time and again a player would appear to be well away, only to be brought down. The match was played in the usual cup-tie spirit, and the spectators certainly had value for their money. There was no score until five minutes after the interval when W. J. Hewitt sent Olver away and came up alongside to take the return pass and score under the posts. McKibbin had no difficulty in converting. Shortly after this Pollock made a grand effort with a free for Coleraine, but his kick was just short. Five minutes before the end Freedman went through on the blind side and passed to Wilson who ran over at the corner. McKibbin added the extra points with a fine kick from far out. R.B.A.I., who were making their twenty-first appearance in the final, have now won the cup on fifteen occasions and shared it with Portora R.S. in 1942. It was Coleraine's twenty-eighth time to contest the final; they have won the cup eight times, the first occasion being sixty years ago, when they beat Foyle College in the final, and the last in 1939 when their opponents were Methodist College. Two brothers on the R.B.A.I. side on Saturday, F. M. Hewitt and W. J. Hewitt, are nephews of the famous Hewitt brothers who played for Ireland between 1924 and 1936, while D. McKibbin, who converted both tries, is a brother of H. R. McKibbin, the Irish International centre who toured South Africa with S. Walker's British team in 1938. Mr. J. H. G. Majory, Malone R.F.C., was referee, and the teams were:
Coleraine A.I. - R. W. McClure; J. D. Henry, H. M. H. Morrison (capt.), R. A. Eyre, A. J. Russell; F. J. Dinsmore, J. S. Tweed; H. R. Cameron, E. S. Wilson, T. B. Girvan, J. B. Getty, A. W. L. Pollock, S. D. Haslett, S. W. Buller, J. Hegan.
R.B.A.I. - H. V. Russell; F. M. Hewitt, W. F. McDowell, F. O. Olver, C. T. Wilson; W. J. Hewitt, R. M. Freedman; S. R. Cochrane, V. C. Ewing, T. Hegan, D. W. Ingram, R. W. Lyttle (capt.), V. McKibbin, W. P. R. Morrison, L. Warke
4) Ireland's Saturday Night (The ?) 1st January 1949 - Senior Friendlies, Stewart's Coll. (F.P.) v N.I.F.C. - North of Ireland gave a good account of themselves at Inverleith, Edinburgh, to-day, when they drew 8-all with Stewart's College. Out-standing in a lively North side was F. Dinsmore, whose foraging and service to the three-quarters were excellent throughout. The three-quarters made good use of the ball and when in action always looked dangerous. Play opened quietly, with neither side making much headway. North took the lead when Dinsmore went over for a try, which was not converted. The Stewart's right wing, Ireland, levelled the score with a well-taken try, and Koren converted. Hamilton was injured in a daring tackle that stopped a likely Edinburgh movement, and play was held up for a few minutes. In the second half North put great energy into their play, and after a period of attack Greer made a spectacular run to score near the posts. The same player converted. Immediately a try by Koren put Stewart's on level terms. Just on time Knipe, in a promising dash on the wing, was pushed into touch two yards from the line. On the whole, a draw was a fair result in an open and exciting game, which attracted over a thousand spectators. Result - Stewart's College F.P. 1 goal. 1 try (8pts.); North 1 goal, 1 try (8 pts.)
5) Two Great Tries - And Grand Rugby - Stewart's F.P. 8pts., N. of Ireland 8. - No Hogmanay hangover about this game, which was worth seeing if only for two beautifully-taken tries. The scores were only incidents in 80 minutes of hard, clean, and crisp Rugby. The club game in Scotland would benefit from a few teams like this Irish XV., who showed us what we rarely see nowadays - the ability to crash through the centre and go straight for the line. Their first try was like that. Stand-off Dinsmore, star of the match, took a hard straight pass from his nimble scrum-half, Kyle, and burst through, evading half-a-dozen tackles in a 25-yard race to the line. Then Stewart's came back in a minutes with one of the season's best tries. The outstanding back, centre Ross, streaked down the middle and threw out a long ball to winger Ireland. Koren converted. In the second half Dinsmore sent Greer in for a try which the centre converted, then Ross began a 60-yard run for Koren to score between the posts an unconverted try.
6) Last-Minute Victory - Queen's U. 10, Old Belvedere 6. - With the last kick of the match, McKibbin converted a try by Strathdee which gave Queen's University victory over Old Belvedere at Jones's Road, Dublin, by two goals to two tries. Old Belvedere had much more of the play than Queen's University, but Queen's showed enterprise in turning defence into attack at every opportunity, and their backs, particularly Strathdee and Dinsmore, had more thrust than the Old Belvedere rear division. Kennedy, accepting a pass from Thorpe, scored the only try of the first half for Old Belvedere. In the second half a quick switch of the attack from the left wing to the right by the Queen's backs enabled Bell to make a clear run for a try, which McKibbin converted. Belton restored Old Belvedere's lead by breaking away from a line-out, and running 20 yards for a touch-down. In the last minute Dinsmore, Piggott, and Strathdee combined in a grand reverse passing movement, from which Strathdee second, McKibbin converting the try.
7) Scottish Sunday Express 2nd January 1949 - Giant Koren to Stewart's aid by Andrew Wemyss - Stewart's F.P. 8, North Ireland 8. - With each side scoring a goal and a try, a draw was a fitting result to a fine open game at Inverleith. Although the Irishmen were the more aggressive, Stewart's lost a great chance of winning by failing to convert the final try scored by 18st. Rolf Koren at the posts. After clever inter-passing with Ross, the giant forward tore for the line. With every stride of his 40-yard scoring run, the grandstand literally shook. Yet it would have been bad luck on the Irishmen if they had lost. With their forwards winning most of the scrums, the visiting backs repeatedly opened out the play and their combined handling was attractive to watch. Eric Kyle, who is tipped as likely to partner his famous brother, Jack, in the Irish team this season, was an enterprising scrum half, who varied his game nicely. H. Greer who, like Kyle, has been playing for Ulster this season, was the best of the three-quarters, but the outstanding player in the Irish side was F. Dinsmore, a clever stand-off half. Fine Opening. It was Dinsmore who, after combining with Kyle, opened the scoring in the first half. Shortly after the interval Dinsmore made a fine opening for Greer to score in an easy position, and he added the goal points. Stewart's had four reserves in their team, and an additional handicap was the loss of R. L. Sharp, their wing forward, for half-an-hour in the middle of the game. The home team, however, played well. Their forwards were on top in the loose, and the backs made many dangerous attacks. Ross and Pringle often ran strongly in mid-field, and their defence was always very sound. Ross completely beat Greer and made a beautiful opening for J. W. Ireland to spring over for a grand try only a minute after North had obtained their first score. Koren added the goal points with a lovely kick from a wide angle.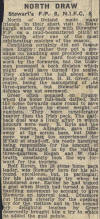 1 2
1) Belfast Newsletter January 1949 - North Draw Stewart's F.P. 8, N.I.F.C. 8 - North of Ireland made many friends in their short visit to Edinburgh when they drew with Stewart' F.P. on a mud-besmattered pitch at Inverleith after one of the most exhilarating matches of the season. Conditions certainly did not favour open Rugby; rather they put a premium on handling and provided many opportunities for hard foot-slogging work by the forwards, but the Irishmen possessed a back division which might well have turned the scales. They chucked the ball about with plenty of enterprise, H. H. Greer, at centre, being the mainspring of the three-quarters, but Stewarts' stout defence was not overawed. Greer often pounced on Hyslop when the home full-back dallied, but the home forwards came round to save their line often by sheer weight of numbers. They were considerably heavier than the Irish pack. The halfback duel was a lively affair in which honours were easy. E. Kyle and the home reserve, Adlington, gave little away at the scrum base, but Dinsmore was just too experienced for McCall at stand-off, his ready handling being responsible for the amount of handling indulged in by the visiting three-quarters. Hegan and W. Galbraith constantly took the eye forward for the tourists. Rolf Koren, the 18 stone home back leader, was Stewarts' hero for his all-round excellence, but, in particular, for his late equalising try when he thundered over. Earlier he had kicked a goal when North had turned a home handling movement to account to give Stewarts an interval lead. Dinsmore cut through cleverly for the opening try for the visitors and in the second try delightful touches by Greer deservedly brought him a try to which he added the goal points.
2) Schools' Cup Rugby - "Inst" Again in Final and Coleraine too - The holders, R.B.A.I., and Coleraine A.I., will again contest the final of the Schools Cup on Saturday, March 18, at Ravenhill. They were the finalists last year. In to-day's semi-finals, R.B.A.I., at home, were lucky to win 9-6 over Ballymena Academy, who missed an easy penalty in the closing minutes. At Pirrie Park, Belfast, Coleraine had a more comfortable passage at the expense of Lurgan College, whom they defeated 22-0.
R.B.A.I. v. Ballymena - At Orangefield, Referee - Mr. R. R. Butler (Civil Service). Although R.B.A.I. pressed for long spells in the first half, and during this period scored six points, Ballymena attacked continuously after the interval and were unfortunate to lose. They should have at least earned a replay when "Inst" were penalised in front of their own posts, Fulton kicking past from the easy position. The Ballymena backs were a strong combination, their wingmen being particularly thrustful and determined runners. In the second half "Inst" were content to play spoiling tactics, and this paid, especially as they were opposed by a bigger and stronger side. "Inst" went ahead immediately after the kick-off, McKibbin goaling a penalty from 40 yards. They increased their lead when Hewitt scored following a scrum on the visitors' line. Towards the interval Olver was just wide with a drop at goal. Ballymena started off the second half in grand fashion, and Linn finished a back movement by crossing half-way out. Fulton failed. A breakaway by "Inst" forwards enabled Hewitt to gain possession and strengthen the home side's lead with a try, which McKibbin failed to convert. Craig scored again for Ballymena, Fulton - failing to convert. Five minutes from time "Inst" were penalised for offside, but Fulton failed to goal with an easy kick. Result - R.B.A.I., 1 penalty goal, 2 tries (9pts.); Ballymena Academy, 2 tries (6pts.)
Coleraine A.I. v Lurgan College - Mr. Wallace Harland, sen., had charge of this game, which was played at Cregagh. The Coleraine pack were taller and much sturdier, and they scrummaged splendidly to give their backs, who also played well together, a fast, clear service. In five minutes Eyre (Coleraine) cut through for a try near the flag. Pollock's kick was just wide. Lurgan were now seen to advantage in loose rushes, but they failed to break through. Eyre soon made another cleavage in the Lurgan defence, but he was pulled down by McAleese some yards out. The ball, however, went loose to Wilson, who forced his way over. Pollock added the points. Henry raced over for another try for Coleraine and Pollock kicked a penalty goal. Thus Coleraine led 14-nil at the interval. In the second half Coleraine backs continued to enjoy plenty of the ball, and in a short time they went further ahead. Their backs opened out, and a timely cross-kick by Henry saw Dinsmore gathering, to race over near the posts for Pollock to convert. At this stage Lurgan fought back pluckily, and two or three stirring raids almost produced scores. Coleraine, however, had the situation well in hand, and another try by Newell (scored out and Tweed written in ink) ended the scoring. Result - Coleraine A.I. 2 goals, 1 penalty goal, 3 tries (22pts.), Lurgan College 0.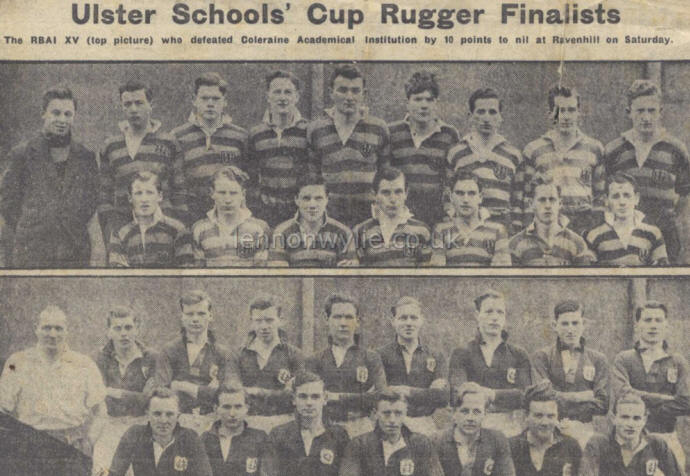 Ulster Schools' Cup Rugger Finalists
The R.B.A.I. XV who defeated Coleraine Academical Institution by 10 points to nil at Ravenhill on Saturday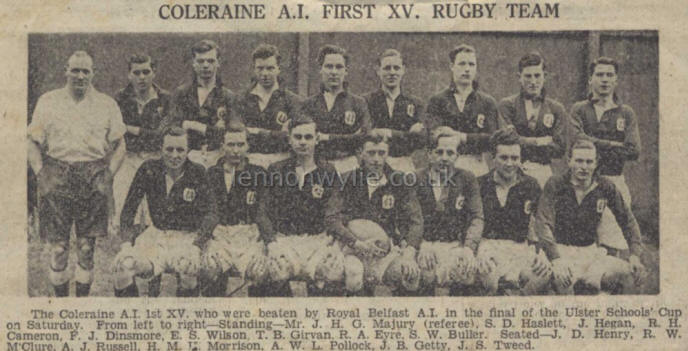 Coleraine A.I. First XV. Rugby Team
The Coleraine A.I. 1st XV, who were beaten by Royal Belfast A.I. in the final of the Ulster Schools' Cup on Saturday.
From left to right - Standing - Mr. J. H. G. Majury (referee), S. D. Haslett, J. Hegan, R. H. Cameron, F. J. Dinsmore, E. S. Wilson, T. B. Girvan, R. A. Eyre, S. W. Buller.
Seated - J. D. Henry, R. W. McClure, A. J. Russell, H. M. ? Morrison, A. W. L. Pollock, J. B. Getty, J. S. Tweed.
On the back of the above paper clippings :-
Lisburn man dies in New Zealand - The death took place on St. Patrick's Day in Auckland, New Zealand, of Mr. Albert E. Boyd, formerly of Lisburn. The son of the late Mr. James Boyd, J.P., of Greenwood, Lisburn, Mr. Boyd, who had been for many years with Alexander Finlay, Ltd., Victoria Square, Belfast, emigrated in 1926 to Auckland, where he was successful in business, and married a local lady. It was in hockey circles here that Mr. Boyd was best known. He and his twin brother (R. E. Boyd) were foundation members of Lisnagarvey Club, and both gained inter provincial honours. He was a P.M. of St. John's Masonic Lodge No. 178, Lisburn. Mr. Boyd's only sister, Miss Mabel Boyd, married the Rev. I. Lilburn, former minister of Hillhall Presbyterian Church, and shortly afterwards they also emigrated to New Zealand, as did the late Mr. Stanley Boyd, another member of the family. The only surviving member in this country is Mr. R. E. Boyd, of Priory Park, Balmoral.
School Choir
a little of the text is missing, indicated by a *
It was the children from Lambeg PE School who on Saturday provided Mr. Herbert Wiseman with the best singing he had heard * the Belfast Musical Festival. He gave them 186, the highest marks * awarded in all his adjudications. Thought they failed to carry off the Corrin Cup, possibly through an enforced lowering of standard caused by a hurried journey home between the morning and afternoon sessions, Mr. Wiseman still held to his opinion as to their pre-eminence in their first performance.
Corrin Cup Winners
The Corrin Cup, for which the first prize-winners in the junior choral classes were eligible, was awarded after much deliberation to Everton PE School, Belfast, the winners in the mixed under 12 years and runners-up in the under nine. In the evening the final round for the Ulster Cup drew a crowded house. Many stood in the balconies and hundreds were turned away. This went to John Campbell, of Belfast, for his singing of "Ethiopia Saluting the Colours" (Charles Wood) and Beethoven's "In This Dark Tomb" The results were :- PES choirs, under nine; one entry - 1, Lambeg PES Choir (161) PES choirs, under 12; one entry - 1, Lambeg PES Choir (186) PES choirs, under 15; one entry - 1, Everton PES Choir (169)
Open, boys or girls or mixed choir, under nine; three entries - 1, Strand Presbyterian Primary Choir (174); 2, Everton PES Choir (173)
Open, girls or boys or mixed choir, under 12; five entries - 1, Everton PES Choir (179); 2, MCB Junior Choir (172)
Open, boys or girls or mixed choir, under 18; two entries - 1, Linenhall Girls' Choir, Ballymena (173)
Singing game, open, 10-25 children, under 12; three entries - 1, Strand Primary Team A (86); 2, Whitehead Kiddies' Team (84)
Fermanagh Murder Trial - Two Sisters Sentenced to Death
Rosaleen Shannon and her sister Julia, both of Drumdoney, Derrylin, were found guilty at Fermanagh Assizes on Tuesday, before Lord Justice Murphy, of the murder of Nancy Shannon, the three-year-old daughter of their sister, Gretta Shannon. The jury added a recommendation to mercy. The two accused women were sentenced to death. and the date of execution was fixed for Tuesday, April 11. It was the case for the prosecution that Nancy Shannon was murdered by the two accused women, the body wrapped in a coat and placed in a box in an upstairs room. Sergeant Gallagher, Derrylin, said the Shannon sisters were moving to another home on November 4 last and (sadly that's all I have, the rest is online but you have to pay :( )







1 2 3 4
1) Ulster Schools' Cup Final Programme 18th March 1944 (F. J. Dinsmore)
2) Ulster Schools' Cup Final programme 16th March 1946
3) Irish Ladies' Hockey Union, International Ireland v Wales 1st March 1952 (P. Dinsmore)
4) Irish Rugby Football Union Selection Letter 13th December 1945 (F. J. Dinsmore)