ALBUM Stuart - Stewart
other names mentioned are - McNeill, O'Hara, Maynard, Grant, Burnet, Simpson, Scott, Cleghorn, McLeod, Darragh, Young, Gage


Crest Album from Lady McNeill, Shanes Castle to Amy Isabel Stuart
Ballyhivistock, Dervock, Co. Antrim, Ireland

Harvey Coat of Arms painted by Elsie Stuart age 11 Drawn by Bruce Stuart age 9½ Sept. 5th 1902

CLICK to enlarge, Army Crests for :- Antrim Rifles; First Life Guards; Buckinghamshire Regt.; King's Hussars; Royal Tyrone Fusiliers; Royal Irish Rifles; 2nd Life Guards; Prince Albert's; Army Service Corps, Woolwich; Warwickshire Regt., 2nd Batt.

CLICK to enlarge :- Army Crests for 31st East Surrey; 33rd Duke of Wellingtons, West Riding; XIV King's Hussars; Army Service Corps.; Director of Transport Services, Admiralty; 79th Queen's Royal Rifle Corps.; 3rd Madras Lancers; Egypt S.R.; Royal Naval Club, Portsmouth

Arms of J. A. Stewart of Glasgow, Sent April 1913 (Recently Recorded)

(give to young Jack Gage) J. Stuart, A.B. T.C.D.

Gardiner Harvey Sub-Lieutenant Charles G. Stuart, Royal Navy (Cadet)

Mr. Gage, Isle of Rathlin John Galt Smith

Capt. Gards? Harveys Commissioners as Lieut. & Ensign, sent to Col. Capt. Gard Harvey Chatham? Jan?/25

James McGrath I gave this to young Jack Gage, son of Robt. Gage of Sth. Africa who is eldest son of Robt. Gage, M.D., eldest son of Ge?? Ezekiel Gage

Officer after Coaling Officer of the Watch (Photo: S. Cribb, Southsea)

H.M.S. "Victory," Nelson's Flagship
Typical of the "Wooden Walls" in which Naval Officers of the past have been trained

The Admiral, Captain & Officers of H.M.S. Drake request the pleasure of Mr. & Mrs. Willie Stuart's Company on Thurs. 22nd Oct. 1908 at 3pm o'clock. Dancing. Boats from Salmon House. R.S.V.P. to Mess Secretary

H.M.S. Vengeance (1)

CLICK to enlarge :-
A SCRIPTURE ENIGMA
by the Very Rev. W. Pakenham Walsh, D.D., Bishop of Ossory 1885
Come and commiserate
One who was blind,
Helpless and desolate,
Void of a mind;
Guileless - deceiving,
Though unbelieving,
Free from all sin.
By mortals adored,
Still I ignored
The world I was in.
King Ptolemy's, Caesar's,
And Tiglath Pileser's
Birthdays are shown;
Wise men, astrologers,
All are acknowledgers
Mine is unknown.
I ne'er had a father,
A mother, or rather
If I had either,
Then they were neither
Alive at my birth;
Lodged in a palace,
Hunted by malice,
I did not inherit
By lineage or merit,
A spot on this earth.
Nursed among heathens,
No one baptized me,
A sponsor I had
Who ne'er catechized me;
She gave me the name
To her heart that was dearest,
She gave me the place
To her bosom was nearest.
But one look of kindness
She cast on me never,
Not a word in my blindness
I heard from her ever.
I saved, I destroyed,
I blessed, I alloyed,
Kept a crown for a prince
Yet had none of my own,
Filled the place of a king
Yet ne'er sat on a throne.
Rescued a warrior,
Baffled a plot,
Was what I seemed not,
Seemed what I'm not.
Devoted to slaughter,
A price on my head,
A king's lovely daughter
Watched by my bed;
Though gently she dressed me,
Fainting with fear,
She never caressed me
Now wiped off a tear;
Never moistened my lips
Tho' parching and dry,
What marvel a blight
Should pursue till she die?
"Twas royalty nursed me
Wretched and poor:
"Twas royalty cursed me
In secret, I'm sure:
I lived not, I died not,
But tell you I must
That ages have passed
Since I crumbled to dust.
This paradox whence
This squalor - this splendour,
Say, was I a king?
Or silly pretender?
Fathom this mystery
Deep in my history,
Was I a man?
An angel supernal
Or demon infernal?
Solve it who can.
reads underneath :- Could any reader provide a solution, or any information as to the circumstances under which the verses were originally published?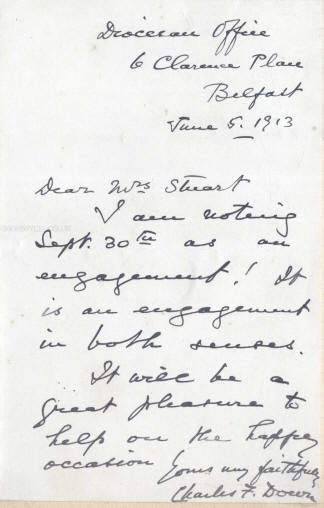 Diocesan Office, 6 Clarence Place, Belfast June 5 1913
Dear Mrs. Stuart, I am noting Sept. 30th as an engagement! It is an engagement in both senses. It will be a great pleasure to help on this happy occasion. Charles F. D'Arcy

Northern Bank, Belfast 14th October 1870 James Stewart, Sydney

W. Stuart

James Harvey - Derry Mr. & Mrs. William Stuart

(Leslie ??) (I remain ever your aff. son A. B. Stuart) (your affect. son W. W. L.? Stuart) (ever your loving son Wallace D. Stuart) (Willie Stuart)

I finally get photos with names and the photos are faded away to nothing, I've enhanced them as much as I can
CLICK to enlarge and see originals, enhanced below

Norman, Mary, Babe & Jack M.M. H????al College with Mabel ?al?ma? at the gate M.M.

Norman, Mary, Babe and Jack Side Verandah Steps M.M. Mary & Babe M.M.

Babe & "Jack" M.M. Norman, Babe & "Jack" M.M.

A.H.-F.H. & D.T. Bathing ay Ballycastle Elsie & Nancy Traill on steps at "Beechwood"

a "select" party - not ????? Some little C.C.S. pupils from the Junior School! H.S.M.

NEWSPAPER CLIPPINGS and articles on the back
Wedding Young - Stuart 30th September 1913?
The marriage arranged between Mr. Robert Chichester Young, Barrister-at-Law, Dublin, eldest son of Mr. George L. Young, Millmount, Randalstown, County Antrim, and of Culdaff House, County Donegal; and Amy Isabel, elder daughter of Mr. William Stuart, B.A.I., Mountearl, Ballymena, County Antrim, and grand-daughter of the late Mr. Charles George Stuart, of Ballyhivistock, Dervock, County Antrim, will take place on Tuesday, 30th September, in St. Patrick's Church, Ballymena. Bridesmaids :- the Misses Maida Stuart, Nan Stuart of Stranocum House; Stella Stuart (cousins of the bride of Islandhoe, Dervock), and Miss Kathleen Young (cousin of the bridegroom of Dungiven). Other four bridesmaids were the Misses Elsie Stuart (sister of the bride), Dorothy Young (sister of the bridegroom), Mary Stuart Moore (cousin of the bride of Ballydevity House, Dervock), and Miss Lena Denny of Dumbarton. The officiating clergy were the Right Rev. Dr. D'Arcy, Lord Bishop of Down and Connor and Dromore, Canon Ross, of Ballymena, and Canon Frizell. The bridegroom was supported by his brother, Mr. George Neville Patrick Young, as best man. After the ceremony a reception was held at Ballymena Castle, kindly lent for the occasion by Sir F. E. S. Adair, Bart. Amongst those present at the church were Captain the Honourable Arthur O'Neill, M.P., and Lady Annabel O'Neill; Lady O'Neill, Shane's Castle; the Honourable Rose O'Neill, Shane's Castle; the Honourable Hugh and Mrs. O'Neill, and the Honourable Anne O'Neill, Tullymore Lodge. Organist Dr. Cooney.

YOUNG - September 23 1914, at 26 Dartmouth Square, Leeson Park, Dublin, the wife of R. C. Young, Barrister-at-Law, of a son George Stuart

Births - O'HARA - March 22nd, 1917, to Mr. and Mrs. Henry O'Hara, 43 Castle Street, Ballymena - a son

STUART - March 5, at Ballyhivistock, Charles McDaniel Stuart, aged 69.

IN MEMORIAM

In loving memory of Bertie Maynard, who died at Children's Hospital, 1905, aged 1 year and 10 months; also William Street Maynard, who died at 18 St. George's Street, Douglas, I.O.M. - Inserted by his parents

In loving memory of my dear father, John Grant, who died at Linlithgow, Dec. 29, 1902. Nights are dark and friends are few, Dear father, I sit and sigh and weep for you - Inserted by his son

In loving remembrance of my dear husband, Andrew Hannah Burnet, who died, the 5th Jan., 1904, at 93 Annfield Street, Dennistoun. Like the ivy on the withered oak, When all things else decay, My love for him will still keep green, And never fade away. - Inserted by his widow

In loving memory of William Simpson, who died 5th Jan, 1908, at 11 Harvie Street, Bridgeton. I miss him and mourn him ids sorrow unseen, And dwell on the memory of days that have been. - Inserted by his wife, Agnes Liddell

In loving memory of our dear son, William A. Scott, who died 10th Jan., 1908, in Royal Infirmary, of appendicitis, aged 18 years and 9 months. He is gone but not forgotten, Never will his memory fade; Sweetest thoughts shall ever linger, Round the spot where he is laid. - Inserted by his father and mother

In loving memory of Agnes Cleghorn, wife of Andrew Paterson, who died suddenly, on 11th Jan., 1908, at 197 Main Street, Rutherglen. "Twas hard to part with one so dear - No warning note was given, Yet while we shed a silent tear, We know she dwells in heaven.

In affectionate remembrance of Malcolm McLeod, beloved husband of Helen McFadyen, who died the 8th Jan., 1908, through accident, aged 35 years. All is dark within our dwelling, Lonely is our home to-day, For the one who lived to cheer us, Has for ever passed away. But not forgotten. Mourn not for me, my life is past, You kindly loved me to the last, Then haste to Christ, make no delay, For no one knows their dying day. - Inserted by his widow and daughter

~~~~~~~~~~

(part missing) ... proud of those who were still saving and protecting them at home, and to the parents of this gallant boy who had fallen they tendered their deepest sympathy, and he proposed that they send a letter of condolence and give expression to their deepest sorrow that they felt for them on the death of their gallant son. Mr. Beaumont, in seconding the motion, said he did not know the boy personally; but he read the letter from his officer, which spoke in high terms of him. Perhaps he should mention, as he was certain the chairman had overlooked it, the name of Second-Lieut. Darragh, of Ballycraigy. He was not really a townsman, but his parents formerly resided at Ballycraigy, and his father was a prominent figure in Ballymena. Unfortunately, this was the second death in the family, as it was only a few weeks ago since his brother, John McClelland Crommie Darragh, lost his life on the battlefield, and now this young man, who was formerly in the employment of Mr. Thomas McKeown, Wellington Street, had fallen like a hero and a man if defence of his country. He was sure that the Council would be only pleased to include his name in their expression of sympathy with his widowed mother, who was now living in Portadown. His sisters had done war work ...... (sorry that's all)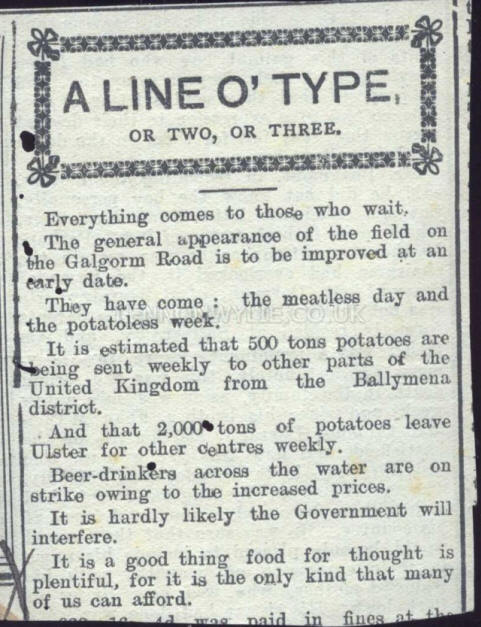 A LINE O' TYPE, or two, or three.
Everything comes to those who wait,
The general appearance of the field on the Galgorm Road is to be improved at an early date.
They have come: the meatless day and the potatoless week.
It is estimated that 500 tons potatoes are being sent weekly to other parts of the United Kingdom from the Ballymena district.
And that 2000 tons of potatoes leave Ulster for other centres weekly.
Beer drinkers across the water are on strike owing to the increased prices.
It is hardly likely the Government will interfere.
It is a good thing food for thought is plentiful, for it is the only kind that many of us can afford.
the end