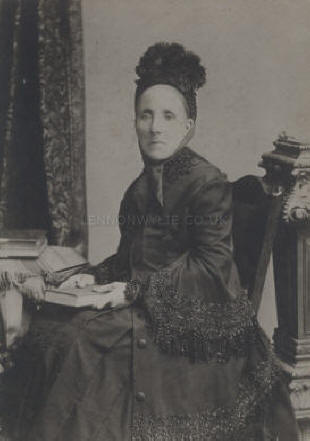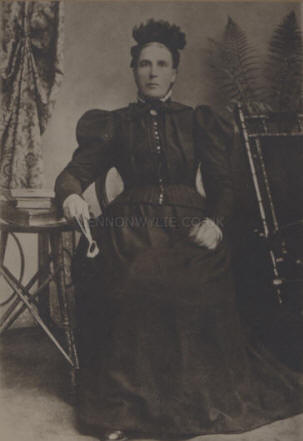 Great Grandmother Rainey Great Grandmother Rainey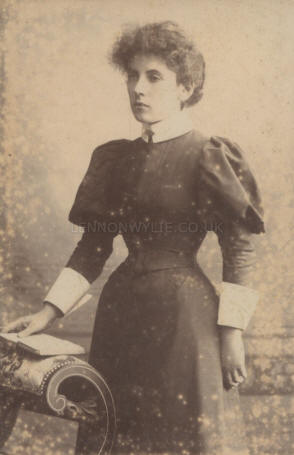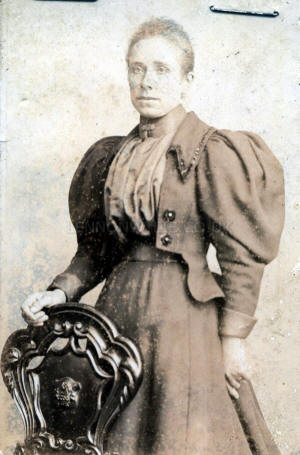 Aunt Lucy Hamilton's Mother (Allen)?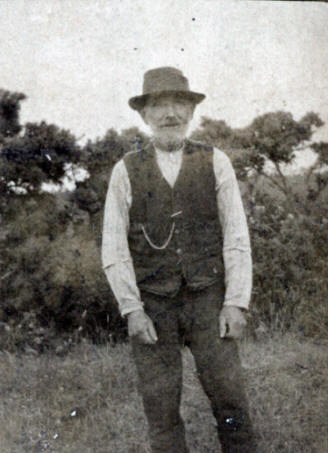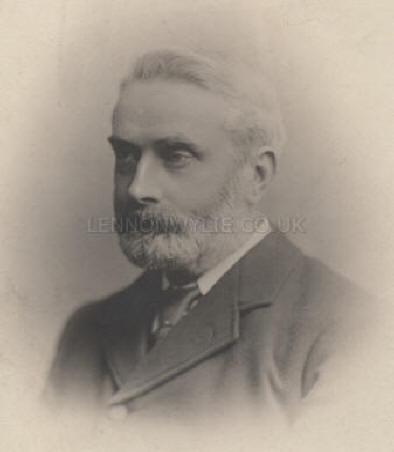 Great Uncle Willie Rainey Thomas Rainey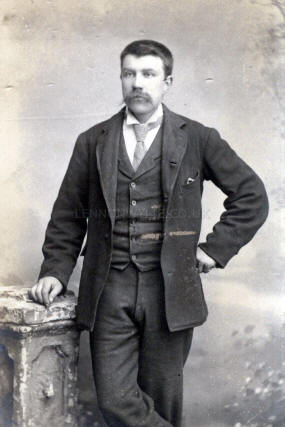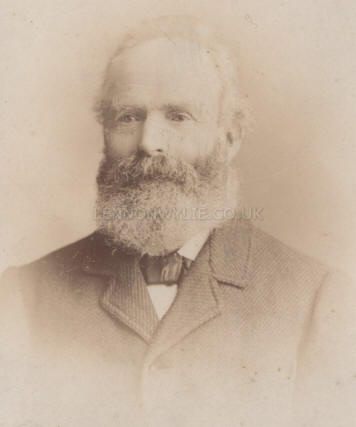 Sammy Patterson W. J. Patterson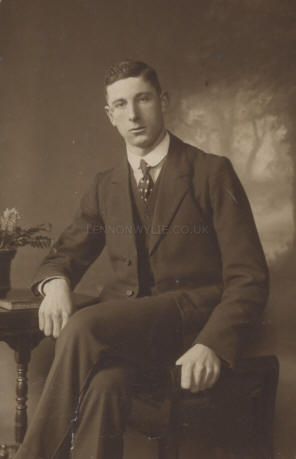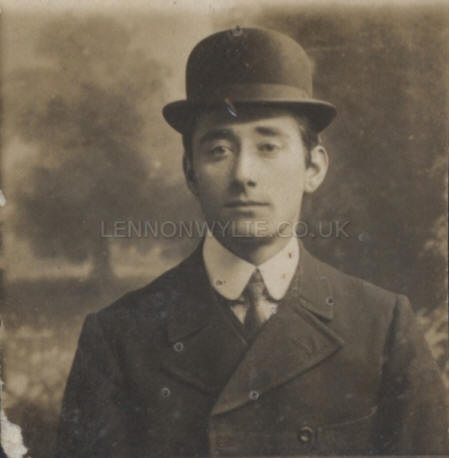 With Love Yours Percy Hamilton Allen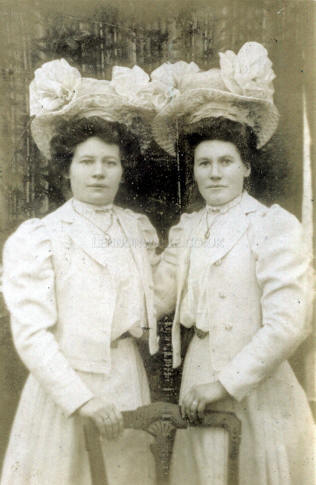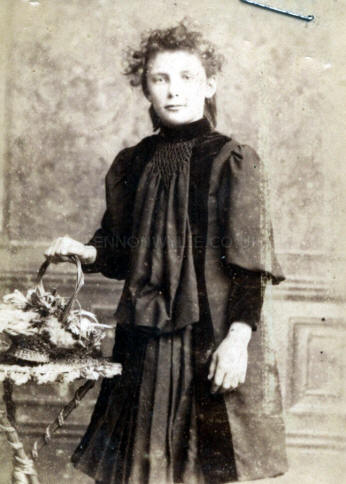 Miss Magowans Mrs. Wilson (Emma)


Mrs. Jordan Kathleen Jordan


Phoenix Park June 1923
left to right :- L. Bateman; W. Goodwillie, Q. or G.R.C.SeI. or 1; M. Hu or i??-Lyons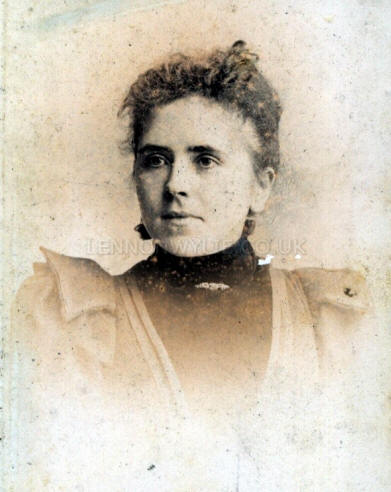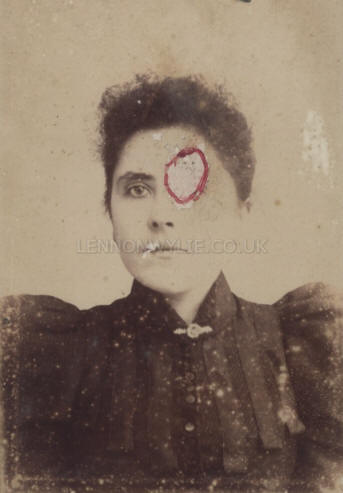 Aunt Maggie Aunt Maggie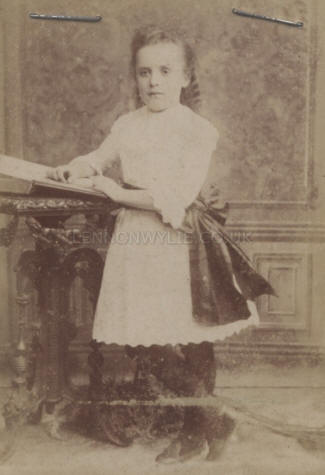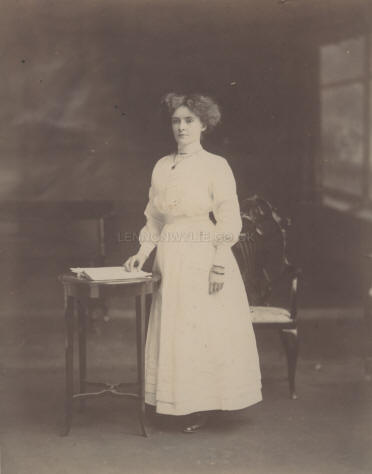 Mother Miss Martin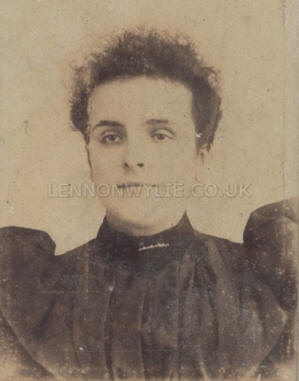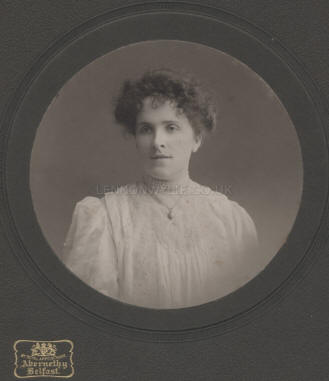 Lizzie Aunt Nellie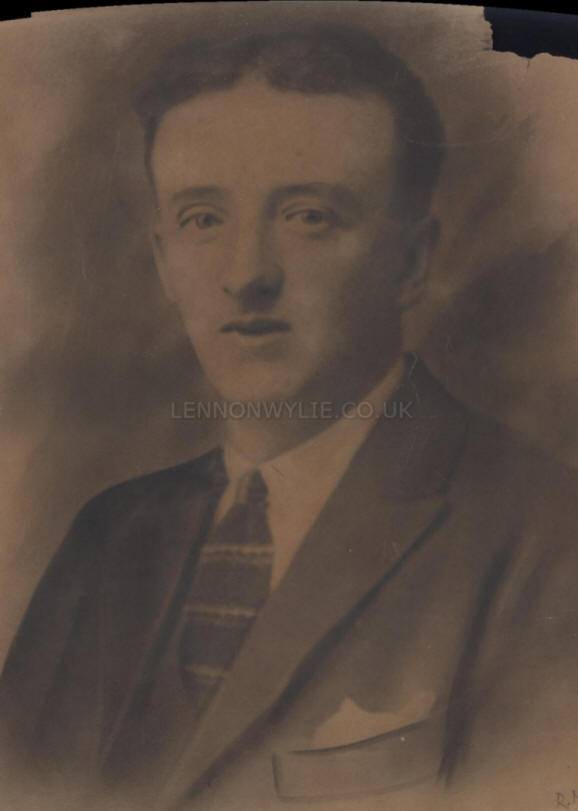 on back it says a name which I can't make out McCann maybe?
62 Park Road, P'down (Portadown)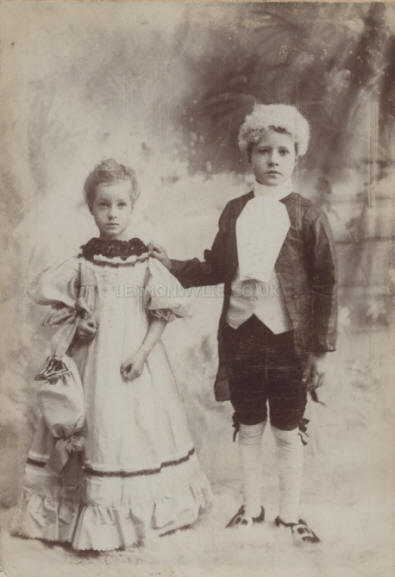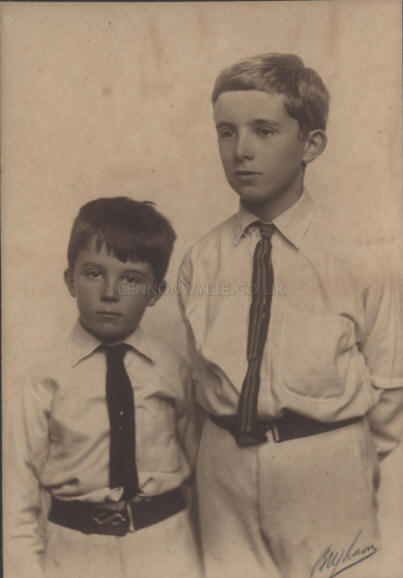 Jim 8 years & 4 months
Jamie 6 years & 1 month
September 1899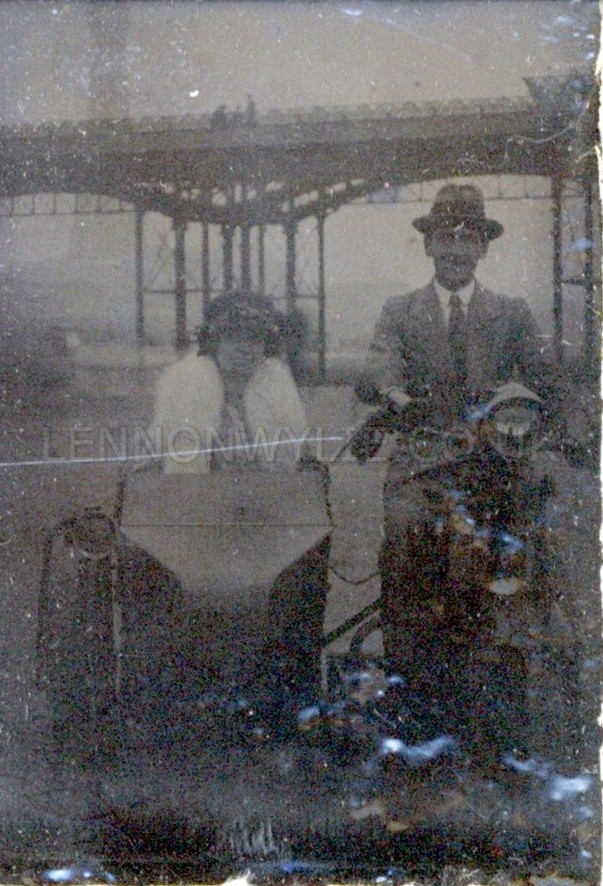 Lord & Lady McQuoid at Blackpool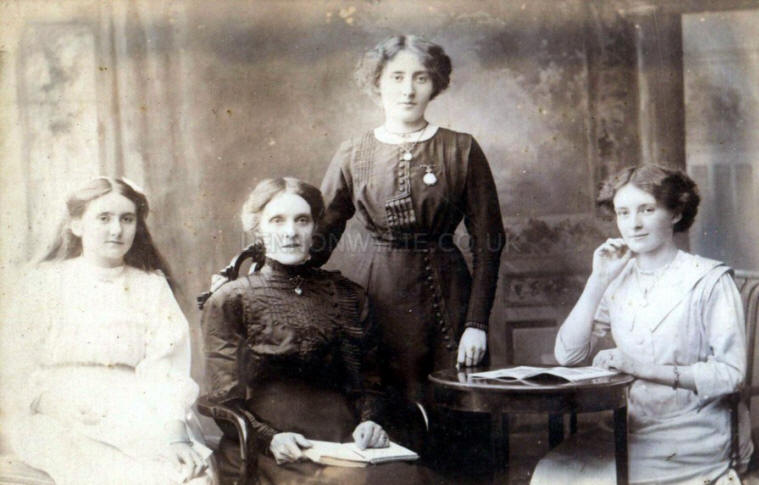 Framed by W. J. Moffett, 53 Bridge Street, Portadown. Name: Miss Martin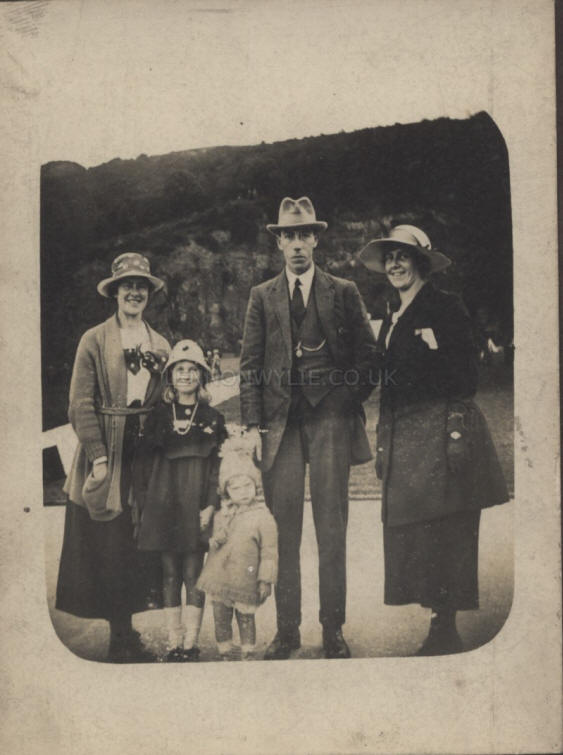 taken 1921 Meg, Cherie & Winnie
also says Master? Cherie Winnie
Eddie Graces? husband
scored out Grace Megs sister
Grace Megs Sister (not scored out)
Husband Eddie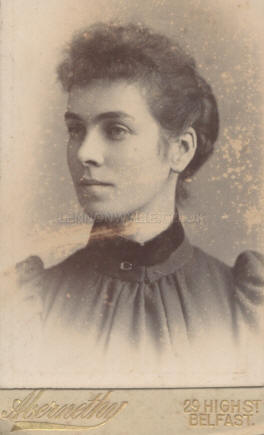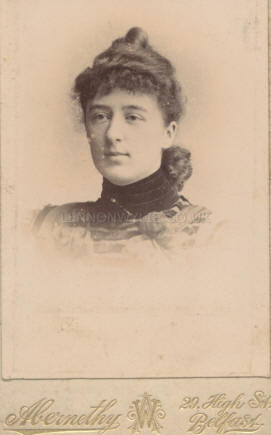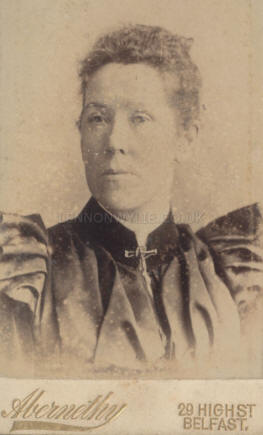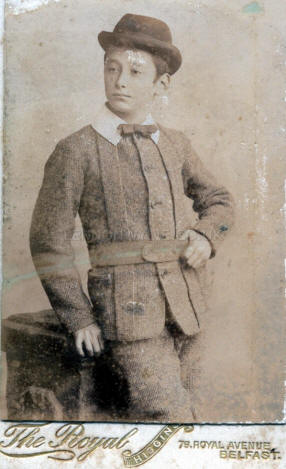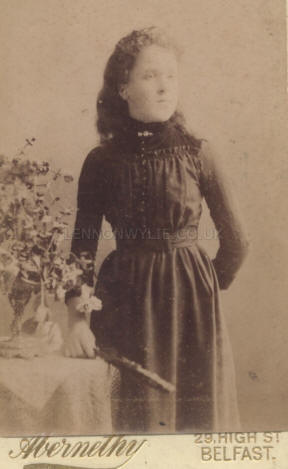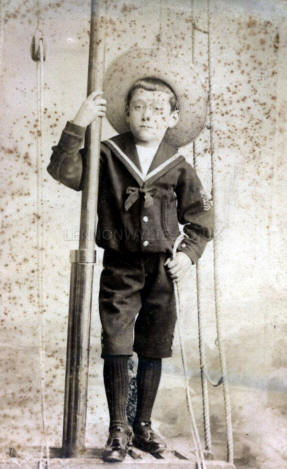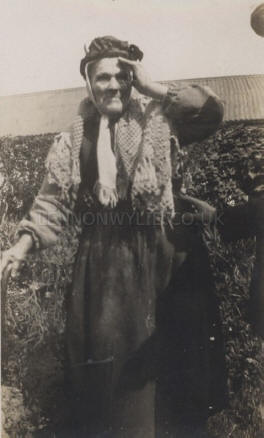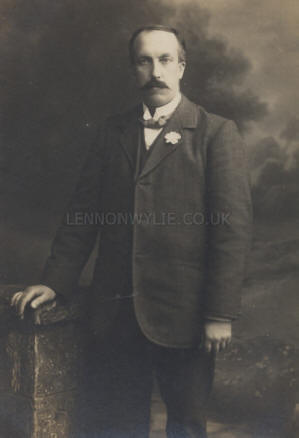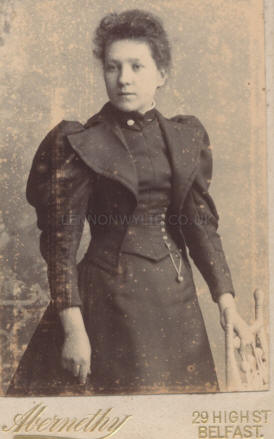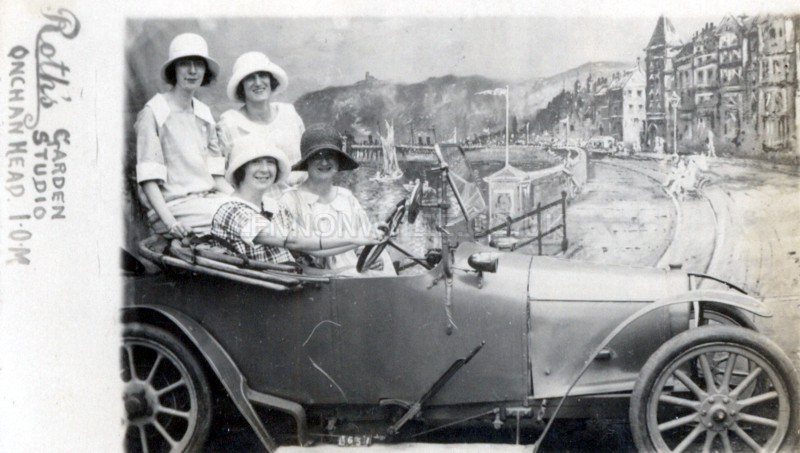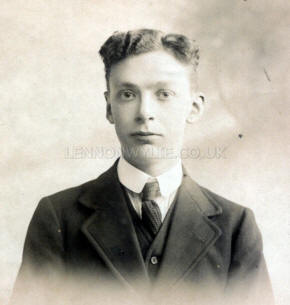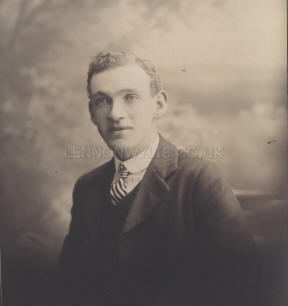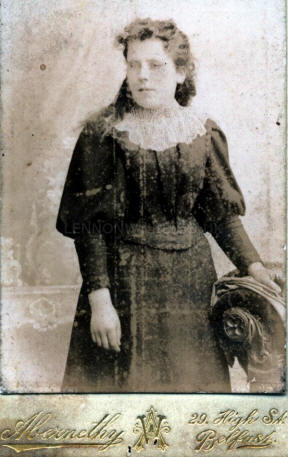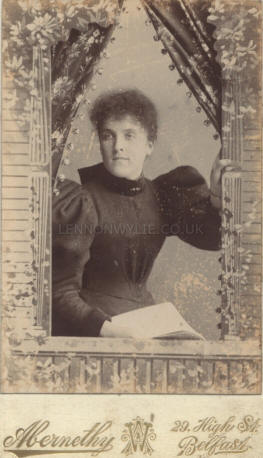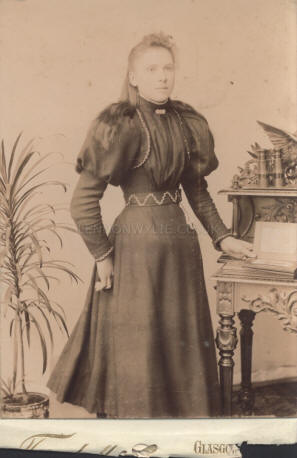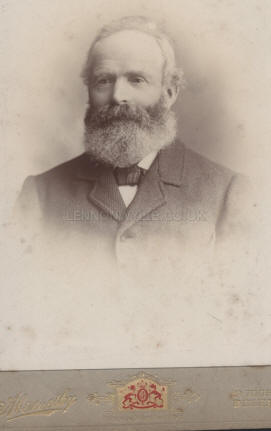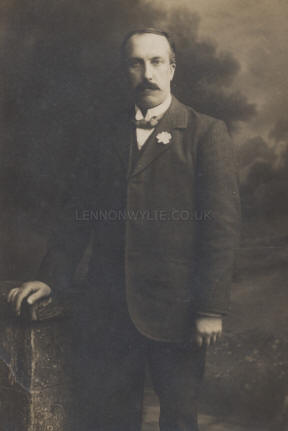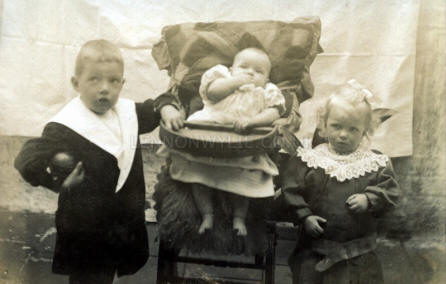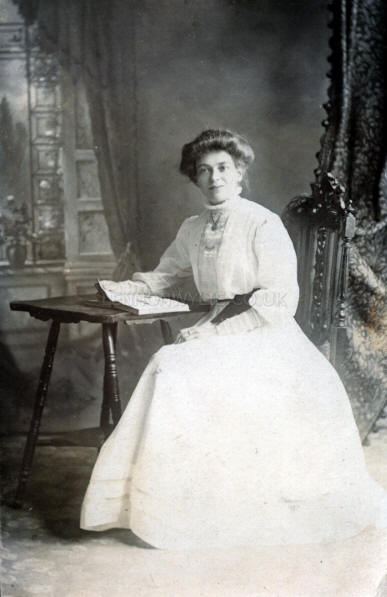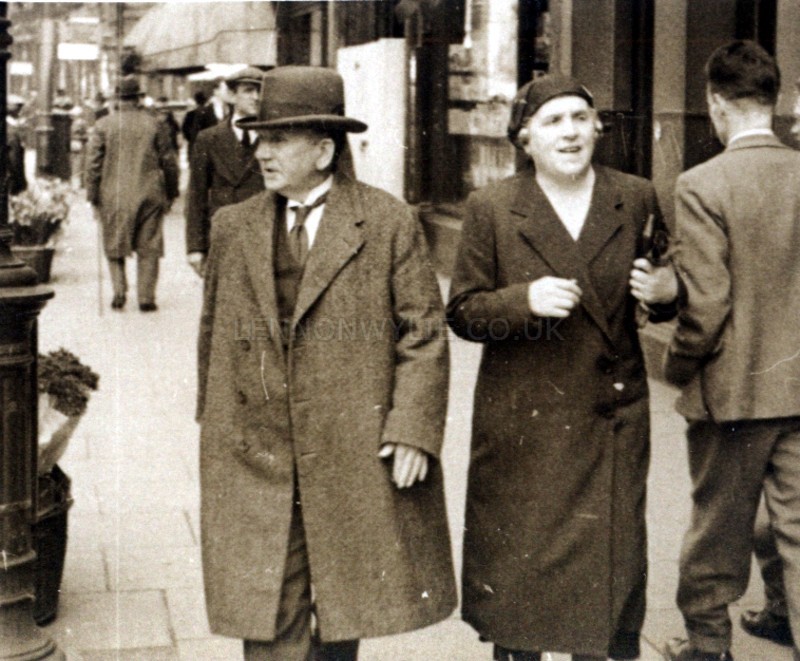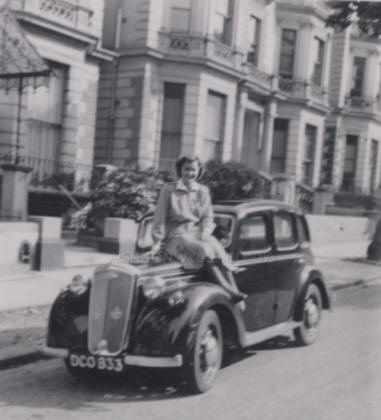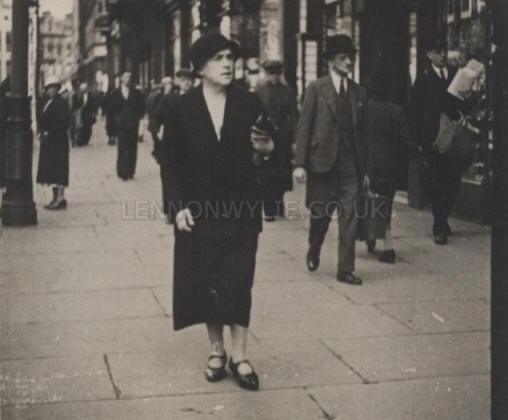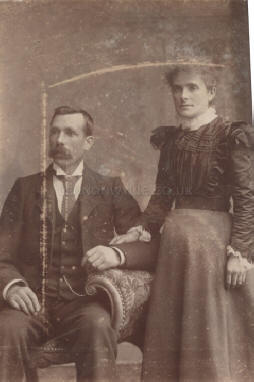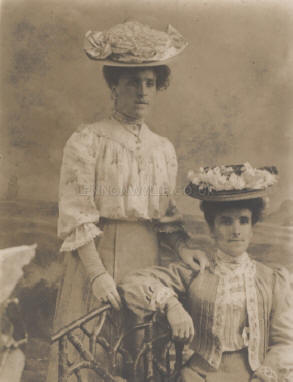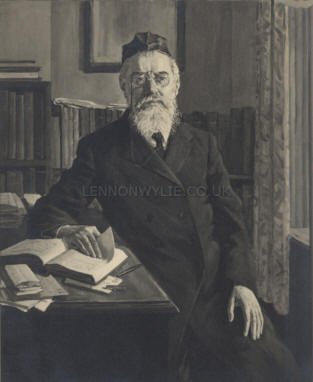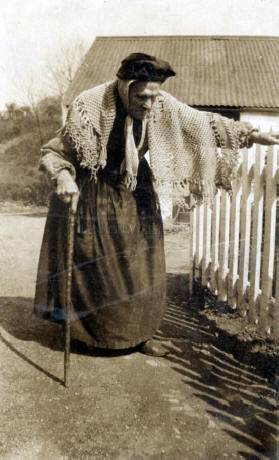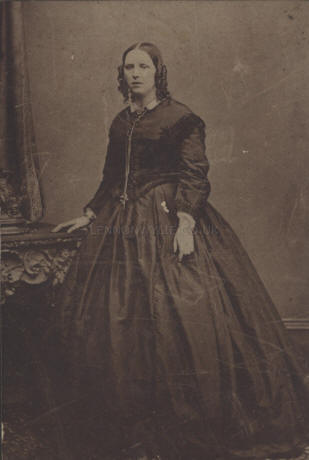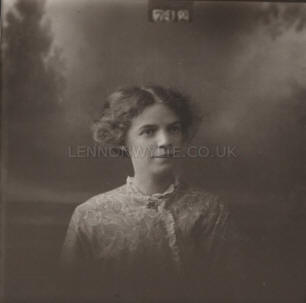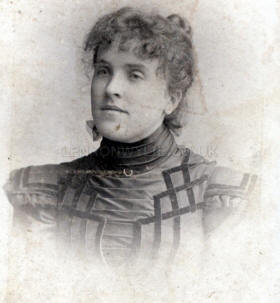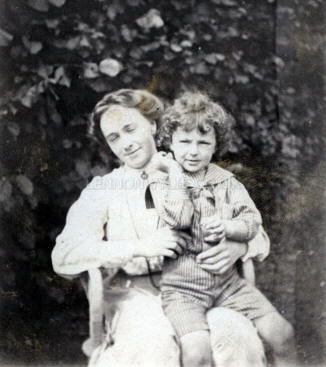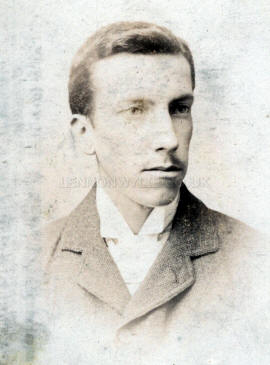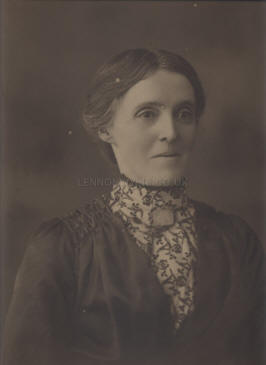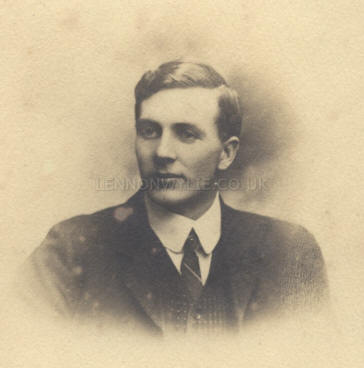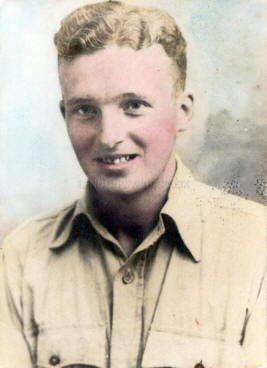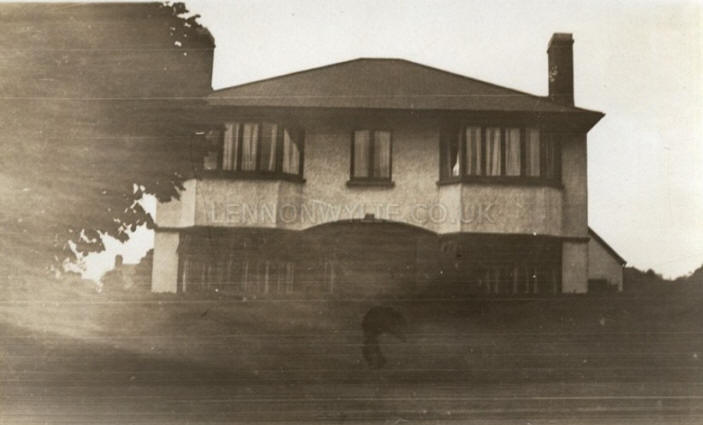 photo taken by
Bangor Photographer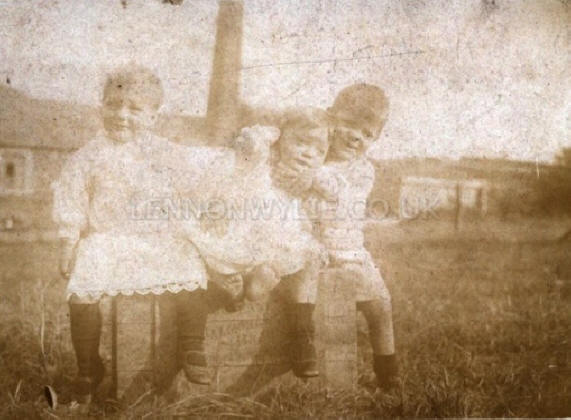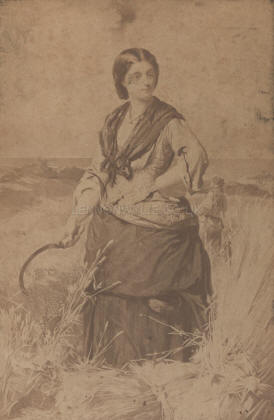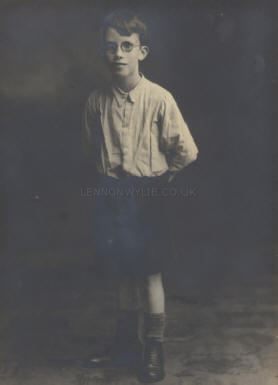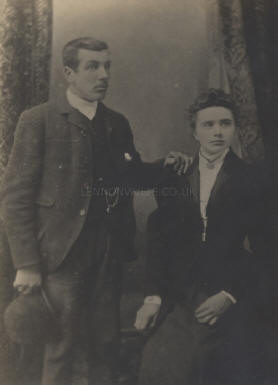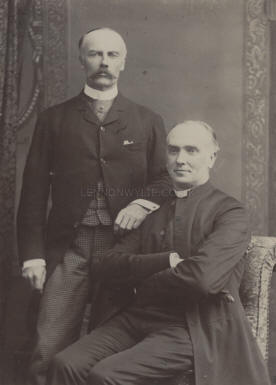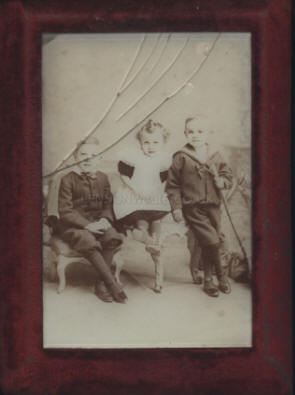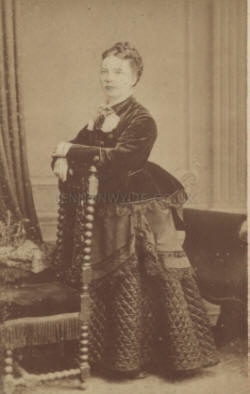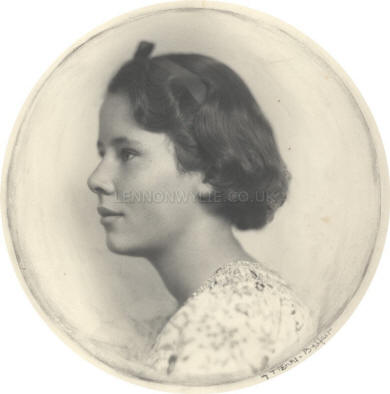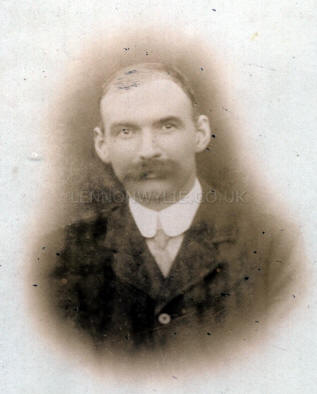 On the Receipt of my Mother's Picture

O that those lips had language life has passed
With me but roughly since I heard thee last
Those lips are thine - thy own sweet smile I see
The same that oft in childhood solaced me

Voice only fails else how distinct they say
Grieve not my child chase all thy fears away
The meek intelligence of those dear eyes
Blest be the art that can immortalise

My mother when I learn'd that thou was't dead
Say was't thou conscious of the tears I shed
Hover'd thy spirit o'er thy sorrowing son
Wretch even then lifes journey just begun

Perhaps thou gav'st me though unseen a kiss
Perhaps a tear if souls can weep in bliss
Ah that maternal smile it answers yes
I heard the bell toil'd on thy burial day

I saw the herse that bore thee slow away
And turning from my nurs'ry window drew
A long, long sigh and wept a last adieu.
(added at the bottom)
But was it such where thou art gone
Adieus and farewells are a sound unknown
May I but meet thee on that peaceful shore
The parting sound shall pass my lips no more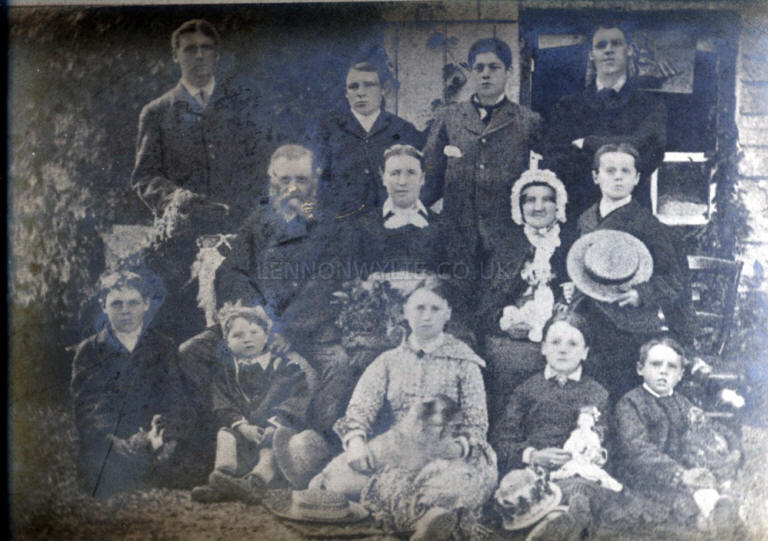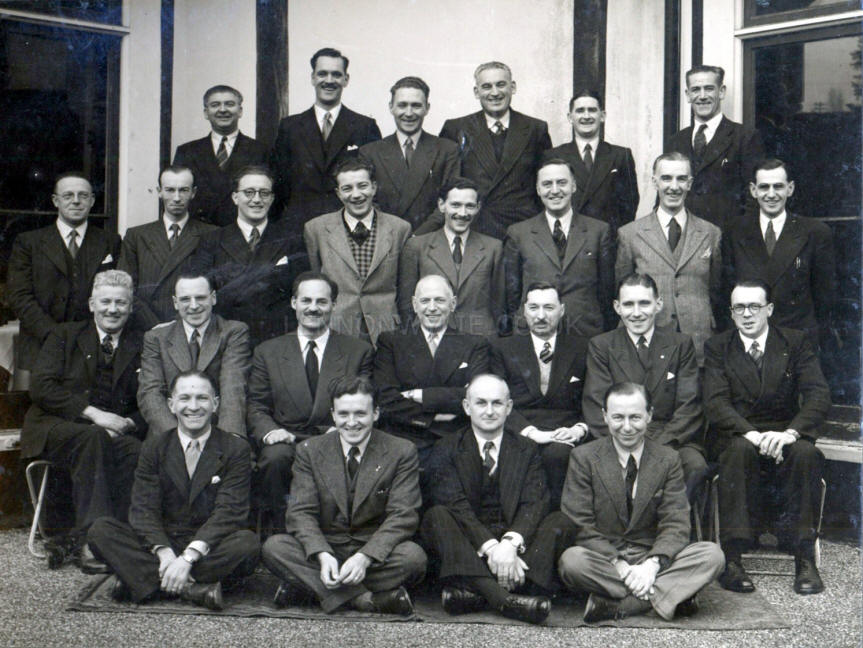 M.S.D. Sales Force 1949 Mayflower? Hotel, Hereford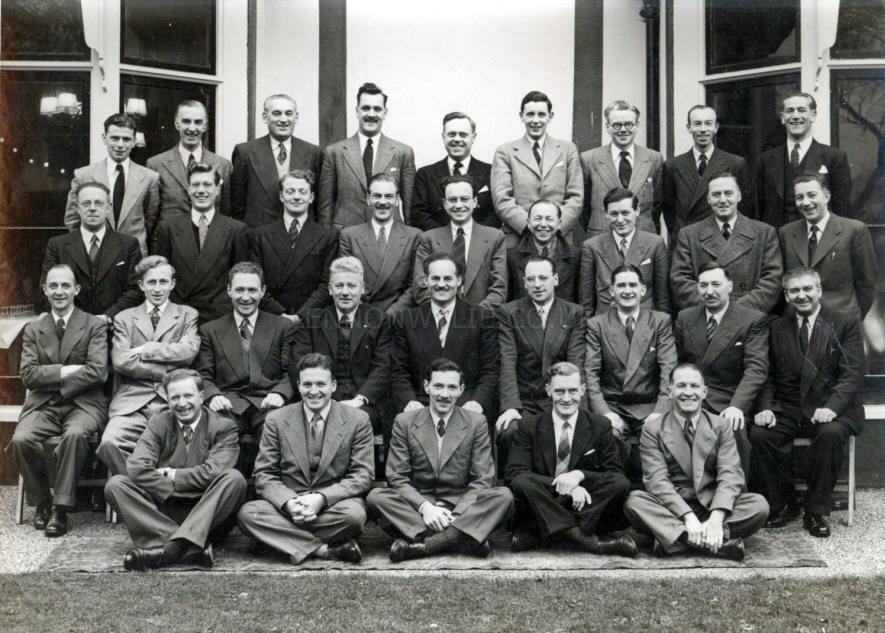 Representatives' Conference - December 1950
A. J. Binder, (Export); A. A. Aspin, F. C. Kavanagh, D. S. Colley, I. A. Hector, B. Brown, J. Gallagher, H. D. Mills, B. F. A. Kavanagh
J. V. Walters, D. A. Brewer, J. S. McKie, E. Hardcastle, F. P. Eatch, F. A. Roebuck, E. M. Bradbury, G. W. Crane, F. Daniells
F. E. M. Ainslie, (Accountant); W. E. Willmott, (Analytical); J. J. Carroll, O. A. Phillips, John H. Fingerhut, (Sales Manager); G. J. Britton, M. T. Finigan, J. E. Day, (Medical Information); J. Craig
N. J. Blunsom, E. McCann, C. A. Ashwell, C. D. Buzza, (Production); A. L. Bowen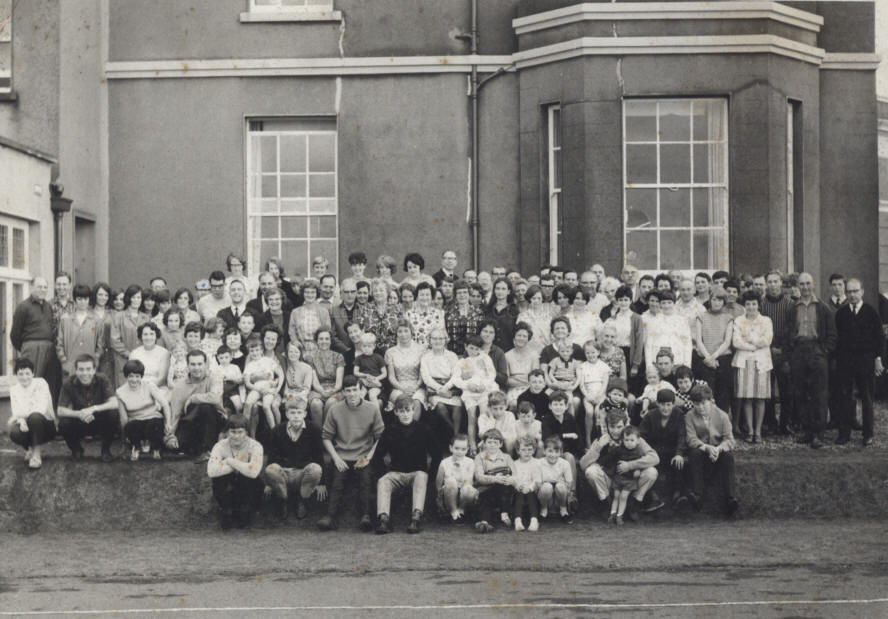 Carrig Eden 12 - 19th Aug. 67
(a ? after the word means its not clear)
F.? Gibson? (Apsley? Street)
Wilfred Hodge (Bethany Hall)
Mr. Williamson & Family (Cahorey?)
Mr. & Mrs. Adams (Sutton Coalfield)
Mr. Parkinson & Family (Dollingston? Lurgan)
Dr. Calvert & Family (Belfast)
Dr.? McGuire (Larne)
M. Knox & Family (Antrim Road)
Louis Knox (Great Victoria Street Baptist)
Ruth Hutchinson
T.? Carroll (Antrim Road Baptist)
Mr. & Mrs. J. Hutchinson & Family (Dundonald)
Lowry & G??? (Oldpark)
Jim Brown (Funeral Undertaker)



CLICK to enlarge - stamped on back Ernest McCann, 3 Lead Hill Park, Belfast



CLICK to enlarge - stamped on back same as above also 'Photo by Bishop Marshall, "Eversley Lodge" Park View, Hoddesdon, Herts.'



CLICK to enlarge - on back, Ernest McCann, 3 Lead Hill Park, Belfast, also Photograph by Bishop Marshall & Son, 17 High Road, Broxbourne, Herts.



Sharp & Dohme Ltd.
Representatives' Conference, October 8th - 10th 1952
FIRST ROW (left to right): J. V. Walters, M. T. Finigan, O. A. Phillips, G. W. Crane (Assistant Sales Manager), Con. M. Hewitt (Manager Export Field Operations, S. & D. Inc.), Thomas W. Rayner (Managing Director), John H. Fingerhut (Assistant Managing Directory), Dr. E. W. Tapley (Medical Information Department), Douglas S. Colley (Area Detail Manager), G. J. Britton, J. J. Carroll
SECOND ROW (left to right): D. Hackney, V. J. Wiggin, J. Gallagher, A. G. Canning, Francis C. Kavanagh, H. D. Mills, V. J. Parsons, E. N. Coates, J. B. Dyhouse, James Craig, A. A. Aspin, N. J. Blunsom, F. A. Roebuck, A. L. Bowen
THIRD ROW (left to right): John S. McKie, E. E. Hart, G. J. Cronk, R. Trevithick, W. D. Musther, Iain A. Hector, E. McCann, H. McDonald, G. M. Jackson, E. M. Bradbury, S. Harris, David C. Gander
BACK ROW (left to right): L. J. Royster, John L. Dingley, A. J. Naul, Brendan F. A. Kavanagh



CLICK to enlarge - Sharp & Dohme Ltd. - Annual Conference 1954
(Reading from left to right) [stamped on back - Ernest McCann, 3 Lead Hill Park, Belfast]
K. J. Ibbetson
Back Row : A. H. Jones, David Jones, D. C. Gander, M. McDonald, W. G. Shaw, L. N. Cooke, R. T. Blandford, S. Foster, A. J. Ruff, E. E. Hart, E. F. Seaman, W. R. Laird, F. C. Kavanagh
Centre Row : J. Gallagher, P. Brophy, V. J. Parsons, H. Velt, J. B. Dyhouse, M. W. Cheeseman, N. J. Blunsom, S. A. Knight, W. D. Musther, D. A. Rider, A. G. Canning, G. J. Cronk, J. V. Walters, E. G. Bosward, J. S. McKie, K. Brooker, G. Miller
Front Row : J. J. Carroll, M. T. Finigan, J. Craig, O. A. Phillips, John H. Fingerhut, T. W. Rayner, Dr. E. W. Tapley, D. S. Colley, F. A. Roebuck, E. McCann, A. A. Aspin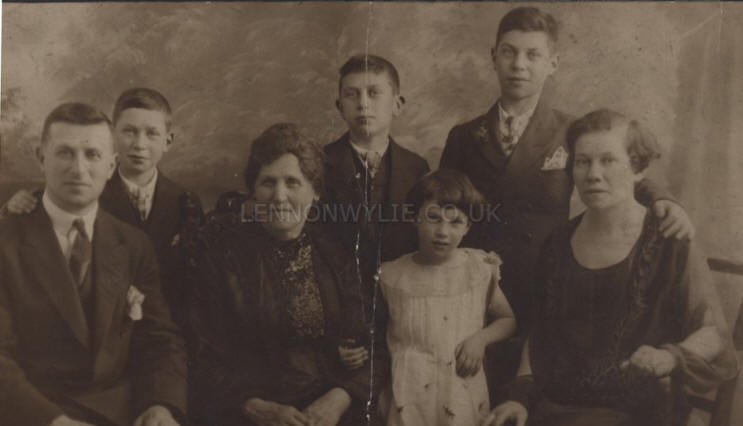 CLICK TO ENLARGE





CLICK TO ENLARGE