Autograph Album - Pigott
"A Belfast Hospital in the Great War Autograph Book: de say Pigott (Dorothy) A small leather bound Autograph Book containing entries over a ten year period from 17th April 1917 to 16th November 1927. As a m/ss/. w.a.f. (1). Born in 1893, Dorothy was the eldest of two daughters of Wm. Jackson Pigott, a native of Dublin, and his Scottish wife Eliz. Sheirp Mackintosh. They lived at the Manor House, Dundrum, Co. Down. During the Great War, Dorothy served as a nurse at the White Abbey Hospital in Newtownabbey, Belfast, and some of the entries in her book are made by soldier patients. After the war she worked at Ruchill Hospital, Glasgow. The entries consist mainly of verses - wise, sentimental or saucy - and some are illustrated with cartoons. They form a poignant souvenir of a tragic episode in our history.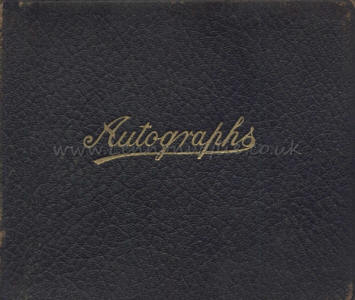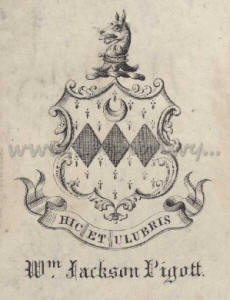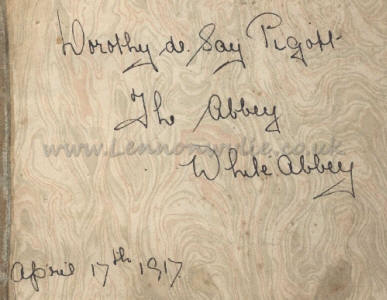 Autographs Wm. Jackson Pigott Dorothy de Say Pigott, The Abbey, Whiteabbey
April 17th 1917











1 2 3 4 5 6 7 8 9
1) "Come closer, lay your hand in mine; your love is the one sure possession that will last.
And let us be brave and when the shadow comes to beckon us to the leap,
rise lightly up and follow with firm eyes and resolute soul,
Whither he leads - one heart - one hand - to live together, or if death be death - to die.
Thomas A. Campbell, Late Royal Irish Rifles, Reg. No. 181
2) Lo, how the woman once was wooed; Forth leapt the savage from his lair,
And felled her, and to nuptials rude, He dragged her, bleeding by the Hair"
Robert Williamson, Whiteabbey, Belfast 3/5/17
3) My wish to whom this book belongs, Meet trials light if any,
Your lot of sorrows by they few, Your sunny moments many.
W. C. Whitley
4) If I should write I know you'd laugh, So I'll just sign my your autograph.
J. McCrory
5) When you are sad and lonely, And thinking of the past,
Remember you have got a friend, That will forever last.
Charles Wilson, Sanatorium, Whiteabbey 30/4/17
6) The heights that great men reached and kept, Were not attained by sudden flight,
But they while their companions slept, Were soaring upwards in the night.
7117 Gunner Thos. H. Seymour, Royal Artillery 3rd May 1917
7) I do not wish you grandeur, Not get a store of wealth,
I wish thee richer treasure, Contentment - Peace - & health.
Albert Smyth, ho1 Pav Sanatorium, Whiteabbey, Co. Antrim
8) In spring a young man's fancy, Lightly turns to thoughts of love. My faith is fast
That all the lovliness I sing, Is made to beat the mortal blast, And blossom in a better spring.
J. McCrory, Late 1st Royal Irish Rifles, Regt. No. 9014
9) When morn comes down her yellow stairs and puts (sorry I can't make out the writing, CLICK on image) H. Whitney.
? W. Warner?










1 2 3 4 5 6 7 8 9
1) I wish thee health, I wish thee wealth, And many a merry day,
And a happy heart, To play thy part, Along the great highway.
E. L. Pigott, Manor House, Dundrum, March 14th 1919
2) Whatever you are be ?, Whatever you do do well,
Whenever you speak speak kindly, Be a joy wherever you dwell.
Wm. Jackson Piggott, Manor House, Dundrum, Co. Down. Feb. 27th 1919
3) Grow old along with me, The best is yet to be, The last of life, for which the first was made;
Our times are in His hand, Who saith, 'A whole I planned, Youth shows but half, trust God, see all nor be afraid.
H. W. Vaughan, late Q. M. Sergt., Royal Irish Rifles. May 1st 1917
4) Words are easy, like the wind, Faithful friends are hard to find.
17503 Pte. Wm. Dickson, 9th Batt. Royal Innis. Fus.
5) You never know CLUVaux? (C. Vance? see #7)
6) Till the Sands of the desert grow cold, and their infinite numbers are told,
God give you and me and mine thou shalt be, For ever to love and to hold.
Till the story of judgment is told, and the mysteries of heaven unfold,
I'll turn love to thee my shrine, Thou shalt be, Till the sands of the desert grow cold.
T. W. Spence 6th Oct. 1917
7) "I could so hypnotise you, Jane, that in half an hour you would throw your arms around my neck"
"And I could so hypnotise you in less than a minute" C. Vance 1917
8) I only want a little spot to plant a sweet forget-me-not. O. J. B.
9) When making new friends, Don't forget the old,
New friends are "Silver" Old friends are "Gold"
C. Weir "Omoa" Cleland, Lanarkshire 10th November 1927










1 2 3 4 5 6 7 8
1) A friend in need, is a friend indeed, And yet! it may defend,
Whether you are the one in need, Or whether its your friend.
Jessie Wilcox, Murlough House, Dundrum. March 29th 1919
2) Work Away - Work for the good that is highest, Dream not of greatness afar,
That glory is ever the highest, Which shines upon men as they are,
Work though the world may defeat you, Heed not the slander and scorn;
Nor weary till angels shall greet you, With smiles through the gates of the morn.
Gladys Jardine, Dundrum March 22nd 1919
3/4) Womanly Conversation - Keep a watch on your words my Sisters, For words are wonderful things;
They are sweet like the bees fresh honey, Like the bees they have terrible stings!
They can bless like the warm glad sunshine, And brighten a lonely life;
They can cut, in the strike of anger, Like an open two-edged knife.
Let them pass through your lips unchallenged, If their errand is kind and true,
If they come to support the weary, To comfort and help the blind,
If a bitter revengeful spirit, ? the words, let them be unsaid,
They may flash through a brain like lightning, Or fall on a heart like lead.
Keep them back, if they're cold and cruel, Under bar & lock & seal.
The wounds they make, my Sisters, Are always slow to heal.
May Christ guard your lips forever, From the time of your early youth,
May the words that you daily utter, Be the words of beautiful truth.
Emmie ? Gamble, 74 Botanic Avenue, Belfast. 23/5/20
5/6) "Nuff Said" O beware of the tongue that with venom is tipped, Whose point into slanders vile poison is dipped,
Whose words as they come are like swordblades of ill, That would, maim and slash, and too often that kill.
Let no ear be too willing to list to its tale, For failing a hearer, its venom will fail
When of one word some good reputation lies dead, Turn a deaf ear to slander and murmur "nuff said"
II
O beware of the tongue that will gossip and prate? About things that occur in the nation and state,
That starts a false rumour and passes it round, And in it no vestige of truth can be found,
Let no ear be willing to list to or heed, For failing a hearer, the gossip indeed,
Cannot tell the tale if you but shake your head, And give this wise counsel 'gainst gossip, "nuff said"
III
O beware of the tongue of the pessimist style, that wags to make people feel sad all the while,
That never has learnt to speak words of good cheer, Whose hearers will always go off feeling queer,
Let no ear be willing to give it a chance, To run down life's joys and life's woes to enhance,
When the pessimist murmurs, "we'd best all be dead" Just take him to task with this motto "nuff said"
Nurse S. E. Lougheed, Wards 5 & 6 Dufferin Hosp. 11.9.18
7) You ask me lady for to write a line or two in black & white,
Well! I have thought & thought in vain, So now I think I'll write my name!
Tom Gibb 23/9/18
8) Life. Life is a story of values three, The Past, the Present, the life-to-be,
The first is read & put away, The second we're reading every day.
The third & last, Volume III, So hidden from sight of you & me.
L. McIlroy. 24.11.19 74 Botanic Avenue, Belfast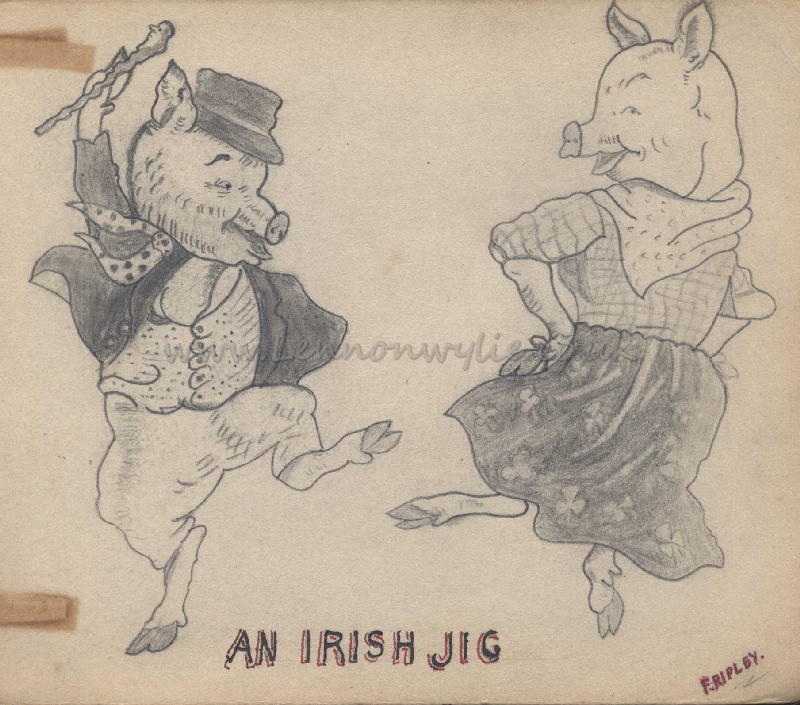 An Irish Jig - F. Ripley









1 2 3 4 5 6 7 8 9
1) When we are divided, By the deep blue rolling sea,
I wonder, yes, I wonder, Will you sometimes think of me!
Ruby Gleazer No. XI Wd. 1.12.1918
2/3/4) "A Dream of Delight" A little Kiss, a little smile, A handclasp every little while,
A little whisper in the ear, A little gasp, half joy, half fear,
A scribbled note, a little late, To meet you when the hour is late.
A little room in some Hotel, A little promise not to tell,
A little dinner just for two, A little smoke when we are through,
A little squeezing in the chair, A little toying with the hair.
A little bedroom all in white, A little shading of the light,
A little blouse that's laid aside, A little bust that tries to hide,
A little skirt laid on the chair, A little set of underwear.
A little form of youthful grace, A little blush that floods the face,
A little led, a straying tress, A little touch of nervousness,
A little nighty, mostly lace, A little sigh, a tight embrace.
A little wrestling in the gloom, A little gasp, a quiet room,
A pair of little hearts that beat, A little effort then repeat.
A little bite or maybe two, A little snuggling up to you.
A little sleep till half past four, A little toying then some more.
Another little sleep & then, Breakfast in bed at nine or ten.
A little bath * whilst we dress, A cigarette, and a caress.
A little bill, some little tips, A little parting of the lips.
A little stealing down the stair, A little secret we can share.
A little weariness next day, Like little children after play.
"En Yoi"
A little wish that you & I, May have another bye & bye.
J. W. R. Ruchill 14.12.20
5) Confide ye aye in Providence, For Providence in kind,
And bear ye a' life's burdens, Wi' a' calm and tranquil mind.
Tho' hemmed and pressed, One every side, Hae faith and ye'll win through,
For ilka blade o' grass, Keps its ain drap o' dew.
C. Weir, "Omoa" Cleland, Lanarkshire 11th November 1927
6) When troubles arise, promptly sit on them. Harold L. Roberts M. C. B.
7) It takes two for a kiss, Only one for a sigh,
Twain by twain we marry, One by one we die.
M. Quinn. 9.3.1919
8) Let there be many windows to your soul, That all the glory of the universe may beautify it,
not the narrow pane? (I give up - Mary) U. M. H.
9) When I was single my pockets did jingle,
"Oh, How I wish I was single again. ..... ..... 10/3/1919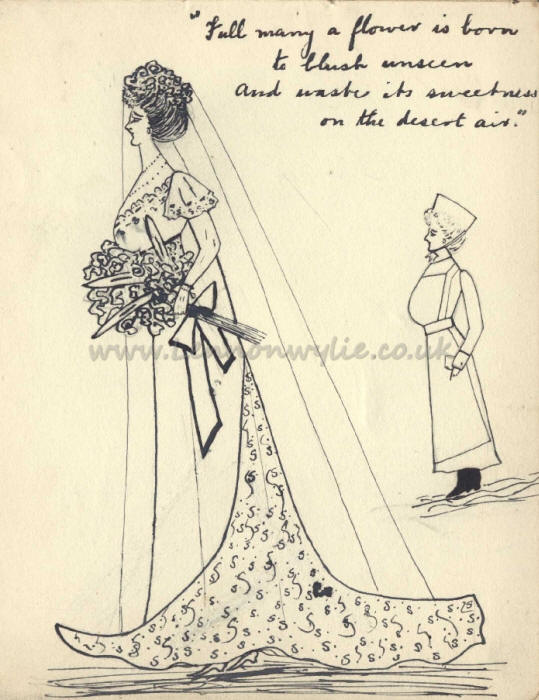 "Full many a flower is born to blush unseen and wash its sweetness on the desert air"











1 2 3 4 5 6 7 8 9
1) Marriage is like a besieged city, those within want to get out, those without want to get in .....
..... Woman is the best work of the greatest Author and every man should possess a copy .....
Smile! Because ..
From the time you are born, Till you ride in a hearse,
There's nothing so bad, But it might have been worse.
Ena H. Grant, Dufferin Hospital. Belfast 28.9.18
2) I wish you were a little duck, A swimming on the lake,
I'd go a swimming by your side, Your faithful little drake.
A. Kerr 12.3.19
3) Leave us tender word unsaid, Love while life shall last,
For the mill can never grind again, With the water that has past (passed?)
Ruby Gleazer 1.XII.18
4) If you think you're outclassed, you are; You've not to think high to rise;
You've not to make sure of yourself before you can ever win a prize.
Life's battles don't always go to the stronger or the fastest man;
But soon or late the man that wins is the man who thinks he can.
M. C. Meagher, 74 Botanic Avenue, Belfast
5) Misunderstood. "Nurse to Patient in Bed." Well James and how do you feel to-day.
Excited James. Shure, Nurse, I always feel with me hands.
James Mullen, Glasgow
6) "An Appeal" "To Help the Deaf to Live"
Some people are sore afflicted with diseases of all kind,
Some want the arms, some want the legs, and many folks are blind,
There is people paralysed in life, who can't in life find cheer,
But what about he, who has speech and yet no speech can hear,
Unfit for work through this defect, I here appeal to you,
No help have I from any source, no pension and no buroo,
If you think my case deserving, as against life's stream I'm pulling,
I'll be thankful for your smallest aid, Yours Truly James Mullen?
Composed by myself J. Mullen, Glasgow
7) What if the best of our wages be an empty sleeve or a stiff set knee,
A crutch for the rest of life, who cares, as long as the old Flag floats & dares?
P. W. White S.Q.M.S. 21st Berks? Yeomanry 23.2.19
8) May guardian angels tak' a spell, An steer you seven miles south o' hell;
But first, afore you see heaven's glory, May you get many a merry story,
Many a laugh, an' many a drink. An aye enough o' needfu' clink.
Now fare you weel an' joy be wi' you. Burns
Bestest wishes, A. McLaughlan, Ruchill Hospital, Glasgow
9) A Warning. Gentle Lady do not trust them, men were deceivers ever,
One foot on Sea & one on Land, To one person Constant never.
Katie Murphy, Dufferin Hosp. 18/9/1918









1 2 3 4 5 6 7 8 9
1) Honour to those, whose words or deeds, Thus help us in our daily needs;
And, by their overflow, Raise us from what is low.
Greta E. Roberts, Greta-Ville, Dundrum 5.7.1919
2) The tree is high, the sea is deep,
Thinking of you Dolly, I cannot sleep,
But the day will come when we ill meet,
Between the top & bottom sheet.
O. J. B.
3) If. If of good I've ever done, If of ? made the shun,
If of joy, I've given a little, If of sorrow, scarce a little,
If of pleasure something brought, If of pain have caused the thought,
Surely then to Heaven a debt, Is owed, because we met.
Jack 20th April 1920 at Belfast
4) As half in sun and half in shade, The earth along its course advances,
Oh! may the side the sun shines on, Be that whichever meets thy glances.
Ruby Gleazer, Kilcarroll, Kilrush, Co. Clare 7.2.1919
5) May you never want as long as you live, and many you live as long as you want.
E. Jackson Pigott 27/2/19
6) "There is so much good in the worst of us, And so much bad in the best of us,
That it ill becomes anyone of us, To talk about the rest of us."
John Julian Sullivan 26/5/1920
7) Come, fill the Cup, and in The Fire of Spring, The Winter Garment of Repentance fling;
The Bird of Time, has but a little way, To fly - and Lo! the Bird is on the Wing.
B. Sullivan 27/5/02
8) (Click on the image and you read it because it makes no sense to me :) Mary) Robert M. Kilvey 28th May 1920
9) Here with a loaf of bread beneath the bough, A Flask of Wine, a Book of Verse - and Thou,
Beside me singing in the Wilderness - And wilderness is Paradise now.
B. Sullivan 26/8/1902






1 2 3 4
1) Remembrance. When time has borne the unresisting years,
For into misty regions of the past,
When comes my summons hence, despite of tears,
Yet then in Memory born will be, E'en to the last.
Jack, Belfast 22/4/1920
2) By hook or by Crook, I'll be last in this book.
James Macdonald
3) There is room here still, I be dam'd if you will. A. F. Swan 2/7/1902?
4) Put out my washing its all ready. My dearest Husband - Well your Bunty is off until Wed night, going home of course.
quite excited, give my love to the children, watch the bird doesn't kill the cat, look after the dog. Left you a few cold ? in the way of eatables, now don't take the pet? with your meat, bite? the Lord Mayor of ? Heaps of Love Bunty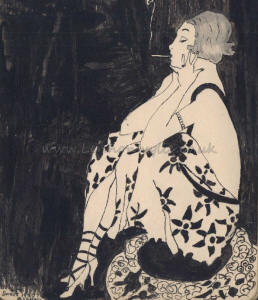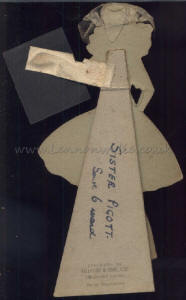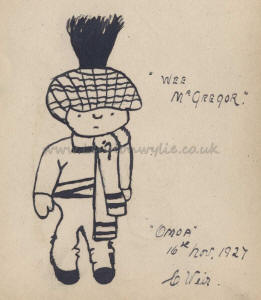 1 2 3 4
1) Sweet 1920? A. S. Allan
2) July 1924 Sister Pigott South 6 ward
3) Wee McGregor, "Omoa" 16th Nov. 1927 C. Weir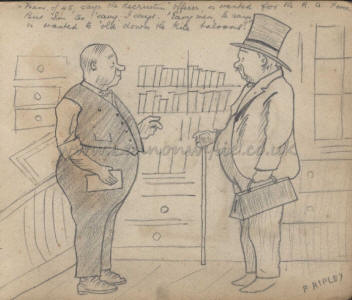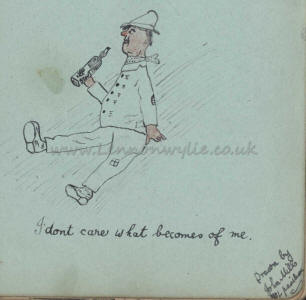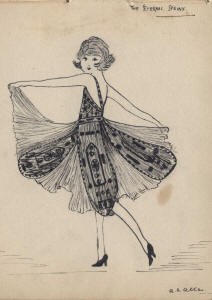 1 2 3
1) "Men of 45, says the Recrutin' Officer is wanted for the R.A. Force, But I'm too 'eavy, I says, 'Eavy men, he says, is wanted to 'old down the Kite Baloons!" F. Ripley
2) I don't care what becomes of me. Drawn by John Mills ????????
3) The Eternal Sphinx A. S. Allan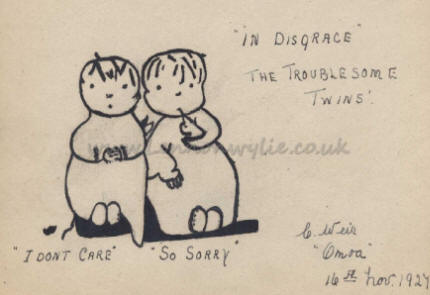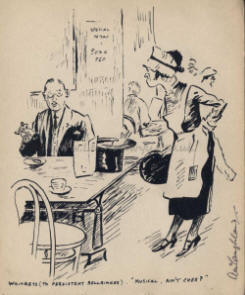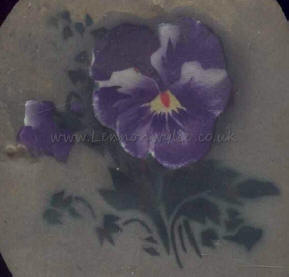 1 2 3
1) "In Disgrace" The Troublesome Twins" I Don't Care So Sorry C. Weir, "Omoa" 16th Nov. 1927
2) Waitress (to Persistent Bellringer) "Musical, Ain't Cher?" A. McLaughland
3) -
the end