can someone translate this please
including the date and the upside down bit at the bottom
SORTED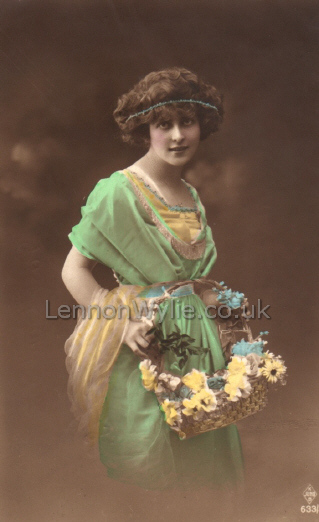 I thought this was a beautiful post card,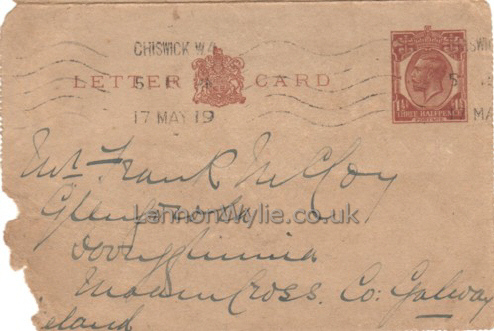 Mr. Frank McIlroy, Glengowla, ?, somethingross, Co. Galway, Ireland
postmark: Cheswick
from: 43 Blenheim Road, Bedford Park, London W4 May 17th 1919
Dear Mr. McIlroy, Thanks for patterns, they were not what I want, something more of a heather, ? feather fixture as tis called is what I want. Mr. Bouden? was wearing a tweed of your make when I met him last May on his way from Glengowla House, if you happen to remember it.
Yours Truly Godfrey Allen
~~~~~~~~~~~~~
further information gleaned by Kevin Good in Dublin - Thank you Kevin :o]
The Galway postcard is addressed to Maam Cross. There are mines nearby called Glengowla Mines but could not find Glengowla House. I searched for tailors and tweed makers without success. Found references to horses and ponies called Glengowla Heather, a type of Connemara tweed. Searched the 1911 census and found him!
Frank McCoy, Woolen Weaver aged 60 living in Glengowla! 1911 Census