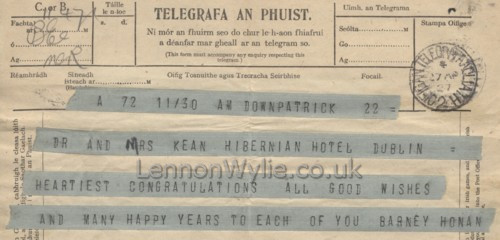 27.4.1927 Telegrams to Mr. & Mrs. Kean, Hibernian Hotel, Dublin
Heartiest congratulations all good wishes and many happy years to each of you, Barney Honan - other telegrams from Werner & Family, Mr. & Mrs. H. Havelock Martin, Lillie & Jimmie Jenkins, Black, Bridget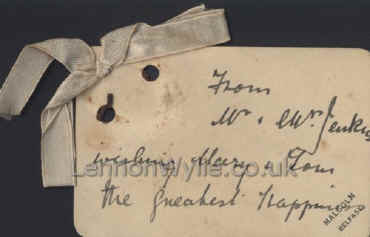 from Mr. & Mrs. Jenkins, wishing Mary & Tom the greatest happiness.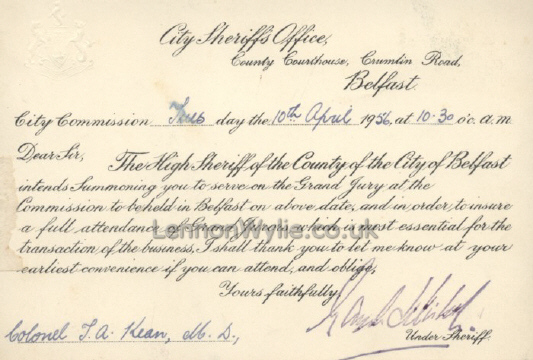 City Sheriffs Office, County Courthouse, Crumlin Road, Belfast, City Commission Tuesday the 10th April 1956 at 10.30 o'clock a.m.
Dear Sir, The High Sheriff of the County of the City of Belfast intends Summoning you to serve on the Grand Jury at the Commission to he held in Belfast on above date, and in order to insure a full attendance of Grand Jurors, which is most essential for the transaction of the business, I shall thank you ro let me know at your earliest convenience of you can attend and oblige. Yours faithfully, signature illegible Under Sheriff, to Colonel T. A. Kean, M.D.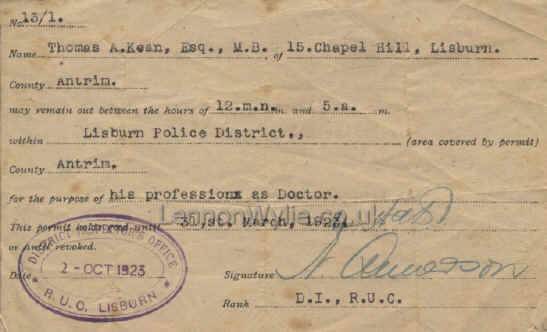 Thomas A. Kean, Esq., M.D., 15 Chapel Hill, Lisburn County Antrim may remain out between the hours of 12 m.n. and 5 a.m. within Lisburn Police District for the purpose of his profession as Doctor. This permit holds good until 31st March 1924
N. Anderson, D.I., R.U.C.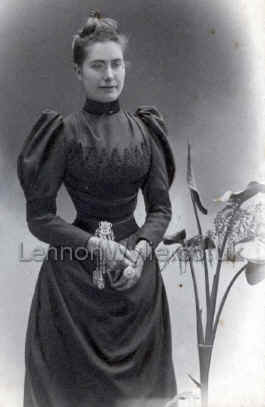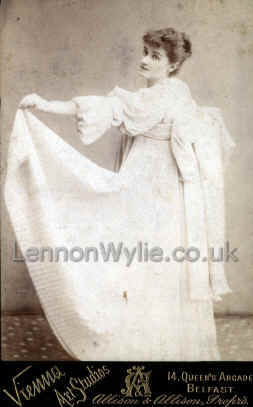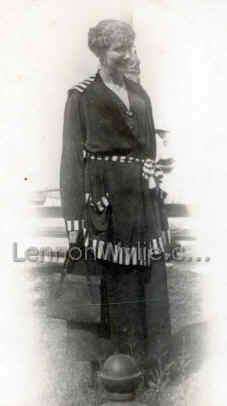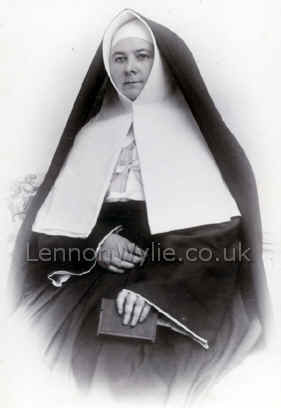 no information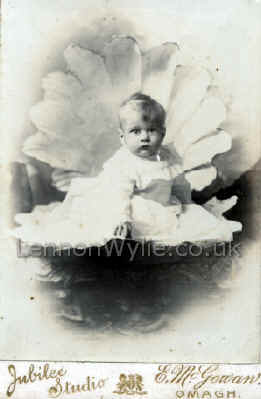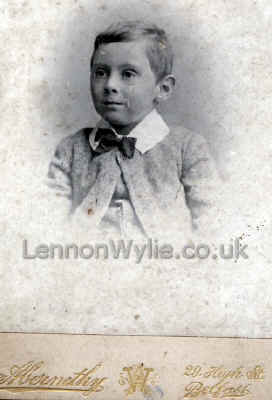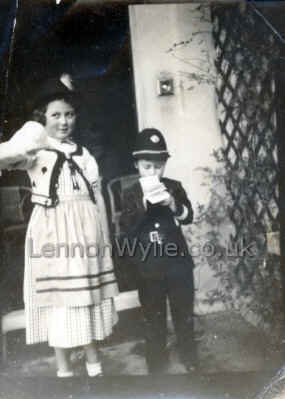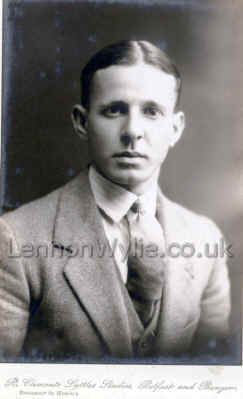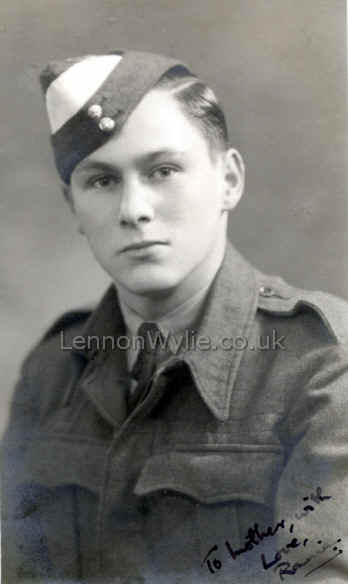 To Mother, With Love, Ronnie on back Mum & Dad
Christmas Greetings from France 1918

With much love from Uncle Harry
initials on front H. N. T.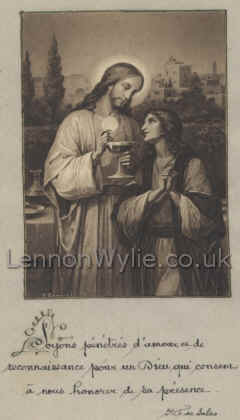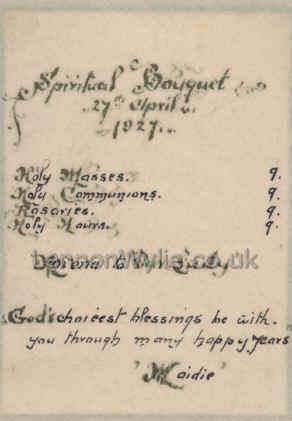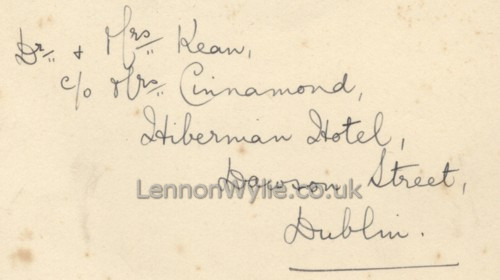 Spiritual Bouquet, 27th April 1927, Holy Masses - 9, Holy Communions - 9, Rosaries - 9, Holy ? - 9 Novena to Our Lady
God's choicest blessings be with you through many happy years. ?aidie
Dr. & Mrs. Kean, c/o Mrs. Cinnamond, Hibernian Hotel, Dawson Street, Dublin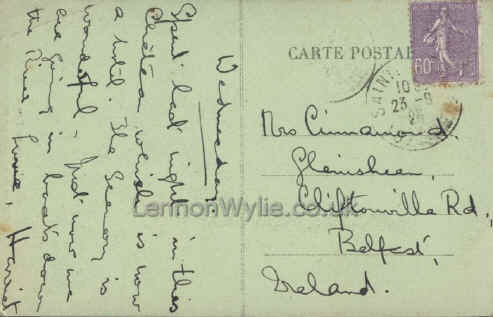 23rd September 1928? Mrs. Cinnamond, Glenisheen, Cliftonville Road, Belfast
Wednesday, Spent last night in this Chateau (>) which is now a hotel. The scenery is wonderful, just now we are going in boats down the river, Love Harriet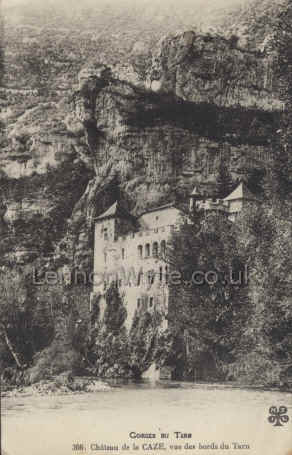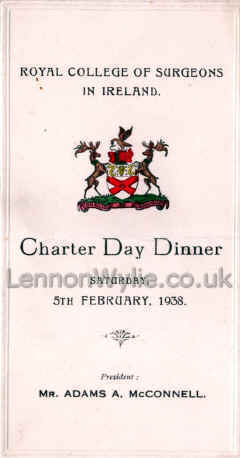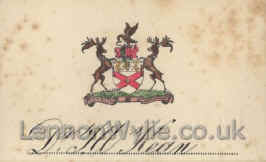 Charter Day Dinner, Saturday, 5th February 1938 Mr. Adams A. McConnell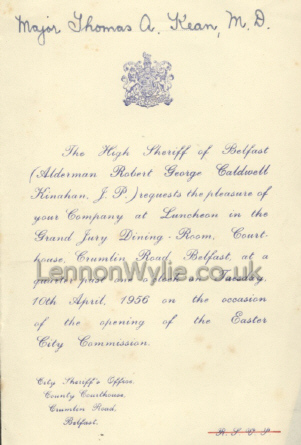 Major Thomas A. Kean, M.D.
The High Sheriff of Belfast (Alderman Robert George Caldwell Kinahan, J.P.) requests the pleasure of your Company at Luncheon in the Grand Jury Dining Room, Court House, Crumlin Road, Belfast at a quarter past one o'clock on Tuesday 10th April 1956 on the occassion of the opening of the Easter City Commission

Glenisheen, Noel 1928, Menu
Creme Celeri
Dindon Irelandaise
Langue de "Femme"
Chou-Vert de Bruxelles
Celeri au Sauce Blanc

"Pause for Bref"

Plum Pouding
Sauce au Hennessy

"Pause for more Bref"

Trifle au Mandarin

Cafe
Simple ou Colore

FULL HOUSE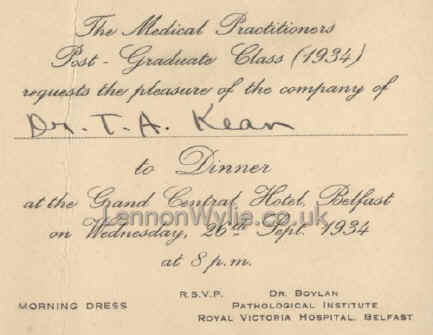 The Medical Practitioners Post-Graduate Class (1934) requests the pleasure of the company of Dr. T. A. Kean, to Dinner at the Grand Central Hotel, Belfast on Wednesday, 26th September, 1934, at 8 p.m.
Morning Dress - R.S.V.P. Dr. Boylan, Pathological Institute, Royal Victoria Hospital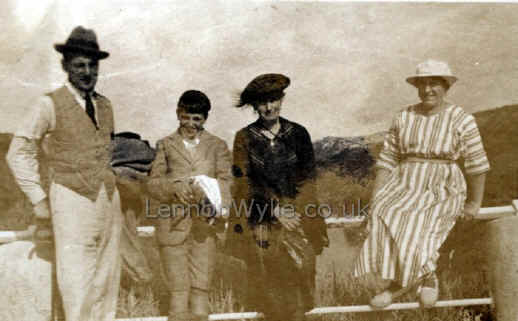 no info

no info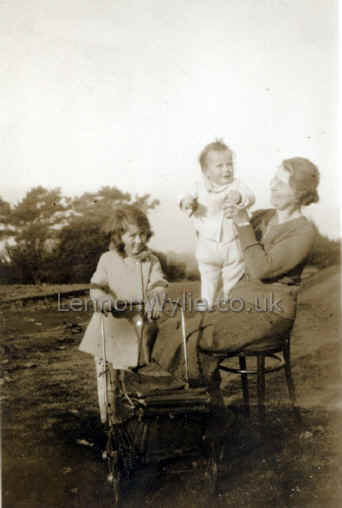 no info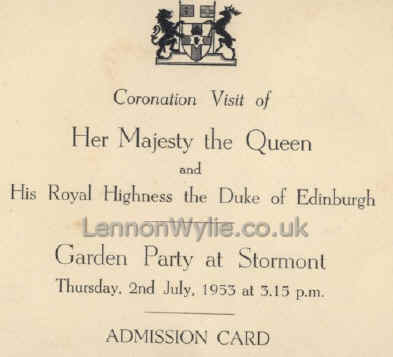 Coronation Visit of
Her Majesty the Queen and His Royal Highness the Duke of Edinburgh
Garden Party at Stormont, Thursday 2nd July 1953 at 3.15 p.m.
Admission Card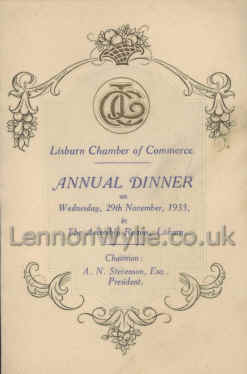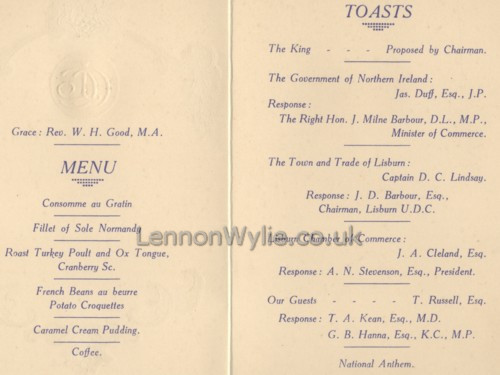 Lisburn Chamber of Commerce Annual Dinner on Wednesday 29th November 1933 in The Assembly Rooms, Lisburn, Chairman, A. N. Stevenson, Esq., President
Grace: Rev. W. H. Good, M.A.
TOASTS: The King, proposed by Chairman; The Government of Northern Ireland, Jas. Duff, Esq., J.P.; Response: The Right Hon. J. Milne Barbour, D.L., M.P., Minister of Commerce; The Town and Trade of Lisburn, Captain D. C. Lindsay; Response, J. D. Barbour, Esq., Chairman, Lisburn U.D.C.; Lisburn Chamber of Commerce, J. A. Cleland, Esq. Response: T. A. Kean, Esq., M.D. - G. B. Hanna, Esq., K.C. M.P.; National Anthem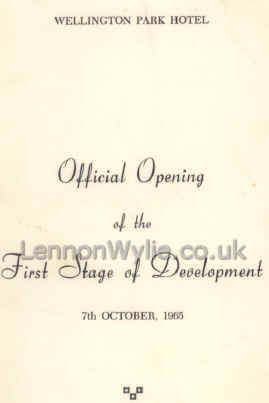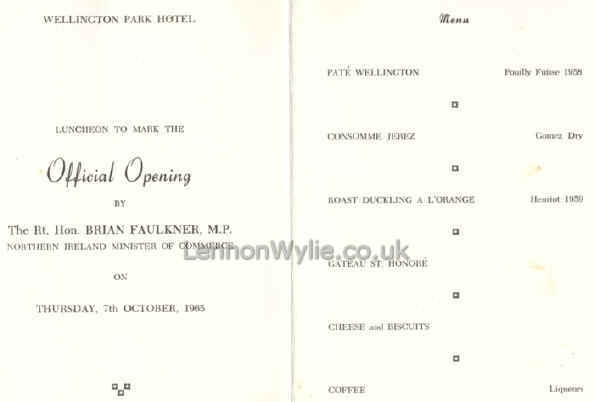 Wellington Park Hotel, Official Opening of the First Stage of Development 7th October 1965
Luncheon to mark the Official Opening by The Rt. Hon. Brian Faulkner, M.P. Northern Ireland Minister of Commerce on Thursday 7th October 1965