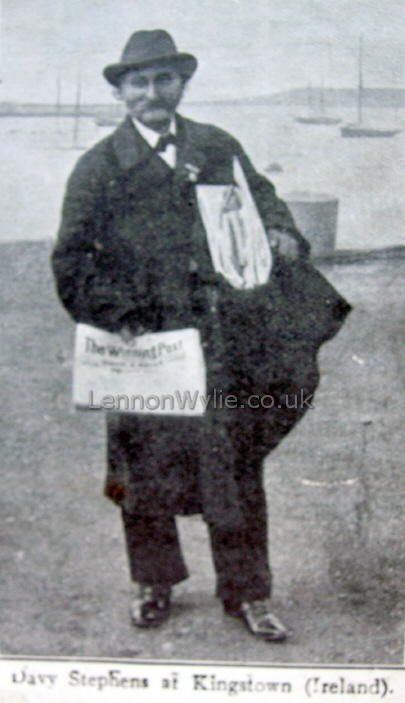 Davy Stephens at Kingstown (Ireland)
Newspaper is "The Wi.....ing Post" (Winning?)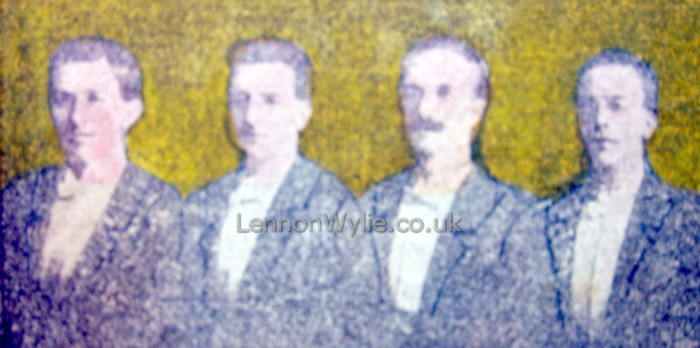 Messrs. D. McAlpin, T. McAlpin, W. J. Clarke, G. Orr, who won premier honours for male quartette at Belfast 1919, Derry 1920 and Dublin 1920.
For ensemble, blend, balance, tone and unanimity, as well as realistic rhythm temperamental rendering. Dr. Terry gave them the very high percentage of 93.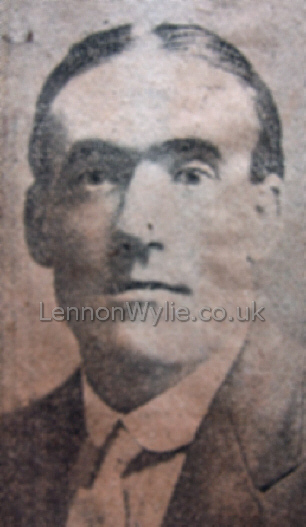 William Lacey >>
ANGLO-IRISH STARS
The Lion Hearted Lacey
Superman of Football Field
Whenever an Irish Association International eleven comes to be chosen nowadays there is one name whose inclusion is taken as a matter of rightful course. There is no debating whether or not William Lacey, of Liverpool, is entitled to his place. The only question is as to what position he will be given in the team, and that is usually determined by the exigencies of the situation for he can with equal assurance of success be fitted into any part of the football machine. Football is so inherent in him that he can accommodate himself to any role in defence or attack. The writer has seen him in emergency keep the safest of goals, with all the judgment and agility of a trained custodian; he can make up either back position, tackling and kicking to perfection; in the middle line he is perhaps most at home, feeding the forwards and helping the backs, while in the front rank he revels in all phases of attack, and can ;and the ball clean and crisp into the net with the best. Versatile is a word that is often loosely applied, but surely to none is it more deservedly applicable that to this Trojan amongst footballers, who into his every engagement in the field throws himself "with all his heart, and all his soul, and all his strength."
William Lacey is a native of Co. Wexford, and as a boy went to Dublin. He was one of those youngsters in whom football was irrepressible. He came under notice early, as he was bound to. Thirteen seasons have now elapsed since he first turned out for Shelbourne, for whom for two years he figured as outside left. He was an immediate success, and it was in the nature of things that his fame should spread farther afield than Ireland. He was only two years with Shelbourne when Everton booked him. The famous Mersey club lived to rue their bargain when they parted with him to Liverpool, whose opinion of the redoubtable Irish player was never higher than at present. This is his first season to be back with them again, and he has been as invaluable to them as he was to Linfield, and earlier to United, in recent years.
Whet he meant to Linfield is realised more keenly now that the Belfast Blues are without his services. He was to them more than a brilliant unit - his presence had the effect of making the team play together as a concerted force with the greatest effectiveness. Giving of his best himself, he had the quality of bringing the best out of the men who played alongside him. His loss to Linfield, therefore, meant more than the defection of a strong and superb player; it was also the loss of a compacting influence that was an incalculable asset to the side. There are players, too, who are inclined to an eternal grumble against the club for whom they play. Not so with Lacey. He had always a good word for the Linfield organisation, and was not afraid to speak it. He is always, too, the gentleman on the field.
Of honours that have befallen him it would take a column by itself to adequately set them forth. Next Saturday's will be his seventeenth International. Of medals he has no fewer than thirty, in which the Irish Cup is not unrepresented. He has not an English Cup medal yet, but stranger things have happened than that he may have one this year. At all events Liverpool are doing well so far, and not a few of their goals have come from his foot. Last Saturday's couple make a conspicuous example. One of his most valued medals is that as a member of the first Irish team to beat England. Lacey is an all-round and am all-the-year-round athlete. Football is not his only game. He is a hard hitter at cricket, and has put up some big scores for North Down. He finds walking a splendid exercise for keeping himself fit, and as a swimmer delights in the glorious sensations of revelling in the briny. But football is his king among games, and he has made for himself by his prowess in the field a name that will live in Ireland for generations. One of the pleasures of an International in Belfast is the opportunity of seeing old favourites, and none will command a more hearty ovation than this "coeur de lion" of the football field.